How Tajana Grubisic Sold Courses on Udemy to Provide Social Proof for Freelancing on Fiverr

Our content is reader supported, which means when you buy from links you click on, we may earn a commission.
---
Who: Tajana Grubisic
Website: fairenoughreview.com
Course Topic: Digital Marketing
Interesting Stats: Earned over $3000 in first two months
Who are you and what course have you created?
I'm an online course creator (over two years of experience), an experienced Udemy instructor (8000+ students), and digital marketer (over four years of experience). I've created three courses: Clubhouse App for Beginners: Complete Business Tutorial, Learn MS Excel and Data Analysis, and Affiliate Marketing for Beginners: From Zero to Commission.
I'm also offering my course creation services on Fiverr. I will research your topic, create slides, write the script, record voiceover, and make a professional online video course. Even if you have no idea what you want to make, I will help you plan everything from scratch. I can work with various topics: business, crypto, digital marketing, affiliate marketing, eCommerce, ChatGPT, etc.
What market does your online course serve?
My goal was to bring business topics closer to people and for them to learn new skills that they could apply immediately. I have always loved working in Excel and wanted to show people how to use MS Excel for personal finances and stock analysis. People are often frightened by the word 'Excel,' but my course is a step-by-step approach to mastering Excel.
Creating courses has become my passion, so I'm offering course creation services. Many people are knowledgeable but don't have much time to create an online course or are too shy or afraid to start the process. This is where I jump in – I make this entire course creation process simple for them. Clients had amazing reactions, and all had a positive, 5-star review.

What's the biggest benefit of taking your course?
All courses are split into multiple chapters; each lecture explains one concept at a time. That way, students have time to process all the information and practice what they learned. My Excel course has a spreadsheet that accompanies each lecture. It's easy to follow what I'm showing in the course, but also, students can immediately test their knowledge.
How did you get into the market?
When the Clubhouse app launched, I had an 'aha' moment. I knew I could make a course showing how this new social media app works and, most importantly, how it can be used for business purposes. I knew nothing about how to create a course; better yet; I didn't know how to connect the app to my laptop to show how the app worked. But I quickly found a solution to my problem and finished the entire course within a week. I was very excited and committed to launching this course quickly. My course was the second course on Udemy that covered the Clubhouse app. This course is free; students can join and check it out.
Why did you decide to create an online course in the first place?
One famous and popular affiliate marketer talked on his YouTube channel about launching his first course on Udemy and having succeeded within the first week or two. When I saw his course, I knew that I could make a better, higher quality course, and that provides more value to students. The good thing is that I persisted with this idea to make high-quality courses for myself and my clients. I have over 8000 students and over ten happy clients.
Did you have any moments of doubt before you created/launched it?
I only struggled a little bit with my Excel course. First, I had an extended outline with many topics and ideas I wanted to explain. I had to cut some ideas out to make the course more friendly and easy to follow. Also, I had many accompanying materials with each lecture that I had to prepare. That is why it took me over three months to finish the course. I created a timeline and task schedule in Google sheets to help me stay on track. Otherwise, I would be completely lost.
What's your online course like?
All my courses are videos – narrated presentations and/or screen recordings. That is what I do for my clients as well. I never show my face on camera. I prefer to focus on materials and providing value to students. Slides are always made in Canva (the best platform to create graphics). There are a few quizzes or quick questions throughout the course. I am not a big fan of quizzes. If a person buys an online course, that person is willing to learn and absorb new content immediately. Also, my courses are 'pushing' people to follow what I'm showing in videos and, that way, apply skills immediately. That is why I'm not a fan of quizzes.
How long did it take you to create your course?
It takes me a couple of days to create an outline for the course. Then, I move on to research and write the script. It usually takes a few days to write the script. After I create the script, I make slides based on that. This is a relatively easy task because I only focus on putting relevant info with bullet points on slides. Then I move on to recording and editing. A course that is 1 hour long can take me between 15 to 20 days to finish.

Tell us a little about the process of launching your course and getting your first sale(s).
My first choice was Udemy, and I read their requirements before I made my course. My first course was approved within 24 hours, and I had my first student within three days. After that, students just kept signing up. The topic was interesting (Clubhouse app), and I was the second instructor who made a course. That is why students were eager to take this course. This later helped me with getting sales for my other courses as well.
I had good reviews, many students, and a good reputation. Then I used that social proof for my online course creation services on Fiverr. - Tajana Grubisic
Click To Tweet
I got my first order on Fiverr within one week of publishing my gig.
Do you have a lead magnet?
I don't have a lead magnet. However, whenever I publish a course on Udemy, I leave this course open (free) for a week or two. This helps me get first students and reviews, which later helps when I price my courses.
What's the traffic strategy that works best for you?
With every new course that I publish on Udemy, I leave it open (Free) for the first week or two. After that, I switch courses to a paid plan. I often hire other freelancers to promote my courses on Facebook and LinkedIn. That's a good strategy for good conversions.
What online course platform are you using?
Mostly Udemy. I uploaded one of my Teachable courses but never published it. The one platform that I discovered recently is Forento.io which offers great pricing and a lot of features that can help you scale.
Do you like it?
I like Udemy. It's easy to upload, manage, edit courses, and post announcements for students. It's a great choice for beginners and those who want to get exposure quickly.
Are there any features you wish it had?
The features are OK. I only wish Udemy had a better commission plan for instructors. Those regular monthly discounts for courses priced at $9.99 can hurt instructors.
What made you decide to use your chosen platform over others?
I looked for simplicity and a free option to publish a course. When I started, I didn't want to invest much in marketing. Udemy had everything that I wanted because it's a marketplace. I knew I didn't want to build a sales funnel, so I didn't use Kajabi or any other platform. I wanted a confirmation of my work and to prove to myself that I could create a high-quality course that students would love.

What other tools do you use to run your online course business?
I'm still using tools that are easily accessible and easy to learn: Canva for slide deck creation. Screencast o Matic for screen recording and video editing. Speechelo for voiceovers. Google Docs and Sheets for script writing and course tracking. Grammarly for grammar check and spelling.
What books or training programs have you found useful on your journey to a successful business owner that others might find valuable too?
I read many business books and magazines and listen to many podcasts. There is one podcast on Spotify: Entrepreneurs on Fire by John Lee Dumas. He often interviews many successful business owners, and these interviews are full of helpful information and ideas. I also recommend the book "Obstacle is the Way" by Ryan Holiday.
Do you have any big mistakes you've made along the way that you'd be willing to share?
I didn't have a good microphone for the first course I made. When I listen to it now, I wish I had invested more money in a good microphone. Good equipment is essential if you plan to be in this business.
Please share some idea of revenue.
On average, I get 30 enrollments each month across all courses. My courses are priced between $29,99 and $99,99. Most of my sales are not through instructor promotions, meaning that I get 37% of the revenue as an instructor.
Please tell us a little about what the money you've earned from your course has done for you.
It has mostly helped me to become a successful freelancer on Fiverr. Because of these courses, I had social proof and a good portfolio I could share with clients. That helped me get many clients and new orders on Fiverr. That was my most significant financial benefit. Also, because I have experience with Udemy, I can advise clients who want to publish on Udemy on what to focus on.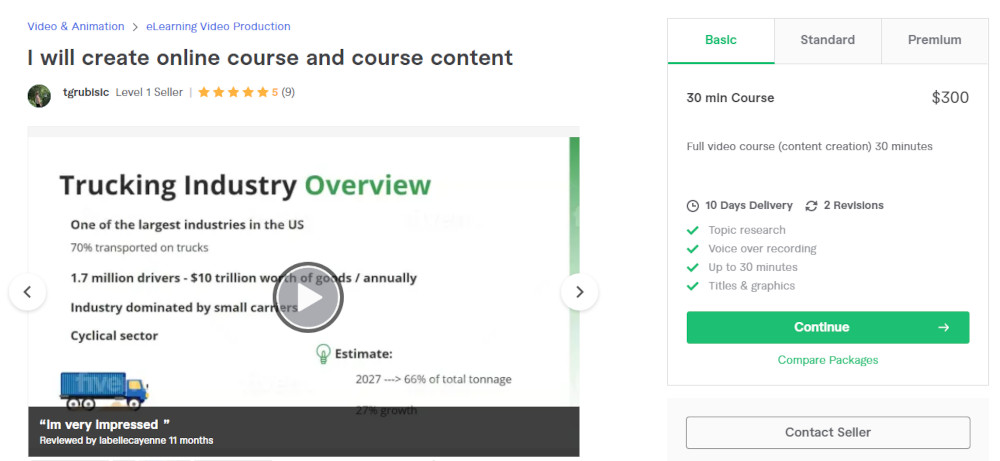 In addition to revenue are there any numbers you would like to share?
I can now use the skills I learned (from creating my courses) and apply those skills to create courses for others. This gave a boost to my freelancing services on Fiverr. I was able to generate over $3000 within the first two months of publishing my course creation gig. I have had a solid business for over a year and keep getting orders on Fiverr.
What has creating your course done for you personally?
I got a lot of confidence. I proved to myself that I could summarize essential data and present ideas. Also, this entire process expanded my knowledge, and I got to familiarize myself with many new topics, tools, and websites that I didn't even know existed.
Do you have a story of a transformation from any of your clients?
I like getting messages from students saying they were afraid of Excel and that after taking my course, they had the confidence to use it for their finances. Data analysis can be fun, and I'm glad I was able to communicate ideas clearly through my courses.
What advice do you have for people just starting out?
Focus on writing a good script and making courses that add value to students. Managing your expenses is crucial to your success, especially in the beginning.
Students, in the end, only care about the content, not transitions or effects that add nothing to the content. - Tajana Grubisic
Click To Tweet
Learn more about Tajana Grubisic of fairenoughreview.com: