How Susannah Davda Started Her 'How to Start a Shoe Brand' Online Course After Working in the Footwear Industry Since 1998

Our content is reader supported, which means when you buy from links you click on, we may earn a commission.
---
Who: Susannah Davda
Website: shoeconsultant.com
Course Topic: Shoe Business
Interesting Stats: GBP £4-5k per month
Who are you and what course have you created?
I'm Susannah Davda, and I run The Shoe Consultant. I am the creator of the How to Start a Shoe Brand online course.
What market does your online course serve?
The How to Start a Shoe Brand online course is for people who want to launch their own shoe company, but don't know where to start. It's a comprehensive working guide that prepares footwear entrepreneurs to launch their own brands.
Along with essential templates and worksheets, the course is packed with video content including guidance from me and many other industry experts and shoe brand founders.
The beauty of the course is that it requires no prior shoe knowledge. There is even a glossary of shoe components included with diagrams for easy reference.
What's the biggest benefit of taking your course?
Picking just one is tricky, but course subscribers tell me they appreciate how thorough the course is, and how it makes them explore their brand strategy in-depth, and challenges their assumptions. I collected course subscribers' testimonials here so you can read their own words.
How did you get into the market?
I've been working in the footwear industry since 1998. I began my career in shoe shops, went on to graduate with a degree in Footwear Design, and worked in design, buying, and product management for retailers and shoe brands. I have been consulting for footwear start-ups since I launched The Shoe Consultant in 2015. Everything I do now is in service of new brands and footwear entrepreneurs.
Why did you decide to create an online course in the first place?
I wanted to package up the advice I had been sharing with my one-to-one consultancy clients and make accessing this knowledge more affordable. The shoe industry tends to feel quite closed and inaccessible to people who want to start shoe brands. Creating my course was another way I could open up this exciting world to people who don't come from a footwear background.
Did you have any moments of doubt before you created/launched it?
My course was a real labor of love. I started planning it 9 months before I launched the course. It took a while because I wanted to create the best product I could, and also because I was terrified of launching. Without a deadline, it was tempting to procrastinate. You can't fail if you don't launch. The onset of the pandemic gave me the motivation I needed to get it published fast. I knew that people were stuck at home, and would appreciate my online course as a way to learn, and feel productive. I wanted to give aspiring shoe brand founders the knowledge and motivation to move towards their goal of running a successful shoe brand.
With the help of my intern at the time, Laura, I edited all of the videos I had recorded at the beginning of 2020 and added perfect text captions to every second of the video. It was important to me that no precious word from my expert interviewees was lost. We then proofread every written element, template, and worksheet several times to ensure the course was ready to launch.
Launch day was extremely stressful. There were IT issues, so the launch was 2-3 hours late whilst my web team fixed the problems. Happily, I sold several courses in the first few days, which proved that all of the hard work had been worth it.
What's your online course like?
The course is comprised of talking head videos, text, downloadable worksheets, templates, and other resources such as the shoe component glossary.
How long did it take you to create your course?
The course took 9 months from inception to launch. I started by listing out the modules I wanted to include, and the rough order in which course subscribers would complete them. I then wrote the text for each of these modules, some of which would remain as text, and other sections would be converted into the script for my videos.
Next, I considered who I would like to interview, and we sent them invitations. This spurred me on to write the questions for their interviews. It was important to me that each module included real-life industry examples.
Once the interviewees were confirmed and their videos recorded, we moved on to the editing phase. This took a long time, as I wanted to ensure there weren't too many long pauses or filler words. Captioning came next, then uploading everything to the platform and checking it functioned as I wanted it to.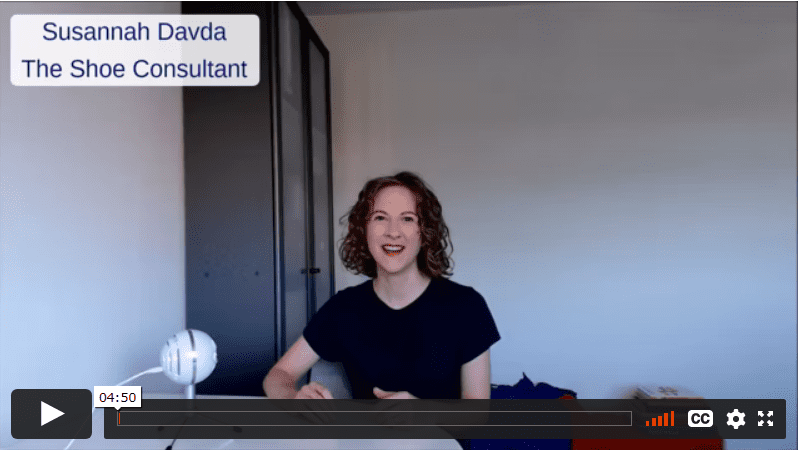 Tell us a little about the process of launching your course and getting your first sale(s).
I read a book called Launch by Jeff Walker and followed its pre-pre launch, prelaunch, and launch methods. This involved engaging potential course subscribers early via social media and email marketing. The book goes into detail about the psychology of launching, as well as having easy-to-follow guides. It answers questions that course creators have like "How can I let people know something is coming without having it feel like I'm trying to sell them something?" I started my marketing schedule by providing valuable, non-salesy content, and included brief teasers as to what was coming. I then gradually revealed that I was creating a course, and asked for my audience's input. This helped them to feel invested in the end product and stay with me until launch day.
Do you have a lead magnet?
I actually don't have a lead magnet. My course is extremely niche, and people aren't able to shop around for alternatives. They are either ready to receive support with their shoe start-up, in which case they have probably found my website, or they aren't.
What's the traffic strategy that works best for you?
My first clients found me through word of mouth, but now potential clients and course subscribers find my business through Google or YouTube. Strengthening my SEO with the use of powerful PR and inbound links has been more worthwhile to my business than spending time creating content for any social media platform.
Email marketing has also worked well for me, although my audience for this is relatively small.
What online course platform are you using?
I use LearnDash on my WordPress website.
Do you like it?
Yes, LearnDash works well for me and my business.

Are there any features you wish it had?
When I launched my course in 2020, LearnDash was tricky to integrate with a payment platform. That was frustrating, but I believe LearnDash has corrected this issue since then.
What made you decide to use your chosen platform over others?
I liked the fact that course subscribers could access the How to Start a Shoe Brand course on my website rather than having to navigate away. It was also more cost-effective to invest in LearnDash and the other apps I needed, rather than pay the other platforms' high fees.
What other tools do you use to run your online course business?
I use Vimeo to host the course videos and Stripe as the payment platform. Stripe also works well for recurring subscription fees for my membership group The Shoe Community. Zoom is great for the free 1-hour consultancy call I include as part of the course.
What books or training programs have you found useful on your journey to a successful business owner that others might find valuable too?
I love business and self-development books and usually listen to them on Audible. A few of my favorites are You Are a Badass at Making Money by Jen Sincero, Resonate: Present Visual Stories that Transform Audiences by Nancy Duarte, Confessions of a Misfit Entrepreneur by Kate Toon, and the classic Purple Cow by Seth Godin.
Do you have any big mistakes you've made along the way that you'd be willing to share?
Sure!
Not charging enough for my services for a long time was a big mistake. It took a combination of two different business coaches, Jen Sincero's book, and the wonderful women in a networking group I'm part of to convince me to value my…
Click To Tweet
Following incremental price increases, I now charge what all of my years of footwear industry experience are worth to my clients and course subscribers.
Please share some idea of revenue.
Over the past year, my business has turned over between GBP £4-5k per month.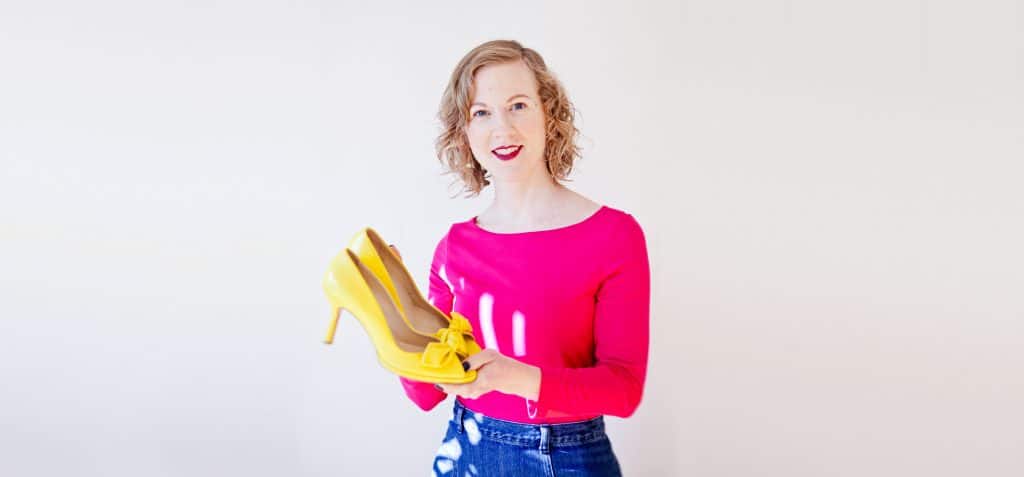 Please tell us a little about what the money you've earned from your course has done for you.
Launching How to Start a Shoe Brand has enabled me to contribute more to my household finances. This has been great for giving me more choice in what we spend on as a family. One of my main personal goals is to be mortgage-free in 10 years, but I don't want that to come at the expense of having a high quality of life. I also love being able to buy from independent brands, retailers, and eateries. There's a feel-good factor in supporting other entrepreneurs.
What has creating your course done for you personally?
My course was a huge undertaking that has given many more people access to shoe entrepreneurship. I feel good that my business is the bridge between shoe brand founders without a footwear background and the often closed-seeming shoe industry. The How to Start a Shoe Brand course is all about removing barriers to entry for shoe start-ups. This ethos reflects my quietly rebellious spirit.
Do you have a story of a transformation from any of your clients?
Shanneil started the How to Start a Shoe Brand course in March 2021, and was immediately enthusiastic about its content. She wrote me this glowing review early on:
"I'm happy to say I have started the course and I am totally impressed with how you have put together and presented the information (it's evident you have put in much time and effort in your work). I look forward each day to watching the videos and completing the materials. I haven't completed the course (or near to) but I want to send you a very big thank you. You have boosted my confidence on the way forward."
Shanneil also joined my membership group The Shoe Community, so we have all been able to support her on her journey. She is now close to launching her children's sneaker brand Quik Trenz.
What advice do you have for people just starting out?
Some courses start with a big launch and numerous sales, then things go quiet for a while. This happened with mine, then it started to build momentum.
Be persistent with marketing, give your SEO and email marketing some love, and the right people will find your course. - Susannah Davda
Click To Tweet
Learn more about Susannah Davda of shoeconsultant.com: