How Rachel Richards of MoneyHoneyRachel.com Earned $30K in the First 6 Months of Launching Her Courses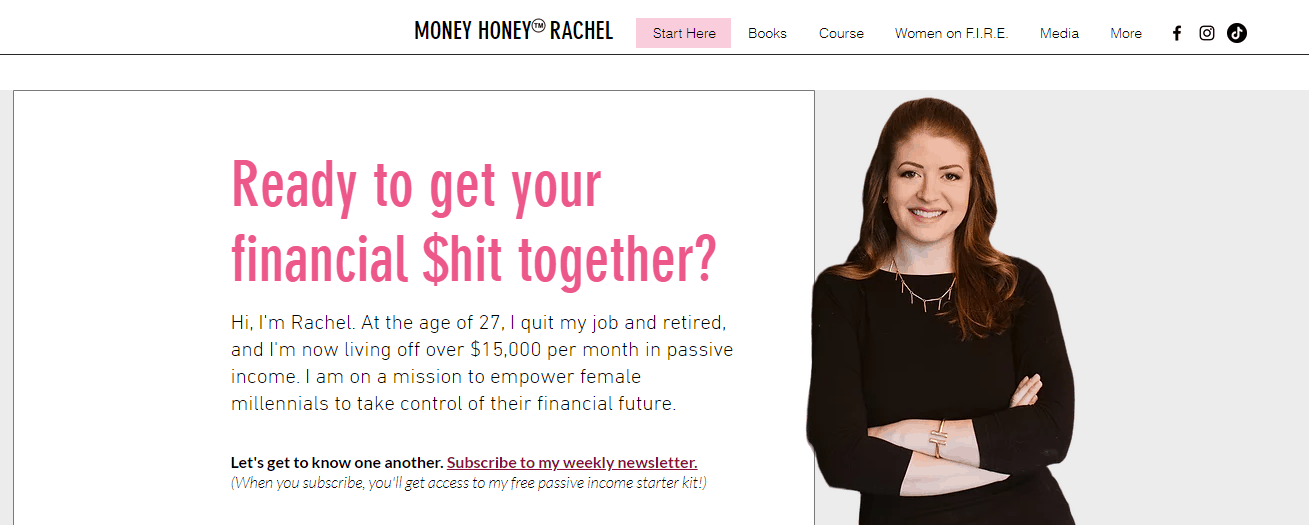 Our content is reader supported, which means when you buy from links you click on, we may earn a commission.
---
Who: Rachel Richards
Website: moneyhoneyrachel.com
Course Topic: Money Management
Interesting Stats: 5,400+ email subscribers
Who are you and what course have you created?
I am a lot of things. I'm a bestselling author of two finance books (Money Honey has over 700 Amazon reviews), I'm a real estate investor with almost 40 rental units, and I'm a former financial advisor. But what people find most interesting about me is that in 2019, at the age of 27, I quit my job and retired, and I'm now living off over $15,000 per month in passive income.
I've created an 8-week online course called Get Your Financial $hit Together. The course goes along with my bestselling book, Money Honey, and covers the basics of money management: budgeting, debt, savings, and investing.
What market does your online course serve?
I work with mainly female millennials… because I am one, and because those are the people in my circle that I found want and need financial education. The problem with most other finance books and courses is that they are BORING! Personal finance is overwhelming, intimidating, and complex. I wrote Money Honey and created my course as a way to make the topic fun, sassy, and simple.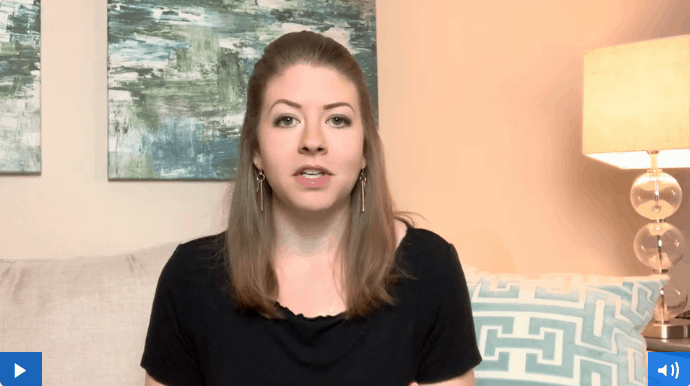 What's the biggest benefit of taking your course?
The biggest benefit of taking my course is a focus on implementation in addition to knowledge. We all know how to be financially successful in general: pay off debt, spend less money, invest in our future. So why don't we do it? It's because self-discipline and execution are the hardest parts. My course gives you the structure and support you need to actually implement what you are learning so you can finally make progress towards financial freedom. Plus, it's all taught in a fun, entertaining, simple way!
How did you get into the market?
I'm a former financial advisor, so my family and friends always came to me for financial advice. I began to wonder why they weren't learning on their own or reading books. That's when I had the "personal finance is boring" epiphany and decided to find a way to make finance fun.
Why did you decide to create an online course in the first place?
I launched the course right when things got bad with Coronavirus, in April 2020. At first, I felt conflicted about charging people money in order to help them with their money.
But I asked my platform for feedback: "Would this course help? Is this something you want right now?" The overwhelming response was "Yes PLEASE!" I saw the need to serve my audience (female millennials) in a more direct, hands-on way than just handing them a book.
Anyone can read a book but then not do anything with it. I wanted to create a product that would help them commit, and hold them accountable to taking action. - Rachel Richards
Click To Tweet
Did you have any moments of doubt before you created/launched it?
My moments of doubt were really about the moral conflict I felt in charging people money in order to help them with money. Once I did market research and asked my own audience if they wanted a course, I felt a lot more confident moving forward. And now, I know that the women who go through my course will 10X their return. I could, theoretically, give the course for free, but no one would take it seriously. But I realized that it also would help no one. It's important that they have skin in the game and make a commitment.
What's your online course like?
Get Your Financial $hit Together is an 8-week online course. Each week, course takers will be able to access several new video training of me personally teaching financial concepts. They also get a free copy of Money Honey, a copy of the digital workbook (full of tons of different templates), access to my exclusive online group for course takers, and TWO live group Zoom calls with me where they can ask me all their finance questions personally.

How long did it take you to create your course?
I made the course as I went and I pre-sold the beta version of my course in April. I wanted to make sure it would actually sell before I went through the trouble of creating it. So I made a landing page and curriculum and sold the beta version for $177 to 50 signups. That was absolutely vital to the overall success of the course. I got important feedback from my beta members and I tweaked and/or re-did a ton of the videos before I launched the final version. I also got great testimonials from my beta round and found that they had saved an additional $2,043 because of the course.
Creating the beta version took several hours per week. I spent time scripting the videos, recording them, editing them, and transcribing them. I had to spend at least 10-15 hours per week to create each of the 8 modules. Then, since I re-did a lot of the videos for the final round, that was additional work. I'm sure I put well over 200 hours into creating the course.
Tell us a little about the process of launching your course and getting your first sale(s).
Once I created the curriculum and landing page on my course platform, Kajabi, I began to market it to my audience. At the time, I had 1,000 readers in my Facebook group and about 4,000 subscribers on my email list. I wrote a series of 4 emails and I created about 8 posts in my Facebook group. These were all scheduled to go out over about a 7-10 day period. I officially opened enrollment for just 5 days to create urgency. I got the most signups on the very last day, and I ended up with 50 signups total for the $177 beta course.
My plan is to launch and open up enrollment for the course 3 to 4 times per year.
Do you have a lead magnet?
I have a lead magnet to get people onto my email list. I actually have one for each book, so hopefully, anyone that buys and reads my book will also sign up for my email list. For Money Honey, I offer free budgeting worksheets. For Passive Income, Aggressive Retirement, I offer my free passive income starter kit. You can see an example by going to www.moneyhoneyrachel.com/bonus. It's not so much about my course as it is about getting people onto my email list so that I can then sell them on my course.
I'm also planning on starting to experiment with free webinars, where I teach and add value on a financial topic, and then pitch my course at the end. I've seen other authors and entrepreneurs do this with a lot of success.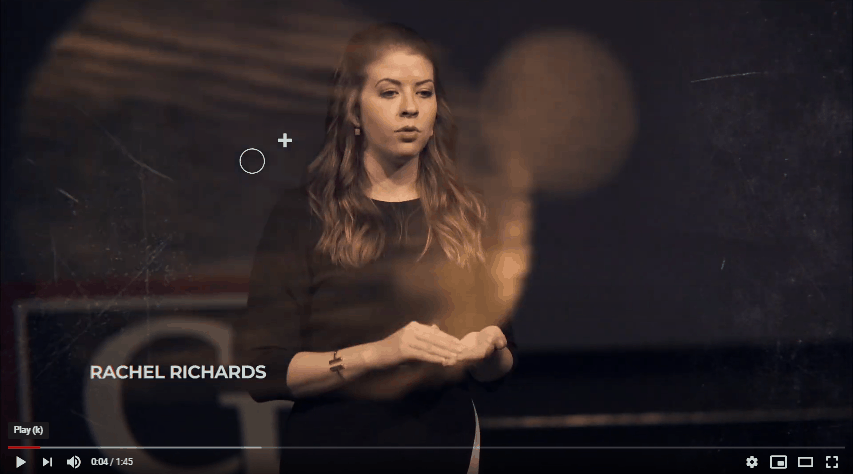 What's the traffic strategy that works best for you?
So far, I've sold my course through my email list and on social media. It's worked well and I've averaged about 10-15 sign-ups at $297 per round. Going forward, I'm going to start running free webinars to encourage more course signups, because I don't want to continue to promote/spam my audience over and over again.
What online course platform are you using?
I'm using Kajabi.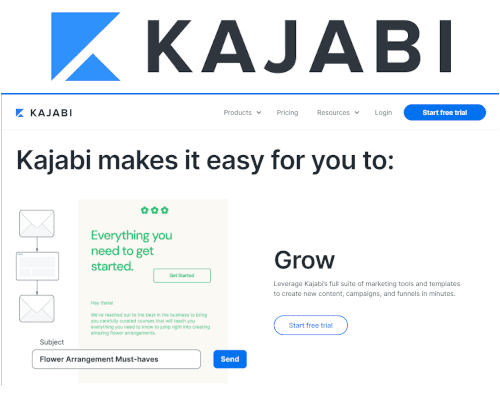 Kajabi is the All-In-One Course Platform
Kajabi is one of the top online course platforms used by successful course creators interviewed on coursemethod.com. Kajabi includes email marketing and other tools that make it easy to run your entire business from their platform.
Price Range: $149 to $399/month
Most Popular Plan: Growth Plan at $199/month
Annual Discount: Yes, take 20% off!
Free Trial: Get a 14-day free trial (credit card required)
*Our content is reader supported, which means when you buy from links you click on, we may earn a commission.
Do you like it?
I do like it, but it's expensive. It's intended to be an all-in-one course platform (website, email marketing, landing pages, course, community), but I've found that certain aspects are not up to par. I still have my email marketing with Convertkit, and I still have my groups and communities on Facebook. But Kajabi has important online course features, such as the ability to take payments in other currencies, that are important to me.
Are there any features you wish it had?
I wish it had a checkout that allowed me to upsell with another product. I also wish I could integrate with Convertkit – maybe it can, but I haven't figured that out yet. Then, I also wish it had affiliate tracking at a lower level. You can only use that feature if you upgrade to a higher level, and I'm not ready to pay more just for that.
What made you decide to use your chosen platform over others?
I've heard great things about Teachable and Thinkific and I researched both extensively. I was frustrated with Teachable's unclear fees. It seemed very complicated and I didn't understand their fee platform. Thinkific did not allow me to sell my product in other currencies, and that was something I needed. But, both of them are cheaper than Kajabi.
What other tools do you use to run your online course business?
I facilitate course progress in my Facebook group, and I also send out weekly emails through my email marketing platform, Convertkit.
In terms of course creation, I bought two softbox lights, a lavalier mic, and a tripod. I filmed all the videos with an iPhone 8. I edited the videos in iMovie.
What books or training programs have you found useful on your journey to a successful business owner that others might find valuable too?
I'm an author, so my business centers around my books first and foremost. The expert in building a million-dollar book business is Honoree Corder, who has written over 50 books. She has a great book, You Must Write a Book, which you can get for free on her website, honoreecorder.com.
Do you have any big mistakes you've made along the way that you'd be willing to share?
I've made the mistake of trying to cut corners when it comes to money. Since I am a finance person, I tend to be frugal to the extreme, which is not necessarily a good thing. I have a hard time investing in myself and paying for help when I need it. For example, I designed the original cover of Money Honey on my own, and it just didn't look good. Since then I've done a re-launch with a new book cover. I've also done the interior formatting for my books on my own, which was a total waste of time. What took me 20+ hours would have probably cost me $400 to have a professional do, and that was not a wise time vs money tradeoff.
Please share some idea of revenue.
I have two courses now. My main one is Get Your Financial $hit Together, but I also launched a similar course specifically for the Cutco organization. Cutco knives are high-quality, American-made cutlery. I used to sell them and I even paid my way through school. I have close ties and maintain friendships with many managers all over the country.
A few months ago, I partnered with them to launch a financial literacy course for their sales reps, which are mostly college students. It's been a lot of fun, and if I go nationwide next year, it could be a very lucrative opportunity for me.
So counting both courses, I've earned over $30,000 in course revenue in my first six months.
That includes about 75 signups of my Get Your Financial $hit Together course, and about 350 signups from the Cutco version.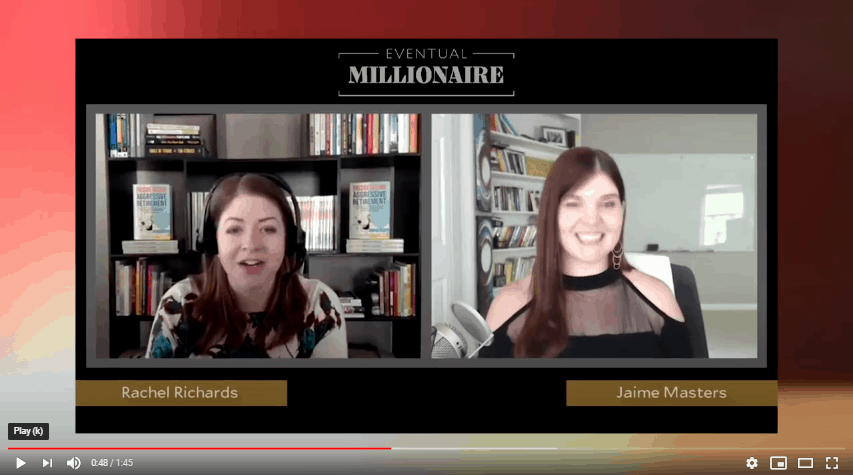 Please tell us a little about what the money you've earned from your course has done for you.
My achievements have all centered around earlier retirement and financial independence. Before I launched this course I had already quit my full-time job and moved across the country to Colorado with my husband. We already had the freedom we worked so hard for, for the past few years. Although I am not quite as motivated by money anymore, I'm still motivated to make an impact on young women. I want to continue to grow my business and serve others, and this course has allowed me to do that in a fun and unique way.
Since I launched, I have finally been able to hire my first two virtual assistants. I felt my revenues were high enough that I could justify the cost. That was an important achievement for me because now I'm freeing up my time even more. I work now because I want to, not because I have to. In a typical week, I spend about 20 hours growing my business. I also spend a lot of time hiking, reading, writing, and traveling around Colorado.
In addition to revenue are there any numbers you would like to share?
My email list is now over 5,400 subscribers. There are two things that have helped that grow quickly:
Bookfunnel campaigns. Bookfunnel is a platform for authors to sell their books or give them away for free. I joined a free book giveaway with other finance and business authors, and I got over 200 new subscribers from that.
Tiktok. I accidentally went viral on Tiktok. Yes, it was a true accident.
First, I downloaded the app and started creating videos for fun. These were mainly sent to my sisters and I never expected it to go viral. I did a video complaining about being a millennial and not knowing how to do my makeup. It received almost 3 million views and hundreds of thousands of comments and likes. I've done some follow up makeup tutorials.
So it has nothing to do with finance, but I do still link back to my website. I've gotten hundreds of new subscribers from that, and now I'm trying to think of a way to transition my account to a more finance-oriented Tiktok.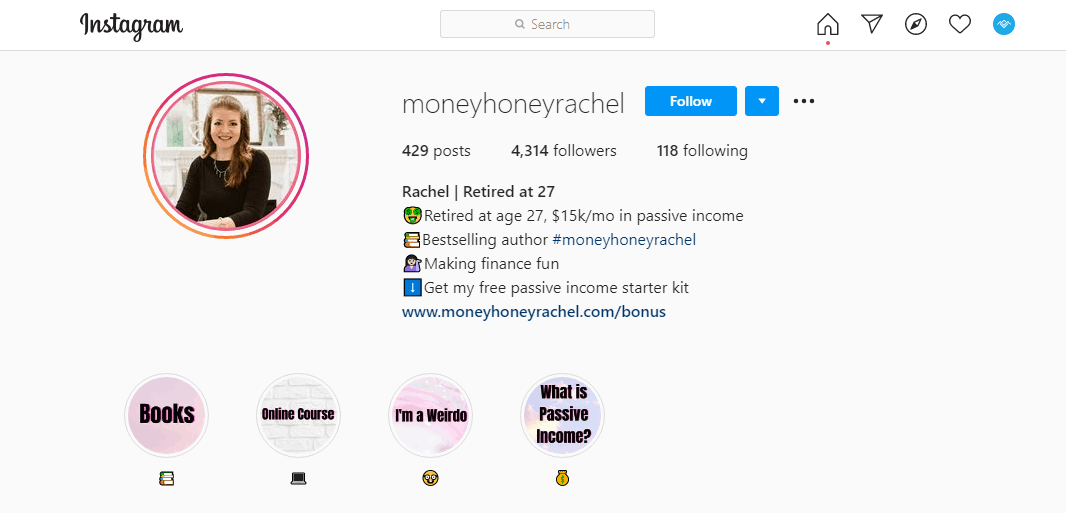 What has creating your course done for you personally?
Creating my course has been a large revenue stream for me. My books do exceptionally well and bring in an average of $5,000 per month in profit. Creating my online course has made me realize that there is a lot more money to be made in higher-priced offerings. I'm excited to think through other online courses I can create. I'm even launching a mastermind for women in 2021.
I have found that it's a lot more fun for me to work with the women who are willing to invest in my courses – and therefore invest in themselves. They are the most committed and enthusiastic members of my audience, and I truly enjoy helping them at a higher level.
Do you have a story of a transformation from any of your clients?
I have several video testimonials: Whitney, Emmi, and Jennifer.
Here's a written testimonial from Karolyn Leslie:
… "This course is truly for anyone, just starting out or well established in adulting. They say money can't buy you happiness, but the money I spent on this course has definitely brought priceless peace of mind!"
What advice do you have for people just starting out?
If you're wanting to create pre-recorded videos for your course, do a couple of practice videos first.
You have to get used to things like ensuring you are looking at the camera before and after you finish a sentence, listening for any unwanted background noise, and knowing how to position yourself. - Rachel Richards
Click To Tweet
IT does take some getting used to. Some of my earlier videos are not high quality because of the way I was speaking into the camera. When I edited it, it didn't look very good, and that's why I had to re-do it later.
Also, make sure to sell your course before creating it. The last thing you want to do is put 100 hours of work in, only to realize no one wants to buy it. Do market research, figure out what the PROBLEM is that people are having in your industry, and then solve that problem.
You have to be able to articulate why someone would want to invest in your book or course, over the thousands that are already out there. What makes you special? What will course takers gain?
Learn more about Rachel Richards of moneyhoneyrachel.com: