How Pia Silva Started Badassyourbusiness.com as a Side Project for Her Premium Done-For-You Services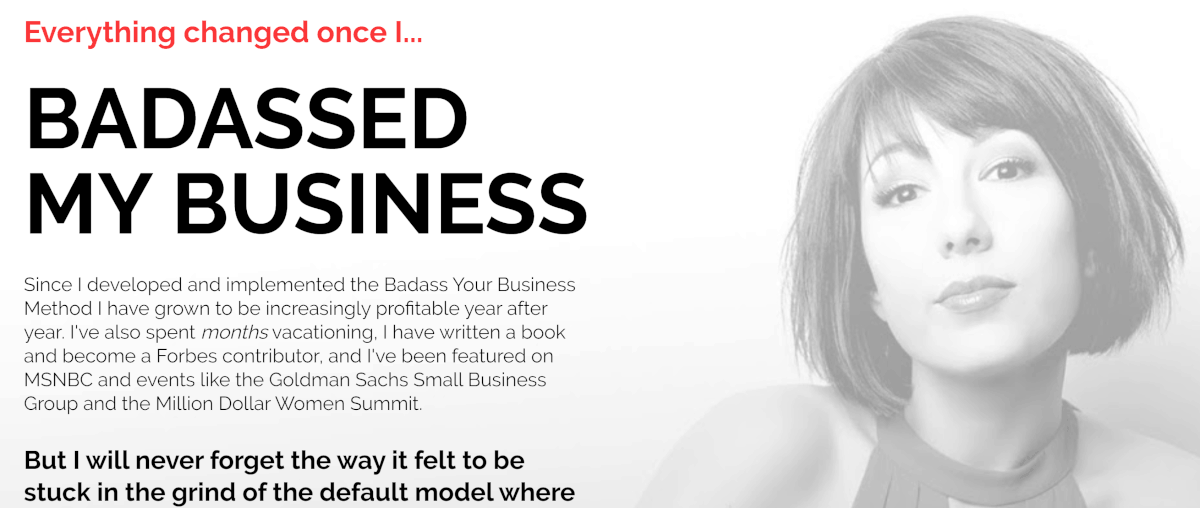 Our content is reader supported, which means when you buy from links you click on, we may earn a commission.
---
Who: Pia Silva
Website: badassyourbusiness.com
Course Topic: Training to Elevate Service Businesses
Interesting Stats: Offers premium services ranging $25,000-$40,000
Who are you and what course have you created?
Hi, I'm Pia Silva, the creator of the Badass Your Business Bootcamp. I offer both a masterclass and a course.

What market does your online course serve?
The Badass Your Business Bootcamp is for small service businesses that want a more profitable business that stands out from the competition and attracts ideal, premium clients.
Graphic designers, branders, marketers, copywriters, coaches, consultants, photographers are best positioned to benefit from the Bootcamp, though I've even had lawyers, financial advisors, bookkeepers, and accountants take it and say it changed the way they do business. But it's not just people selling a service, it's people who deliver an excellent service of very high value, and they want to exist in the highest echelons of their industry.
This is for people who are strategic thinkers and want to be hired for their expertise as much as for the service itself. And they want to be able to charge higher prices than the competition, and still win the business.
And believe it or not, not everyone is like that. Some graphic designers, for example, just want to create nice designs without being responsible for the direction of the design based on strategic thinking.
Instead, anyone, who wants to get paid premium prices (and by premium I mean bringing in an average of $10,000-$20,000/month working with clients only 50% of your time or less) you must be able to lead the client instead of just doing what they say.
It's the difference between being hired as an expert and being hired as a service provider. An expert is hired to lead the project and advise the client on what to do in addition to sometimes also implementing, and a service provider is hired as "the hands" to execute based on what the client wants. There is nothing wrong with being a service provider but it is nearly impossible to get paid top dollar for those services.

What's the biggest benefit of taking your course?
Becoming a badass business that is lean and profitable cuts out all the common time-wasting activities service businesses think are necessary, and instead sets you up to spend all of your time doing one of two things: providing high value to high paying clients, or working on increasing the value of your own business.
Most service businesses are operating in what I call the "default" business model— networking, free strategy sessions, pitching, and free proposals, and then long drawn out projects that usually go out of scope and take longer than expected because the client is slow to respond, provide assets, schedule meetings and give feedback.
This is a model that larger companies use but when you are a 1 or 2 person business, you don't have the economies of scale to make up for the waste. That's why most solopreneurs are always hustling to make enough money: they are not set up to profit no matter how hard they work. Their model is unprofitable.
How did you get into the market?
I own a branding company called Worstofall Design and we developed this business model after years of struggling in the default model ourselves.
Once we switched into the Badass Business model we teach in the course, we went from struggling to get clients that always required too much work for not enough pay, to making $500,000 in the next year with just me and my husband.…
Click To Tweet
We were able to make that money because we were no longer wasting time doing free work and all the time we spent working was getting paid in this highly profitable model. I had spent so much time networking with other service businesses before that I knew nobody was using these methods, so I knew I had to be the one to teach it.
Why did you decide to create an online course in the first place?
Once I experienced that success in my own business, I started implementing these methods in my clients' businesses as well and they had similar successes. But by that point our prices had increased so dramatically— from originally $3,000 for a 1-day Brandup to, at the time that we first built the course, $15,000 for a 1-day Brandup, and currently $25,000 for a 1-day Brandup—  that we needed to find another way to share these methods with our ideal clients who weren't ready to invest at those levels. We built the online course so they could implement these methods themselves at a fraction of the price.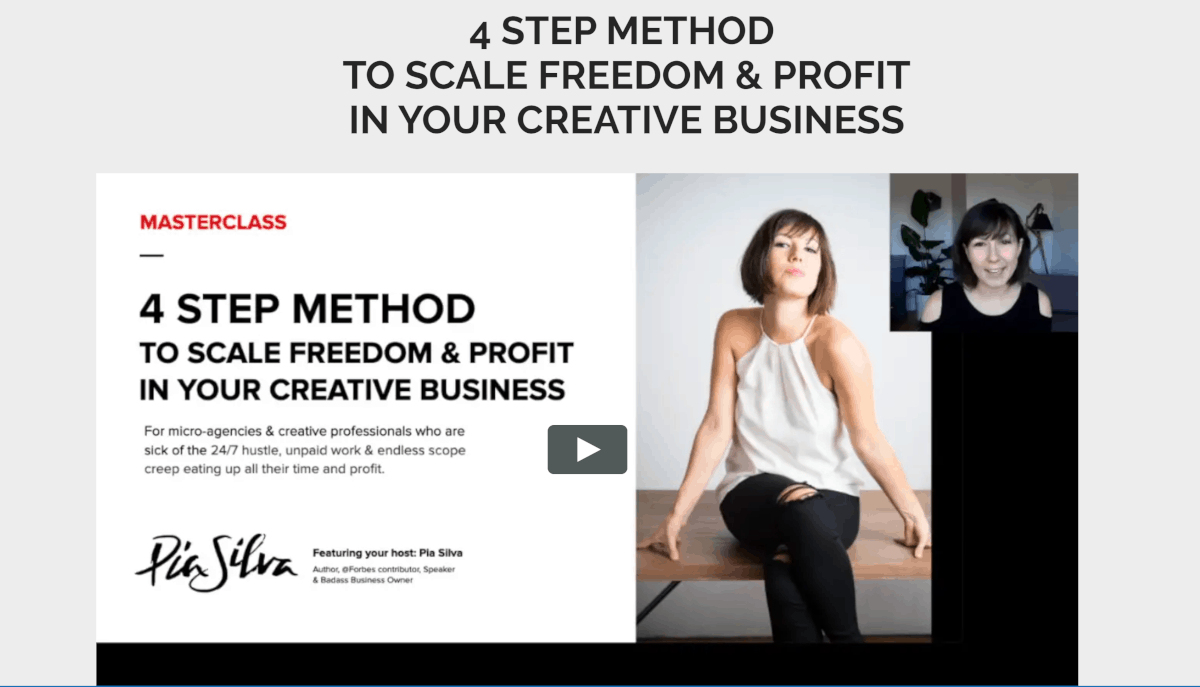 Did you have any moments of doubt before you created/launched it?
We were so committed to making this course the best thing it could be. Before we told anyone about it we took 6 months off from working with clients to create it.
Our first version of the course was a completely animated video series of hand-drawn cartoons by my partner, who is also an artist and illustrator. We not only wrote, recorded, and edited ourselves in Adobe Flash but put in small animations and even sounds effects.
We were insistent that it be both valuable AND entertaining. That's because at the time we thought courses were all so boring. That lead us to believe that's why people didn't finish them.
So I don't think we worried it wasn't good enough. Quite the opposite. We were determined to make it something we were proud of and spent way too much time on things that probably didn't add that much value. Once we decided we were going to build the course we worked hard every single day to get it done as quickly as possible. It still took basically 6 months!
What's your online course like?
Our course is a series of illustrated videos with PDF resources that go with each level.
How long did it take you to create your course?
The first iteration, as I mentioned, took us 6 months. But that includes concepting out the program, writing and editing the scripts, recording and editing the audio, drawing all the animations, and then editing them in Adobe Flash and adding sound effects.
We made a second iteration of the course recently. This was based on the questions we kept getting after hundreds of people went through the program. So this iteration not only addresses common questions but went deeper into areas that were clearly very valuable to our boot campers and could use more explanation.
Since we already had the scripts and the drawings, we decided the simple animations and sound effects were not only not necessary but in some cases actually distracted. So we did a simpler recording of it and it's not only a more valuable version of the course now, but it might even be easier to watch now! And that iteration took about 1 full week to redo.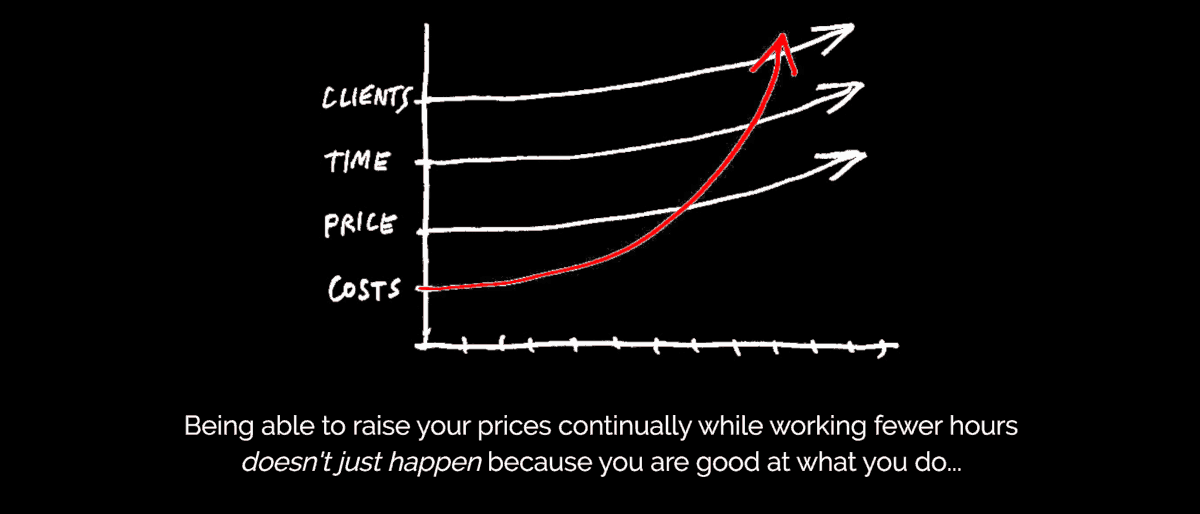 Tell us a little about the process of launching your course and getting your first sale(s).
We first launched the course in January 2016. We launched it to our list with a series of emails. And we got almost no responses. This was after we had hired someone to write the sales emails. We thought because he was an expert at sales emails that would be enough, but it definitely wasn't.
In that first launch, I ended up having to close each of the 15 people that were in the group individually. And most of them at a huge discounted rate. I did that version of the course live over 2 months with live coaching calls each week. It was a ton of work for very little money but it taught me a lot.
Do you have a lead magnet?
I have lots of lead magnets out there. Most are PDFs that you download. The one that most people opt-in for is my "Price to Freedom" mini-course.
This mini-course shows you how to work backward from the amount of money you need to live the life you want to the price you must charge for your services to achieve that life. I think this performs the best because it's a higher value than a PDF. It is really in line with the main message of my program which is to achieve freedom and profit.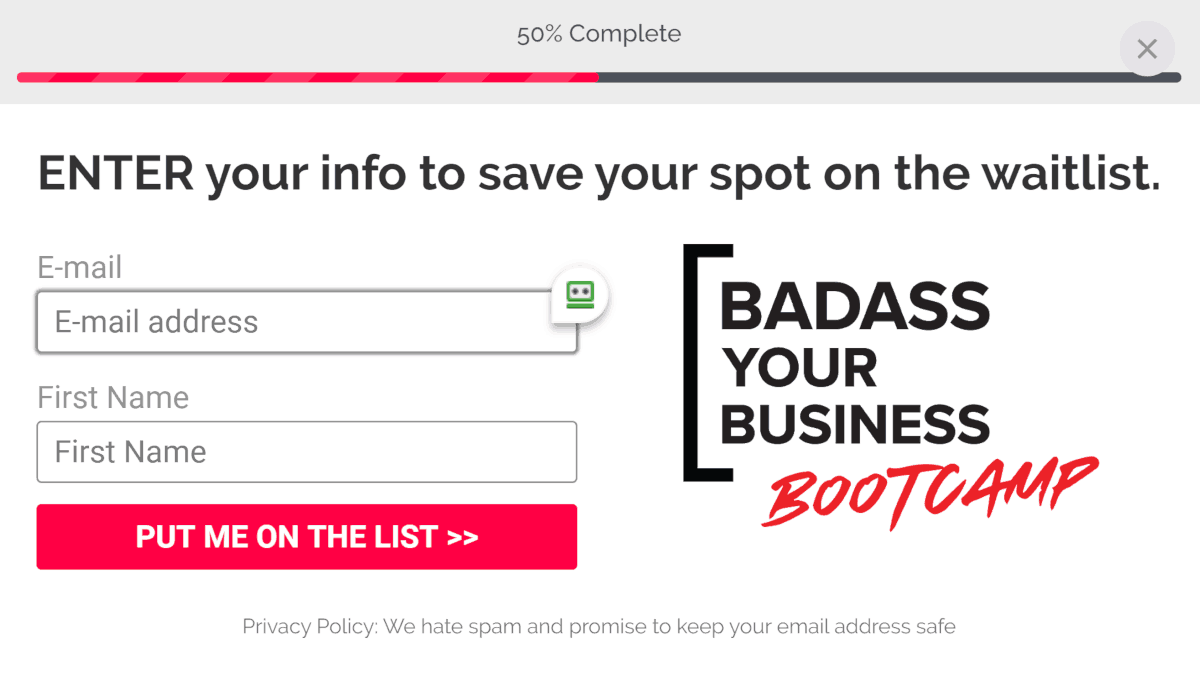 What's the traffic strategy that works best for you?
In late 2016 I did Facebook ads and they worked really well for a few months. One month I spent $20,000 on Facebook ads and sold $40,000 of courses, so I doubled my investment. But I have found the world of Facebook ads to be too volatile. In recent years haven't been able to get them profitable, neither on my own or with hired experts.
So what has worked best for me is creating massive amounts of valuable content. I create it on the blog on my website, on my Forbes column, and on my social media profiles.
Showing up consistently giving high value has helped me connect with people who love my message in an organic and authentic way, and those that want more opt-in and eventually purchase my course. -Pia Silva
Click To Tweet
What online course platform are you using?
I've been using Thinkific since the beginning and I love it!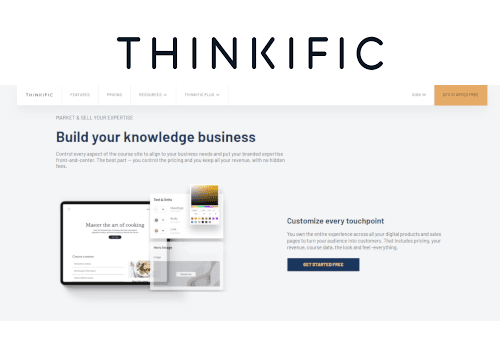 Take a Look at Thinkific!
Thinkific is the most popular online course platform used by successful course creators interviewed on coursemethod.com. It's a complete solution for creating sales pages, uploading all course content, taking payments, and more.
Price Range: Free to $499/month 
Most Popular Plan: Pro Plan at $99/month
Annual Discount: Yes, take 20% off!
Free Trial: Try out Thinkific's core features for free.
*Our content is reader supported, which means when you buy from links you click on, we may earn a commission.
Are there any features you wish it had?
Nope, it's been great for my purposes!
What made you decide to use your chosen platform over others?
It was a long time ago and I remember it being hard to get great information on the different course platform options. I ended up choosing Thinkific on a recommendation and because I liked the interface. A great user interface is always key to me.

What other tools do you use to run your online course business?
I used Infusionsoft for my automated emails. Leadpages for my landing pages, sales pages and even to host my masterclass video that offers the bootcamp.
I have used Webinarjam, Everwebinar, and Easywebinar in the past. I found too many glitches in the video players. There were also too many times people trying to watch the video and it didn't work. Plus I think the whole fake-live webinar thing had its heyday and it's over. I prefer to just let people watch the masterclass on demand and be honest about it.
What books or training programs have you found useful on your journey to a successful business owner that others might find valuable too?
I took Cailtin Bacher's Scale With Success program last year and I think it's really great for the right person. If anyone wants to chat about it to see if they are a good fit for it feel free to reach out.
Do you have any big mistakes you've made along the way that you'd be willing to share?
I've made a bazillion mistakes! But I don't see any way around them, that's how I learned so much about this space. Plus things change in the online course world. And they change quickly. So things that weren't mistakes two years ago might be mistakes today.
One thing I guess I could say was the biggest mistake was to build the course before marketing it. It was more of a passion project at that point, and we had to learn the hard way. If I could do it all again I would do what so many course creators recommend you do and create the concept and the outline, sell it, run it live, and then create it. Then sell it on evergreen after you successfully sell and run a version of it live.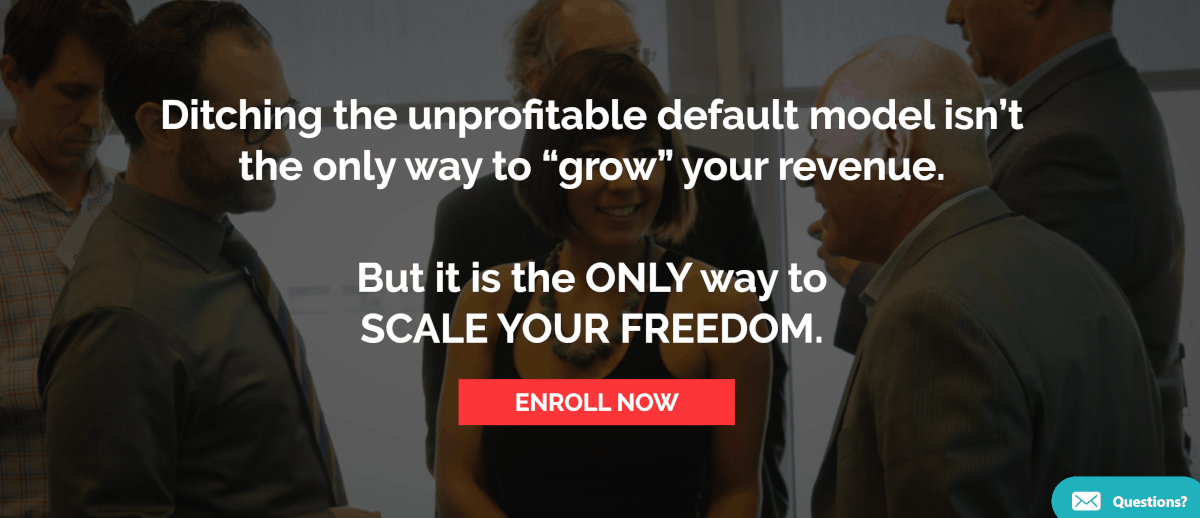 Please share some idea of revenue.
I'm not shy, I think numbers help everyone and I wish more people shared their actual numbers! I've made about $400,000 total in course sales over 4 years. That first year we made hardly any sales at all.
Some of those have been with ads. I've probably spent around $40,000 total on ads just for this boot camp, but most of that was years ago. Some with live launches, and some through an evergreen funnel. The monthly revenue is really all over the place.
My best live launch was $50,000.  I did a few others that were a little over $30,000. These were all through organic marketing on social media and to my list. When it's been only organic traffic from articles and posts to my evergreen funnel it's ranged from $6,000-$15,000/month.
Please tell us a little about what the money you've earned from your course has done for you.
It's one of a few income streams in my business. The goal of the entire business is to create as much flexibility and freedom in our lives as possible.
Between our own very-premium services that we deliver for clients in done-for-you services ($25,000-$40,000 each), these courses and a few other things, we are able to make more money than we need while only working an average of 20-hours a week. It allows us to live in our dream apartment in Brooklyn and have an office (rent is by far our biggest expense!).
We can also enjoy our life and spend a lot of time with our toddler. And yes, we take some pretty sweet vacations. Right before I got pregnant we spent 2 months traveling around Spain and Italy and the course sales definitely helped with that!
In addition to revenue are there any numbers you would like to share?
The main way I build my list is through articles. I've been writing on my blog and for Forbes for years now. Most of my articles include a call to action to download a freebie.
Now that I've written so much content, articles from years ago still send people into my funnel. Those people tend to be great leads. That's because they came to me after reading a high-quality piece of content I wrote about my area of expertise. It's not easy or quick, but it's long-lasting. It also builds my authority online and continues to help me reach a wider and wider audience.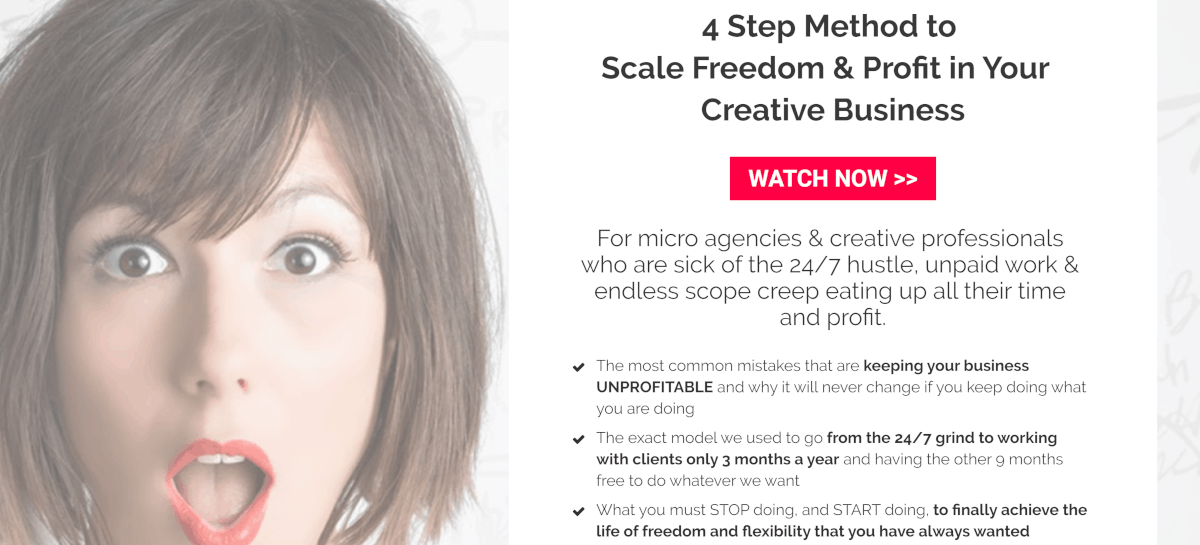 What has creating your course done for you personally?
Creating a course that changes people's lives is an incredible feeling. It means I created something that can create value for new people every day without any additional work. -Pia Silva
Click To Tweet
This exponentially increases the positive impact I have on others. And I continue to spread my message in other ways.
Plus it's an asset, much like real estate, and that gives me financial security as well. And not only do I have the actual course I created that can continue to generate income, but I have all the skills needed to create successful courses. That means I can create more courses and generate more income in the future as well.
Do you have a story of a transformation from any of your clients?
One story from someone who took the boot camp that really sticks out to me is the mother of a young son. She told me that because of the boot camp, she was able to cut back the hours she worked in her business to part-time and make more money in the process. That gave her a lot of extra time in her life to spend with her child who unfortunately has some serious health problems.
That one really stood out to me because, as a mother of a young child myself, I truly value the time I spend with him as it is, and I can imagine how it would feel even more important to be there for him if he had a health problem. I'm so thankful to hear stories like that because it shows me that when you are touching people's businesses, you are really touching their lives and their families and their children.
What advice do you have for people just starting out?  
I wish I had started by just delivering the content live to a small group of people. I had visions of grandeur when I first started. So I invested a ton of time to get it perfect before I even told anyone about it. In retrospect, I would have been better of getting paid a nominal fee by a small group of people to just lead the course live, learn from it, and then spend time building it based on the experience and feedback.
I had heard that method before and chose to ignore it because I was being a perfectionist. In retrospect, I also think I was too nervous to try to deliver it live. I worried about the criticism of it not being perfect. If I could do it again, I would do an MVP version at a really low cost just to get it going.
Learn more about Pia Silva of Badassyourbusiness.com: