How Philip Gallagher & Tamsin Johnson of GoodeLearning.com Offer High Quality Certification Courses for Low Costs

Our content is reader supported, which means when you buy from links you click on, we may earn a commission.
---
Who: Philip Gallagher & Tamsin Johnson
Website: goodelearning.com
Course Topic: Certification Courses
Interesting Stats: 3 months to create a course
Who are you and what digital training company have you created?
Good e-Learning is an award-winning online training company with a diverse portfolio of fully accredited certification courses. We offer both online self-paced and instructor-led training options for the most popular and valuable certifications in business and IT, including:
TOGAF
ITIL 4
DevOps
PRINCE2
AgilePM
Unlike many of our competitors, Good e-Learning creates its own courses. Our in-house team of e-learning specialists works with subject matter experts to produce courses that not only fully prepare candidates to pass their certification exams but also leave them with valuable practical insight to take into their daily roles.
What market does your digital training serve?
Good e-Learning aims to offer effective, engaging, and easily accessible training across the scope of business and IT. We are always expanding and updating our portfolio to meet the needs of our global audience, with our team having released 22 courses this year already.
We also leverage our expertise with digital training to offer a 'blended approach'. This combines the low costs and easy, reliable access of online training with the best aspects of traditional learning, such as classrooms and one on one time with instructors. Combined with our range of digital assets, including whitepapers, videos, and interactive quizzes, this allows us to offer training that meets the preferences of individual learners, whatever they might be.
Finally, Good e-Learning recognizes the needs of the online corporate training market. Our award-winning LMS, the Learning Ecosystem, can be scaled and customized to meet the requirements and learning goals of individual organizations (including company branding and logos). The platform also offers dynamic reporting on the team and individual levels, making it easy to track progress and take proactive steps to help candidates reach their learning goals.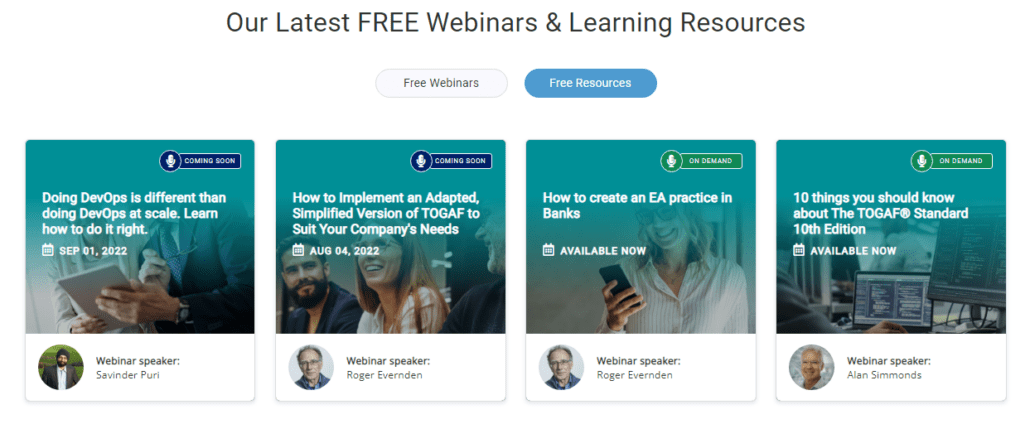 What's the biggest benefit of taking your online courses?
There are several major benefits to taking our online courses:
Access – Our courses are easily accessible on all web-enabled devices, including phones and tablets
Expertise – Our highly knowledgeable e-learning team produces most of our courses in house
Subject Matter Experts – We work with highly experienced specialists to enhance our courses with unique insight. Our SMEs even include authors for frameworks like ITIL 4
Resources – Good e-Learning produces a variety of e-learning resources to help candidates before, during, and after their training. These include articles, downloadable whitepapers, and YouTube videos
LMS – Our award-winning LMS, the Learning Ecosystem, can accommodate any training program, including the requirements of individual organizations and managers
Support team – Our world-class support team is fully qualified to answer questions on both course content and our LMS. They also typically respond to requests within 24 hours
Variety – Each of our courses comes with a variety of training assets, including instructor-led videos, knowledge checks, and so on. This keeps the modules varied and prevents candidates from getting bored
How did you get into the market?
Good e-Learning evolved from Orbus Software, a leading provider of traditional certification training courses. Orbus was highly successful with a number of frameworks and decided to branch into online training as the industry began to expand.
Our company began producing bespoke e-learning courses for clients, in addition to supporting Orbus' customers. Over time, we became an accredited training organization, and since then, we have transitioned into creating and providing our own off-the-shelf, fully accredited training courses.
Why did you decide to create a digital training company?
We started life as a sister company to Orbus Software with the goal of providing training on how Orbus customers could get the most out of the software they'd purchased. We also produced bespoke learning courses for other external clients before we evolved into the accredited training organization we are today.
As for the 'why', it's simply a matter of how corporate training has continued to evolve. Digital learning enables candidates to structure training more easily around other commitments, while the low costs of e-learning compared to in-person training make it highly attractive for businesses. The delivery of digital training has also improved over time to the point where we can now offer courses that combine accessibility, low costs, quality, and interactivity to help keep candidates engaged.
Did you have any moments of doubt before you launched your training company?
There were never any major doubts before we got started with digital training. For us, it was a natural evolution. We are always working to enhance our production methodology. We've changed and adapted a great deal over the years, responding to digital transformation within the market.
One of the biggest changes we've made is becoming more agile. Our course creation process is flexible, proactive, and iterative, reflecting the themes, ideas, principles, and concepts we teach in our training courses. - Philip…
Click To Tweet
This agile style also helps us get our courses to market much faster. At the same time, our built-in quality checks allow us to work quickly without having to sacrifice the quality of our offering.
We never stand still and are always reviewing, updating, modifying, and looking for ways to enhance not just our output but also how we do things in general. It's not good enough for us to "stick to traditional ways of functioning." We strive to be better, and there is always room for improvement. We even host retrospectives as a team to identify what is working well, what we need to keep doing, what we need to start doing, and how we can go about doing so.

What are your online courses like?
Our online courses deliver training via several different formats. This helps to enhance learner engagement – and differentiates us from competitors offering nothing but PDFs and slideshows.
To optimize our courses, we emphasize the following:
Videos
These are composed of animated sequences, on-screen text, voiceovers, and modern graphics. We also utilize presenter-style talking head videos featuring industry leaders that are brought in to help us design the courses. Our videos are between two and six minutes long, with our bitesize production methodology helping to prevent cognitive overload.
Accessibility
Our courses each come with closed captions to ensure we meet web content accessibility criteria. We also provide a full written transcript of our courses, along with audiobooks to let students consume modules in their preferred format.
Interactivity
Our courses contain interactive sections such as comprehension checks to ensure candidates are absorbing information rather than just passively watching videos. We also offer pre-course assessments to help students assess where their knowledge gaps are prior to starting a course, along with self-assessments at the end of each module to test each candidate's confidence around individual learning objectives.
Gamification
We add gamified elements such as memory games to test each student's recall of key definitions. Our Foundation courses also include a bucketball game that asks candidates to identify if something is true or false. At more advanced levels, candidates are asked to assess whether a concept has been correctly or incorrectly applied.
Resources and guides
Courses come with PDF resources such as comprehensive course guides, glossaries, diagrams, and tables, as well as exam takeaways to support revision. Our courses also come with practice exams and answer rationales, along with exam simulators to help students prepare for the real thing.
Support
All courses feature customer and tutor support to help students struggling with training materials.
Feedback
We make sure candidates can leave module and course feedback on their experiences. This helps us to enhance our offering as a whole.
Training expertise
Our in-house team has a clear understanding of how to provide effective professional training. We present content in short, bite-sized pieces to avoid cognitive overload. We also employ Mayer's principles, blended learning, action mapping, and experimenting learning theories to create courses that do more than simply help candidates pass exams but also provide them with a clear and practical understanding of the subject matter.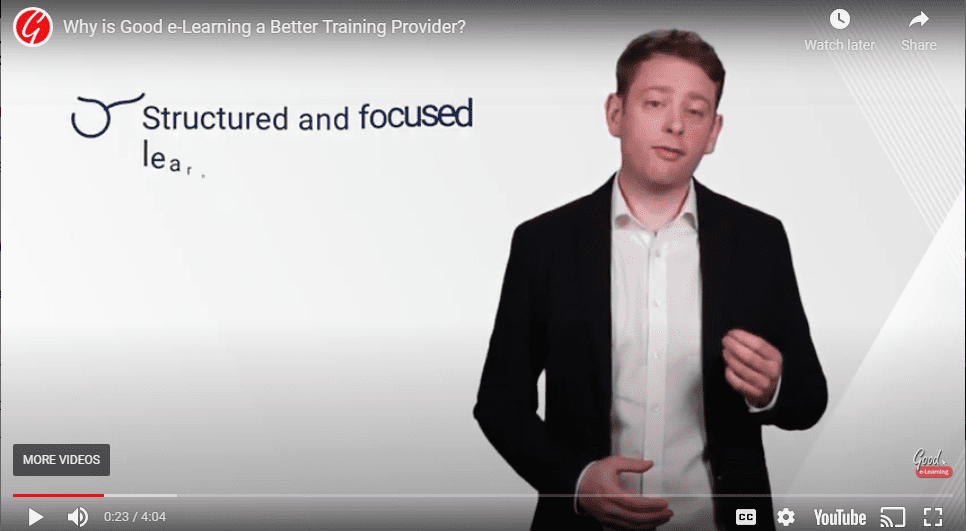 How long does it take you or your team to create a new course?
The Good e-Learning team is composed of instructional designers, content editors, graphic designers, e-learning developers, and technical testers. This in-house expertise enables us to create our own courses, each of which goes beyond accreditation standards.
On average, it takes approximately three months end-to-end to produce a course. Our courses also range in terms of how much material is provided:
Awareness – 1 hour long
Foundation and Practitioner – Around 2 days each
Extended courses – Around 5 days
Our process can be broken down into several stages …
The stages include content preparation, scripting, content editing, development, technical testing, accreditation, and launch. We also use a supplier who manages our development, project management, and technical testing elements.
We utilize templates for course blueprints and high-level design, storyboards, and video development. This allows us to dramatically speed up our course creation process. We also use an offline representation of the course to provide reviews, track file locations, and make changes before going live. Finally, we use an end-to-end process management guide, checklists, a risk register, and Power BI/MS Project to track our courses and make sure they stay on track and under budget.
For our certification courses, we always make sure to achieve full accreditation before putting them on sale.
Tell us a little about the process of launching your first course and getting your first enrollment(s).
Before my time! We have since moved away from the traditional course development, using one authoring tool and hosting our entire module within it, to a more atomized approach. Even so, our older courses continue to be popular and successful.
Do you have a lead magnet?
We currently use free trials, organic content, and other resources to create leads. This includes a number of articles written with input from subject matter experts. We're in the process of modifying our current free trial design and believe that making this more reflective of the overall experience will see an uptick in lead generation.

What's the traffic strategy that works best for you?
We found that writing and posting content on training topics is highly conducive to creating traffic. Good e-Learning is a thought leader within the business and IT, and we endeavor to answer any and all questions relating to the frameworks we cover.
What online course platform are you using?
We currently use Docebo. Good e-Learning is a value-added reseller for Docebo, and even won a Bronze prize alongside them at the Brandon Hall Group Excellence Awards in the category of 'Best Advance in Creating an Extended Enterprise Learning Program'.
Do you like it?
Docebo performs a number of tasks extremely well, and we've invested a lot in our Learning Ecosystem. Using a third-party provider does mean you are at the mercy of their roadmap and are restricted in terms of ideas/suggestions priority. However, Docebo has proven to be an excellent platform, providing a number of plugins and other tools that are beneficial to us.
Are there any features you wish it had?
We would appreciate an autoplay function, along with an option to fix volume control settings. Other than that, it would be good if the mobile app were included.
What other tools do you use to run your digital training business?
We use a variety of tools across our business, such as MS Office, Adobe Creative Suite, Articulate 360, Zendesk, Salesforce, Xero, and SEMrush.
What advice do you have for people just starting out?
To create high-quality training content, you need to understand your audience. Learner-centric design is key to keeping engagement high. - Philip Gallagher
Click To Tweet
How do they like to learn? What pre-existing knowledge do they have? What sort of jobs do they do? And what tasks do they need to perform in their roles? Being curious is key to designing effective course content.
A fundamental piece of advice is to start with the end. In other words, ask yourself, what should people be able to do as a result of taking your course?
You should also consider your USP. Popular frameworks can have dozens of training providers, so what makes your courses stand out? Do you go beyond bog-standard slides and narration and inject experiential learning into your design, where learners have to do something with the content? High-quality training doesn't need to be all bells and whistles, but it does need to employ effective and robust learning strategies that combine motivation and education. Remember, the goal is to encourage new habits and drive long-lasting change.
A good place to begin is to think about what good training looks like to you and start from there. Would you take this training course, and if you did, would you learn anything?
Start simple, get the essentials covered, make sure the course flows, scaffold learners (by providing them with support such as hints and tips), and get lots and lots of practice!
Learn more about goodelearning.com: