The Story of How Meredith Noble Earned $40K from Her First Grant Writing Launch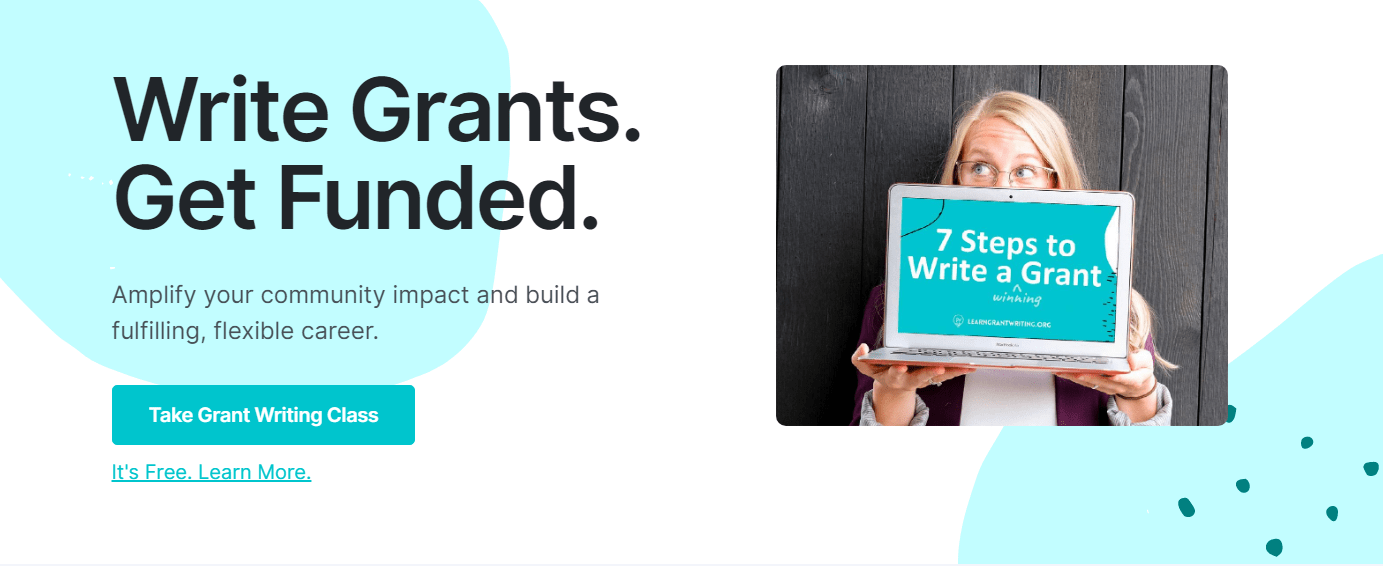 Our content is reader supported, which means when you buy from links you click on, we may earn a commission.
---
Who: Meredith Noble
Website: learngrantwriting.org
Course Topic: Grant writing education
Interesting Stats: 1,000 Facebook followers
Who are you and what course have you created?
We help those looking for a career change become freelance grant writers, so they have the flexibility to build a life they love. Zero experience with grant writing or business? No problem! Our Grant Writing Unicorn Method takes the mystery out of building a vibrant and fulfilling business.
What market does your online course serve?
We have carved out a slice of the market that is an absolutely outrageously fun woman to serve! She loves to be outside, travel, cook, and enjoy life. She is burned out in her career and looking for something more. It sounds cheesy, but she genuinely wants to make the world a better place and get paid for it. 
Our members come from surprisingly diverse backgrounds, but they are united through common threads. Whether a burned-out journalist or teacher, a retired Veteran, airline attendant, or marketing coordinator –  we attract members from all professions. 
All are looking for a meaningful career that gives them the flexibility to enjoy their lives. They come to us wanting to learn how to start side-hustling as grant writers until they have enough revenue to go full-time.  OWe love watching talent make the leap from underpaid employment to building a vibrant consulting practice, learning invaluable entrepreneurial skills along the way. 
Most of our students are totally new to grant writing, where the rest have some experience that wants to improve their approach. The bulk of our customer base is in the United States, but we have students from Australia to the UK to Brazil. 
We refer to our ideal customer as Nora.  Nora uses beeswax wrap, reads books on social justice, and loves to be outdoors walking.  She loves to support women and minority-owned companies. She loves loose leaf tea or a fancy espresso. And, she probably spends too much on candles.  Every community has several Nora's, and she is a joy to serve.
How did you get into the market?
I started grant writing for an engineering firm to help our clients secure infrastructure grants. When the firm was acquired by a larger global firm, project managers all over the US and Canada wanted help getting their clients grants. Can't blame them! Who doesn't want help getting funding for your projects!
Demand for grant writing services took off, and I led building a virtual team. The company grew to 35+ professionals and became recognized for its funding expertise in the marketplace. The work was intellectually rewarding but as anyone that's worked for a global consulting firm knows, it was also very demanding. I burned out and left without much of a plan, except to never write another grant again.
The period that commenced thereafter is what I call my 3-month MBA. My sexy startup idea failed before it really got started, and I started grant writing consulting. So much for my plan to never write grants ever again!
I also started teaching grant writing workshops and really enjoyed it. I knew I was providing great information, but our minds can only soak in so much information. Participants weren't getting the complete transformation I was hoping for.
I remember the distinct moment it occurred to me to teach online. I grew up on a cattle ranch in Wyoming and I was home helping with the calving season (when the baby calves are born). The upside of spending lots of time on a tractor is the amount of creative thinking time you get. I decided to give it a try and started the next day.
What a marvelous journey it has been. Teaching online is wildly different than in live workshops. Every assumption I had at the beginning was eventually disproved.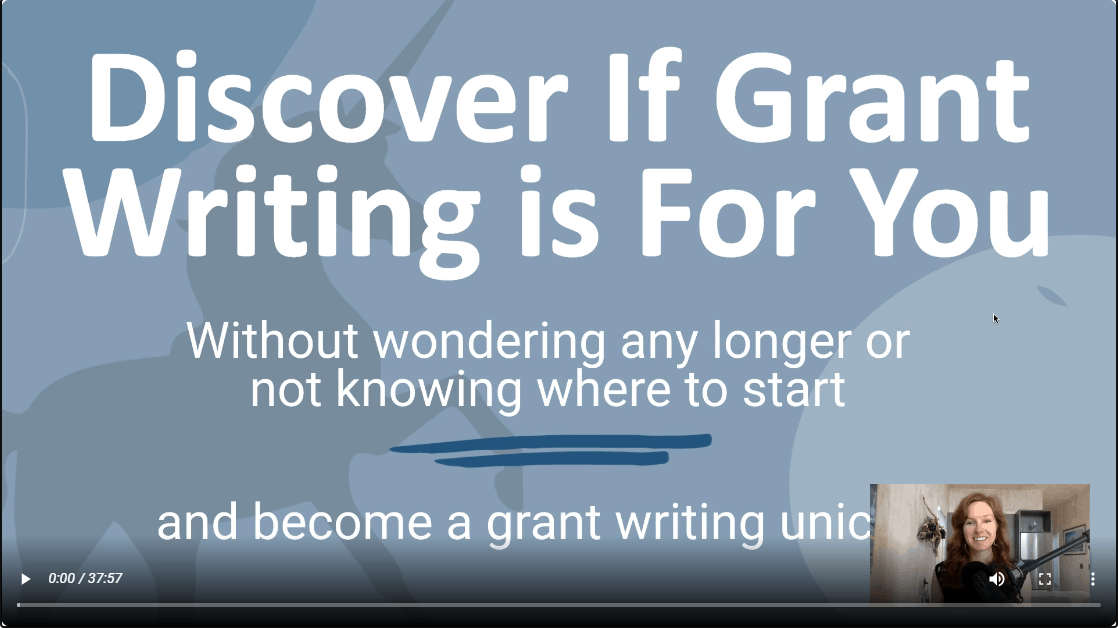 Why did you decide to create an online course in the first place?
The appeal of producing revenue that's not sold in a 1-1 format is surely one of the top reasons people are drawn to online courses. - Meredith Noble
Click To Tweet
The reality is that it takes a lot of work and thousands of iterations to get every part of the online business machine running smoothly. As I reflect on those early days, my principal motivation was to help people really learn how to write grants. I was tired of being asked for coffee to "pick my brain," as if an hour-long coffee date can truly transplant all my knowledge into yours. I wanted a solution that helped people become exceptionally talented grant writers.
That is still my core motivation for showing up every day, but a secondary motivation emerged over time as well. My online course business was a side hustle to my main grant writing consulting business. It always came second in priority and was primarily worked on in the evenings and weekends. Despite having a long list of wonderful clients and a profitable business, I was desperate to have a scalable business.
Did you have any moments of doubt before you created/launched it?
I'm blessed with enough sense of confidence that I didn't have to overcome much imposter syndrome. Sure – there were times when I felt insecure about my young age, and not being "qualified" to teach grant writing, but those moments were fleeting and infrequent. I didn't have a full-time stable corporate gig. I was betting entirely on myself. (Still am!) Succeeding is the only option. I know every bit of the online course business is mired in detail and complexity, but consistency wins every time. By showing up every day, I have slowly but surely built a successful online course business.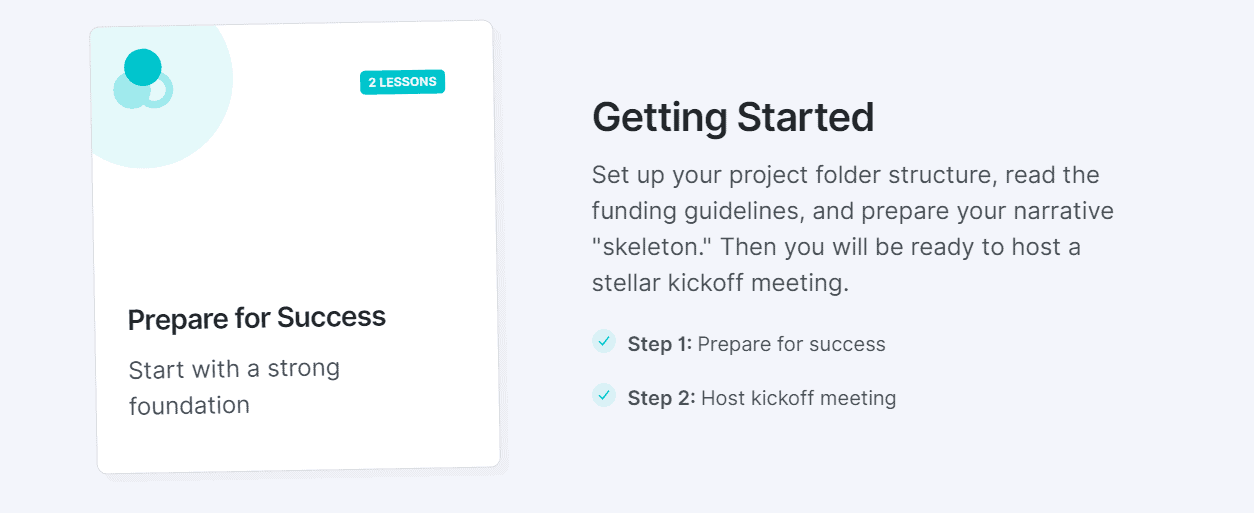 What's your online course like?
Our online course is hosted on Kajabi, so if you have seen their format before, you can get an idea of what the video sequencing looks like. My original course was actually three courses deep. What a mistake! Build ONE course. One very, very succinct course. Our current course is technically the third version of it.
That's one reason why I don't advise other course creators to get super hung up on their first launch. You will learn so much from real customers that you'll want to change it anyway! - Meredith Noble
Click To Tweet
I filmed the course with my laptop and edited using Camtasia. We uploaded audio transcripts of each module so people can listen on the go. We have an assessment survey at the end of each module, more to gather feedback for improvement than anything else. To be extremely succinct, I actually scripted the entire course. I read it in a way that you would never guess, but it meant that I elected to not have the camera on while I was sharing slides. I regret this. Training is so much more engaging with a human face in the lower right corner (as we have done for our conversion webinars).
The course also includes a private Facebook community group that's highly active and vibrant. We experimented with Kajabi's community group but it was hard to keep engagement high.
How long did it take you to create your course?
The first course took like four months of filming and editing. Really, I was winging it. I made a slide deck, but it wasn't scripted or focused at all. I was building it as I went. This is a terrible approach!
Everything I possibly knew about grants went into the course and it was way too much. I also put all my focus on building the course and nothing at all on building an email list. Because I didn't actually have anyone to sell the course too, I sold like $2,000 worth over the next six months. It was a big flop and I didn't know what to do to course correct.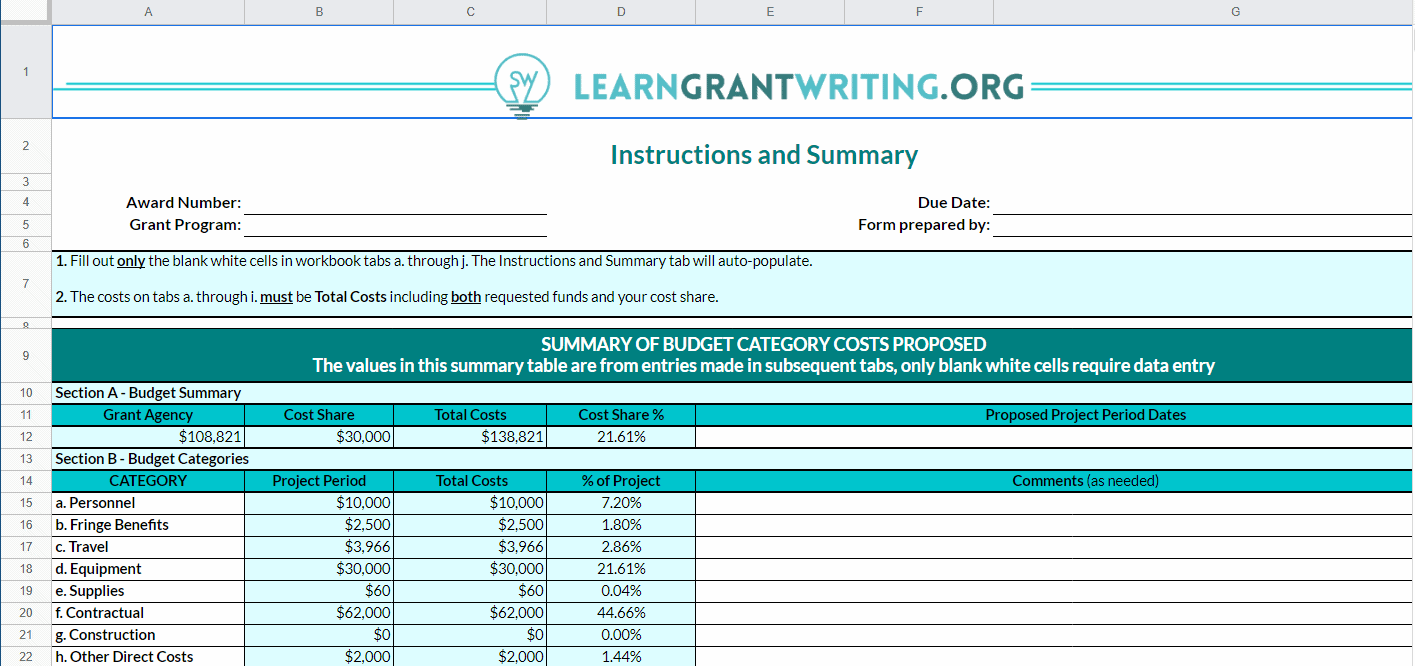 Turning it around.
At that point, I ended up signing up for Amy Porterfield's Digital Course Academy and it was transformative. I followed her course outline methodology, used the webinar launch model, and list building strategies to finally build a business that succeeded! I probably would have given up if not for Amy Porterfield's program.
When I rebuilt the course using her methodology, I sticky note brainstormed. I then outlined the course, taking a scruple to everything. I then hired a graphic designer to help take my slide content to the next level. After outlining the course, I built the first module and then sold the course. I wrote and published a book, How to Write a Grant: Become a Grant Writing Unicorn, just a month prior and promised those participating in my book launch team course access for $1. For this launch, I soft-launched the course to about 25 people. I made about $8,000 in that quiet launch. The feedback from this initial cohort helped shape the final three modules and figure out the nuances of keeping a virtual group motivated and confident.
I highly recommend this approach. It makes for a really intense month, but then you are building the course based on real customer feedback in real-time.
After two successful launches, I decided to evergreen the course. We took the feedback from the first few cohorts to further improve the course. This time, everything received a brand overhaul. The course was made yet even tighter. It is now just three hours of recorded content.
Tell us a little about the process of launching your course and getting your first sale(s).
Because I didn't have an email list, I tried traditional methods for gaining traction like speaking at conferences and even tabling a booth at industry events. Generally speaking, it was a waste of time.
However, when I was ready to launch my new course, I still didn't have a stout email list. I decided to host a series of live workshops throughout my state (Alaska). I had four workshops that all sold out. The largest was in Anchorage at a fun theater pub with over 250 participants.
I had never done anything like that before. It was such a level up moment of sink or swim. I taught a live 4-hour workshop and culminated it with a pitch for taking my online course. It worked great. I grew my email list, earned revenue from the workshops, and had about 70 students sign up for the course.
I had stopped consulting in the Fall of 2019 to focus entirely on publishing a book, building the course, soft launching, and then preparing for the big launch in January. My piggy bank was empty. I even had to take a $7k operational loan from my parents! A combination of hard work and luck, helped me make that official launch a success. I was pushed to delay the launch because it was such an ambitious schedule for selling so many seats, but had I done that, coronavirus would have prevented doing a live event!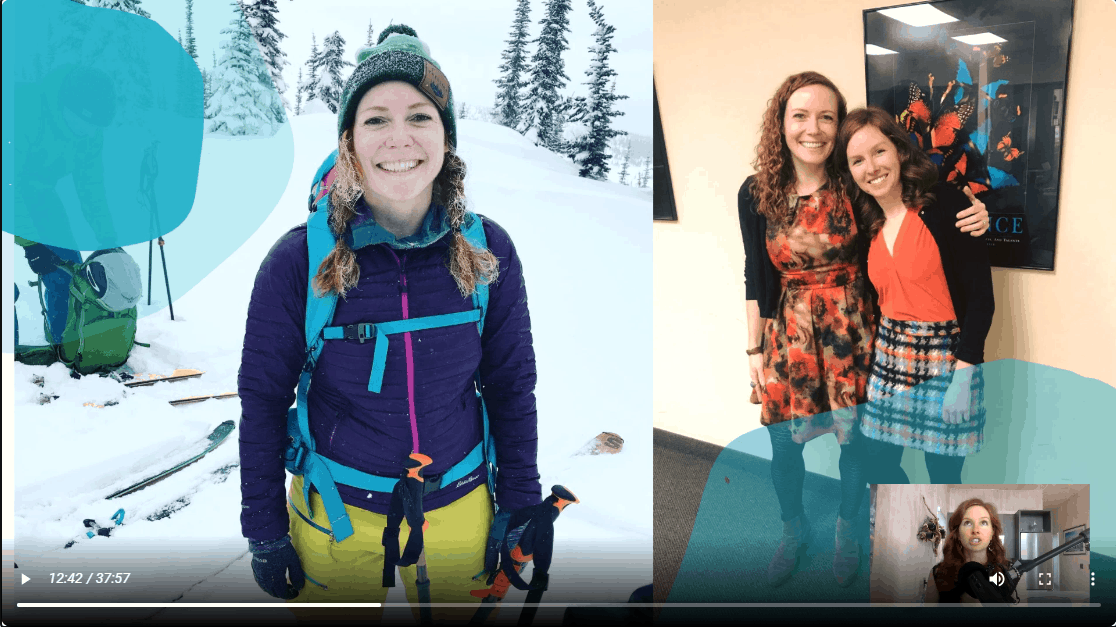 Do you have a lead magnet?
We have multiple lead magnets. Different lead magnets appeal to different people depending on where they are and what they are doing when they find your website. We have a free mini-grant writing course, a free audiobook of my book, a free templates page, and require adding your email to access our webinar training replays. We launched a new custom website a few months ago, so we were able to use cookies to track if someone had been on the website before. If they provide their email once, they won't need to add it ever again. They have complete access to all free materials on the website thereafter.
Check out the website to see the others!
What's the traffic strategy that works best for you?
We are focused on four traffic strategies: YouTube, book sales, SEO, and now Facebook ads. YouTube has taken a long time to master, and only recently did we master setting up a consistent content production procedure. Book sales through Amazon and other bookstores help organically connect new leads to our website as we reference free resources they can access on the website. Google SEO is a long journey, but it is worth it to get "free" leads. I worry about this channel over the long term. Google scrapes answers and presents them without a customer having to click on a website anymore. That will impact our ability to actually capture emails. Organic leads are always of the best quality but we don't yet have the volume we want. We are augmenting with Facebook Ads.
What online course platform are you using?
Kajabi. We looked at switching to Teachable because they have better API connections to other providers like ConvertKit for email. We decided to stick with Kajabi because changing our website and email system was plenty of complexity, and generally speaking we are happy with them.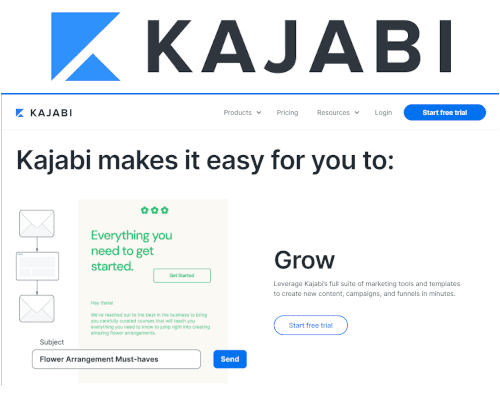 Kajabi is the All-In-One Course Platform
Kajabi is one of the top online course platforms used by successful course creators interviewed on coursemethod.com. Kajabi includes email marketing and other tools that make it easy to run your entire business from their platform.
Price Range: $149 to $399/month
Most Popular Plan: Growth Plan at $199/month
Annual Discount: Yes, take 20% off!
Free Trial: Get a 14-day free trial (credit card required)
*Our content is reader supported, which means when you buy from links you click on, we may earn a commission.
Do you like it?
Yes. Their customer support is the best in the world. The Kajabi Impact summit was an exceptionally well-done event. The functionality is great to get started and for hosting the course, but their websites rank poorly on mobile and the email system is frustrating.
Are there any features you wish it had?
Wish it allowed you to have affiliates without paying for the significant upgrade.
What made you decide to use your chosen platform over others?
Honestly, I didn't spend any time researching options! Kajabi was the first thing to pop up when I searched and I went with it.
What other tools do you use to run your online course business?
ConvertKit for email. Their customer support sucks but deliverability looks better. We like how well it integrates custom forms on our website with their automation. We're using Zapier to connect Kajabi with ConvertKit and our website. And we also rely on Asana for project management and Slack for team communication. Honestly, we use quite a lot of SaaS products. Other products include; VidIQ for YouTube optimization, UberSuggest and SEMRush for SEO analytics, YAMM for mail merge, and more.

What books or training programs have you found useful on your journey to a successful business owner that others might find valuable too?
Amy Porterfield's Digital Course Academy. Hands down, she provides the most professional and well put together program we've ever experienced. We are also enjoying Primal Video's training for YouTube.
Do you have any big mistakes you've made along the way that you'd be willing to share?
Where do we start! I was stubborn about producing a lead magnet at first because I thought it was offensive to give away so much content for free. Obviously, I now understand the importance of exceptional lead magnet content.
I built three courses instead of one at first.
I thought I knew my customer because I knew my consulting client well. The online course customer is completely different. My business didn't take off until I finally had 20+ customer interviews to truly dial in on her needs and aspirations.
I haven't spent nearly enough time on list growth. We're only now going all-in on it. I felt like we needed to have our business fully optimized first, and that wasted a lot of time and lost revenue.
I tried to hire out for multiple parts of the business I didn't like or want to do. This never ended well. You have to understand the role yourself before you can hire for it. - Meredith Noble
Click To Tweet
We now focus on optimizing a process before onboarding someone to take it over. They are encouraged to continually improve business processes, but at least they now have clear direction on how to do their job successfully from day one.
I have made a million more mistakes but within lies the secret to our growth and improvement. The only way to build an online business is to fail fast and optimize thousands of times. There is no set it and forget it in this business.
Please share some idea of revenue.
Our revenue numbers share three important lessons. First – we were subsidizing our course business with our consulting income. When we took away consulting, the business was burning in the red. Our monthly burn rate was $16,000 (2.5 employees and business expenses).
We knew something had to change. We conducted a series of informational interviews and discovered our product offering wasn't quite hitting on what our customer needed for the full transformation. After reworking our offering, tripling our pricing, and setting up an annual membership instead of a one-time course, we have saved our business.
That is almost a $20,000 difference in a single month! Plus, $7,000 of that is monthly recurring revenue now for the next twelve months. 
At this growth rate, we expect to have a $500k year.
Please tell us a little about what the money you've earned from your course has done for you.
I tell people that building an online course business is like learning to ride a bike with training wheels. You learn the fundamentals of business. It is a relatively low-cost business to start, and one you can build on the side until feeling confident about going all-in on it.
I know that I could take an idea to launch in a fraction of the time, now that I know the steps to launching an online course business. I've been able to help other online course creators build their dreams. My assistant, for instance, is building an online business. We spend an hour every week going over her business goals and guiding her to work on the right things.
I'll never go back to a regular 9-5. I design every day how I please. I work weekends and evenings, but happily take a mid-week day to go skiing or biking. Building an online course allows you to design a life you love, and once you have tasted it, you'll do whatever it takes to build the business. Even if it means less pay, more sacrifices in the near term!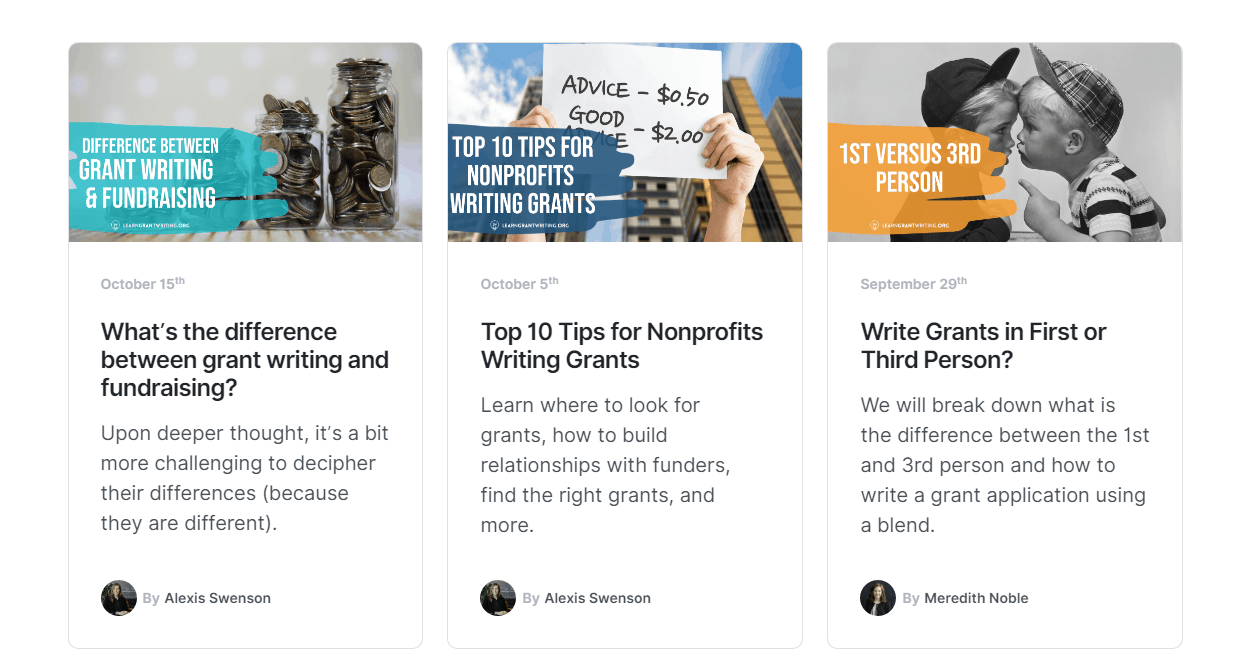 In addition to revenue are there any numbers you would like to share?
While this isn't a covid-times strategy, it is one to consider when returning to more normal days in the future. 
We more than covered our marketing costs by hosting a live 4-hour workshop, charging $90, and reaching over 400 people. We pitched our online course at the workshop and 69 people converted. The workshops and online course revenue netted over $40,000 in our first official launch! 
We hope others will use this to consider having paid events for promoting their content. We still did an online webinar, and obviously did that method exclusively once COVID-19 hit, but paid events help create a higher level of commitment and engagement than free events!
What has creating your course done for you personally?
A company expressed interest in acquiring us because we solved a big problem they had – finding talented grant writers. I was shocked that someone saw so much value in what we were creating that they wanted to buy our business, but I also felt really unconfident about how to navigate that world. I didn't feel like my business had actually succeeded "enough" to be worthy of acquisition.
Within a few weeks, however, I regained my confidence and realized that we actually have a small but mighty business. I realized we have gained traction with SEO, we published a book, we are growing, and we're entirely self-funded. Growing an online business changes you. You don't realize it at first. It's subtle, but it transforms you because it demands you to be a better version of yourself every day. An online course business is a remarkable business model.
Do you have a story of a transformation from any of your clients?
One of our favorite success stories is of a gal named Katie. She struggled with substance addiction, homelessness, and even finding herself in jail. The local reentry coalition helped her get back on her feet, and she wanted to learn how to write grants to thank them. She signed up for our course, unsure if she could even win a $5,000 grant. Her work was impeccable and we encouraged her to dream bigger. She ended up writing a $100,000 grant just four weeks into taking our course, and she won it! We then actually hired her to write a grant for the consulting side of the business, and she won that $600,000 grant too. It was one of the most complex proposals I have ever seen. She shared with us…
"Your course has honestly changed my life, and I don't say that lightly. Before I started, I really didn't have any goals or plans for the future, but now I have this focus and drive to get where I want."
We have since had several people take our course that are rebuilding their lives. These changemakers are specially equipped to drive positive change because they have shared life experiences with those they want to help. We are now doubling down to build a social impact mission into our business that reaches men and women leaving prison and wanting to leverage grants to implement programs and projects they believe will reduce recidivism.
What advice do you have for people just starting out?
Get a landing page up immediately with a lead magnet to start collecting emails. - Meredith Noble
Click To Tweet
You don't need to have a product built before you do this. Start building your email list from day one. If you don't have an audience to sell, it won't matter if you have the coolest course in the world.
Then, do interviews! Lots and lots of customer interviews. Your customer won't tell you exactly how they want to learn, but they will provide golden nuggets for you. Do 20 interviews before building anything!
Consider soft-launching, where you pre-sell the course to validate true interest in the product while allowing you to build "as you go."
Last tidbit! Focus on the building process as you go. Producing content and anything else you do over and over can get really overwhelming. Document your process as you go, literally writing out every step you take. Then, it gets easier when you have steps to follow, and it will help you when you start bringing on help!
Last, last tidbit! Consider building the business independent of your personal name and brand. Obviously, when you are just starting out, it's strongly built around you and the success you got yourself or for others. But, if you ever want to sell your business or grow it to feature the expertise of others, you want a brand that can stand on its own. This is not brought up nearly enough in the course creation world.
Learn more about Meredith Noble of learngrantwriting.org: