32 LMS Industry Statistics & Trends

Our content is reader supported, which means when you buy from links you click on, we may earn a commission.
---
If you're involved in eLearning, then you need to know about the latest LMS industry statistics and trends. Learning management systems (also known as an LMS) help with the delivery of online training material. They make it easy for learners to consume the content as well as keep track of their progress, and follow the training in a structured way.
The online learning industry is growing at an exponential rate which will result in high growth in the LMS industry. That's because as digital training grows, the LMS market will grow to keep up with the demands to conveniently deliver that training.
In this blog post, we'll share 32 statistics that will help you understand the state of the LMS industry. This information is essential for anyone who wants to stay ahead of the curve in eLearning. After reading these statistics, you'll know what's happening in the LMS industry and where it's headed. So let's get started!
Learning Management System Industry Statistics
1. The learning management system (LMS) market is expected to reach 29 billon U.S. dollars by 2026. (Global News Wire)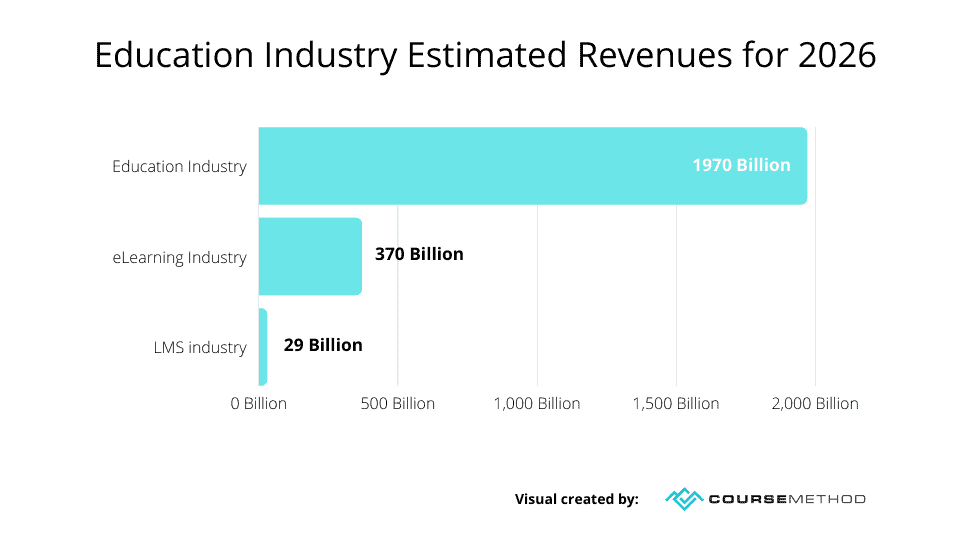 2. The online learning market was worth about 101 billion U.S dollars worldwide in 2019. The global eLearning market is expected to grow to over 370 billion U.S. dollars by 2026. (Statista)
3. The education industry was valued at 1.57 trillion U.S. dollars in 2019. It is expected to keep growing at a rate of 2.77% and is estimated to be valued at $1.96 trillion U.S. dollars by 2025. (Research and Markets)
4. Learning management platforms have grown exponentially over the last decade. Additional estimates showed the LMS market was worth 2.5 billion U.S. dollars in 2013 and 7.8 billion U.S. dollars in 2018. By 2022, the same analysis expected the estimated worth of the LMS market to grow to $15.72 billion U.S. dollars. That was about a 7 x increase during less than a decade. (iSpring Solutions)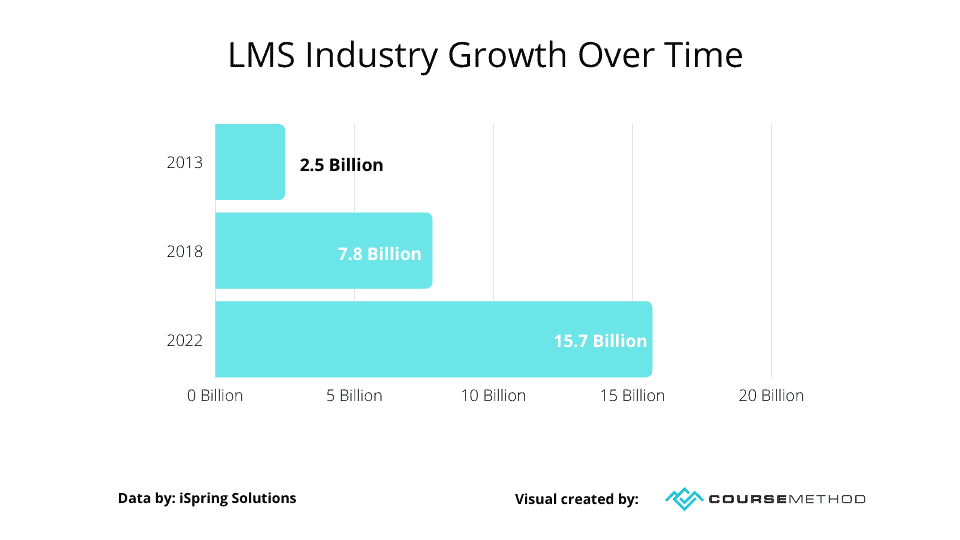 5. Additional estimates show that the LMS market will reach a value of $28.1 billion by the end of 2025. (Research.com)
6. 'Learning management system' as a keyword is typically searched over 8,000 times per month on Google.  This and similar phrases, like LMS, etc. are likely searched for 100,000 + times per month when they are combined. (Ahrefs)
7. 23% of companies have been using the same LMS for more than five years. (Docebo)
8. 44% of companies are not satisfied with their current learning management system. (Brandon Hall Group)
9. There are 282 LMS software platforms with verified reviews on G2. (G2.com)
10. 70% of learning and development (L & D) departments used an LMS for their training programs in 2020. (Statista)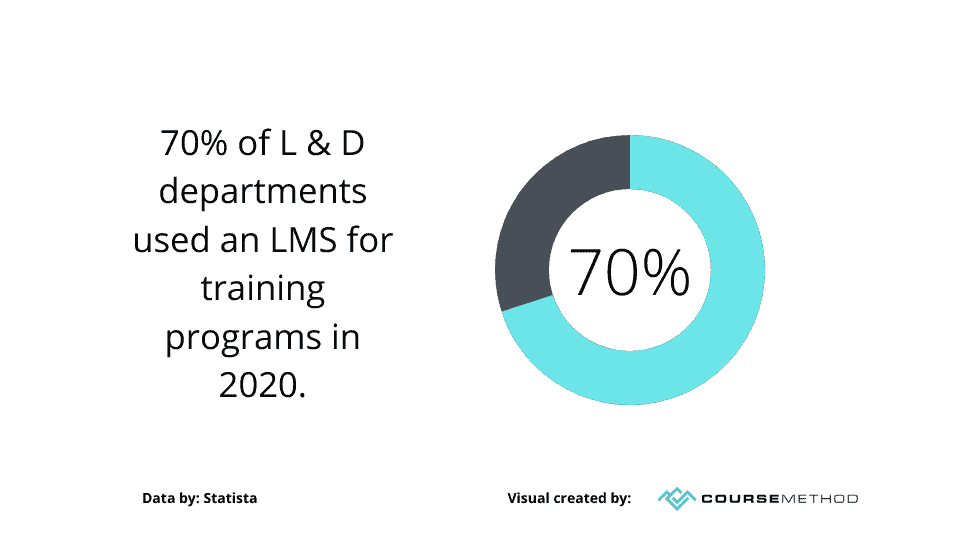 11. According to G2.com, the top 10 LMSs with rankings over 4.5 stars and a high number of reviews include Tovuti LMS, Absorb LMS, Brainier LMS, LearnUpon LMS, Path LMS, Chamilo LMS, Pluto LMS, Elevate LMS, Tutor LMS, and IELTS LMS. (G2.com)
12. The top 5 LMS according to elearningindustry.com, are; Adobe Captivate Prime, TalentLMS, Docebo, 360Learning, and SAP Litmos. (eLearning Industry)
13. Functionality and price are the two most important factors organizations consider before purchasing LMS software. (eLearning Industry)
14. More than 100,000-course creators are using Teachable as their online course platform by 2020. These instructors have used Teachable to earn over $500 million selling their digital training. (Teachable)
15. About one-fifth, or 21%, of the global LMS market is accounted for by the education industry. Other sectors with large usage of the LMS market include manufacturing, healthcare, technology, and consulting. (Guide2research)
16. U.S. companies spent $92.3 billion on training in 2020-2021. Most of this was on virtual learning due to the COVID-19 pandemic. (TrainingMag.com)
17. 2021 stats showed that 98% of large companies currently use an LMS to deliver their training. 96% of midsize companies use an LMS and 80% of small companies use an LMS to deliver their training. (TrainingMag.com)
18. Additional stats showed that …
On average, 90% of companies use LMSs in 2021, which was up from 84% in 2020.
Virtual classroom and video broadcasting was used in 88% of companies surveyed (this was up from 83% in 2020)
Rapid eLearning tools were used by 43% of companies which was down from 46% in 2020.
Mobile applications were used by 30% which was down from 43% in 2020. (TrainingMag.com)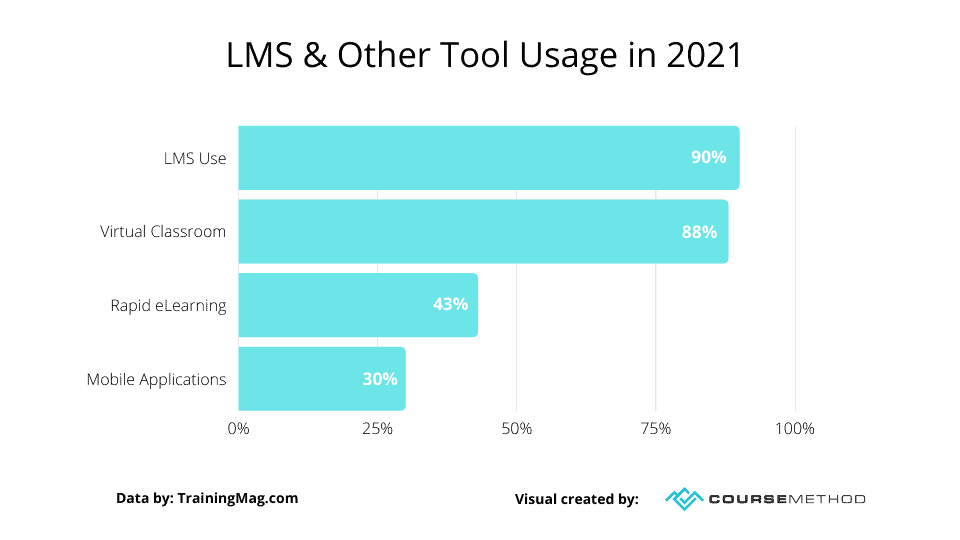 19. 48% of companies would like to find a new LMS. Approximately 43% would like better social tools and better means of collaborating. (Brandon Hall Group)
20. The education industry uses learning management systems most widely which is no surprise. LMSs are used in education at 21%. Technology is using LMSs at 12% and manufacturing uses LMSs at 9%. (iSpring Solutions)
21. Interviews of course creators showed that 27% of successful course creators interviewed used Thinkific, 23% used Teachable, and 13% were using Kajabi. The next most popular option was a custom solution (10%). (Course Method)
22. 63% of successful course creators interviewed reported that the online course platform they were using lacked important features. 29% of those who thought their platform lacked features reported issues with the sales page builder. 10% reported that the dashboard needed improvements. Another 10% reported that the payment system needed improvements. 7% took issue with the cost of the platform and another 7% said the affiliate marketing feature could use improvements. (Course Method)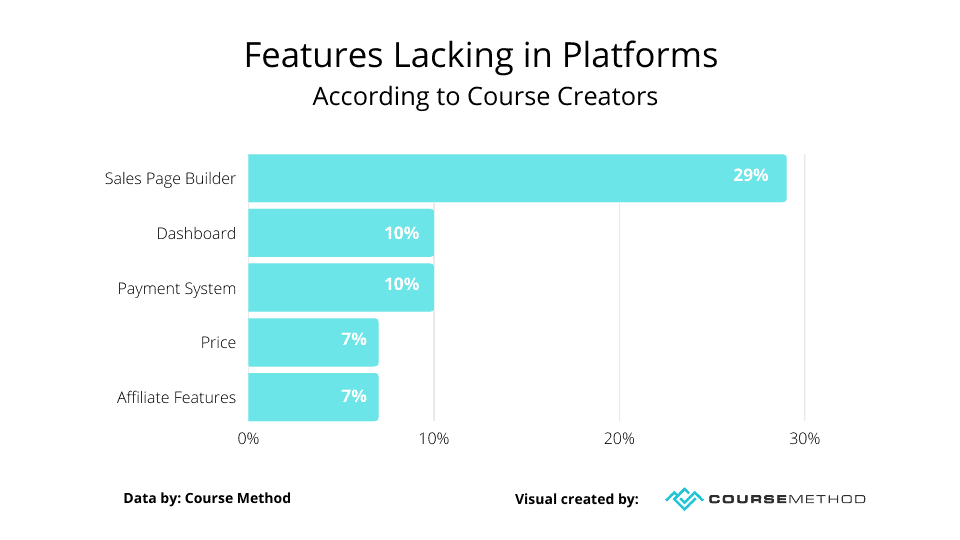 LMS Trends
23. The COVID-19 pandemic accelerated the online learning industry. eLearning will continue to grow at an even faster rate than once projected. Companies need to focus on remote training options which means the instructors need to become skilled in delivering that remote training to workers. They need to become familiar with learning management systems and how to best utilize them to help train the company workforce.
24. The keyword 'learning management system' has steadily been searched for on Google with higher interest times revolving around the pandemic. (Google Trends)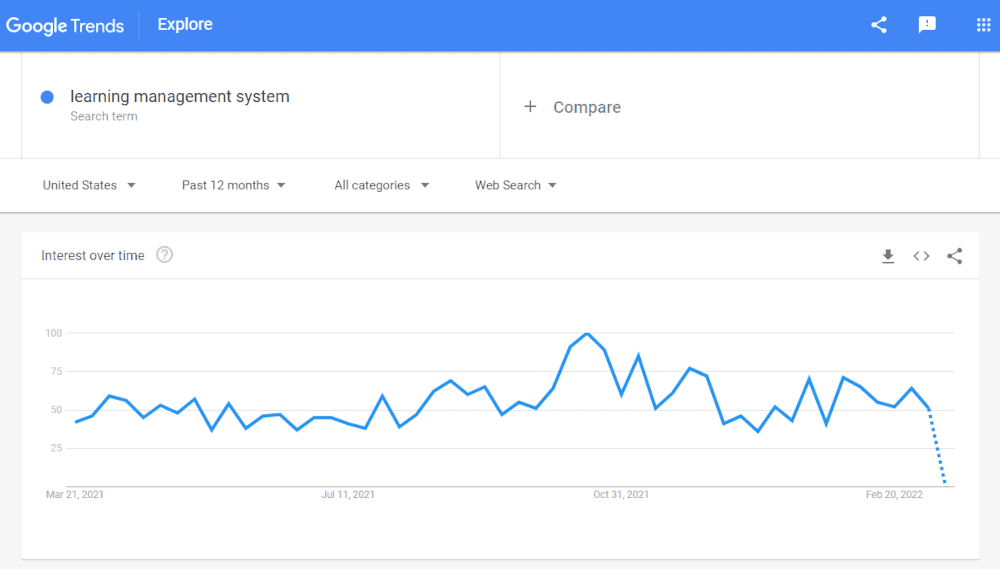 25. More LMS software will incorporate data analysis to help companies gather information about how their learners use the training and the LMS. The analysis is lacking in many LMS software currently, but due to the fact that companies need data to make decisions, expect better analytics built into many systems.
26. Many believe that Augmented Reality (AR), Virtual Reality (VR), and Mixed Reality (MR) will become the next big thing in eLearning.
27. VR uses a display mounted to the users' heads to allow them to turn and see more just like a driver would. AR projects the visual components onto a device like a tablet or a screen. VR is especially immersive and the best allows learners to interact with stimuli.
28. User-generated eLearning content will increase. Tools to make collaboration easier will lead the way in this trend. Companies like circle.so that integrate well with LMSs help learners share what they're learning.
29. The ability to personalize content is leading to learning experience platforms (LXP). LXP's allow the learner to decide on their path through the material instead of a set learning progression with most LMSs (where the material is ordered by module and even lesson 1, 2, and 3, etc.).
This allows the learner to focus on the material that matters most to them. They can skip the rest or customize how they want to go through the material. AI or machine learning can even be incorporated into an LXP to show the learner what they should consume next.
30. You may have heard about how Google switched to a mobile-first algorithm where a company site must look and work great on a mobile device. Expect the mobile-first LMS next. Many students and employees want to access their learning materials on the go so working well on a mobile device is becoming more and more important.
31. The most popular LMSs will also incorporate social learning to help learners share information and collaborate. Future LMSs will need the collaboration tools built-in or allow deep integration with those that already exist. Learners will want to discuss and provide feedback amongst themselves and the instructors. This also adds to more content.
Conclusion
The LMS industry is growing exponentially and shows no signs of slowing down. If you want to stay ahead of the curve, make sure to keep up with the latest industry trends.
We've compiled a wealth of information for you in this article, but if you want to learn more, be sure to check out our other industry statistics articles.
Resources
Top LMS Stats:
The LMS industry is expected to be worth $29 Billion by 2026. It has been growing exponentially in the years prior and due to the COVID-19 pandemic, the fast pace has accelerated.
21% of the global LMS market is used by the education industry.
98% of large companies in the U.S. used an LMS by 2021.
While many successful course creators were happy with their online course platform, 63% said that the online course platform they used was missing features.
Top LMS Trends:
Learning Experience Platforms (LXP) are a newer trend. They allow learners to consume the learning material in the order that makes the most sense to them. A traditional LMS has a defined order to the content. An LXP let's the learner focus on the material that matters the most to them.
Augmented Reality (AR), Virtual Reality (VR), and Mixed Reality (MR) are becoming trends in online learning within the LMS industry.
User generated content is a big trend in the elearning industry. LMSs that integrate with online collaboration tools or build them into the software are becoming more popular.