How Kristin Smith of BBFrosch.com Created a Profitable Online Course on Refinishing Furniture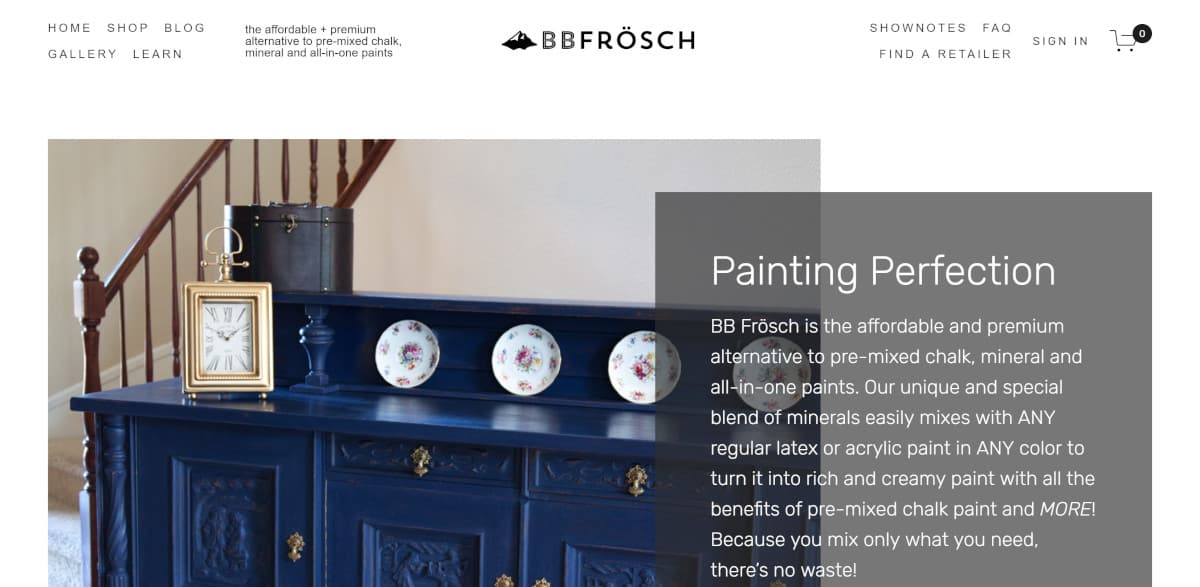 Our content is reader supported, which means when you buy from links you click on, we may earn a commission.
---
Who: Kristin Smith
Website:  bbfrosch.com
Course Topic: Chalk painting and cabinet painting
Revenue Stats: $1000 to $1,500 a month
Who are you and what course did you create?
My name is Kristin Smith and I run bbfrosch.com where I sell BB Frosch painting products and online courses.  The BB Frosch line of products include; chalk paint powder, paint brushes, finishing wax, brush conditioning soap, and several others.
I also offer a couple of courses through my site. These include the Ultimate Guide to Painting Cabinets, the Ultimate Guide to Chalk Painting, and How to Paint Vintage and Antique Furniture. Although we use the BB Frosch line of products in our courses, each course is designed so that students learn styles and techniques suitable for a broad range of products. We've found that the courses and the product line really complement one another.
My market is furniture refinishers, home improvement enthusiasts, painters, and the DIY community.
What's the biggest benefit of taking your course?
Students can learn to refinish furniture, cabinets, home decor and more—affordably and professionally.
Why did you decide to create an online course in the first place?
I created a product (BB Frösch Paint Transformer—formerly BB Frösch Chalk Paint Powder) that people can add to any brand/color of paint that turns the paint into a rich and creamy paint that can be used to refinish furniture, cabinets, and more WITHOUT the nasty prep work—no sanding, stripping or priming is necessary. The resulting paint bonds with virtually any surface without the prep work—wood, laminate, plastic, glass, fabric, metal, tile, linoleum, and more! Creating courses that teach people how to do it was a natural progression.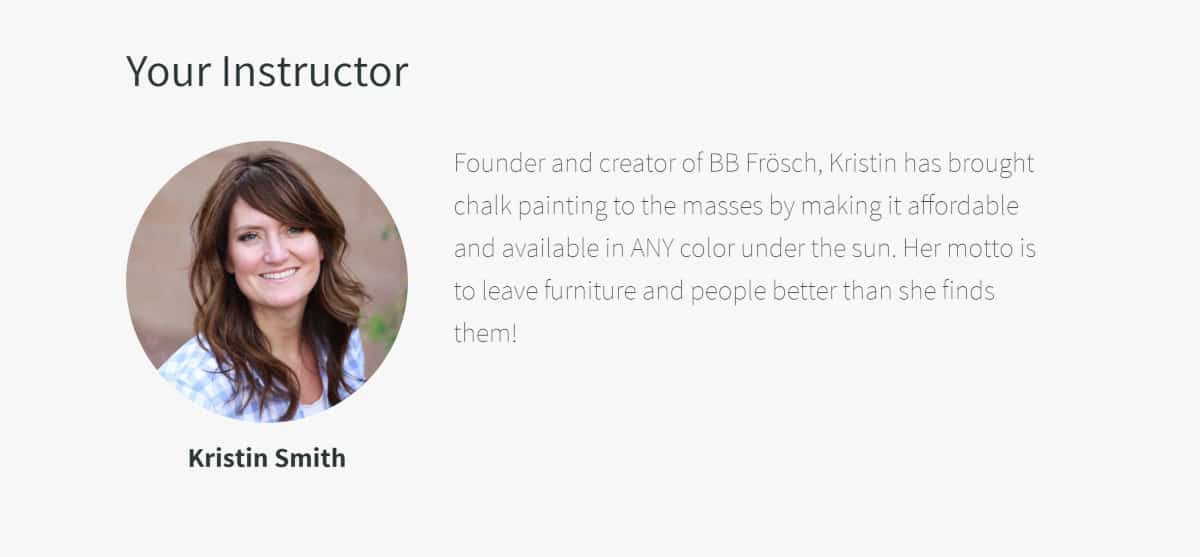 Did you have any moments of doubt before you created/launched it?
YES! When I started I felt very overwhelmed by the things I DIDN'T know—like how to create good videos, for example. I had taught thousands of people in person and was very comfortable in front of large groups, but I second-guessed constantly whether I could translate that into a good online course.
It took me many times to start working on my first course. I would get going, then get scared what I was putting together wasn't good enough. Or, I would worry that no one would purchase the course, or people would purchase it and not like it. One day I decided fear was not going to take over and just buckled down to finish the course!
What's your online course like?
My course includes lots on instructive videos, photos and written instruction to hit multiple learning styles as well as give reference points for students to reinforce certain concepts. I designed the courses so that students could work right alongside me painting their own projects.
How long did it take you to create your course?
The first course took a year, but only because I kept letting fear rule the day. The second course took about a month since it involved a lot of video and video editing.
I start each course with an outline of the things I want to cover. I feel like this is the most important step. Without it, it's easy to get sidetracked or lost in the weeds, so to speak.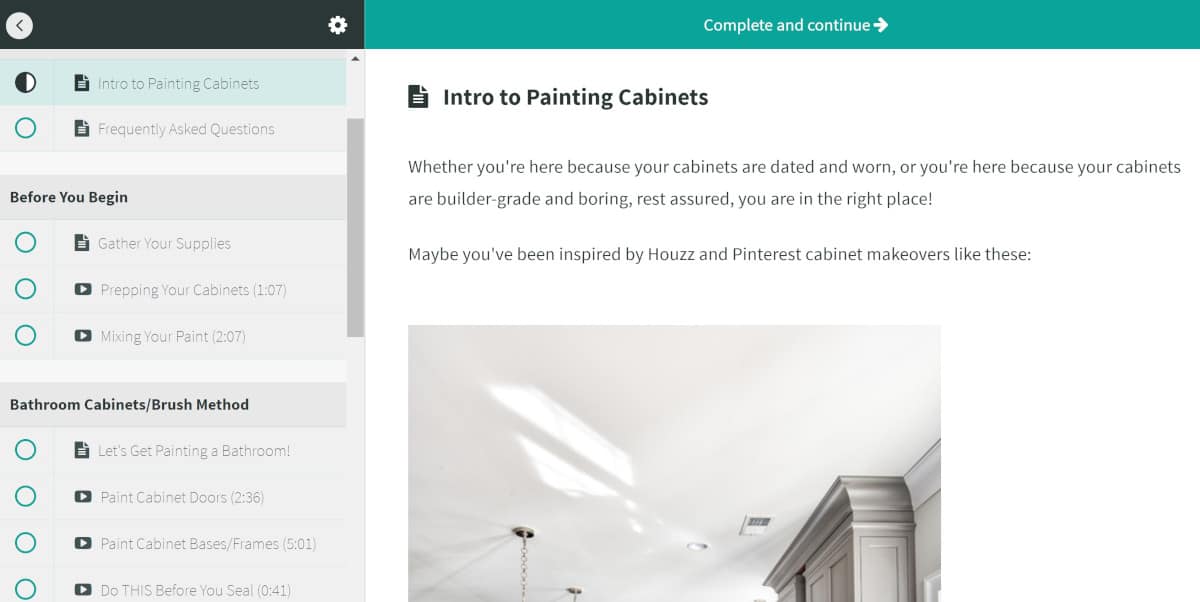 Armed with an outline, this is how I proceed with each course creation:
I put my outline into Teachable so everything is divided into sections and topics.
I film video and take LOTS of photos of the process. I've learned that it's best to shoot the video in landscape mode. Also, use a tripod! Shakey videos are the worst. I also recommend a mic. It helps to have several phones, cameras, etc. set up to film from different angles.
I edit the photos I plan to use (photographed mostly with my iPhone) and use editing apps like Snapseed, ColorStory, and Lightroom.
Then I edit the videos I want to use with iMovie. I divide each video into small, bite-sized chunks instead of one long video. This helps students more easily refer back to sections they may need a little more review on. It is also less overwhelming. When editing videos, I start with an intro title font/style that is consistent across all the videos in a course. I am also consistent with transitions and music. If there is anything I forgot to say in the video when I recorded it, I do voice-over in the editing. I also like to include picture-in-picture slides of text that goes along with the video because I feel it helps solidify certain points I want to make.
Create thumbnails for all the videos using Photoshop. I made my own template so all the thumbnails look consistent. I also recommend Canva for creating thumbnails—they have lots of great templates.
Upload videos to the sections I previously created in Teachable. Most sections will only have one video.
Write step-by-step instructions to include in each section after the video. The instructions will have still-shots of the products used as well as the process. This is not word-for-word of what was included in the video, but it's basically just a different way of presenting and reinforcing the information in the video. People have different ways of learning, so it helps to have written instructions as well as video.
I did have to learn how to use iMovie, but it was fairly easy once I got going. For anything I wasn't sure how to do, I found a YouTube video to learn how!
Tell us a little about the process of launching your course and getting your first sale(s).
Hitting the "launch" button was scary but ultimately gratifying. I felt a tremendous sense of accomplishment for doing something that felt so big and involved so much learning on my part. I honestly felt that even if no one ever purchased my course, the process of gaining confidence in my course creation skills was priceless.
When I saw the first sale come through, I was elated, to say the least! Before I knew it, sales were over $1000, then $5000. The best part was, all the hard work had already been done, so every dollar that came in felt like a bonus!
I already had a good email list from customers who had purchased from our website over the past few years. When we launched, we sent out an email letting everyone know. Every week we send out a newsletter with tips and tricks and project ideas. We always include a link to our courses in this email.
We have an Instagram following of just over 20k. When we launched, we shared it in posts, in stories, and on IGTV (Instagram TV). We didn't offer any sales for the launch, but we did teasers leading up to the launch that we had courses coming soon. Every time people asked questions on social media, we told them we had a course coming soon that would answer questions. We continue to link to our courses when people ask questions.
I write a guest blog post once a month for a well-known blogger. I link to our courses on those posts as well.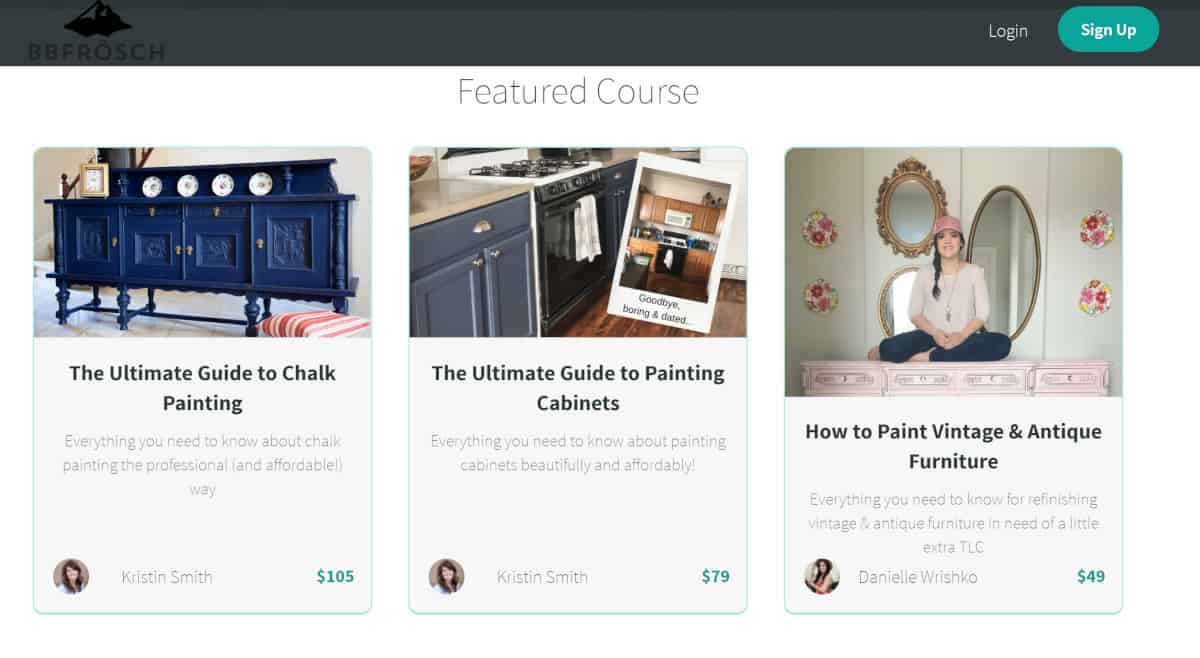 Do you have a lead magnet and how is it working out to help you sell your online course?
The first two lessons in my signature course are free attention grabbers. I mainly advertise the course through email, our website, social media and Pinterest.
What's the traffic strategy that's working best for you?
Email seems to be giving us the most traction. We send out automatic emails to customers who purchase products on our website.
An automatic email the goes out to new customers with a link to our courses. We give a small discount that is good for a limited time.
We run different promotions with course discounts that are only available to email list subscribers.
Pinterest is also a great strategy because people constantly search Pinterest to learn what we teach. We are fairly new to Pinterest, so there is much we still have to learn. However, I am convinced it is the best place to market our product and courses. We pin every day with links back to our website and courses.
I recommend researching what kinds of pins work best as far as size, photo vs collage, the wording on the pin, etc. Be mindful of the caption on pins so you use words people are actually searching with. For example, I would use words like "How to chalk paint" or "Top five chalk painting tips" for our audience.
What online course platform are you using and how do you like it?
Teachable and I love it!
I do wish it had a feature that automatically paid out any instructors that I add to my school without charging me more than I already pay.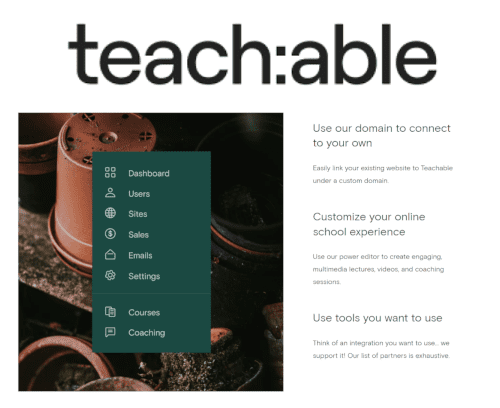 Check Out Teachable
Teachable is one of the top online course platforms used by successful course creators interviewed on coursemethod.com. It is easy to set up and build your site pages, and the course area looks great. 
Price Range: $0 (+ transaction fees) to $299/month
Most Popular Plan: Pro Plan at $119/month
Annual Discount: Yes, take 17% off!
Free Trial: Try out Teachable's core features for free
*Our content is reader supported, which means when you buy from links you click on, we may earn a commission.
What made you decide to use your chosen platform over others?
I didn't know much about course creation before finding Teachable. I googled course platforms and researched a little. It seemed to have what I thought I would need, so that's what I chose.
What other tools do you use to run your online course business?
Most of the tools I need are right in Teachable, so I don't really use anything else other than Quickbooks for accounting to incorporate into the rest of my business that is not online course-related.
We use Squarespace for the website. It is an incredible platform that I highly recommend. There is an email service with Squarespace that we use. We used to use Mail chimp, which had a lot of great features, but ultimately, it was cheaper to go with Squarespace, and it has all the same features. The features I would look for in an email marketing tool are templates, integration with your website, ability to target certain customers, and the ability to automate.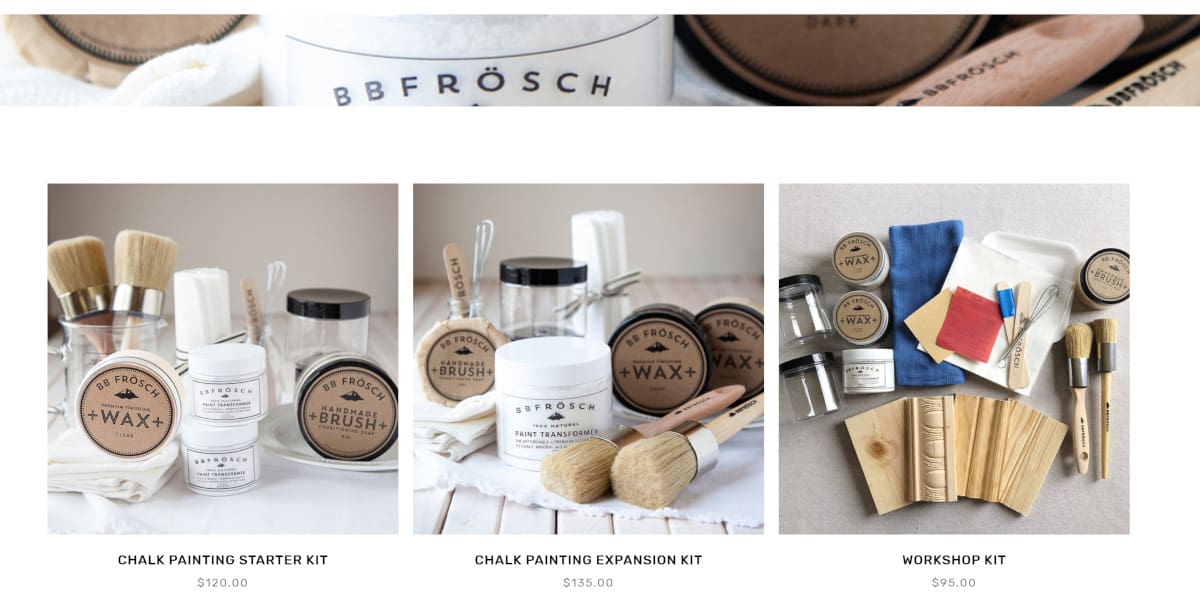 Are you willing to share some idea of revenue?
I make between $1000 – $1500 per month from my signature course. Our sales have already increased since I first started working on this interview!
These are new sales each month. We don't currently have any subscriptions, but that's our next step. We recently began allocating $100 for Pinterest marketing each month. So, that is probably some of the reason our sales are going up.
I've invited a couple of new course authors to create courses on our platform. I am very selective about who can have a course at BB Frösch University because I want to maintain the standard. We keep 25% of sales on courses created by guest authors. It's a great way to make a little extra income without necessarily having to create a new course yourself!
Would you mind telling us a little about what the money you've earned from your course has done for you?
My online courses have enabled me to continue to work from home doing what I love. I am able to go on vacation, spend time with my grandchildren and enjoy luxuries like dropping everything to leave town without worrying.
For example, my daughter recently had emergency surgery in a different state. I was able to leave at a moment's notice to go help with her children while she recovered—and the entire time, my courses continued to sell and provide an income without me lifting a finger.
What has creating your course done for you personally?
This has been the biggest thing for my personal growth. I didn't know how to edit videos, do voice-overs, advertise…basically anything about course creation. Once I did it, I felt a tremendous sense of accomplishment. I overcame so many fears I didn't realize I had.
It seems like everyone has something they could share with the world through an online course but a lot of people don't do it because of fear. - Kristin Smith
Click To Tweet
I am forever grateful for the concept of online courses not just for the additional steady income but for the person I've become.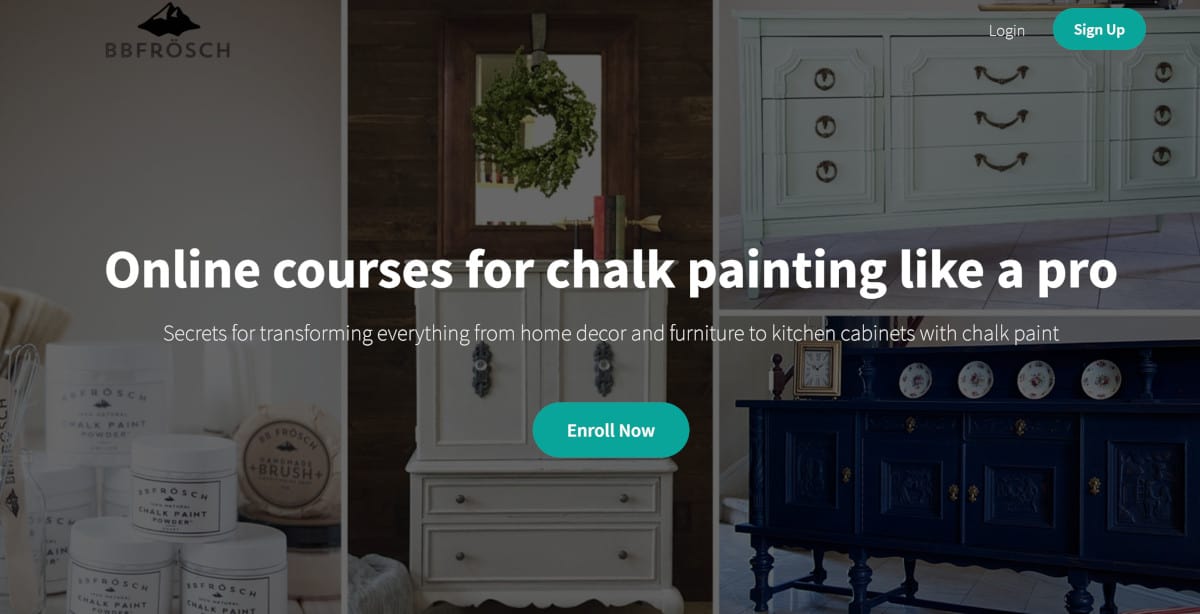 Do you have a story of a transformation from any of your clients?
I have had so much positive feedback, but mostly in the form of finished projects that have been posted on social media after taking one of my courses.
It is the greatest feeling in the world to see someone take one of my courses, then put their knowledge to use by creating a work of art in the form of refinishing furniture, cabinets, and more! - Kristin Smith
Click To Tweet
What advice do you have for people just starting out?
Just start! Everything will fall into place, but you have to start!
Learn more about Kristin Smith and BB Frosch: