Kartra Pricing Plans: See All the Features Lined Up (2023)

Our content is reader supported, which means when you buy from links you click on, we may earn a commission.
---
Are you considering using Kartra to run your online business? This guide will help you understand the different pricing plans and what Kartra offers.
The Kartra platform was launched in 2018. Since then, it has grown steadily. As a result, the platform has gained mass popularity among marketers and online business owners. In fact, Kartra is the #5 online course platform used by the successful course creators we interview.
It is hailed as an all-in-one marketing platform for creating sales and marketing funnels and web pages. It lets users focus on lead generation strategies, search engine optimization, email marketing, video marketing, online courses, content marketing, membership sites, and more.
This guide is fully updated for 2023 Karta pricing plans. It'll help you gauge the features and services you get with each plan.
What are the Kartra Pricing Plans?
Karta does not offer a free plan, but you can test the software for a 14-day trial period for $1. If you plan on sticking with it, then you'll need to subscribe to one of the following monthly or yearly plans. As you can see, they range from $99 a month up to $499 a month.
Check out the table below for a more accessible view:
| Starter Plan | Silver Plan | Gold Plan | Platinum Plan |
| --- | --- | --- | --- |
| $99/month or save $240 with annual billing | $199/month or save $600 with annual billing | $299/month or save $840 with annual billing | $499/month or save $1440 with annual billing |
| Up to 2500 leads | Up to 12,500 leads | Up to 25,000 leads | Up to 50,000 leads |
| 1 custom domain | 3 custom domains | 5 custom domains | 10 custom domains |
| 15,000 emails/month | Unlimited emails | Unlimited emails | Unlimited emails |
| 50 GB of bandwidth | Unlimited bandwidth | Unlimited bandwidth | Unlimited bandwidth |
| Host 100 pages | Unlimited pages | Unlimited pages | Unlimited pages |
| Host 50 videos | Unlimited videos | Unlimited videos | Unlimited videos |
| Sell 20 products | Unlimited products | Unlimited products | Unlimited products |
| Build 2 membership sites | Unlimited membership sites | Unlimited membership sites | Unlimited membership sites |
| Add 1 additional team member | Unlimited team members | Unlimited team members | Unlimited team members |
| Connect 1 helpdesk | Unlimited helpdesks | Unlimited helpdesks | Unlimited helpdesks |
| Funnel Mapper | Funnel Mapper | Funnel Mapper | Funnel Mapper |
| | Funnel Simulator | Funnel Simulator | Funnel Simulator |
| | Kartra Agency | Kartra Agency | Kartra Agency |
The tables above show that Kartra offers four paid plans, each billed monthly or yearly. You can save as much as 25% by choosing an annual plan.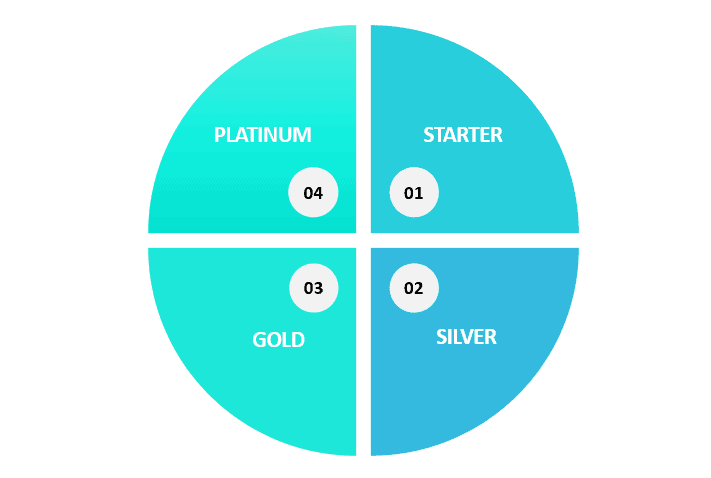 The Kartra Starter plan comes at the lowest price, but it's the most limited when it comes to features. Unlike the starter plan, the Silver, Gold, and Platinum plans have unlimited emails, bandwidth, pages, videos, products, membership sites, team members, and helpdesk services. In addition, Kartra Agency is included in these bundles, free of charge.
You can switch plans and cancel them anytime; Kartra offers a 30-day money-back guarantee if you're unsatisfied with the services provided. Let's get into each plan in more detail now.
Kartra Starter Plan: $99/Month or Save $240 with Annual Billing
As mentioned before, the Kartra Starter plan could be more extensive in scope and its features. But that doesn't mean it won't be helpful for those starting and familiarizing themselves with the platform.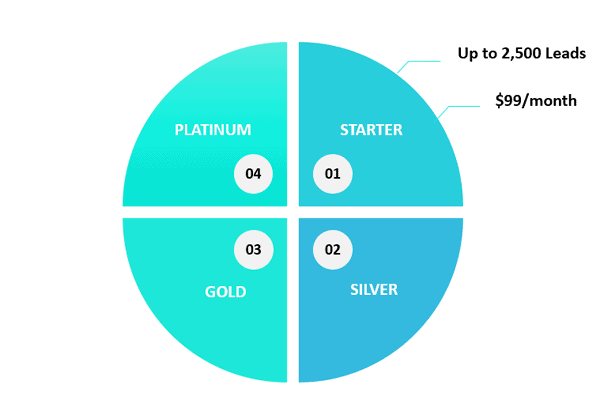 Instead of paying high fees initially that drain your limited budget, the Starter plan is designed for small business owners who don't have a dedicated team for managing client accounts. Here's what they have to offer you regarding resources and features.
| Features | Limit |
| --- | --- |
| Leads | 2500 |
| Custom domains | 1 |
| Emails/month | 15000 |
| Bandwidth | 50 GB |
| Pages you can host | 100 |
| Videos you can host | 50 |
| Products you can sell | 20 |
| Membership sites you can build | 2 |
| Team members you can add | 1 |
| Helpdesks you can connect to | 1 |
The silver, gold, and platinum Kartra Pricing plans offer unlimited resources except for the leads and custom domains (shown below).
| Plans | Leads | Custom Domains |
| --- | --- | --- |
| Silver | 12500 | 3 |
| Gold | 25000 | 5 |
| Platinum | 50000 | 10 |
Starter Plan Details
With the Kartra Starter plan, you only get 2,500 contacts to communicate with, with a 15,000 email limit per month. You may think that's enough for your needs, but once you start rolling out automated marketing lists, you may soon need to turn to the Silver plan for churning out unlimited emails.
If you only plan to focus on one website, this plan is perfect for you. However, you must note that you can only host 100 pages on it, including your site pages and pages to check your services or products. Speaking of products, you only get to sell 20.
The biggest drawback of the starter plan is the limited bandwidth. There isn't much you can do with 50GB, especially if you want to display content on your websites. Although you can host 50 videos, it'll feed into your bandwidth, plus every time a visitor or user plays them, the streaming data also goes towards your bandwidth. Users may find this inconvenient if their videos suddenly pause or show errors. This may impact sales and conversion.
If it's one of those months where you'll require additional bandwidth or email marketing services, then you can add them to your current package for an additional cost. If you think the price exceeds the cost for upgrading to the silver plan, then it's a no-brainer to go for the Silver Plan.
Who is the Kartra Starter Plan Best For?
This plan is a good fit for you if you're starting out. Test out your idea with a low-cost plan.
This inexpensive plan allows you to send emails, sell products, and create your sales pages. Then upgrade later when your needs outgrow this plan.
Kartra Silver Plan: $199/Month or Save $600 with Annual Billing
Transitioning from the Starter to the Kartra Silver Plan comes with a jump of at least $70. With this plan, you can have up to 12,500 leads. Initially, Kartra offered to send out 125,000 emails per month, but in May 2020, they changed it to unlimited emails like the Gold and Platinum platforms.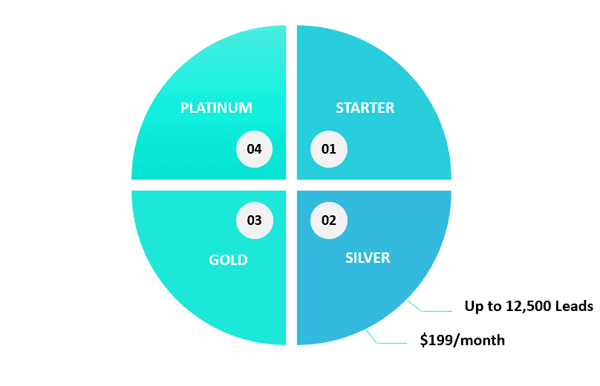 Similarly, the package initially offered 125GB of bandwidth, but that too was changed to unlimited bandwidth as many users started opting for the plan. With the Silver plan, you get unlimited bandwidth, pages, products, and membership sites. You also get unlimited team members, unlimited helpdesks, and Kartra Agency
Currently, the Kartra Silver plan is the most popular one, with many users opting for it instead of the Starter one, owing to its additional features and greatest discounted yearly cost.
The Kartra Agency add-on lets you access the Kartra dashboard, allowing client management in a single centralized portal.
You can manage all your clients from Kartra Agency, viewing analytics such as sales, revenue, and rebills. In addition, you can choose a particular business model you want to operate, subleasing client accounts or contracting to them as a service provider. Kartra Agency even lets you build daily, weekly, and monthly reports for complete transparency of client accounts.
This added functionality of Kartra Agency is perfect for businesses in infancy but growing rapidly. Again, the number of domains you can host is only 3, meaning if you have more than 3 businesses or sister sites, you cannot manage them via the Silver plan.
Who is the Kartra Silver Plan Best For?
If you're ready to level up your business from the starter plan, consider the Silver plan from Kartra.
You'll get an unlimited toolkit and a higher capacity for emails and leads, which means more customers!
With all the support you need, it's a smart stepping stone on your way to the Gold plan. Don't miss out on more engagement with your audience.
Kartra Gold Plan: $299/Month or Save $840 with Annual Billing
When upgrading to the Kartra Gold plan, you'll have to pay $100 extra per month or a little less if you're opting for annual billing. The only difference between this plan and the Silver Plan is the pricing, number of leads, and custom domains available to you. With the Gold plan, you can have up to 25,0000 leads.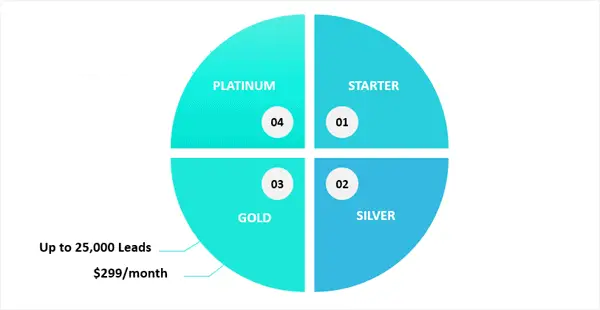 The Kartra Gold plan is ideal for those who already have an established client base and want to transition to Kartra's services from their previous service providers.
The bigger your client base, the better you can take advantage of Kartra's sale funnels. They're easy to set up and use, offering complete customization options. If you're in a rush to start your operations, you'll also find ready-made ones to use until you come up with your own. In addition, you can utilize the Kartra analytics to its full potential, helping you manage leads and tweak your sales funnels to drive conversion to its limits.
Who is the Kartra Gold Plan Best For?
For any medium-sized business looking to flourish, the Kartra Gold plan is a true game-changer.
With a variety of advanced tools to grow your email lists, establish an impressive online presence, and make loads of appealing products and services, you'll be attracting exactly the audience you need in no time flat.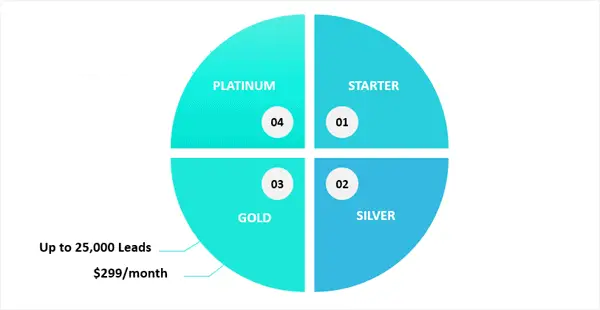 Kartra Platinum Plan: $499/Month or Save $1440 with Annual Billing
With the Kartra Platinum Plan, you can have up to 50,000 leads and ten custom domains. These include unlimited emails and unlimited landing pages.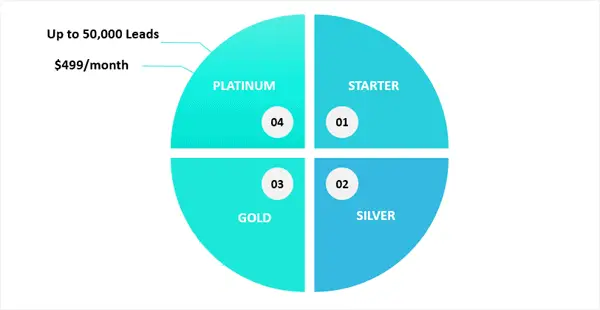 Who is the Kartra Platinum Plan Best For?
The Kartra Platinum Plan is the perfect solution for your large-scale business with a team of members.
It lets you create live and automatic email and text campaigns, beautiful pages, work on unlimited membership websites, and much more.
Kartra's Pricing Compared to Competitors
There are many course platforms to choose from. If you're not decided on Kartra, here is a breakdown of how it compares with other popular platforms.
Kartra vs. ClickFunnels
One of the premier and go-to marketing and sales funnel builders for many businesses is ClickFunnels. It's been around since 2014, has a well-established customer base with around 100,000 users, and hosts over 450,000 websites.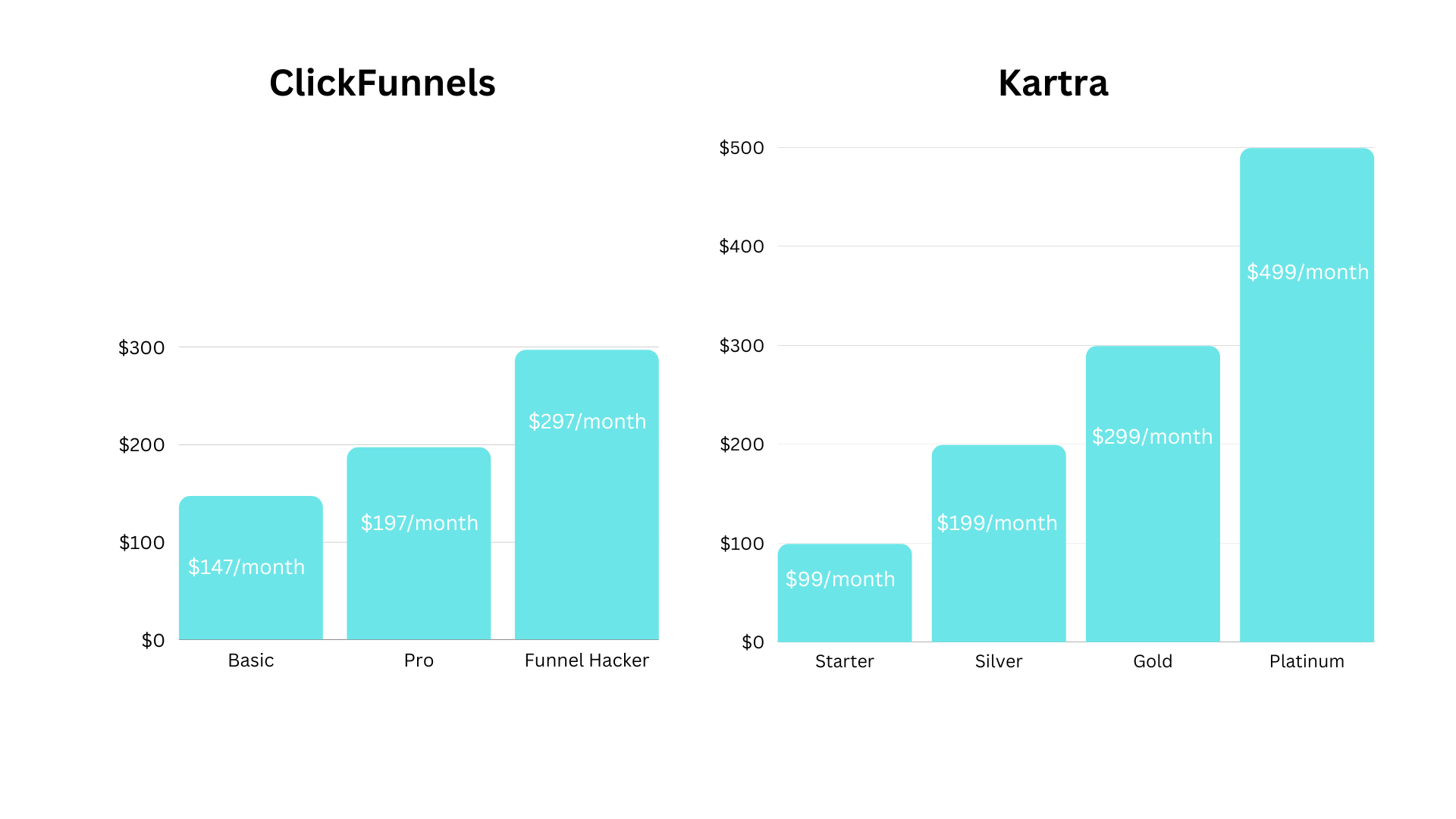 ClickFunnels prices start at $147/month and go up to $297/month. Kartra pricing plans from $99/month to $499/month.
You'll see apparent similarities and differences when you compare ClickFunnels and Kartra side-by-side.
Both were created to help emerging businesses transition toward the online realm by providing them with software tools.
ClickFunnels focuses heavily on sales funnels, whereas Kartra is an all-encompassing business needs provider for online marketing and sales building.
The jump between Kartra's Starter plan ($99/month) and their Platinum plan ($499/month) is significantly higher than the differences between the ClickFunnels plans.
If you're not concerned about other aspects of online businesses, check out ClickFunnels.
Kartra Pricing plans save you a lot of money, providing added functionality, even when you opt for their premium solution. Plus, you won't have to rely on add-ons not designed to gel with your platform, which may lead to undesirable downtimes and loss of revenue.
Kartra vs. Kajabi
If any platform can go head-to-head with Kartra, it is Kajabi. The most significant difference between the two is what kind of business you can run on them. Kartra allows you to host a marketplace for digital products and services and a platform for selling material goods.
Only the former is true for Kajabi, and even that too for a specific set of online services: the sale of digital content and online courses. But they let you quickly build websites and include automation, sales flow, and emailing tools to manage your business.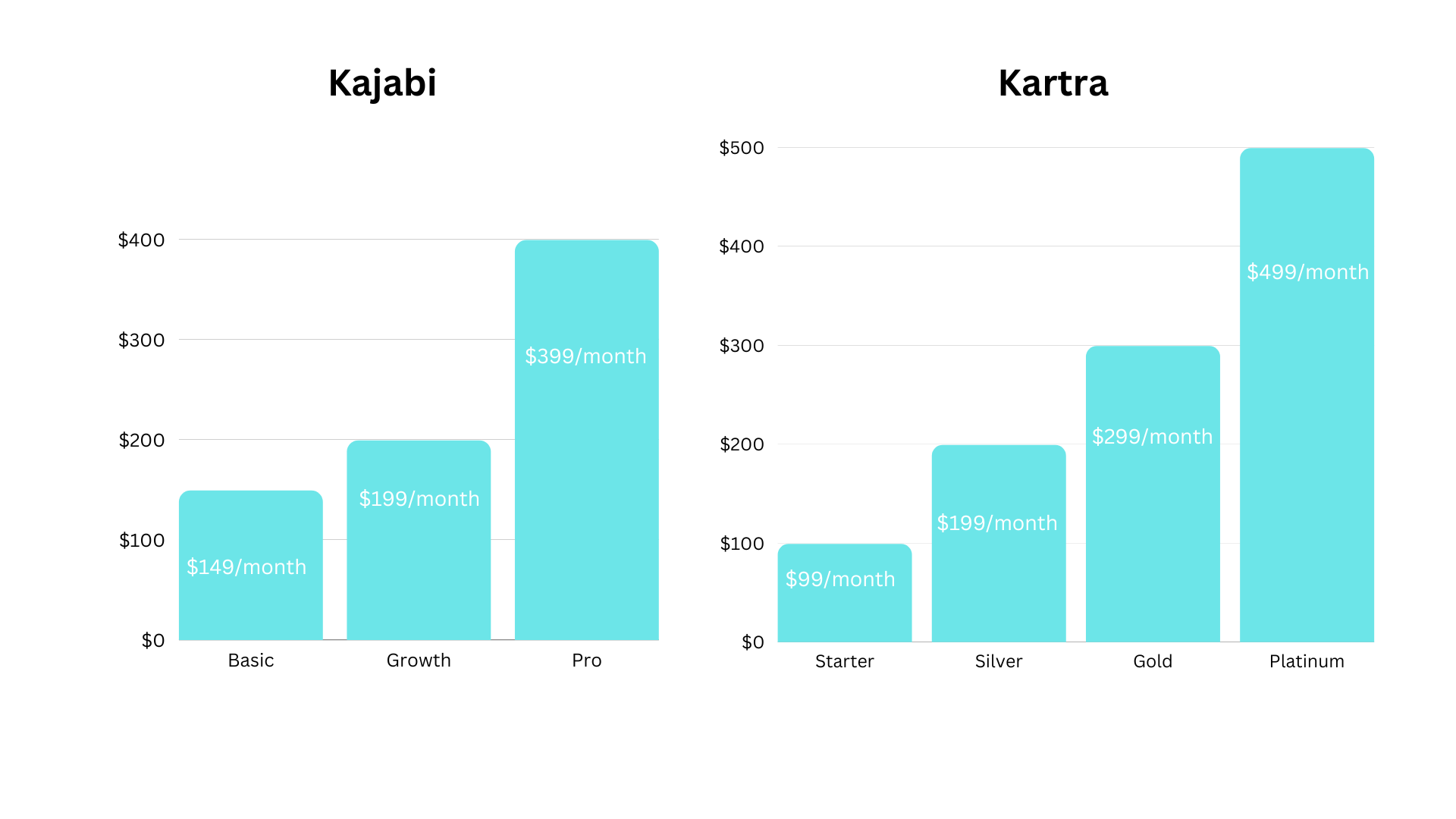 Kajabi offers three plans, ranging from $149/month up to $399/month. Kartra offers four different plans, ranging from $99/month up to $499/month.
Keeping a focus on eLearning businesses, Kajabi and Kartra do have several stark differences:
Both let you build websites and market your content; Kartra is primarily for digital marketing, whereas Kajabi is specifically for hosting online courses.
You can run a blog on Kajabi but not on Kartra; however, you can circumvent this problem by adding web pages.
Kajabi doesn't offer helpdesk services, while Kartra makes it a feature even on its basic package. With Kajabi, you'll have to go for a third-party service to enable this option for users, adding to the cost.
Kajabi doesn't offer a scheduling and calendar platform. Again, you might have to rely on third-party add-ons like Calendly to achieve this functionality.
Both are great online course platforms with reasonable prices.
Kartra vs. Thinkific
Kartra and Thinkific are excellent platforms for creating and managing eLearning websites and membership platforms offering a service.
Thinkific has been around since 2012 and solely caters to the online course market, helping create membership sites, content hosting, and landing pages. Kartra extends these areas and provides additional features like email marketing, sales funneling, video hosting, helpdesks, and scheduling services.
Thinkific goes the extra mile regarding tools for customizing eLearning, like integrated quizzes, assignments, and surveys. In Kartra, you might have to look for alternative means or use their API for building your own.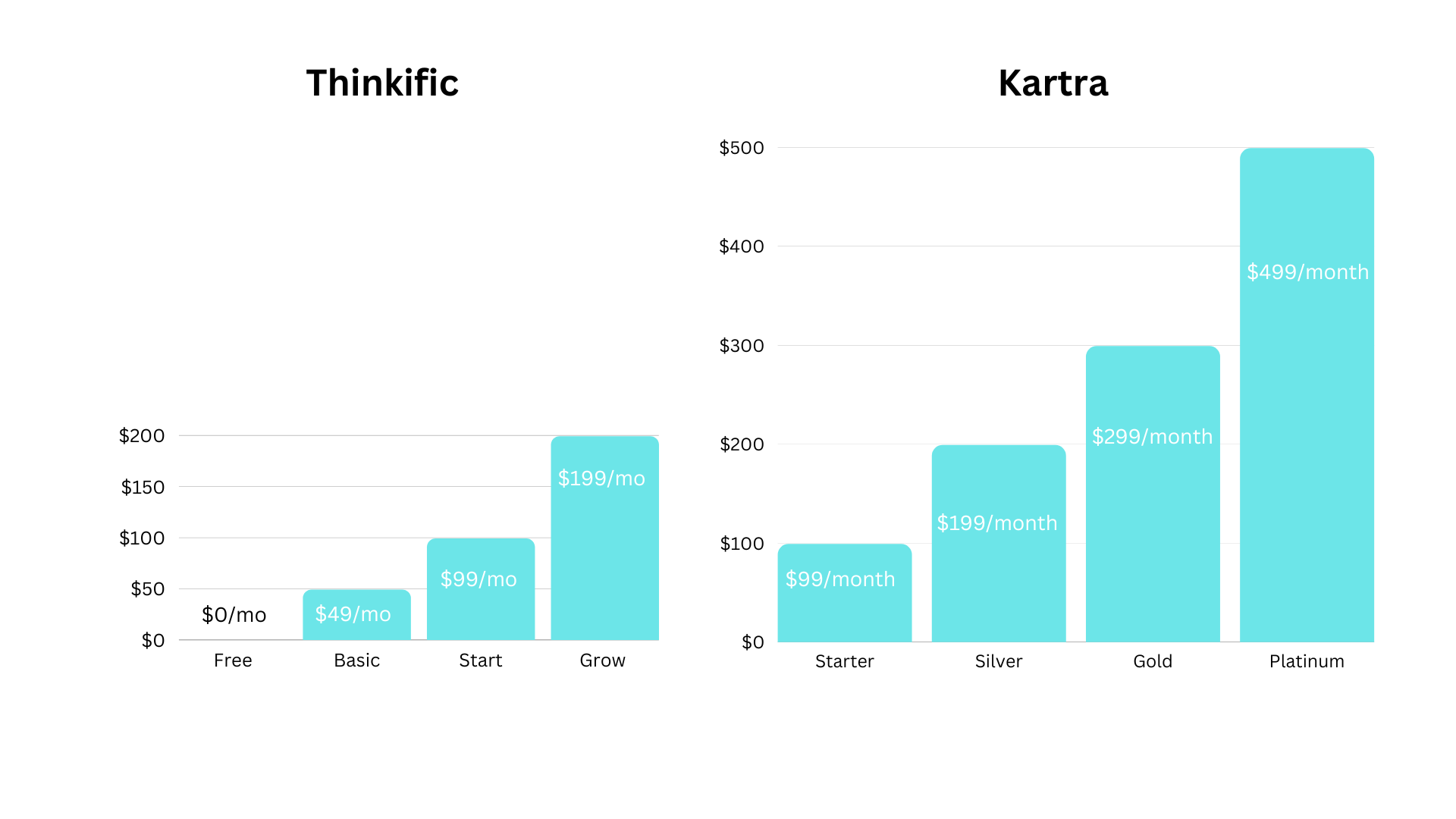 In terms of pricing, you can start with Thinkific's free plan. From there, Thinkific's prices range from $49/month up to $199/month. Kartra offers no free plan but starts at $99/month up to $499/month.
Kartra vs. WordPress Plugins
WordPress is the most widely used self-hosting and content management system (CMS). Users can use it to get the same functionality as Kartra, owing to its plethora of plugins. These include WordPress LMS plugins and membership site plugins. Each plugin may have a cost associated with it; hence your final product's operational costs will be the cumulative cost of all these plugins.
WordPress is slightly tricky to use and may discourage business owners from opting for it when starting their transition online, as you'll have to purchase a domain name and hosting service beforehand. Then you can use all the themes and plugins required to build your online platform.
The fixed costs of the Kartra pricing model (with no additional plugins needed) mean you're less likely to encounter any financial surprises when running your business. You pay for it and can then work with the features it offers (no maintenance necessary).
Kartra Pricing FAQs
Can you cancel or change plans anytime?
Yes, you can change your subscription via their self-service portal. Their plans are budget-friendly, and Kartra pricing is some of the lowest prices given the varied services they offer.
Why is Kartra's pricing so low?
You must be wondering why they're offering such low and competitive prices. What's the catch? Perhaps the answer lies in Kartra's legacy as a cloud software solutions provider. Their know-how to develop an affordable cloud-based platform with competitive pricing options. It wasn't easy to make, and Kartra claims it took three years to develop it.
Is there a free trial for Kartra?
There is no free trial for Kartra. However, you can get a trial for $1 for 14 days. You can use this offer on any of the Kartra plans. It is a great way to get started on this platform.
Can I get a refund for Kartra?
Kartra offers a 30-day money-back guarantee. You can request a refund within 30 days for any reason. They have a Billing Policy page for the full details of their refund.
Which package should you choose?
Besides the differences mentioned above in their respective sections, Kartra's pricing plans allow any online business to get a feel of its tools and features. Add-ons aren't extra (except for bandwidth and emailing resources) and are included in all their plans, like checkout builder, funneling, forms, leads, analytics, and more.
It's more of a question of scale, as Kartra pricing plans only differ in the number of leads, domains, emailing, and bandwidth volume. Analyze which one you'll need for your business and scale appropriately. Here is a screenshot of the Kartra pricing plans for you to review: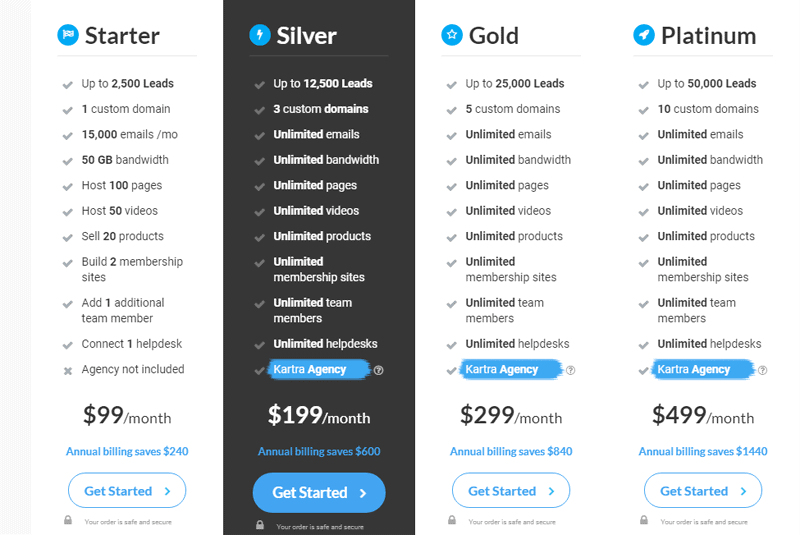 What are Kartra's best features?
As mentioned, Kartra comes in 5th place in our rankings of the top online course platforms. We've interviewed nearly a dozen course creators who use Kartra to run their course businesses. Here is what users like:
Intuitive student experience
Kartra is an all-in-one platform with email marketing, checkout, landing pages, and more.
Tracking capabilities
The ease of customization
Marketing features like built-in email marketing
Ready to give Kartra a try? Start with a trial plan for $1!