How Jenny Erickson of Acthoughtful.com Transitioned Her Coaching Online to Create an Additional Revenue Stream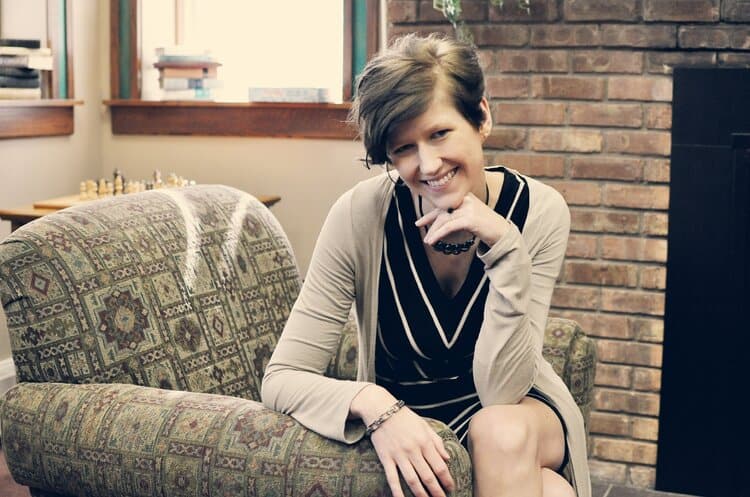 Our content is reader supported, which means when you buy from links you click on, we may earn a commission.
---
Who: Jenny Erickson
Website: acthoughtful.com
Course Topic: Business growth plan
Interesting Stats: 4K-8K/month between all services and products
Who are you and what course have you created?
I'm Jenny Erickson, owner of ACThoughtful Consulting. And my burning platform is to have more people go into business, stay in business, and create a sustainable impact for themselves and the world.
My course is called Gear Up for Growth and helps micro-business owners prepare a growth plan when they aren't sure where to start.  It takes them on an 8-week journey from creating their strategy to getting things done and touches on everything from Finance to Marketing.
What market does your online course serve?
I serve micro-business owners.  That means business owners with <$1M in revenue.  They are typically wearing most of the hats to run their business.  One day they may go from being a salesperson to an online marketing phenomenon in the morning.  Then do the books over lunch and then actually do the work that pays the bills.  And that's a slow day 😉  Their expense budget is slim, so bootstrapping and DIY is frequently the name of the game.
What's the biggest benefit of taking your course?
It takes a big question —- how do I grow? And turns it into a bite-size series of questions and gives you the tools to answer each one in a way that aligns the "stuff" you do as a business owner to your reasons for starting a business in the first place.
How did you get into the market?
I left corporate America in 2019 after 15+ years of playing a variety of leadership, doing, and consulting roles.  This gave me the rare privilege of working in a lot of different areas.
I loved the work, but it wasn't quite aligned to my life purpose — which is to make glorious mistakes and, in doing so, invite others to do the same.  I wanted to see a world where more people dared to take calculated risks.  A world small business owners live in every day.
But there's a financial barrier for micro-business owners to get access to the kind of help I can provide.  Consulting can be a significant line item in an expense budget, not quite ready to take it on.  So I decided I was going to disrupt the consulting industry for micro-businesses and give it a fresh take.
Why did you decide to create an online course in the first place?
When I started the business, I noticed that many business owners were coming to me in their first three years.  Their concerns are different then the companies looking to get past that growth hump.  In year 1-2, they are focused on getting to a sustainable, consistent income level.  In year 2-3, they are often thinking about scaling to their first employees.  Early-stage business owners are on a tight budget, so bootstrapping and DIY are typical go-to's.
There are a ton of coaches and books available, but they need something in between the deep questions of coaching and specific instructions on how to do social media.  They need enough details to be dangerous in every role in their business, so they know where to focus, in what order, and what to do.
To meet their needs, I launched single-session booking giving any business owner the power to get the advice they needed on a specific topic in their business. I've dealt with everything from pricing, to sales forecasting, to mergers and acquisitions or moving an offline business online.
Then COVID hit. For many of my clients, business melted away, or they had to close doors. That's when I knew I needed to accelerate my online course so they could build their growth plan affordably.  The balance shifted, and people had more time and less money and certainty.  More of my clients needed to bring their business online, so it was a natural time for me to do it too. That way I could pave the way for them a real example of what's possible when you put your mind to launching quickly.
Did you have any moments of doubt before you created/launched it?
Of course I had doubts!  I did a live version first to see what people wanted.  It was four weeks and missed a lot of the pieces that made it into the final course.  I launched that with less than two weeks' notice between sale and start. No one signed up until 1 hour after the close of registration.  I was just about to refactor the plan when someone sent me a note and asked if they could register late, and then another.  By the end of it, I had a great group of 4 people, which is was enough to test out the concept, and it made all the difference in my final product.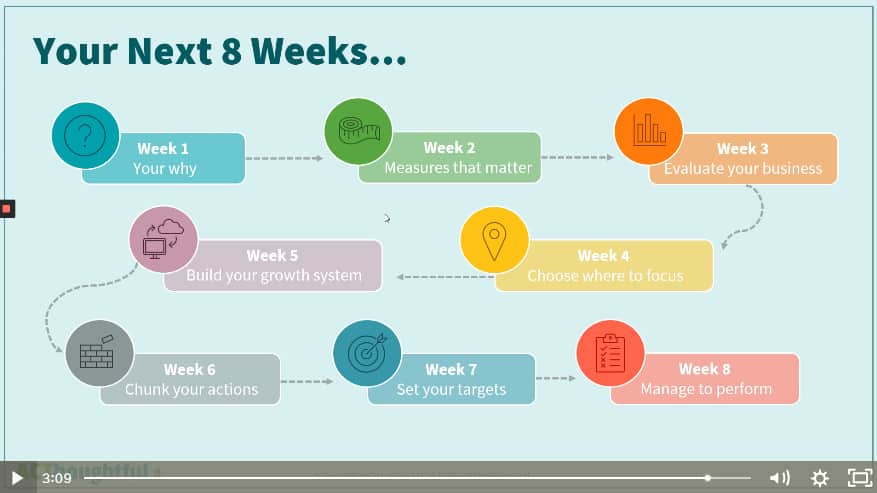 If so what made you turn it around and do it anyway?
I knew it was the right thing to do.  Business owners need this.  I just needed to get the word out there. That's always the hardest part for me.
I reshaped it in my mind and said even if no one shows up and I give this first live course away, I will be able to find people. - Jenny Erickson
Click To Tweet
I will be able to prove out the value. And I will be able to get this to market.
I also knew the content had multiple purposes.  Even if the course didn't sell amazingly well, I knew it was good material, so it would act as training materials for my future advisors, an extra I can give my clients, and I could break the course down into sub-components and use it as lead magnets.
My biggest self-doubt is usually selling. I'm an excellent creator, and I know that both personally and from external feedback.  But I've learned from experience creating alone isn't enough — you have to find your audience and then find a way to convince them to buy.  You have to know how to sell.
To get past that hump, I focused on all the ways I could use the course outside of selling it.  By seeing all the potential uses for it, it pushed me past the hump and straight to doing what I do best — creating meaningful content and hands-on tools that help people grow.
What's your online course like?
Each of the eight weeks follows a cadence with some variation.  It starts with an intro video, lays out key definitions or decisions to make before the exercise.  After the foundations, I cover the exercise and how to get past common pitfalls and then wrap up with homework for the week.
The first video and last two videos are typically just me talking at my office desk.  The middle videos are usually recorded as me whiteboarding on the worksheet or a blank board with voiceover.  There are one or two videos in the intro that are PowerPoint with me talking.  I wanted to keep it accessible, engaging, and less polished, so I tried to do more live work.
There is a text summary for each video on the key points.
I have a few discussion questions, but it's a free for all on the discussion boards, and I love it. 😊  People can ask any questions they have on the lesson, and I answer them all!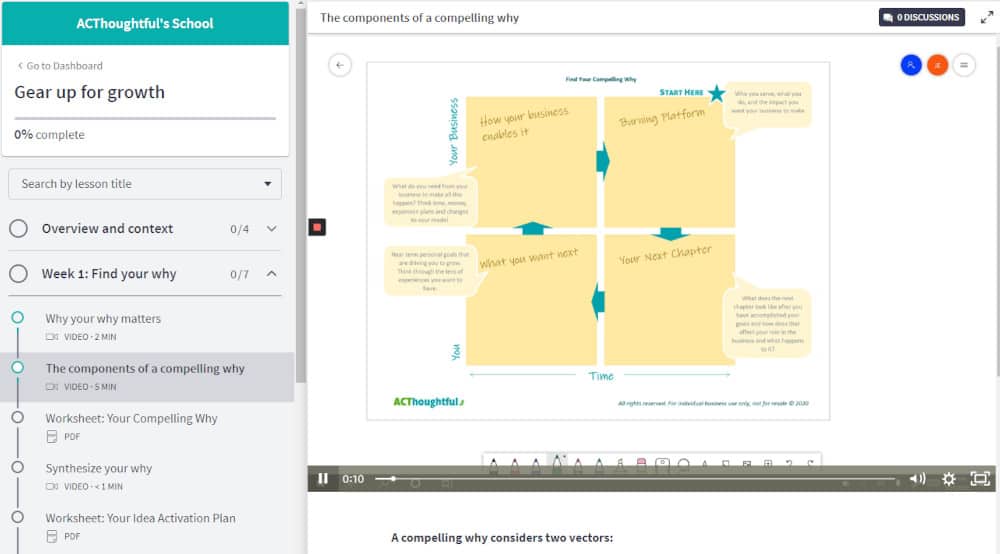 How long did it take you to create your course?
I outlined the course at a high level (the 8-week summary) by looking at the key questions someone would need to answer to build a growth plan and putting them in the order I thought would work best.  I needed this outline to launch my waitlist and marketing content. That only took 30 minutes or so to lay out the sequencing and 6-8 points I thought I would need to cover on each. I forced myself to put a launch date on the announcement that was two weeks out, so I wouldn't overengineer the details or deprioritize it against other work.
The next step was a full day (and then some!). I recorded the overview and Week 1. Then created the complete outline in the tool, so it showed up on the sales page. I created or modified my worksheets, so I knew what the lessons needed to cover. I used the text field to capture the thoughts I had while creating.  Since they wouldn't drip out for a few more weeks, it gave me the perfect place to hold ideas I could use for recording prompts later.
Then I recorded a full module each week to stay ahead of my first student.  I did a single module in one day.  An average day was 4-6 hours of recording, but it could be as little as 2 hours or as much as 8 hours for a more complicated week.  I opted not to edit videos and didn't script either, so I had to reshoot a lot when I inevitably put my foot in my mouth.  I wanted it to be a little messy and intimate.  Like you were in my office with me figuring it out together.  That style works better with my brand and what we stand for.
I learned (later in the process) to jot down a few "key bullets" before I started recording if I didn't have any notes in the course text so I could stay a bit more organized and reduce the number of re-records.
Tell us a little about the process of launching your course and getting your first sale(s).
I chose to do a waitlist with a free giveaway on launch day.  That allowed me to generate interest in the course before it launched with no commitment to buy.  There are risks to that — specifically, people waiting to purchase on the off chance they would win — but it was worth it for me to generate a list of interested buyers I could follow-up with more effectively.  I also made a discount offer with a short window to everyone on my waitlist and reached out to them with a more personal note.
Because I have an offline business, I opted to do a slower launch, waiting for the initial waitlist to work through the sales cycle before I started marketing to my full mailing list, etc.
It also had a bonus I didn't anticipate, the person I gave the giveaway too was highly engaged and set the standard for how to use the discussion boards.  It was great feedback throughout the process, and because of her approach, subsequent students have been more active on the boards.
I made my first sale to my waitlist shortly after launch.  Once I worked through my waitlist, I shifted to partnerships and more general marketing.
Do you have a lead magnet?
I have several.  One of the worksheets is on my site if you submit your email.  I also have a free trial of my course that includes the overview videos plus 2 lesson modules and a worksheet, and I do live webinars that are a small portion of the course.
I'm in the early stages of launch for my course, so I am still discovering what is working the best.  My most effective form of sales to date is live interactive webinars and classes.
My next step is to package a smaller version of the course as a tiny offer with the idea that once completed; they will be able to upgrade to the full course at a discounted price offsetting their initial purchase.

What's the traffic strategy that works best for you?
Networking events and webinars have been my most effective ways to bring offline traffic to my new online world. It's an elegant way to integrate my audience and allows me to test strategies in a more intimate and forgiving environment. Email marketing and organic social presence have complimented that.
What online course platform are you using?
Thinkific and I like it!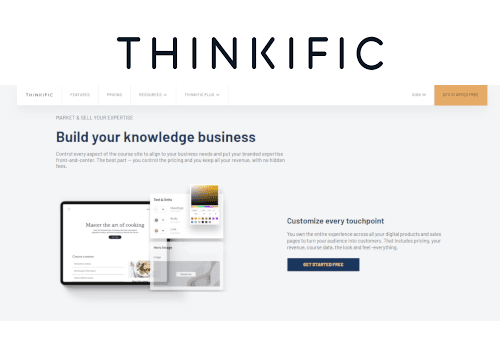 Take a Look at Thinkific!
Thinkific is the most popular online course platform used by successful course creators interviewed on coursemethod.com. It's a complete solution for creating sales pages, uploading all course content, taking payments, and more.
Price Range: Free to $499/month 
Most Popular Plan: Pro Plan at $99/month
Annual Discount: Yes, take 20% off!
Free Trial: Try out Thinkific's core features for free.
*Our content is reader supported, which means when you buy from links you click on, we may earn a commission.
Are there any features you wish it had?
Emailing capabilities are limited, and the surveys are cumbersome, so I will be relying heavily on Mailchimp for my email and limiting the content in the course notifications.
What made you decide to use your chosen platform over others?
Price of entry plus ease of use.
Like many other first-time course creators, I wasn't sure how much I would sell, so I wanted to make sure there was a low cost of entry on the course platform I selected and the ability to grow with me to decrease the likelihood I'd have to switch. I also wanted to make sure the process of loading content was easy and one less worry. Thinkific made that easy.
What other tools do you use to run your online course business?
For back end operations:
Wave for accounting and invoicing and subscription payments
Stripe for payments on individual sessions and courses
Acuity for appointments
Todoist for Project Management
G Suite for my collaboration suite
Zoom for video conferencing
SquareSpace for my website
Mailchimp for email
My CRM is in transition
For content creation:
What books or training programs have you found useful on your journey to a successful business owner that others might find valuable too?
It depends on the problem you're trying to solve! My clients tell me I have a book for every situation. Here are a few good ones for a digital product business owner.
For content marketing, my favorite is Meera Kothund's the Profitable Content System.
For generating more owner's compensation and profit in your business, it's Profit First by Mike Michalowicz.
David Rock's Your Brain at Work helps you understand what's going on in your brain and circumvent the impacts when you're overwhelmed — something useful to a lot of people trying to create something from nothing!
Do you have any big mistakes you've made along the way that you'd be willing to share?
Absolutely. I should have spent more time nailing my elevator pitch early on; it slowed my start (offline, which bled over to online).  Everything starts with what you stand for and who you serve. I a little bit of extra time honing that in upfront would have jump-started my sales cycle by a ton.  Once I got it, the whole dynamic in my business changed.
Please share some idea of revenue.
My revenue is built one subscription at a time. I knew it would take a year to get to a comfortable full-time income and start to think about hiring someone.
I landed my first subscription client five months ago. I'm currently between 4K-8K in revenue per month between all my services and products.  My goal is to be at a comfortable full-time income, cover expenses, and have saved up enough to make my first hire in 6 more months.
COVID slowed down the pipeline, but it didn't stop it.  And it gave me a gift of a pause I needed to take a more sustainable approach to growth. One that emphasizes my online courses and strategic partnerships.
Even without launching to my full list in the first month, my first month in course sales more than paid for a full year of the platform.  Because I have an offline business that I am complimenting, I'm choosing a strategic launch that has a more substantial focus on live interaction and partnerships. I'm less concerned about fast revenue.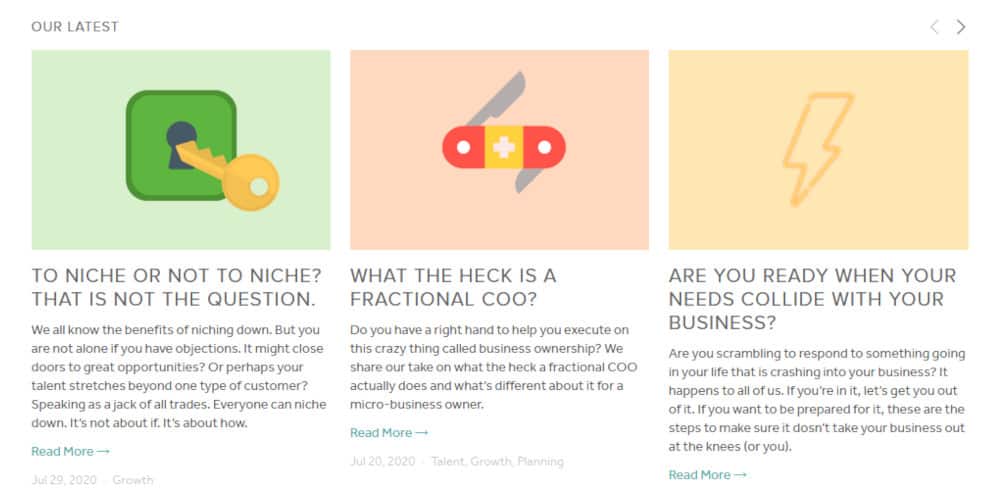 Please tell us a little about what the money you've earned from your course has done for you.
I know this might sound silly, but having the platform paid for in my first month was a gift in and of itself.  It gave me the confidence that my course will be a self-sustaining source of revenue. One I can nurture alongside my more intensive work. I'm excited about how this will help me scale and mitigate financial risk. That way I can continue to help business owners, while still maintaining some balance in my life.
I'm living a life on purpose.  And when I move to a small home in the mountains of New Mexico in 7-8 years, this course will help support that shift.
In addition to revenue are there any numbers you would like to share?
Don't be afraid to start small. It's better than not starting.  Here are a few examples:
I said I was going to get 50 people on my email list in a quarter, and I got 60.
Then I said I was going to decrease my bounce rate by 20% in 3 months, and I dropped it by 30%.
Finally, I said I would hit a close rate of 75% once the lead was qualified. I hit 85%.
Big can be awesome, but when we're nervous and standing in our own way, small incremental goals that we can see but are just out of reach can help us get past that so we can create and launch. - Jenny Erickson
Click To Tweet
As our confidence increases, we ratchet up the goals and push ourselves more.
What has creating your course done for you personally?
My favorite part is feedback from the students on how it's helping them. It's re-centered me, and I look forward to the discussion board posts dropping in my inbox!
Do you have a story of a transformation from any of your clients?
Here's what someone sent me the other day "(Your) expertise and tools have helped me organize, analyze, revise, and operationalize all the ideas I have jumping around in my head. The program is so brain-friendly – structure to capture and organize the parts and big picture dreaming, connection, and inspired impact to fuel and fill the structure."
My first students are just about to complete their 8-week journey. I receive regular emails and discussion board comments on how the course is helping them get clear on purpose, measures, goals, and actions they need to take to grow their business.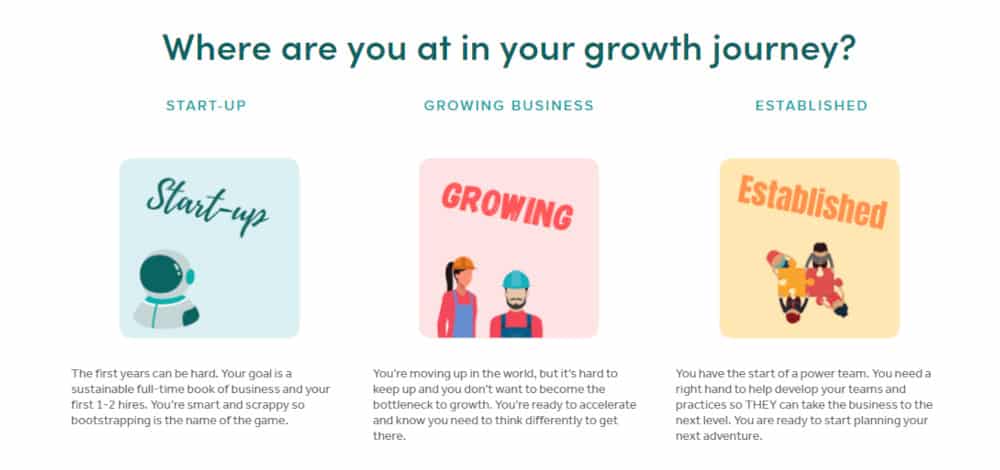 What advice do you have for people just starting out? What do you wish you knew before you started?
I'll adjust the question a bit since I want to pass down the best piece of advice I got.
Set the course launch date and make it happen.
I know I would not have a live course today if I hadn't done that.
Learn more about Jenny Erickson of acthoughtful.com: