How Ivy Summer is Making a Fulfilling Contribution to the World Through Her Wedding Planning Consulting and Online Course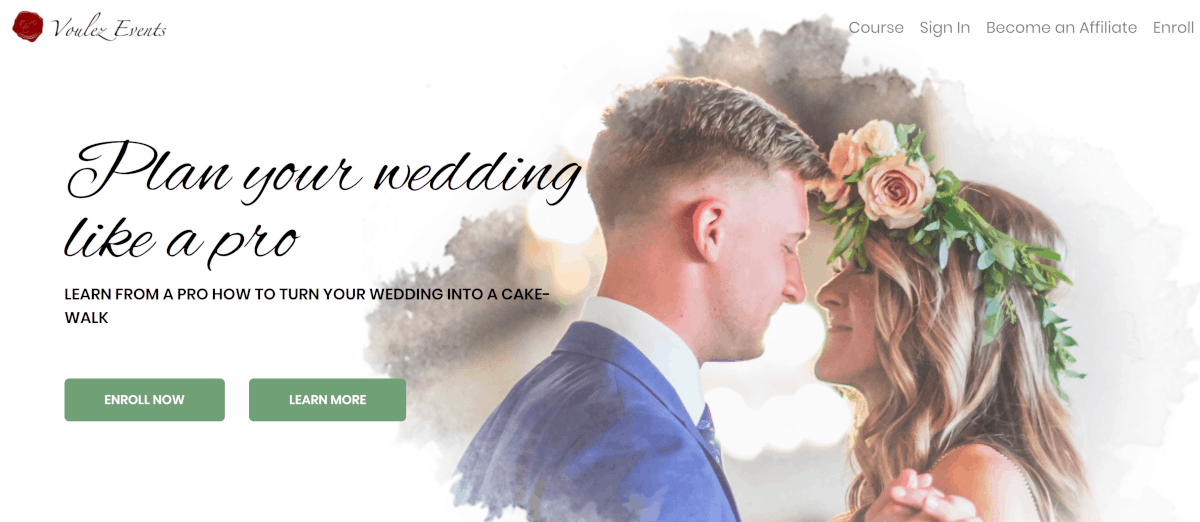 Our content is reader supported, which means when you buy from links you click on, we may earn a commission.
---
Who are you and what course have you created?
My name is Ivy Summer. I'm a certified wedding planner with 10 years of experience working with budget-conscious brides in the Bay Area.
I've been based in Greece for over a year, gaining experience in luxury, celebrity, and destination wedding planning. Before I moved from San Francisco, I planned and coordinated the Guinness World Record attempt at Largest Public Wedding, introduced the annual Cannabis Wedding Expo to California, launched America's first cannabis art museum tours, and cannabis yacht tours from 2016 through 2018. Before the winter of 2019, I launched an online wedding-planning course for couples who want to plan their own wedding anywhere in the world with the resources, tools, and worldwide network of a pro.
What market does your online course serve?
My online course serves engaged couples around the globe who want to plan their own wedding and transformational travel for their honeymoon and beyond.
Couples planning their wedding can be overwhelmed by the planning process. Plan Like A Pro gives couples the tools, insights, and vendor connections they're lacking. That way planning their dream wedding can be as exhilarating as the wedding day itself.
The self-paced course includes 365-day access to the materials. The materials include planning checklists, vendor meeting guides, decision-making templates, and two half-hour consultations.
There's also a private Facebook community full of couples and vendors. They share golden insights from the trenches of various wedding planning experiences. Inside the private Facebook group, couples get to indulge in a live monthly Q&A with me.
Couples also get a one-hour consultation with a financial relationship coach. That's because their wedding is typically the first big investment they make before their first car, house, or other big purchase together.
What's the biggest benefit of taking your course?
The on-demand consultant feature has been recognized as couples' favorite perk. Any questions that come up throughout a couple's planning journey can be answered by the "planner in your pocket" within 24 hours. It's akin to having a genie in a bottle. The genie can answer questions about how to navigate the negotiation process while you're onsite at a venue and want to make sure you've discussed every relevant concern with a venue manager, for example.
The course is sufficient for preparing a couple for vendor meetings (as well as every other aspect of planning) and making sure all loose ends are resolved by the time they're ready to move into the next phase of their planning journey. Along the way, any questions they want to ask via email, Instagram message, or any other platform of their choice are answered promptly by a certified planner.
How did you get into the market?
Having lived in San Francisco for 7 years, I had become well-versed in the tech industry working at Nextdoor as both a Neighborhood Management Specialist and the Project Coordinator for the implementation of Salesforce. Managing online communities and big-scope projects, including weddings and special events, came easy for me.
So I chose to pivot from full-service wedding planning when I left San Francisco to move in with my husband's family in northern Greece and launch my independent travel agent service. I knew I wanted to continue to provide value to couples around the world in a way that would marry my passions for planning and travel. Though I had the idea to launch this course years ago, I was at a point in my life and career that made sense for me to make it happen.
Why did you decide to create an online course in the first place?
I've never found a course quite like mine on the market for years, and I know that most couples want the autonomy to match their love of DIY and the convenience of a professional guru in their corner whenever they need guidance. Every wedding planning package is customizable, so why not provide a course with the core tools all couples need, plus the perks they didn't even know they wanted? I knew I was the perfect planner to serve it up on a silver platter in a way that catered to couples around the world, not just for couples getting married in America.
Did you have any moments of doubt before you created/launched it?
Of course, I had moments of self-doubt as I was creating the course, but I never doubted that there would be at least a hundred couples in the world who would seize the opportunity to enroll without question. The webinar launch was difficult because of the time zone difference in the U.S. I wanted to find out, from the first-hand experience, which hours of which days of the week would people want to participate in a webinar about wedding planning.
So I stayed awake until 3 am and 4 am Eastern European Time just to test my theories and confirm whether or not people preferred webinars in the evening times across the U.S. I definitely confronted my doubt when I encountered technical glitches in the earliest hours of the morning – those were some rough nights. But, at the time, I insisted on learning as much as I could, even if that meant doing things the "hard way."
If so what made you turn it around and do it anyway?
I figured that if I failed fast, at least I'd fail while I'm young.
In other words, if I failed as much as possible, and as early as possible, then I perceived those experiences as learning curves. -Ivy Summer
Click To Tweet
They are stepping stones towards the success I knew I was destined to attain.
I know that if I can do absolutely everything I can to get this course to sell and perform well for my clients – then even if it failed, I could walk away genuinely satisfied that I gave this project my absolute best effort for the sake of creating value for someone else. All I want is to be a contribution to the world in a way that is valuable to others and fulfilling for my heart and soul.
What's your online course like?
My online course content is made of slides of text, voice, and photos. There are six modules, and each module consists of at least four lessons. Each lesson is anywhere from 5-60 minutes in length, and most lessons have files available for download.
The files are templates for questions to ask each type of vendor, planning checklists, invitation etiquette resources, vows guide, financial worksheets, communication tools for a friend and family dynamics that otherwise require a lot of emotional labor, a day-of color-coded pocket-size itinerary and more.
How long did it take you to create your course?
It took me about 6-7 months to create my course. I started writing the script for up to 9 hours of content, and then I created my slides for the course lessons. As I created the script for my course, I simultaneously took Amy Porterfield's course called Webinars That Convert. I took her coaching and tried out different kinds of software to find the right tools that made sense for my course offerings – from webinar platforms, video hosting, membership sites, and landing pages, to various hosts for email marketing, recording organization, automation tools, and other resources.
Everything I used for my script and the files I offer for download came from my own experience working with couples. I couldn't access any of the training materials I acquired throughout my career. They were all in storage in San Francisco.
In lieu of my personal hard-copies reservoir of professional resources, I partnered with vendors across the world who created packets for my course to inform couples about what questions they should ask each vendor, and I interviewed couples who planned their wedding without a planner to create a world of invaluable insight within the course.
Tell us a little about the process of launching your course and getting your first sale(s).
I spent my free trial with Kajabi testing it as the platform for my course. Then I got my first customers from my social circles of engaged friends. I realized a couple of weeks later that my couples and I still wanted some features that Kajabi didn't offer. This included an affiliate program for couples and wedding industry vendors. So, I hired an engineer to build out my custom membership site to support my nice-to-have features.
My course officially launched with my first few webinars in September of 2019. I spent about a month preparing my webinar and associated social media marketing campaigns as I reviewed Amy Porterfield's course. A business manager helped build out my marketing plan with me. I wanted to ensure that I could optimize my reach and create a buzz around the course.
I also used the Help A Reporter Out (HARO) service for daily leads from reporters. HARO also helped me figure out which reporters write about wedding planning.
Do you have a lead magnet?
My lead magnets include a sample of the course, a wedding planning checklist for visitors on my site, and a free half-hour wedding planning consultation upon request. The sample is especially helpful for couples who want a sneak peek of the course. However, the most popular, effective lead magnet is the pro-bono consultation. Sometimes I get a Yelp! review solely based on my first encounter in the free consultation.

What's the traffic strategy that works best for you?
Word-of-mouth is the best traffic strategy for me, hands down. The second-best strategy has been my Instagram and Facebook stories on my personal social media accounts. This blew my mind! I'm learning that people like to see in my personal life. They like to learn about what I'm doing professionally when I'm in a neutral, non-selling state of mind.
For example, when I'm just casually talking about my career path and what's on my company's roadmap while I'm showcasing a recipe in my kitchen at home, I get messages on Instagram or Facebook that inquire about how to book a consultation or honeymoon travel.
The more personable and relatable I make myself, and the more available I seem outside of work, the more leads I get as a result. -Ivy Summer
Click To Tweet
What online course platform are you using?
I currently use a customized membership site that I designed and hired an engineer to build out.
I absolutely love my custom site!
Are there any features you wish it had?
I'm sure that there will be more nice-to-haves in the future product roadmap. Since I got the site custom built with all of my requirements in the first place, there's not much I wish it had. If and when there is a demand for a new feature from my clients, it's only a matter of time before I'll have my engineer implement it.
What made you decide to use your chosen platform over others?
I chose my custom site to match or exceed the expectations my clients have when they enroll. Platforms like Kajabi weren't able to offer the nice-to-haves on my list of requirements for this course.
What other tools do you use to run your online course business?
AWS S3 hosts all of my course lesson videos. I use Stripe for payment processing and my affiliate program payouts. I use Facebook to host my online community and monthly Q&As with enrolled couples.
A bespoke Django Python is the backend web application framework for the course, and Bootstrap and jQuery power the frontend. I use Google Analytics and AdRoll for retargeting. Cloudflare for CDN and SSL.
What books or training programs have you found useful on your journey to a successful business owner that others might find valuable too?
I really enjoyed Amy Porterfield's Webinars That Convert (WTC). I was able to follow her coaching to create both my course and my webinar that promotes the course. Though she has so many other courses, specifically for online course creators, I didn't feel like I needed anything else but WTC.

Do you have any big mistakes you've made along the way that you'd be willing to share?
I dropped about $4k into social media ads before I fully developed and fulfilled my marketing plan. My plan consists of tasks related to spending time and building relationships with reporters. I did a lot more work in attempting to capture cold leads than I did on making sure people knew my brand.
When I launched my online course, I was excited to create content for my ad campaigns. So I poured all my effort into spending more money upfront. This resulted in a super high customer acquisition cost. I found out very quickly how important it is to build trust. In addition, I needed to expose my brand in more organic ways rather than relying on social media ads to sell my course right off the bat.
Please share some idea of revenue.
Ever since February, I've been severely affected by the fallout from the COVID-19 pandemic. Since then, I've been offering a steep discount of $50 for couples who want to enroll with the discount code COVID192020 while the shelter-in-place orders are in effect.
Please tell us a little about what the money you've earned from your course has done for you.
My revenue from the course is slowly paying off the investments I previously made in the social media ad campaigns launched in the last quarter of 2019. I'm looking forward to future revenue going towards my graduate student loans. I intend to pay off with all the revenue I generate from sales of my online course and consultations.
In addition to revenue are there any numbers you would like to share?
I grow my email list most effectively by attending wedding expositions in the San Francisco Bay Area. I'm able to meet with anywhere between 200 and 300 engaged couples at each fair.  I normally host a booth at 3 fairs between the fall and spring seasons. Of the couples I meet, I get almost 300 new subscribers to my email list during proposal season from the wedding shows alone.
At wedding shows, it's all about getting face-to-face with couples who have questions that I can answer on the spot. Much like the on-demand wedding consultant feature available from within my online course. This is the factor that ultimately convinces brides and grooms they need to sign up for my newsletter or purchase my services on the spot.
What has creating your course done for you personally?
Having an online business has allowed me to live in Greece with a flexible schedule. It also gave me time to work as a luxury, celebrity, destination wedding planner based in Athens. In addition, I had time to write a book about how to plan a wedding during a pandemic this season. I'm able to travel and indulge in other hobbies that enrich my life, like gardening, cooking more often, and learning new languages.
I've ultimately fulfilled my 10-year goals, which includes my dream of establishing myself as a permanent resident in Europe and becoming a well-known, pioneering wedding consultant and coordinator in the cannabis wedding space in the Bay Area. Had I not pivoted my full-service wedding planning business in San Francisco, I wouldn't have had the luxury to enjoy as much freedom as I do today.
Do you have a story of a transformation from any of your clients?
My favorite review from a couple who had a Christmas Day wedding made me feel amazing.
I've never received a compliment about the drive behind my motivation to serve my couples quite like this bride describes: "Ivy can work with you for whatever kind of dreams you have, making sure you stay on track with any size budget. I have never come across anyone so uniquely qualified as Ivy. She is trained in listening (yes that's a thing) and has spent years building up a roster of resources for couples.  That way we don't have to do it all ourselves."
What advice do you have for people just starting out?
If you're on a tight budget, don't spend any money on Facebook, Instagram, Pinterest (or any other social media) ads. First, roll out your entire marketing plan, which should consist of tasks that cost you time. You deserve a break every once in a while and don't be too hard on yourself.
Learn more about Ivy Summer of Plan Like a Pro: