How Heather Farris Uses Online Courses to Generate a New Revenue Stream in Addition to Her Pinterest Services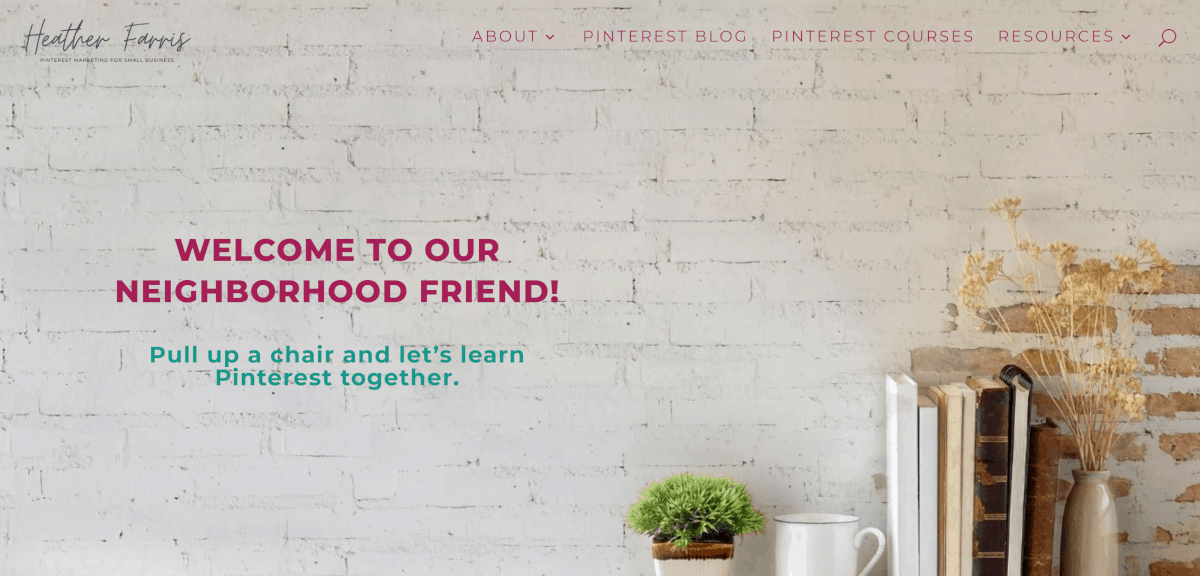 Our content is reader supported, which means when you buy from links you click on, we may earn a commission.
---
Who: Heather Farris
Website: heatherfarris.com
Course Topic: Pinterest Training
Interesting Stats: Started with just 2 sales of her tripwire per day to equal $1K/month
Who are you and what course have you created?
I'm a Pinterest marketing consultant and I run a digital agency helping others to implement the strategies I learned over the last 4 years. I created several courses over the last 18 months to help others to create and run their own Pinterest strategies. That way they can sell more products and grow their email lists.
The first course I created was Pin Profit Plan, an in-depth Pinterest course that teaches bloggers, & shop owners how to set up a Pinterest account, create beautiful pins, and ultimately how to use the platform to send traffic to their site. This course is also relevant for other course creators, podcasters, YouTuber's … pretty much anyone with content that is searchable.
Since then I have created a course teaching those same people how to use Tailwind. It includes the strategy I use for clients as well as mini-courses that breaks down smaller pieces of the bigger courses.
My goal here is to help people where they are in their journey of Pinterest marketing. Not everyone needs a big course.
Aside from Pin Profit Plan I also have a course teaching other women who want to work from home to become a Pinterest Virtual Assistant.
What market does your online course serve?
My course serves bloggers, shop owners, and online personalities to drive free traffic to their websites. My main segment of students is bloggers and shop owners. These students have blogs in finance, organizing, parenting, food, and more. Some of my students are also selling handmade products as well as digital products on their websites.
For my VA course – Those students are women who want to make extra money on the side. They are looking for alternative work options and becoming a Pinterest VA gives them the flexibility they desire.
What's the biggest benefit of taking your course?
My students are learning from someone who is in the field of testing and implementing Pinterest strategies for hundreds of clients regularly. There is no better person to learn from than someone who is implementing Pinterest strategies for clients in all different niches successfully.

How did you get into the market?
I actually fell into Pinterest management by accident. When I started blogging in 2016, I knew I needed to use Pinterest to drive traffic to my new blog. I had been using Pinterest since 2010 at that point and understood the platform well enough to succeed fairly quickly. A friend asked me to take over an account while she traveled and I managed to increase her traffic so much she referred me to her friends. My agency was born at that point and recently I decided to start teaching others what I have learned.
Why did you decide to create an online course in the first place?
I started doing one on one strategy sessions with clients who wanted their teams to implement Pinterest traffic strategies for them. When I started doing those intensives and seeing how my clients responded to my teaching I fell in love.
I knew I wanted to teach my methods in my voice. Bringing that to life and seeing my students succeed has been a joy. - Heather Farris
Click To Tweet
Did you have any moments of doubt before you created/launched it?
I did and still do at times. My doubt was mainly around the value of the content. Would anyone care what I had to offer when there are literally hundreds of other competing courses?
I realized after taking a handful of beta students through my course that what I was offering was truly different. My approach and the results I have gotten speak for themselves.
I love getting those emails from students telling me they learned so much and are implementing, seeing results, and even sharing their insights with me.
I treat my courses as a two-way street and I'm always asking students if there's a better way.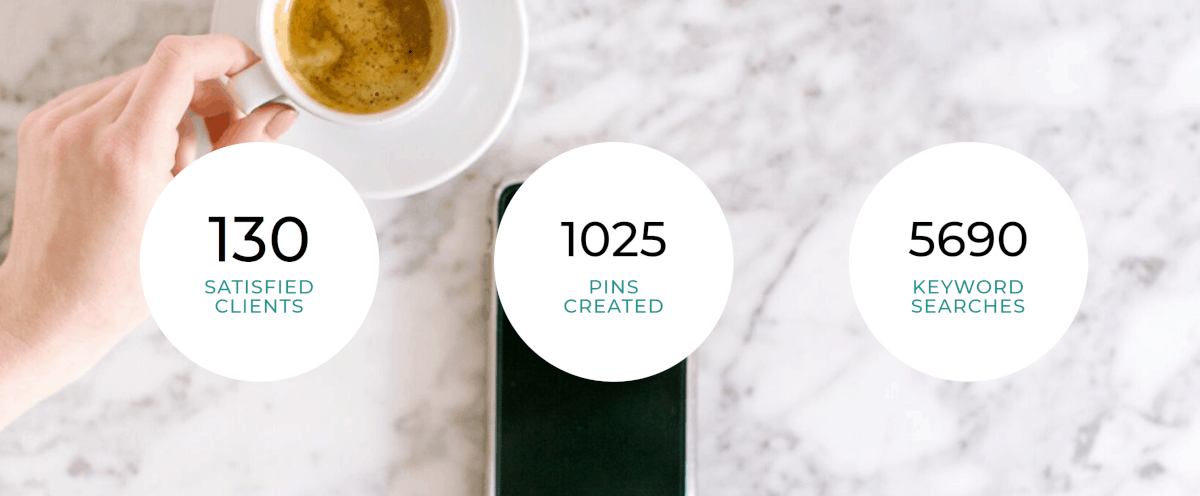 What's your online course like?
It's a video and text-based course with printable checklists, templates for images.
How long did it take you to create your course?
It took me about a month to create the course. I first outlined everything a person would need to know for Pinterest & Tailwind.
Tell us a little about the process of launching your course and getting your first sale(s).
When I first launched my course I launched to a private group of people. I shared the commission with the group owner for allowing me to get in front of her audience. Then, I did a webinar followed by a 5-day open cart.
I have forgone doing launches like that since that one time. Instead, I have opted for the freebie to tripwire with an upsell approach.
I have put more focus on creating really valuable content and driving people to my lead magnet where they enter my funnel. From there I convert them into customers.
Do you have a lead magnet?
I do! I have a PDF checklist that helps jumpstart a Pinterest strategy and stay consistent on the platform.
My PDF is a great entry point into Pinterest marketing. It helps to solidify how valuable this platform is to grow website traffic.
My lead magnet signup rate varies based on the page but I get anywhere from a 30-50% opt-in.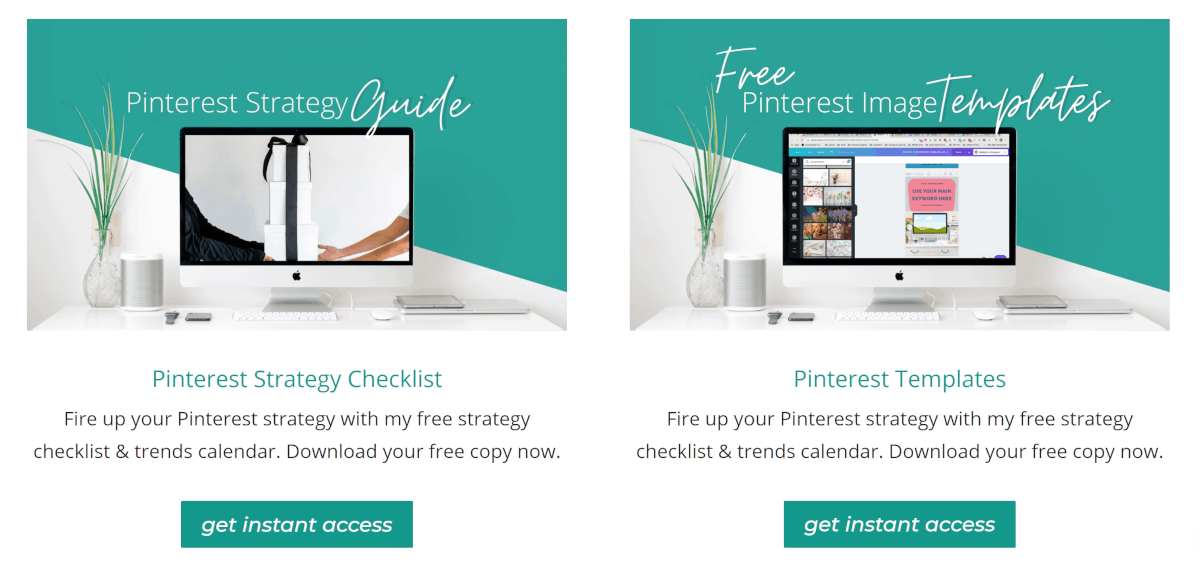 What's the traffic strategy that works best for you?
Right now blogging with high-quality SEO and showing up on social media has worked the best. I publish and repurpose content on as many platforms as I can and drive traffic from those platforms to my blog, to the email list, and back around to the blog.
This method really helps people see me as an authority and build trust. That's because I'm showing up with consistent messaging across all platforms.
What online course platform are you using?
I built my course platform out on WordPress using AccessAlly. I LOVE it.
Prior to AccessAlly, I was using a different WordPress course plugin and was not happy with how it worked. I swapped to AccessAlly as my learning platform in late 2019 and my sales immediately increased overnight.
Are there any features you wish it had?
I do wish there was a theme or template for course delivery I could use. Instead, I had to design it all myself.
What made you decide to use your chosen platform over others?
I was using LearnDash and the platform just didn't function as I wanted. I needed features to track purchases with thank you pages and with LearnDash I felt like it was too much work to make it function as I needed it to.
That's where AccessAlly came in. They offer everything I want and it pairs with my email service provider so I have a lot less work and a lot more functionality. It's worth the monthly investment!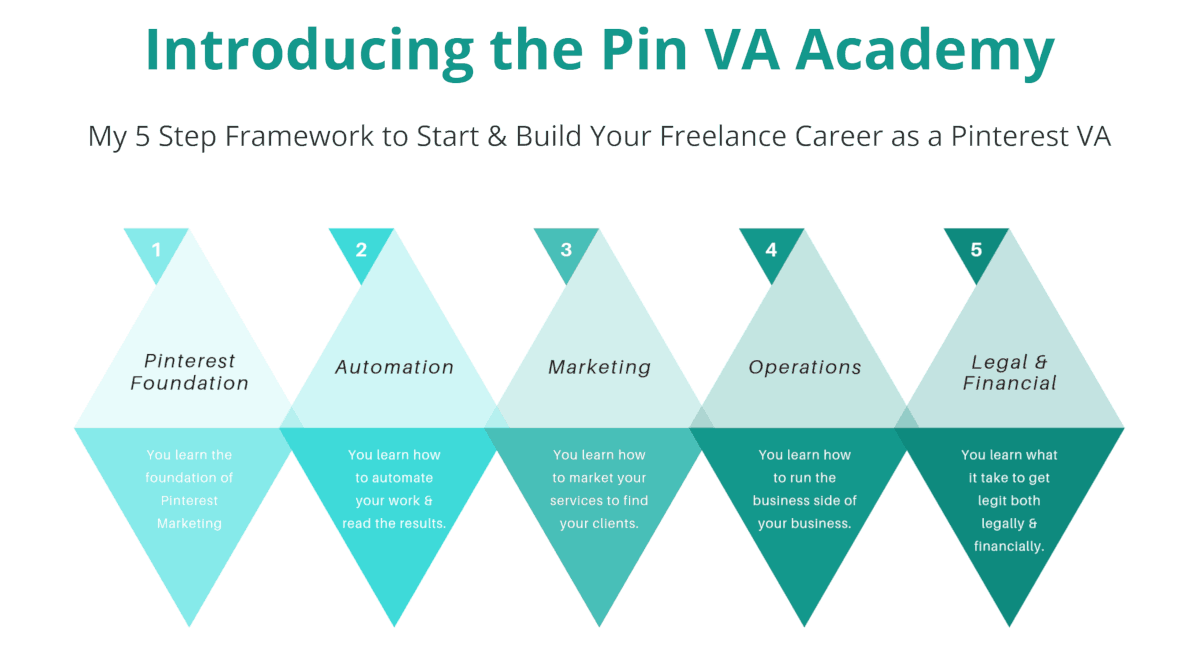 What other tools do you use to run your online course business?
I use Vimeo for video hosting. Canva works great for templates for my students and for designing shareable images to promote the course. I also use Stripe & PayPal for payments as well as Google Drive and iMovie for editing and storing files.
What books or training programs have you found useful on your journey to a successful business owner that others might find valuable too?
Recently I have read a handful of books I would highly recommend:
This Is Marketing by Seth Godin
Superfans by Pat Flynn
The One Thing by Gary Keller
The Miracle Equation by Hal Elrod
Do you have any big mistakes you've made along the way that you'd be willing to share?
Oh man, most of my mistakes are tech-related. Because I am a total control freak and prefer to do tech tasks myself I really made some flubs.
When I setup AccessAlly I set it out into the world instead of staging and testing the full funnel. That confused some buyers.
I also set up a tripwire product with an order bump and upsell.  On that final thank you page I didn't put anything regarding getting access to the courses they just purchased. That resulted in quite a few confused buyers.
I have since simplified the funnel and put thank you messages at the top of my upsell and downsells pages letting those buyers know how to access their materials.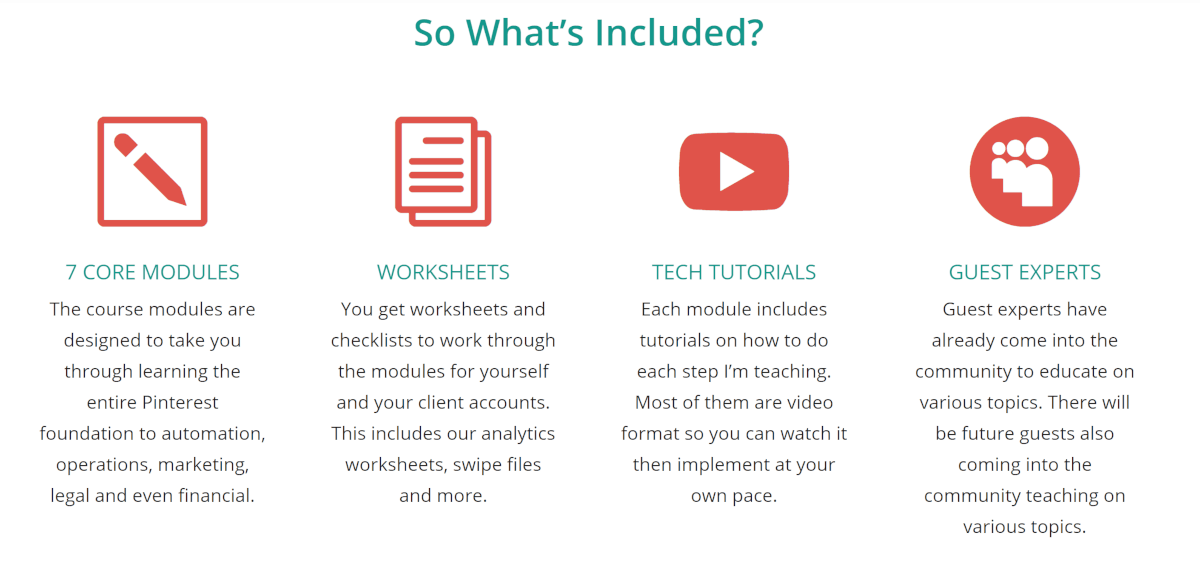 Please share some idea of revenue.
On average I earn between $500-$1500 in sales. There has been such a big difference because we had a big cross country move in there. That was between October when I started really pushing products to February when we finished our move.
I generate about 5000 pageviews to my website per month. I don't think it's too bad!
Please tell us a little about what the money you've earned from your course has done for you.
For the last 3.5 years, I have been solely earning an income for the services I provide. That means a lot of months I am going through ebbs and flows of gaining and losing clients.
Being able to diversify my income with course sales has really helped to secure my monthly paycheck and help to provide for my family. Especially since I'm the sole income provider at the time of the interview.
In addition to revenue are there any numbers you would like to share?
The quickest way for me to make an extra $1,000 per month was to set up the freebie and tripwire. - Heather Farris
Click To Tweet
My tripwire costs $17.50. I present this offer to subscribers after they opt-in. When I first set this up I was averaging 2 tripwire sales per day which gave me roughly $1000 in revenue. I started taking that revenue and rolling into ads so I scaled my product sales further.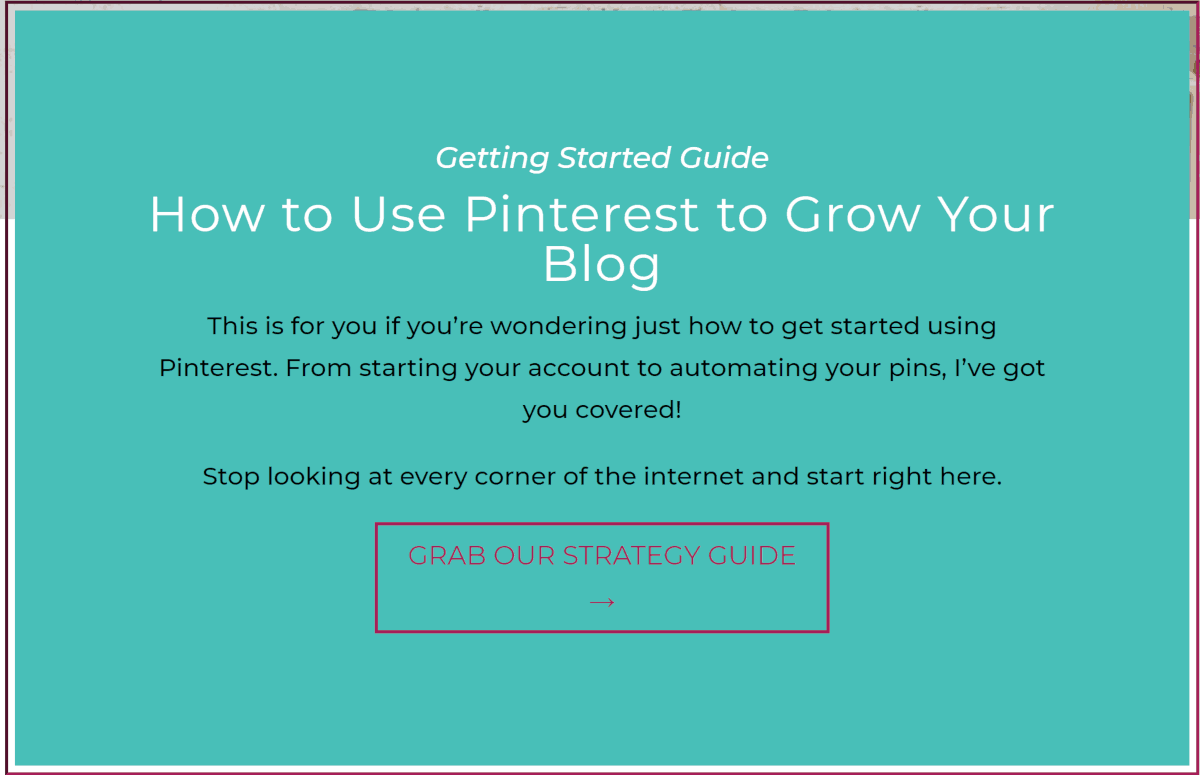 What has creating your course done for you personally?
I have loved teaching and serving my clients. Seeing the course sales and the great things my students are doing has really helped build my confidence allowing me to show up online and do more of what I love.
Do you have a story of a transformation from any of your clients?
I had a student who was trying to help her client with Pinterest. She had taken other courses and had been using Pinterest for business in the past. After taking my course she was able to start offering Pinterest as a service and bring additional income into her family. Not only did she learn a skill but she's getting paid for it.
I couldn't be more proud to help other women grow their household wages and learn new skills! It's all about transforming others' lives. - Heather Farris
Click To Tweet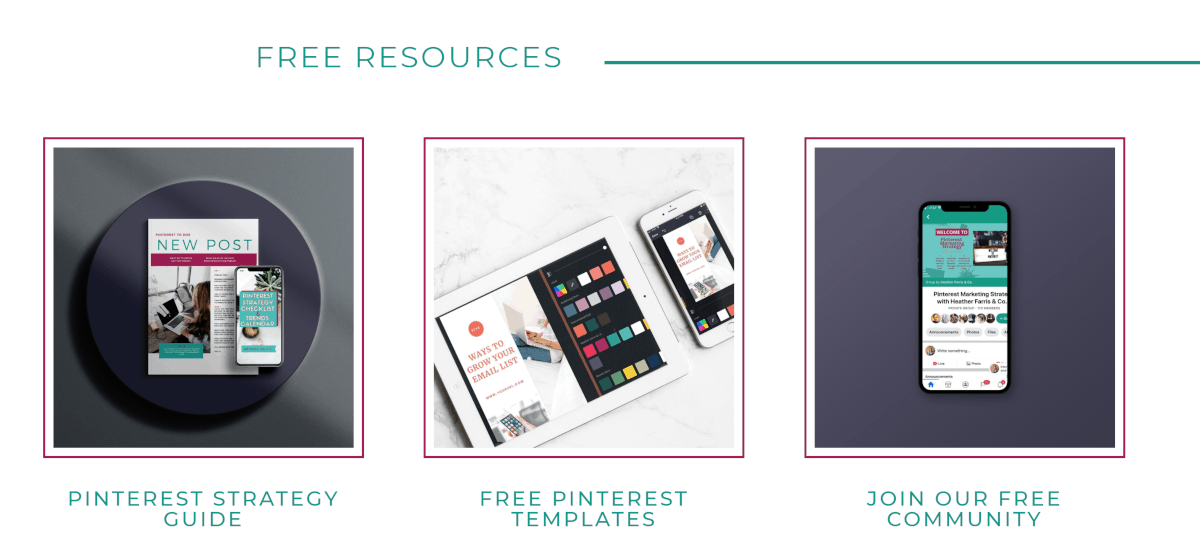 What advice do you have for people just starting out?
Don't go crazy with the whole funnel philosophy. Start small and get really, really good at it. I used Pinterest nearly every day for 6 years then started getting paid to use it and teach it for the next 4.
Consistency is key and showing up every single day will help you to get where you're going! There will be tough days where you wonder if it was worth it… stick to it!
Learn more about Heather Farris of HeatherFarris.com: