How Pest Posse Immediately Started Generating $700/Month Revenue with its Training Courses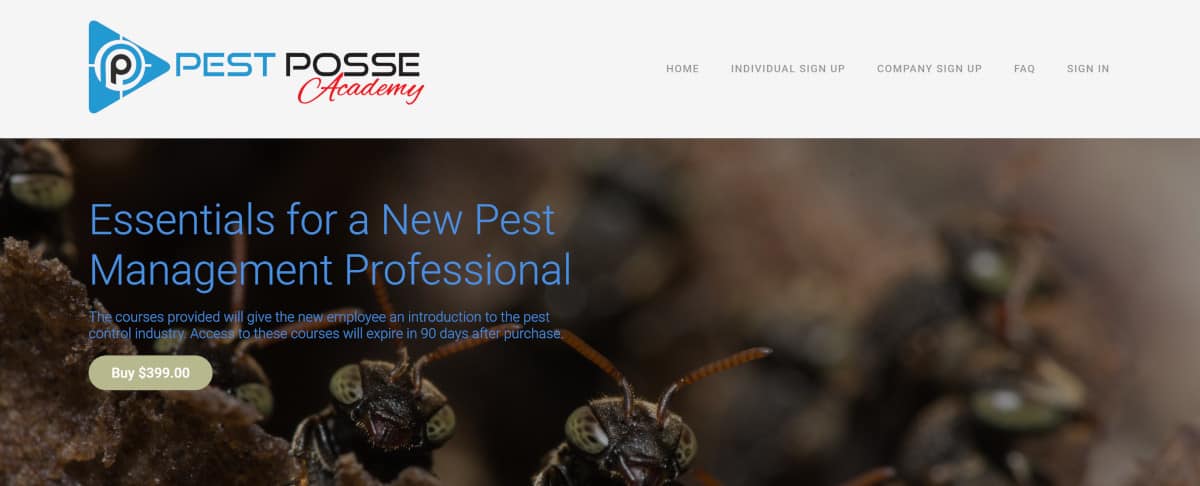 Our content is reader supported, which means when you buy from links you click on, we may earn a commission.
---
Who: Foster Brusca
Website: ThePestPosse.net
Course Topic: Training for pest control companies
Starting Revenue Stats: $700/month recurring revenue almost immediately
What market does your online course serve?
My name is Foster Brusca and I am one of the business partners of The Pest Posse. We recently developed the Pest Posse Academy which provides training for the small to medium size pest control company as well as the individual pest management professionals.
Our training is unique to the pest control industry because we use video for our training courses and provide regular ongoing training curriculum. Most of the training for the pest control industry is outdated, uses PowerPoint, or even slides for the training. Most companies don't provide a regular ongoing training curriculum.

What's the biggest benefit of taking your course?
We provide a plug and play training program for small to medium sized pest control companies. With our training program owners don't have to develop and maintain a regular in-house training program.
How did you get into the market?
I have 26 years of pest control experience and my business partner, Culley Christensen has 24 years of pest control experience and in this time,  training has always been a struggle to develop and maintain.
We each developed training programs for past companies we worked for and whenever we did, we noticed increased customer retention, less complaint calls, and employees that stayed with the company longer. Also, over the years we have gotten to know a few pest control owners and each one always mentions something about training and how difficult it is to provide for its employees.

Why did you decide to create an online course in the first place?
We wanted to provide a training program for the small to medium sized pest control companies so that they didn't have to develop and maintain a regular in-house training program. These business owners have a lot of hats to wear and a proper training program takes time and resources to develop correctly. The bigger pest control companies have the resources to provide in-house training so we thought why can't the smaller companies be provided the same opportunity.
Did you have any moments of doubt before you created and launched it?
All our training courses have had some challenges and they sometimes are difficult to create. We never had any doubt that we couldn't create the training. It was just a matter of finding the correct resources and writing the scripts for the training courses so that it provided the most accurate and current information. Culley and I are not great writers, so developing proper training courses has always pushed our limits.
What made you turn it around and do it anyway?
We know that the pest control industry needs good quality training so we pushed forward knowing that this will bring the industry to new level of professionalism.
What's your online course like?
Our training is all video based and it is presented in way that makes it feel like we are in the room providing the training to you. Pest Control is a visual industry so video is the perfect fit. We use b-roll video and pictures from pest control jobs that we have performed. To keep the training engaging, quizzes are added in the middle and end of each training course.
Each training course is 20-40 minute in length and certificates of completions are provided at the completion of each courses. Also, we provided continuing education credits for some of the training courses because continuing education is a requirement for license renewal as a licensed pest control professional.

How long did it take you to create your course?
It took us about a full day of brainstorming to come up with the training curriculum for April 2019 to December 2019. We needed to do this because each month we provide 4 different training courses.
Once we figured out the training we were going to cover, we tackled researching and writing the scripts for each training course. Each training course takes around 1-3 days to write, 1-2 hours to record the video, 2-4 hours to edit, and 30-40 minutes to load onto the Thinkific platform. We have tried to stay at least three months ahead of schedule and keep developing new courses as we go.
Tell us a little about the process of launching your course and getting your first sales.
We used a process involving a squeeze page and mini course which produced a lot of good leads and engagement, but it didn't transfer well to sign ups for the paid monthly subscription. The process involved providing a 3-part mini course with each part being released 3-5 days apart. The final course has a sales pitch at the end. Everyone loved and raved about the free mini course. And we did get a few sales out of it but nothing to light the world on fire.
Since that time, we've had a few sales, however the pest control industry is very overwhelmed in the summer months. Most companies don't have the time to add new processes then, so we expect sales to increase in the fall and winter months.
Tell us about any lead magnets you offer and how they've worked out.
We provided a free Reference Guide for Insects and Materials to grow our email list and it worked great. This was launched on Facebook and LinkedIn because that is where our audience is.
This lead magnet provided us a good strong email list which is growing every day. I believe we have about 700 emails. It's not a lot but realize this is just for the pest control industry that is only made up of 78,000 service technicians. We used this list when launching the free course and it worked great. We will be doing another free mini course the first part of September 2019 so this should generate more emails and sales.

What's the traffic strategy that's working best for you?
We started with a YouTube series in September 2017 to grow our audience and reputation. We're using Facebook and LinkedIn to post videos when they come out as well as running some paid ads. Our audience is on these sites, so it has worked well for us. We have over 1,400 subscribers on YouTube, over 1,500 followers on Facebook, over 1,200 followers on LinkedIn, and our website gets between 300-600 visitors each month.
To build our audience, we created accounts on Facebook and LinkedIn and just started posting regularly. We also joined some pest control groups on Facebook and started commenting on posts. Each week we post new episodes along with a promo video that shows what is coming up in the next episode on Facebook and LinkedIn. Also using the proper keywords when posting has helped us target our customers.
What online course platform are you using?
We use Thinkific. They have good support and the course platform is easy to navigate.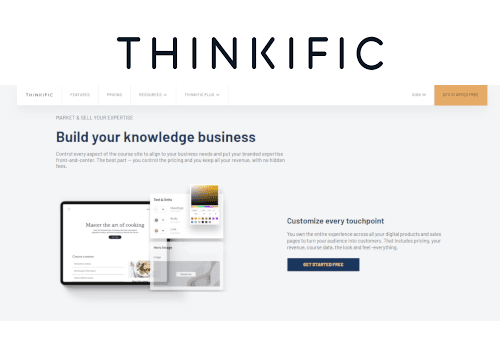 Take a Look at Thinkific!
Thinkific is the most popular online course platform used by successful course creators interviewed on coursemethod.com. It's a complete solution for creating sales pages, uploading all course content, taking payments, and more.
Price Range: Free to $499/month 
Most Popular Plan: Pro Plan at $99/month
Annual Discount: Yes, take 20% off!
Free Trial: Try out Thinkific's core features for free.
*Our content is reader supported, which means when you buy from links you click on, we may earn a commission.
Are there features you wish it had?
I wish they had a better Student dashboard.
It would also be nice if they offered a better way to provide certificates. Some of our courses offer continuing education credits and each state requires something different. We know we eventually need to build something custom and this will come with time.
What made you decide to use your chosen platform over others?
It came down to features, ease of use, and support. Thinkific just worked right out the box for what we needed immediately.
Are you willing to share some idea of revenue?
Right now, we are only bringing in around $700.00 a month since the launch. Our training is a subscription model, so people sign up and pay a monthly fee. Currently, the $700.00 a month figure is the active amount we have coming in from the training course. We know this will grow in the Fall and Winter months.

Would you mind telling us a little about what the money you've earned from your course has done for you?
Nothing so far. We are Bootstrapping the first 12 months of this project so we know things will change. Soon we hope to hire a few employees, take great vacations, and move into a swanky new office.
What has creating your course done for you personally?
It made both of us feel like we can do something big if we put our minds to it. We've just started, and things are getting better by the day.
What advice do you have for people just starting out?
Be prepared for ups and downs because they will come.
Make sure you have a good solid plan in place, just don't wing it. - Foster Brusca
Click To Tweet
Also, don't be afraid to ask for help even if it is from your competition.
Learn more about Foster Brusca and The Pest Posse: