How Eve Upton Is Helping to Grow Bidcraft.co.uk Through Online Courses Focused on Professionals in the Bidding World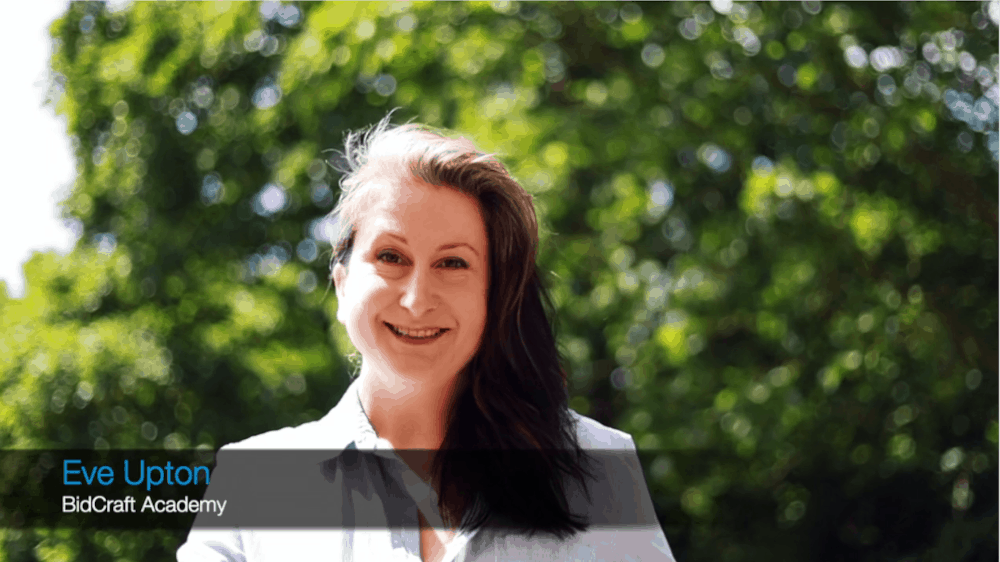 Our content is reader supported, which means when you buy from links you click on, we may earn a commission.
---
Who: Eve Upton
Website: academy.bidcraft.co.uk
Course Topic: Corporate bidding
Interesting Stats: 2 corporate clients worth >£40k within weeks of launch
Who are you and what course have you created?
BidCraft is a bidding services consultancy. With expertise from capture to closure, we target the areas that improve bidding performance the most, giving companies the winning edge in a competitive market. BidCraft's services help companies be more successful at winning bids by focusing on the areas that improve bidding performance the most.
We offer three kinds of courses – 1) as an approved training organization for the Association of Proposal Management Professionals (APMP) helping people prepare for professional certification exams; 2) bespoke private courses for corporates; and 3) we are developing our own bidding skills courses.
What market does your online course serve?
The bidding world includes people working for multinational companies on bids that can take years, to freelancers and start-ups responding to tenders in weeks. Each company is unique, but there are some essential tools and techniques for improving your chances of winning new business, and we have the experience to share.
The market also includes people looking to demonstrate their credentials with APMP professional certification. APMP has over 10,000 members globally.
What's the biggest benefit of taking your course?
Most of the competitor offerings forbid professionals from focusing on traditional classroom training, and more recently classroom training carried out over a webinar/video. As many people are experiencing during the current pandemic, the move to online training can be sub-optimal when it's a reactive attempt with little knowledge of what good looks like.
We want people to enjoy the benefits of eLearning at their own pace, flexibly, with a course that is designed for online. The benefits of the BidCraft Academy are all the great ones for online learning systems, with the added value that comes from trainers that actually bid themselves as well. For vocational courses, you want someone who does the job now, not someone who is a professional teacher giving you a syllabus or someone who did the job decades ago when the bidding world was a very different place.
How did you get into the market?
Through our involvement with APMP the BidCraft management team present at conferences and webinars for our peers. We also provided classroom training for corporate clients.
We saw a gap in the market for online and blended teaching in the bidding world, so we began to investigate how we could offer something designed for online. -Eve Upton
Click To Tweet
At the same time, we became approved trainers for APMP and wanted to offer choice to that particular market.

Why did you decide to create an online course in the first place?
It was a matter of offering choice to learners and a modern approach with the best of blended learning combined with our industry experience. Classroom training is great, but there's a place and time for it. There is also a need for flexible training that allows the learner to control the pace and timing rather than be where we tell them to be.
For corporate clients, there is a definite move in the L&D departments to looking for courses integrated into their own LMS, and a move away from expensive, hard to organize classroom training.
Did you have any moments of doubt before you created/launched it?
The doubts came as we researched the detail of what good digital learning entails – it is so much more involved to create something that works online, and we were not sure we would be good enough. We were worried we would invest in all the technology (platforms, cameras, mics, software, etc.) and not even cover the costs.

If so what made you turn it around and do it anyway?
One of our values is to "be curious" so we are always trying to learn and challenge ourselves. This was one of those times. The amazing feedback we got from our beta testers and initial learners was when we finally realized we were doing the right thing.
What's your online course like?
Our courses contain slide videos with voiceover, live-action talking heads so people can see who is teaching them, text, quizzes, assignments, surveys, discussions, and live video calls – both one to one and group. You need to offer something for people with different learning preferences, and we find it's more interesting to mix things up and use the right format for the content.
How long did it take you to create your course?
Gosh, it takes more time than you think at the start! I don't want to put anyone off, and I think you should start with whatever you have and improve, but we are perfectionists, so every video or voiceover seemed to need redoing and honing.
Flagship courses covering days of learning can take weeks to design, prepare, record, and produce. Remembering you want to create an amazing course page and think about all the back-end decisions like pricing and markets.
Short courses can take a few hours if you know what you are going to teach, or days if you want to do research into the subject first.
We have a long list of courses we want to make – we have decades in the business, so have so many things we could share. But there is a day job to do as well!
Tell us a little about the process of launching your course and getting your first sale(s).
Launch day was an anxious one – you have put so much into creating this thing and you want people to get as much out of it as you put into it. The period between pressing publishing and getting that first notification of a sale felt like days, even if it was a matter of minutes in reality.
The first course was an APMP certification one, so we launched on Linkedin and the official website of APMP. We also wrote to a select group of clients and other interested parties to let them know it was live.
Do you have a lead magnet?
We are planning our first lead magnet – a free course to show people the benefits of the platform, and the value in what we provide in a course. We need to increase awareness in the market, so this should be a good test.
What's the traffic strategy that works best for you?
For the APMP certification courses we are listed on their website and publications as an approved trainer, so we see traffic from those sources.
Linkedin has worked out well for us given the professional nature of the courses we offer.
We looked at the age profiles, content, and general interest patterns in other social media platforms to settle on Linkedin as the main source. -Eve Upton
Click To Tweet
We also have a YouTube channel that we will be using more in the future.
What online course platform are you using?
I'm a detail person, and I did a huge amount of research in the early days when we were thinking about whether we wanted to pivot online. I made a feature list and compared the various course platforms out there. There was also a more emotional element around whether the platform was intuitive and attractive to me, and whether I believed the company would give provide service.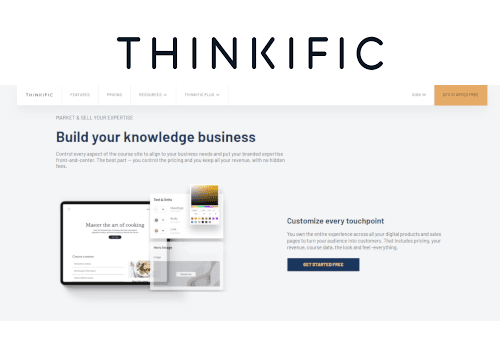 Take a Look at Thinkific!
Thinkific is the most popular online course platform used by successful course creators interviewed on coursemethod.com. It's a complete solution for creating sales pages, uploading all course content, taking payments, and more.
Price Range: Free to $499/month 
Most Popular Plan: Pro Plan at $99/month
Annual Discount: Yes, take 20% off!
Free Trial: Try out Thinkific's core features for free.
*Our content is reader supported, which means when you buy from links you click on, we may earn a commission.
Do you like it?
It's amazing – they guide you through the entire process and provide great tips and training. There are so many times we've said, "I wonder if we can do …" and the platform just has the most intuitive solution. My personal challenge is now to find something it cannot do!
The team is really responsive and friendly too.
What made you decide to use your chosen platform over others?
Thinkific had all the features and a look and feel that the others just don't match up to. It was not a fair fight, in the end, they are just too good.
The final trigger to go with them was a live webinar tour with great Q&A.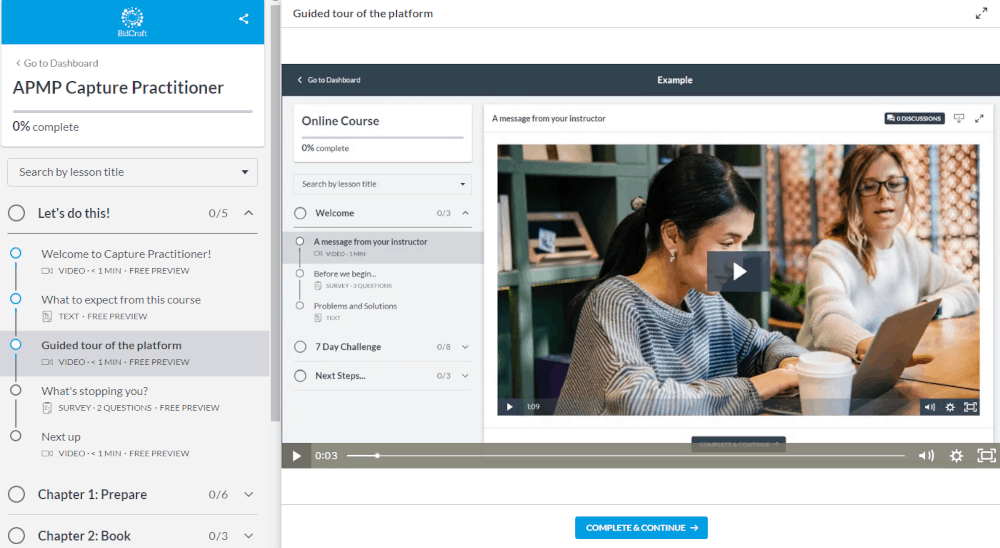 What other tools do you use to run your online course business?
At the center of the process is an iMac – I need the screen space and processing power to make the work simple. It comes with QuickTime and iMovie for screencasts and video production. Loom is a great tool for recording presentations with a webcam overlay in a corner. We record live video with a canon mirrorless digital camera for the control and quality. The canon needs a small Rode compact mic, and we use Yeti for sound recording. We also use ConvertKit for email integration with Thinkific.
What books or training programs have you found useful on your journey to a successful business owner that others might find valuable too?
The training offered by Thinkific was a great place to start. My advice is to keep learning – if you need to find out about email marketing then start with potential email providers and see what they share and recommend. Always go to the experts.
Do you have any big mistakes you've made along the way that you'd be willing to share?
Don't underprice through imposter syndrome.

Are there any numbers you would like to share?
We signed two corporate clients worth >£40k within weeks of launch through the strength of a tour of the platform and their knowledge of our experience.
What has creating your course done for you personally?
I love to learn new skills, and course creation has taught me technical skills in video production, marketing skills, the psychology of learning, and so much more. This is just the start, and I'm excited to learn more.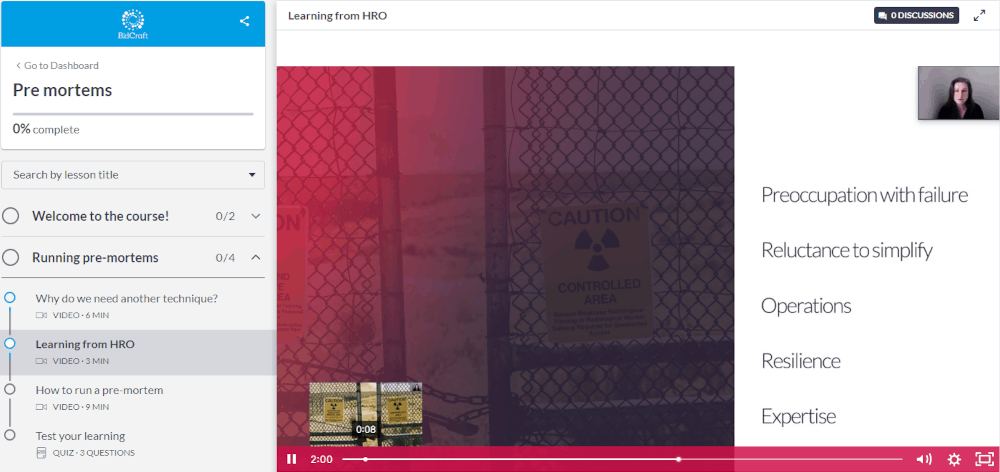 What advice do you have for people just starting out?
When I started researching the potential for online courses it was educational information for school and college teachers, so was hard to extrapolate for what we wanted to offer professionals. I wish I had found the world of professional course creation and marketing earlier. It would have made the transition faster and so much simpler. There is a great community of creators and creator-support out there, so embrace it.
Learn more about Eve Upton of Bidcraft.co.uk: