Clickfunnels Pricing: Take a Look at Pricing Options

Our content is reader supported, which means when you buy from links you click on, we may earn a commission.
---
Clickfunnels pricing model offers three levels. This can make it hard to choose which one is right for you. Often, with most tools, the pricing ranges are pretty close together. But with Clickfunnels, the pricing ranges from $97 a month up to $2,497 a month! You really need to learn about the differences between the three Clickfunnels pricing plans before you can ever begin to decide.
Unlike conventional website builders, ClickFunnels is geared towards emerging businesses, helping them create a platform for showcasing their brand while sales funnels run in the background.
Their advanced sales funnels help your brand generate leads and grow your sales volume. Moreover, Clickfunnels doesn't require additional tools that make running and managing a website all the more confusing and complicated.
Clickfunnels Pricing Overview
Clickfunnels is not free software and uses a subscription-based model for its users. While there is no 100% Clickfunnels free trial, it does offer a 14-day free trial for users to get familiar with the platform and decide if they want to go ahead with it or not and the kind of functionality you need. The Clickfunnels free trial requires a credit card which will be charged after 14-days unless canceled.
In addition to the Clickfunnels free trial, there are three tiers of monthly subscriptions.
| | |
| --- | --- |
| ClickFunnels Plan | Price ($/month) |
| Base | 97 |
| Platinum | 297 |
| Two Comma Club X | 2,497 |
ClickFunnels Pricing Breakdown
From the table above, you can see that ClickFunnels offers three paid plans to choose from. Now let's take a closer look at what each of them has to offer …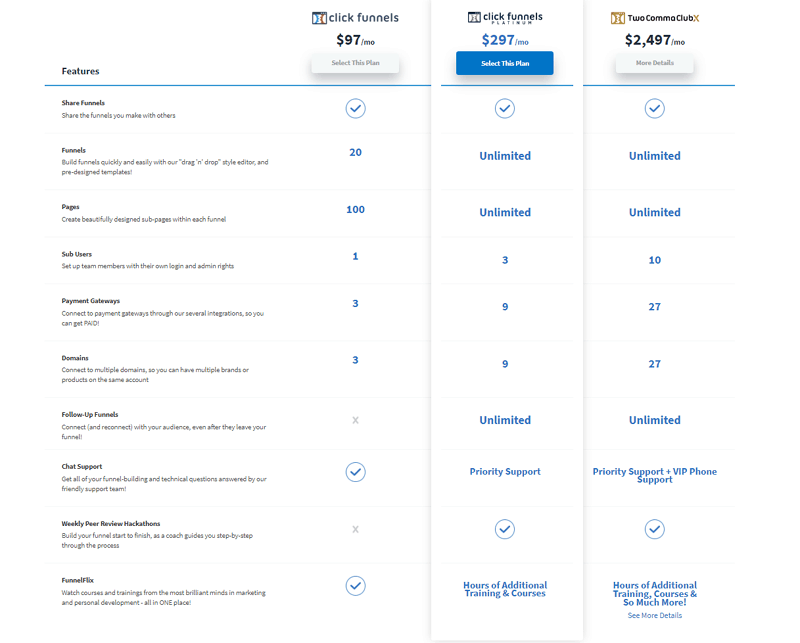 Base Plan
The base plan is quite basic in functionality and will give you very little utility in terms of forming funnels.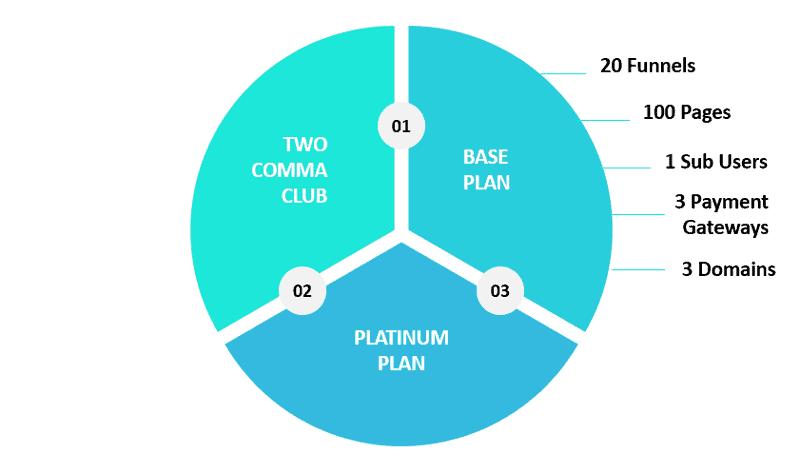 Here's how the base Clickfunnels pricing plan breaks down …
You can only choose from 20 pre-built sales funnels as opposed to the unlimited funnel builder in the other two plans. Similarly, you can only build 100 pages for your web platform, while you can create unlimited pages in the other plans.
Only one person is allowed to manage and build a website using ClickFunnels; hence large teams cannot work at the same time.
In order to generate revenue from your online platform, you need to integrate payment options with it. To fulfill this requirement, the base package only offers 3 payment gateways as an option for integration.
ClickFunnels offers you the ability to manage multiple domains using your base model; however, you can only work with 3 domains in this plan.
You do not get the option to form follow-up sales funnels. These may become essential if you're trying to generate leads from previous clients or managing repeat ones.
You do get chat support; however, as we'll see, other Clickfunnel plans offer better alternatives for support.
You don't get the option for weekly peer-reviewed hackathons, where a coach guides you through the sales funnel-building process from start to finish. However, you do get the option of FunnelFlix, Clickfunnel's training platform for personal and professional development.
If you're managing just one online platform, whether ecommerce, eLearning, or an agency, the base plan might be for you. However, as your business grows and you require additional sales funnel features and need to build more web pages for online content, then you may need to upgrade your plan to the platinum level.
Clickfunnels Platinum Plan
The Clickfunnels Platinum plan is a much more versatile plan for digital marketers. It offers additional features that will become essential once your business has a wider user or customer base.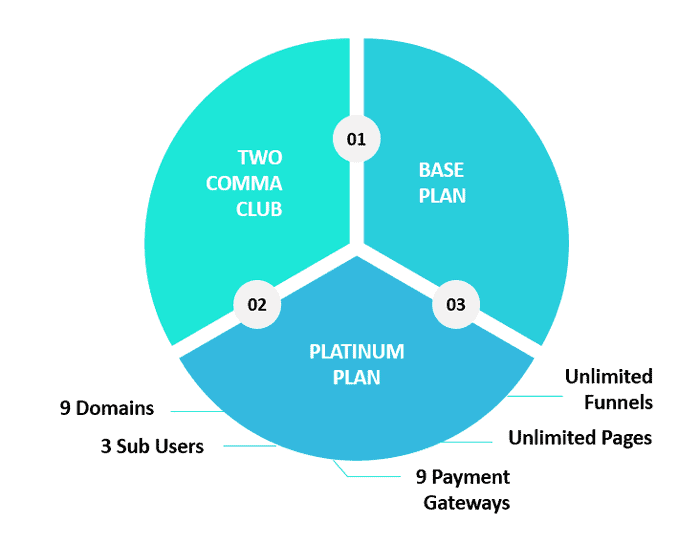 Here's how it differentiates itself from the base plan …
The platinum plan offers unlimited sales funnels and pages for you to expand your website and create more opportunities for conversion. Plus the platinum pricing plan allows you to set up a group of 3 individual users with their unique admin credentials.
Additionally, the platinum plan offers 9 payment gateway integrations with your web pages, allowing you to access more channels of revenue than the base pricing plan.
You can also integrate and manage 9 domains as opposed to the 3 offered in the base plans, ideal for testing out new platforms and avenues for marketing.
Perhaps the best features of the platinum Clickfunnels pricing plan are the unlimited follow-up sales funnels you can build with it, the priority support option for any technical queries you need answers to, weekly peer review hackathons, and FunnelFlix with additional content on training and courses.
Each of these features is geared towards helping you build the perfect sales funnels that can drive sales and lead to conversions and help you remedy and bugs that may pop up during operations.
The platinum pricing plan is your gateway to digital marketing. It has the potential to truly cement your business in an increasingly competitive online world. You can employ different marketing techniques like affiliate marketing and your network to further bolster your business as your operations scale with time.
Two Comma Club X
Clickfunnel's ultimate pricing plan is the Two Comma Club X. At first glance, it doesn't seem like that its features offer much more than the Platinum pricing plan compared to its price.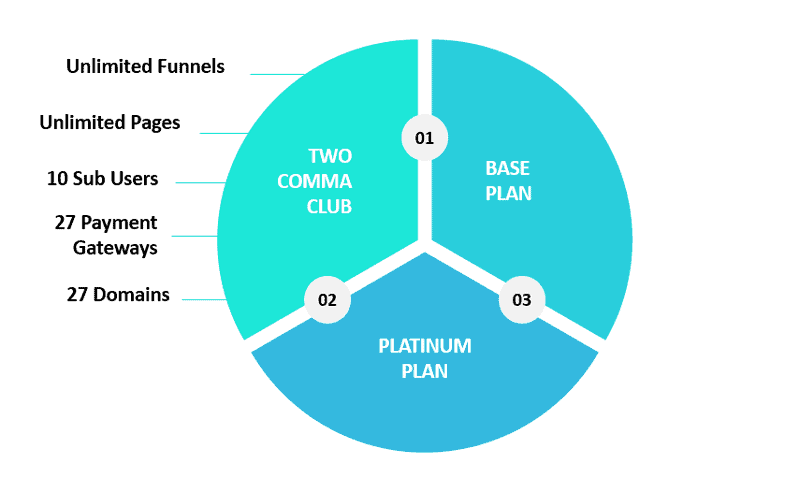 In fact, the price difference is 10 times higher than the platinum plan. That's because this plan does offer some additional features for power users when you upgrade from the platinum plan, like an increase in the sub-users from 3 to 10.
There are 27 payment gateways and domain connections instead of 9.
Otherwise, both the platinum and Two Comma Club X offer unlimited pages and unlimited sales funnels, including follow-up funnels.
What sets the Two Comma Club X package apart from the rest of the ClickFunnels pricing plans is its priority support with the option of VIP cellular service. You can call their service center and get access to technical support at a moment's notice.
Additionally, the training courses that come with FunnelFlix give you access to exclusive business and marketing courses that are thousands of dollars in value otherwise.
If you are new to the game but quickly want to become a prominent market contender, then you need to invest in the Two Comma Club X pricing plan to accelerate the growth of your business.
However, if you have some basic knowledge of the online digital marketing world and know how to get started, then the Platinum plan should be more than enough for you to create a strong sales funnels and platform for your eLearning, retail business, B2B, and marketing needs.
ClickFunnels Pricing Compared to Competitors
With all the talk about ClickFunnels, it would be worth your while to compare other market contenders out there offering similar services. It's important to note that all of these platforms are operating in a niche market where there is a high demand for online platform building. That's because more and more businesses are now considering the internet as a primary marketplace.
ClickFunnels vs Kartra
Kartra is one of the most formidable competitors against ClickFunnels. It, too, offers all-in-one solutions for website design, build, and sales funnels. Additionally, it offers business management features much like Clickfunnel's like email marketing, making product listings, and landing pages.
Compared to ClickFunnels, Kartra is ideal for emerging businesses with a tight budget. The all-in-one marketing platform offers much utility to its users at multiple and flexible pricing options. Unfortunately, they do not have any free plans. Even their trial plan starts at $1.
ClickFunnels Base vs Kartra Basic
Let's take a closer look at their pricing and services offered compared to ClickFunnel's pricing plans.
| | | |
| --- | --- | --- |
| | ClickFunnels | Kartra |
| Package Name | Base | Basic |
| Price ($) | 97 | 99 |
| leads | — | 2500 |
| custom domain | 3 | 1 |
| Email marketing | — | 15,000 mails |
| Webpages | 100 | 100 |
| video hosting | — | 50 |
| sales per month | — | 20 |
| membership sites | 3 | 2 |
| Helpdesk | Chat support offered | 1 |
| Share Funnels | Yes | — |
| Funnels | 20 | — |
| Sub Users | 1 | — |
| Payment Gateways | 3 | — |
| Follow-up Funnels | Not offered | — |
| Weekly Peer Review | Not Offered | — |
| FunnelFlix | Offered | — |
Compared to ClickFunnels, Karta provides a much more versatile package based on its pricing. Its Gold pricing plan comes closest to the ClickFunnels Platinum package; however, there is room to upgrade to the Kartra's Platinum package or downgrade to its Silver if need be. As a result, you can dynamically adjust your needs based on your budget.
There are a number of features you'll find in ClickFunnels that you won't find in Kartra, and vice versa. The best strategy would be to employ the use of their free trial plans, see which one you're more likely to adapt to, and which one offers better support.
ClickFunnels Platinum vs Kartra Silver, Gold & Platinum
In terms of pricing, the advantage of Kartra is that you have room to choose between three tiers at the intermediary level, something you won't get with ClickFunnels.
ClickFunnels
Kartra
Package Name
Platinum
Silver
Gold
Platinum
Price/month ($)
297
199
299
499
Leads
—
12500
25000
50000
custom domain
9
3
5
10
Email marketing
—
Unlimited
Unlimited
Unlimited
Webpages
Unlimited
Unlimited
Unlimited
Unlimited
video hosting
—
Unlimited
Unlimited
Unlimited
sales per month
—
Unlimited
Unlimited
Unlimited
membership sites
9
Unlimited
Unlimited
Unlimited
Helpdesk
Priority Support
Unlimited
Unlimited
Unlimited
Share Funnels
Yes
—
—
—
Funnels
Unlimited
—
—
—
Sub Users
3
Unlimited
Unlimited
Unlimited
Payment Gateways
9
—
—
—
Follow-up Funnels
Unlimited
—
—
—
Weekly Peer Review
Offered
—
—
—
FunnelFlix
Offered with additional benefits
—
—
—
Kartra doesn't offer any plans that are comparable to ClickFunnels Two Comma Club X plan. However, Kartra offers a different pricing tier depending on their enterprise-level accounts. They haven't specified what it's based on as you can only get a quote after you contact them.
ClickFunnels vs Kajabi
Kajabi is another online tool for building an online business; however, it's geared more towards forming knowledge-based eLearning platforms. Like ClickFunnels and Karta, it too has a drag and drop interface allowing for novice builders to utilize its array of tools and resources. However, it doesn't have the added functionality to produce an all-encompassing online platform for marketing and sales.
Like ClickFunnels, it also comes in three plans the pricing and features of which are compared in the tables below.
ClickFunnels Base vs Kajabi Basic
| | | |
| --- | --- | --- |
| | ClickFunnels | Kajabi |
| Package Name | Base | Basic |
| Price/month ($) | 97 | 149 |
| Products | — | 3 |
| Marketing Emails | — | Unlimited |
| Landing Pages | — | Unlimited |
| Pipelines/Funnels | 20 | 3 |
| custom domain | 3 | 1 |
| Contacts | — | 10000 |
| Webpages | 100 | 1 |
| Active Members | — | 1000 |
| membership sites | 3 | 1 |
| Helpdesk | Chat support offered | Chat Support |
| Transaction Fees | — | 0% |
| Sub Users | 1 | 1 |
| Payment Gateways | 3 | — |
| FunnelFlix | Offered | Kajabi University |
From the table above, you can clearly see that Kajabi caters more to the eLearning community, considering that there are not many requirements for building multiple websites and pages. Kajabi has more to do with marketing via emails and offering bandwidth to support active members.
Though its base plan is slightly more costly than ClickFunnels, it has more potential to provide you with a robust platform for eLearning; however, it falls short if you intend to use it for e-commerce and building marketing campaigns.
ClickFunnels Platinum vs Kajabi Growth & Pro
ClickFunnels
Kajabi
Package Name
Platinum
Growth
Pro
Price/month ($)
297
149
399
Products
—
15
100
Marketing Emails
—
Unlimited
Unlimited
Landing Pages
—
Unlimited
Unlimited
Pipelines/Funnels
Unlimited
15
100
custom domain
9
1
3
Contacts
—
25000
100000
Webpages
100
1
1
Active Members
—
10000
20000
membership sites
3
1
1
Helpdesk
Chat support offered
Chat Support
Chat Support
Transaction Fees
—
0%
0%
Sub Users
3
10
25
Payment Gateways
9
—
—
FunnelFlix
Offered
Kajabi University
Kajabi University
Kajabi offers two pricing plans that compare to the ClickFunnels pricing Platinum plan. The growth and pro plans offer added contacts, sub-users, domains, and products for sale. Other than that, chat support and Kajabi University for learning and fixing bugs is an option available for all plans.
Like Kartra, Kajabi also doesn't offer a pricing plan that's comparable to ClickFunnels Two Comma Club X, considering that it isn't a requirement for Kajabi as most eLearning platforms can go without added functionality beyond their Pro plan.
The pricing can be further reduced if you opt for their annual billing, reducing it by 20%.
ClickFunnels vs Thinkific
Like Kajabi, Thinkific is also an eLearning platform builder where you can use your expertise to build a curriculum for online learning. Again, it isn't as powerful in terms of the options it can provide for marketing domains like Clickfunnels or Kartra can.
Their categories include course creation features, sales and marketing, design customization, student experience, teaching, site administration, and security support.
The features in these categories are then divided amongst pricing plans named basic, pro premier, and plus, costing £79, $149, and $399, respectively. They also include a free trial version so that you can get a taste of what their platform is like. And, like Kartra, Thinkific also offers an enterprise-level plan that doesn't demarcate the prices, instead requires you to contact them separately.
You should note that they are completely catering to the online learning market by offering features that aim to enhance the teaching experience for students.
Comparison of ClickFunnels to Other Types of LMS options
One can't go comparing ClickFunnels to other platforms without mentioning WordPress, the most popular website building tool. Here, we're looking at it in the context of eLearning platforms and what sets it apart from the rest of the learning management systems.
The great thing about WordPress is it's a plethora of themes and plugins that you can incorporate into your website to fulfill all its intended business and marketing purposes. There are a bunch of different themes templates available like:
Lifter LMS
LearnPress
Tutor LMS
Sensei
WP Courseware
Good LMS
Namaste! LMS
MasterStudy LMS
You can use them to build your website of choice, incorporating other plugins as per your need and making you govern the pricing of your platform as you go along. However, there is a caveat, WordPress comes with a learning curve that is not so easy to break from. You may be required to invest some time and energy into this platform in order to learn its functionality and fix and bugs during implementation.
Using a custom-built approach is normally much more inexpensive compared to using ready-made platforms as it allows you to control the number of active users, how much bandwidth you allocate, and gauge which resources are being underutilized.
Final Words
Clickfunnels pricing is expensive but can be worth every penny depending on your business model and how you plan to market your products. Take a look at Clickfunnels and start building out your online sales funnels!