Brett Lindenberg of FoodTruckEmpire.com Shares His Course Creation Tips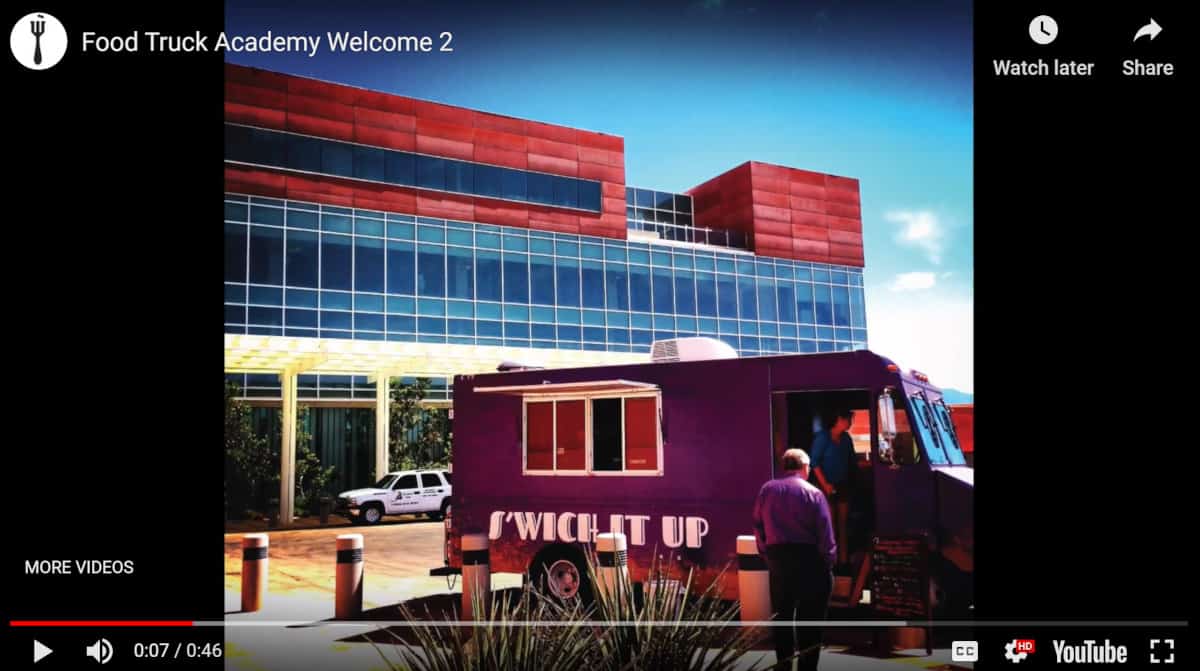 Our content is reader supported, which means when you buy from links you click on, we may earn a commission.
---
Who:

Brett Lindenberg

Website:

Foodtruckempire.com
Course Topic: Food trucks as a business
Revenue Stats: $6,000 per month average total revenue from site
Who are you and what course have you created?
My name is Brett Lindenberg and I run FoodTruckEmpire.com. FoodTruckEmpire.com offers free information in the form of articles and podcasts as well as online courses. 
The Food Truck Academy courses are also hosted on the site.  We run our main course as a seasonal launch so this page gets updated before each new enrollment period. 
Food Truck Empire serves people thinking about starting a food truck business from scratch, building their own food truck, or those running a food truck who'd like to make it more successful.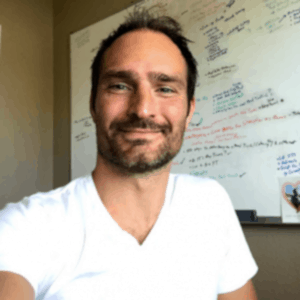 What market does your online course serve? 
The goal of Food Truck Academy is to help our students start and operate successful mobile food businesses. 
The course teaches you every aspect of how to start and grow a profitable food truck business. It includes 8 weeks of live training, coaching, access to a private membership area, and more. 
There are literally thousands of food truck businesses operating at different scales across the country. Some operate food trucks that have become extremely popular over the years due to television programs like The Great Food Truck Race. Other mobile food entrepreneurs start smaller ventures like hot dog stands or kettle corn businesses, but the business model is nearly the same.
What's the biggest benefit of taking your course?
One big benefit of the course is that it's led by an instructor who actually owns and operates a food truck full time. This means you don't just get theoretical perspective of operating a business, but real-world information on what operating this type of business is actually like. 
Running a food truck in real life is a lot different than seeing it done on television. There's a lot of prep work to complete before opening the serving window to a food truck. You have to know how to market yourself and find profitable vending opportunities and events in your area. Oh yeah and you need to know how to cook and serve food that actually makes you a profit at the end of the day! 
The goal of the course is to get you prepared for the realities and challenges of operating a food truck. Each week during our 8 week long program, we cover a different topic that's critical to operating a food business profitably. We want our students to be as prepared as possible before getting into the real world. 
In our Food Truck Academy question and answer section, we always say that no question is off limits. You can ask questions about income, profit margins, the best way to secure catering business, etc. Being able to get an immediate answer to these questions specific to your business is extremely beneficial as a student.  
How did you get into the market? 
I got into the market by accident. A few years ago, I was researching the topic of starting my own food truck online. Back around 2014 when FoodTruckEmpire.com started there wasn't much information at all about how to start a food truck business. Since there wasn't any in-depth information available, I decided to start a blog and podcast around the subject. 
The reason I thought a food truck would be a good business opportunity was because it was both low cost to start and could be operated on the weekends only, allowing me to keep my full-time job. 
By starting a website and podcast, I was able to reach out to existing food truck vendors and ask them all sorts of business questions that would benefit both the audience and myself. Without having a blog or podcast, I wouldn't have had a reason for these food vendors to speak to me.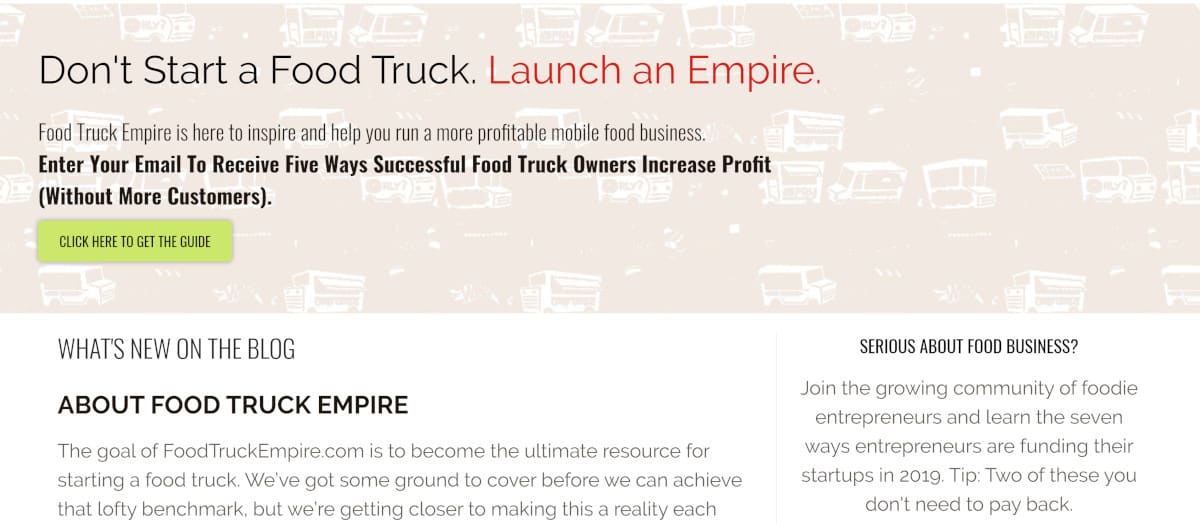 Why did you decide to create an online course in the first place? 
Creating an online course isn't something I had the intention of offering on day one of the website. When other food truck training courses became available online, I knew the opportunity was out there. 
Seeing that there were opportunities with online courses helped me make the decision to start my own. - Brett Lindenberg
Click To Tweet
Did you have any moments of doubt before you created/launched it? 
I still have doubts today when launching anything new. If you've put together a course that's actually going to help people, you need to give it a shot. 
Instead of focusing on why it won't work, create an outline of the specific steps you need to accomplish to launch your course. Follow these steps and try not to stress out about the other stuff. 
The worst thing that might happen is that no one buys your product. This sucks. It's happened to me before in the past and will happen to me again. Try to get your course out as quickly as possible to see if anyone wants to buy it. The worst thing you can do is spend months or years tweaking your landing page or course to get everything perfect before asking for a sale.  
What's your online course like? 
The Food Truck Academy course is a little bit different in that we don't record all our video training in advance. We use a hybrid model for delivering our course content. I like to think that Food Truck Academy is made up of two pieces: 
1. Textbook Material:
We use Kajabi to host our text training documents and videos. The videos are mostly on PowerPoint with video, but there are also food truck walk-throughs where we actually guide you through the different components of a mobile food kitchen. 
2. Live Course:
We always offer an 8 week live course through YouTube Live to individuals that enroll in the Food Truck Academy. Think of it like a normal class except broadcast online. YouTube allows people to ask questions during your class in the chat. This is super helpful and gets people engaged. 

How long did it take you to create your course? 
I had a partner with my first launch (a food truck owner). Here's what we did … 
Launch Beta Course:
Our first class was a beta course that we sold at the discounted rate of only $247. We told students this was our first course and that we were offering a discount because everything wasn't perfect.
Create Class Outline:
The easiest way to describe this is to think back to your college days. On the first day of class, you probably got a syllabus that outlined what you would be learning over the course of a semester. I suggest creating something similar in Google Docs. 
Create a List of Weeks 1 – 8:
Then write down what you would teach each week in your course. Now that you have an outline, write down 5 – 10 things you would cover each week to support that course. This is probably all you need to get to selling the course. 
Create Landing Page:
Now create a landing page that sells your course. You can also include your course outline on this page. Create a date and a time for your class to start. 
Sell Course:
Ask for money. If people buy, you can start the class on a certain date. If no one buys or only a couple sales come through then refund your customers their money and go back to the drawing board. Try to figure out why no one bought your course and go from there. If you get sales then you'll really need to start building out your class materials week by week. 
Some people think it's crazy to sell a course you haven't actually filmed or created yet. You shouldn't feel that way! This is exactly how college works. You pay money, then you attend the live classes over the course of a semester in college. This is no different. 
Tell us a little about the process of launching your course and getting your first sales. 
Getting the first few sales was an amazing feeling. We had a goal to get 25 sales during our first course launch. We accomplished this within a couple of days and were able to run our first successful beta class. 
Do you have a lead magnet?
We have a few lead magnets to enroll folks in the email list. My biggest tip would be to test a variety of different lead magnets based on what your audience is interested in. Here are a few examples of my lead magnets: 
Business Plan Kit – We give people a free food truck business plan in exchange for signing up.  

Food Truck Build Out Kit – People sign up for a variety of podcasts from others that built their own food trucks. 

Hot Dog Business Kit – This is a business kit PDF we created to help teach people how to run a hot dog business.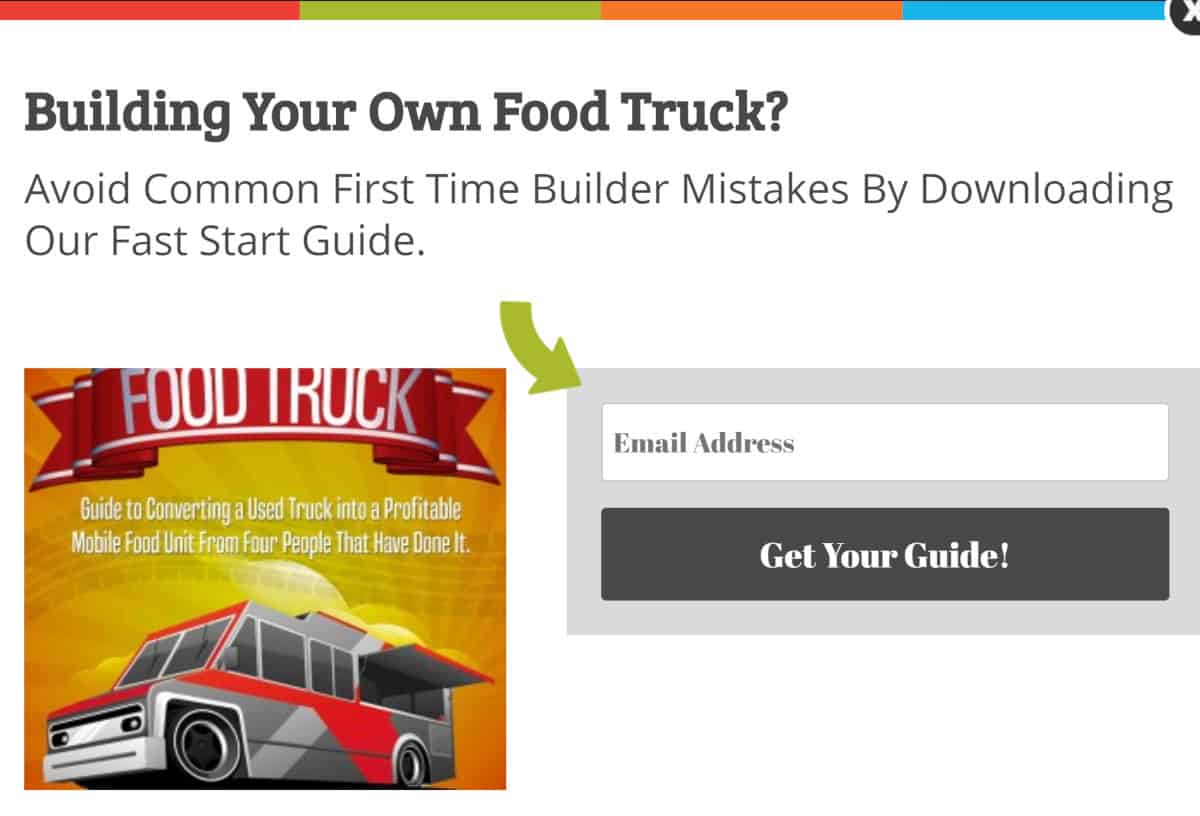 What's the traffic strategy that works best for you? 
Google has always been the biggest traffic driver for the website. The biggest thing is publishing high-quality written content on your blog over time. Try to answer all the questions people have about your particular market in the best way possible to generate traffic from this source. Executing on this strategy is easier said than done, but it's totally worth it if you stay consistent for a few years. 
What online course platform are you using? 
I use Kajabi to host courses and handle all the technical aspects accepting payments. They are fantastic and I highly recommend Kajabi to anyone selling digital courses and training. 
Kajabi is extremely easy to use in my opinion. Your courses and course experience will be extremely professional even if you don't have design or tech experience. There also aren't any on-going software updates to keep up to date. It's a no brainer for my business.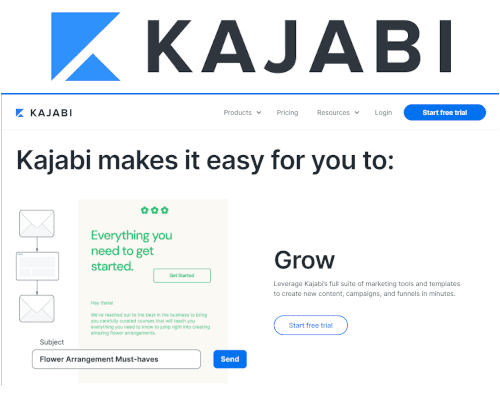 Kajabi is the All-In-One Course Platform
Kajabi is one of the top online course platforms used by successful course creators interviewed on coursemethod.com. Kajabi includes email marketing and other tools that make it easy to run your entire business from their platform.
Price Range: $149 to $399/month
Most Popular Plan: Growth Plan at $199/month
Annual Discount: Yes, take 20% off!
Free Trial: Get a 14-day free trial (credit card required)
*Our content is reader supported, which means when you buy from links you click on, we may earn a commission.
Are there any features you wish it had?
I wish I could better integrate Kajabi landing pages with my WordPress blog. Other than that no features are missing. Kajabi integrates email, landing pages, course membership, and payment processing all inside of their course platform. They also regularly update the platform with new features so there's always more options being added. 
What made you decide to use your chosen platform over others? 
The main reason I chose Kajabi is the ease of use combined with the premium experience that our students get with the platform. Plus it works. Some people will argue that you can get cheaper membership platform options using WordPress Plugins. I suppose that's possible if you want to be super involved in updating your plugins and troubleshooting issues on a regular basis. 
At the end of the day when you're selling courses, you want to invest your time in improving the quality of the course and marketing the course … not figuring out why your course membership platform isn't working correctly.  
What other tools do you use to run your online course business?
Libsyn.com – I use this to host my podcast episodes. 

aWeber.com – I use this for my main email service provider. I also use Kajabi as well for email.  

Gravity Forms – This is a really good form plug-in offering a lot of flexibility plus it's very cheap. 

Fiverr.com – I use this platform to get help on little projects like creating pins for Pinterest. 

Gusto.com – Great for tracking payroll.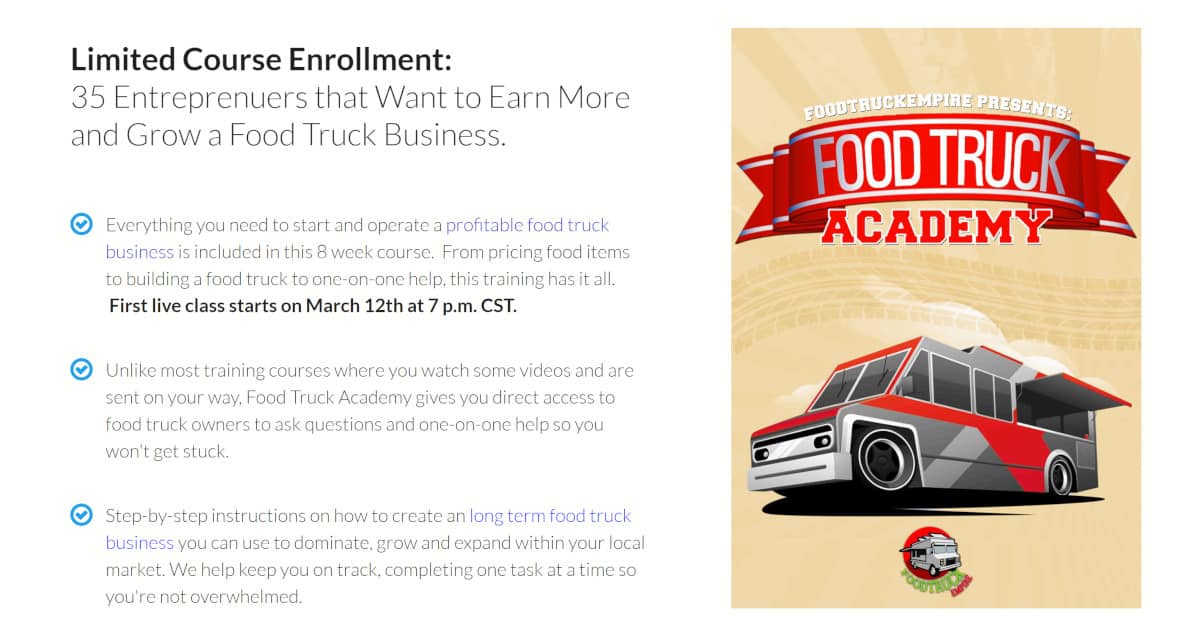 Please share some idea of revenue. 
The website makes the majority of its revenue through advertising at this time. But courses are a helpful part of the revenue mix. In a perfect world, you don't want to be overly levered to any one income channel in case something changes. 
Each time we run a class we earn around $10,000 – $15,000 in sales on average. We only open the class 1 – 2 times per year. 
We earn around $6,000 per month average. This refers to revenue from all sources, not just the Food Truck Academy course. We get around 300K visitors per month to net this amount.
Please tell us a little about what the money you've earned from your course has done for you. 
One tangible thing the course and website as a whole helped me accomplish was paying off my student loans more quickly a couple years ago. 
In addition to revenue are there any numbers you would like to share?
We now have over 40,000 active email subscribers. The main tip I have for building a list is to focus on building great content long term and then have a variety of unique lead magnets to attract different segments of your overall audience. 
What has creating your course done for you personally?
Starting a website and podcast has helped improve my confidence. I'm much more comfortable speaking with people over the phone thanks to the podcast. I've gotten better at asking questions and explaining my thoughts verbally. Starting any type of podcast or YouTube channel will help you improve those skills fast. 
Do you have a story of a transformation from any of your clients? 
It's amazing to see people go out and start successful food businesses after enrolling in your course. It's always cool to get an email from someone that took your course 1 – 2 years ago that's now operating their own food truck. 
One big success story is Natascha Hess of The Ginger Pig in Colorado. She earned best food truck in Denver last year. She's in the process of opening a restaurant now.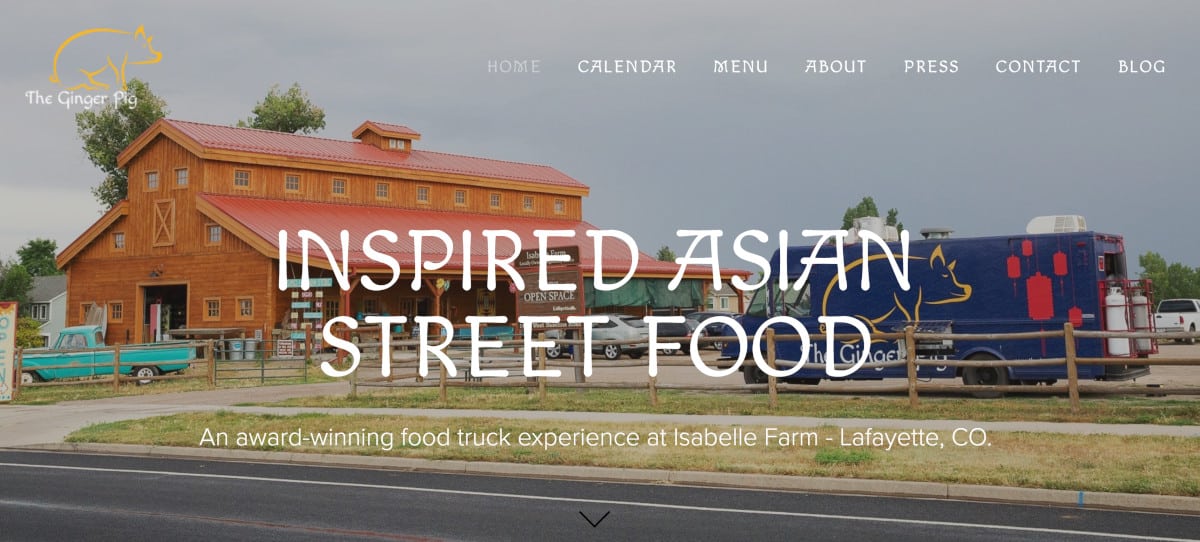 What advice do you have for people just starting out? 
Pick a topic that's broad so you can get a good sized audience. I launched a few failed blogs in the past on obscure topics that just didn't gain enough interest. 
Also make sure you're in a market where people are willing to spend money.
As long as you're starting a blog, a course, or a podcast in a market where you know there's commercial demand, you can tweak and test things until you start generating revenue. - Brett Lindenberg
Click To Tweet
In short, you'll eventually be able to figure out how to generate an income if you chose a good market. 
Learn more about Brett and his Food Truck Academy course: