8 Best Explainer Video Software to Help You Market Your Online Course

Our content is reader supported, which means when you buy from links you click on, we may earn a commission.
---
When it comes to offering eLearning courses, videos are often one of the best ways to convey your messages and present your ideas in the most comprehensible way possible to your audience.
In addition to your course material, video can also be used to create the marketing material used to 'sell' your courses to potential customers. These are often called explainer videos. Explainer videos have become so popular because they are a powerful tool for you to promote your course business and boost your conversion rates.
Explainer videos allow your potential customers to see what you offer and what your company is about in a way that sales copy just cannot do.
That being said, choosing software that creates high-quality, compelling videos is the key to helping your content stand out from the crowd. If you're looking for the best explainer video software, you've come to the right place!
Here's a list of the top explainer video software …
1.  PowToon
PowToon is a great online video making and editing tool that allows you to create interesting animated videos for promoting your online course. Not only is this software very easy to use but it also comes with some helpful explainer video templates to offer all the help a beginner may need.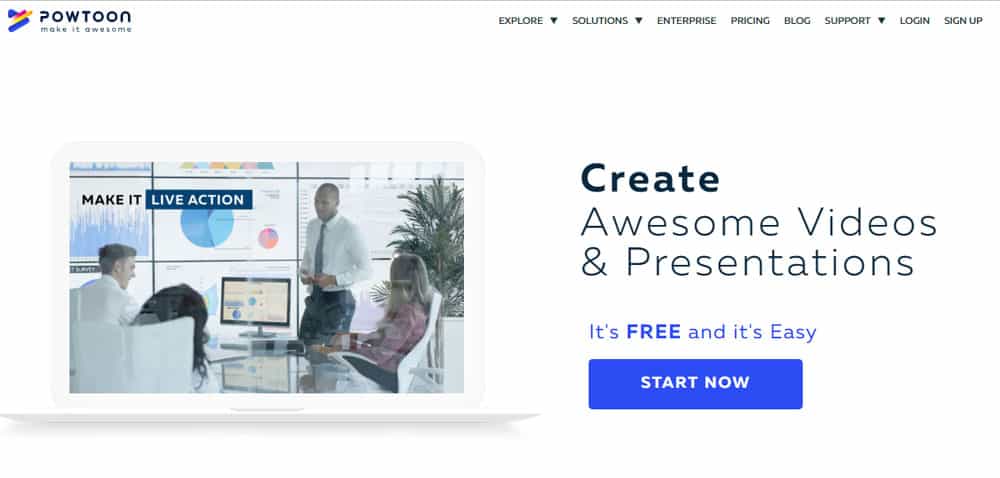 With this software, you can make all your interesting ideas related to your eLearning course come to life in as little as 20 minutes. If you don't have the time to come up with your own ideas, you may use ready-made templates and create a cool yet professional-looking video.
PowToon offers a remarkable timeline feature allowing you to stay on top of the material included in your slides. This means you can control the timings of the materials on your slides to create a custom-made video suiting your requirements and needs.
In addition, this software lets you use images, text, and videos in your slides as well as allows you to add a voice over recording in the background. PowToon is clearly a great piece of software for creating explainer videos as well as potentially even your eLearning course content.
With packages ranging from $16/ month to $99/ month, PowToon is one of the most affordable explainer video software for both beginners and pros.
Main Features:
Audio and video.
Video editing and management.
Offline presenting.
Screen sharing.
Drag and drop option.
Explainer video templates.
WYSIWYG editor.
Two-factor authentication.
Shared image library.
Collaboration tools.
Search function.
Project planning and asynchronous editing.
Secure data storage.
Multimedia support.
2.  Wideo
Wideo is another web-based explainer video software. It allows you to create and edit videos even if you don't have any knowledge or previous experience of video animation. This tool offers the choice of either creating a video from scratch or using one of the explainer video templates readily available. With these templates, you can create a video in less than 5 minutes!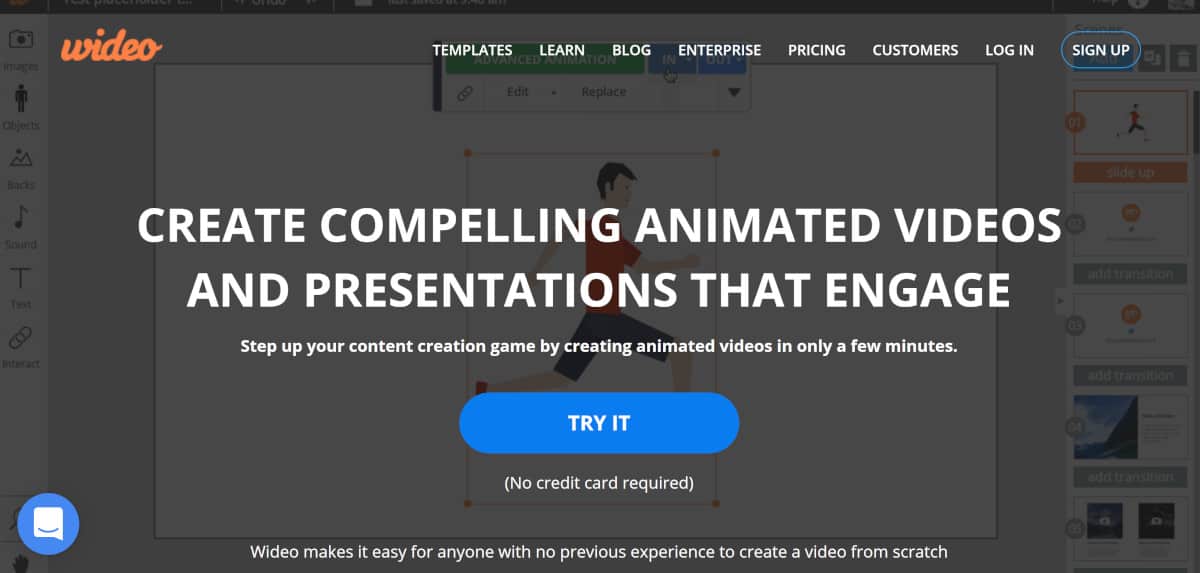 For custom animation, use your own images and audio to create a video of your choice. The drag and drop feature allows you to choose from a wide variety of images and soundtracks stored in the media libraries. Once you've successfully created a video, you can easily download and share it or directly upload it on social media platforms.
You may get a monthly package ranging from $59 to $199 or an annual package ranging from $19 to $79 per month.
Main Features:
HD resolution support.
Split and merge feature.
Social channel sharing.
Video streaming and looping.
Bulk uploading.
An extensive content library.
Audio and video.
Ready-to-use templates.
Drag and drop interface.
Clone and copy options.
Video animation effects.
Video embedding.
Presentations.
3.  GoAnimate or Vyond
GoAnimate is one of the fastest video making software that allows you to engage your learners with interesting content and animations. If you want to attract learners and offer them the course information in the most fun ways, using this software is the way to go.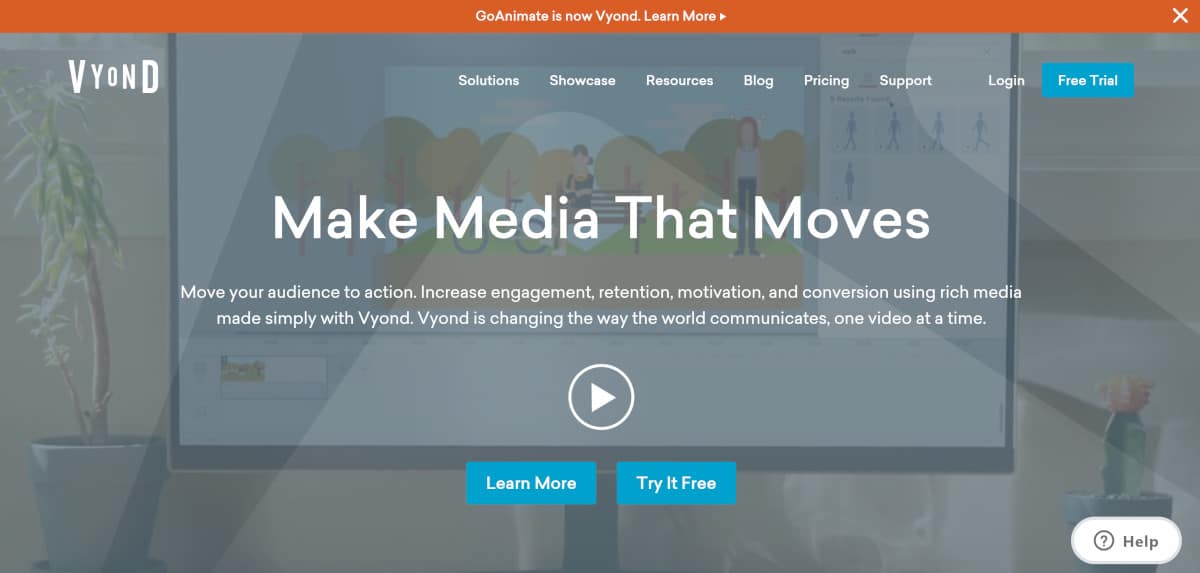 This software allows you to make use of colors, transitions, and characters. You can also import soundtracks and music from the media library to make your videos acoustically appealing.
Furthermore, GoAnimate invites you to share your content in the form of a story. With its storytelling option, it enables you to grab and maintain the attention of the audience. You can use lip syncing, dialogue delivery, and realistic movements to offer something creative and unique to your learners.
GoAnimate software comes in affordable pricing packages aimed to meet the needs of just about anyone.
Main Features:
Character-driven storytelling.
Highly converting templates.
Animation with moving text and images.
Step-by-step tutorials.
Drag and drop background themes.
Custom character creation.
Text-to-speech feature.
Dynamic media library.
Video downloading and YouTube sharing.
GIF conversion for subscribers.
4.  Animaker
Unique features like animated libraries and video infographics helps make Animaker one of the best explainer video software out there. With six different video styles, you can create a variety of different studio-like animated videos.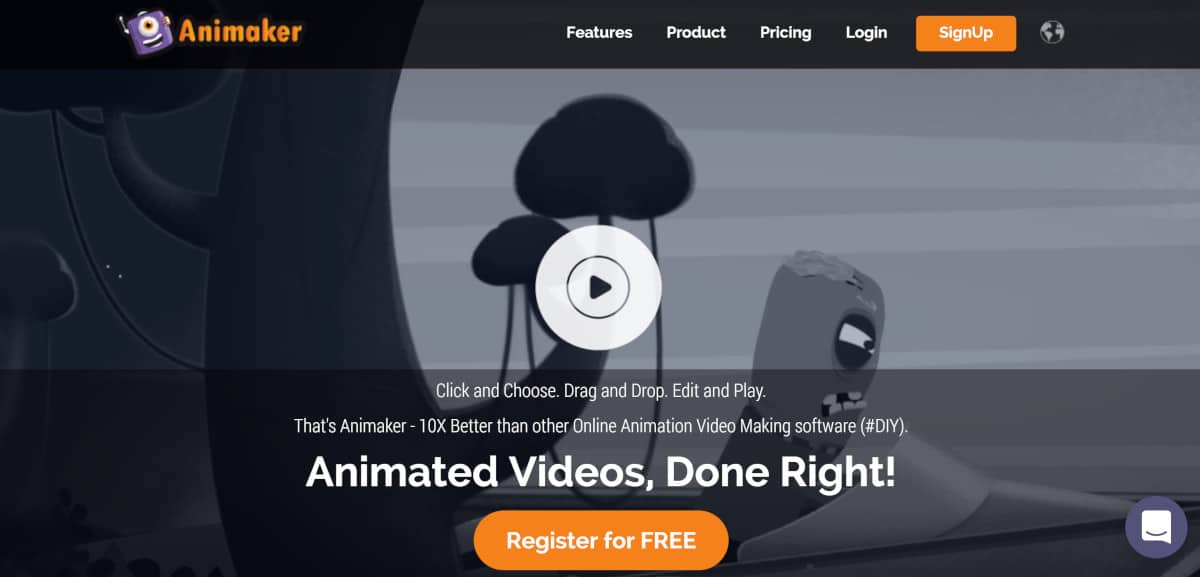 This software is surprisingly very easy to use. Animaker makes it possible for you to create professional-quality video content on your own in a matter of minutes. You'll get access to a wide range of video tools, animation themes, and collaboration features. With video infographics support, you can use over 100 charts, maps, and icons in your videos to make them attention-grabbing and interesting. You can also choose between using background soundtracks or music effects and direct voice recording.
With Animaker you can download the final videos in HD quality. You can also optimize them to adjust to the vertical screens of mobile phones. Animaker offers a free trial to create a 2-minute video, ensuring you've got nothing to lose. The monthly pricing packages range from $19 to $59. Annual subscriptions range from $12 to $39 billed on a monthly basis.
Main Features:
HD resolution.
Media and animation library.
Text overlay.
Social and multi-channel sharing.
Drag and drop editor.
Direct voice recording and custom voice over or sound import.
Text support for over 50 languages.
Camera in and out.
Video infographics.
RTL language fonts support.
Thumbnail creator for YouTube.
5.  Biteable
Biteable offers a quick and efficient video maker and editor allowing you to create high-quality videos within minutes. Its studio boasts a collection of over 85,000 clips and animation tools.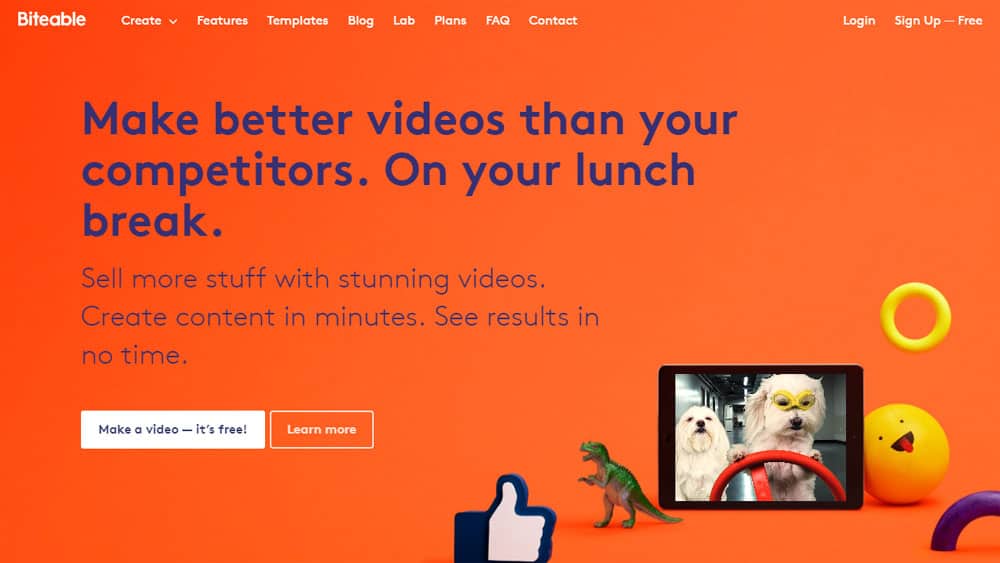 If you don't have animation skills or time to spare, you can take advantage of the ready-made templates and create the perfect video in seconds. Biteable allows you to download and share your videos in high-quality formats. You can even upload your content without leaving the Biteable dashboard.
You can create and edit videos on Biteable without paying a dime. However, to enjoy additional benefits and endless services, you may choose their annual package, which is priced at $23 per month billed annually.
Main Features:
Hundreds of template styles.
Image and text uploading and editing.
Media library full of catchy tunes and tracks.
Social media sharing.
Video animation.
Explainer video templates.
6.  VideoScribe
If you're looking for an explainer video software that is the perfect combination of quick, easy, efficient, and inexpensive, you'll love VideoScribe!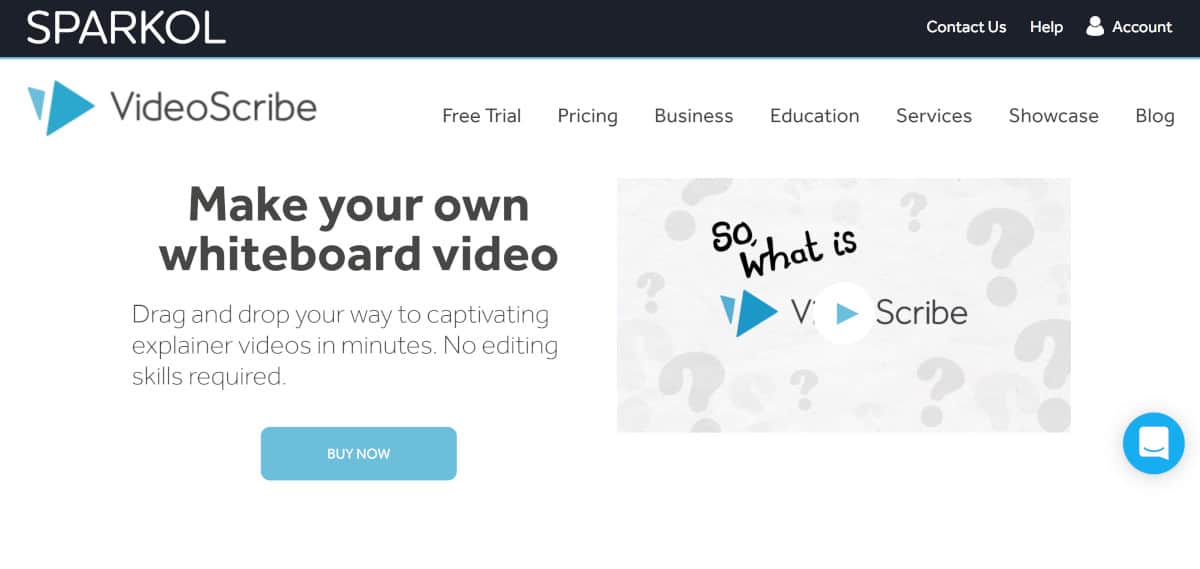 This software allows you to choose images, text, and voice overs of your choice to create the ideal video no matter your needs. With VideoScribe, you'll get instant access to a media library containing hundreds and thousands of music and image files.
It also features an easy drag and drop interface, inviting amateurs with zero animation skills to get the best of the animation experience.
VideoScribe offers a monthly package for $17.50, a quarterly plan for $35, and a yearly package for $96.
Main Features:
High compatibility with Mac and Windows devices.
Offline working.
A variety of visual and sound props.
Whiteboard animations.
Royalty-free collection of images and music.
Voice over recording.
Choice in video resolution.
Web publishing.
Soundtracks and fonts import.
7.  RawShorts
RawShorts is a popular DIY whiteboard animation software that provides you with easy access to some of the best explainer video templates. Offering free trials, this software allows you to create custom videos by using a simple drag and drop feature. With a unique text to animated video technology, it makes it easy for you to create explainer videos instantly.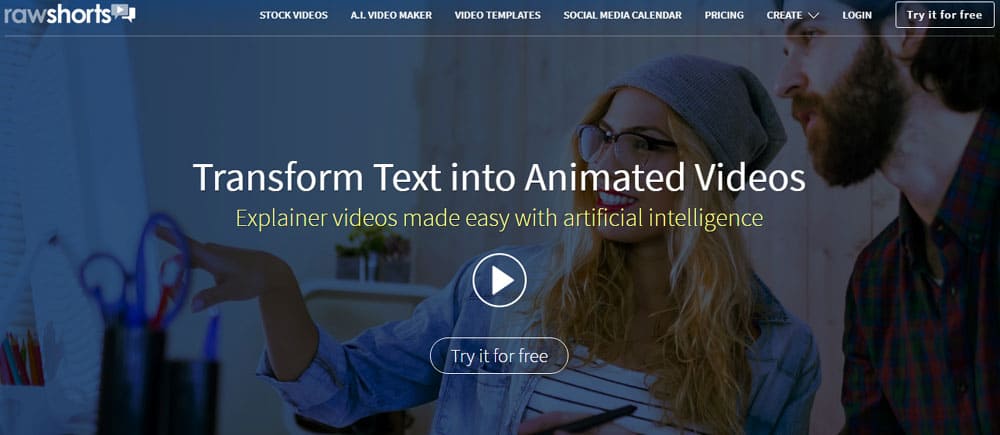 You can also personalize your videos by adding your own text, images, audio, and transition effects. RawShorts enables you to share the final videos on social media platforms as well as on a website. For a quick and simple to use software, it creates professional-looking videos that are bound to keep your audience hooked.
The paid version of RawShorts which starts at $49 monthly allows you to benefit from a plethora of advanced features. Offering fast and reliable results, this software is a top choice of experts.
Main Features:
A variety of graphics templates.
Animated charts building.
Media library.
Quick whiteboard animation.
Project collaboration and sharing.
Text to animated video technology.
8.  Moovly
Moovly offers an easy yet creative solution to make videos online. From royalty-free images and audio to videos and GIFs, the media libraries are full of high-quality content.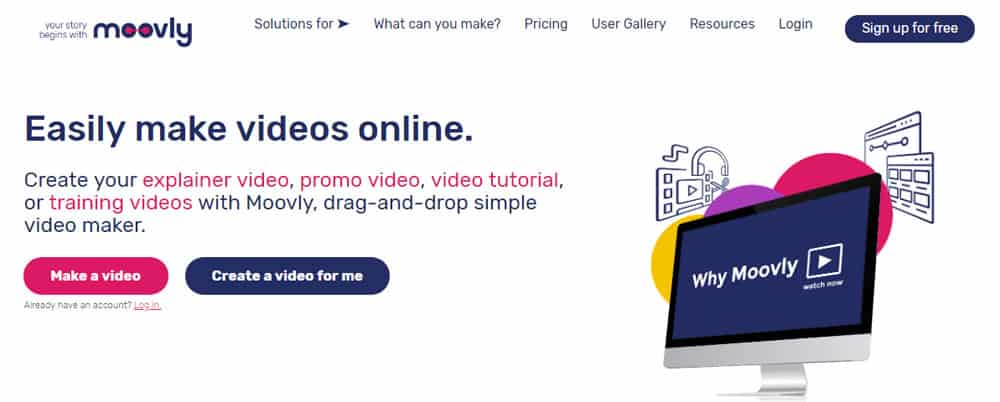 This drag and drop video maker and editor allows you to combine your own text and media with Moovly's animated objects. Through the properties panel, you can work with sounds and control the volume of your videos. You can also split and merge multiple video clips to create the perfect footage.
In addition to this, Moovly allows you to pause the video while you continue with your storytelling. This means you can add text and animated objects over the paused video. This software also enables you to upload and modify animated GIFs. Featuring a huge collection of templates, you can get started without any prior experience in animations and with little time.
To make the most of this software, you may choose between the pro yearly package and the custom-priced enterprise package.
Main Features:
Drag and drop interface.
Professional-level animation.
Split and merge videos.
Video pausing option.
GIF uploading and editing.
Explainer video templates.
Conclusion
Video content requires very little effort to digest which is part of the reason why videos are so popular. Using explainer videos to help 'explain' the problems your online course solves as well as walk potential clients through the transformation they may see if they take your course is time well spent.
With some of the explainer video software options presented here, you may be able to turn text-based blog content into videos to help promote your business. In addition, in some cases, you may be able to use the software to create your actual eLearning content.
Most of these tools allow you to sign-up to a free trial where you can take it for a test run and start creating your next high impact video!