Audacity Vs. GarageBand: Which Audio Editor Should You Use?

Our content is reader supported, which means when you buy from links you click on, we may earn a commission.
---
If you're looking for free, open-source sound editing and production software, you will come across two major names; Audacity and GarageBand. The debate between Audacity vs. GarageBand has been going on for a long time. Both programs offer high-quality audio production, are free, and come with an extensive range of features.
In addition, both of these tools are used by musicians and content creators all over the world to create many different types of music and tracks.
In this article, we'll cover the differences and similarities between Audacity and GarageBand and help you determine which software is the best choice for you.
Audacity and GarageBand: What's the Difference?
Audacity and GarageBand are two of the most popular free sound production software in the industry. They both come with a wide range of features and functionalities, plug-ins, resource and support material, and regular updates; however, there are several aspects in which they differ from each other.
Audacity is used by over 100 million users in the world and has a massive community, which can help you get real-world help and support for the software tool. The tool is compatible with Windows, Linux, and Mac operating systems.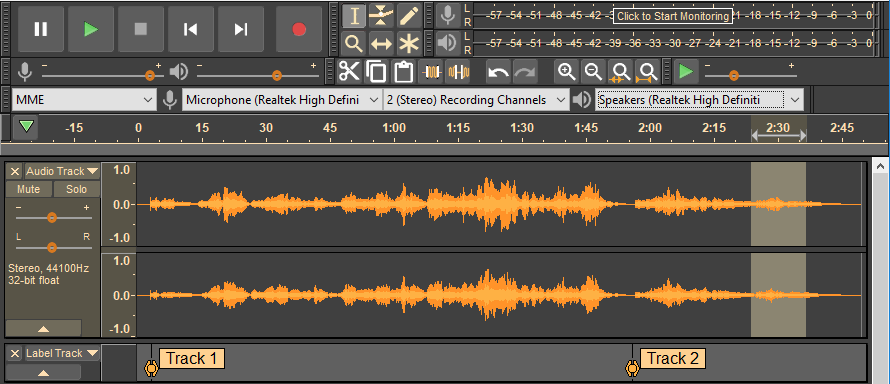 GarageBand, on the other hand, has an Apple Music and iTunes community of about 50 million people. However, it works only on Mac devices. It is also supported by the cutting-edge technological prowess of Apple, making it a very reliable digital audio editing and production tool.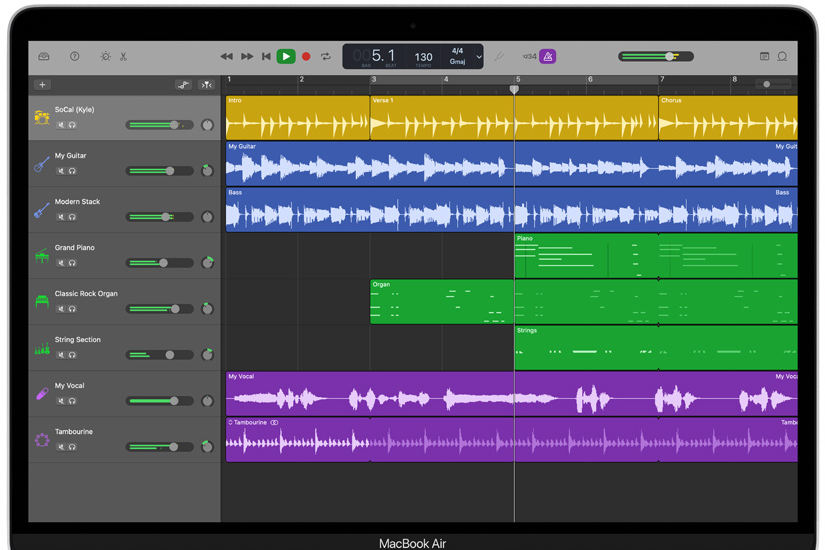 Audacity Vs. GarageBand: Overview
Audacity is known as a digital audio editor, and its main purpose is to edit and adjust pre-recorded audio. To use Audacity, users need to download it online.
GarageBand, on the other hand, can be found pre-downloaded on all Mac and iOS products. It is also a digital audio workstation, which means its functions go beyond just editing the audio of pre-recorded videos.
As such, Audacity is an excellent tool for content creators and instructors who simply want to edit their videos, music, and podcasts. GarageBand can be used for these purposes as well, but it is best for music producers and artists since it can create and process audio as well.
Key Features: Audacity Vs GarageBand
Although there are many features of Audacity and GarageBand that are similar, both these platforms have a few key aspects that set them apart from each other and make them suitable for various groups of users. Here are the key aspects that set them apart:
Type of Software
Audacity is a digital audio editor, which means its main purpose is to manipulate, edit, and adjust audio rather than organize several audio tracks. However, the software does provide this functionality as well.
It is a free and open-source platform with a huge community of users and a rich history, so users can have peace of mind that it won't disappear overnight. Some terms of use and policies can be subject to changes. However, it is still widely considered one of the best free audio editing platforms and has received a lot of acclaim and praise from its community.
Unlike Audacity, GarageBand is a full digital audio workstation. Although it can certainly record and edit audio files, its main purpose is to organize multiple tracks in a single place in order to make music productions. This means you can record and produce whole songs, complete with vocals, bass guitar, piano, and additional beats. In addition, the software also offers a long list of audio functions, including virtual instruments, that allows you to create complete songs without using real instruments.
For these reasons, GarageBand takes the win for software type.

Compatible Platforms
Audacity is a cross-platform tool which means it is compatible with Windows, Mac, and Linux devices. This is particularly useful since it allows you to collaborate with creators who are working on devices with different OS. It is also useful if you have a workstation composed of various operating systems.
This feature has made Audacity very accessible to people who want to learn how to edit audio. It is open-access which is the reason many instructors use it in educational settings as well.
GarageBand, on the other hand, is a product of Apple and hence can only be used on Mac devices. Since Apple has full proprietary control of GarageBand, this means that if the company decides to shut it down and no longer send updates for it, users will have no choice but to move on.
Since it works on only Mac devices, people who do not use Mac operating system will not be able to use it. This means it can create issues if you want to collaborate with your team. In addition, if you are using an older version of Mac for some reason, you won't be able to download the latest version of GarageBand unless you update your system as well.
For these reasons, we give Audacity the win when it comes to compatibility.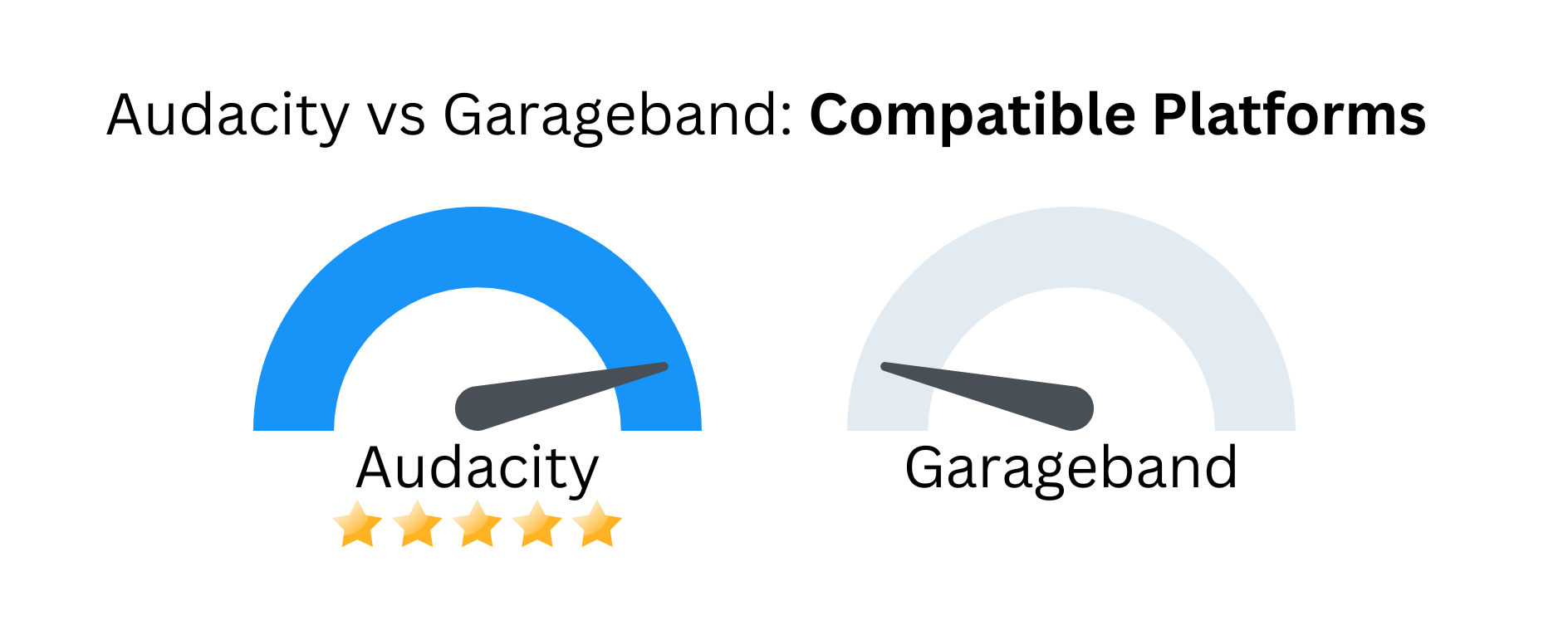 Interface and Software
Users find that Audacity's interface is not as refined and intuitive as GarageBand. The platform also uses technical jargon, which some new users may not be familiar with. However, the interface does not complicate the audio editing, cutting, pasting, copying, undoing, and redoing functions.
Even though most users do not have any technical issues working with Audacity, edge-case users have reported the platform crashing, particularly when they are using it with third-party apps. In addition, adding multiple audio sources and tracks can be clunky in Audacity.
GarageBand, on the other hand, has a simpler and more intuitive interface with sophisticated features like the Touch Bar. The interface also makes it easy to record, edit, create, publish, and distribute music. It also comes with various pre-recorded features like loops that can help new music artists get started.
Another benefit of GarageBand is that it is very powerful and runs very well, and users have rarely reported crashes with the program. We give the user interface win to GarageBand.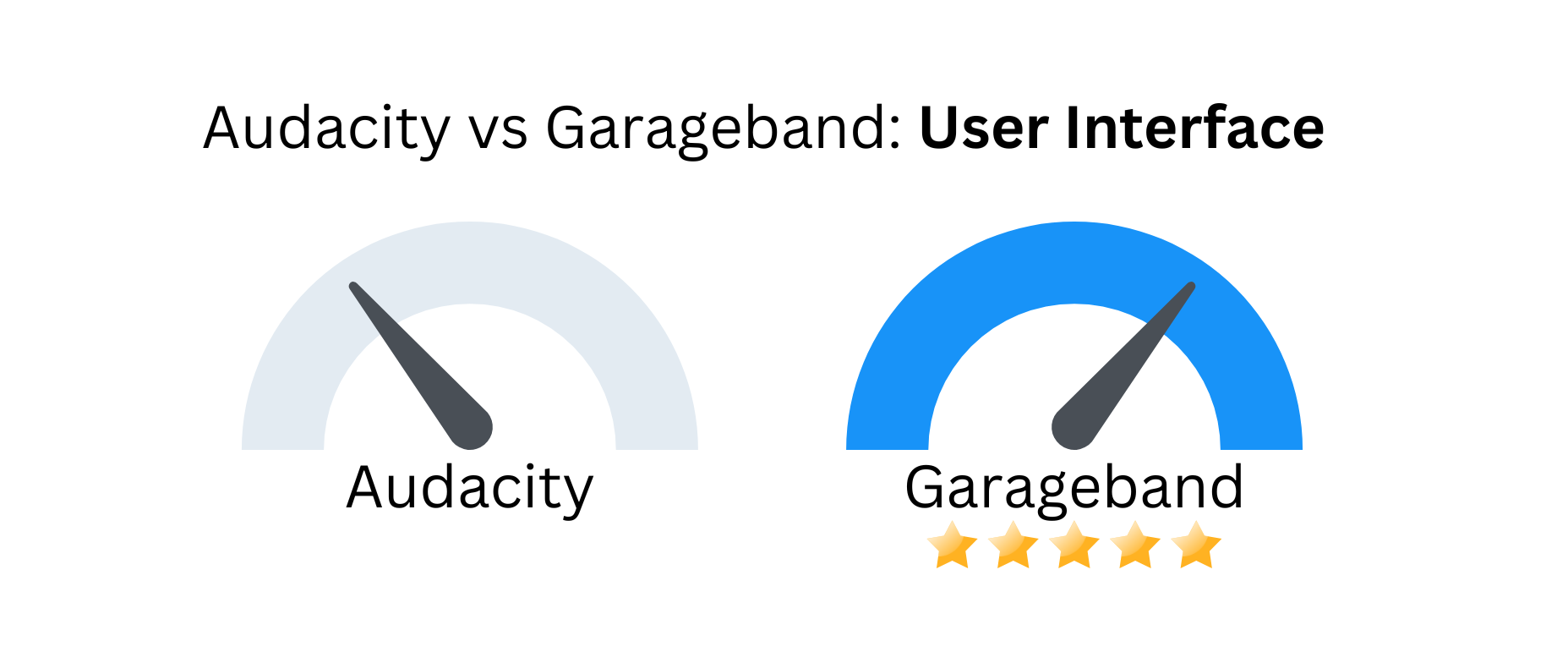 Audio Editing
Audacity is an audio editing tool, which means it offers a list of advanced features, including audio effects, support for various file formats, and multiple-track processing functionality. You can control and edit small details of any track, including anything from the pitch to the smallest track section.
It also comes with a wide range of features like color coding, which makes it easy for you to identify and navigate various tracks.
Although GarageBand is a workstation meant for musicians, it offers limited editing effects, which might restrict the creativity of some artists or the possibility of creating a specific composition through processing and mastering. For example, if you want to add a particular sound effect to a particular section of the track, you will have to add the effect to the entire track – you will not be able to isolate that particular section for a quick and seamless special effect.
A reason for Apple not releasing the full suite of audio editing features on GarageBand may be because it wants users to buy Logic Pro, which is the premium version of the software.
For these reasons, we give the audio editing win to Audacity.

Audio Recording
When recording audio, Audacity allows you to choose a sample rate and format. You can choose between the sample rate of 48 kHz or 96 kHz or reduce the rate to 44.1 kHz or 41 kHz.
Audacity also supports a LAME MP3 encoder and is also very compatible with a range of third-party plug-ins. In addition, it comes with an Auto Duck feature which you can set up to automatically reduce the volume of one or multiple tracks if you want after a certain sound range.
On the other hand, GarageBand has some restrictions, which is typical of Apple. The platform only offers a single sample rate of 44.1 kHz. It also does not have a LAME MP3 encoder and is not compatible with a lot of third-party apps. However, what it does have is a large depository of valuable resources in its virtual studio feature, which is something that Audacity does not have.
In addition, it also offers you a lot of recording functions for music by allowing you to use the amps, cabinets, and stompboxes, add audio effects while playing the instrument, and benefit from its sound library of pre-recorded music, audios, and templates, as well as choose, presets or style elements according to the genre.
Hence, if you need an editing tool for post-recording processing and mastering, Audacity is a better choice which is why we give it the win when it comes to audio recording.

Music Creation and Resources
Since Audacity is not a complete digital workstation, it does not have a lot of the advanced music-producing features that GarageBand has.
GarageBand offers a lot of benefits to musicians, particularly novices who do not have complete command over multiple instruments. GarageBand offers them the use of virtual instruments, including synths, beats, percussion sounds, customized bass rigs, and so much more. The virtual drummer allows you to jam with 28 drummers and three percussionists, and the platform offers you beats for all major music genres, including Blues, Metal, and Dubstep.
In addition, GarageBand offers you several music lessons across various genres, including video tutorials and demos via animated equipment. Artists can also refer to guides and videos provided by original recording artists.
On the other hand, Audacity does not provide these sorts of resources which is why we give the music creation win to GarageBand.

MIDI Support
One of the biggest downsides of using Audacity is that it does not support MIDI recordings. You can only import, export, and edit MIDI files. You won't be able to produce your own beats using this tool as it is better suited to recording a live band, putting together various tracks of music, or adding sound effects to your podcast or other audio.
GarageBand, on the other hand, does support MIDI. This is why we give the MIDI support win to GarageBand. The tool allows you to record MIDI inputs, edit notations, and use a MIDI controller to control the interface. If you want to create beats or have an electric keyboard, you will need GarageBand to edit your MIDI.

Pros and Cons of Audacity
Let us take a look at some of the pros and cons of Audacity.
Pros:
The core software is open-source and free for all.
A robust audio and music editing and production tool.
Offers flexibility and allows fine-tuning of tracks.
Has an array of audio tools.
Sound effects can be quickly applied to certain sections of a track.
Allows sample editing, pitch and tempo change, noise removal, and raw data import.
Cons:
The user interface is not very intuitive.
Requires a learning curve to work.
Doesn't come with pre-recorded audio options.
Does not support MIDI recordings.
Pros and Cons of GarageBand
Let us take a look at some of the pros and cons of GarageBand:
Pros:
Entirely free and comes with Mac computers.
Intuitive and easy to use.
Has a smaller learning curve than Audacity.
Supports MIDI recordings.
Receives major updates once every two years.
Allows recording of live audio through a USB interface.
Allows users to use in-recording effects in real-time.
Provides access to a massive sound library.
Can add drummer and percussion tracks, choose effects, and dynamic processing presets.
Uses various virtual instrument technology.
Adds genre-specific effects and can design a customized bass rig.
Cons:
Can only be used on Mac OS.
Effects are applied on the entire track rather than in small sections.
A single fixed 44.1 kHz sample rate.
Incompatible with third-party extensions and plug-ins.
Users can only access advanced features in the premium version, Logic Pro.
Audacity vs. GarageBand: Which is the Better Editing Software
Audacity is a very powerful sound editing software, but it might not be the best choice for people who are looking to organize a lot of tracks and loops. Rather, Audacity is a better option for longer audio that have fewer tracks like podcasts, voiceovers, commentaries, speeches, and audiobook narration. It is also the best choice if you want to work on a device that does not operate with Mac OS.
GarageBand is a wonderful music-producing workstation for beginners. It supports MIDI recordings and editing and offers a plethora of pre-recorded material and virtual instrument features, which is very beneficial for new musicians. It also is quite intuitive and can walk you through the entire music process.
As you can see, both these tools have their particular purpose and are best for a particular category of users. Download and start using your top choice today!