How Anantha Krishnan Sreeraman Grew SparkDataBox.com to $30K/Month in the Competitive Programming Training Industry

Our content is reader supported, which means when you buy from links you click on, we may earn a commission.
---
Who: Anantha Krishnan Sreeraman
Website: sparkdatabox.com
Course Topic: Programming Training
Interesting Stats: 15,000 visitors/month to site
Who are you, and what digital training company have you created?
My name is Anantha Krishnan Sreeraman, and I am the Cofounder of Spark Databox. I run an online course training platform. I independently learned programming at an early age and went on to study further advanced courses. My next step was to serve more students and professionals to help them build their careers by learning new technologies.
In the effort to start online training, I created my online website to produce more quality certified professionals. In 2019, I created the Spark Databox website as a means to help anyone learn through an online course with no programming knowledge required. We helped host more than 100,000+ learners around the world in our cloud-based management system along with placement assistance.
What market does your digital training serve?
We serve as the best platform for software certificate training and career development. Spark Databox online course designed explicitly towards students and working professionals either taking online training for the first time in their lives or who are picking it back up after some years. Surprisingly, one of my best trainees is 78-years-old!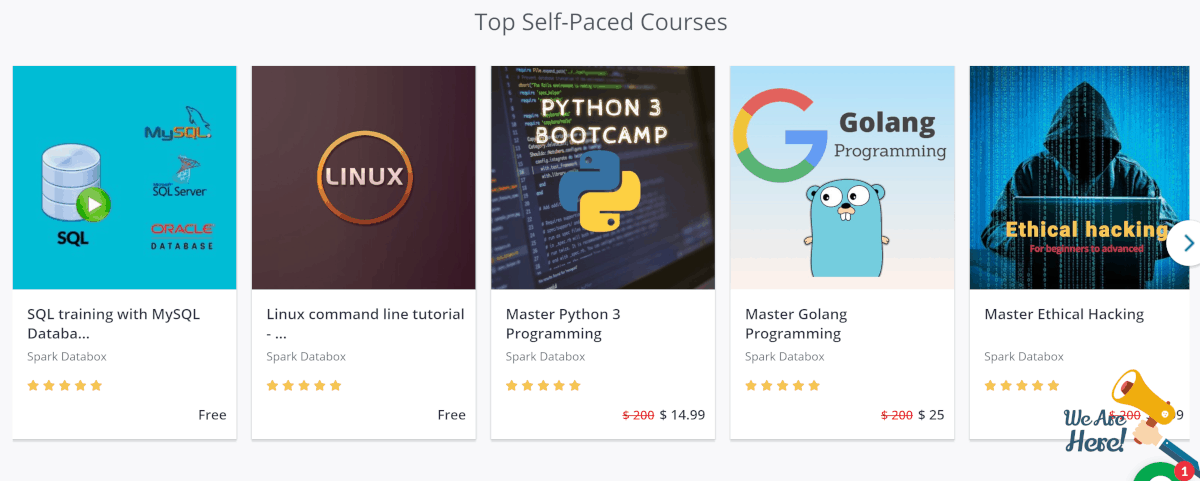 What's the biggest benefit of taking your online courses?
The benefit of taking an online course from Spark Databox is as follows:
The online training program from Spark Databox comes with 100% placement assistance from experienced industry trainers
As a part of this online course, trainees would be provided with a 24*7 training support
They are provided with Real-time project-based training
All project documents and training materials are available to the student for lifetime from our secure portal.
Tailor-made syllabus to meet your requirements
Our online training program focuses on providing practical based training with self-paced learning using world-class LMS
Learning via online recorded training sessions is possible
Q&A sessions are held at the end of every online training class
The option of Choosing morning and evening online training sessions based on your preference
Trainees are provided with personal login credentials
Spark Databox is in collaboration with 500+ MNCs from the industry
Even working professionals can simultaneously pursue this online training course for their skill enrichment, without skipping a day at their workplace
SparkDatabox has got a 100% placement record
How did you get into the market?
Here is the story of how Spark Databox came about in a little timeline:
In 2010 – It all started with the launch of a virtual institute to train software engineers. It was intended to expedite a collaborative eLearning environment empowering anyone to join online training in minutes.
In 2017 – Vinoth (My friend since college) and I became partners. And soon after, our training goal became very progressive.
From 2018 to 2019 – Spark Databox proved its outcome to be the most flexible online training platform in the market. It served 10,000+ learners.
From an amazing experience with training and the market analysis we did in the current technology market, we got excited enough to give birth to the brand new technology training at Spark Databox.
Why did you decide to create a digital training company?
Today's world is ever-changing. Time is valuable. Social interactions are getting digitized. Nobody wants to spend time traveling if you can learn the same thing from the comfort of your own house. By making software training completely online, we are able to cover a wider audience from all over the world.
Spark Databox's learners' experience can be completely re-planned according to the learner's needs and pace. With Spark Databox, you can come up with no perquisites and experience a completely different view on online training because Spark Databox is 100% self-paced and Instructor-Led training with world-class LMS.

Did you have any moments of doubt before you launched your training company?
With today's online space, it's very easy to become perplexed by what our competitors are doing to be successful and how they are making it. You then end up pondering: "Okay, let us give that a try."
Remember, you have got this strange idea of approaches that are not your own. This may sometimes lead you down the wrong path. I made this mistake once, and my mind was filled with all the negative thoughts like 'Whether my decision of starting online training is right?"
Then I decided that a course launch should follow a practical timeline. This includes precisely what to focus on for the course launch of each week. Once I adopted this mindset, things became so much easier and productive, and we were able to stretch from just focusing on the course launch to focusing on business growth – which is a great point to be.
What keeps me productive and progressing towards my goals is periodical planning. -Anantha Krishnan Sreeraman
Click To Tweet
What are your online courses like?
We provide two types of training.
Self-paced: They are a combination of video courses and quizzes. Typically each course runs around 16 hours. A single lesson will run anywhere from 15 – 20 minutes.  We have 100's free courses hosted on our website as well.
Instructor-led live training: They are led by our expert instructors. Tutors will connect with students using web meeting software like Zoom, Goto Meeting. These courses typically run for 40+ hours or 1.5 months.

How long does it take you or your team to create a new course?
The first cut of the video course will come from the Tutor. We have a dedicated team to work on moderating and editing the videos.
These are the quality improvements done to the video course from Spark Databox:
Trim: We make sure that the videos are crisp. No unnecessary contents that are not needed for the students.
Self-promotion: We don't allow self-promotion in the video content.
Watermarking: We watermark the videos.
Enhancing: Enhance video and audio effect, general photoshopping.
After all these tasks are done, the course will go for approval. Once the videos are reviewed, we will publish it. It takes anywhere from 1 -3 days to publish a 17 hours course.
Tell us a little about the process of launching your first course and getting your first enrollment(s).
The very first course I launched three years ago failed horribly. I feel the necessity to share with those who may consider using the same techniques as myself.
I run an online course for striving virtual assistants, which today is very successful. But this was not the case in my first ever drive. I had been served with a different opinion from various online experts. At the time, the common consent was to pre-launch a course before having made any of the content. This was the all wrath one to do. So I, of course, compelled.
It rolled out as I didn't have the experience nor potential to deliver on my words in any right amount of time. I learned a lesson here on the point of accuracy.
I had to admit the error of my plans and offer refunds or consulting to solve the situation. Thankfully, my approach built me a firm, loving fellowship. They are still my great supporters today.
My first sale:
It was 2:30 AM. As usual, I finished up all of my daily chores and got to my bed. My phone rang. It was a message from my payment gateway. Someone purchased an Android course from Spark Databox. I was pretty excited! I tried to call Vinoth (my friend/partner). He did not pick up. I woke up my wife and told her about the first sale and she was so happy for me. It was an adrenalin rush.
I did not believe that a stranger would trust my website enough to spend money on us. I will never forget the first sale and I didn't sleep for the rest of that night.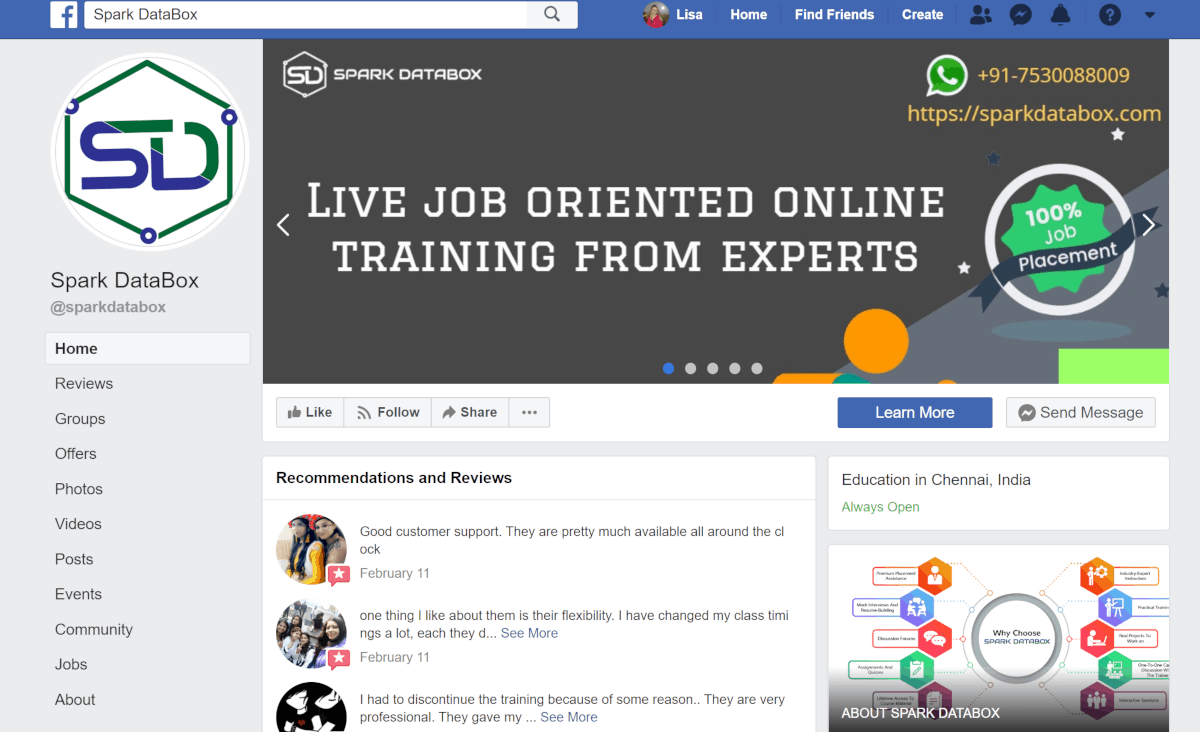 Do you have a lead magnet?
Yes, I do have different lead magnets. I leverage YouTube to develop my business.
In the beginning, I provided information and training videos on subjects related to my business and skills and monetized the audience. The focus of my videos is encouraging people; specifically, students and professionals to become more familiar with new technology to enhance their careers and lives. Besides videos, I offer free information through an email sign up. People who register with their email address will receive the freebie. I am then capable to increase my email list and market directly to people interested in my videos and my services.
After making my private Facebook group, I then extended and cross-promoted my content on other platforms like LinkedIn, Facebook, Instagram, and Twitter to further grow my audience.
What's the traffic strategy that works best for you?
Before launching my online courses, I did a bunch of analysis into the several launch patterns. And I found that the Open/Close launch technique works best. People need a reason to join your course now; otherwise, they put it off. The Open/Close technique builds gravity and provokes people to take the step. The consent is that when your course is lastingly available, it just collects dust.
So I chose to do an Open/Close technique. I created a 7-day email sequence, and I announced my launch date to my list. At this time, I had a moderate number of subscribers. I sent the email chain out, with pauses between each email. The entry for joining the course was 14 days.
The response was pretty satisfying, and I made several thousand dollars with that first launch. It didn't make many sales, but I know others who have had success with it.
What online course platform are you using?
We developed our own from scratch after trying Thinkific and Teachable. These popular online learning solutions didn't suit our requirements. For example, they don't provide multiple author logins, and it not fully customizable.
Are there any features you wish it had?
Multiple user logins. Anyone should be able to register and create an account.
Ability to assign roles to users like an instructor, operations, finance, admins, etc.
More flexibility to customize the website.
Ability to add pages dynamically.

What made you decide to use your chosen platform over others?
I used the CodeIgniter platform to build our website. CodeIgniter is a robust PHP framework with a very small footprint, built for PHP coders who demand a simple and classic toolkit to develop full-fledged web applications.
Benefits of CodeIgniter:
Codeignator is fast, reliable, lightweight, and highly efficient.
PHP Framework is an easy fix that allows you to debug out your development errors easily.
Codeignator PHP development is a very easy way to use a modular program.
Codeignator PHP development is compatible with almost all web servers, diverse operating systems, and platforms.
PHP developers are located worldwide, and you can find enormous support through forums and blogs with no difficulty.
Codeignator has excellent performance and presentation.
Codeignator is popular with developers because of the effort investment when it comes to configuring the PHP framework.
What other tools do you use to run your digital training business?
The other tools we use are:
Analytics & Data
SEO
Blog Content
Social Media Marketing
Email Automation
Visual Design
Landing Pages
Content Curation
What books or training programs have you found useful on your journey to a successful business owner that others might find valuable too?
If you are in online business, focus more on SEO. I spent a considerable amount of time learning SEO techniques.
Do you have any big mistakes you've made along the way that you'd be willing to share?
The worst mistake I made was I created a course and silently added the link to the website. Actually, we need the best launch strategy to experience the most positive impact.
Asking for feedback from my friends is another big mistake. NEVER DO THAT. I did that and all of them told my course looked great and they were impressed. In reality, that is not true. Friends will always give you positive feedback. Ask input from strangers; They will provide you with proper feedback.
As with most digital training experts, you wisely have knowledge that can create a difference in someone else's career. -Anantha Krishnan Sreeraman
Click To Tweet
You want to take your experience out there to help mold lives, and launching the course is the most effective way to do it.
The launch strategy will also help you get success stories, make more money in a direct way, and it'll help you know where your market is so you can replicate the launch steps over and over again.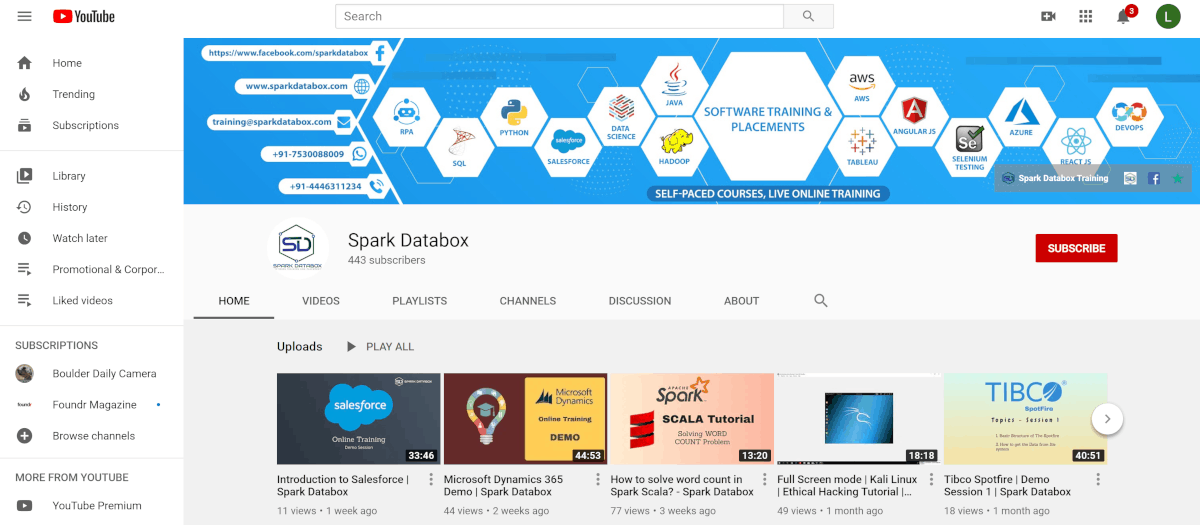 Please share some idea of revenue for your digital training company.
We are still a growing firm. We don't have any investors yet. All investments are from our own pockets.
The average number of visitors to our website is around 15K per month.
The average sales per month are around 50K$ USD.
Expenses are around 15K$ USD.
We would make anywhere from 30K$ to 35K$ USD per month.
Please tell us a little about what the money you've earned from running your digital training company has done for you.
No Vacations yet ☺ I personally feel that I still didn't reach that point yet in my business. 
Starting my own business gave me a lot of confidence. I can support my family with the income from my business. And I don't have to worry about losing my job during this recession season. I have financial security now, which I didn't have previously.
I still don't have the freedom to choose my work hours because I am pretty much occupied with my business and fulltime job. But, I make sure I spend at least 2 hours daily with my family. In the evening, I play cricket with my 4-year-old son.
In addition to revenue are there any numbers you would like to share?
We're setting up our digital marketing team at offshore. We expect the numbers will grow tremendously this year.
We promote our demo videos on YouTube. At present, we have 400+ subscribers on YouTube, and it is growing.
We have 2000+ Facebook followers with 30 new people following us daily.
What has creating your digital training business done for you personally?
I will be honest, I did not receive a lot of support from my family at first. I still have my fulltime job, which I work from 9-5. After going to work, I come back home, spend some time with my 4-year old son, eat my dinner, help my wife in cleaning up the kitchen (again being honest, that is the only thing I do at home).
Once I am done with that, all the while checking messages on my cell phone, I will start my business work. I sleep at 3 AM and get up at 7:30 AM daily. With 4 hours of sleep, it is very difficult to stay focused. (I am having my son in my lap while I write this ☺)
Now, after seeing growth, my family is more supportive. I get a lot of help from my wife in taking care of my son and house.

What advice do you have for people just starting out?
Here are some tips I suggest:
Host a FREE demo before the course launch.
Utilize social media and email marketing to promote the demo.
Use Zoom or similar software to record the call and catch attendees who did not attend live. Then, email attendees post-call with follow up to push enrollment into the course training launch.
Use the FREE demo feedback and Q&A to help determine the content of the course launch.
Research all relevant courses.
Receive suggestions and interests from students.
Design a compact, high yield, and accurate coursework. Images? Too many words? Make it fresh and pleasant!
Batch record your course videos.
Market the course frequently since it is a competitive industry.
You need to create a concern to visitors by using an Open/Close launch model. You can do an Open/Close course launch the number of times you wish to.
Create a buzz around your course in the days leading up to the launch by emails that contain the real value.
If you tell people you're closing the course on a specific date, you must do that. Otherwise, you lose credibility.
Learn more about Anantha Krishnan Sreeraman of Sparkdatabox.com: