How Akilah Darden is Creating a Legacy in the Construction Management Industry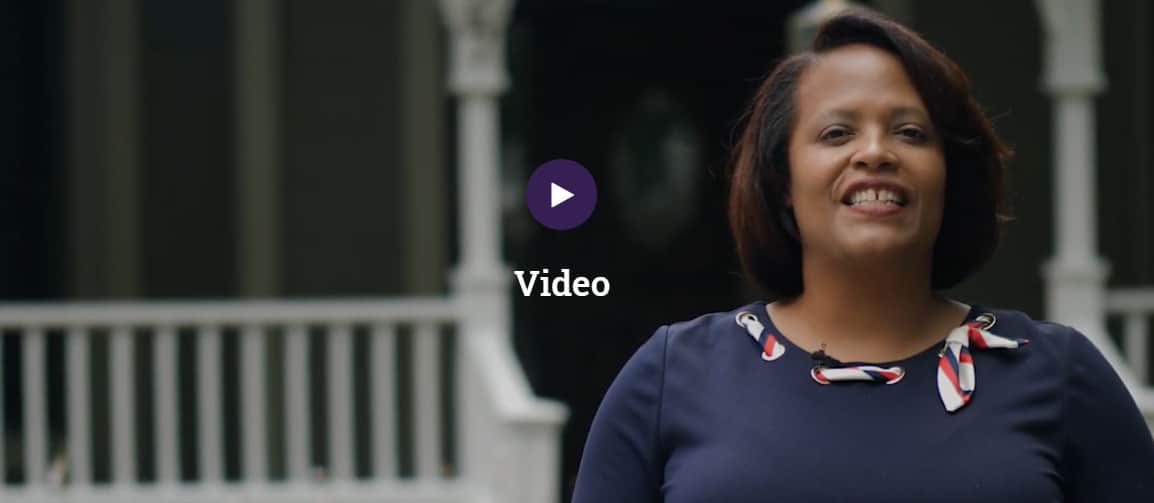 Our content is reader supported, which means when you buy from links you click on, we may earn a commission.
---
Who are you and what course have you created?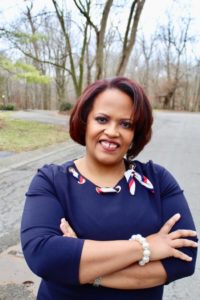 My name is Akilah Darden, President of The Darden Group, LLC. We are an executive construction management firm specializing in the management of large complex projects and training others to be more efficient and effective on their construction projects. Our location is in Marion County, Indianapolis, IN.
We are certified: WBE, MBE, WOSB, WBENC, DBE, ACDBE, and HUBZone.
At The Darden Group, LLC we have four distinct customers who buy our services.
The corporation needs a subject matter expert to manage the construction or rebuilding of their physical infrastructure ranging from hospitals to schools, churches to office buildings, aviation to institutions.
General contractors who need assistance managing their portfolio of work and who are looking to find minority subcontractors to participate in their project.
Subcontractors looking to increase their efficiency and effectiveness on their current projects. We would consult with these subcontractors on operations and technical support.
The fourth buyer of our services would be project managers and superintendents who enroll in our course: Effective Tools to be a Successful Contractor.
What market does your online course serve?
My online course serves the construction industry market. This would include:
Corporations building infrastructure
Design teams: Architects, Engineers, Designers
Construction teams: General Contractors, Subcontractors, Facility Managers, Project Managers, Superintendents, Project Engineers, Journeyman, Foreman, Trades contractors
What's the biggest benefit of taking your course?
The benefits of taking my course include:
You will receive a 50+ page interactive workbook to use in the course and on your project site that will give you processes to be more efficient and effective.
Thorough understanding of cost management through the construction of your project.
Thorough understanding of time management on the construction project.
You will know how to create your schedule of values.
Gain a thorough understanding of the need and how to effectively present your scope of work and be able to outline your cost of work.
You will be able to create an effective process for closing out projects.
Gain access to a template to manage your material tracking more efficiently.
You will receive an outline to engage your team during project management meetings.
Gain an effective process for commissioning, functional testing of the construction building systems.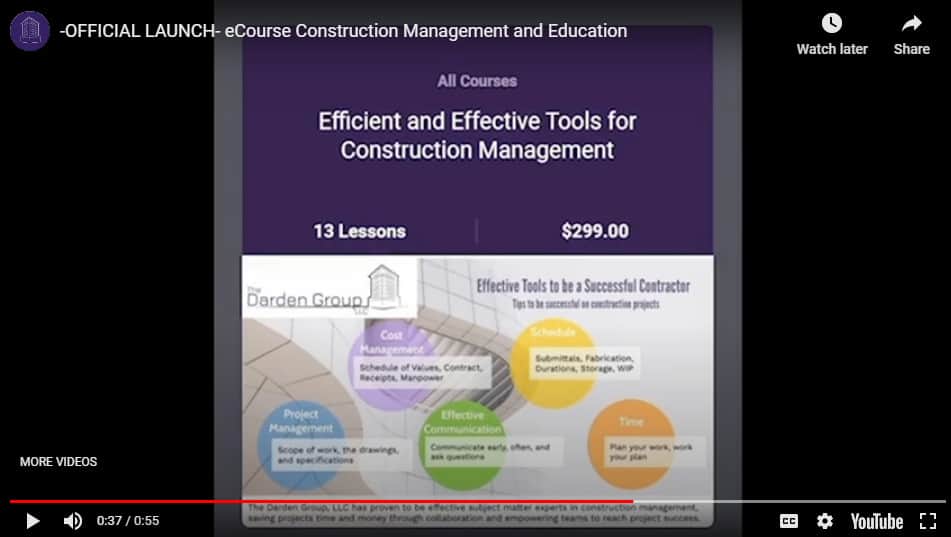 How did you get into the market?
Covid-19 happened. We had to pivot. We were scheduled to have a live construction management training course but had to cancel because of the rise of COVID cases. Everyone was going online. I immediately looked for a way to get to my audience by researching platforms that would still allow me to present the information. That is when I found Thinkific.
Why did you decide to create an online course in the first place?
I have 21 years of construction experience. There were people and companies that needed assistance and didn't know where to find it. Creating an online course could broaden our reach, globally. I wanted to help others who were struggling in the construction industry and also to help gain interest in an industry that has a lot of benefits. I mentor many people in STEM and in the Architecture, Construction, and Engineering fields. They all have similar questions and an online course would provide the platform for all of the answers in one place that people to get at their leisure. They don't have to wait for a response from me.
Did you have any moments of doubt before you created/launched it?
I had a lot of doubts. I'm an extravert, and I feed off of the energy of people. Talking to a camera is difficult. It was uncomfortable. I was always nervous. I was scared of how people will perceive me. Will people sign up and take the course. Do I even have time to do it? I have four kids in elementary school. When will I have time to make presentations and shoot videos? I knew I had the talent, expertise, and experience … but this platform was different.
If so what made you turn it around and do it anyway?
I thought back to what I tell my mentees.
Be comfortable being uncomfortable. I kept thinking to myself, this is going to help people in my industry. - Akilah Darden
Click To Tweet
I found a way … and the only time I could film my videos would be between 10:30 pm and 3:30 am. That is what I did to make it work. I also told myself, it doesn't have to be perfect. I asked my mom and husband to review the videos and they like the videos that were not perfect … they felt my personality shined through.
I also signed up for all the courses offered through Thinkific to include being accepted into the Thinkific $1 million entrepreneur growth fund. During the growth fund training, I learned step by step what to do to create and launch my course.
What's your online course like?
My online course includes:
Free previews to gain excitement about the course and to get to know a little bit about me.
50+ page interactive workbook that is downloadable and printable for your use during and after the course.
Downloadable templates for cost management, project management, scheduling, material tracking are included in the course.
I have Youtube videos with tips on how to be efficient and effective on construction sites.
I have Prezi presentations with interactive videos. These videos show me teaching with the presentation and graphics in the corner.
The course has questions and answers.
There is a personalized certificate of completion.
Ways to comment to me, the instructor during the course.
An interactive landing page when you first access the website that also includes a limited time discount.
How long did it take you to create your course?
It took 2 months to create the 50-page workbook and 3 weeks to create and launch the course. This takes into the fact that I have 4 elementary school kids in e-learning. I worked on the workbook and course during the night time hours.
Tell us a little about the process of launching your course and getting your first sale(s).
I went online and found the number one question asked online for my industry. It was "What do Construction Managers do".
I created a video to answer this question and also a video of tips to be a successful construction manager. Then I took these videos and uploaded them to LinkedIn, Facebook, Instagram, YouTube, Linktree, and created newsletters in (Mailchimp, Canva, and Flipsnack) that I send out via email. I was able to gain interest and get my first sale within the second week of the launch.
Do you have a lead magnet?
Yes, I have a lead magnet. When you go to the course website, you will have an option to view the free previews after you give your email address. There you will find two free previews. The lead magnet helps to get people interested enough to provide the email address, but the traffic comes from mostly LinkedIn and Facebook posts.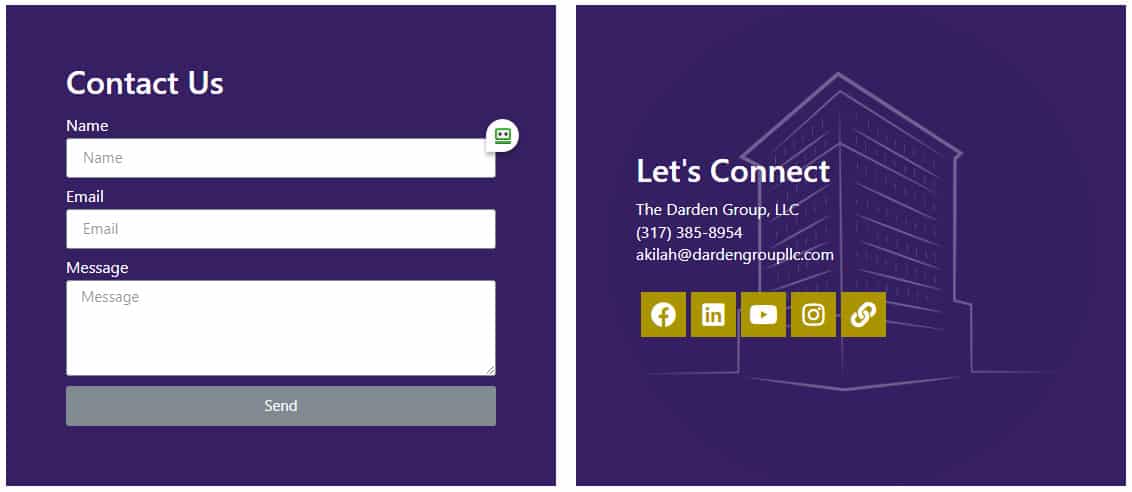 What's the traffic strategy that works best for you?
Word of mouth.
Constant interaction with our audience on multiple social media platforms. Increasing our email list and sending out content to gain credibility in the industry has helped us increase traffic.
What online course platform are you using?
I use Thinkific as my online course platform. I like Thinkific for many reasons:
Customer service.
All of the interactive training tools
The $1M Thinkific Entrepreneur Growth Fund training was exceptional and guided me through all of the steps.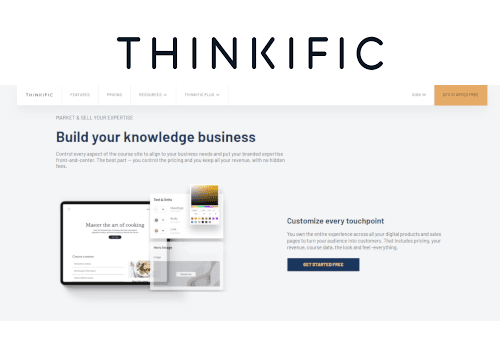 Take a Look at Thinkific!
Thinkific is the most popular online course platform used by successful course creators interviewed on coursemethod.com. It's a complete solution for creating sales pages, uploading all course content, taking payments, and more.
Price Range: Free to $499/month 
Most Popular Plan: Pro Plan at $99/month
Annual Discount: Yes, take 20% off!
Free Trial: Try out Thinkific's core features for free.
*Our content is reader supported, which means when you buy from links you click on, we may earn a commission.
Are there any features you wish it had?
Yes, I really love Prezi and I wish there was a way to edit my videos in Prezi or be able to edit them after I upload them on Thinkific.
What made you decide to use your chosen platform over others?
I chose Thinkific because it was user friendly. If I couldn't figure something out, I could go online, go to help on their site, or ask the question in the Thinkific Facebook group.
What other tools do you use to run your online course business?
Paypal and Stripe options for payment.
I also post in Facebook groups relevant to my course.
What books or training programs have you found useful on your journey to a successful business owner that others might find valuable too?
I YouTube and google EVERYTHING! Then I ask a lot of questions and follow successful course creators on social media.
I also look for creative webinars and look at how people are presenting information and what platforms they use.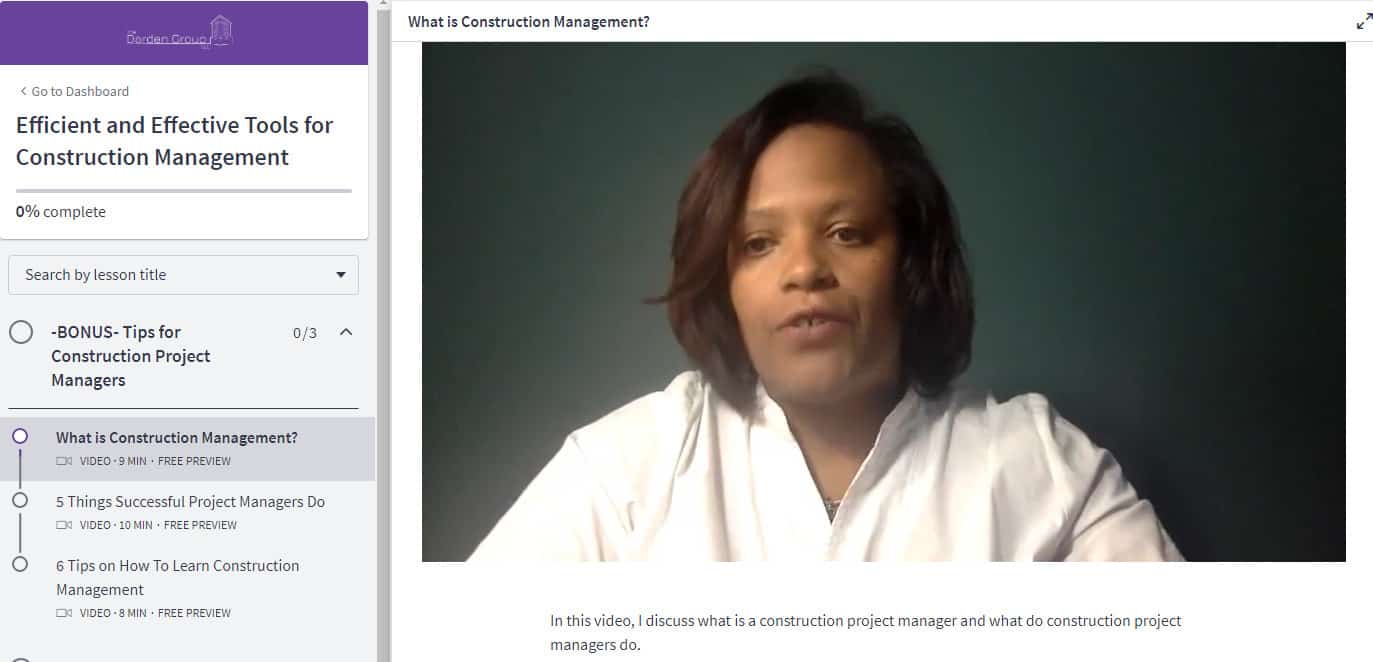 Do you have any big mistakes you've made along the way that you'd be willing to share?
Yes! I have many but the most important mistake I've made was to try to be perfect. Trying to make my instructional videos perfect just made me look stoic, non-authentic.
The best transference of information has been the videos where I made mistakes but kept moving. - Akilah Darden
Click To Tweet
Those are the videos with the most views or the most time spent.
Also, being vulnerable. I took a lot of time doubting on sharing my site and information. Once I got over that, it was full speed ahead! I had to get out of my own head and my own way.
Please share some idea of revenue.
We have students enrolled in our course and they are sharing with others. There are major entities locally who are presenting our online course to their c-suite executives! This has happened within 6 weeks of launching our course!
I have three proposals for workforce development organizations, corporations, and universities who are interested in getting their students enrolled in the course. I am optimistic these will land any day now. This would be anywhere from 50-300 students.
Also, we were recognized here local for a very big award, The Center for Leadership Development Award Winner for Business & Industry recognition. This was huge! It was exactly what I needed to push me to complete my course.
Please tell us a little about what the money you've earned from your course has done for you.
The money I've made in the course allowed me to be able to hire a web developer who was able to assist me with upgrading my social media licensing, create a launch video and I was also able to hire a videographer for an introductory video for my business.
In addition to those items, I was able to upgrade some of the subscriptions from the free version to the pro version to enhance my marketing abilities.
In addition to revenue are there any numbers you would like to share?
Through social media posts, I was able to establish over 2,000 email addresses and gain 1,200 more people on LinkedIn.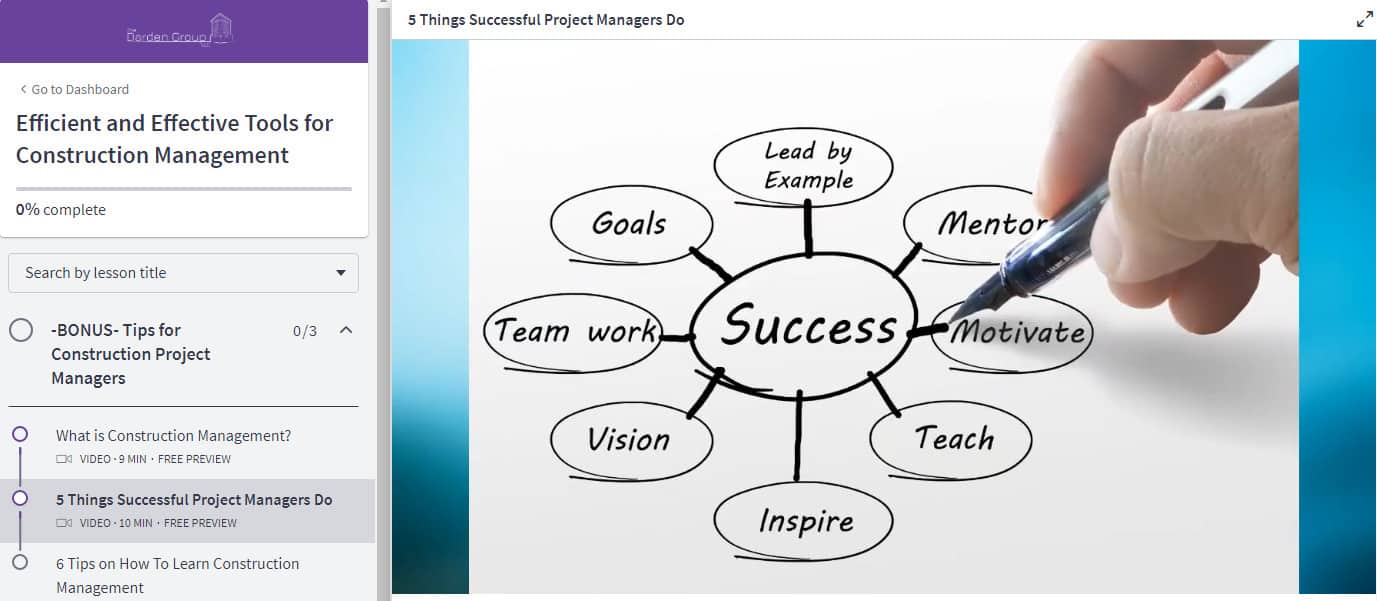 What has creating your course done for you personally?
I have accomplished one of my dreams.
I am showing my kids that anything is possible, you just have to make it happen. The kids have seen my "studio" of lights, cameras, and umbrellas for my lights! - Akilah Darden
Click To Tweet
They love the fact that their mother has her own business, online course, and a YouTube channel. I am creating a legacy for them.
Also, I received a lot of traction with this image I posted about "working with The Darden Group, LLC you are building a legacy"
Do you have a story of a transformation from any of your clients?
One of my clients, who is a subcontractor, was about to lose $125,000 on a bid because they forgot some scope items during their bid. I was able to work with them. Not only did they get the $125,000 they needed to get the project, but they also received another $500,000 in additional work. Not only that, but they've also enrolled in our course.
What advice do you have for people just starting out?
I know it sounds cliché, but do it…anyway. It's not going to be comfortable. Push through the fear and always keep in mind who this is going to help. Remove all obstacles…in my case, I had to film in the wee hours of the morning. Do whatever it takes and share it with the world!
Learn More about Akilah Darden of dardengroupllc.com: