Adobe Premiere Rush vs. Pro Comparison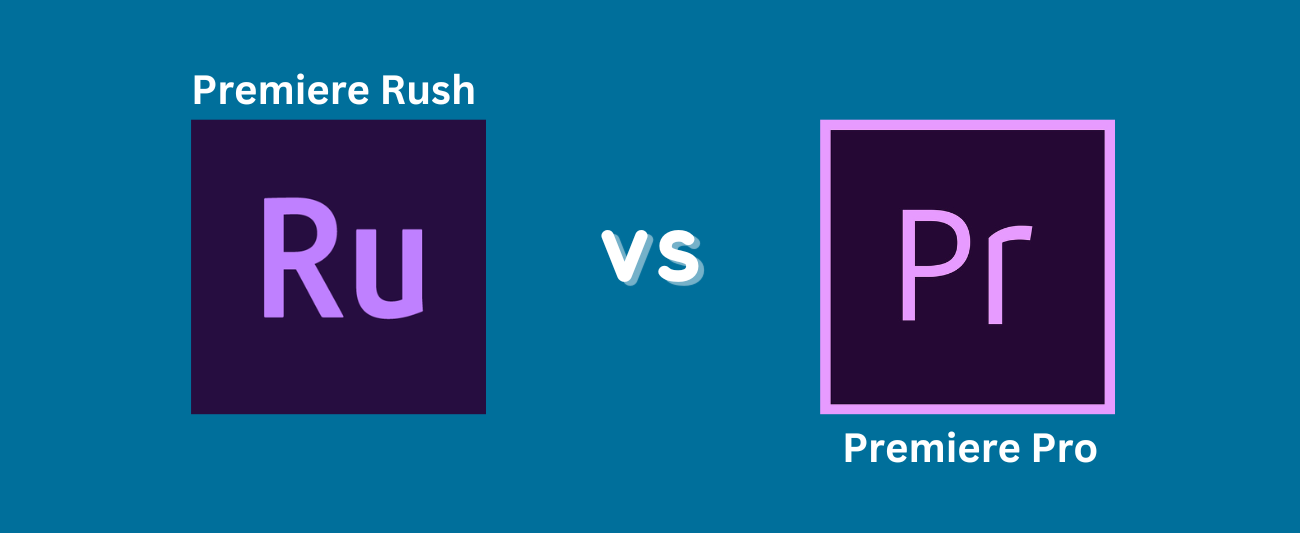 Our content is reader supported, which means when you buy from links you click on, we may earn a commission.
---
Adobe is one of the largest creative software companies in the world, with various major video editing applications. Two of its most prominent applications commonly used for video editing are Adobe Premiere Rush and Adobe Premiere Pro.
For years, Premiere Rush has been the topmost choice for professional video editors. However, recently, Adobe launched Premiere Pro, which is considered more versatile and designed for the in-depth editing of any kind of video.
While the two software programs may be in the same category and created by the same company, they are vastly different. This detailed Adobe Premiere Rush vs. Pro guide highlights all of their differences, prominent features, pros and cons, and more.
Adobe Premiere Rush: Overview
Adobe Premiere Rush is a video editing software designed for beginners or individuals who wish to make quick and simple edits. As the name suggests, it is ideal for individuals who are in a rush to make edits and value speed.
The video editing application aims to simplify the video editing process, making it easier for anyone to pick up the application and start editing. You can shoot, edit, and even share your videos using the application on any device.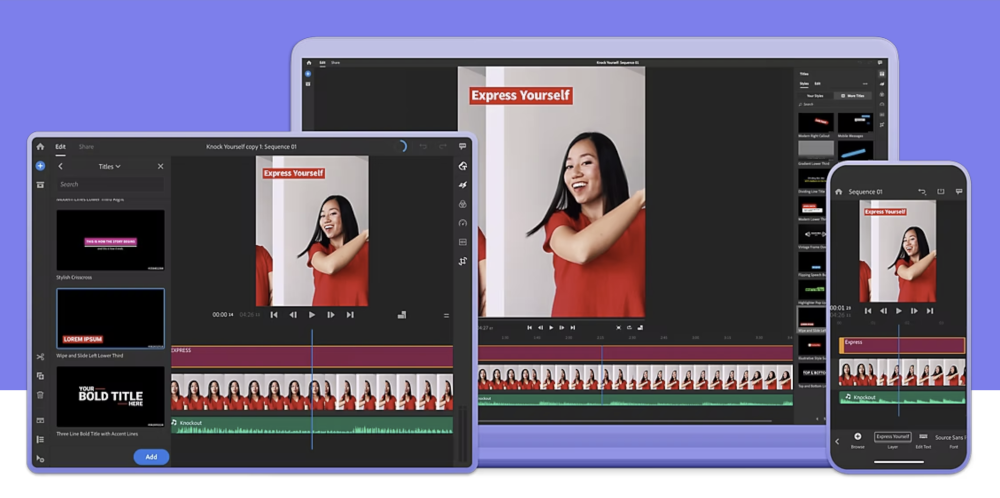 Adobe Premiere Pro: Overview
Launched in the late 90s, this is one of the oldest video editing applications in the market. The comprehensive editing software ideal for advanced editors is packed with numerous features to make editing a breeze.
The application has been used for editing high-quality videos for cinema, TV, and social media. However, that said, it is not suitable for beginners as all the controls and features might seem too intimidating. It can thus become too overwhelming.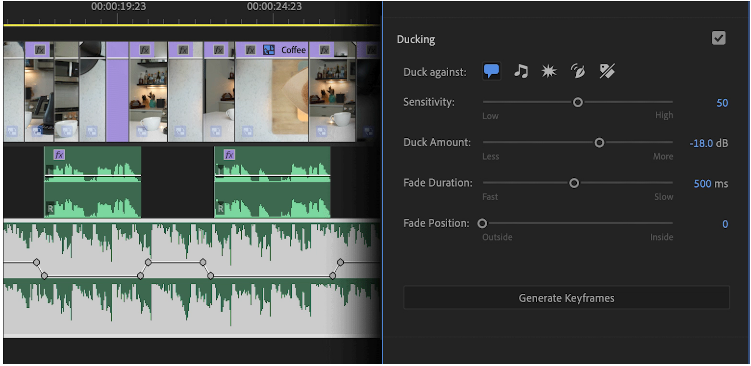 Key Differences between Adobe Premiere Rush and Adobe Premiere Pro
While the two applications may have the same creator and are both editing software, they are starkly different. Let's look at the main features offered by them and compare them to help you decide which would be more suitable for you.
Ease of Use
The Adobe Premiere Rush is undoubtedly much easier to use than Adobe Premiere Pro because it has been designed keeping simplicity in mind. The former is geared towards social media and casual videos, such as vlogs, which is why it has a basic layout.
However, Adobe Premiere Rush is more about editing cinematic videos. It is actually quite versatile since you can edit all types of videos using it, including short social media ones. For this reason, it has numerous editing tools and controls, which can be intimidating for beginners. There is a learning curve when you use this application.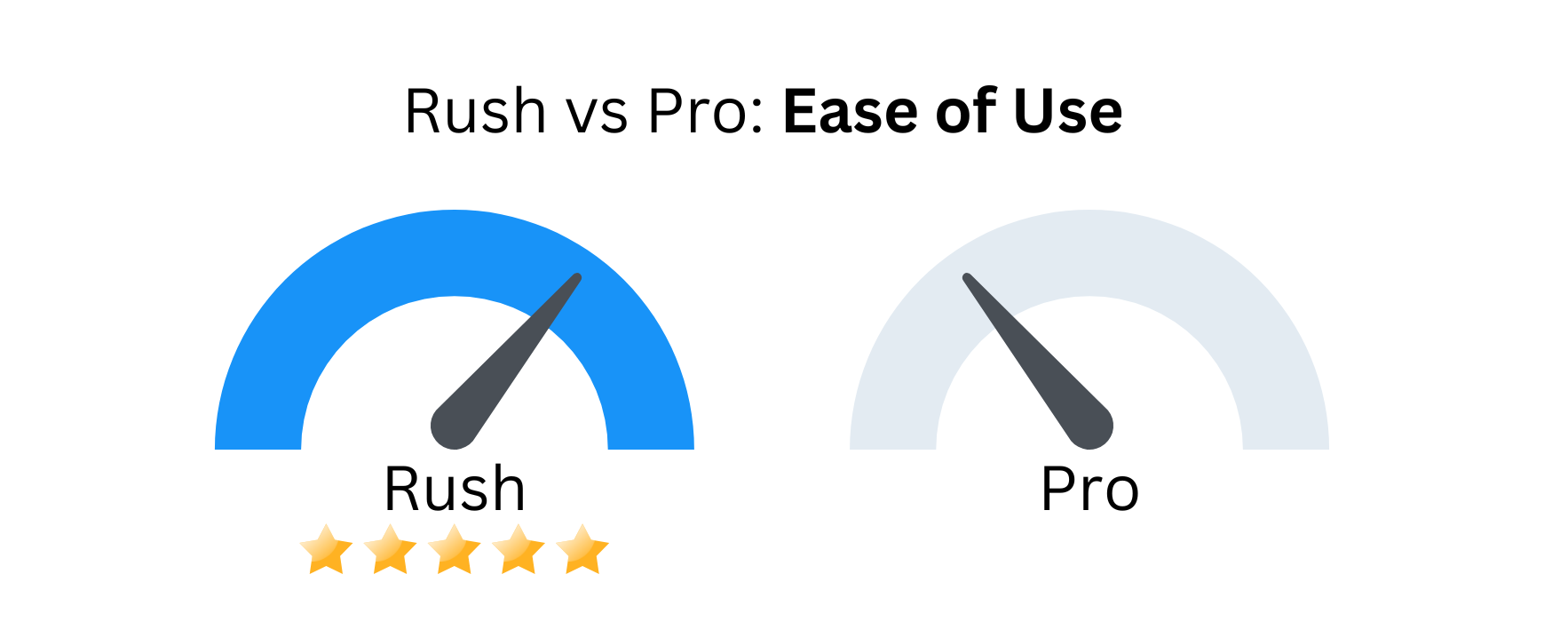 Price
Both applications offer subscription plans to users at various prices. Premiere Pro has a monthly subscription plan, which costs $20.99 per month, which ties you into an annual plan later. If down the line, you wish to cancel this annual plan, you will need to pay a small cancellation fee based on your remaining balance on the plan.
On the other hand, the pricing structure and plans for Adobe Premiere Rush are simpler and cheaper. Firstly, their Starter plan is entirely free. However, if you want to access more tools, you can opt for the monthly plan that costs $9.99 per month.
Premiere Pro offers many more tools than Premiere Rush, which explains the significant price difference between the two.

Interface
Both the Premiere Rush and Pro interfaces are intuitive. However, there's much less involved in the Premiere Rush interface.
Since Premiere Pro is thorough editing software, the interface is more thorough. It has an intuitive layout of tools and controls that can initially seem intimidating to use, but become more intuitive as you get acquainted with the program. All of the tools are in one place on the interface.
Once you are done editing, you can also visit the specific workspaces in Premiere Pro for tasks like editing the color, audio, and more.

Performance
When it comes to performance, both applications are quite impressive. However, Premiere Pro has been known to work extremely slowly or even crash when editing a video file that is too large. This is also true if you use more advanced tools on the application.
Such performance issues don't arise with Premiere Rush since it is not designed for large files and advanced editing to begin with. However, if you use powerful graphics, then this could be an issue.

Video Editing Features
Video editing is what both of these applications are known for, and they are excellent at it. If you are looking for more tools for in-depth editing of longer and larger video files, you should consider Premiere Pro. It is perfect for professionals, as the name suggests.
However, if you are looking only for essential video editing tools, you should consider Adobe Premiere Rush. It does not offer features that Premiere Pro does, such as keyframing, but it is ideal for quick and simple edits to shorter videos.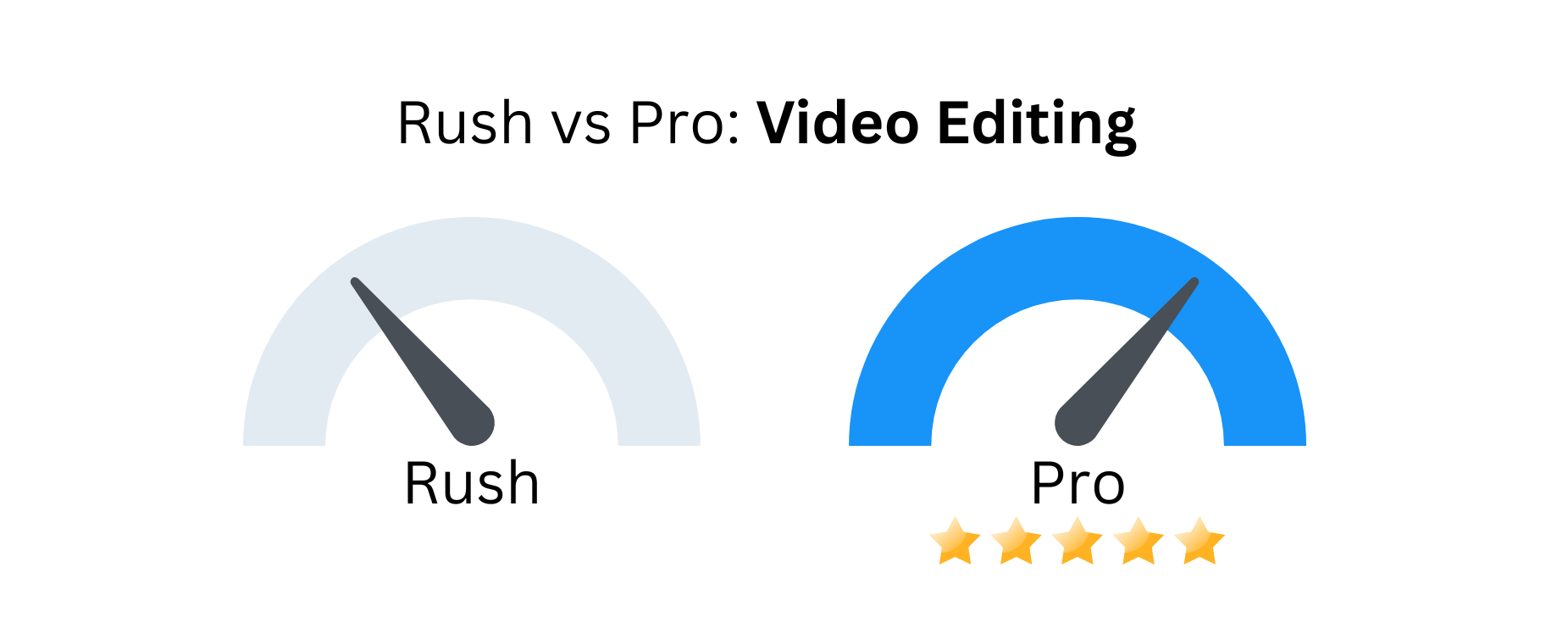 Color Grading and Effects
Premiere Pro takes the cake when it comes to color grading and adding color effects. You get various color grading and correction tools, including Lumetri Color and mid-tones.
However, you have limited options for this in the Premiere Rush. That said, those tools would still suffice when editing short videos that don't need extensive editing.

Audio Editing Features
This is one area where Premiere Rush and Pro differ greatly. While both of them come with a free audio library with hundreds of songs to choose from, the audio editing features differ.
Premiere Rush offers various features, including tweaking the audio volume, reducing echo and background noise, enhancing pitch, and balancing the sound. This is perfect for quickly editing videos, such as what vloggers and bloggers might need.
Premiere Pro, on the other hand, offers all of this and more. It is ideal for longer videos that need comprehensive audio editing. However, learning how to use and apply them may require time and effort.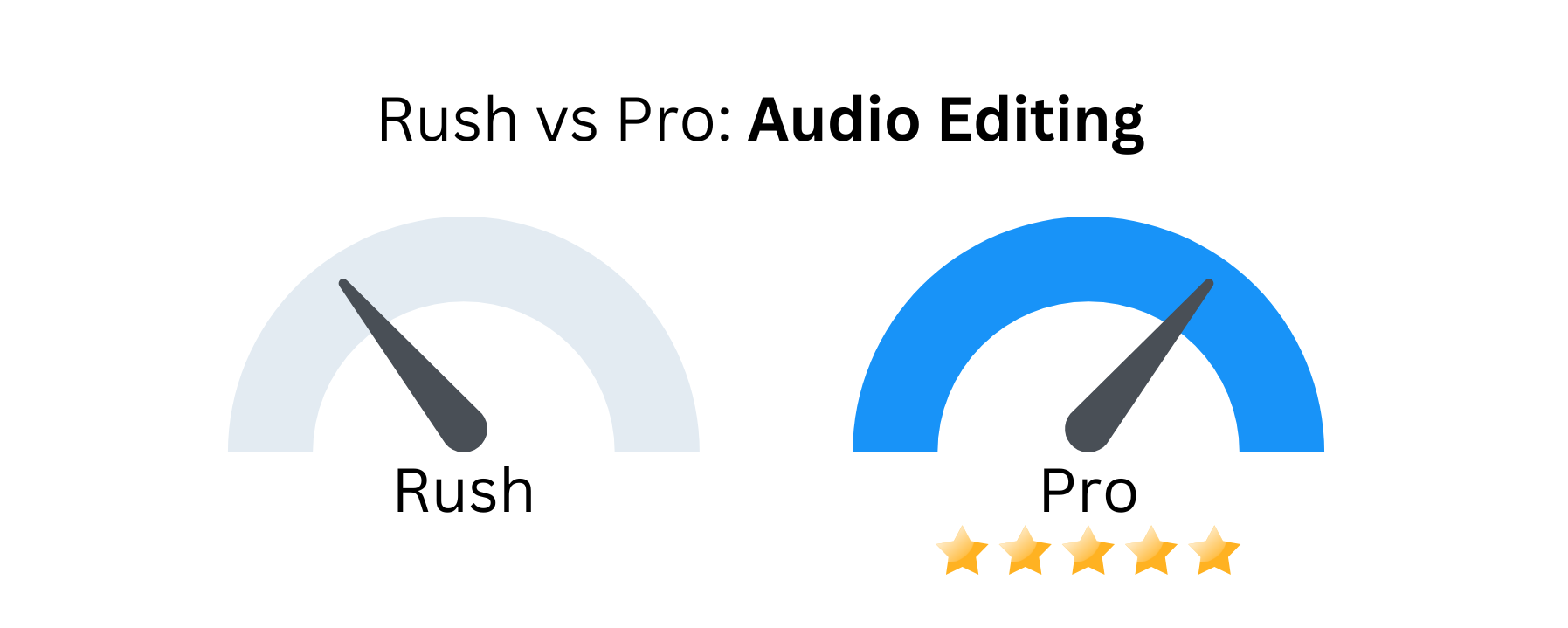 Who Should Use Adobe Premiere Rush and Adobe Premiere Pro?
Adobe Premiere Rush and Premiere Pro are two of the best video editing tools around and have many users. However, one application may be more useful to you than the other.
Premiere Pro is Adobe's most popular software application and is ideal for professionals and video editors who wish to go beyond the basic edits for videos. While it lets you make simple edits, such as trimming and layering music, it can be used for so much more due to its myriad features.
However, for beginners, it might be too intimidating. The controls and tools are extensive and hard to follow and use if you are not a professional video editor. In such a case, Premiere Rush would be a more suitable option. It not only lets you make basic edits, but it allows you to do it fast.
Pros and Cons of Using Adobe Premiere Rush
To help you further decide between the two video editing platforms, here's a look at Adobe Premiere Rush's pros and cons.
Pros:
It allows for quick and simple edits.
It is ideal for social media videos and vlogs.
It is faster.
It can be used on any device, including your computer, mobile phone, or tablet.
Allows for shooting, editing, and sharing of videos on social media.
It is easy to use and has an intuitive interface.
It is free to use.
Cons:
Offers limited tools for comprehensive editing.
It lacks depth.
Limited audio and color editing options.
Pros and Cons of Using Adobe Premiere Pro
Now, let's take a look at the main pros and cons that Adobe Premiere Pro offers its users:
Pros:
It is ideal for comprehensive and complex editing.
Offers a variety of editing tools in terms of keyframing, color grading, and adding audio effects.
The perfect tool for professional video editors.
It is an all-in-one editor that can edit videos for movies, television, social media, and more.
It can be integrated with other apps, such as Aftereffects and Photoshop.
It can work with a variety of file formats.
Offers all the features of Premiere Rush.
Cons:
It is too complex for beginners.
The interface may be quite overwhelming to use.
Steep learning curve.
Requires a subscription.
Not suitable for basic editing.
Final Verdict: Which One is Right for You?
When it comes to picking the right editing software program, both Adobe Premiere Rush and Premiere Pro are excellent options. In terms of which is right for you, the answer depends entirely on your budget and video editing needs and preferences.
Adobe Premiere Rush is ideal for beginners and individuals who don't need to make extensive edits. It allows for simple and quick edits that you can instantly share on your social media platforms. If that is your goal, Premiere Rush is better for you.
On the other hand, if you want to take your editing skills and creativity to the next level, then Adobe Premiere Pro is more suitable for you. With its extensive tools and controls, you can edit any type of video however you want. However, it does include a learning curve, especially for beginners or individuals.
For this reason, Premiere Pro is a more suitable choice for advanced video editors and professionals. It includes the tools offered by Adobe Premiere Rush, so if you are a confident editor who wants more control over their creativity, this is the right choice for you.
In the end, it all depends on what you want to achieve through editing. Both editing programs are excellent in their own way, so you should evaluate your needs, preferences, and goals. Regardless of which platform you choose, both will allow you to make professional-level edits to your videos.