How Tia Jones Earned $99,327 in the Year After Launching Her Online Course

Our content is reader supported, which means when you buy from links you click on, we may earn a commission.
---
Who: Tia Jones
Website: masteringpop.com
Course Topic: Digital Marketing
Interesting Stats: 4K followers on Clubhouse
Who are you and what course have you created?
My name is Tia Jones and I created the No-Fail Mastering E-comm Workflow Bundle.
What market does your online course serve?
E-commerce store owners on a budget.
The No-Fail Mastering E-comm Workflow Bundle was created to remove decision fatigue from e-commerce store owners by assigning them digital marketing to-do's that will help move the needle in their business. From SEO, email marketing, partnership, and conversion optimization tasks including learning and understanding their numbers.
The course also offers 200+ hours of educational audio and video content, vetted marketing resources, and access to digital tools and technology partners.
What's the biggest benefit of taking your course?
Mastering P.o.P's online course gives you consolidated knowledge for every channel of your business at a low cost of $37 per week. This includes knowledge and expertise in SEO, email and content marketing, partnerships, link building, conversion optimization, and more.
Instead of having to source different courses for different things, you gain access to all the marketing components that will help you to scale.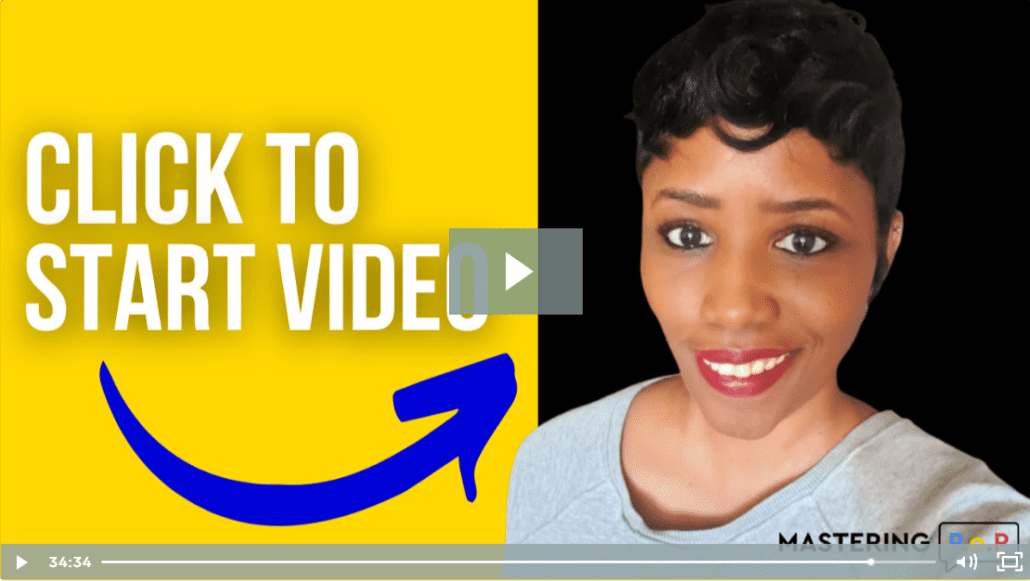 How did you get into the market?
I've been a professional Digital Marketer for 16 years specializing in search engine optimization. Trusted since 2006, I've optimized major industry brands such as Guitar Center, National Geographic, Freeway Insurance, Slickdeals, and more, all ranked on the first page of Google for keywords that generated revenue for their business.
I came up with the idea after hosting an SEO webinar for a group of IOD (Iron Orchid Designs) stockists. The owner-operator of Iron Orchid Designs heard me talking on the social app Clubhouse. I was hosting a room under the Shopify 101 club.
Why did you decide to create an online course in the first place?
I decided to create my online course after noticing that a lot of the courses available only covered one aspect of marketing. If you want to scale a business you have to use different sales channels and marketing tactics. My course covers search engine optimization, email marketing, content marketing, partnerships, etc.
But more than just teaching the individual components, I show students how to integrate them into a cohesive strategy.
Did you have any moments of doubt before you created/launched it?
I didn't have any moments of doubt when creating my course. I was confident that I could put together a high-quality course because I was working in the industry for more than 16 years and had gained a lot of experience and knowledge.
If so, what made you turn it around and do it anyway?
I had zero doubts. 😉
What's your online course like?
It's a perfect mixture of the written word, instructional videos, and audio content, so you can learn in the way that best suits your needs. And I've incorporated live group coaching, where you get immediate feedback and support from me and other students in the membership. This makes it an ideal learning environment for anyone who wants to improve their skills quickly.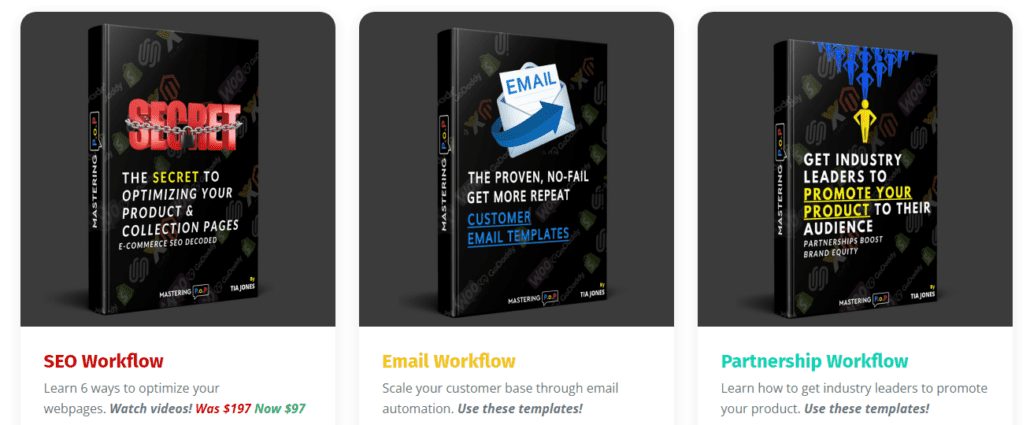 How long did it take you to create your course?
When I set out to create my course, I wanted to make sure that it would be the most comprehensive one on the market. So, I started by creating an outline of all the topics I wanted to cover. SEO was at the top of my list because I know from experience that it's one of the most important aspects of digital marketing. It took about 3.5 months to create all of the workflows (courses) that I offer.
Tell us a little about the process of launching your course and getting your first sale(s).
A "real" course launch involves way more than just announcing your product to an audience. It's about creating a sense of urgency and excitement so that people feel like they need to buy right now. It's about building hype and anticipation so that people are eagerly awaiting your next release. And it's about connecting with your audience on a personal level, so that they feel like they know, like, and trust you.
Sadly, I didn't have any of that for my course launch. I pitched it at the end of one of my Clubhouse rooms, with no fanfare or build-up. As a result, I didn't make nearly as many sales as I could have. If I had to do it over again, I would spend more time planning and promoting my launch, in order to create a sense of excitement and anticipation around it.
Do you have a lead magnet?
Yes, I have a lead magnet! My lead magnet, The No-Fail Get More Repeat Customer System, breaks down how to increase the number of first-time customers, average order value, customer purchase frequency, and second purchases. Plus, my evergreen SEO webinar lead magnet, 'What the Heck is SEO' teaches you the rules for optimizing a web page.
I have used lead magnets extensively in my business, and they've been instrumental in helping me grow my email list and generate sales. Each lead magnet has its own landing page and email capture form, and they are both connected to four months of automated email flows.
What's the traffic strategy that works best for you?
If you're looking for a successful marketing strategy, you can't go wrong with organic traffic. I've been focusing on building up my organic traffic, and it's been working out great. I started by mentioning my online course at the end of each Clubhouse room that I host. I host rooms under my club Shopify 101. It's easy to share my expertise and build relationships with potential customers.
I also promote my course through blog content, social media, YouTube videos, and my private Facebook group, Mastering Ecomm with Mastering P.o.P. This multi-pronged approach has been very successful so far, and I plan to continue using it in the future.
What online course platform are you using?
I use Kajabi as my online course platform.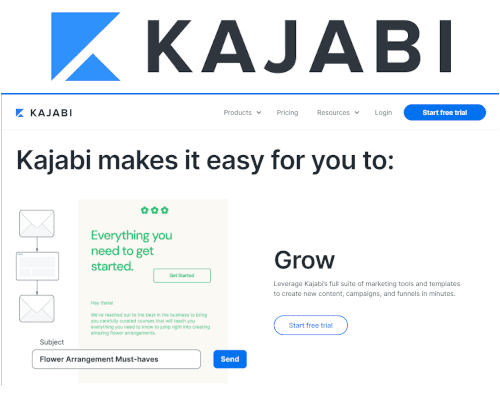 Kajabi is the All-In-One Course Platform
Kajabi is one of the top online course platforms used by successful course creators interviewed on coursemethod.com. Kajabi includes email marketing and other tools that make it easy to run your entire business from their platform.
Price Range: $149 to $399/month
Most Popular Plan: Growth Plan at $199/month
Annual Discount: Yes, take 20% off!
Free Trial: Get a 14-day free trial (credit card required)
*Our content is reader supported, which means when you buy from links you click on, we may earn a commission.
Do you like it?
I love Kajabi! It's simple to use and easy to navigate, which makes it perfect for course creators who want to focus on content, and not technical challenges. Kajabi also offers a wide range of features, including email marketing, landing pages, and built-in payment processing. This means that everything you need to launch and sell your course is available in one place. If you're not sure where to start, Kajabi offers helpful templates and tutorials.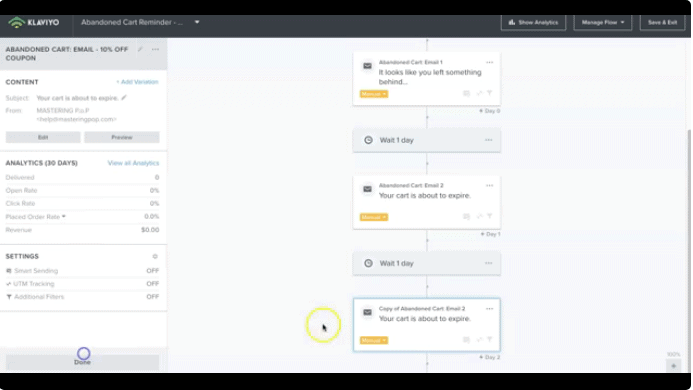 Are there any features you wish it had?
I wish Kajabi had a bit more robust analytics features, and more optimization capabilities.
What made you decide to use your chosen platform over others?
I chose Kajabi as my go-to platform for my online course and membership site because of the abundance of features that it offers. Kajabi is very versatile and user-friendly. For example, I love the fact that it gives you the ability to send unlimited marketing emails- something that not all platforms offer. I didn't need to purchase any separate email marketing software, which saves me a lot of money in the long run.
I also found that Kajabi was the one platform that offered the most comprehensive solution for creating and managing emails, tagging my subscribers, and tracking opening rates and subscriptions.
What other tools do you use to run your online course business?
Zoom, Calendly, Google Sheets, and Documents.
What books or training programs have you found useful on your journey to a successful business owner that others might find valuable too?
Graham Cochran blog and YouTube channel for course creating and using Kajabi.
Benjamin Hardy for life planning, time management, and productivity guidance (great mentor).
Books:
"Traction" by Gabriel Weinbert and Justin Mares
"How to Get Paid for What You Know" by Graham Cochran
"Traffic Secrets: The Underground Playbook" and "30Days.com" by Russell Brunson
Do you have any big mistakes you've made along the way that you'd be willing to share?
When I set out to create my online course, I was determined to avoid making any major mistakes. I took my time developing the content, making sure that it was comprehensive and engaging. However, looking back, I realize that there is one mistake that I made: not having a launch strategy.
If you're planning to launch a new product or service, it's important to have a launch strategy in place. Without a launch strategy, you run the risk of your product or service being lost in the shuffle and failing to gain traction.  Luckily, I had an idea where my target audience was hanging out and I knew what type of messaging would resonate with them.
Please share some idea of revenue.
June 21, 2022, will make it a year since launching my online course and I've made $99,327 to be exact. - Tia Jones
Click To Tweet
Please tell us a little about what the money you've earned from your course has done for you.
Well, I haven't gone on any vacations yet due to COVID-19, but I plan to visit a few National Parks this summer. With the money that I've earned to date, I've been able to buy more products for my e-commerce store. I sell cannabis packaging to cultivators and dispensaries. I've also been able to increase my ad spend for my store which has helped me to generate more revenue.
In addition to revenue are there any numbers you would like to share?
I've been able to get 350+ YouTube subscribers and 21,680 video views since launching my online course. Before launching my course I didn't have any email subscribers, but now I have a couple of thousand subscribers. My private Facebook group Mastering Ecomm with Mastering P.o.P has 650+ members, and my Clubhouse club, Shopify 101 has over 4K members. I also have over 4K people following me on Clubhouse.
Hosting rooms at Clubhouse has helped me to achieve all of the above numbers.

What has creating your course done for you personally?
I'm really proud of myself for creating my online course. It was a lot of work, but it was worth it. I feel like I've accomplished a lot and my confidence level is higher than ever. I know that I can do anything I set my mind to.
This course has helped me to learn more about myself and what I'm capable of. It's also given me the opportunity to share my knowledge with others. I'm grateful for the chance to help individuals learn how to grow, scale, and generate money with their online stores.
I've been told that my coaching style has changed lives.
Do you have a story of a transformation from any of your clients?
IOD Stockist, Miltons Daughter was my first success story. She went from $1k+ per month in sales to over 23k+ in sales in under six months.
What advice do you have for people just starting out?
My number one piece of advice is to just go for it. It's going to be a lot of work, but it will also be so worth it in the end. - Tia Jones
Click To Tweet
Starting anything can be daunting, but the best way to see it through is to stick with it no matter what. You'll feel a roller coaster of emotions as you create your course, but it will be worth it in the end.
If you're not running any paid ads, growing your customer base may be tough, but remember that quality content always prevails. You will slowly but surely start to build a loyal following. Plus, organic growth is always better in the long run.
It's important to create a course on something you're passionate about so that your love for the topic shines through.  If you don't love it, it will be that much harder to keep going when things get tough. And trust me, it will get tough! So if you're feeling ready to take the plunge, DO IT. You won't regret it.
I wish I knew that I would be sacrificing my social life. At least in the beginning. When you're first starting out, you're going to have to be all in, every day, every hour, every minute – including weekends. Why? Because it takes a lot of hard work and dedication to get your course off the ground.
Now, this doesn't mean that you'll never again be able to go out with your friends or take a vacation. But in the beginning, you'll need to be prepared to make some sacrifices. So if you're not ready to give up your social life, creating a course may not be the right path for you.
Learn more about Tia Jones of masteringpop.com: