How Stefan Palios Transformed From Freelancer to Helping Other Freelancers Increase Their Sales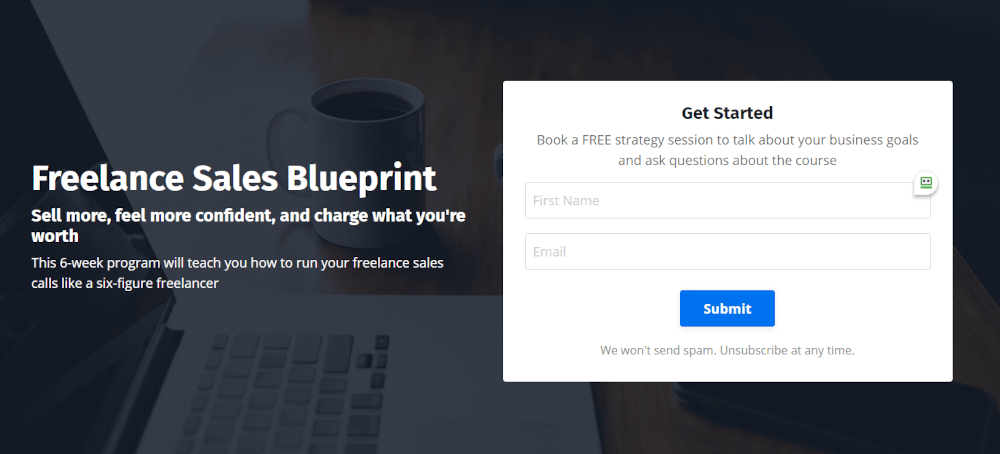 Our content is reader supported, which means when you buy from links you click on, we may earn a commission.
---
Who: Stefan Palios
Website: freelancesalesblueprint.com
Course Topic: Freelance Sales
Interesting Stats: Earned $3,000 in revenue the first month
Who are you and what course have you created?
I created the Freelance Sales Blueprint.
The course helps freelancers scale up their business – often doubling or tripling their revenues in the process – by teaching them sales skills like positioning, running sales calls, sending proposals, and sending out contracts/statements of work.
What market does your online course serve?
Freelancers — specifically, freelancers who sell services (think: writing, design, development) that have some money coming in, but they want to take it to the next level. In many cases, freelancing is about passion and lifestyle for these folks. They want to earn a great living, doing work they enjoy, so they can focus on living their life.
What's the biggest benefit of taking your course?
Freedom. The course teaches a proven process that helps you close bigger deals, at higher rates, to better clients – with confidence. With that process, freelancers can build the kind of business they want. For some, that's maximizing cash. For others, that's covering their living expenses (and then some) simply doing what they are passionate about. For others still, it's about covering expenses in a few days a week so their remaining time can be spent on passions, family, or simply time off.
How did you get into the market?
I've been a freelancer for years and realized that you need two skill sets to be successful as a freelancer: your craft and the ability to sell. I learned sales skills through other job experiences and continually ran into amazingly talented freelancers who were not able to close deals, or had to always give discounts, or had to handle crappy clients that pushed them around.
I empathized with them – because even though I knew the basics of sales, I had a tough time in my first couple of years as a freelancer. So after I really got good at sales (and 5-figure months became common), I started sharing tips with other freelancers… and they worked! I helped freelancers close more deals, feel more confident, and not get bullied by potential clients.
It felt amazing to help them out, and I wanted to scale my impact. That's where the idea for a course came in.
Why did you decide to create an online course in the first place?
Two reasons: Scalability and shareability.
With a course, I can help far more people than if I just did a 1:1 program (or even giving away free information via a blog). The course structure allowed me to put together the right, curated content in the right order so that people will actually get a transformation.
In my course, we run through the psychology of sales, how to run a sales call properly, how to send a proposal, and even what to write in your contracts. It's a complete end-to-end experience. In order to get that kind of transformation, normally someone would need to read hundreds of blogs (like I did) or pay nearly $10,000 in coaching and lawyer fees. The course method allows me to deliver all that value for way cheaper.
Courses also allow me to share more. For example, I walk through my actual process: the scripts I use for emails, on calls, and in proposals. - Stefan Palios
Click To Tweet
Then I walk through my contracts (the ones my lawyer reviewed for me, that I use with all my clients). Then I share how I built my inbound funnel so that I don't even have to send cold emails to find clients. This kind of information is nearly impossible to capture in a blog post – or even a book – because courses allow me to have downloads, slides, and talk through things. That way I can provide way more context and answer student questions to ensure the information is relevant for their business.
Did you have any moments of doubt before you created/launched it?
Hahahahahahahahahaha – oh my god, yes. So much.
I questioned constantly if I was good enough. Or if I had enough experience. Or a big enough "brand" to sell my course.
If so what made you turn it around and do it anyway?
Two things made me turn around and do it anyway. The first was a process change. Instead of thinking I was going to teach everything about freelance sales, I committed to only teaching what I knew. For example, all of my business is inbound. So I cut the "outbound sales" module in my course because I could not properly teach that module. In a future iteration, I might add it back if I gain the personal experience or I bring on another teacher for that module. But in the meantime, I can fight imposter syndrome with results – I only teach what I know works, and I have the business results (and cash) to back it up.
The second was lifestyle design. I knew that I wanted to build a successful company that helped entrepreneurs grow (and make no mistake: freelancers are entrepreneurs). So if I wanted to help hundreds – or even thousands – of freelancers, I needed a more scalable solution. And a course is, as I mentioned, way more scalable than a blog or coaching program or even a book (I wrote my first book – The 50 Laws of Freelancing – in 2020).

What's your online course like?
My course is broken down into five elements:
Lectures: Self-paced learning to explain the core concepts of the week.
Activities: Worksheets and scripts to ensure the lessons are customized for each freelancer's business.
Accountability quizzes: Not testing knowledge, but confirming people did the work.
Live Q&A sessions: Direct chat time (each week) with me to ask questions in real-time.
Community: Every student in my course has access to our Slack community to send DMs, learn from each other, and reach out to me with questions.
How long did it take you to create your course?
It took me about 8 weeks to create the course. 2 weeks was for high-level outlining. That included what the course would teach, the transformation someone would get from the course, who it's for, and the outline of the program itself. Then 6 weeks to design the actual course (one week per week of the course, since it's a 6-week course). Each week, I would go through the outlines and notes I'd written previously, expand them out into slides and activities, then develop and record the content.
The process looked something like this:
Take detailed outline notes, add context and design activities or key takeaways
Rough it out in slides, putting only headlines
Fill out the slides with relevant details
Create all activities, scripts, downloads, and guides for students based on the content that week
Record the lecture with slides
Upload and process the content into my course portal
Launch the content / go live for students
Tell us a little about the process of launching your course and getting your first sale(s).
I share a lot of my journey on Twitter.
I had DM chats with anyone who was interested in the information. I shared that the screenshot was the foundation of a program I built, and I'd be happy to chat with them if they were interested (a totally free call). A few folks said yes, I had calls with them to assess if they were a fit for the course and if they were interested. From those folks, a few said yes – and there we go.
I continue this process every day, talking with people about their challenges and seeing if the course might be a fit for them.
Do you have a lead magnet?
Yup, my lead magnet is a free strategy session call with me. On the call, we talk about your business challenges and goals – then see if the course might be a fit to help you reach your goals. I allow people to book a free strategy session right on the home page.
What's the traffic strategy that works best for you?
So far, organic through Twitter and LinkedIn. But I am also beginning to experiment with paid – stay tuned.
What online course platform are you using?
Kajabi. By and large, I like it.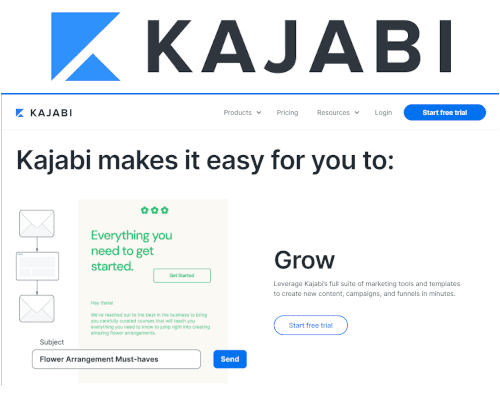 Kajabi is the All-In-One Course Platform
Kajabi is one of the top online course platforms used by successful course creators interviewed on coursemethod.com. Kajabi includes email marketing and other tools that make it easy to run your entire business from their platform.
Price Range: $149 to $399/month
Most Popular Plan: Growth Plan at $199/month
Annual Discount: Yes, take 20% off!
Free Trial: Get a 14-day free trial (credit card required)
*Our content is reader supported, which means when you buy from links you click on, we may earn a commission.
Are there any features you wish it had?
The key feature would be tighter integrations with CRM systems or a basic kanban / CRM system of its own. Kajabi has decent marketing features (landing pages, etc.) but it's bare-bones when it comes to contact management.
What made you decide to use your chosen platform over others?
It was recommended to me as a powerful content portal for course creators.
What other tools do you use to run your online course business?
I also use:
ActiveCampaign (CRM)
Calendly (sales meeting booking)
Slack (student community)
What books or training programs have you found useful on your journey to a successful business owner that others might find valuable too?
I've found value in content from:
Sam Ovens / Consulting.com
StackingTheBricks.com
DENT Consulting
Do you have any big mistakes you've made along the way that you'd be willing to share?
I spend way too much time debating whether I should do something or outsource it. Since I am running my own freelance services business while building up this course business, I now think to myself:
Is this a crucial task related to delivering the transformation for people who take the course?
If not crucial for the transformation, is it a necessary task for business admin or growth?
If yes (crucial in some way), am I good at the task at hand?
If I'm not good at the task, in the time it would take me to learn this task, could I earn enough (doing freelance services) to pay an expert to do it for me?
I do all crucial tasks – namely curriculum development and handling weekly Q&A calls – because that's what my students pay for and deserve.
Everything else is up for potential outsourcing. If I'm good at it, I might just do it myself to save money because I'm a bootstrapped freelancer. If I'm bad at it, then I take a solid look at whether I could earn enough to pay someone else to do it.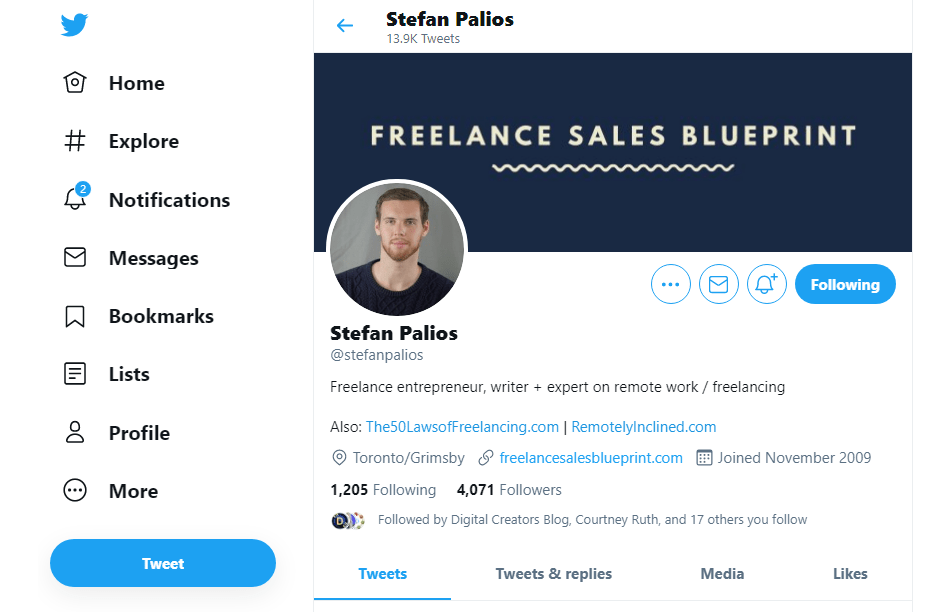 Please share some idea of revenue.
I launched the course in April 2021, and my launch brought in just over $3,000 in revenue. It's not enormous, but I am ultra-focused on getting transformations for my students. If I can help people, that will help me grow the business.
Please tell us a little about what the money you've earned from your course has done for you.
Right now, I'm using all money earned from the course to invest in the course's growth. Though I have full plans to use the money to buy and renovate a chateau in France — check in with me in a few years on this one though 😛
In addition to revenue are there any numbers you would like to share?
How about a story of impact? I helped one of my students close a deal that's earning her more per WEEK than she used to earn per MONTH as a freelancer (she's now earning $1,800 weekly – or about $7,200 per month – because of the deal she closed based on what she learned in the course).
What has creating your course done for you personally?
I cannot quite describe the deep sense of satisfaction I get from helping other freelancers build their businesses. These are real people, with real dreams, and I played a small part in helping them inch closer to achieving their…
Click To Tweet
I've been so, so privileged to have people take the time to educate and support me. Every time I get to do that for one of my students, I love it.
Do you have a story of a transformation from any of your clients?
On top of Shayna's story (above), another student has had some amazing successes since starting the course:
She closed 2 clients (each with a single call) based on the things she learned in the course. She had a prospect who wasn't taking her seriously. She took what she learned in the course, applied it, and that prospect instantly started respecting her more. After changing up how she communicates based on lessons from the course, she got feedback from one client that they could not believe how professional and organized she was.
What advice do you have for people just starting out?
There are so many emotional ups and downs, especially when you care about helping people. I've had strategy sessions with three people who I knew I could help. However, they were not fully committed to learning sales skills and opted to not take my course.
I hated that feeling – I just wanted to help them, and I knew I could. But I learned pretty quickly you can't help everyone and you can't help folks if they aren't ready for it. That said, the door is always open to those three folks, and I would love the chance to welcome them into the course when it makes sense for them.
Learn more about Stefan Palios of freelancesalesblueprint.com: