How Simon Mitchell Niched Down from Social Media Marketing to Learning Canva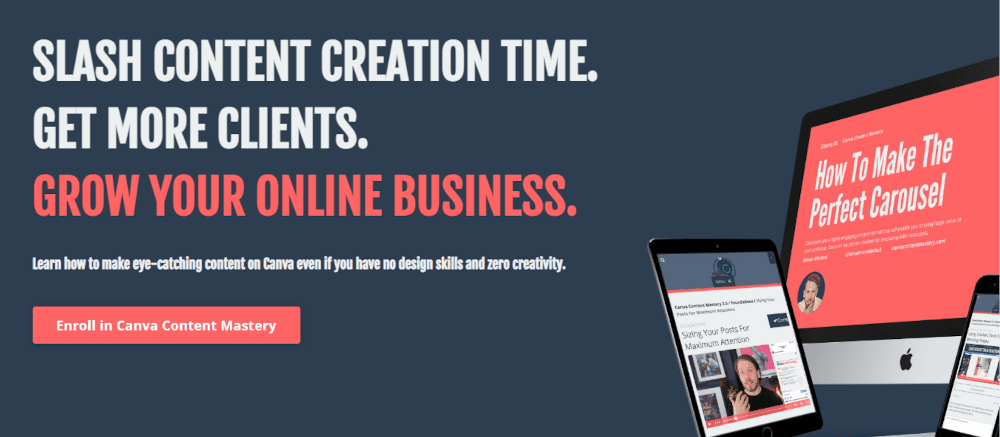 Our content is reader supported, which means when you buy from links you click on, we may earn a commission.
---
Who: Simon Mitchell
Website: canvacontentmastery.com
Course Topic: Using Canva
Interesting Stats: Over £25k in the first week
Who are you and what course have you created?
My name is, Simon Mitchell. Owner and founder of Maverick Goose Ltd, a social media marketing and content creation agency. We have created a course called, Canva Content Mastery, focused on helping small businesses and entrepreneurs master graphic design in a simple way. The course helps businesses that don't have a substantial marketing budget, create attention-grabbing content to boost their social media following and grow their revenue and profit.
What market does your online course serve?
The course focuses on small businesses and entrepreneurs looking to grow online. A wide demographic of content creators have used the course, ranging from online personal trainers to restaurant owners, virtual assistants, up-and-coming designers, bloggers, and more.
What's the biggest benefit of taking your course?
The course helps accelerate someone's ability to create great content for their social media channels. It simplifies the process of design so that non-designers can create professional-looking content. The course also extends beyond simple graphic design and helps users with branding, finding their niche, mastering Instagram, choosing hashtags, and more.
How did you get into the market?
Before starting Maverick Goose, I was a successful online trainer and nutritionist. I would receive lots of questions from other coaches asking how to make great graphics. This led to the idea of creating a Canva course for fitness professionals. This launched in Jan '21 and earned over £25k in the first week. This led me to think that more and more people would benefit from the course. This led to a second iteration of the course, which launched in June '21, earning even more than the first launch. That's when I decided to make content creation my full-time business.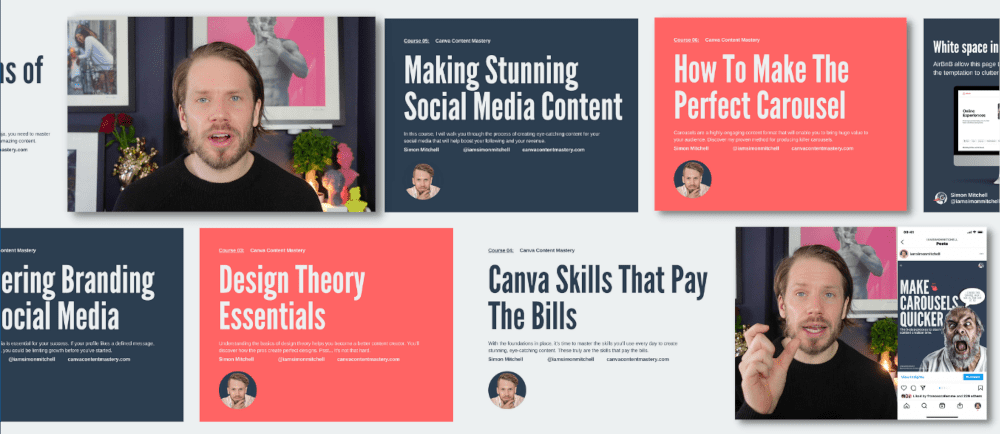 Why did you decide to create an online course in the first place?
It was the best medium for delivering the content. Design is visual, so lends itself to video tutorials. Online courses also allow me to structure the content in a manageable way, so users don't feel overwhelmed.
Did you have any moments of doubt before you created/launched it?
Yes. The initial version of the course was basic. I used a basic webcam and software to record the tutorials. And the hosting platform relied on 4-5 systems to interact with each other. This brought a lot of logistical headaches.
If so what made you turn it around and do it anyway?
I'm a fan of learning by doing. I had a feeling the course would do well, and to an extent, I had nothing to lose.
I focused on the fact the content was the most important thing and that I would be doing people a disservice by not helping them. -Simon Mitchell
Click To Tweet
Thankfully, the second version of the course was much smoother and high quality. I invested in a top-end camera, designed the backdrop, invested in an expensive microphone, and upgraded the course platform.
What's your online course like?
The course has 8 mini-courses, comprising 75 video tutorials and over 12 hours of content. The videos are either a split screen of presentation slides and the presenter (me), or a screen share of the Canva system for practical tutorials and design walkthroughs.
How long did it take you to create your course?
The whole process took about 4 weeks. 3 weeks were spent planning the course content, deciding on the structure, and creating the content. The filming and editing took 3 full days. The remainder of the time involved creating the sales page and creating the course in the back end of the system.
For me, planning was crucial. Knowing exactly what I wanted to say and cover in each lesson took time to plan, but it saved a huge amount of time. I would advise anyone creating courses to plan as far ahead as possible, and get everything mapped out in detail before getting in front of the camera. The worst thing to do is plan and film at the same time.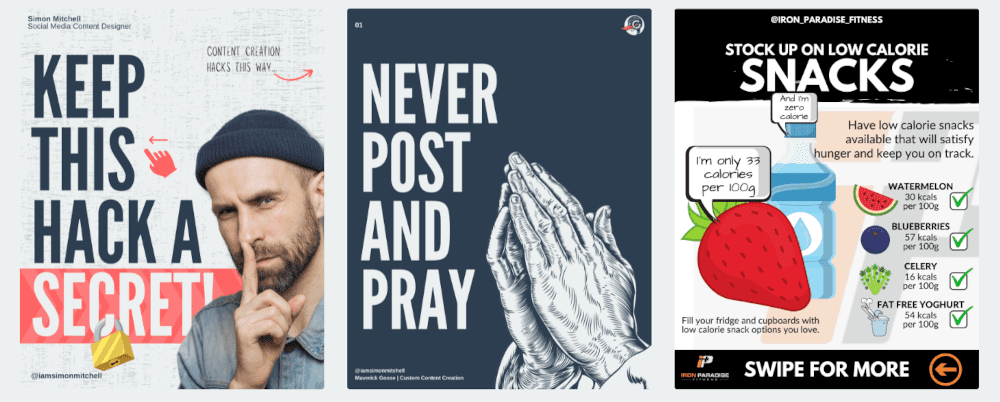 Tell us a little about the process of launching your course and getting your first sale(s).
Launching the course started way before the planning stage. It's important to know that there is a market for your course, so I started by generating interest on social media and grabbing emails from people who liked the idea of the course.
Once I knew that there was definitely a market, I started planning in earnest. I set a date for launch and set to work.
During each stage of the development of the course, I released teasers on social media and email. I would give a behind-the-scenes look at the planning, the content, and the filming process. Bringing people along the way helped whip up interest for the course and build anticipation.
Prior to launch, I partnered with people that had large social media followings and agreed to pay commissions of 30-40% for referred sales. This gave me a low-risk, low-cost boost in sales.
I'm a huge fan of Robert Cialdini's book, Influence, and leveraged scarcity during the launch. For example, I set the course at half price for the first 24 hours but only made it available to people on my email list. This meant that I was able to build up my email list quickly, which will benefit me for future product launches. The urgency of such a great offer forced people to take action and buy.
I then set an early-bird price (25% off) and limited this to the first 150 people. Again, the scarcity took effect.
Finally, I included an upsell of Canva templates. These retailed for £59, but were on sale at the checkout for £49. The discount was only available at the checkout, again forcing immediate action. Interestingly, more than 50% of the people who purchased the course took the upgrade offer as well.
Do you have a lead magnet?
I have an eBook that gives users a few Canva tips and tricks as a taster for the course. This leads to an email sequence of 5 emails, one of which has a limited offer. The second email has a code that users can use to get 25% off the course, but this is limited to 30 people per month. Again, genuine scarcity drives urgency to purchase.
Right now, I am working on two new lead magnets. One is a low-cost, high-value product with an upsell to the full course. The other is access to the first module of the course for free. I will run Facebook ads to promote these and test the results.
What's the traffic strategy that works best for you?
In addition to the above, I run Facebook ads for my free eBook. I currently get leads for $1. On average, I spend about £25-30 on FB ads for each sale. The full price of the course is £199 (with the potential for a £49 upsell), so the ROI is significant. On top of this, I provide high-value content on social media and drive traffic to my lead magnets.
What online course platform are you using?
Kajabi and I love it. It has made the process of launching and maintaining courses so much easier. I have had zero technical issues with the software since using it for version 2 of the course.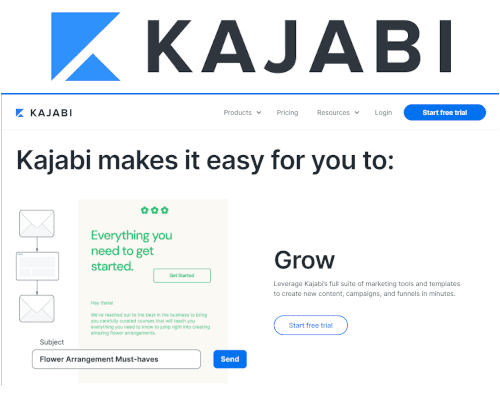 Kajabi is the All-In-One Course Platform
Kajabi is one of the top online course platforms used by successful course creators interviewed on coursemethod.com. Kajabi includes email marketing and other tools that make it easy to run your entire business from their platform.
Price Range: $149 to $399/month
Most Popular Plan: Growth Plan at $199/month
Annual Discount: Yes, take 20% off!
Free Trial: Get a 14-day free trial (credit card required)
*Our content is reader supported, which means when you buy from links you click on, we may earn a commission.
Are there any features you wish it had?
Automated affiliate payouts. This process has to be done manually at the moment, which is time-consuming. It's automated in other systems I have used, so hopefully, they add this feature soon.
What made you decide to use your chosen platform over others?
I was using WordPress with a Thrive Apprentice plugin, linked to ActiveMember360 and ThriveCart. This proved a nightmare. At launch, the volume of sales caused the integrations to fail and I had to create accounts manually for every user (no fun!). Since moving to Kajabi, everything is under one roof and so much easier. Customers love it and I love it too.
What other tools do you use to run your online course business?
In addition to Kajabi, I use Screenflow for video recording and editing. I also use Canva for all of my design work.

What books or training programs have you found useful on your journey to a successful business owner that others might find valuable too?
For general business, these books are great:
Influence by Robert Cialdini.
Profit First by Mike Michalowicz.
Essentialism by Greg Mckeown.
E Myth Revisited by Michael E. Gerber.
Why do you hate money by Joey Percia.
Personal MBA by Josh Kaufman
I'm sure there are others, but they are the ones that instantly spring to mind.
Please share some idea of revenue.
The first course achieved c.£25k in the first week of launch. The second course did the same. Overall, since January, the course is fast approaching £75k in revenue. With two more promotions before the end of 2021, the target is for the course to achieve over £150k revenue for the calendar year.
Please tell us a little about what the money you've earned from your course has done for you.
The course has given my wife and me more financial freedom. I'm writing this while in sunny California. We live in the rainy, gloomy UK, so spending 3 months surrounded by sun, sea, sand, and sushi is an amazing feeling.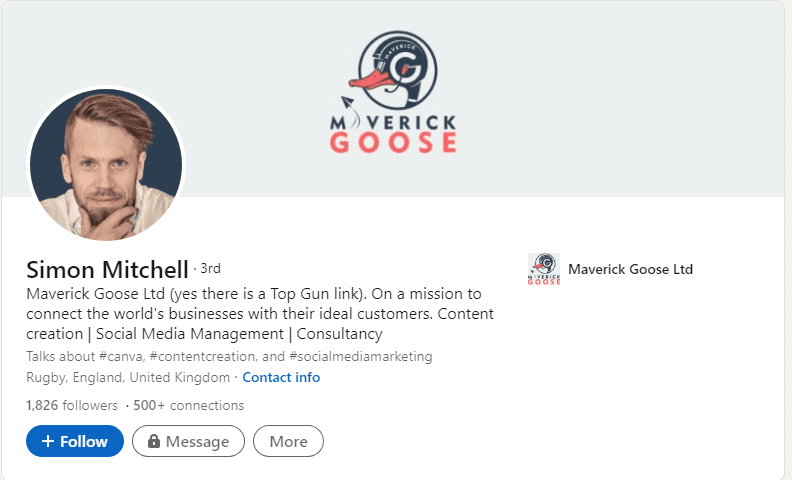 In addition to revenue are there any numbers you would like to share?
If readers want to build their social media following, think about collaborations and referrals. Accessing the networks of other large audiences is the fastest way to grow.
For example, my referral partners have £140k+ Instagram followers each. When I do a guest post on their accounts, I can gain 500-600 followers in a day. That would take months to do on my own. So, my biggest piece of advice would be to build your network and offer value in exchange for access to their communities. That value could be in the form of a financial incentive, but also a valuable piece of content.
What has creating your course done for you personally?
I feel less pressured financially. This means I feel more free and creative in my business. It's allowed me to take on a few team members and start to focus on the things that make me happy. I believe that I have a product that is of true value to a lot of people, so my focus is now on getting the message out there as fast as possible.
Do you have a story of a transformation from any of your clients?
It's an amazing feeling to get feedback from users who say that the course has helped them produce better content, save time, and increase their client base. There are so many great businesses that fail because they can't get traction on social media. I'm glad to help them succeed in some small way.
What advice do you have for people just starting out?
Two things.
Make sure there's a market for your idea before you start making anything. Then, make sure you promote the course long before launch. -Simon Mitchell
Click To Tweet
Too many people only think about the marketing in the first week after launch day. The secret to a good launch is the work you do before it goes live.
Learn more about Simon Mitchell of canvacontentmastery.com: