How Shade Y. Adu Overcame Her Doubts to Grow to $12,000/Month in Course Sales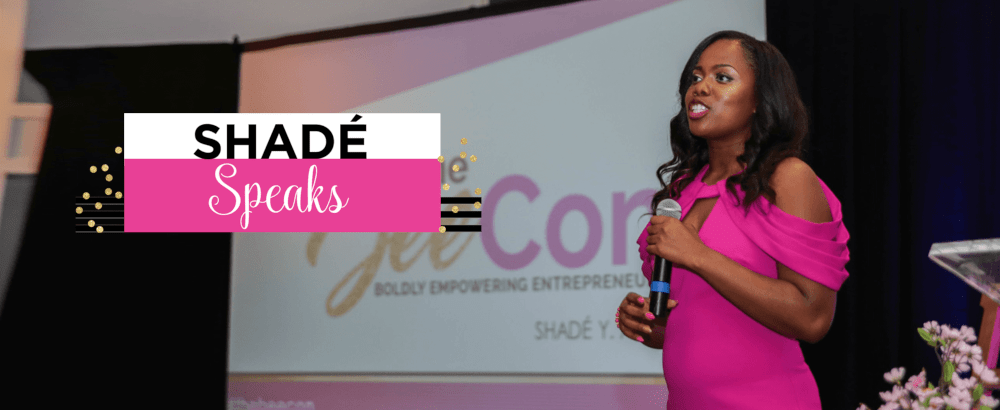 Our content is reader supported, which means when you buy from links you click on, we may earn a commission.
---
Who: Shade Adu
Website: shadeyadu.com
Course Topic: Branding and Online Courses
Interesting Stats: 2200 students registered
Who are you and what courses have you created?
My name is Shade Y. Adu and I am the founder of two signature courses: Brand Your Greatness Academy and Course Champions.
Brand Your Greatness Academy is a 90-day Group Coaching program and course designed to help women entrepreneurs, coaches, speakers, and authors, launch their online business. We take them from idea to launching their expert brand in the online marketplace.
My second course, Course Champions (Course Champs) is a 6-week course designed to help experts and entrepreneurs build, brand, launch, and sell online courses.
In addition to my signature courses, I also have taught a number of online workshops, masterclasses, and mini-courses.
What market do your online courses serve?
Business, Branding, Digital Marketing, and eLearning.
What's the biggest benefit of taking your courses?
My students learn how to launch their online brand and create digital products that sell.
How did you get into the market?
I started out as an international educator in the Republic of Kazakhstan and started my online business a month before I quit my job. I wanted to create a business that allowed me to travel the world. Coaching and courses allow me to do that.
In addition to being an educator, am I also working on a Ph.D. in Curriculum and Instruction. My dissertation is centered around women's entrepreneurship. My business aspirations are in alignment with my academic training and work experience.
Why did you decide to create an online course in the first place?
I discovered that people were making money online selling information and I went to graduate school for education and I was trained as a teacher. It was an easy transition to the course space.
But I didn't believe in myself in the beginning. I was afraid to charge and to launch my first course. It took me 7 months and I only made $197. I always tell my students, don't be like me and wait that long. I didn't give in and I continued to launch my courses and products and it has definitely been beneficial.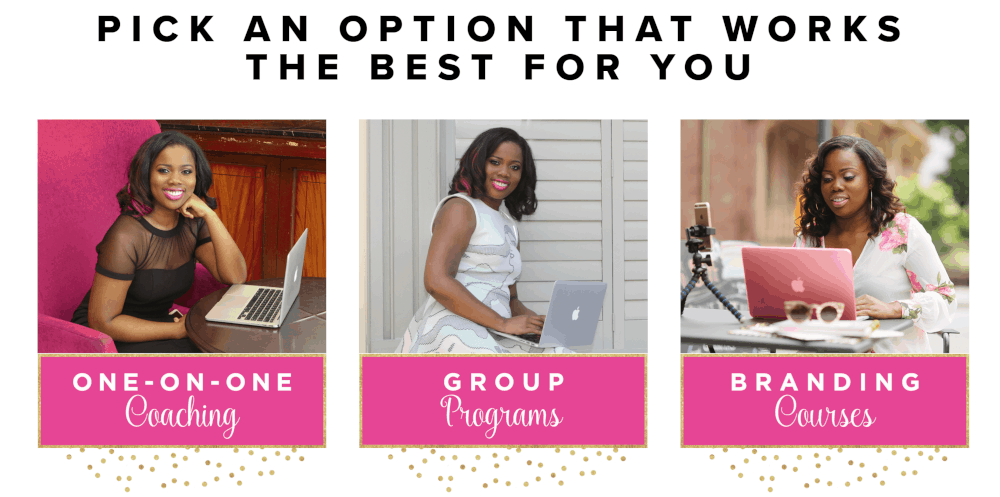 Did you have any moments of doubt before you created your first course?
I didn't believe in myself in the beginning. I was afraid to charge and to launch my first course. It took 7 months.
Even now, I still get nervous when launching my signature courses. Will people buy it? Am I truly providing value? What happens if no one buys? After 5+ years of doing this, I always have buyers and it's time to accept that part. I'm working on it.
If so what made you turn it around and do it anyway?
I realized that no one would be helped by the folders on my computer. So I had to launch and put myself out there. Plus I also needed to make money. When I left my job, my business was my income and I just had to make it work. I've also invested in coaches who have supported me throughout this journey.
What are your online courses like?
I leverage pre-recorded video, live group coaching, PowerPoint/Keynote, infographics, live streaming, and Zoom. In the future, I plan to add a couple of quizzes, but for right now, I use personality assessments.
I am a very hands-on coach and I want to support my clients throughout the entire journey. I want to make sure that they receive tremendous value.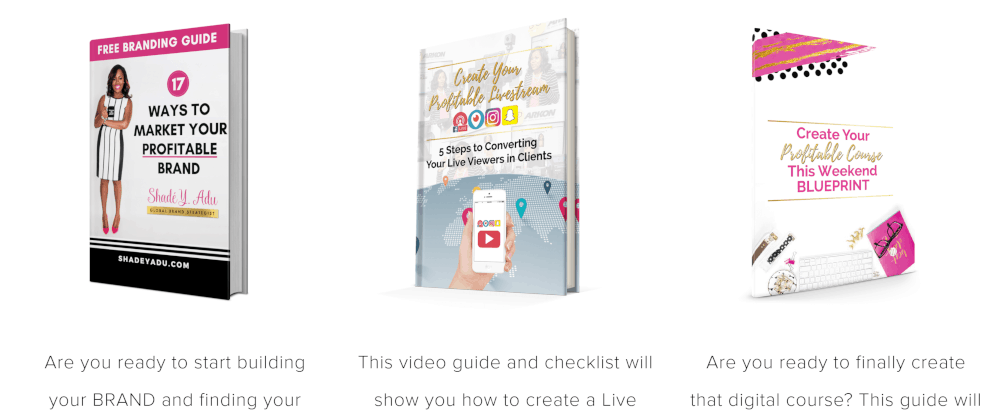 How long did it take you to create your first course?
Too long. I start with an idea and an outline.
It took me 7 months to launch because of fear and doubt. - Shade Y. Adu
Click To Tweet
I launched Course Champions 4 years ago but never truly launched it again because I thought that I didn't produce results for my students which wasn't true. I didn't ask them about the results and once I asked them, I realized the value that I was providing.
Tell us a little about the process of launching your course and getting your first sale(s).
Twitter's live-streaming app Periscope was a business game-changer for me. I began an avid Livestream and sold tons of courses, coaching, and masterclasses with Periscope.
Now I use Facebook Live as my main live streaming platform. I also promote my courses in my Facebook group and with paid advertising.
Do you have a lead magnet?
I have a lead magnet but it doesn't sell directly into the course. Currently, I'm in the process of reorganizing my systems. I normally do an open door and a closed-door launch. I do have lead magnets about branding, course creation, and live streaming.

What's the traffic strategy that works best for you?
Livestreaming took my business to six figures. It has been one of the biggest blessings for me. - Shade Y. Adu
Click To Tweet
I truly value the contribution that video has contributed to my life. It has allowed me to reach people from around the world. I am super excited about the process. Now, I focus on live streaming on Facebook Live. Prior to that, I built an organic audience of about 11,000 followers on Periscope. During that time I was live streaming every day. I have done about 2,000+ live streams.
Now with Facebook Live, you can turn your live streams into ads and reach a larger audience.
What online course platform are you using?
I use Thinkific as my online course platform and I like it.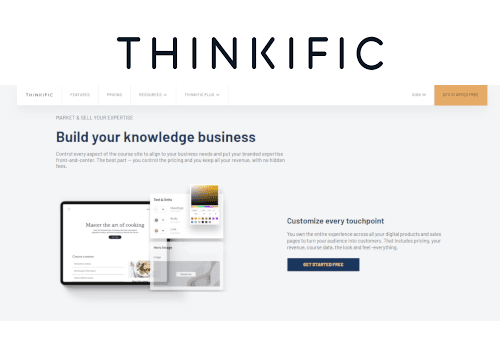 Take a Look at Thinkific!
Thinkific is the most popular online course platform used by successful course creators interviewed on coursemethod.com. It's a complete solution for creating sales pages, uploading all course content, taking payments, and more.
Price Range: Free to $499/month 
Most Popular Plan: Pro Plan at $99/month
Annual Discount: Yes, take 20% off!
Free Trial: Try out Thinkific's core features for free.
*Our content is reader supported, which means when you buy from links you click on, we may earn a commission.
Are there any features you wish it had?
I wish the landing pages were drag and drop. I would love to be able to just have my students use one platform for their courses and landing pages.
What made you decide to use your chosen platform over others?
I didn't know how to use WordPress and I also attract an older audience so I need to make things easy for them. I also like the team over at Thinkific.
What other tools do you use to run your online course business?
I use Zoom for live training and Q&A sessions and I use Loom for browser screen sharing and quick how-to videos. Those are my main tools. I also love ThriveCart for payments and ClickFunnels for landing pages.
What books or training programs have you found useful on your journey to a successful business owner that others might find valuable too?
4-Hour Work Week, Profit First, Believe Bigger, and Miracle Morning. These were game changers for me. Personal and business development are very important to me.
Do you have any big mistakes you've made along the way that you'd be willing to share?
Of course. Undercharging is a major one and not launching sooner. Many of my own clients are guilty of undercharging. It definitely is a challenge. During each launch, I make a commitment to revamp my pricing and test different options.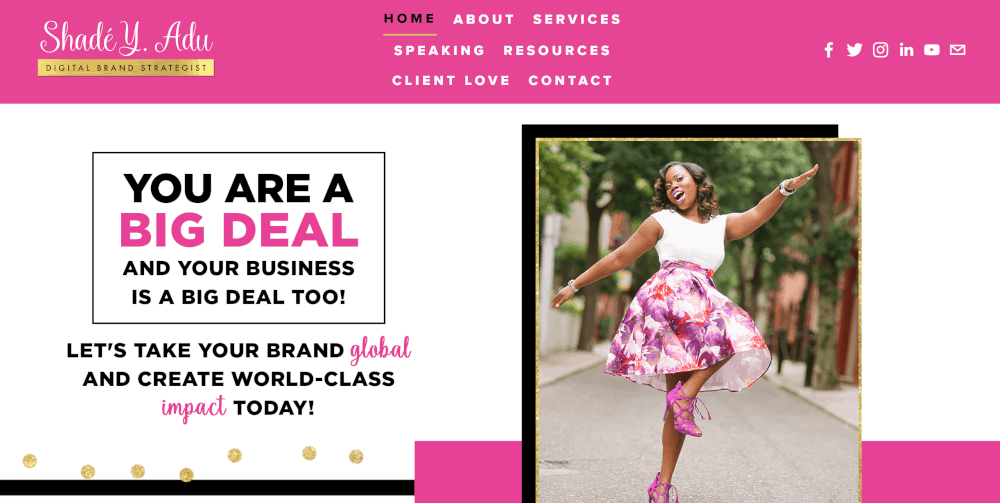 Please share some idea of revenue.
During the pandemic, we have made over $12,000 in course sales this month. Online courses are a pandemic proof business. I am seeing a surge of interest in online learning. People want to learn how to create courses and others are looking to take their businesses online.
Please tell us a little about what the money you've earned from your course has done for you.
In addition to running my business, I am also a full-time doctoral candidate. It means a lot to me that I can still work on my dissertation and run a business. I enjoy the flexible schedule. It also allowed me to spend more time with my family. Prior to starting my business, I lived 5,000 miles away from my family. Now I get to run a business and spend time with them too.
In addition to revenue are there any numbers you would like to share?
We had over 2200 students register for a number of online courses and training. It has allowed me to teach people from around the world. I have students in Swaziland which I think is pretty cool.
What has creating your course done for you personally?
I feel a sense of personal fulfillment. I know that the work that I do in the world is bigger than me. It transforms lives. I always just want to do more and try to overdeliver. I want them to have more.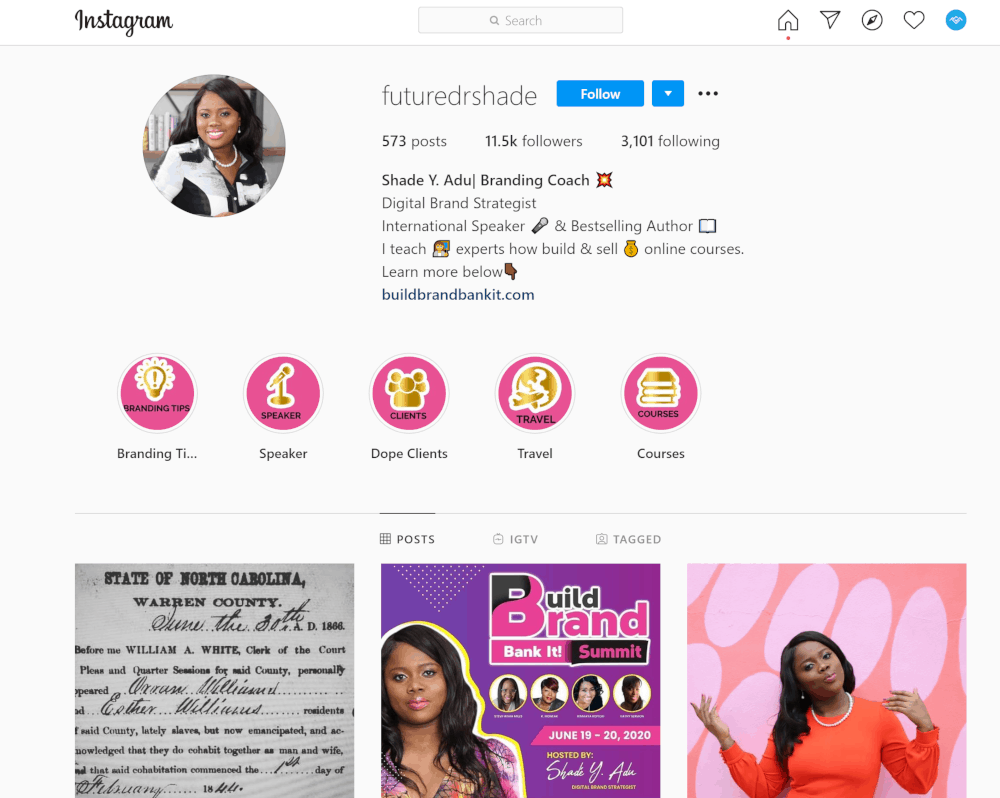 Do you have a story of a transformation from any of your clients?
I have one client who had a $50,000 course launch. When we started, she had no website, no product, and no idea how to package her genius. I've also had clients launch corporate contracts, teach internationally, and make enough money to purchase Christmas presents for their children. I enjoy the big wins and the small wins too. I recently had a client who had over a $13,000 weekend from selling her digital product.
What advice do you have for people just starting out?
Do the research and just go for it. Create a product that people actually want to buy. Keep your customer/ student in mind and the rest will follow. Don't worry about what other people are doing. Focus on what you are called to do. Go after your own dreams and the rest will follow. You've got this.
Learn more about Shade Adu of ShadeAdu.com: