How Dr. Scott Beaver Transitioned From Full-Time College Chemistry Professor to Successful Entrepreneur [Still Teaching Chemistry!]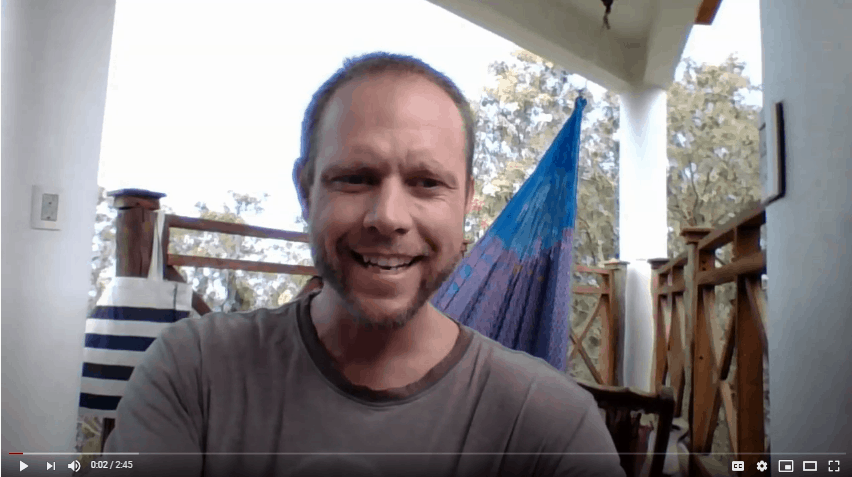 Our content is reader supported, which means when you buy from links you click on, we may earn a commission.
---
Who: Scott Beaver, Ph.D. a.k.a. "Dr. Scott"
Website: learnwithdrscott.com
Course Topic: Chemistry education
Interesting Stats: $100k annual
Who are you and what course have you created?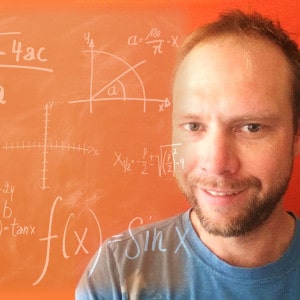 My name is Dr. Scott. I am a college chemistry professor and tutor, turned online entrepreneur.
I have an online chemistry education website, and I now work full time from home. With a beach view. No more going to school, no more cleaning up labs, no more bureaucracy. It started a few years ago as a way to make money while traveling, and now with COVID, there is an extreme level of interest in high quality, low stress, affordable home education.
What market does your online course serve?
Our market is families interested in college prep. This includes 3 main submarkets: 1) homeschoolers wanting to go to college, 2) high schoolers with an inadequate chemistry teacher that wants to study science, and 3) first-year university students without the necessary science skills.
As a college professor, I saw way too many students fail out because they were missing a few basic skills. Really basic stuff, like writing a simple report. Or using that one thing from math class that's actually relevant in the real world, outside of an actual math class. Or not knowing how to look up a science question on the internet and get a reliable answer.
Our educational products are designed such that learners have fun mastering all the fundamentals, without having critical knowledge gaps.  We help busy parents because we show learners how to become self-starters, freeing up time in the parents' schedules, and promoting more quality time with the family.
In short, we prepare young people to become successful.

What's the biggest benefit of taking your course?
You will learn how to have fun learning. You really need to learn to be successful in a modern economy. There's the hard way that leads to grief and stress, vs our fun way that sets the stage for future success.
Our learners actually understand science, while their parents breathe sighs of relief.
How did you get into the market?
It's kind of a funny story. I was traveling to get away from science and chemistry. And I decided to stay at the beach and not return to teach at my college. Students and former tutoring clients kept contacting me for lessons. So I ended up helping people learn chemistry, from the beach using a telephone. I repeat, a telephone. It was fun, rewarding, and kept the dream of Permanent Vacation alive for another 6 months or so. And then I began to realize… that this could be my new life.
I connected with some groups offering online classes, and spent a year or so mastering the craft of teaching online. It's a bit different than teaching in person.  It got to the point that I was spending a lot of time emailing all of these students their lessons, materials, homework, solutions, and answers to their many, many questions. This handling of all the files was the limiting factor in teaching online.
So I decided to digitize all my materials for chemistry to put them online. Fun, new approaches to learning science that would actually prepare students for that first year of college. I knew exactly what they needed as a former college professor, and I knew the format had to be intuitive and fun.
I watched a YouTube video course on building an education website. Then I built my education website. It was only intended to get all these students all these files in an organized manner. I realized, though, that I now had a complete, online curriculum.
This project took a couple of years to complete. Meanwhile, I was using the partially-built website to get all my students all those files. By the time the project was complete, and I had a completely online course,  there was a line of families interested in chemistry lessons.  And it's been the case for a couple of years now.
The big idea here is that I didn't build something with the intention of marketing it. Rather, I built technology specifically to enhance teacher-learner-family interaction by making it more efficient. -Dr. Scott Beaver
Click To Tweet
More personal education online, not less personal. This is what families are looking for.

Why did you decide to create an online course in the first place?
My very first online course, however, was a bit of a fluke. I'm a chemistry teacher, and I love teaching chemistry. As much as I like math, we don't have time in a chemistry class for all those math questions. You're supposed to know the math before coming to class! Except, nobody ever does.
Back in my college teaching days, I got completely fed up with all the math questions in chemistry class. I recorded about 4 hours of myself solving every possible math problem that would ever come up in a science class. Now, I have to admit it was just a big excuse to stop all these math questions. I put the videos on YouTube for my students and showed them the link. So now, whenever a math question came up, I could just defer and tell them to click the link. Teacher problem solved.
In the next exam, suspiciously, there was not a single math error among the hundred freshmen in the class. Those cheaters, I thought, how dare they! But I had no evidence. Then it happened again. And again. It really took some months to convince me that my students actually now knew math.
After some years I figured out that this approach could be applied to education in general, and not just annoying math problems.
Did you have any moments of doubt before you created/launched it? If so what made you turn it around and do it anyway?
Moments of doubt, sure. Like every 2 or 3 months. Big time!
Things change so fast with an online business. You have to be willing to totally destroy all of your best-laid plans that worked last year. And come up with something better, tomorrow. The thing is, you have to let go of that old plan before the new plan can form. The mind just works that way. We only have so much headspace. And that gap in between plans, while hopefully only hours, is by definition a period of uncertainty, limbo, and doubt. It's the most important part of the creative process. We all hit this wall.
Those of us who learn to embrace that doubt and learn from it experienced true creative freedom. These authentic moments, while rare, is exactly what helps us connect best with our audience.
What's your online course like?
Learners come to class each week. It could be a live Zoom meeting, a pre-recorded video, or a blended approach of live/pre-recorded lessons. It's very flexible. The pre-recorded classes are the same as the video textbook for the course. So either way, they have a series of hour-long classes broken into 7-minute videos lasting 10-20 weeks. Dr. Scott lectures in 7-minute chunks using a picture-in-picture inset (talking head) on top of PowerPoint slides. The PowerPoint slides were made by an artist, and we use fun pictures and everyday analogies to explain science.
Then there is a written assignment. A set of highly organized pdfs. They print and do things by hand. Or using other computer programs to plot lab data, for example. They are learning hands-on, not just clicking through a bunch of multiple-choice problems. It seems multiple choice has become popular again since it's so easy to code into web apps. Unfortunately multiple-choice serves no purpose outside of medical school exams, in my opinion.
Then the learners and parents check their own work. This is where the magic happens. There are complete video solutions addressing every possible question any student could ever come up with, based on my decades of experience. There are no excuses, only reasons to finish the assignment. The learners learn how to find the information they need, not generate excuses.
The parents email the HW. Then I personally grade the homework. My system is so efficient it takes seconds, not hours. Then I provide personal written comments to the parents. It's all about freeing up the teacher's time to allow these personal communications to happen.
Then we discuss in the next class or by email Mondays-Thursdays, and there are Parent Strategy Sessions on Zoom on Fridays.
Basically, the system is so organized and efficient that about 99% of the students just do all their work, because it's literally easier to follow the system than to make up excuses.
Then the parents are happy, and we repeat the cycle in a series of courses over the years.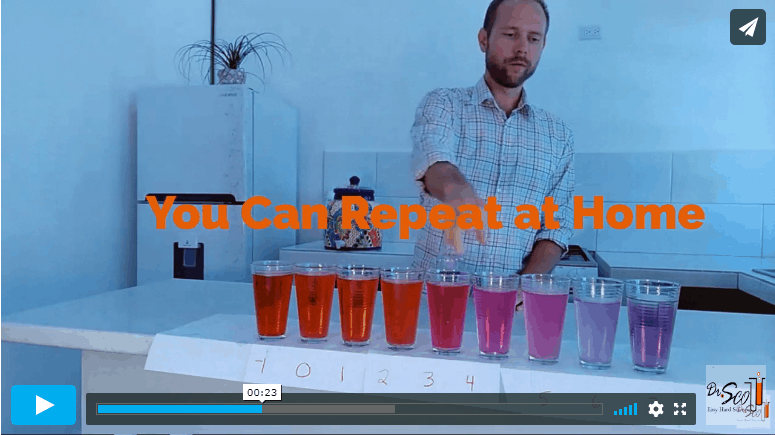 How long did it take you to create your course?
It's an ongoing process. It took two months to record the first version of my top-selling chemistry course. Built upon decades of experience to know what worked… Then I made versions 2 and 3 over the next couple of years, as sales grew. Maybe next year is version 4.
You need to not be a perfectionist. You need to know how good is good enough. Eliminate the bells and whistles in the first version. You can add them later.
Build a solid core. Focus on the fundamentals and have no gaps in the foundation. - Dr. Scott Beaver
Click To Tweet
Tell us a little about the process of launching your course and getting your first sale(s).
The first day the web site was up, with no content yet, I created a pre-sale for courses. The courses didn't exist yet, and I wanted some operating capital to make them.
One person gave me hundreds of dollars for all these beautiful courses that didn't yet exist. It was a complete fluke. Nobody else took me up on the offer. The project took much longer than expected. I felt bad. I wish I hadn't done that. Oops.
Basically, this situation created a low level of stress that persisted for about 2 years. Now I realize that it prolonged the project. Now I focus on developing courses incrementally in a way that matches customer interest.
No more taking money upfront for an idea. I think probably the vast majority of online businesses fall into this trap. It doesn't work in the real world, and it doesn't work online either.
Do you have a lead magnet?
Here are my free courses:
What's the traffic strategy that works best for you?
Honestly, I've tried a lot of things. They all worked a little. At first. They all gained traction. Over the years. Find as many ways as you can to find traffic (SEO, ads, social media, blogs, email lists, etc.). Focus on one at a time and systematically do them all, as time permits.
Moreover, build your system in a way that promotes traffic as is builds. Don't spend a year building the web site, then another year attracting traffic. That's 2 years of full-time work before you have paying customers. Bad idea!

What online course platform are you using?
LifterLMS for WordPress. Custom build.
Do you like it?
LOVE IT!!! Education finally works.
They charge $100 per year, and it's completely free to use until you are ready to link up a payment system. It's a great deal. I wish I could send them more money, but I just don't need any of their fancy upgrades.
Are there any features you wish it had?
Sure. But my preference is simple. Less is more. The kind of customers looking for a bunch of fancy bells and whistles usually aren't really that much into education anyhow. And we are all about education that works.
What made you decide to use your chosen platform over others?
I chose LifterLMS as my online course platform because I wanted to do self-hosting. It's almost completely customizable. And it's my domain, so I get to make the rules.
One thing I know about online education is that a lot of platforms want to treat teachers nice at first, and then change the rules in a not-so-nice way once they get reputation and traffic. I  personally don't understand how anybody could professionally sell courses online without self-hosting.
What other tools do you use to run your online course business?
Zoom, Vimeo, Gmail, PowerPoint/word/excel, screencast-o-matic, PayPal, Stripe, desmos online calculator (it's big in the math education world!)
What books or training programs have you found useful on your journey to a successful business owner that others might find valuable too?
Once I was a National Science Foundation (NSF) fellow for some months. We had a teacher training module, and it really changed my eyes to effective teaching. Do less, better. It was a big moment. Only a handful of people get this opportunity, though, and you kinda need an engineering Ph.D.
Otherwise, none. Just keep looking for the best next move. You'll get there. There is no formula.
If you want to learn to set up LifterLMS on a WordPress build, get started watching WP Crafter videos on YouTube.

Do you have any big mistakes you've made along the way that you'd be willing to share?
The biggest mistake was trying to make too many courses at once. It looks really great to have a catalog of 25+ courses. Honestly, though, a few of the courses really haven't even been used. It would have been more profitable, and a heck of a lot less stressful, if I had focused on getting customers the courses that they actually wanted, instead of boasting about the number of courses that I had created.
Please share some idea of revenue.
$100k annual and growing fast, on about $10k invested initially 2 years ago.
In addition to revenue are there any numbers you would like to share?
Thousands of happy families.

What has creating your course done for you personally?
Financial and geographical freedom. I was literally trapped in laboratories, research centers, and classrooms for decades. In expensive cities. Now I am free.
Do you have a story of a transformation from any of your clients?
How many youngsters interested in science get to hang out with a Ph.D. chemical engineer and like-minded peers? When I was their age in rural Pennsylvania, I literally had zero options to explore science. Especially not with other youngsters. Today, the internet brings together fun groups that share a common interest almost every day of the week. It's a social experience and provides growth opportunities for kids that otherwise just wouldn't have these connections. There are lots of personal transformation stories and lessons learned, sure, but the group energy and dynamic is just special. It just doesn't feel like work that often to be in class.
What advice do you have for people just starting out?
Just get started. The first year is going to be overwhelming. No one thing will be too difficult, but there are a lot of things that need to happen. You get good at this with experience.
I would assume most people quit in the first year or don't even get started.
If you get started now and commit to sticking with it, in just 1 year you will be ahead of all those people that quit, never tried, or are waiting for the future to be better. - Dr. Scott Beaver
Click To Tweet
We all know education is transitioning to an online format. Get started now, and still be ahead of the curve.
Learn more about Dr. Scott of learnwithdrscott.com: