How Robyn Stoney Partnered with Other Course Creators to Start Her Membership
Our content is reader supported, which means when you buy from links you click on, we may earn a commission.
---
Who: Robyn Stoney
Website: robynthebrilliant.com
Course Topic: Marketing
Interesting Stats: 12 new members on day 1
Who are you and what course have you created?
Hi, I'm Robyn! I'm a Marketing Coach, Consultant, and Course Creator. I've created a membership course called The Brilliant Collective.
What market does your online course serve?
I serve busy Solopreneurs who find themselves in the tough position of not having much time to figure out a marketing strategy alone. I teach how to DIY your own branding, paid ads, and organic marketing strategy even if you don't have a large team or budget.
What's the biggest benefit of taking your course?
I'd say the biggest benefit is the community that comes along with my course. Everyone gets to interact, ask questions, and share the wins and challenges that come along with entrepreneurship. So many of us have courses collecting virtual dust, that we just never finish so having a group to interact with is incredibly helpful. It really is a supportive community of like-minded entrepreneurs. Because I know that one of the most challenging aspects of starting an online business is finding a support system, we've integrated a Facebook community and we also meet live over Zoom every Sunday to chat about business and drink champagne. We call it "Champagne Sunday."
How did you get into the market?
My marketing story began in 2008. I'd just had a beautiful baby girl and was looking for steady work that I could do from home. I landed a gig assisting a veteran Digital Media Planner, at an ad agency. She graciously taught me the basics of million-dollar ad campaigns, giving me a solid foundation of hands-on experience to build upon. I found that I loved helping implement ad campaigns and the technical side of things wasn't all that hard either! I began to learn more and more skills over time and eventually decided to market for myself. Marketing for myself was many years of trial and error. I purchased courses that helped me learn some, but my biggest breakthrough happened when I enrolled in a group coaching program. So, when I thought about how I could best help others like myself- a group coaching format made sense.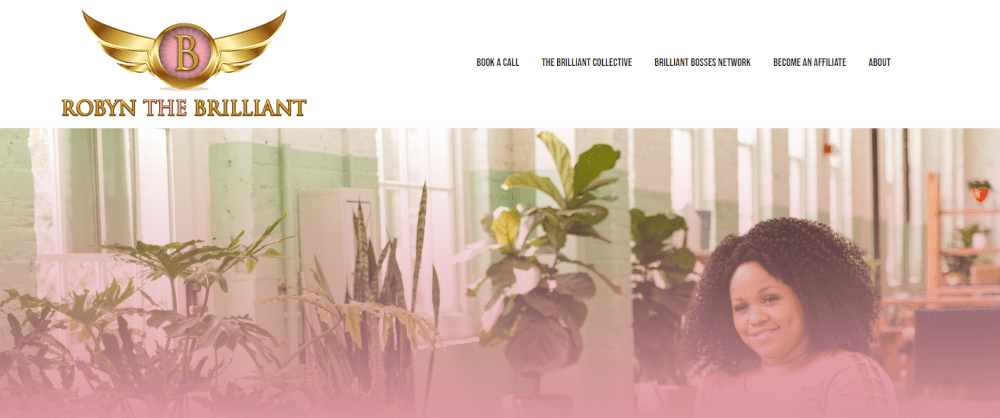 Why did you decide to create an online course in the first place?
I was asked to teach a module on marketing for Shonda Martin's Creditversity course. While I was creating the content for the module, I was considering what new business owners really needed to be successful with social media marketing. I knew that there was so much more to marketing than I could fit into a module. All of these new business owners were going to have questions and need support as the marketing landscape changes often. As I considered how I could meet that need, The Brilliant Collective was born.
Did you have any moments of doubt before you created/launched it?
I came up with the idea of The Brilliant Collective, in a very organic way. I hadn't validated the idea, I just decided that it made sense. In addition, I hadn't marketed it, I hadn't made any content for it- I just came up with the name and launched it with no content. I wasn't sure who'd join, I just knew that I could support new entrepreneurs in a meaningful way, without them having to shell out thousands on my 1 on 1 service. Because the idea was so last minute, I had to tailor my content to what my members voiced that they needed at the time. They'd be helping me build the community that they needed. It was unknown territory for me, but I knew it would be an amazing resource over time- so I dug in.
What's your online course like?
My course is a hybrid of instructional videos given in a webinar format, tutorial videos given in an over-the-shoulder view of my screen, and also a community where we meet live via Zoom every Sunday. There are no quizzes, the goal of The Brilliant Collective is to implement. I want everyone to take imperfect action and implement what they learn.
How long did it take you to create your course?
The Brilliant Collective will turn 1 year old this month! So it has technically taken a year to accumulate all of the content inside of the course. My founding members have contributed to the content that I've made by asking good questions and asking for content on more topics. I've been able to refine my course over time in order to make it useful for everyone. I started with the foundation of what I knew they'd need, like how to use Facebook and Instagram for business and how to start an email list- but then I found that many of them didn't have a website, so I taught on how to build a WordPress site. I'm always adding to the course, as things come up in our weekly meetings I develop training to speak to those needs.
Tell us a little about the process of launching your course and getting your first sale(s).
I first introduced The Brilliant Collective privately at the end of the marketing module that I taught for The Creditversity Course. It was just an idea at the time, so I wasn't sure what to expect- but at the conclusion of the module, 12 people signed up. I was shocked! I opened up a group so I could get to know my new members and figure out what they needed and then I went to work creating.

Do you have a lead magnet?
Yes! I created a guide to brand-building called, Become Your Brand. You can find it at byb.robynthebrilliant.com
What's the traffic strategy that works best for you?
The Brilliant Collective is my first course, so I haven't focused on driving traffic just yet. I wanted to ensure that the model worked for me and my members before I went about driving traffic. Because my community is "high touch" I never wanted to grow too big too fast. So right now, I'd say organic traffic strategies are best and it's working great for me.
What online course platform are you using?
I'm using MemberVault.
Do you like it?
I absolutely love MemberVault, I'm a founding lifetime member of the platform so I won't be changing- ever!
Are there any features you wish it had?
Yes, I love that they have affiliate tracking features inside of the platform- but I'd like to see that function available for products with recurring billing, as a membership. Since that's not built-in, I have to have an additional tool.
What made you decide to use your chosen platform over others?
It took a great deal of consideration for me when deciding on a course platform, especially since I knew WordPress plugins could get the job done, but it was really MemberVault's founders Mike and Erin Kelly who sealed the deal for me. They're a husband and wife team of developers who refine MemberVault based on what their users want. Clearly, they love this model of creating living products! They're very in tune with their users and are active within their group. I joined their platform on their free plan and fell in love; I became a founding lifetime member shortly thereafter. There are so many benefits I could list, but the most important for me is that the MemberVault platform is incredibly user-friendly.
What other tools do you use to run your online course business?
I use Flodesk for email marketing, WordPress for my site, Manychat for my SMS, Loom for video hosting, ProveSource for social proof, and Leaddyno for affiliate tracking.
What books or training programs have you found useful on your journey to a successful business owner that others might find valuable too?
Miss Jessie's: Creating a Successful Business from Scratch is the story of how Miss Jessie's hair care brand came to be. It's a story of tenacity and ingenuity; it has some really useful gems that would benefit founders from any industry.
Do you have any big mistakes you've made along the way that you'd be willing to share?
My biggest mistake was waiting too long to start my business. I spent a decade solely working for others when I could have been building my brand the whole time. During that time, I didn't know what I didn't know- but through self-study and the support of some key mentors in my life, I was able to finally quit the corporate world for good.

Please share some idea of revenue.
I've kept The Brilliant Collective small and affordable for a reason. At the time of this article, I have 21 members and the membership fee is $47 per month. But the price will be going up to $97 per month for new members in 2022. My members have seen so much success with the membership and have really contributed to the community as a whole, so of course, current members will stay locked in at their current rate.
Please tell us a little about what the money you've earned from your course has done for you.
The money I've made from my course pales in comparison to the income that I make from 1 to 1 service, but it was never about the money for me. It has always been about the results I could help my members achieve and I'm so proud of the work we've done together over the last year. I've seen some of my members build six-figure businesses, quit their jobs, and create multiple streams of income. That being said- with the added income from my course, I've been able to re-invest into testing more tools and resources for my business that I can then share with my members.
In addition to revenue are there any numbers you would like to share?
I was able to sign up 12 new members on day 1 of my first membership course because I'd taught as a guest inside of another course. I'd say, partner with complementary course creators when you're first getting started. - Robyn Stoney
Click To Tweet
What has creating your course done for you personally?
I've gained so much confidence in my ability to help new entrepreneurs. When I was just starting out, I had to work with clients who had the budget to pay my rates- but I always wanted to find a way to work with those who don't. Prior to becoming an entrepreneur- I was a single Mom, with a full-time job and I know how hard it is to find time to work on building a business.
I wasted so much time and money in the beginning, so it feels great to know that I'm helping others reach their goals without making the same costly mistakes. - Robyn Stoney
Click To Tweet
Do you have a story of a transformation from any of your clients?
One of my clients was burning herself out with a ton of 1 to 1 work and almost zero time off. Although she'd built a successful six-figure business- she didn't have a good work/life balance. We created a plan to restructure her process flow that protected more of her "CEO time," which enabled her to scale. In 8 months' time, she'd 11X'd her business and completely transformed her life.
What advice do you have for people just starting out?
You may need to get creative with how you reach your goals, so be flexible- there are going to be some twists and turns. What's most important is that you know what you want your life and business to look like and you continuously make progress toward that vision.
Learn more about Robyn Stoney of robynthebrilliant.com: