How Rachel Lindteigen Started SimpleSEO and Earns 4-Figures/Month From Her Training Program

Our content is reader supported, which means when you buy from links you click on, we may earn a commission.
---
Who: Rachel Lindteigen
Website: etchedmarketing.com
Course Topic: SEO and Content Marketing
Interesting Stats: SEO or organic traffic is up 600%
Who are you and what course have you created?
I'm a digital marketer and have worked in SEO (search engine optimization) and Content Marketing since the beginning. I studied broadcast journalism in college and have an MBA in marketing. I spent about 15 years working in the corporate world in marketing and focused on digital marketing exclusively starting in 2010.
Over the course of my career, I've worked with small businesses, franchise organizations, non-profits, and several marketing ad agencies. I remember when websites could only use 8 so-called Google fonts. That was a while back.
I spent the last five years of my corporate career as the Senior Director of SEO and Content Marketing for a large, digital marketing agency that was based in New York City. That gave me the opportunity to work with some amazing e-commerce retailers and lead SEO and content marketing strategies for brands that are household names.
I left the corporate world about five years ago and started my business, Etched Marketing where I work with small businesses and help them with SEO and Content Marketing. I founded Etched Marketing Academy a few years later and I teach SEO to small business owners who aren't ready to outsource their digital marketing. I'm soon launching an updated version of my Simple SEO program that includes both SEO and Content Marketing in one course because you get better results when you use both together.
What market does your online course serve?
I serve several markets. I focus on Realtors, Course Creators, E-commerce retailers, and other small business owners. Most of my students fall into one of these categories. I love working with them all and helping them learn more about SEO and Content Marketing so they can get results for their content.
So many small business owners are creating content today but most of them aren't generating a lot of leads from the content they create and I can show them how to do it in a way that's much more effective and leads to more sales for them.
Many are afraid of doing SEO for fear they'll get it wrong or it's too complicated to learn. But it's so important to their website or blog's success that I want to help them learn how to do it in a way that's easy to understand and follow.
I love nothing more than celebrating student wins! When they get to position #1 in Google it's the best!
What's the biggest benefit of taking your course?
My students learn how to create content that their Ideal Customer is looking for, how to write that content in a way that provides value to them, and most importantly, how to optimize it for Google so that they show it to more people. The only way to truly grow your business with content marketing is to understand and use SEO as the base and top layer of your content plan.
You want to think about SEO and Content as a sandwich.
SEO Research (brainstorming, topic ideas, keyword research) is your foundation.
Real great content in the middle (content that answers your Ideal Customer's questions and provides value).
SEO itself (on-page SEO for your page or post) is the top layer.
Using the three together gets much better results AND the best part, your SEO content foundation ideas can be used for ALL of your content. You can use your topics for your blog, email, and social media. It speeds things up and gives you a LOT better results.
How did you get into the market?
Initially, I added online training courses because I found a lot of small business owners couldn't afford to hire someone to manage their SEO or Content Marketing for them but they really needed to know how to do it the right way so they got results.
Why did you decide to create an online course in the first place?
I also saw a few clients come to me who had paid someone else to do their SEO for them and it was done wrong or worse yet, they were charged for it but nothing was done. I can't stand seeing people be taken advantage of so I wanted to teach them what to look for when hiring someone to do their SEO or content marketing for them.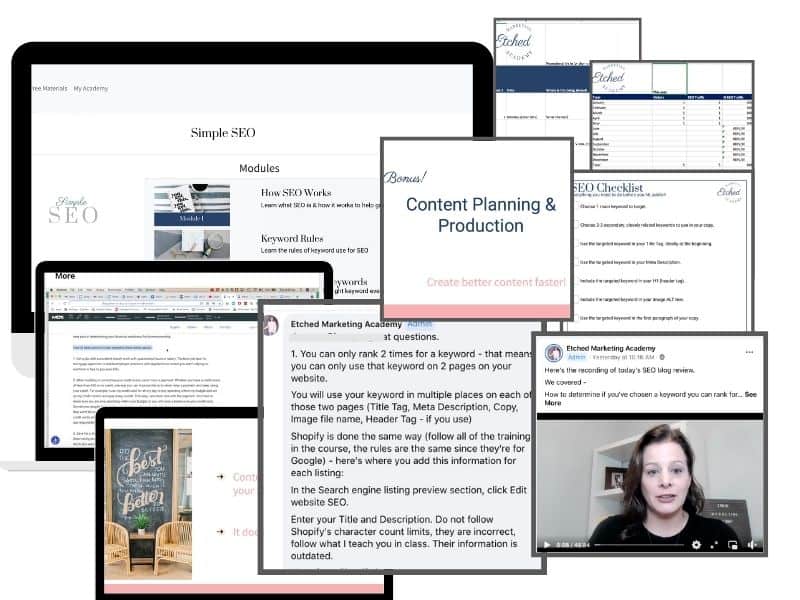 Did you have any moments of doubt before you created/launched it?
Don't we all 🤣 I think that's part of the process. But I knew that it would help people and that's why I kept going.
What's your online course like?
My course is voice-over with PowerPoint slides for the course itself and then I do a lot of direct-to-camera training in our student group.
How long did it take you to create your course?
It took me a few weeks to create my course. I knew the content since it was something I'd taught before and was a subject I worked with every day. The majority of my time was spent brainstorming and strategizing to determine what to include in the course. I also spent time speaking with my ideal customer to see what they wanted to learn about SEO, why they didn't want to do SEO themselves, what they thought about SEO, etc. so I could figure out how to message them.
From there, I created the PowerPoint slides for my course and when they were done, I recorded, edited, and finally uploaded them.
I like to batch my content so I did each step for the entire course - create, record, edit and upload the module before moving on to the next. - Rachel Lindteigen
Click To Tweet
Tell us a little about the process of launching your course and getting your first sale(s).
I launched my course to my email list, shared it on social media, and ran a few webinars to bring in some more cold traffic. I've been blogging about SEO and Content Marketing for about 5 years now so I've got quite a bit of content on my own website that helps drive traffic to my opt-ins and webinar pages which helps generate sales.
Do you have a lead magnet?
Yes, I have several. I have unique SEO Quick Start Guide opt-ins for each of my Ideal Customers. Each one is customized to provide insights and additional information they need. I also have webinars that are specific to Real Estate, Small Business, Shopify, and soon Course Creators.
When people visit my website, they're offered the opt-in that ties to the content category, and then once they receive that, they've offered the option to join a webinar in the automated email sequence a few days later.
What's the traffic strategy that works best for you?
I use blogging, SEO, and Content Marketing to drive the majority of my traffic. I didn't want to have to rely on paid traffic because I've seen organic traffic outperform paid in many industries. It takes longer to launch with organic traffic but it's worth the work.
For years, I published a new blog post every week so I've got several hundred blog posts that talk about all sorts of different SEO, Blogging, and Content Marketing related topics, along with a few miscellaneous ones. Right now, I'm working on ranking for certain keywords so I'm doing very strategic SEO content creation because I have a goal. I've been able to get my blog posts to rank in position #1 for several of the terms I'm going after so that's good.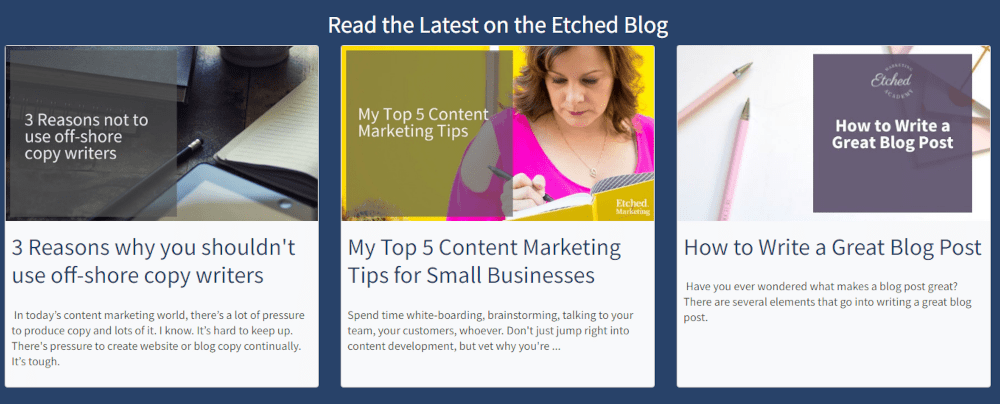 What online course platform are you using?
I have a custom all-in-one website, blog, and course platform that's not on the market. It was designed for me. It's built on Ruby on Rails. I don't know much more than that. I'm lucky, my hubby has a background in coding and tackled the project for me. I pay for a designer to do the front-end design for me, he does all of the coding, and I do all of the SEO and Content Strategy, along with all of the content for the website, blog, and courses.
Do you like it?
I like it. There are things about it I wish were different. We've addressed a few things and made some changes because as the business has grown over the past few years, I've found things that didn't quite work as we envisioned them when we were building the initial website.
What made you decide to use your chosen platform over others?
I was able to cut down costs significantly because he was able to do the development for me.
What other tools do you use to run your online course business?
I spend a lot of time working on my SEO tools because I want to make sure that I'm creating content that my Ideal Customer wants from me and that I'm choosing keywords that my website can rank for. SEO is a VERY competitive keyword set so it has its challenges.
Google Analytics helps me verify if my content is working, where my traffic is coming from, etc. I want to know that I'm getting a positive ROI for my efforts and make sure the channels I'm spending time on are the ones that are helping my business grow.
I also use Active Campaign for my email marketing, Planonly for my Instagram and Pinterest posting, Google Search Console, Google Analytics, Google Keyword Tool, Ubersuggest, Moz, Keywords everywhere, and Tube Buddy depending on which social channel I'm doing SEO research for.
What books or training programs have you found useful on your journey to a successful business owner that others might find valuable too?
I joined Digital Course Academy in 2019 to figure out what I was missing in my digital course business. I knew how to create training courses and content because I'd done it for years in corporate but something wasn't connecting so I figured I should invest and see what I could learn. I'm also in Momentum and have been for a few years now.
I am in Social Curator and use a lot of their images for my website and blog.
I took a Facebook Ads course from Rick Mulready in 2018 to learn more about FB ads.
"Profit First" is one of the absolute best business books I've ever read. I was able to easily understand how to set up the finances for my business and have been able to pay myself regularly since the first sales started to come in.
I also love "Building a Storybrand" to help with content strategy and connecting with your customer in the way they need to feel heard.
Do you have any big mistakes you've made along the way that you'd be willing to share?
I tried to create the SEO course people NEEDED not the SEO course people WANTED the first time and while it was great and covered everything they needed, it didn't sell.
People aren't excited by the thought of learning SEO until they understand the benefit it provides for their business and then they get excited. - Rachel Lindteigen
Click To Tweet
I had to make SEO feel more obtainable and less confusing in order to succeed.

Please share some idea of revenue.
I'm consistently in the 4 figure range each month and working to go up from here. I launched the revised SimpleSEO program about a year ago so it's growing.
Please tell us a little about what the money you've earned from your course has done for you.
I am very lucky that I don't have to work to help support my family. I choose to work because I love what I do and today I'm able to work part-time and have the flexibility I want for my career and motherhood, I have a 1st grader and want to be present for him.
With that said, we were able to pay off my new car in under 18 months and when my family went to Disneyland a few months ago. I didn't have to take the money we'd expected to use for the trip out of savings because I had it in my account to pay myself. We spent 5 days on-site and stayed at the Disneyland Hotel which made my 6-year-old's whole vacation.
In addition to revenue are there any numbers you would like to share?
I got about 200 opt-ins or webinar registrations from SEO traffic alone last year. My SEO-based Content generated around 1,000 leads across all organic & social channels. I use SEO and Content together and it drives leads and sales. This should continue to grow each year. My SEO or organic traffic is up 600% over the past few years. It takes a while but once it starts to take off, it keeps going.
What has creating your course done for you personally?
It feels so good when you're done! The sense of accomplishment is amazing but what's even better is when you have students enroll in your course and you're able to help them, and it transforms their lives and they get results… that's the best part.
Do you have a story of a transformation from any of your clients?
One of my SEO clients gets 65% of their business leads through the SEO Content we create for their website each month. We've increased website traffic year-over-year for the four years we've been working together.
One of my students recently got her first #1 keyword ranking for a blog post she created using what she learned in class.
Another student recently took what she learned in class and used it to create an Instagram video that lead to 2 leads that week. She's a Realtor so that's 2 potential home sales from one video that she developed using what she learned in class about SEO content.
What advice do you have for people just starting out?
You'll have good days and bad. You'll want to give up. And you'll feel like you're failing more than once. Look at the data. Let the numbers tell you what's going on instead of your nerves.
And, start working on your SEO and Content right at the beginning because it can take a few years to really take off. The sooner you start, the better results you'll have long-term and you'll be able to save a ton of money on ad costs in the future.
Learn more about Rachel Lindteigen of etchedmarketing.com: