How Peter Keep Teaches Jewelry Making Online and Earns 4x His Teacher Salary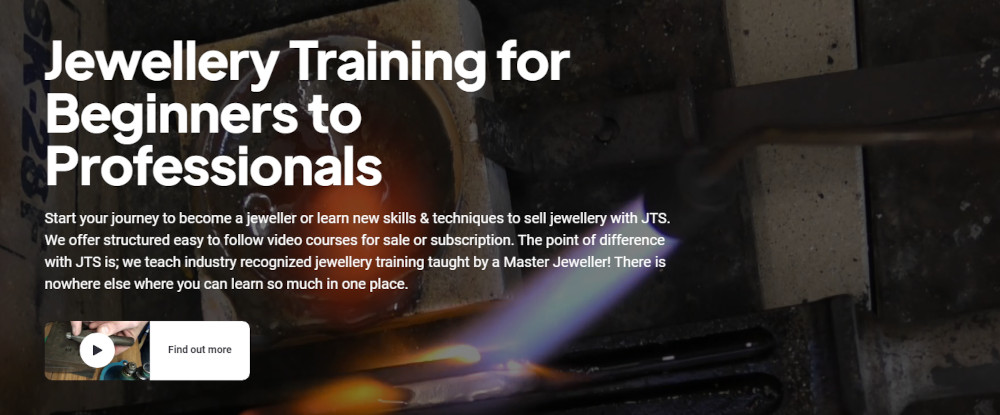 Our content is reader supported, which means when you buy from links you click on, we may earn a commission.
---
Who are you and what course have you created?
I'm a Master jeweler with over 40 years of experience. I'm also a qualified teacher.
Jewellery Training Solutions (JTS) is an online video training website that helps students & professional jewelers learn or advance their skills & knowledge.
What market does your online course serve?
JTS is a comprehensive training platform that can help anyone who has an interest in learning how to make jewelry. We also support the commercial jewelry industry with upskilling courses such as stone setting. I have developed an industry-recognized training pathway that is trusted and used to train the next generation of apprentices.
What's the biggest benefit of taking your course?
JTS caters to all skill levels from beginners to advanced and is well organized with clear easy-to-follow training plans. The beginner level can help hobbyists from all walks of life get started with their first jewelry projects using just basic tools. For ambitious students with an artistic streak and an eye for detail, my service offers advanced training based on real apprentice training that can lead to employment in the industry. The other benefit is the professional quality of the courses. During my teaching years, I created a unique training pathway that proved to be successful with apprentices and helped train WorldSkills competitors. This training is now available for anyone who wants to become a jeweler.
How did you get into the market?
My career as a jeweler has been so rewarding. I couldn't imagine any other job that could offer the same challenges, excitement, and opportunities. That is until I became a jewelry teacher in 2007. I didn't know if I had it in me to be a good teacher, I just knew I had so much that I wanted to teach the next generation. The program I took over was so tired and outdated. So, I set about to implement a relevant and disciplined training program and began to develop exciting and innovative video projects. This new way of teaching jewelry was embraced by the apprentices. If they missed a face-to-face class, they could still watch the video! My method of teaching was a success, and my students were learning new and relevant skills and excelling.

Why did you decide to create an online course in the first place?
The college I worked at also ran a jewelry design course. Students were taught very basic skills, but they were more interested in what the apprentices were being taught. They wanted the same, and this made me realize that there was a much wider market. I was inspired to develop more sophisticated detailed videos that did not rely on face-to-face teaching.
Although there were some online jewelry courses available, it was clear that they were not structured well and didn't have a clear training pathway. So, the JTS seed was planted!
Did you have any moments of doubt before you created/launched it?
Oh! God yes. I felt so uncomfortable speaking to the camera. It's just not me! I thought I had a terrible voice with a weird accent (a cross between English & Australian) So I started by just using subtitles. Adding subtitles became too laborious, so I bit the bullet and began to narrate the videos. I got over my shyness and never looked back. I even get lots of nice comments about my voice 😉
If so what made you turn it around and do it anyway?
I was convinced of the need for real jewelry training and although it's a niche industry the success of my YouTube channel inspired me to invest my time and money into the venture.
What's your online course like?
I create video projects based on industry trends or student requests. The lessons have a clear objective that generally starts with a study of the jewelry piece and the required materials. I then go through each step of the manufacturing process.
A typical course curriculum would contain a single selection of videos on that particular subject. In some cases, I would add a separate chapter with PDF information sheets or information on the tools.
For people who are not familiar with the process, it is quite exciting to see how a piece of jewelry is created. So, I add a free preview that shows the finished piece and a story of how we are going to create this together.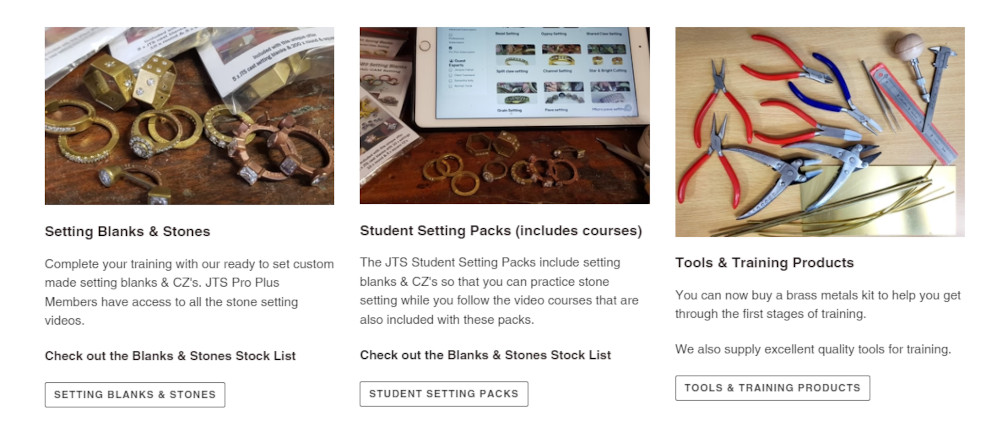 How long did it take you to create your course?
A lifetime of experience in my field of expertise was obviously the main part of the process. Once I worked out the formula for making a successful training video around 10 years ago, I began to add videos to the library. All my spare time was put into creating videos. There are probably around 3000 of them now, so you can imagine the amount of work that's gone into it. Nowadays I make around one video each fortnight. This is usually inspired by a student's request. Don't let the amount of work I put in put you off. Jewellery making is something that you never stop learning, so there's always a subject to cover.
Tell us a little about the process of launching your course and getting your first sale(s).
The first series of courses I uploaded were done in a video slideshow format with subtitles. I wasn't sure if I would get a sale. But I sold a course for $25 AUD soon after I launched the website. I was delighted and excited but also worried that it wasn't good enough for the value. So, I quickly remade the video with better camera work and this time narrated. Getting the first sale inspired me to lift my game. I am a bit obsessed with ensuring my students get great value.
Do you have a lead magnet?
Yes. I put myself into the buyer's position. Would I trust the product that I purchase? To put consumers at ease I have about 40 free videos and about the same in PDF tutorials. Sure, some people just take the free stuff, and that's fine, it also generates brand awareness and possible future sales.
What's the traffic strategy that works best for you?
Jewellery Training Solutions is ranked high on Google because of the hits it gets, so a lot of traffic comes from general jewellery/jewelry/training/learn/ etc; searches.
I'm not as active on social media as I should be (it's a generation thing!)
I believe that the most successful conduit to my website is YouTube.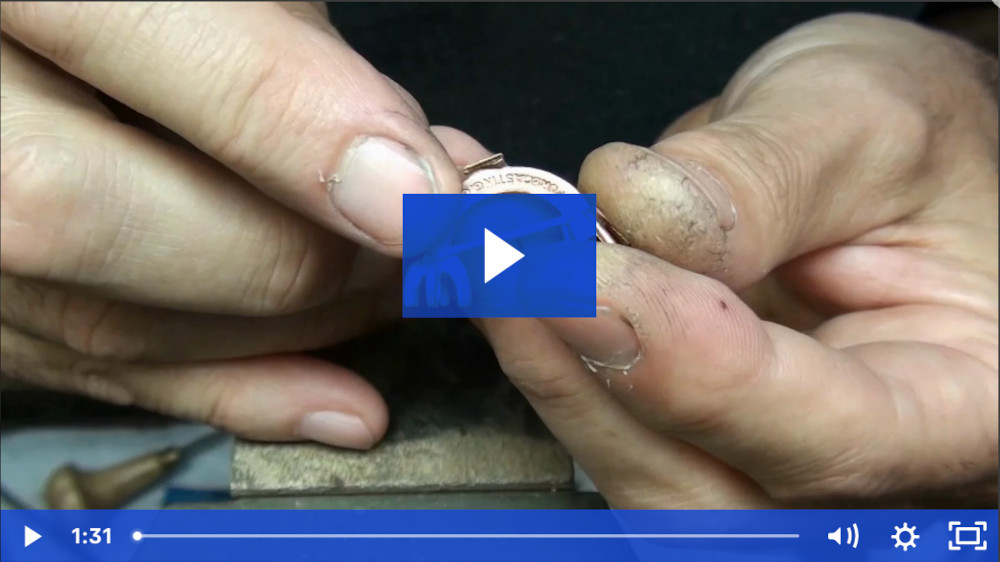 What online course platform are you using?
Thinkific.
Do you like it?
Thinkific is Fantastic!
I seriously owe so much to the Thinkific team. I'm sure I stretched their technicians at times especially as my library kept growing. So far, I have almost 900 courses each with an average of 3 videos plus PDFs.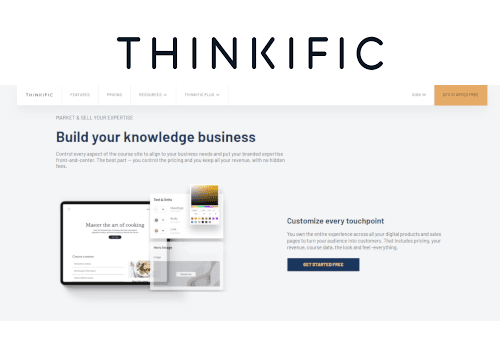 Take a Look at Thinkific!
Thinkific is the most popular online course platform used by successful course creators interviewed on coursemethod.com. It's a complete solution for creating sales pages, uploading all course content, taking payments, and more.
Price Range: Free to $499/month 
Most Popular Plan: Pro Plan at $99/month
Annual Discount: Yes, take 20% off!
Free Trial: Try out Thinkific's core features for free.
*Our content is reader supported, which means when you buy from links you click on, we may earn a commission.
Are there any features you wish it had?
I'd love them to add some kind of automatic subtitles/Closed Caption feature similar to what YouTube has, this would attract more non-English speaking students to my courses. Thinkific does offer a subtitles feature, but you must create SRT files and slot them in at the right point manually. 3000 videos; No thanks!
What made you decide to use your chosen platform over others?
I'm not very confident with IT, especially coding, etc., so there's no way that I could create a website or afford to have one built from scratch. Thinkific had a foolproof platform ready for all kinds of course creators. I feel that I have enough control for my needs to start with, but as my website and business demands grew, they put me on to one of their specialized app developers, Rob Galvin.
Rob customized my website and added some fantastic features that made it super easy for me to keep updated and for students to navigate around the huge collection of courses, which in turn increased engagement and revenue. Hand on heart I have to say, working with Thinkific & Rob Galvin has been instrumental to the success of JTS.
What other tools do you use to run your online course business?
I have a fully equipped jewelry workshop.
I use a Panasonic HC-VX985M camcorder. I've just updated my camcorder to a Canon Legria HFG50. The editing software I use is Corel Video Studio
What books or training programs have you found useful on your journey to a successful business owner that others might find valuable too?
I found Thinkific's online training they offer has all the support and information I needed.
Do you have any big mistakes you've made along the way that you'd be willing to share?
I'm in my sixties, so I'm not naturally savvy with technology (although my wife thinks so) The Thinkific team has been awesome and has always helped me when I needed it. There have been so many mistakes along the way, usually to do with IT, but the technicians have sorted things out and saved me from the inevitable embarrassment plenty of times.
I still make mistakes now and then, such as a course link not working, but I have to say, my students are so patient and understanding, so it's never a real problem.
Please share some idea of revenue.
My revenue has surpassed my wildest expectation and is well over 4 times what my full-time teacher salary was. - Peter Keep
Click To Tweet
JTS has been around for almost 10 years, and the revenue has consistently grown by around 50% each year. The student numbers also consistently grow by around 1000 each year.
My wife and I set a target each year for subscribers and revenue, and we always seem to meet or surpass the target. I suppose I could just stop now and enjoy the passive income from the fruits of my labor, but the reality is, JTS is still growing, and that encourages me to keep working.
Please tell us a little about what the money you've earned from your course has done for you.
I don't need to work anymore; I choose to keep working to improve my service.
The financial rewards from my online teaching have enabled my wife to retire from her stressful job, which in turn has made my life a lot more stress free😉
We are keen travelers and recently bought a holiday home in our favorite place, Broome. We also travel to Europe each year to visit my family. I usually tie in some teaching classes for European students to experience face-to-face classes with me.
My plan was to retire at 60. Well, this is better than retirement as I can still keep doing what I love, but I'm not tied down to a 9 to 5 job. I can take my work wherever I go!
In addition to revenue are there any numbers you would like to share?
There are over 11,000 signed-up students (not all are paying, unfortunately) JTS has so far delivered over 1.8 million enrollments. My YouTube channel has over 70,000 subscribers. Income was not really part of my thought process when I started this journey. I was happy to cover costs while I refined my online delivery techniques and created more content. My focus was on increasing student engagement. So, I launched interesting videos on my YouTube channel which usually included a teaser link during the video that offered more or better videos via my website. Again, making a lot of free videos available on the website, so that students can try before they buy.
What has creating your course done for you personally?
I'm very passionate about passing on traditional jewellery-making skills. Some trades such as watchmaking & engraving are on the critical skills shortage list, and as the current generation of craftsmen dies off, their skills go too.
I have created a resource that will hopefully help to promote and secure jewellery-making skills. I feel that my service will be used long after I'm gone. Sounds a bit morbid I know, but that's the truth! My late Father was a watchmaker, and I'm sure he would have done the same if he had the same opportunity as me.
Do you have a story of a transformation from any of your clients?
I have been teaching a young Dutch lady online for about 2 years. She started with no skills just a huge amount of passion and determination. She has now completed the online apprenticeship. Her work is remarkable, and she has a very solid career.
What advice do you have for people just starting out?
My advice is aimed at the baby boomers who have a wealth of knowledge worth sharing. Our generation was expected to learn a skill and stick with it until retirement. I'm lucky that I chose the right career. I only really appreciated the value of what I had when I began teaching.
We now live in a really exciting time where you don't need a school or university to pass on your knowledge and skills. I had no idea that I would get so much global interest and the feedback has been so encouraging.
Yes, the financial rewards are amazing, but the best reward I get is knowing that I'm passing on my experience and skills that will change people's lives. - Peter Keep
Click To Tweet
I may never meet them, but they will appreciate me and benefit from what I do.
If I can do it, so can you!
Learn more about Peter Keep of jewellerytrainingsolutions.com.au: