How Nicki Sciberras is Growing Her SEO and Facebook Ads Business with Online Training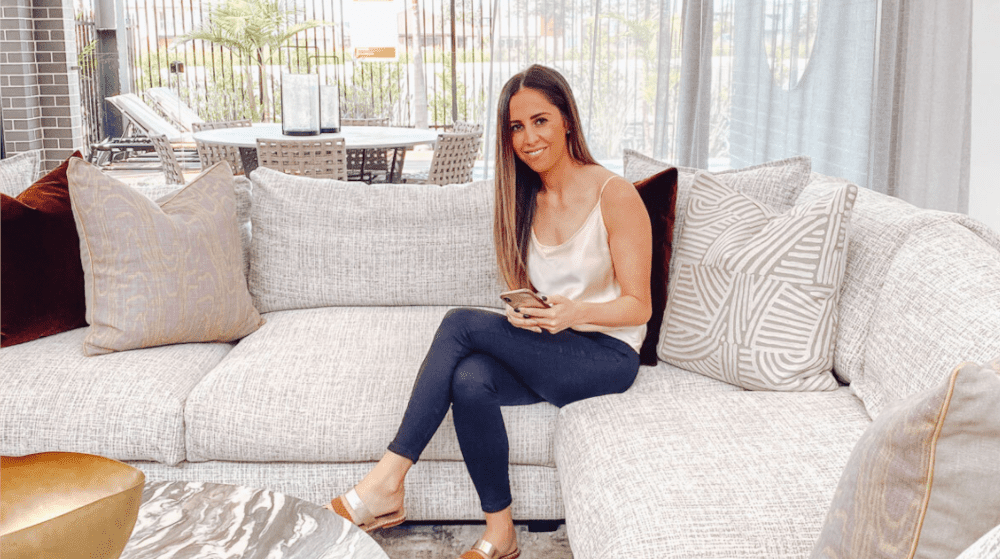 Our content is reader supported, which means when you buy from links you click on, we may earn a commission.
---
Who: Nicki Sciberras
Website: missmarketing.com.au
Course Topic: Search engine optimization
Interesting Stats: Built list to 500 in under a month
Who are you and what course have you created?
I'm a digital marketing consultant and trainer that specializes in Facebook Ads and SEO. I currently run both one-on-one and group Facebook Ads training online and in-person named Ace Your Ads.
I'm in the process of creating my SEO Course 'SEO Made Easy'.
I was a corporate marketing manager for a number of years but wanted to be able to help more businesses achieve their dreams so I left to start my own business: Miss Marketing.
What market does your online course serve?
SEO Made Easy is for small businesses (local, service-based, and eCommerce) as well as marketers, entrepreneurs, and content creators who are ready to take their business to the next level.
My Facebook Ads Course 'Ace Your Ads' is for a similar audience, and I also find I have a lot of corporate marketers, FB Ads specialists, and course creators in these sessions.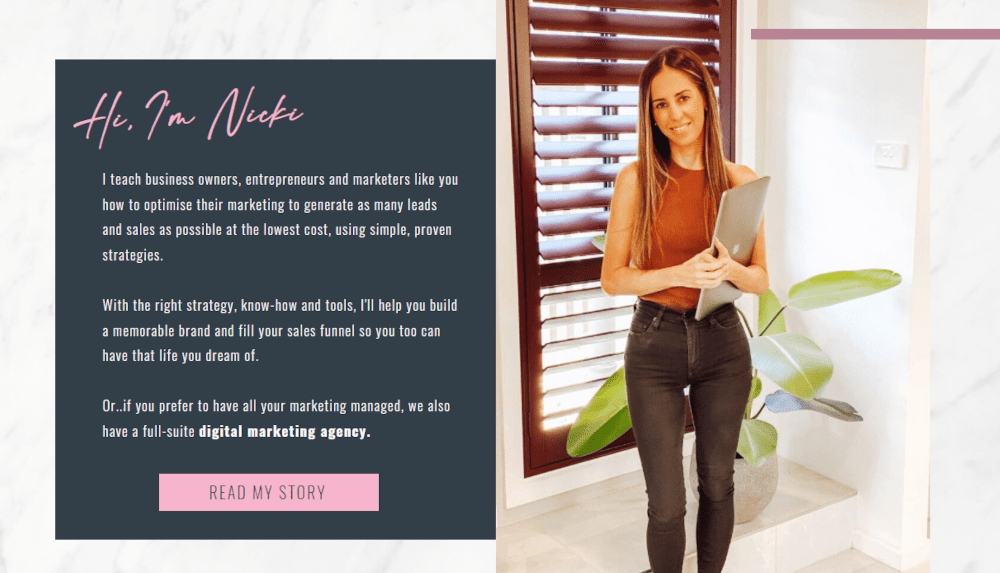 What's the biggest benefit of taking your course?
The biggest benefit of SEO Made Easy is that SEO is delivered in a simplified, step-by-step process making it easy to digest and implement yourself.
By implementing SEO, you will rank in search engines like Google, drive more traffic to your website and boost leads and sales.
The biggest benefit for clients is that they can acquire low-cost leads and sales and scale their businesses with both Facebook Ads and SEO.
Clients and students that have undertaken my training have seen a huge growth in leads and sales in their business.
How did you get into the market?
I have been training Facebook Ads for a long while. With the introduction of iOS 14, our ability to track users online and retarget them with personalized ads became a lot more difficult. The price of advertising also increased dramatically.
I am now teaching users how to adjust their Facebook Ads strategy but I wanted to help business owners continue to get leads and sales post extinction of third-party cookies without the hefty paid advertising price tag.
The only real cost to SEO is the time it takes to implement and there are no ongoing costs which means users can continue to make money without an ongoing financial investment.
Not only that, but often when people are searching in Google, they are at the bottom of the sales funnel and ready to buy so it's a great strategy to implement.
Why did you decide to create an online course in the first place?
I decided to do an online course because I was having a lot of people asking for training one-on-one and couldn't keep up with the demand given we only have a limited amount of time every day.
I wanted to be able to help more people achieve success and grow their leads and sales particularly given that past tactics like Facebook Ads weren't working as well and it's only going to get harder. I've got some new tactics I am hoping to release in 2022, once the new FB Ads interface is rolled out to all accounts.
The extinction of third-party cookies requires businesses to pivot so they don't get left behind.
I thought I'd jump on board and show them a great way to do that and at a minimal cost before it's too late and they get left behind. I love that it's also an option for businesses with a minimal budget to advertise.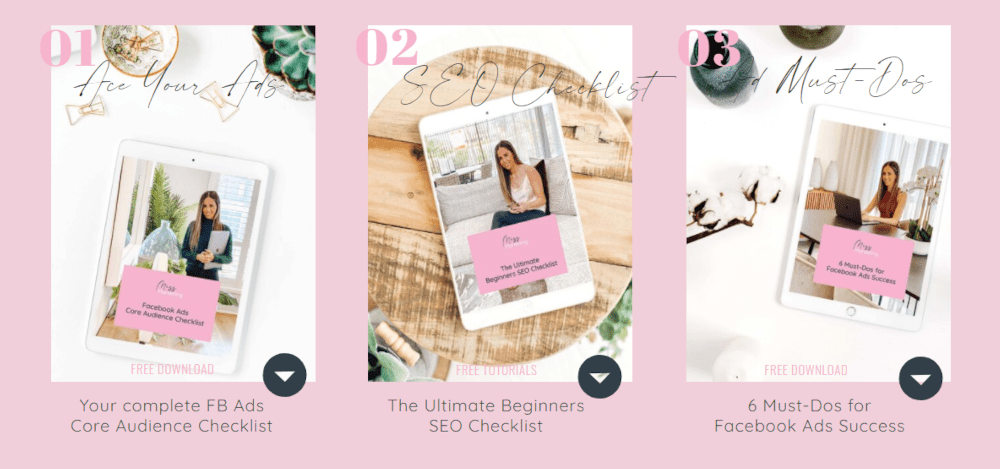 Did you have any moments of doubt before you created/launched it?
As course creators, we always have these moments and that is why it's important to validate the idea before we progress too much. I completed a number of course calls to ensure I really understood the needs and pain points of my ideal audience. I will also do a founding members launch in December to validate it even further.
Overall SEO can be challenging in the sense that it is perceived as being a hard topic, so I put everything into making it as simple as possible as I know it doesn't have to be difficult and it isn't when broken down properly. I want to change the perception around this and debunk any ideas that people have about not being able to implement it themselves.
What's your online course like?
I am in the process of filming the course. There is a combination of live training and pre-recorded tech videos with PowerPoints as well as worksheets and checklists to guide students. There are a few bonuses I am just finalizing that'll give the students more access to me which I know is important in a topic like this.
How long did it take you to create your course?
I would say by the time I have finished creating all the content, the course will have taken about six months to create alongside my marketing business.
I wrote the course based on the process I used to do clients SEO and then validated it using Amy Porterfield's Course Process for Outlining a Course.
My course will evolve as I get feedback from students to ensure they achieve the transformation they are after from taking the course and are getting those all-important leads and sales.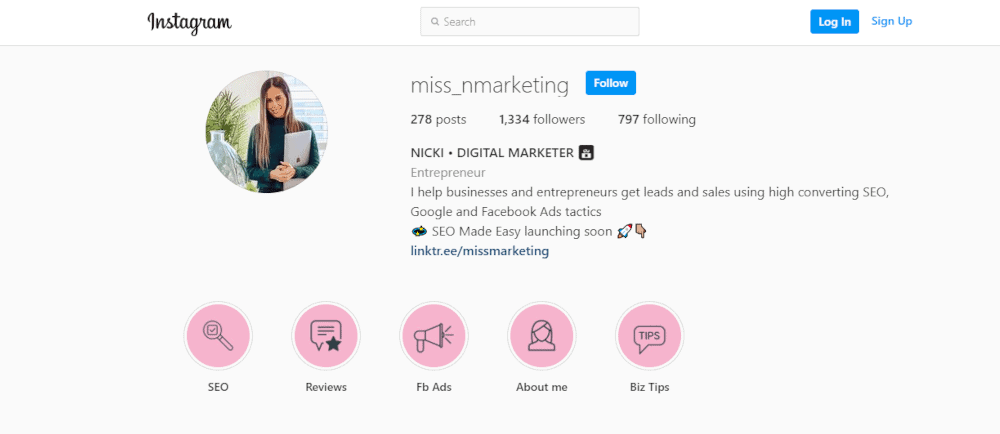 Tell us a little about the process of launching your course and getting your first sale(s).
When it came to Facebook Ads training word of mouth was most important for me particularly in online Facebook Groups. I have gotten so many customers from recommendations on the Like-Minded Bitches Drinking Wine Page to which I am very grateful.
In terms of the SEO Course, I am about to launch my founding member's launch round very shortly so will know more about that one soon.
A good launch should be 60-90 days long and I've just begun the launching process for SEO Made Easy. - Nicki Sciberras
Click To Tweet
Do you have a lead magnet?
I most certainly do. It's the Ultimate Beginners SEO Checklist. Creating a lead magnet is paramount to building your email list as a service provider.
I have had about 500 downloads so far and have just started implementing Facebook Ads to boost that number even more. I am nurturing that list with emails and blogs as part of my launch.
My Facebook Ads opt-in is the 6 Must-Dos For Facebook Ads Success and this has also been a popular freebie.
What's the traffic strategy that works best for you?
In my opinion, SEO is the best strategy for traffic as it will last the longest and is the most economical. Search engines like Google often capture people when they are at the bottom of the sales funnel and are ready to buy.
If you're like me though and love to supercharge your traffic flow, Facebook Ads is perfect to give that boost and create awareness of your product or service. I am very fortunate I have both skills.
What online course platform are you using?
I am using Kajabi. Although the pricing is premium, it's an all-inclusive software that saves time and stress when it comes to integration. I find using more economical software and then paying for the integrations often ends up costing the same but requires more effort.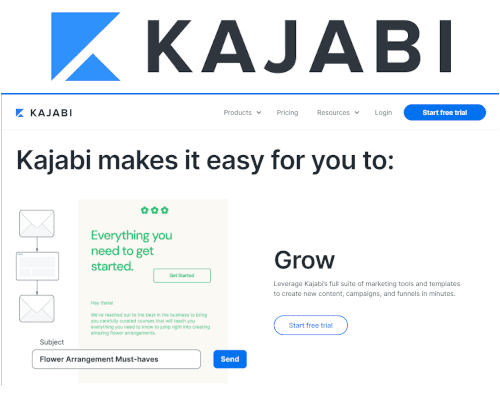 Kajabi is the All-In-One Course Platform
Kajabi is one of the top online course platforms used by successful course creators interviewed on coursemethod.com. Kajabi includes email marketing and other tools that make it easy to run your entire business from their platform.
Price Range: $149 to $399/month
Most Popular Plan: Growth Plan at $199/month
Annual Discount: Yes, take 20% off!
Free Trial: Get a 14-day free trial (credit card required)
*Our content is reader supported, which means when you buy from links you click on, we may earn a commission.
Do you like it?
From what I have seen so far, I love it. It's very simple to use which I really appreciate it when I am time poor and using various software that is forever evolving.
Are there any features you wish it had?
I am still figuring that out.
What made you decide to use your chosen platform over others?
I chose to use Kajabi because it was recommended by Amy Porterfield along with all the other big course creators. They have tried and tested a lot of different software, so I trust their recommendation. I tried using more cost-efficient software, but it didn't have all the integrations I needed and ended up creating a whole lot more work I didn't have time for.
What other tools do you use to run your online course business?
I use ShowIt and WordPress for my website, zoom, and Google Meet for online coaching and webinars. Flodesk is what I use for my emails as it's simple and beautiful. I need to swap to a platform that integrates with Facebook Ads but I am not ready to leave Flodesk yet. Xero is what I use for my accounting software and the of course Adobe and Canva for design and video editing. And Stripe and Paypal for payments. I am also considering using SamCart for my checkout pages.
What books or training programs have you found useful on your journey to a successful business owner that others might find valuable too?
So many, I am so big on education and learning from others' wins and losses.
Amy Porterfield's Digital Course Academy is brilliant.
Steph Taylor has taught me so much about launchings strong. She has a course Launch Magic that'd I'd love to do.
Stevie Says Social is an online launch specialist and creates amazing content about it all the time. She also has a course called LaunchPad all about creating and scaling online courses.
SamCart also has an online course and I've learned a lot from that too.
Do you have any big mistakes you've made along the way that you'd be willing to share?
My biggest mistake was not building my email list from day one. Now that third-parties cookies are leaving us, it's even more important to have a warm audience that you're nurturing. - Nicki Sciberras
Click To Tweet
Please share some idea of revenue.
This is hard to track as there are numerous different clients but approximately 15k for Facebook Ads training.
Please tell us a little about what the money you've earned from your course has done for you.
Usually, it's all about traveling but COVID has put a stop to that. I'll definitely be making up for that in 2022. It has definitely helped me to be able to outsource work, freeing my time up to spend on tasks that will be beneficial to current and future clients like creating the SEO Made Easy.  It also helps build the dream home kitty.
In addition to revenue are there any numbers you would like to share?
Building my list to 500 in under a month was a big deal to me as it meant I had an audience I could teach and nurture prior to my launch.

What has creating your course done for you personally?
Creating my course has been a big job but has shown me that I really can achieve what I set my mind to. I hope that once it's launched, I'll get some time and freedom back which is the very reason I left corporate. It also gives me more opportunities to teach which I love to do.
Do you have a story of a transformation from any of your clients?
I have a number of transformations for Facebook Ads which is exciting. One particular student who is also a course creator had cost per leads as low as 1 cent and had too many people attending their webinars they had to split them over a number of sessions. From this, they had countless people go on to buy their course and created a very profitable business.
What advice do you have for people just starting out?
My advice for anybody starting out in business is to get your branding right from day one and launch strong. For anyone looking to launch a course, your email list is so important.
Create a lead magnet and start building your email list as soon as you can as this could make or break your launch.
Be sure to do a 60-90 launch period so people know your course is coming and live launch through challenges, webinars, etc to supercharge those conversions. - Nicki Sciberras
Click To Tweet
Good luck!
Learn more about Nicki Sciberras of missmarketing.com.au: