How Nancy Landrum Uses Publicity to Generate Sales for Her Successful Relationship Course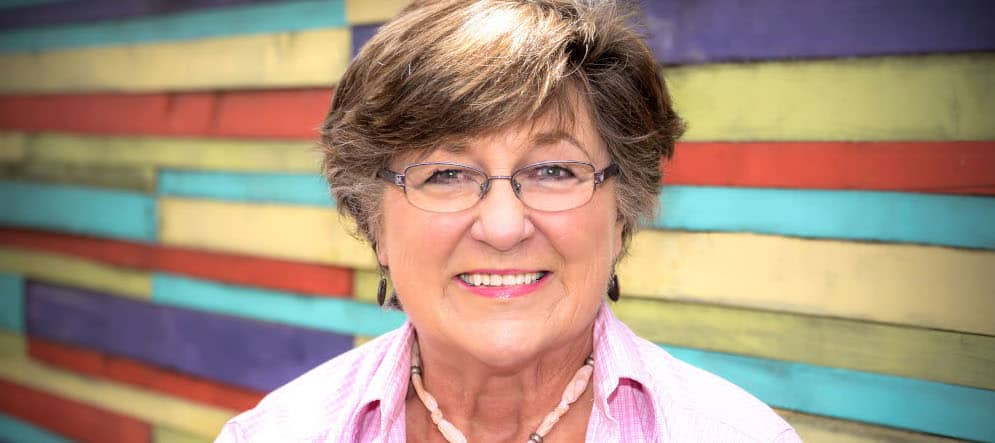 Our content is reader supported, which means when you buy from links you click on, we may earn a commission.
---
Who are you and what course have you created?
I have been teaching great communication and conflict management skills to couples for about twenty-seven years.  I've written eight books on various aspects of healthy relationships.  In 2017 I launched in Beta, the first of its kind streaming relationship skills course, tested by 200+ couples with great success. The Millionaire Marriage Club is now going out to the general public.
What market does your online course serve?
The Millionaire Marriage Club is successful for couples who either want to invest in learning better communication skills and/or couples who are experiencing a lot of conflicts but don't want to give up on their relationship.
What's the biggest benefit of taking your course?
I like to list the benefits as spoken by couples through their testimonials by email, letters, on yelp, etc. We link to some of the testimonies on MillionaireMarriageClub.com. Couples tell us that the Millionaire Marriage Club is easy to use, practical, and doable, and they often talk about how refreshing and fun it is. One of the husbands said, "It wasn't 'counseling' and talking about the past.
What Nancy teaches is the 'HOW' in a marriage. How to talk to one another, how to focus on the present to build a better future, and how to heal our own hearts as individuals so we truly have a deeper connection to ourselves and our partners… " Couples are clearly learning what they are doing that creates emotional distance, what to do to correct it, and thereby experiencing deeper intimacy.  Couples going through this course inevitably report a better, more respectful relationship in which their love can grow.
How did you get into the market?
I'm one of those wounded healers!  My late husband Jim and I had one enormous issue in our marriage.  Conflict over this issue nearly drove us apart…and in the process created a lot of hurt for both of us.  We diligently looked for and had a hard time finding effective help, but eventually found a coach who began to teach us practical anger management skills and a rudimentary guide for speaking respectfully. These were simply "I" messages rather than the accusatory "you" messages. For the first time, we were able to talk about our issues and our respective points of view without escalating into a fight.  Soon our big hot issue was resolved.
A few years later Jim suggested that we begin teaching others what we had learned.  We taught classes together for eleven years.  During that time I returned to school to earn my Master's Degree in Spiritual Psychology.  We wrote a book about the recovery of our marriage called, "How to Stay Married & Love It! Solving the Puzzle of a SoulMate Marriage."
Jim died from cancer in 2005.  After a while, I realized there was nothing else I wanted to do with whatever time I have left on earth so I continued to work in the marriage education field, eventually writing seven more books about healthy relationships and developing a health coaching practice.
Why did you decide to create an online course in the first place?
Our goal, and then my goal, has always been to reach as many couples with the transformative power of these skills as possible. I'd had a vague idea about an online course for a few years, but I was free-form writing one day when the inspiration stuck along with the energy to begin what, for me, was a daunting task.  I am not tech-savvy and had no idea about how to proceed.  So I began with what I know, writing lessons.  I brainstormed the name with a trusted friend, hired a GURU to design the logo, hired another GURU to design a PowerPoint deck that was unique…and so it began to take shape.
Did you have any moments of doubt before you created/launched it?
I had a daily battle with the negative voice in my head!  She'd harass me with pronouncements like, "You're too old to do this!  You'll never get the technology down that you need!  No one will buy it!  It won't be good enough! You're wasting your time!"  She was relentless! I named her "Helga". She's the judgmental child, spoken of in my book, "Your Inner Child: A Path to Healing and Freedom".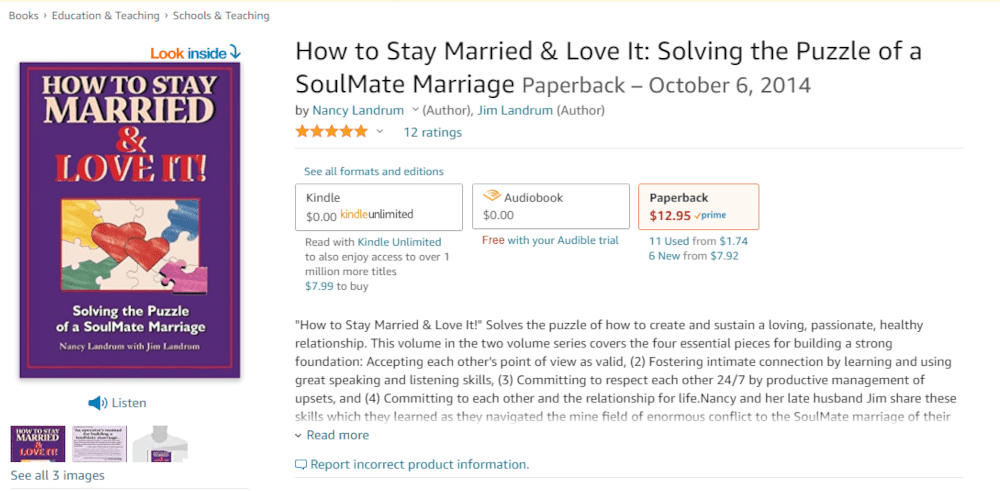 If so what made you turn it around and do it anyway?
One day after tiring of Helga's incessant negative voice, I stood up from my desk, and stomped around the house shouting, "Shut up!  Just Shut up!  Even if no one buys it I won't quit!  Even if it's no good, I'm not going to quit!  I'm going to finish this even if it never sells, so just SHUT UP!"  That negative voice has never been that loud again…although she still tries to stop me.  She thinks she's protecting me, poor girl!
What's your online course like?
We have live-action videos because some coaching on communication skills are best taught by example. So we have couples in real unrehearsed sessions who consented to learn various communication skills on video as real coaching examples for other couples.
One of the wives, Krystel Doudera, eventually became my first affiliate coach. Now her clients get to watch Krystel and Earle learning, for the first time, the relationship skills that saved their marriage. We also use videos of PowerPoints on 19 lessons in 8 modules with my voiceover narration.  There are no quizzes, but lots of action steps to download along with some from the book Jim and I wrote that flesh out the lessons in each module.
How long did it take you to create your course?
It took about a year, mostly because I was booked up with coaching clients, but admittedly much of that time I was being a couch potato because I was so scared.  It took a week of serial movie watching before I had the courage to tackle Camtasia to record the lessons and voice-overs.
I told the negative voice in my head (Helga) that users like me are the reason programs like Camtasia have tech helpers!  I got to know the tech team very well for the first few weeks of recording while they taught me how to use the essential parts of Camtasia that I needed.  Then I even learned to edit the videos on Camtasia!
Tell us a little about the process of launching your course and getting your first sale(s).
Up until recently, I've used MMC in Beta, to teach the skills to my clients, about 200 couples.  While the Millionaire Marriage Club is highly effective as a stand-alone course, using it with some of my coaching couples made my coaching time much more efficient.
The first sales of MMC outside of Beta started about six months ago.  Now my publicist is promoting the Millionaire Marriage Club to the press and it's really starting to take off with great feedback from the members.
I recently signed a one-year contract to teach these skills on a TV show that I'm hosting, called the Relationship Rehab Show for Bold Brave TV which debuted on May 10th, 2022.  I'm excited about the additional exposure and expect the sales of MMC to do very well as people learn about HOW to have the healthy, respectful, loving relationships they desire!

Do you have a lead magnet?
In addition to a 5 minute "Sneak peek" video of the Millionaire Marriage Club, I have several free downloads on my website.
The truth is, marketing is just not in my wheelhouse! I want to just teach, teach, teach! That's why I'm so excited to have my Publicist doing such a good job of promoting me and my products! - Nancy Landrum
Click To Tweet
What's the traffic strategy that works best for you?
We're promoting my brand via public relations which creates backlinks to my website. So far, I've contributed to countless top ranked sites, The Washington Post, Huffington Post, Psych Central, Thrive, Authority, Medium, Emotional Intelligence, UpJourney, Bustle, Woman's Day magazine (March 2022), Your Tango, and many more. Once I'm live and hosting the "Relationship Rehab Show", everything should snowball even more than it already has.
What online course platform are you using?
The course is housed in Kajabi.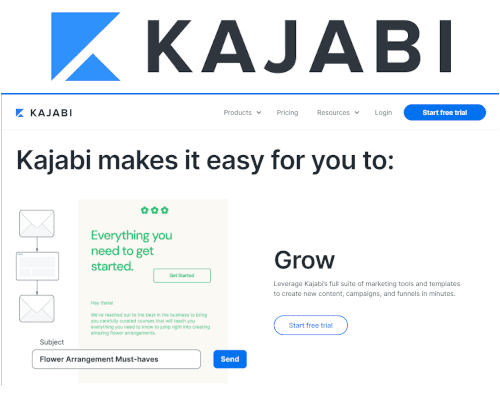 Kajabi is the All-In-One Course Platform
Kajabi is one of the top online course platforms used by successful course creators interviewed on coursemethod.com. Kajabi includes email marketing and other tools that make it easy to run your entire business from their platform.
Price Range: $149 to $399/month
Most Popular Plan: Growth Plan at $199/month
Annual Discount: Yes, take 20% off!
Free Trial: Get a 14-day free trial (credit card required)
*Our content is reader supported, which means when you buy from links you click on, we may earn a commission.
Do you like it?
Yes, I love Kajabi and like that they are constantly adding new features without any cost increase to me.
Are there any features you wish it had?
I don't feel like I need or wish for anything more from Kajabi, but I think they have several features that I haven't taken the time to learn about or use.  I need to spend some time going back to learn about their upgrades!
What made you decide to use your chosen platform over others?
I liked the format they had for course creation.  It was easy to upload the supporting lesson documents that I'd created and I like the format for the course in general.  My clients find it easy to navigate through the course on Kajabi. Plus since the Millionaire Marriage Club membership includes unlimited access, members find it easy to go back and review specific modules or lessons.
Learning the skills is easy. Changing communication habits is where the rubber meets the road. A relationship is a third entity between two people that needs more than daily nurturing and care, so reviewing and revisiting is built into the Millionaire Marriage Club unlimited access policy, and Kajabi does a good job of making it easily accessible.

What other tools do you use to run your online course business?
None, yet, but I've been thinking it would be nice to have the Millionaire Marriage Club on an app just for individual review and to keep track of progress. Couples do best accessing the Millionaire Marriage Club on a desktop or laptop so they can sit comfortably as they learn together. Each of the lessons is also available as an audio download, also with unlimited access, so some clients have enjoyed listening while driving or doing "mindless" work.
What books or training programs have you found useful on your journey to a successful business owner that others might find valuable too?
I don't remember finding any that helped.  What I needed most is emotional support which I gleaned from Tosha Silver's book, "Outrageous Openness."  She encouraged me to look for divine support along the way…daily…which really boosted my faith that I could do this.
Do you have any big mistakes you've made along the way that you'd be willing to share?
I invested $10,000 in a man who claimed he could do everything for me except write the course.  He was a fraud.  It took some time for me to forgive myself for being soooo gullible!  Later I invested in a course to learn how to develop sales funnels, but I sucked at it!  So it turned out to be a waste. Not their fault, entirely mine! I forgive myself because I'm a teacher and writer, so I need a team around me to get my products to market, which I now have!
Please share some idea of revenue.
The sale of the course, up until now, has been incorporated into the coaching packages I offer clients.  Last year my coaching income was about $40,000, 1/3 of which was from MMC.  So far in the first quarter of the year 2022, I made $33,600, so that's a great increase for MMCs prelaunch.  I believe the debut of my TV show will increase the sales of independent MMC memberships even more.
Please tell us a little about what the money you've earned from your course has done for you.
Primarily, the sales have strengthened my belief that I have something of great value to offer. - Nancy Landrum
Click To Tweet
The feedback from my clients on how the Millionaire Marriage Club has transformed their relationship, family, and home, as well as my books, continues to build my confidence.  The extra income has afforded a top-quality support team of Marketing, PR, and web development. The income has definitely helped to make up for the loss of Jim's income since his death.  If I had to depend on my other sources of income alone, my lifestyle would be far lower.  I'm very grateful for every source of income I enjoy, including that from the Millionaire Marriage Club!
In addition to revenue are there any numbers you would like to share?
As of now, there are just over 200 couples who have logged on and used MMC (Millionaire Marriage Club).  I know that isn't a staggering number, but 95% of those couples reported a significant increase in their levels of happiness in their marriage!  That is a much higher rate of improvement than reported overall by therapists!  In fact, several of those couples had been to therapy, sometimes to more than once, before enrolling in MMC.  Everyone said that the practical skills they learned at MMC gave them much more hope, or created the confidence to stay happily married for life!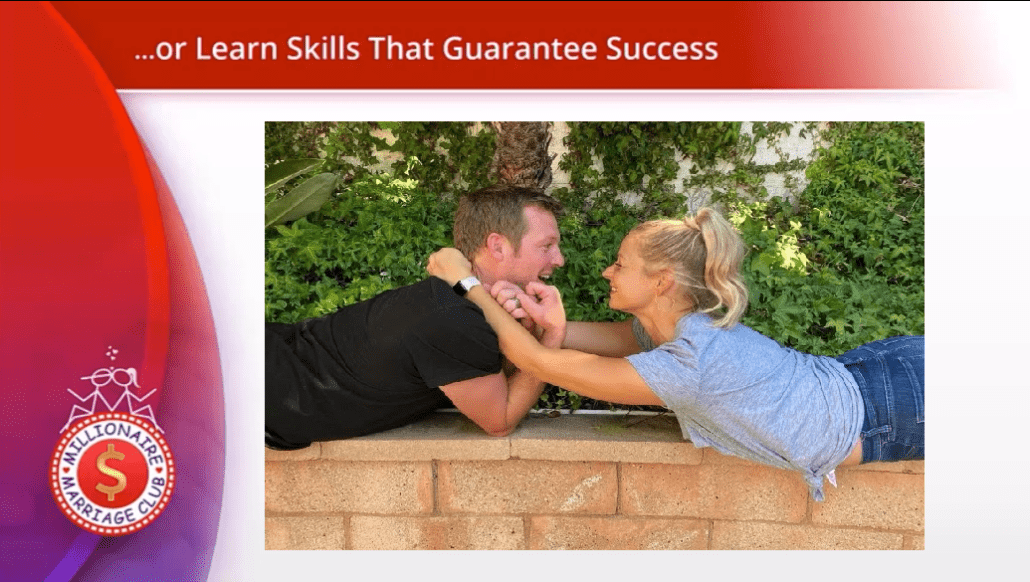 What has creating your course done for you personally?
I certainly have more confidence to tackle the unknowns about hosting a TV show!  One of the reasons the production company pursued me is because I have created so much content about healthy relationships.  Rather than the usual 24 week contract, they gave me a full year's contract…52 shows!
Do you have a story of a transformation from any of your clients?
EVERY transformation fuels my motivation to keep going!  Jack and Terrie had been childhood friends, but each had married twice before they reconnected and married each other.  They had four children from these previous marriages and were soon fighting viciously over the different styles of parenting.  When they learned about my Stepping TwoGether class they enrolled immediately.  They avidly learned and practiced every skill that was taught. The fighting stopped.  I had the privilege of officiating at their vow renewal ceremony for their seventh anniversary.  They are still happily married.
What advice do you have for people just starting out?
Learn to control the negative voice in your head!  Use the support systems most tech programs supply!  Be cautious about investing money you don't have in systems or persons without great credentials.
Believe that there are people looking for exactly the product you are producing! Be patient with yourself and the process. - Nancy Landrum
Click To Tweet
Learn more about Nancy Landrum of MillionaireMarriageClub.com: