Membership Plugin vs LMS Plugin: Differences to Consider
Our content is reader supported, which means when you buy from links you click on, we may earn a commission.
---
What is a Membership Plugin?
A membership site is where you offer gated content on your site and limit access to that content. Only subscribers can access the premium content behind those gates.
You can create the gate with a membership plugin or a membership script. The gate allows members to log in and access the exclusive content. It creates a private, password-protected area on your site.
You can have a free or a paid membership (or both) on the same site.
You can protect virtually any type of content with a membership plugin or script.
This includes; ebooks, courses, webinars, podcasts, cheat-sheets, workbooks, quizzes, interviews, mastermind calls, important news or updates, exclusive articles, or any other type of content you'd like to protect.
Members can also often interact with each other in a community format (if you offer this within your member's area), with you, and with other instructors.
You can charge a one-time fee or recurring monthly fee for exclusive access to your members area.
Access can also be free in exchange for an email address.
Many membership site owners schedule the member's only content, especially those running a recurring subscription pricing model. That's where members are charged a monthly fee in exchange for new content each month.
Other member subscriptions might offer content in a course format where it's important to complete the first module, then the second, and so on. Drip content options are available where specific content can be released one week at a time to help members digest the early content first. You can also require learners to take and pass quizzes over the material before they can start in on the next set of content.
There's really no limit to a membership site.
How Does a Membership Site Work?
You will need to install a plugin or a script on your server. WordPress is the most popular content management system (CMS) so there are many WordPress membership plugins available.
If you want to run a membership website, you'll need a web server or hosting plan, and the membership site plugin or software. If you're using a WordPress membership plugin you'll need an installation of WordPress on your hosting account. Then you'll install the membership plugin or software onto your hosting account and configure it.
Once your membership plugin is configured properly, you can add content and get it ready for your members.
Many membership site plugins automate the registration process, integrate with payment gateways, offer an affiliate program, and more. Most are fairly robust and don't just stop at gating premium content and automating registrations.
Membership plugins work well if you're offering an online course. Depending on your needs, you may not need a traditional online course platform or learning management system (LMS). Instead, it's possible that a membership plugin is the best fit for you. Alternatively, you may need both an LMS and a membership plugin depending on the specific solutions you choose.
What's the Difference Between an LMS and Membership Site Plugin?
Now that I've introduced the term LMS, you may be wondering what an LMS is.
An LSM (which stands for learning management system) is a traditional online course platform. The content is typically structured in a module to lesson format and can include quizzes, certificates, and progress tracking. Depending on the type of course you're offering, you may not need all those features. In some cases, an unstructured course resulting from a membership plugin may be a better fit.
It's important that you understand the difference between a membership site plugin and an LMS so you choose what's best for you. I'll get into that here in the next section.
Do You Need a Membership Plugin or an LMS?
In the past, membership plugins were just about the only way to sell courses online for small businesses. The learning management systems available were either so expensive or so complex, that many small businesses never considered them. Instead, they gated their content with a membership site plugin.  But now there is an abundance of LMS platforms including cloud LMS and WordPress LMS plugins.
So what's the difference between an LMS and a membership plugin and which should you choose?
Learning Management System Features
An LMS plugin usually offers a means to gate content, but the content that's gated will be presented in a more structured way. For example, learning management systems typically organize curriculum based on modules and lessons. An LMS may sprinkle quizzes and assessments throughout the course. You (as the administrator) may track the progress of the learner as well as monitor how they're performing. Find out if learners complete or pass a course or if you need to change your course contents.
You can enable certificates of completion with an LMS. In addition, you can offer prerequisites where a learner has to complete a mini-course first and follow a specific pathway.
Membership Plugin Features
In contrast, with a membership plugin you don't have all these features, but what do have is complete control. The course will run on your platform but is not confined by the restraints of an LMS. You can gate any type of content you want and organize it in any format you want. The main point is these plugins allow for more possibilities.
A membership plugin allows you to protect whatever you want. It's designed to protect your content and control who gets access to it. The plugin lets you protect specific posts and sell access to those. There are also many custom capabilities offered with the best membership plugins.
Overlapping Features
There's definitely overlap between LMS plugins and membership plugins.  You may be able to accomplish what you need with either one. Membership plugin plus extensions or other plugins may be able to do everything an LMS can do if you need all those features.
In some cases, you may actually need both an LMS and membership site plugin. You would use the membership plugin to protect the content while the LMS provides the structure within the course.
For instance, if you already have a WordPress membership site and now you want to add a formal course to it, you may need both.
A membership plugin essentially controls access to your content.  That means you can sell subscriptions on a single level or offer more diverse membership levels. You can offer a free course and a paid course or a membership and grant access to specific people.
In addition, you can offer Bronze, Silver, and Gold memberships where the Gold subscribers get more content. This allows you to attract more people at different price points.
If you're just going to have a single course (that doesn't need all the bells and whistles of an LMS) with different tiers then a membership plugin is probably the best choice for you.
With an LMS you'll get all the structure of a typical online course and you can offer several different courses all from one user interface.
Questions to Ask
Answering the following questions may help you determine if a membership plugin or an LMS is the best fit for you …
Do you need quizzes or assessments?
Are certificates a must-have for your course?
Do you need prerequisites?
Does your content follow a module to lesson structure?
Do you need progress tracking?
Most of this will not come with a membership plugin.
If you end up using a membership site plugin and you need the features listed above, you'll need to find plugins or scripts to fill in the gaps between what you need and what the plugin offers.
Most of these features are offered with an LMS plugin. Therefore, if you need that list of features, you may want to use an LMS plugin instead of a membership plugin.
Membership Plugin vs LMS Plugin Table of Differences
Each membership plugin and LMS plugin is different. Some may offer all these features, while others offer less. This table is just a generalization of the standard features with these plugin types.
| | Membership Plugin | LMS Plugin |
| --- | --- | --- |
| Protect any type of content | ✔ | Sometimes |
| Automate registration and login | ✔ | Sometimes |
| Offer trials | ✔ | Sometimes |
| Integrate with email marketing tools | ✔ | Sometimes |
| Integrate with forums | ✔ | Sometimes |
| Offer coupons | ✔ | Sometimes |
| Accept payments | ✔ | Sometimes |
| Manage subscriptions and cancellations | ✔ | Sometimes |
| Offer multiple membership levels | ✔ | Sometimes |
| Provide course structure | Not typical | ✔ |
| Offer progress tracking | Not typical | ✔ |
| Offer quizzes | Not typical | ✔ |
| Offer prerequisites | Not typical | ✔ |
| Offer certificates | Not typical | ✔ |
Who Should Use a Membership Plugin?
Anyone who wants to protect content that may not need the structure of a learning management system should consider using a membership plugin.
In some cases, using a membership plugin makes more sense than using an LMS. I've seen recently created courses run on membership plugins instead of LMS plugins.
Costs of Membership Site Plugins
Like every solution, membership plugins come with a range of costs. The most typical pricing structure is a one-time yearly fee. This recurring annual fee covers upgrades/updates and support. These may start at $120 a year for a basic plan and go up to $350 a year.
Others charge a monthly fee. With these, you can see prices starting at $20/month going up to $100/month (or more). Many offer a free trial period or even a free version.
Scripts and especially WordPress membership plugins need updating so you should expect to pay a recurring fee for a quality membership plugin. In addition, the companies developing these solutions will continue to offer support as long as you're under a support contract, which is also part of the recurring fee.
Integrations
Integrations pose a special challenge with any tool you're using. Often, you'll have to pay extra for these additional features. For instance, in order to integrate with a payment processor, you may have to pay for an add-on with some of these solutions. Any integrations offered by the membership plugin provider will likely have a recurring fee for updates and support.
You'll also need to check your integrations periodically to make sure they're still working correctly.
Most of these software solutions can integrate with many third-party solutions. For example, if you're already using an email marketing automation tool, then you'll need to check on whether the membership plugin will integrate with it or not. Make a list of all the integrations you need and find the tool that can integrate with it before you commit to any membership plugin.
Examples of Membership Sites
Here are a few examples of membership sites so you can see all the possibilities.  Reflexion Yoga offers Yoga training. They have a $9/month plan to access their training materials or an annual plan where you can save a little money.
Relexion Yoga looks like it runs on MemberMouse (which is on my list of best WordPress membership plugins as shown below). You can mark off your classes as finished, save your favorites, and rate and review your classes. Much of the functionality of the course comes from additional WordPress plugins (and not MemberMouse), but they chose to use a membership site plugin to protect the content and manage registrations.
You don't have to protect course content with a membership plugin. You can build a membership site like Backstage which helps actors and actresses looking for acting jobs. While BackStage offers advice, they also offer a job board, the ability to set up a social profile within the members' area, and more.
Another membership site I'm sure you've heard of is Ancestry. They offer software and a database to build your family tree online.
The point is, you don't just have to protect training material with a membership site solution. You can protect anything you'd like and organize it in any way you'd like.
Best Membership Site Platforms
MemberMouse

The MemberMouse WordPress plugin turns WordPress into a fully-fledged membership site and membership site management system.
MemberMouse plans start at $20/month and go up to $300/month. A $60/month plan will get you most of the features and provide support for up to 10,000 members.
Businesses running their platform on MemberMouse include the Paleo Plan which is a membership site offering training on the Paleo diet, FlyOMedia which offers training on how to fly airplanes, PaulJanka.com which is a dating help site, and many others.
This plugin enables you to build a fully functional membership site with protected content, great features, and great support. It is user-friendly which is why it's one of the top WordPress membership plugins.
MemberMouse Feature List
Here are just some of the MemberMouse features:
Sell unlimited subscriptions, memberships, and online products (including online training courses) through a password protected member's area.
Manage customers, automate customer service, and allow customers to manage their own accounts.
Automatically lock accounts for users who share their login information.
Track critical retention metrics.
Offer 1-click upsells and downsells, split test prices, and take advantage of the gifting feature.
Integrate with virtually any affiliate solution and most popular payment processors (including PayPal, Stripe, and Authorize.net).
Check out MemberMouse by signing up for their 14-day free trial.
Amember Pro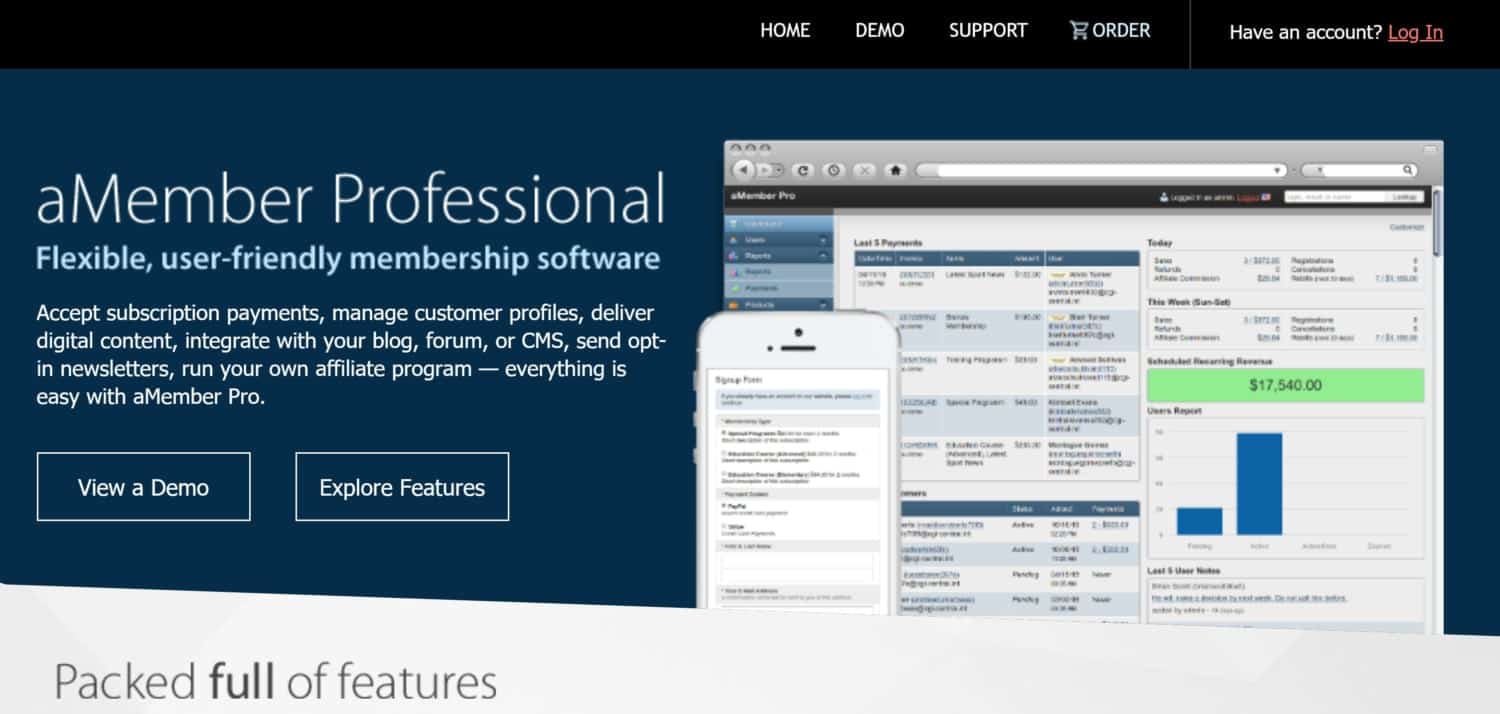 Amember Pro is not specifically a WordPress plugin, instead its a PHP script you can install on your server to create a membership site, password protected area offering content, online training, or anything else.
You may use it to protect WordPress content along with content created with any other content management system, Dreamweaver, or any other type of site builder. So no matter how you're creating your web pages, Amember can protect them.
Purchase Amember with a one-time payment (regularly $180). This entitles you to 6 months of updates and support. You can add-on more updates and support by buying an extension so compared to many options, Amember is fairly inexpensive.
Amember is used by Latina Lawyers Bar Association, the premium WordPress theme provider Anariel Design, baby and toddler sleep experts and consultants at the Baby Sleep Site, and many others.
Amember Feature List
Here are a few of Amember's features:
Easy protection of folders, scripts, files, blog posts, forums, and more.
Unlimited membership levels for paid and free memberships.
Affiliate module so you can accurately track affiliate sales.
Integration with popular payment processors, email marketing tools, and many of the other popular tools you may be using.
Coupon codes, flexible sign-up forms, incremental content delivery, full WordPress integration, and more.
Amember staff will install the script onto your server.
Check into Amember (they offer a hosted demo and 30-day money back guarantee) and see if it's the right membership site solution for you.
There are many solutions on the market to help you create a course or membership site that provides a great experience for users.
Put yourself in your user's shoes and figure out what custom capabilities you need. From there, it'll be a snap to figure out the right WordPress membership site for you.
FAQs on Membership Plugins vs LMS Plugins
Should I use an LMS plugin or a membership plugin?
LMS plugins and membership plugins are great tools for setting up online learning.
LMS plugins provide all the features you need to create and manage your courses. This includes incorporating quizzes and managing student progress.
Membership plugins let you control who has access to your content. They can also provide more features like forums and Groups.
If you're not sure which one is right for you, consider what kind of content you want to create.
Also, consider how much control you need over who has access to it.
Which membership plugin is best?
Popular membership plugins include Memberpress, WP Membership, and DAP Membership. Each has its own set of features. So that means you'll want to select the membership plugin that offers the features you need.
For example, if you want a membership plugin that offers integration with many different types of payment processors, then Memberpress may be the best option. But, if you're looking for a membership plugin with robust content management capabilities, WP Membership may be a better choice.
Which LMS plugin is best?
LMS plugins are a great way to add interactive elements to your website or blog. But with so many options out there, it can be tough to decide which one is right for you. Here are a few things to keep in mind when choosing an LMS plugin:
Ease of use: You want a plugin that's easy to set up and use, without a lot of complicated features.
Compatibility: Make sure the plugin is compatible with your website platform (such as WordPress) and any other plugins you're using.
Pricing: Some LMS plugins are free, while others require a monthly subscription. Choose the option that fits your budget.
Do you need a membership plugin with Learndash?
Learndash can protect your content and ensure that only paying members have access to it. There are a few things to consider when choosing a membership plugin. For one, you need to consider whether you want it to be a standalone plugin or integrated with Learndash. You'll also need to decide what features are important to you. These may include membership levels, payment gateway integration, and content dripping.