How Mark Oborn Went From Working as a Dental Technician to Helping Dentists Market Themselves

Our content is reader supported, which means when you buy from links you click on, we may earn a commission.
---
What market does your online course serve?
I've worked in health care (dentistry) the whole of my life, initially on the clinical side of things and later in the business and marketing side of things.
I created two strands for the online courses, both of them connected by a common theme of increasing the performance of individuals and businesses.
The first strand of the business looks at digital marketing, this gives a series of courses on how to attract more of the right type of visitors to a website and then convert more of those visitors into new patients/customers.
The second strand of the business looks at the mindset and personal development. This gives a series of courses on how to work with and then maintain the best mindset for success, including communicating with patients, team members, and indeed, one's self.
What's the biggest benefit of taking your course?
Growing a healthcare business using marketing strategies that work and putting all of this together in a business that has the right mindset for success.
How did you get into the market?
I was working as a dental technician in healthcare, as with many technical professionals I was very good with my hands and at the technical side of the business. I lacked business knowledge seriously. So I enrolled in an open University course and spent 4.5 years on their MBA program. I graduated with a Master's in business and majored in marketing and creativity.
I was using my formal education and knowledge to look at how other people were marketing themselves within dentistry and I could see a gap in the market, I felt that dentists were marketing themselves in a way that was conducive to the profession and so I started the marketing agency.
As part of my MBA, I was also introduced to neuro-linguistic programming (NLP) as a way to think differently and be more creative. I became fascinated with NLP and embarked on a series of courses to become a Master NLP practitioner & Master NLP coach.
The whole idea of putting so many things together to achieve success really appealed to me and so I created The Performance Academy to help others do the same.

How long did it take you to create your course?
It took over a year from the initial concept through to having some courses online.
I worked on the personal development side of things first and created an initial 3 courses – around 10 hours of course content.
Then I created a series of presentations, exercises, and tasks for delegates to undertake. I used a green screen and purchased a high-resolution camera and professional microphone with a pro lighting setup to create videos that people could watch within the course.
After I had completed the personal development fundamental courses I then moved on to marketing, using exactly the same approach, I broke down everything I do in my marketing agency into a series of courses and then used videos, exercises, and downloadable tasks for delegates to learn.
Tell us a little about the process of launching your course and getting your first sale(s).
Over the years I've built a fairly wide network of people that looked to me as an expert in dental marketing and also NLP coaching, so I already had a network to put my courses out to. About 6 months prior to launch I began introducing my network on social media to the concept of online learning.
The biggest problem I hit was that I was due to launch in August of 2020, the covid 19 pandemic hit in March 2020. Had I been ready to launch in March it would have been perfect as so many people were at home, the problem was that by the time I was ready in August everyone was 'zoomed' out and not really wanting to take more online courses.
I didn't actually do the launch, I just put all of the courses online and started telling people about them… In hindsight, this was a mistake and I should have gone through a formal launch including PR. One lives and learns!
Do you have a lead magnet?
Yes. I've used this kind of lead magnet (free PDF download) for many years. The marketing PDF download is available here. The personal development PDF download is available here.

What's the traffic strategy that works best for you?
SEO:
I spent years working on optimization for both of the primary websites.
These websites have been in existence prior to the course going live and I think this is key to traffic.
People are attracted to the primary marketing of your personal development website, see the good content, and then decide to review the learning platform for more.
Social media:
For any direct links on social media, I send people directly to the learning platform, on social media and e-mail most of the education is done in the content of the e-mail or social media, so people are already informed about what the learning platform does, this is why I use of the direct link to the platform here.
What online course platform are you using?
I use Thinkific as my online course platform.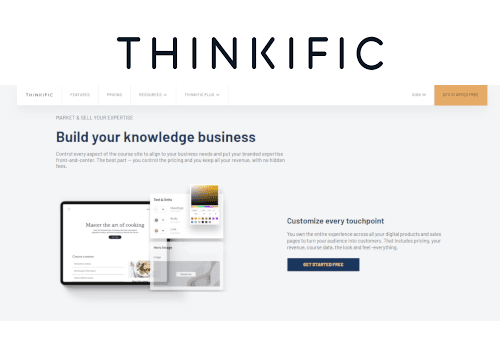 Take a Look at Thinkific!
Thinkific is the most popular online course platform used by successful course creators interviewed on coursemethod.com. It's a complete solution for creating sales pages, uploading all course content, taking payments, and more.
Price Range: Free to $499/month 
Most Popular Plan: Pro Plan at $99/month
Annual Discount: Yes, take 20% off!
Free Trial: Try out Thinkific's core features for free.
*Our content is reader supported, which means when you buy from links you click on, we may earn a commission.
Do you like it?
Yes, I absolutely love it, especially when integrated with Zapier, and then it also works alongside my e-mail marketing system, Aweber.
Are there any features you wish it had?
Possibly more design features so that I can create a better-looking homepage and internal landing pages.
What made you decide to use your chosen platform over others?
I initially started with another bespoke dental learning management system is my target market were in the dental industry. However, it worked out to be quite expensive so I decided to switch to Thinkific.
Thinkific has a free offering so I could test my concept out and make sure that I liked the platform. I got my first mini-course uploaded at no cost.
I also liked the fact that they took no commission from the first 100 subscribers, again this kept my costs down in the early days.

What other tools do you use to run your online course business?
Here are the tools I use:
A social media scheduling system to create posts for marketing
A primary coaching website that offers one-to-one coaching as well as online courses, this acts for S and as a feeder mechanism into the causes
Aweber links into both the coaching website and Thinkific to nurture leads depending on where they are in my sales funnel
Stripe links to Thinkific to take payment
Stripe then links these payments to Xero so that my accounts are all automatically kept up-to-date
The OBS free digital capture software to create the videos
A Logitech 4K WebCam which enables me to create high-quality videos
Rode microphone ensures the sound quality is high
A Neewer lighting rig ensures the videos are well lit
What books or training programs have you found useful on your journey to a successful business owner that others might find valuable too?
Gravitational marketing by Jimmy Vee.
Do you have any big mistakes you've made along the way that you'd be willing to share?
I should have created a launch. Instead, I just put all the courses online and then started to market them and it's been quite difficult. I should have done a preregistration offer, gathered lots of people together but wanted to take the courses, and then given them all access at the same time.
Please share some idea of revenue.
I'm still in the relatively early days, especially as I didn't do a launch (BIG MISTAKE).
Total sales £4,296
Monthly revenue £132.50
Please tell us a little about what the money you've earned from your course has done for you.
It's made no difference as yet financially. The course is breaking even which is absolutely fine by me.
Primarily, I'm doing this because I absolutely love the concept of educating. As the covid restrictions lift I'm able to do more face-to-face lectures and point people in the direction of my courses, this will be my primary marketing mechanism.

In addition to revenue are there any numbers you would like to share?
How I added my first 100 users.
The first thing to say is that these are subscribers to the platform, by a long shot, not all have purchased courses.
Thinkific has the ability to run live Zoom webinars. I have marketed these on Facebook and offer them for free as a lead generation initiative. - Mark Oborn
Click To Tweet
In order to access the free webinar, they need to sign up and create an account, this then introduces them to the learning platform.
Because I've got the platform linked to my Aweber e-mails, they then automatically drop to an e-mail nurture campaign.
I would say running free webinars from within the software has been a brilliant way to encourage people to sign up and experience things.
What has creating your course done for you personally?
I absolutely love running courses and this is a great way for me to keep practicing what I preach, helping others to grow.
I'm also a door pusher. I like pushing doors of opportunity to see which opens.
These courses present a huge amount of opportunity to me financially, it's very easily scalable and this is what draws me to it. - Mark Oborn
Click To Tweet
What advice do you have for people just starting out?
Create a launch event or marketing stream. Build up a series of courses, give people teasers as to what's in these courses, build a list of people that are interested, and then launch to that list, asking those people for reviews.
I would suggest a six-month period of buildup.
Learn more about Mark Oborn of markoborn.com: