How Maggie Bera of Actor Aesthetic Built 4 Successful Online Courses After Acting School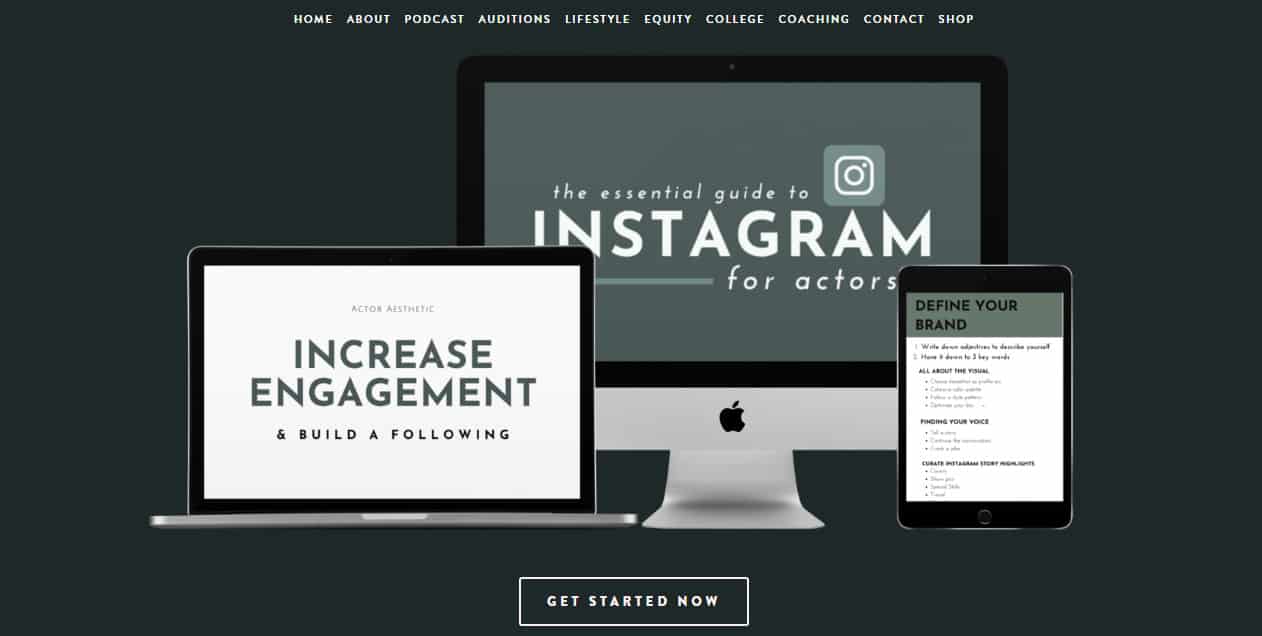 Our content is reader supported, which means when you buy from links you click on, we may earn a commission.
---
Who are you and what course have you created?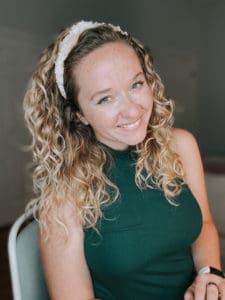 I'm an NYC-based actress and founder of Actor Aesthetic, an actor lifestyle blog, podcast, and online learning community designed to educate artists pursuing a career in the theatre industry. Since creating my business, I have built 4 successful online courses on Thinkific specific to the theatre industry.
They are The Ultimate Guide to Preparing for Musical Theatre College Auditions, Build Your Musical Theatre Audition Book, How to Successfully Submit to Casting Directors, and The Essential Guide to Instagram For Actors. During the COVID-19 shutdowns, I also worked as a Thinkific Mentor to help other entrepreneurs prepare new courses and bring their businesses online.
What market does your online course serve?
My courses are designed specifically for actors pursuing a professional career in the theatre industry.
What's the biggest benefit of taking your course?
Before creating Actor Aesthetic, my intention was to bridge an informational gap. Somewhere between schools/training programs and the real world – actors are left to fend for themselves. They learn through doing – sometimes the hard way.
When I began pursuing a career in the theatre industry professionally, I often found myself scouring the internet for information… I never came across a course that understood me. A course I trusted.
That's how Actor Aesthetic came to be.
My courses teach you about the nitty-gritty business of the arts. They teach you how to market yourself in a saturated industry, how to become your own advocate, and how to navigate the logistics of it all.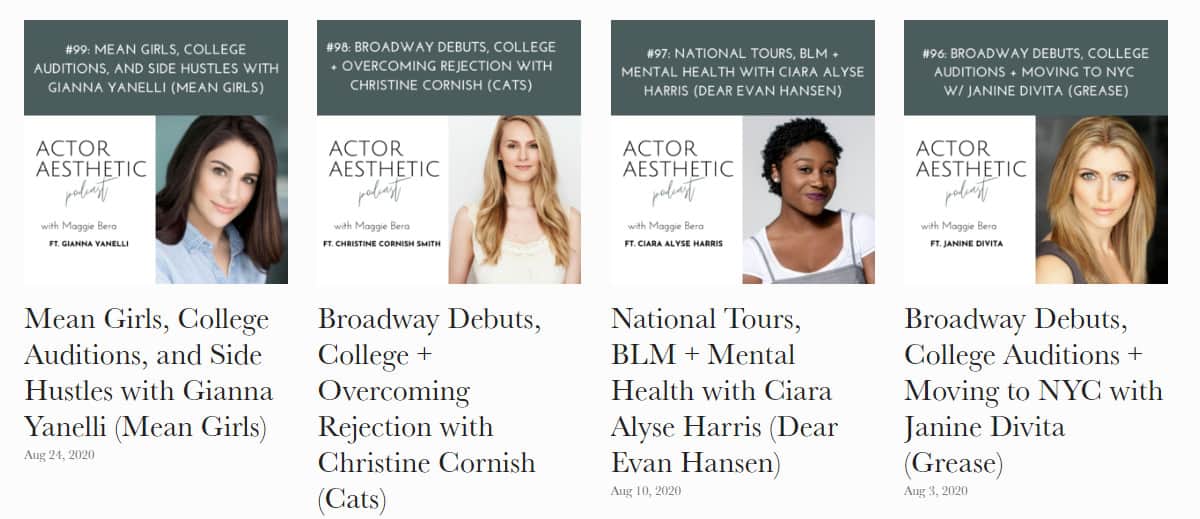 How did you get into the market?
I've always been an actress. Ever since I was young, I was pursuing a professional career in New York City.
However, in 2017 I began my blog, Actor Aesthetic, as a requirement for a course I was taking my senior year of college. I enjoyed creating it so much that I went above and beyond by building something I could continue after I graduated. Shortly after, I found my audience by connecting with other actors through social media and began creating for them.
Only in the summer of 2019 did I begin creating online courses! I was inspired by fellow entrepreneurs who were successfully scaling their business through online course creation.
Why did you decide to create an online course in the first place?
I moved to New York City in the summer of 2019 and I was looking for ways to expand my business. I initially started creating courses as a way to scale my coaching business – with only so many hours in the day to work with students, it helps to have products you can sell for clients to work through on their own time.

Did you have any moments of doubt before you created/launched it?
Absolutely! Every late night I spent researching, outlining, creating graphics, and editing videos for my videos, I second-guessed my credibility. I was constantly thinking that I was too young and too inexperienced to actually make a product someone would pay for.
I'll be frank – I now have FOUR online courses and an e-book available, I coach students worldwide, I run a successful blog, podcast, social media channels, and all my own marketing… and I STILL feel like an imposter sometimes.
If so what made you turn it around and do it anyway?
If there's anything I've learned as a business owner, it's that you can't please everyone.- Maggie Bera
Click To Tweet
I began shifting my mindset onto the client – and I thought long and hard about what future customers want, what they struggle with, and how I can use my unique experience to help.
What's your online course like?
My courses are a true mix of video (PowerPoint presentation with voiceovers), text, quizzes, and downloadable PDFs, spreadsheets, and checklists.
How long did it take you to create your course?
Each course took me roughly a month to create.
I always begin my process by chatting with my audience to identify their pain points. I ask them what they're struggling with, what makes them tick, what they need help with. This is how I brainstorm new course ideas.
Once I've solidified a topic, I hold a poll on both my Instagram and Facebook groups to ask whether or not anyone would be interested in a course on it. If the response is an overwhelming YES, then I get to work!
I then create a general outline of the main points I want to cover. I focus less on quantity and more on quality – I'd rather my clients learn more in a 10-minute jam-packed video than sit through a drawn-out 40-hour course.
Once I've created my outline, I start designing graphics on Canva to go along with my talking points. I export those to iMovie and record voiceovers as I go. Finally, I create any downloadable PDFs, spreadsheets, and templates to keep my audience engaged and organized.

Tell us a little about the process of launching your course and getting your first sale(s).
I always send a series of emails leading up to the launch – hinting at the course and educating my audience on the topic we'll cover. This is a great way to build anticipation and excitement for the product.
Once it's time for launch, I send out an email to the Actor Aesthetic subscribers and do a massive social media campaign. I hop on Instagram and Facebook to give videos explaining the course, how you'll benefit from it, where to find it, and how to sign up. I follow up on direct messages, participate in Q&As on the course, and make sure to shout out each customer who has successfully enrolled in the course on social media.
The first sale is ALWAYS the sweetest – I turn my notifications on so I can do a little party dance when it happens with each course! ☺
What's the traffic strategy that works best for you?
Though my Instagram has over 10K+ followers, I've found that my blog drives the most traffic. Therefore, I try to write blog posts that include strong search engine optimization tactics and copy that sells one of my courses. Many of my clients come directly from the blog.
What online course platform are you using?
I use Thinkific to create and host all my online courses.
Do you like it?
I love Thinkific. You can get started completely for free and create as many courses as you'd like, the online learning platform is incredibly easy to use, students can pay by using Stripe or PayPal, and I can integrate my site with my mailing system.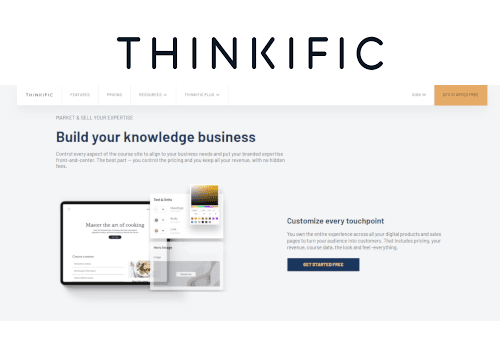 Take a Look at Thinkific!
Thinkific is the most popular online course platform used by successful course creators interviewed on coursemethod.com. It's a complete solution for creating sales pages, uploading all course content, taking payments, and more.
Price Range: Free to $499/month 
Most Popular Plan: Pro Plan at $99/month
Annual Discount: Yes, take 20% off!
Free Trial: Try out Thinkific's core features for free.
*Our content is reader supported, which means when you buy from links you click on, we may earn a commission.
Are there any features you wish it had?
I only wish that the sales pages had more flexibility in template and design!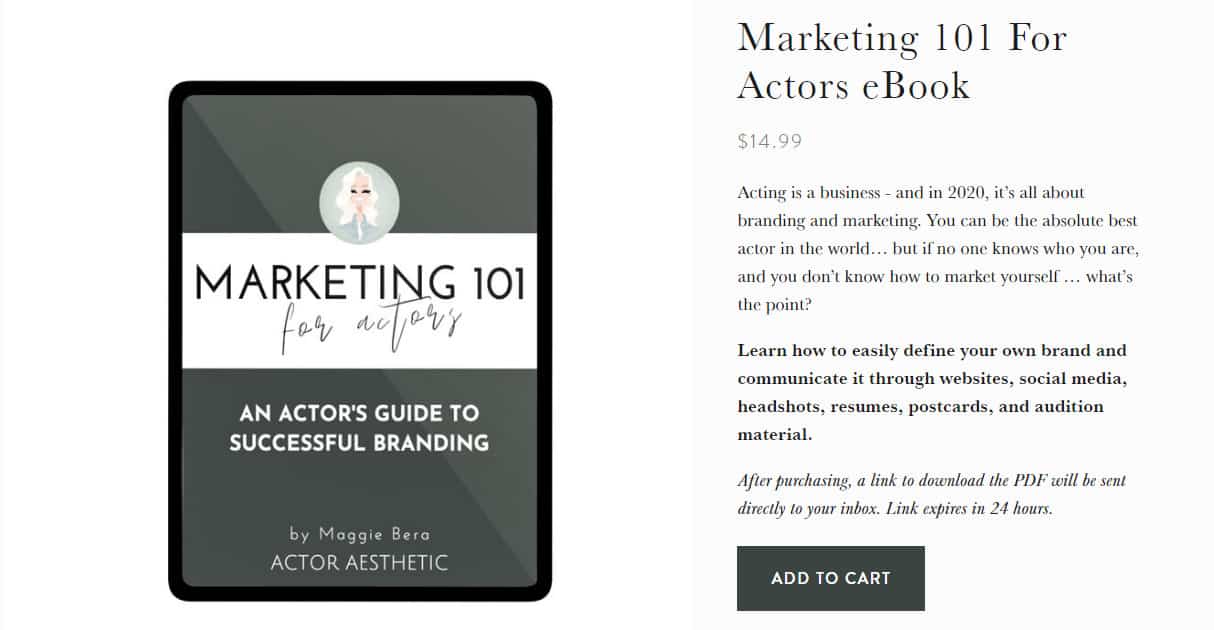 What made you decide to use your chosen platform over others?
I wanted a platform that took care of everything for me as a first-time course creator – all I had to do was create the course, the sales page, publish a course, and then start marketing it! I found that Thinkific was the most inexpensive option for me.
What other tools do you use to run your online course business?
I host my business's site through Squarespace, I make all my graphics on Canva, I use iMovie to create and edit videos, and my Blue Yeti Mic for all voiceovers. I use MailChimp for my email list and various social media platforms (Instagram, Facebook, TikTok) for marketing.
What books or training programs have you found useful on your journey to a successful business owner that others might find valuable too?
I'm a big podcast fan – I've learned countless valuable tips from hosts and business owners like Amy Porterfield of Online Marketing Made Easy podcast, Julie Solomon of The Influencer Podcast, Jenna Kutcher of the Goal Differ Podcast, and Patt Flynn's The Smart Passive Income Podcast. Highly recommend!
Do you have any big mistakes you've made along the way that you'd be willing to share?
My biggest mistake was not starting sooner! I delayed creating online courses because I was afraid no one would be willing to actually buy my products.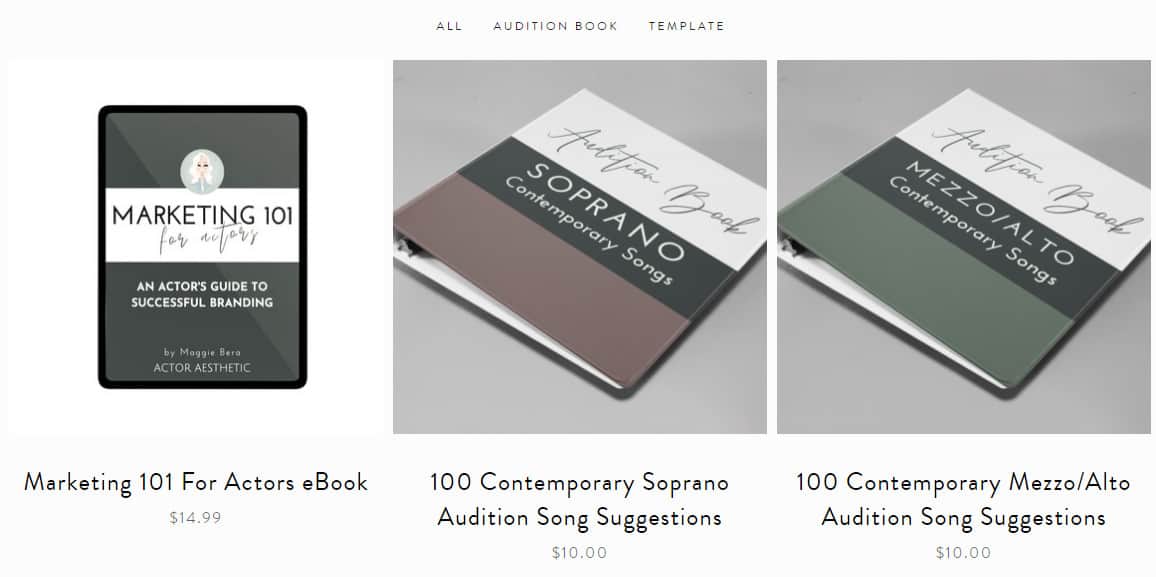 Please tell us a little about what the money you've earned from your course has done for you.
Course creation has allowed me to scale my coaching business and reach more clients across the world! I've also been asked to present my courses in workshop form at various college training programs around the United States.
In addition to revenue are there any numbers you would like to share?
In 2017, I started my Instagram account from scratch and have since grown it to over 10,000 loyal followers! I show up daily to answer direct messages, host Q&A chats, hold polls, ask questions, and offer high-quality content that is educational, entertaining, and inspiring.
My Instagram has become the number one place for me to get to know my audience – their pain points, their successes, and how to better serve them. - Maggie Bera
Click To Tweet
What has creating your course done for you personally?
I feel more accomplished than ever. I never knew I had the capability of creating something out of nothing as I have with my courses. After every course I've launched, I look forward to the next!
Do you have a story of a transformation from any of your clients?
My favorite stories are from my students who've taken my online course, The Ultimate Guide To Preparing for Musical Theatre College Auditions, and have successfully been accepted to the college of their dreams for Musical Theatre! Many folks may not know this, but it's just as difficult (if not more) to be accepted to top Musical Theatre college programs than some Ivy Leagues. Previous students of this course have been accepted to CCM, Emerson, Coastal Carolina, Texas State, Montclair State, Syracuse, Auburn, Temple, University of Indiana, Oklahoma, Western Connecticut State, Missouri State, SUNY, LIU Post, Belmont, and MORE.

What advice do you have for people just starting out?
When it comes to course creation, my biggest piece of advice to entrepreneurs is to ensure your course idea has high market demand. You can choose a niche topic as long as there is a need for it! To find this – you must survey your ideal customers. I've found social media to be the best tool for getting to know my audience!
Learn More about Maggie Bera of actoraesthetic.com: