How LN Mishra of AdaptiveUS.com is Growing His Business Analysis Training Programs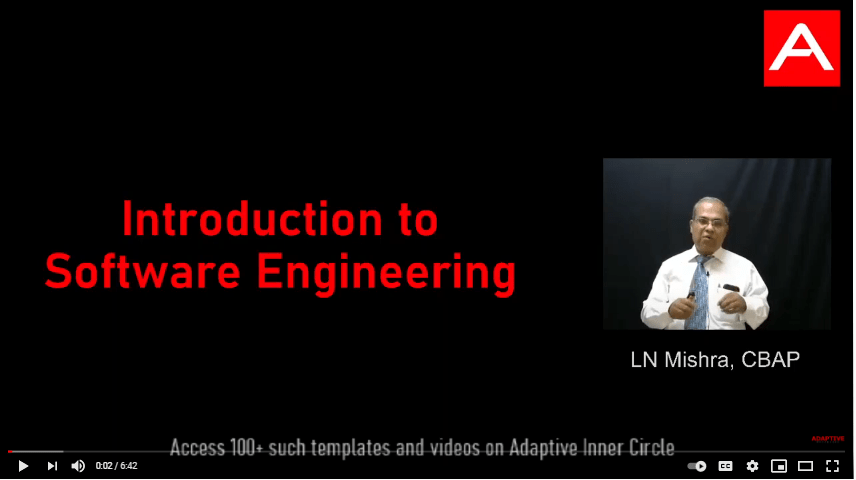 Our content is reader supported, which means when you buy from links you click on, we may earn a commission.
---
Who: LN Mishra
Website: adaptiveus.com
Course Topic: Business Analysis
Interesting Stats: 860 students so far
Who are you and what digital training company have you created?
I am LN Mishra, co-founder of Adaptive US. We are an IIBA certification training organization, providing IIBA certifications online training, question banks, study guides, simulators, flashcards, audiobooks, and digital learning packages.
Adaptive US is the only training organization offering a success guarantee & an inclusive planned workshop. We have produced 860+ certified BA professionals & have organized 300+ BA workshops and 6000+ BA training days.
What market does your digital training serve? Tell us a little about it!
We serve the Business Analyst community & the professionals willing to join the Business Analyst community. We provide CBAP, CCBA, ECBA, AAC, CBDA training across the globe. The training is being organized in different time zones. We have students from 50+ countries now across all continents.
What's the biggest benefit of taking your online courses?
We are the only training organization to offer guaranteed success. And our training package includes online training, question banks, study guides, simulators, flashcards, audiobooks, digital learning packages as an inclusive package. As our trainers are part of BABoK V3 authoring and exam committees we are able to provide a real-time experience in our simulators.
How did you get into the market?
We had once got an offer from a client to conduct a course on business analysis, way back in 2010 or so. And the program was very successful then we realized that this is a need of the market. There are so many training institutes providing training on project management, but there were very few organizations that were providing training on business analysis. That is how we decided to get into the business analysis training market.
Why did you decide to create a digital training company?
Initially, we were offering training only for the local community. Then we realized the world of the Internet allows us to serve customers across the globe. That is when we decided to move from a physical model of delivery to a digital model of training.
Did you have any moments of doubt before you launched your training company?
Of course, every entrepreneur goes through periods of Doubt whether we will be able to launch a program that will be accepted throughout the world is always a 'question mark.'  There are competitors, and there are formidable players in the market. Today we see Microsoft and such companies getting into the same training space and those always create a doubt in your mind whether you are good enough or not.
But we focused on delivering excellent value to our customers, and that is how we have been able to acquire almost the number one position in the niche that we work on.
If so, what made you turn it around and do it anyway?
In general, the company wasn't very loss-making from the beginning because training is generally a business which has a relatively low initial investment required; so, that is why we have been reasonably profitable from year two. The year one investment, of course, came from the founder's money.
What are your online courses like?
Our online courses are all in one including online training, question banks, study guides, simulators, flashcards, audiobooks, digital learning packages. We have made it inclusive so as to give the users stress-free learning through variation in delivery methods.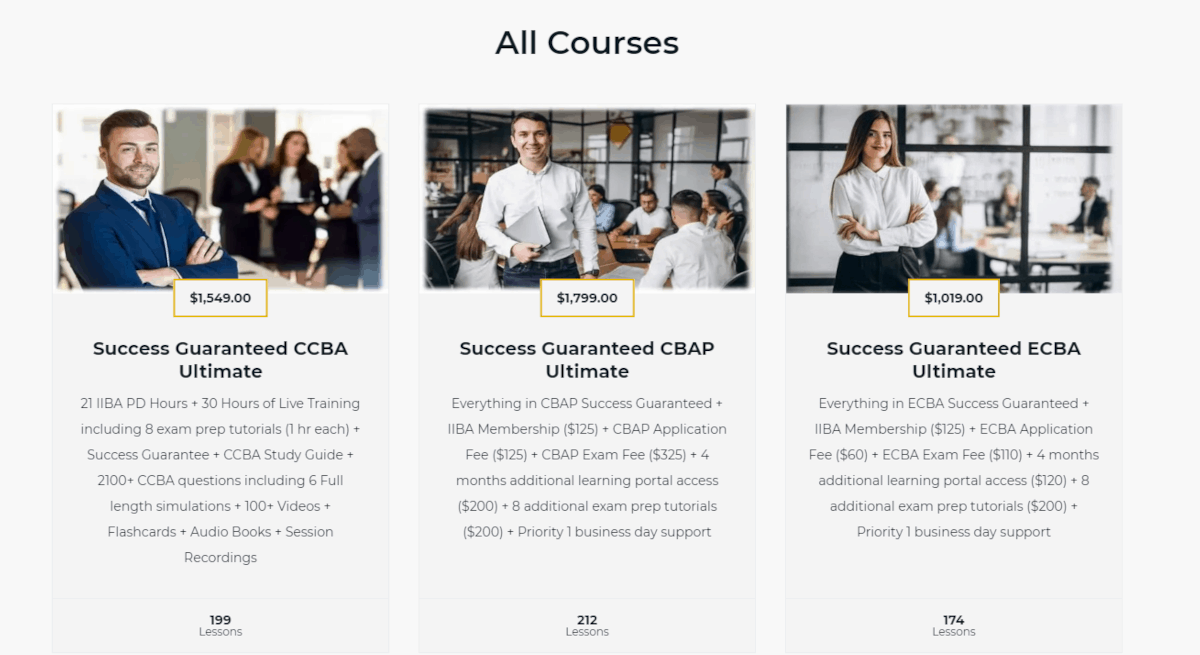 How long does it take you or your team to create a new course?
It takes about 3 to 6 months for us to create a new course, depending on whatever type of work we have already done in the past. Sometimes the new course could be an update of an existing course. In that case, we can do it in three months' time. But, when it's an entirely new course, it can take anywhere between three to six months to learn about the new domain, then create a course.
We research the domain and try to find experts in the domain. Then we try to create the presentation deck for that domain and we also create the study guide. Gradually, we convert that presentation into video learning modules, and these presentations are also used for delivering live lectures.
Tell us a little about the process of launching your first course and getting your first enrollment(s).
The first course we launched was more from a corporate request. So, the request came from a corporation, and hence, the enrollments also happened by the employees of that organization.
Then we started advertising on our partner organization's website or rather the organization to which we are accredited, and we started getting students through that lead. We also spent a decent amount of time developing a brand on LinkedIn, which has also helped us get enrollments.
Do you have a lead magnet?
We do have multiple lead magnets in operation today. One; we give access to a free trial course. This is about three hours of duration in which the student gets a study guide, question Bank, and few other things. We also have a weekly live webinar that our faculties conduct, and that also serves as a lead magnet for us.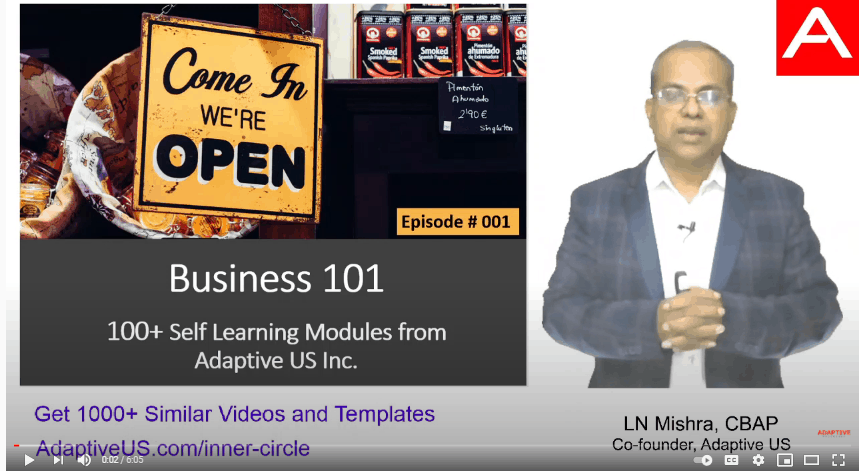 What's the traffic strategy that works best for you?
The traffic strategy is kind of still an unknown game to us. We do write a lot of blog posts, which drives some traffic, then we advertise on Google, and we run advertisements on IIBA. And we, of course, try to optimize our website so that we appear for our key Search terms in Google. It's working okay; but, I believe we have the potential to grow at least three to five times what we are today.
What online course platform are you using?
We are currently using Thinkific and a homegrown platform. The Homegrown platform has been in use for about five years; it has served us well but, it was not getting upgraded at the speed that we wanted to upgrade. So we are using Thinkific after doing a thorough evaluation between Teachable, Thinkific, and one more platform I'm forgetting.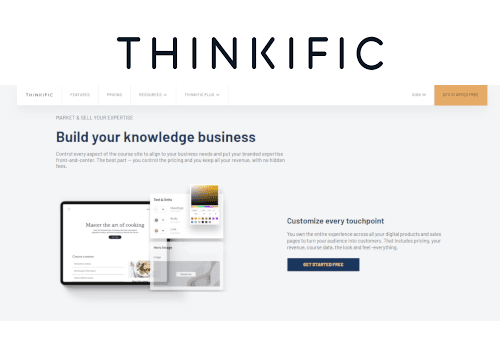 Take a Look at Thinkific!
Thinkific is the most popular online course platform used by successful course creators interviewed on coursemethod.com. It's a complete solution for creating sales pages, uploading all course content, taking payments, and more.
Price Range: Free to $499/month 
Most Popular Plan: Pro Plan at $99/month
Annual Discount: Yes, take 20% off!
Free Trial: Try out Thinkific's core features for free.
*Our content is reader supported, which means when you buy from links you click on, we may earn a commission.
Do you like it?
Thinkific seems to be doing reasonably well, except that the simulation modules in Thinkific are much more expensive and not so user-friendly. So, that is one area where we are still using our homegrown tool.
Are there any features you wish it had?
Some of the features that we wish Thinkific had were a stronger assessment and remote assessment. Those kinds of features should be included. The quizzes don't have a timer, and a timer functionality would be very, very helpful.
What made you decide to use your chosen platform over others?
The reason why we went with Thinkific was the clean layout, and one of the major requirements for us was to import 5000 + questions that we have, which Teachable didn't provide. Otherwise, Teachable is also a great platform, but that question import functionality made us go toward Thinkific rather than Teachable.
What other tools do you use to run your digital training business?
We also use … go to webinar and go to meeting for our live session delivery. We use lots of tools for search engine optimization and content creation; there are about 35 tools used as part of our training business.
What books or training programs have you found useful on your journey to a successful business owner that others might find valuable too?
I would say I'm an old-timer; I still love the book by Dr. Edward Deming, 'Out of the Crisis,' which is a great book on anybody who would like to manage a company. There are tons of available books, but one has to kind of go through the process, and I think your own experience is probably much more valuable than any book.
Do you have any big mistakes you've made along the way that you'd be willing to share?
We've made plenty of mistakes. Not so much from the training business point of view, but from the consulting business point of view. We made blunders in terms of accepting changes requested by the client without realizing what kind of impact it would be making on our product.
So, one has to be very careful when one is willing to build a product to keep the scope aligned to what one wishes to do.
Please share some idea of revenue for your digital training company.
We are actually making about $40,000 at this point, and it mostly comes from our online training live classes and then also the sale of our digital product.

Please tell us a little about what the money you've earned from running your digital training company has done for you.
Okay, so I think most of the money we earned, we haven't used it for personal use. We do have a fairly decent-sized team now. We're about a 15-member team today. We did invest some money into an office but, with covid-19, we closed down the office because it didn't make sense.
We kept some money for emergencies because you never know how the market can turn around. But in general, most of the money has gone into building the brand and ensuring survival during a time of crisis.
In addition to revenue are there any numbers you would like to share?
Some of the numbers that we closely track are the number of students who have completed the certification through us. We are at about 860 at this point and we're hoping we will cross one thousand later this year.
And then, of course, once you cross one thousand, it's good to keep moving forward. We do track subscribers and followers of our company on LinkedIn, which has crossed around 13,000 now. We track our subscribers on YouTube as well, which is about 2,500 now.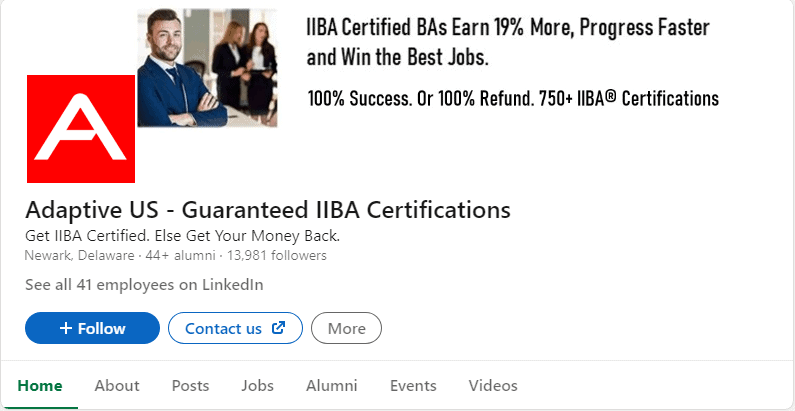 What has creating your digital training business done for you personally?
The training business has added a lot of value because you grow with the company, learn how to manage students, and learn how to manage your colleagues.
Now it's almost a globally recognized brand, and you feel proud at some point in time that people- a lot more people know about your company, and they benefit from the services you are providing.
What advice do you have for people just starting out?
A piece of advice from my side would be to not invest heavily in technology, especially trying to develop a product for your self-use. It's not something you can sustain for a long time, and it's way, way more expensive. Today you have tons of good products available in the market. So, do research, pick a nice product- maybe Teachable, maybe Thinkific, or maybe some other product, and then move along. That way, you save a lot of time and hassle, and you focus on creating content and delivering it to your students.
Learn more about LN Mishra of adaptiveus.com: