How Leah Gervais Grew Urban20Something.com to $20K/month by Showing Budding Young Entrepreneurs the Ropes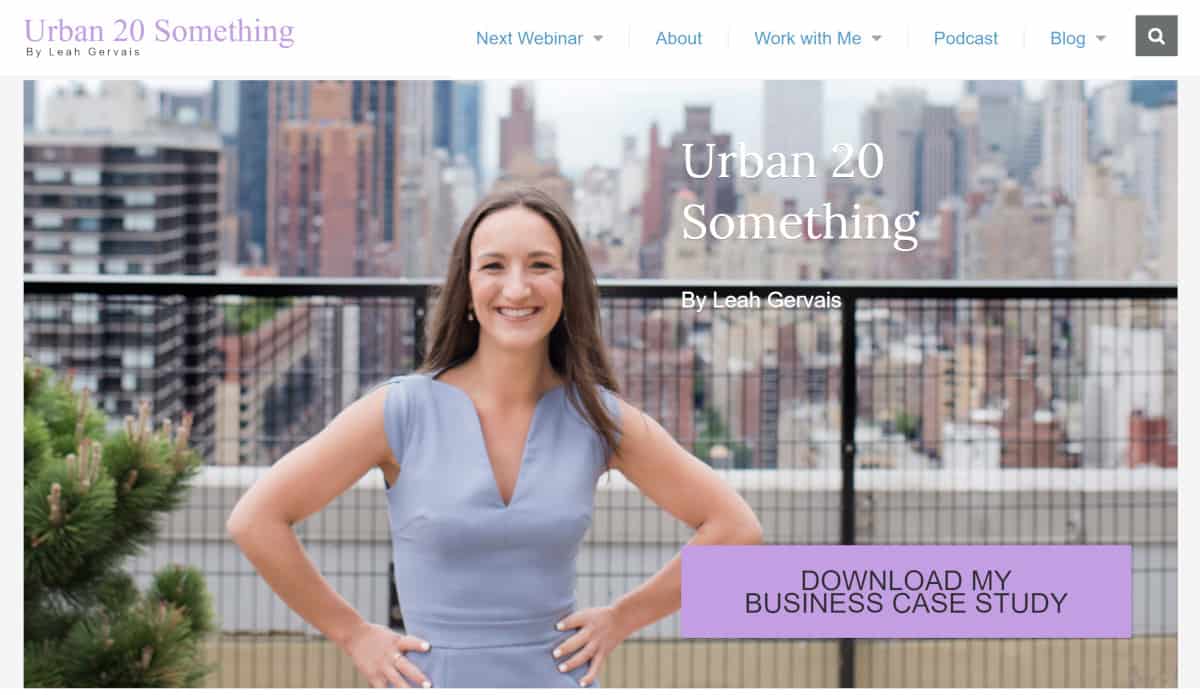 Our content is reader supported, which means when you buy from links you click on, we may earn a commission.
---
Who: Leah Gervais 
Website: urban20something.com
Course Topic: Starting an online business
Interesting Stats: 200K monthly views on Pinterest
Who are you and what courses have you created?
My name is Leah Gervais and I'm the founder of Urban20Something. The goal of Urban20Something.com is to help younger professionals learn about what's possible besides getting and keeping a regular 9 to 5 job.
We offer 3 main courses that I've listed out here:
Seven Days to a Side Hustle: This is a free 7-day email course. It covers starting a business while having a 9 to 5 job.
Start Your Side Hustle: This program helps entrepreneurs with their mindset and selecting a niche.
Scale Your Side Hustle: This is our flagship program where we help people get fully set up with digital products and their email lists.
I also run an Entrepreneurial Mastermind where I directly help entrepreneurs over 6 months. The mastermind focuses on developing an entrepreneurial mindset.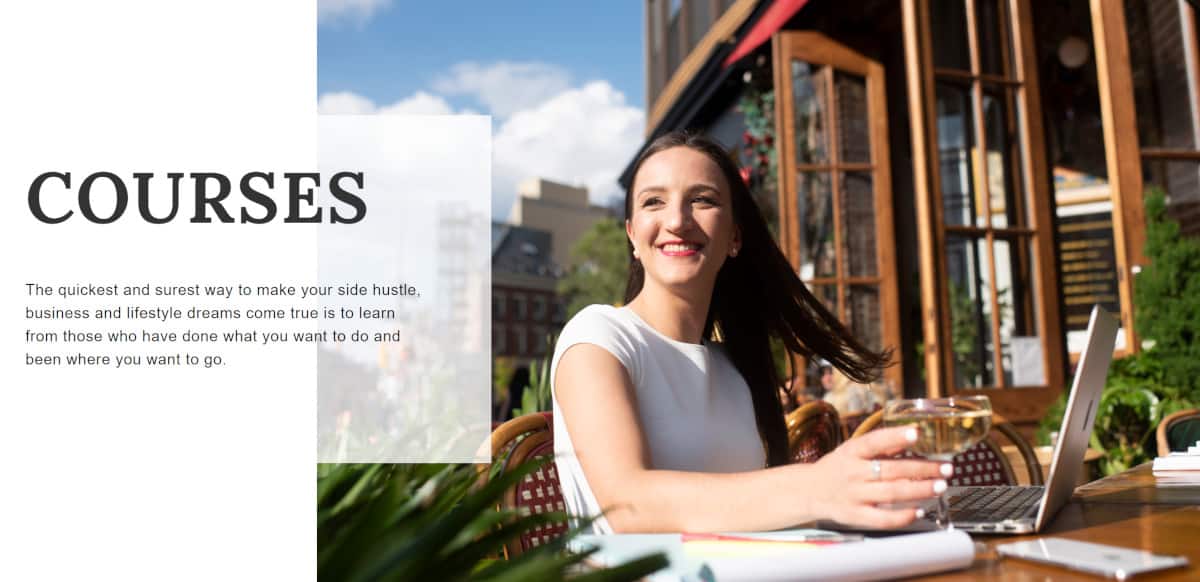 What market does your online course serve?
My flagship online course, Scale Your Side Hustle, is the best course out there for successful scaling an online side hustle to the point of it exceeding your 9-5 job. It's for any ambitious side hustler that knows his or her side hustle is meant for much more than just a side gig, and is willing to put in the work to scale it. They also care about location independence as this is all done online!
What's the biggest benefit of taking your courses?
My courses provide focus, clarity, and a roadmap to get from where they currently are to where they want to be.
How did you get into the market?
When I scaled my own side hustle to make more than I was making at my 9-5 job, my audience wanted to know how I did that and how they could too. So, I created it based on the demand!
Why did you decide to create an online course in the first place?
It was an efficient way to share helpful content with my audience.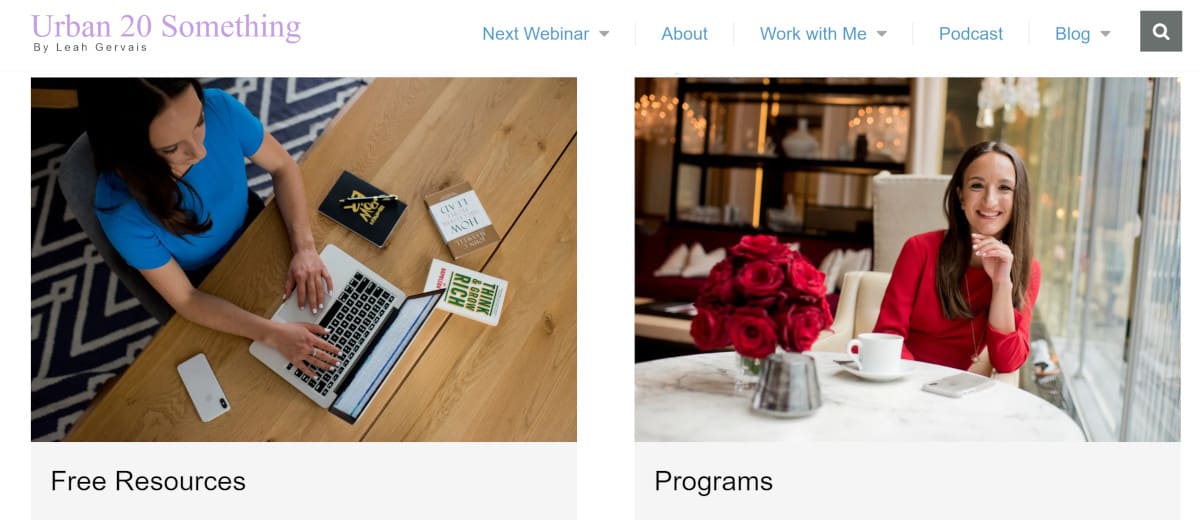 Did you have any moments of doubt before you created/launched it?
Oh yes. The night before I launched my very first digital product, I had a total meltdown to my now-husband about whether or not I was enough of an authority figure to teach this course. I also worried that no one would buy it.
If so what made you turn it around and do it anyway?
I realized that in being just slightly ahead of my ideal client, I could relate to them in ways that someone years and years ahead of them wouldn't remember how to.
I also realized that no matter what, I had created an asset. Even if it didn't sell at first (which it did), I could learn how to sell it later on. -Leah Gervais
Click To Tweet
You don't go to the gym one time and expect to lose weight. You keep going, keep learning, keep trying.
What are your online courses like?
They are PDF modules with accompanying videos.
How long does it typically take you to create a course?
Around 60 hours! And I've had ones in the past that took even longer. I always start with the transformation the course will provide, then break down the steps, then start including what is necessary for the steps to happen. Those are my modules!
Tell us a little about the process of launching your first course and getting your first sale(s).
My very first course is no longer available for purchase. When I launched that one, I did four webinars in one week around my 9-5 job. There were two total webinars and I alternated which ones I did live. I did them all live and advertised them to my relatively small email list. Looking back, I'm actually surprised I was able to make sales with that small list and running no ads to the webinar! I sent a sales email for a week and then closed the cart on Friday.
Do you have a lead magnet?
Yes! I have many lead magnets. Leading to my side hustle course, my main ones are a PDF of my side hustle case study as well as a free email course called Seven Days to a Side Business. These help my audience see why I made this course and my own story in scaling my side hustle.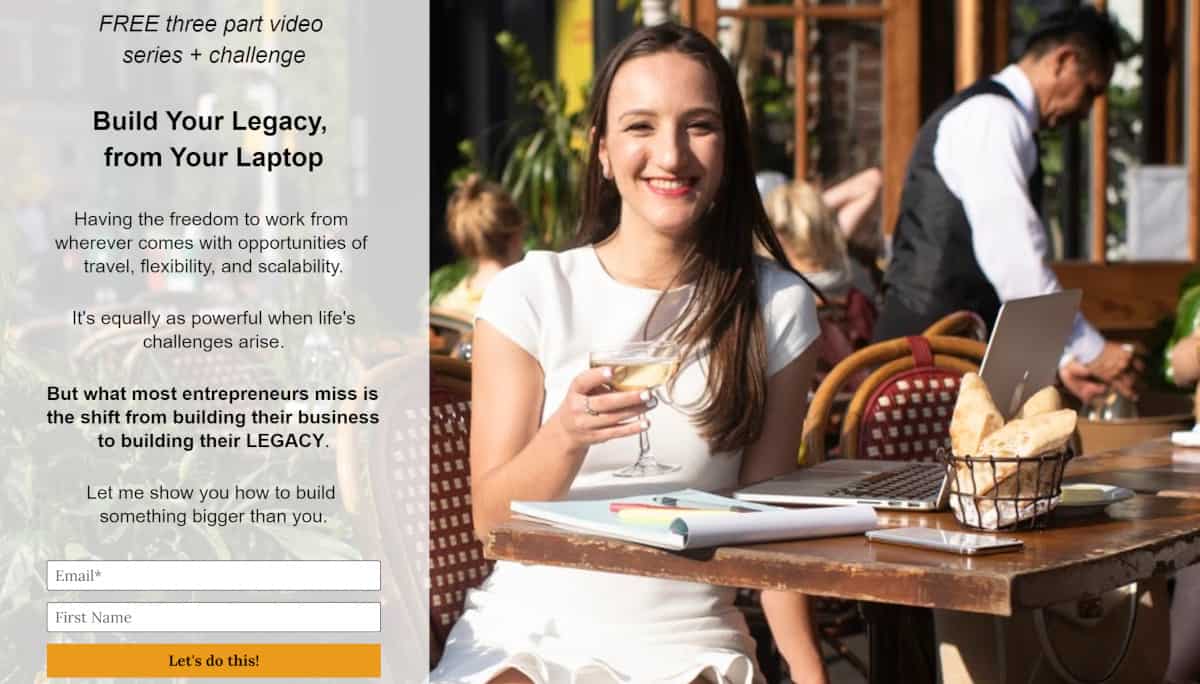 What's the traffic strategy that works best for you?
Pinterest! I put a lot of effort into it early on and it paid off. I have a full-on Pinterest team member at this point. It's powerful! Currently, I receive about 200K monthly views on Pinterest. My business is also on Instagram where we have about 20K followers.
I also use Facebook Ads.
What online course platform are you using?
I use my website as my online course platform and I love it!
Are there any features you wish it had?
I wish I could track how much of the modules people actually go through.
What made you decide to use your chosen platform over others?
It's too easy to get overly complicated with online businesses using so many different online course platforms. I used to use Teachable but didn't like their sales pages. Plus they didn't have an email service provider. So once I was using 5+ different platforms just for one course, it seemed unnecessary so I switched back to my website to host it all.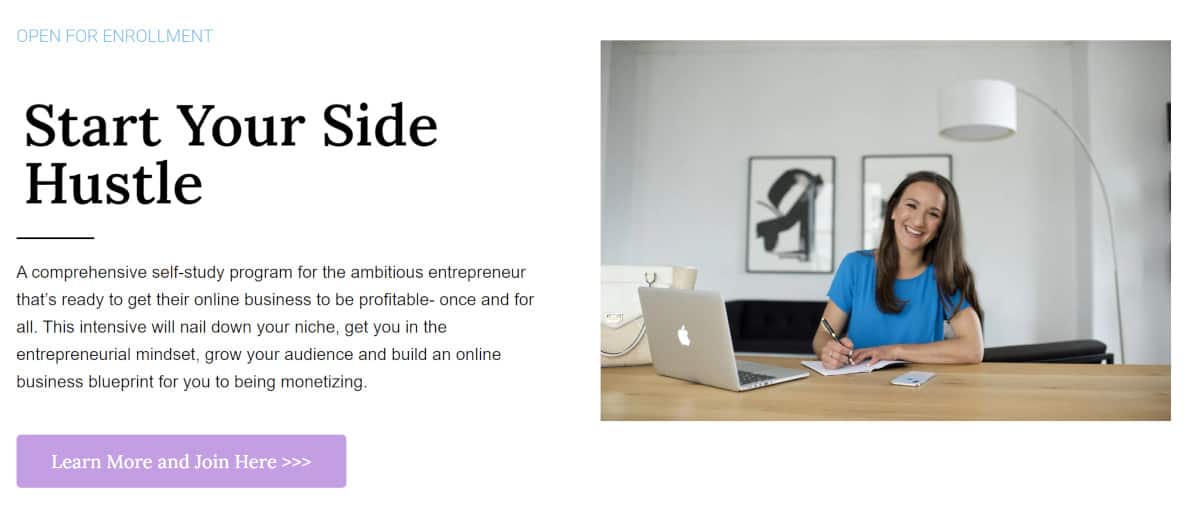 What other tools do you use to run your online course business?
ActiveCampaign to email my students and LeadPages to create my sales pages.
What books or training programs have you found useful on your journey to a successful business owner that others might find valuable too?
The Science of Getting Rich by Wallace D. Wattles – my favorite one ever!
Do you have any big mistakes you've made along the way that you'd be willing to share?
Test all digital products and services before you create them, no exception. You don't get to assume you know all the buying habits of your audience, so test out the digital products before you actually create it. You'll save yourself so much time!
Please share some idea of revenue.
We generate a minimum of $20k/month.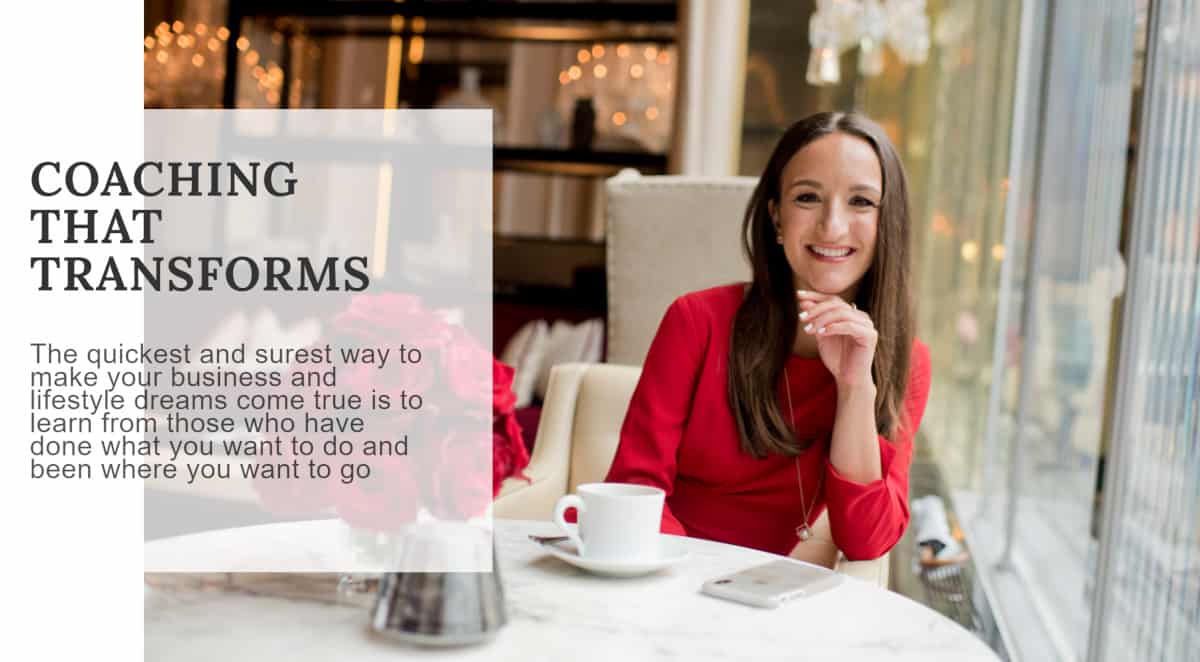 Please tell us a little about what the money you've earned from your courses has done for you.
It changed my entire life! It made me more than I was making at my 9-5 job, got me out of my 9-5, helped me become my own boss, turned into a six-figure business, helped me pay for my dream wedding, I can't even express enough how much my life has changed from this business!
What has creating your digital training company done for you personally?
It's allowed me to directly help people! I never felt like I made so much of an impact at a 9-5 job.
Do you have a story of a transformation from any of your clients?
So many of my clients were able to leave their 9-5 jobs because of my course!
One student started with my side hustle course on a whim and within 8 months, was able to leave her prestigious job at a global tech firm to work for herself. -Leah Gervais
Click To Tweet
One student took my course and went on to quit her job and travel full-time with her husband. The list doesn't end!

What advice do you have for people just starting out?
The sooner you start, the more you have to gain!
Learn more about Leah Gervais and Urban20Something: