How Laura Spaulding is Using Online Courses to Help Generate Revenue From Her Crime Scene Cleanup Company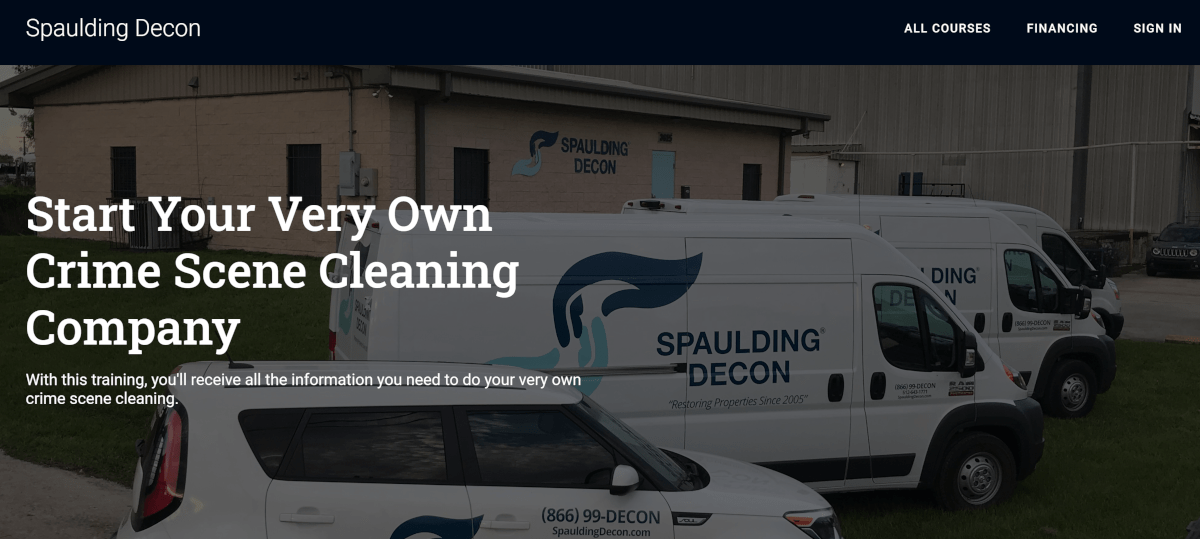 Our content is reader supported, which means when you buy from links you click on, we may earn a commission.
---
Who: Laura Spaulding
Website: spauldingdecon.com
Course Topic: Crime Scene Cleanup
Interesting Stats: 8K in courses in first 2 months
Who are you and what course have you created?

I started a crime scene cleanup company in 2005.  I spent 7 years in law enforcement and saw the need for this business.  In 2006 I added hoarding cleanup and meth lab cleanup.  I decided to franchise my business in 2016 and we now have 24 locations.  There's a ton of people that want to get into the industry and learn how to do this business.  Even more so now because we are truly recession-proof.  We normally do about $100K in estimates in 2 weeks and we did $30mm in the same period after Coronavirus.  We are getting more training course inquiries as well. I am getting requests for Coronavirus training courses.
What market does your online course serve?
Mainly those that see the high margins, recession-proof of the business want to get into this.  There are not many training course options so being a leader and franchisor in the industry gave us credibility.
What's the biggest benefit of taking your course?
We go through a step by step process of how to clean up different scenes.  There's also a business course on how to start this type of biz, market this difficult to market biz, and we provide legal contracts they can use for their customers. The courses were divided up into different services so people didn't have to take the whole thing. We were thinking maybe they would like to add on service to their existing business so keeping them separate was an advantage.  Figuring out what to charge has been a process.  We decided to price them differently but give a bundle discount.
How did you get into the market?
I spent 7 years in law enforcement and saw the need for crime scene cleanup.  Fifteen years later we have 24 locations after franchising.  In 2008 I saw most businesses crashing and filing for bankruptcy and we were doubling sales.  I knew then that I had a recession-proof business that I could scale.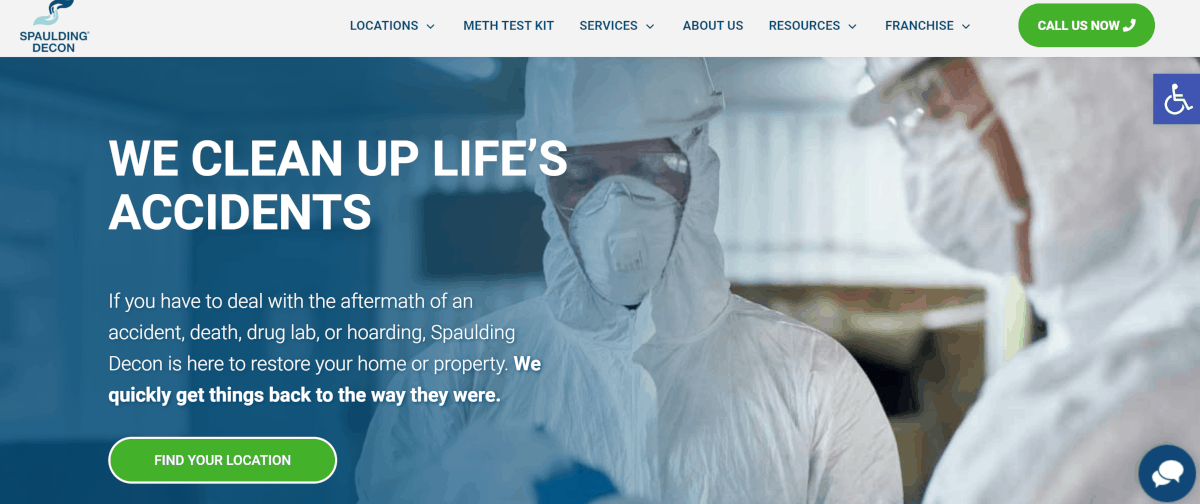 Why did you decide to create an online course in the first place?
There were many people who couldn't financially qualify for a franchise so offering them a training course and allowing them to start their own business was the cheaper alternative.  Furthermore, they can hire me for one on one consulting if they need more help. Buying into a franchise is a business in a box.  that is attractive for a lot of people.  Taking a course gives you the know-how to do the work, and even market the business but you don't get that one on one support as a franchisee gets.  So I decided to offer to consult coupled with the courses.
Did you have any moments of doubt before you created/launched it?
None at all.
What's your online course like?
I have taken online courses before and remembered but I liked and what I didn't like.  I hate all the fluff and self-promotion.  That really bothers me.  I just wanted the meat and potatoes of how to do things so I made sure that our training focused on that.
I broke down the business in small bites, had our in house videographer film me, then edit the content and put it up in sequential order. -Laura Spaulding
Click To Tweet
It was not an easy task.  Our business is diverse and there's a lot of moving parts to it.  The training course also couples as training for our franchisee's employees.
The training is a combination of Videos, text, and a certification test at the end.  We even have a walkthrough of a job explaining how we are doing things, why, and how to estimate jobs. I am happy with the results and we have gotten good feedback.

How long did it take you to create your course?
It took about 4 months.  We had a lot of video and editing and putting it all together.  We looked at 3 different platforms and decided on Thinkific.  I wanted it to be thorough so I had laypeople look at it and see if there was anything that I didn't go into detail enough on or anything that needed more explanation.
Tell us a little about the process of launching your course and getting your first sale(s).
We decided to market solely to our social media followers.  We have a huge following and were getting tons of messages about joining our team or starting their own business.  So we have only marketed 100% through social media.  We've never run ads or done any other form of marketing.
Do you have a lead magnet?
Yes.  It's called Bio basics.  It's a $20 course to give you a glimpse at the equipment, chemicals we use, and the PPE.  This will let people know the quality of the course before buying.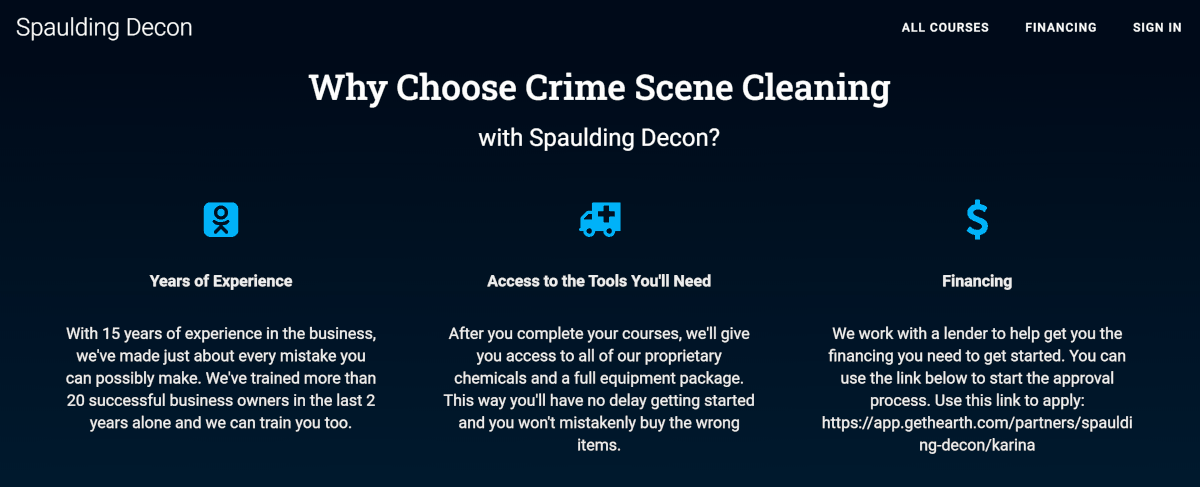 What's the traffic strategy that works best for you?
We haven't tried anything other than social media posts.  I want to try Google ads.  I looked at Facebook but it doesn't get detailed enough to market to our clientele.
What online course platform are you using?
We use Thinkific for our platform and we like it.  It is economical and easy to scale.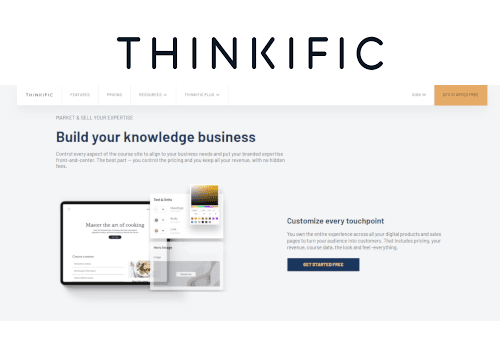 Take a Look at Thinkific!
Thinkific is the most popular online course platform used by successful course creators interviewed on coursemethod.com. It's a complete solution for creating sales pages, uploading all course content, taking payments, and more.
Price Range: Free to $499/month 
Most Popular Plan: Pro Plan at $99/month
Annual Discount: Yes, take 20% off!
Free Trial: Try out Thinkific's core features for free.
*Our content is reader supported, which means when you buy from links you click on, we may earn a commission.
Are there any features you wish it had?
Drip campaign capability and upsells like in Clickfunnels.
What made you decide to use your chosen platform over others?
I had staff do the research on the different online course platforms and that's what they came up with. They looked at Teachable too.
What other tools do you use to run your online course business?
Clickfunnels, Slack, Trello.  I wish Thinkific had a drip portion to it but we are using Clickfunnels to push people to the Thinkific page.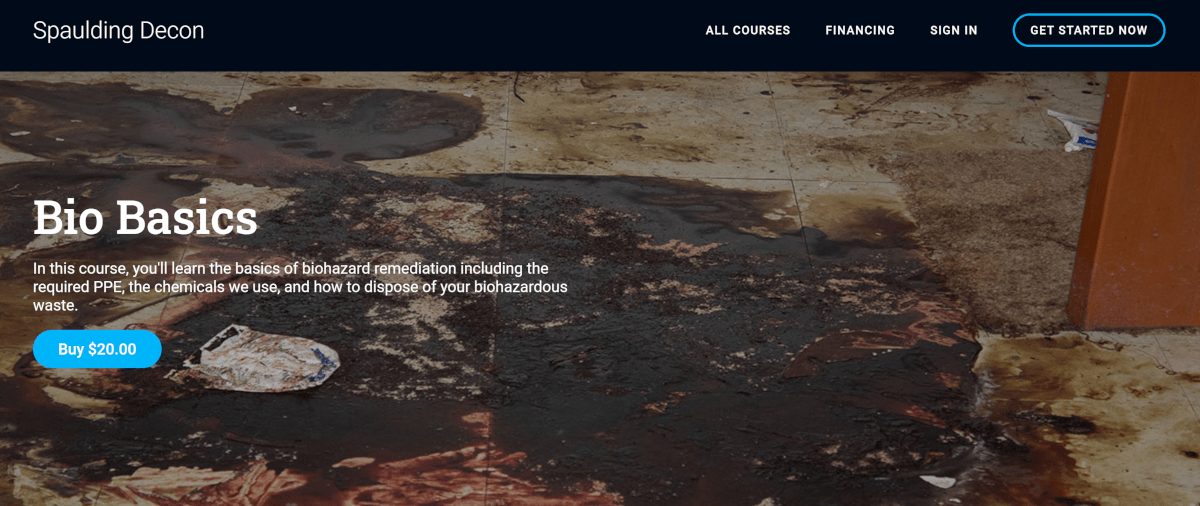 What books or training programs have you found useful on your journey to a successful business owner that others might find valuable too?
Rich Dad Poor Dad and E-Myth.
Do you have any big mistakes you've made along the way that you'd be willing to share?
Running a billboard for crime scene cleanup.  Terrible idea.  $3500 a month for 12 months and I never got one lead out of it. Nothing course-related yet.
Please share some idea of revenue.
We made $8K in the first 2 months of launching the course off of social media only.  We are looking at marketing in other ways now but Facebook doesn't have a broad enough demographic for us to pull a good audience.  Facebook isn't granular enough for us to pick up the target audience.  We haven't decided how to move forward yet.  Google ads are my preference.

Please tell us a little about what the money you've earned from your course has done for you.
Nothing.  This is a small part of our business.  We are doing this to capture revenue off of people that do not qualify for a franchise.
In addition to revenue are there any numbers you would like to share?
We have over 250K subscribers on YouTube and over 360K followers on Instagram.
We have a cult-like following and a reality show on YouTube where people get interested in learning the business. -Laura Spaulding
Click To Tweet
Our YouTube channel has been our only source of marketing for our courses.
What has creating your course done for you personally?
It has really opened my mind to creating other courses.  There are tons of things I want to share and I am taking another course right now on how to create a perfect course, market it and sell it.  I am at the beginning of this course and don't have all the info yet. Seeing his course has given me ideas but also I'm seeing things that I really don't like so I am able to make notes to avoid those things.  We have plans to add on fentanyl, mold remediation, and water restoration class as well.

What advice do you have for people just starting out?
What do you wish you knew before you started? Marketing in this business is very different from other businesses.  People don't want to hear about death cleanup.  You have to be sensitive, yet available.
As for the training portion, I think people think they have nothing to teach and I believe everyone has something to teach.  Sites like Lynda.com are a perfect example.  There's tons of stuff that I want to learn I just have to take the time to do it.  Online teaching is the way of the future.
Learn more about Laura Spaulding of SpauldingDecon.com: