How Krista Miller Launched Summitinabox.co as a MVP and Now Earns At Lease $35K/month on Autopilot

Our content is reader supported, which means when you buy from links you click on, we may earn a commission.
---
Who: Krista Miller
Website: summitinabox.co
Course Topic: Virtual Summits
Interesting Stats: Often has $60K + launches
Who are you and what course have you created?
I teach entrepreneurs to plan and launch profitable virtual summits without wondering where to start or what to do next. Rather than being all about the host benefits (which of course we want), these events are focused on building community and connection that will pay off long term and feel good to everyone involved. The primary ways I teach this are through my podcast, Summit Host Hangout, and my signature program, Summit in a Box.
Summit in a Box is a program that not only contains all of the strategies someone needs to plan and launch a profitable virtual summit, but it also has over 1,000 copy templates, website templates, design templates, processes, tutorials, and more to make the process easy.
What market does your online course serve?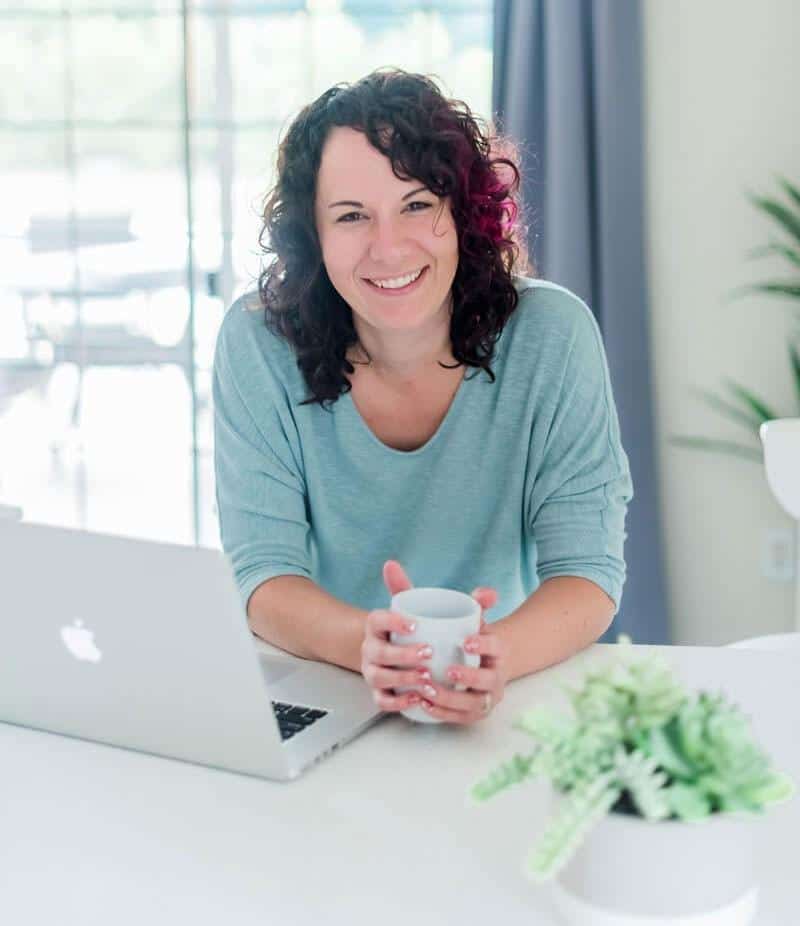 My course was created for the online business owner who has been in business for at least 2 years and knows how to talk to their audience. In knowing how to talk to their audience, they're able to identify and communicate pain points and deep desires. They have something that they can sell, even if it doesn't sell a ton due to having a small audience.
These business owners tend to feel like they've "made it" in hitting the first goal they set out to accomplish. Maybe they were able to bring their business full-time or hit an income goal of making several thousand dollars per month. Now they're ready for whatever that next step is that will increase sales of their product or service, boost their visibility, and connect them with other industry experts.
A virtual summit will do all of those things for them!
What's the biggest benefit of taking your course?
The biggest benefit my students see from working through Summit in a Box is that it goes beyond the strategy and includes all of the templates they need to make it easy. If there's an email they need to write, we have a script for it. If there's a website page they need to design, we have a template. In addition, the entire process is mapped out for them. This includes due dates, in their project management tool of choice. All they need to do is follow the steps.
In addition to seeing much better results than they would on their own, Summit in a Box removes stress, questions, and doubt throughout the process.
How did you get into the market?
I got into the virtual summit market completely on accident. At that point, I had been running a WordPress development business for about 2 years. That's when I found myself ready for something more. I had been full-time in my business for about a year. Through client work, I made the money I needed each month. But I was trying to figure out how to get my name out there in the industry even more. Not just to clients, but to peers I'd been wanting to connect with.
A virtual summit is an idea I'd pushed away for quite a while.
I thought they were kind of a gross marketing tactic that wouldn't feel good. I didn't think my email list (of less than 500 people) was big enough. And I honestly thought people would laugh when they saw that I, of all people, was going to host a summit.
But one day in the car, I realized that I could do this my way. It didn't have to be full of pitch-heavy marketing tactics. And I could do it for a very specific audience that had never seen a summit just for them before – my audience of brand and web designers!
I decided to move forward and hosted my first virtual summit. This was using a process I created from scratch, based on my limited knowledge of summits, in April 2018. I was hoping for 500 signups and $2000 to $3000 in all-access pass sales.
I blew my goals out of the water with 1400 signups (about tripling my email list) and $16,000 in all-access pass sales. - Krista Miller
Click To Tweet
This was about 4 times what I usually made in a month. I was blown away that it worked for me.
From there, I was hooked and was instantly ready to host round 2. But then the emails and social media messages started coming in. All kinds of attendees, speakers, and even my coach were asking me to teach them how to do what I did.
For the first few months, the answer was "no". It was a lot of work to come up with all of the strategies and materials I needed from scratch. I didn't think there was any way I could teach someone else to do it.
Fast forward about 5 months and they finally wore me down. The Summit in a Box brand launched in fall 2018 with the Asana/Trello template I used to launch my summit available as a minimum viable product to test the idea. It was a success!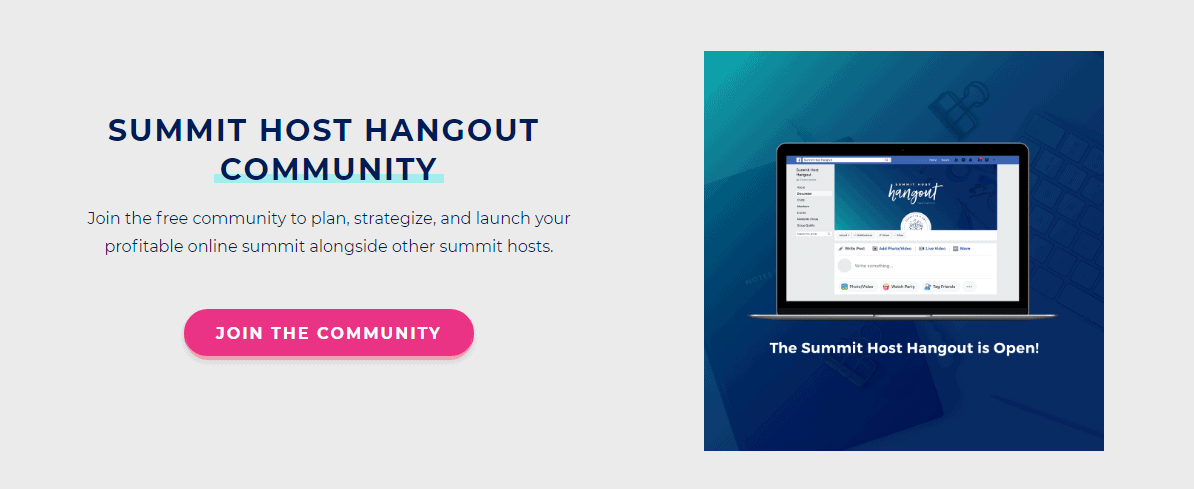 Why did you decide to create an online course in the first place?
I decided to create a full online course about planning and launching a virtual summit because it's what my tiny audience, at the time, seemed to want from me. They wanted a step-by-step of the process and all of the resources I was able to give them. An online course was the most natural way for me to deliver that.
Did you have any moments of doubt before you created/launched it?
I had all kinds of fear and self-doubt before I launched and, for a while, it did hold me back from creating my program. The course I wanted to create, with over 1000 resources, was going to be no small accomplishment and I really felt blocked at the idea of going through the work to create it and then not being able to sell it. I had never successfully sold a course before so I truly wasn't sure if I could do it.
There was one day, about 6 months into running the Summit in a Box brand that I realized that I wasn't doing what I'd set out to do. I had started with the goal of creating this huge signature course, and I wasn't doing it. Instead, I was still just selling my Asana and Trello process template.
I sat down to determine what was holding me back, and I quickly realized that the massive undertaking of creating the entire course before selling it was my roadblock. So to push past it, I created a plan. Rather than a traditional presale where I'd have money before creating the program (which I knew would take months of work) or creating the entire program before collecting money (which would be a huge risk and hard motivation-wise), I decided to launch a monthly membership.
What's your online course like?
Summit in a Box is a mixture of all kinds of mediums, depending on what works best for each piece of content.
Strategy training is delivered with short PowerPoint presentations. Students are also provided with downloadable slides and either a transcript or captions to supplement the training. More actionable training also contains workbooks that students can download to their computers and fill out.
Copy templates (website templates, email scripts, community posts, etc.) are delivered via Google Docs where students can copy my templates and fill-in-the-blanks.
Website templates are currently offered for WordPress using either Beaver Builder or Elementor and Kajabi. Students who don't have those platforms are able to look at our screenshot of the template and build out the page on their tool of choice.
Our process map is provided in Asana, Trello, and Clickup, allowing students to upload an exact step-by-step process, set the due dates, which we calculate for them, and not have to worry about figuring out which order to complete tasks in.
And last, tutorial videos are delivered through live-action video with captions to go along with them.
We also send all new students a custom box with a physical workbook, supplementary planning tools, and more.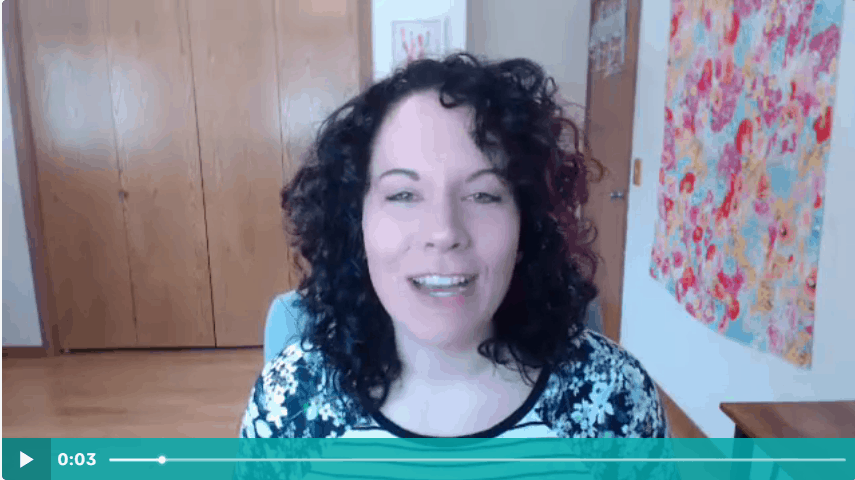 How long did it take you to create your course?
It took me 11 months from the time I started working on the first resource to the time we did our first launch. I add new resources to the program every month and will never consider my work fully done, but we launched with about 900 resources covering almost every step of the summit-hosting process.
Like I mentioned earlier, I created Summit in a Box by starting it out as a monthly membership, called the Summit Host Vault. In this monthly membership, I released 3 bundles of resources per month. The goal was that, over the months, I'd build-up to the full Summit in a Box program while making money and gauging interest.
I launched the membership for the insane price of $12/month. That included several pieces of training, a workbook, a few copy templates, and a registration page template ready to go. These founding members were also promised that they'd get the full signature program for free once it was ready.
In the initial launch to an audience of a few hundred people, we got 22 founding members, which I saw as a huge success.
Each month after that for the next 10 months, we released new bundles of resources and raised the price until the membership was $97/month.
By the end, we had over 100 students in the membership, and doing it that way gave me the motivation and confidence I needed to do the launch of the full program in April 2020.
Tell us a little about the process of launching your course and getting your first sale(s).
The first launch I did was a 5-day challenge launch. While we would have rather hosted a summit, a challenge was more realistic to do while we were still finishing up the program content and we knew it would build a ton of engagement and get our audience of about 2200 people excited.
In the 5-day challenge, I gave a short training each of the first 4 days and a specific action step to get people excited and working toward their summit. The 4th day even had them choose a date that they wanted their event to start to help make it real!
On day 5, I hosted a live webinar with the first pitch of Summit in a Box at the end. My goal was to make about $20,000 through the first launch and we brought in $30,000 just through the live webinar, not counting any sales that came in afterward.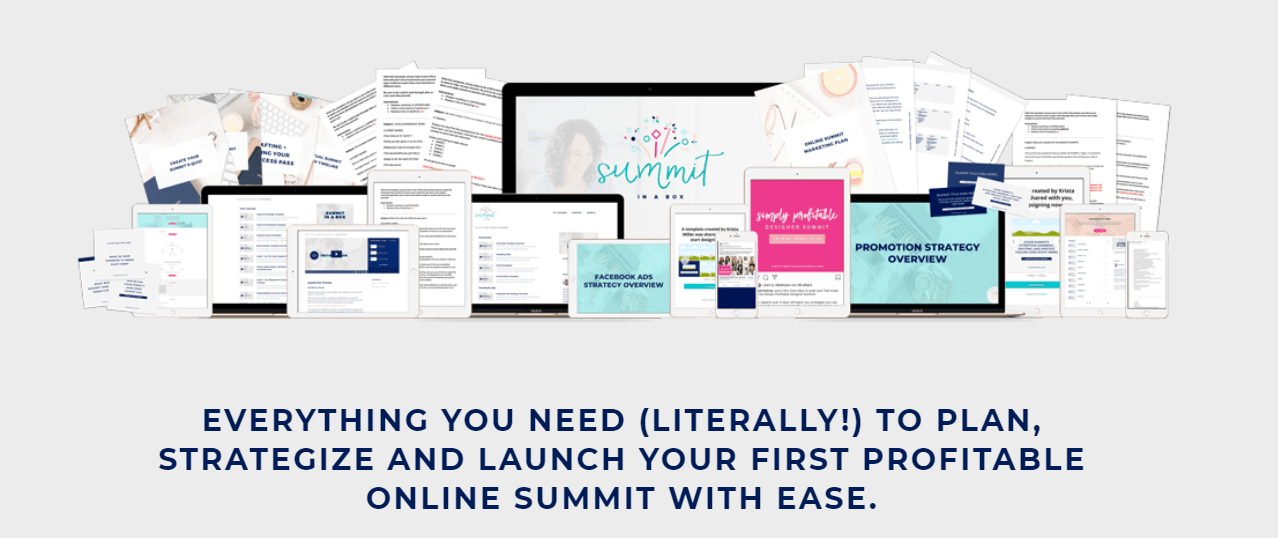 Do you have a lead magnet?
My primary lead magnet is an evergreen masterclass-style webinar. It includes about 45 minutes of teaching content that builds interest in the program, a 10-minute pitch, and 15 minutes of Q&A, all pre-recorded.
I also have several free PDFs and even some lower-ticket paid offers that feed into this webinar to increase volume.
The webinar converts at about 8% to primarily cold traffic and works quite well for us!
What's the traffic strategy that works best for you?
The traffic strategy that gets us the most people the fastest and converts the highest into Summit in a Box is running a virtual summit.  Our last summit brought in $68,000.
But since we only host a virtual summit once per year, we also run a lot of Facebook ads to a low-ticket offer funnel. The initial offer is a bundle of virtual summit promotion resources for $27. From there, customers can check a single box to add our registration page templates to their cart for $37. And after checkout, they can add our summit-hosting process template for $97, which is 50% off of the normal price.
We started doing this in late 2019 and have been doing it ever since.
Running ads to a low-ticket offer that converts lets us profit on the ads themselves. - Krista Miller
Click To Tweet
In addition, we build an audience of buyers who are more likely to buy again.
In months where we're not live launching, about 80% of our sales come from people who found us through a Facebook ad for that low-ticket offer.
It definitely took some experimenting to figure out what the funnel of offers needed to be. The good news is, if you already have a course, you can likely repurpose some of your resources from inside the course to make this offer.
We certainly didn't start out making a profit on these ads. But after experimenting with different audiences and offers, we landed on one that consistently brings in a profit and drives sales of Summit in a Box.
What online course platform are you using?
I'm a big fan of Kajabi. As a WordPress developer, I wasn't sure how I'd feel about being somewhere without full freedom. Fortunately, I quickly fell in love with how easy Kajabi is to use. Almost everything I need is built-in.
Rather than needing an affiliate tool, an email marketing platform, a course or membership plugin, cart software, and more, it's all built right into Kajabi and is so easy to use!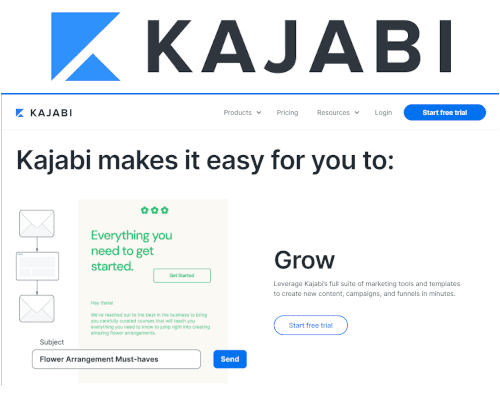 Kajabi is the All-In-One Course Platform
Kajabi is one of the top online course platforms used by successful course creators interviewed on coursemethod.com. Kajabi includes email marketing and other tools that make it easy to run your entire business from their platform.
Price Range: $149 to $399/month
Most Popular Plan: Growth Plan at $199/month
Annual Discount: Yes, take 20% off!
Free Trial: Get a 14-day free trial (credit card required)
*Our content is reader supported, which means when you buy from links you click on, we may earn a commission.
Are there any features you wish it had?
I learned to work within the limits of Kajabi pretty quickly. But I have found myself wishing that there were fewer limitations. Both in terms of course design and layout as well as how many courses you're able to have on each plan.
For example, in a course, you can only have categories and subcategories. For a program as large as mine, it would be nice to have one more level of categories to keep things more organized. To work around it, our course is broken up into several "courses" within Kajabi. This keeps it easy for our students to navigate. I've seen other course creators with larger programs set up in a similar way.
In addition, there are some organizational features that could definitely be improved. For example, if you search for an exact blog post title from the backend of Kajabi, you usually won't even find the post on the first page or two of search results. Luckily, the public-facing search function is much better.
There is also no way to organize tags and automations, so things can get a bit messy. But for me, it's still been worth it.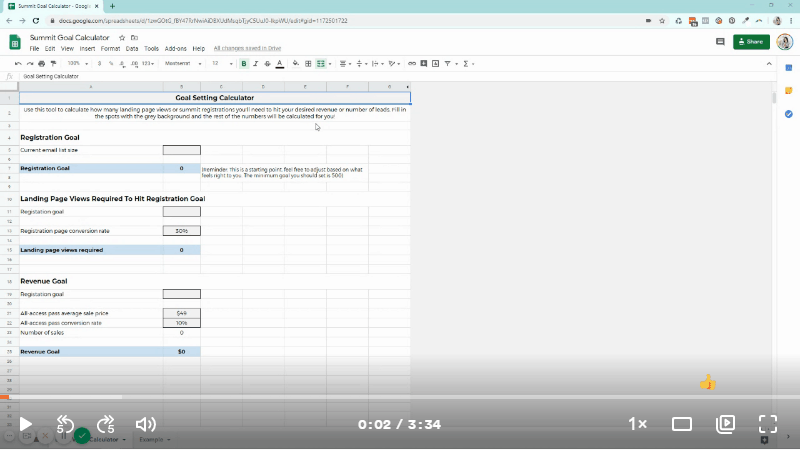 What made you decide to use your chosen platform over others?
I decided to use Kajabi because it was an all-in-one platform created specifically for hosting a course or membership.
And since I was doing my best to launch quickly, I decided to give Kajabi a try.
In the end, giving up control for ease of use and not having to worry about integrations has been worth it!
What other tools do you use to run your online course business?
Deadline Funnel and EasyWebinar are the only two major pieces of software I integrate with.
We use Deadline Funnel to create limited-time offers on tripwires, our webinar, and in our virtual summits, challenges, and launches.
We use EasyWebinar to host live webinars as well as run our evergreen webinar.
What books or training programs have you found useful on your journey to a successful business owner that others might find valuable too?
The two programs that have been the most impactful for me are James Wedmore's Business by Design and Haley Burkhead's Recurring Profit.
Business by Design is what I used to launch the Summit in a Box brand. I followed his launch methods and website templates to launch in a short amount of time. It set us up for the success we've reached today.
Recurring Profit set us up with our high-converting evergreen webinar. This is the full evergreen launch strategy we've used since the beginning.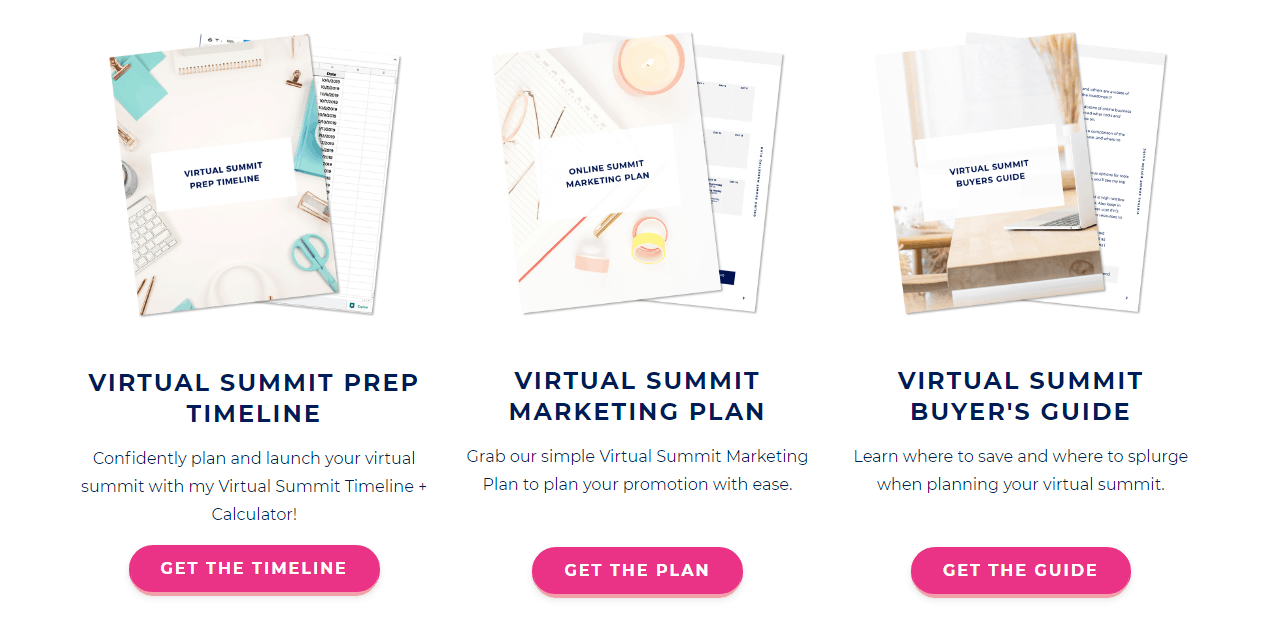 Do you have any big mistakes you've made along the way that you'd be willing to share?
The biggest mistake I made was waiting so long to sit down and think about why I was holding back from creating our signature program in those first few months. It truly only took about 5 minutes to figure out. That's once I gave the problem the attention it needed and deciding on a solution came just as quickly.
It was a good lesson in how important it is to take time with your thoughts each day. Not just to reflect, but to give yourself the space you need to create solutions in your business.
Please share some idea of revenue.
Our initial launch of Summit in a Box, to an audience of about 2200 people, came to $60,000. I had only ever made that much money through a virtual summit before. I never thought a launch like that was possible for me.
Our second launch, using a virtual summit, brought in another $63,000, again blowing our goals out of the water.
I'm not a huge fan of live launching, so our evergreen strategy is important. We're currently bringing in about $35,000 per month on evergreen.
Please tell us a little about what the money you've earned from your course has done for you.
Bringing in $35,000 or more per month has exceeded anything I ever set out to do. When I started my first business, my goal was to make $5000 per month. When I started Summit in a Box, $10,000 was the ultimate goal that I never thought I'd hit. And here we are pulling in several times more than that and growing.
The biggest thing this has done is give me freedom and peace of mind. I feel so blessed to be able to set my own schedule. I decide on my own projects and curate the incredible people I'm connected to every single day. Not only has it made me love what I do, but it has been incredible for our family as well.
It has also made the business a whole lot more fun. In mid-2020 I brought on my first full-time employee, which has been a blast. It is really rewarding to be able to extend the freedom I've created to myself to someone else and their family.
It has also let me pursue whatever projects, coaching, and programs I want to. Whether for fun or business growth, without having to give the financial aspect a whole lot of thought.
Overall, it's freeing and full of rewards!
In addition to revenue are there any numbers you would like to share?
In September of 2020, we grew our email list by over 1200 people. I had a $63,000 launch in 30 days through a virtual summit.
Virtual summits are no small feat and do take several months to plan (when done well). But this was an extremely rewarding 30 days. After all, who am I to teach about virtual summits if I don't use them in my own business?
Over a 3-month period, we planned a summit specifically for course creators who were interested in launching their course through a virtual summit. It was meta, but a whole lot of fun!
In that time we planned our strategy for the event, lined up 26 speakers, supported them in creating presentations, created the promotional material we needed, and launched.
While registration-wise, this summit was my smallest yet. Income-wise it was the largest due to how targeted those 1200 people were. Since they came to the event specifically to learn about virtual summits, they were primed and ready when we opened the doors through our webinar on the final day of the event.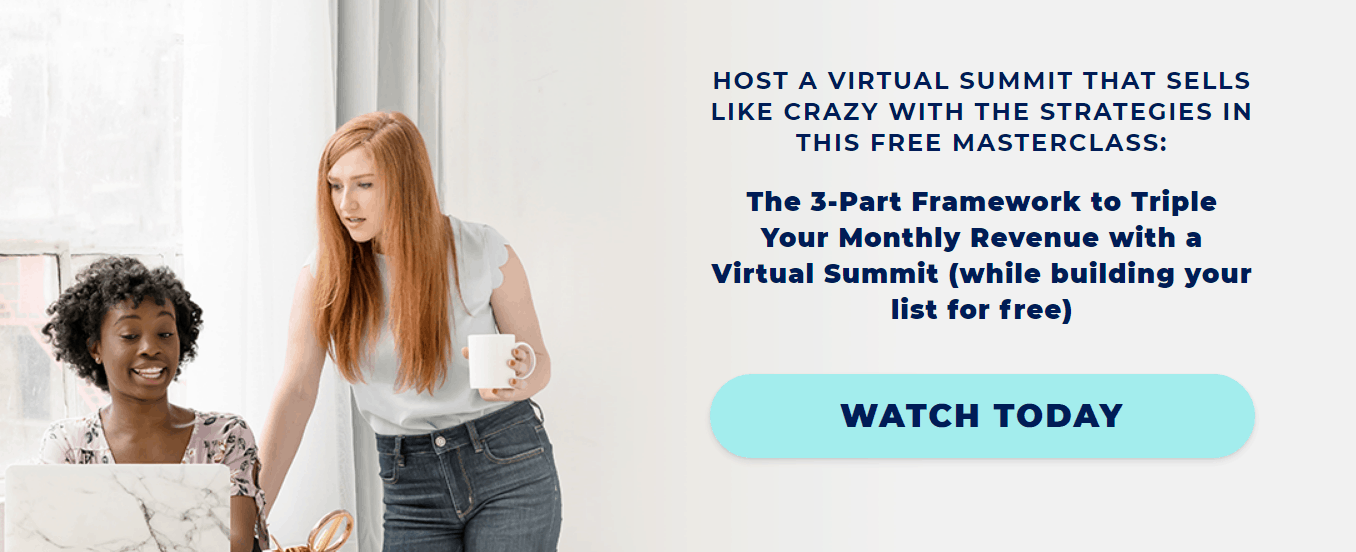 What has creating your course done for you personally?
Creating the Summit in a Box program has given me a huge amount of freedom. Prior to launching this program, my income relied on 1:1 client work. That meant I had to put in a whole lot of time to make the money my family and I needed each month. I enjoyed that work and still do a little bit for clients I absolutely love working with.
Bringing in $35k per month without having to trade any specific amount of my time has given me space to breathe both in business and normal life. - Krista Miller
Click To Tweet
I'm never having to stress over where that next client is coming from. Or worry about what will happen if I have an open slot. I'm so thankful for that peace of mind!
Do you have a story of a transformation from any of your clients?
My students started seeing results from the very beginning.
I'm always encouraging my audience and students that they can host a successful virtual summit, regardless of their audience size. Even if they're starting from scratch!
I've had all kinds of students who start from scratch. Many of them bring in a couple of thousand attendees. They earn $5-10k in sales from their event and go on to multiply their results from there with each summit.
Recently, I had someone start completely from scratch. She didn't have an audience or even an offer. She followed the methods inside of Summit in a Box to host a summit for 10,000 attendees. Her launch brought in nearly $100,000 in sales.
While these results aren't typical, it really opened my mind to what is possible. It has inspired my other students as well. There is truly no limit to what a virtual summit and my program can do. It makes me proud and excited to be a part of that!
What advice do you have for people just starting out?
The biggest thing I wish I knew before I started was that it's okay to experiment. - Krista Miller
Click To Tweet
My first course was a major flop. After spending weeks creating content, I launched a single sale and felt like a failure.
While that is a part of why I held myself back from launching the Summit in a Box program, it's also what gave me the freedom to experiment in the beginning.
Rather than putting a ton of pressure on myself to launch the perfect product from the get-go, I launched a minimum viable product to see what people thought. I learned a ton about my messaging and what people were looking for. Then I launched a membership, where I learned even more.
From there, I had all of the positioning information, testimonials, and course material I needed to see massive success in my very first launch of the Summit in a Box program.
Looking back, I'm so glad that I did things my way with a launch and course-creation method I'd never seen anyone else use before. I'd love to see others do the same.
If a strategy you see someone else teaching doesn't feel good to you, don't use it. It's okay to pave your own way and reach success on your terms.
Learn more about Krista Miller of summitinabox.co: