Khabeer Rockley's Successful Course Business: Converting the Fear of Selling into Making an Impact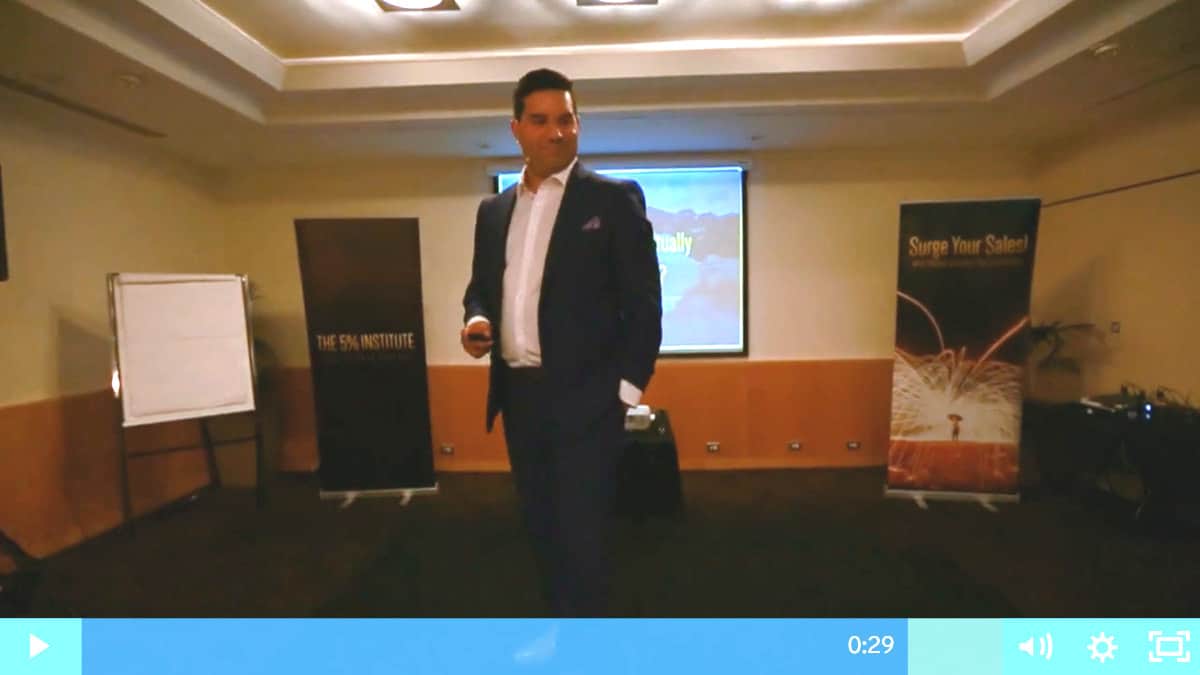 Our content is reader supported, which means when you buy from links you click on, we may earn a commission.
---
Who: Khabeer Rockley
Website: 5percentinstitute.com
Course Topic: Sales training
Revenue Stats: 6-figure company
Who are you and what course have you created?
My name is Khabeer Rockley and I run 5percentinstitute.com.
We offer a number of sales training courses from the sites. The 5% Sales Blueprint is our flagship program.  It's a complete system for success with selling.
We also offer "The 5% Client Conversion Formula" and "Find an Endless Supply of Leads". Essentially all the programs train you on how to make more sales and make a bigger impact in your market.
What market does your online course serve?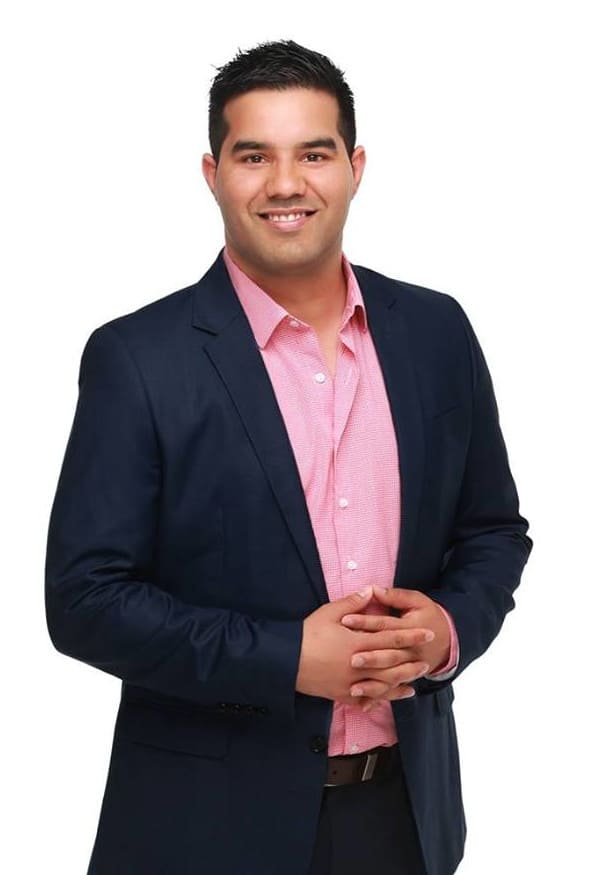 My online sales training course was created to serve Sales Professionals and Business Owners who sell products and services face to face, or on the phone.
We've trained thousands of Sales Professionals and Business Owners around the world – and we find a common factor with many that we initially train.
That is that they lack a step by step, consistent sales process.
Our online sales course, called The 5% Sales Blueprint is designed to help the following clientele:
Real Estate Brokers
Financial Brokers
Mortgage Brokers
Coaches and consultants
Business Development Managers
Sales Professionals and small to medium sized Business Owners needing a consultative selling approach
Sales Professionals and Business Owners who want to position themselves in the market as Specialists, rather than order takers.
What's the biggest benefit of taking your course?
Many people wing it with their sales approach; either by using a spray and pray approach and hoping something sticks and excites their potential clients; or one day they'll use one approach, and another day a different approach.
What this means is their sales become inconsistent or they prematurely present their products or services resulting in zero sales.
Secondly, when people don't have a consistent sales approach, they don't know how to measure what part of their sales dialogue is working – and what needs extra work.
As Peter Drucker famously said, "What gets measured, gets managed". This robs them of the opportunity for self-diagnosing which areas they need to focus more of their attention on to win more sales, rather than hope that they may win the next client.
The benefits of my program are twofold:
The 5% Sales Blueprint gives Sales Professionals and Business Owners an exact template to work off of, so they don't have to second guess their sales process. It's simply learn, understand, and execute. We don't use salesy, cringy and pushy scripts – but rather a system and structure to follow instead.
Furthermore; sales training can be quite expensive, meaning it is usually reserved for companies with larger budgets and larger teams. Online sales training bridges this gap, making it an easy investment as what you'll learn will serve you for years to come; meaning the investment will pay itself off. Here's a link outlining the 5 x benefits of online sales training.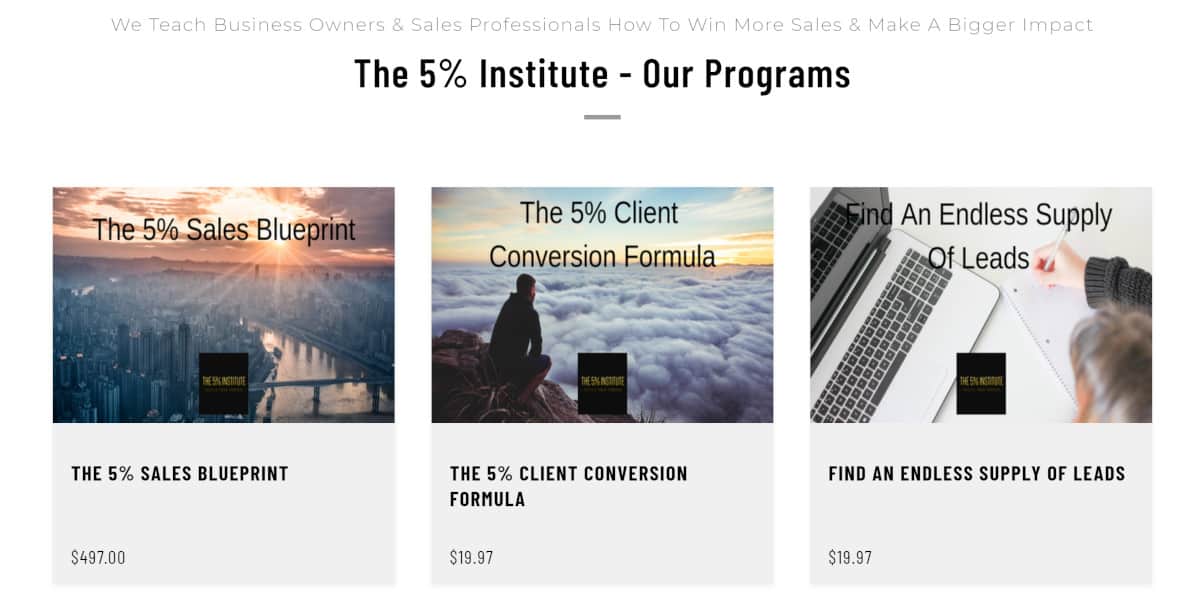 How did you get into the market?
My background started in senior property management working for an international corporation, and then running my own marketing businesses. My businesses included putting on large scale concerts, weekly events, and then web design, SEO and much more.
It's been a long and amazing journey; and due to my philosophy of investing in yourself and personal development regularly; this has had awesome results for my businesses.
My strong suits have always been in sales and marketing; however, the best learning and mindset shift I've made is to become more systems and process driven. Being a sales and marketing type, initially this felt unsexy and not like me at all. But after implementing systems and consistent processes into my business, the growth and profits was something I couldn't neglect or ignore.
Friends and my social circle noticed; and started asking for tips and help.
Due to my passion for the topics of sales, marketing and business; it was easy to find my Ah-Ha moment which resulted in me focusing most of my attention to training, coaching and educating others in the field.
Many Sales Professionals and Business Owners have a negative relationship with the word sales; because they feel it may mean selling something to people they don't need, or pulling a fast one on someone and taking from them. A lot of this is due to subconscious programming from negative experiences they have faced themselves; which ultimately affects their own efforts towards sales and marketing in their own respective businesses.
Instead – my relationship with sales is one of serving, and making an impact.
Being one of six children; I grew up with very, very humble beginnings in the outer suburbs of Perth Australia. Learning and mastering sales has been the key to being able to create the type of income and lifestyle I want to afford my family; as well as put investments towards the future of my children, and to give to causes that I care about.
Without the vehicle of sales, this wouldn't be possible – and I would be self-replicating the circle of where I initially began.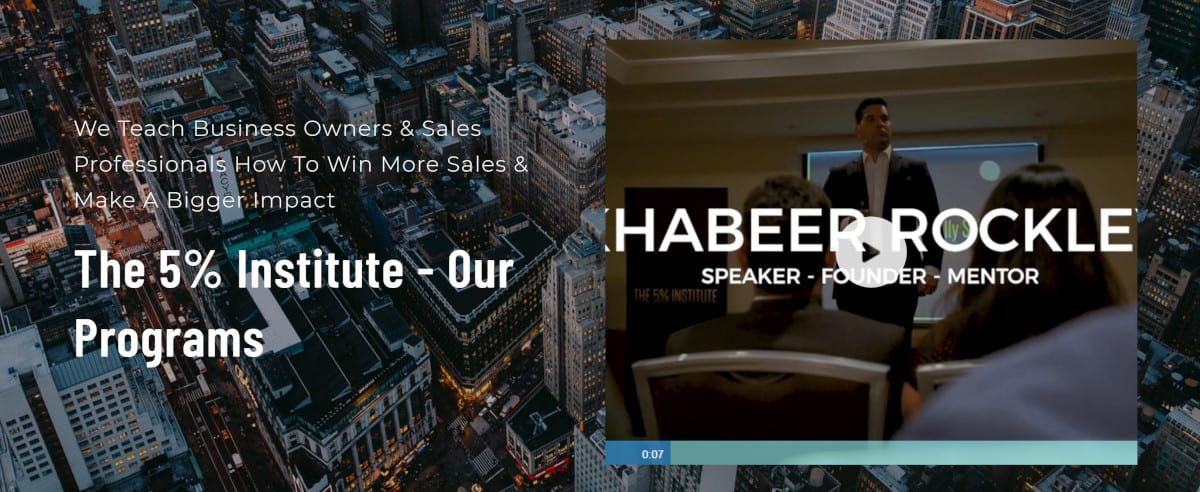 Why did you decide to create an online course in the first place?
Initially, the structure of my sales program was face to face – and we would sell the program from the stage.
Although this is still a method we use sporadically if the situation makes sense, it creates a problem two-fold.
The two-fold problem stems from our main principle (which is on our home page) – We Teach Business Owners and Sales Professionals How To Win More Sales, And Make A Bigger Impact.
Firstly – there is an issue of scalability. There is only one of me, and I can only be in one place at any given time. If I truly want to serve and help Sales Professionals and Business Owners from various industries, I need to be online to serve them in their respective time zones and countries. An online course helps me to achieve this.
Secondly – many online sales programs cost thousands of dollars, due to the revenue they can potentially create for their clients. Our face to face events would cost a few thousand to attend; meaning we couldn't be mass scale, and create a bigger impact. Our online sales program now allows us to do this – which gives me the tools to help others in a way that would have helped me many, many years ago.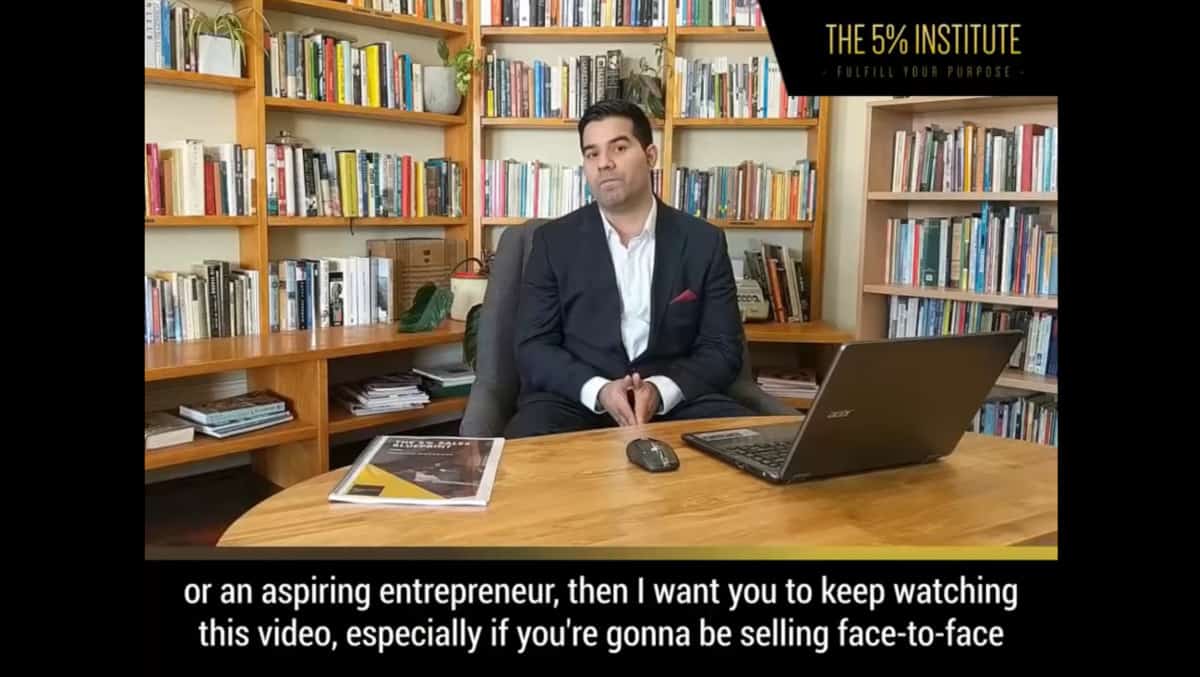 Did you have any moments of doubt before you created/launched it?
Personally – we didn't have any issues of self-doubt or stress when launching the program, because we had already tried and tested the content in various countries, with people in different industries.
Although this was initially done face to face in a seminar format; the results we get from people who attend was always very gracious, inspiring, and many times I even received hugs from the audience (a different – yet beautiful experience). Furthermore, and more importantly, people were getting amazing results after implementing what they learned, so we weren't worried about those who invested in the program.
If so what made you turn it around and do it anyway?
Much of the time, stress and self-doubt come from course creators not knowing what people will think – or whether they'll get the aspiring results from what they want them to achieve. - Khabeer Rockley
Click To Tweet
This is actually a good thing, because it means you truly care for your potential clients and don't want them to buy another cookie cutter, wasteful course.
It's important to look at this in two-ways.
First of all – understand that is OK to feel this, but it is also coming from a place of doing something outside of your comfort zone. Trying and launching is the first step; consistency is much more important. Fall in love with the process.
Secondly, it truly is important to make sure you do what you can to help others succeed with your content. Instead of launching, fingers crossed that it works – trial your program first. And not just with family members or friends who will tell you you're awesome; but with people who are your ideal clients to get proper and un-biased feedback. Give at least 10 people a free trial, understand what's working and what isn't, and then make the changes as needed.
Bonus tip: if they love it – get them to record their results afterwards in video format, and you now have some great testimonials and social proof for your marketing efforts.
What's your online course like?
We have a mixture of PowerPoint slides recorded over with the content (as video using Camtasia), as well as recorded video of me demonstrating with a student for certain techniques.
I also utilize a quiz format at the end of each module; for them to reiterate what they have learned so they memorize what they've gone through.
Furthermore, students get an 80 + page workbook to manually print out. This allows them to follow along and answer questions. It's been very beneficial, as it forces focused work which means better results.
It also makes our program ideal for Businesses wanting to train their staff in weekly meetings.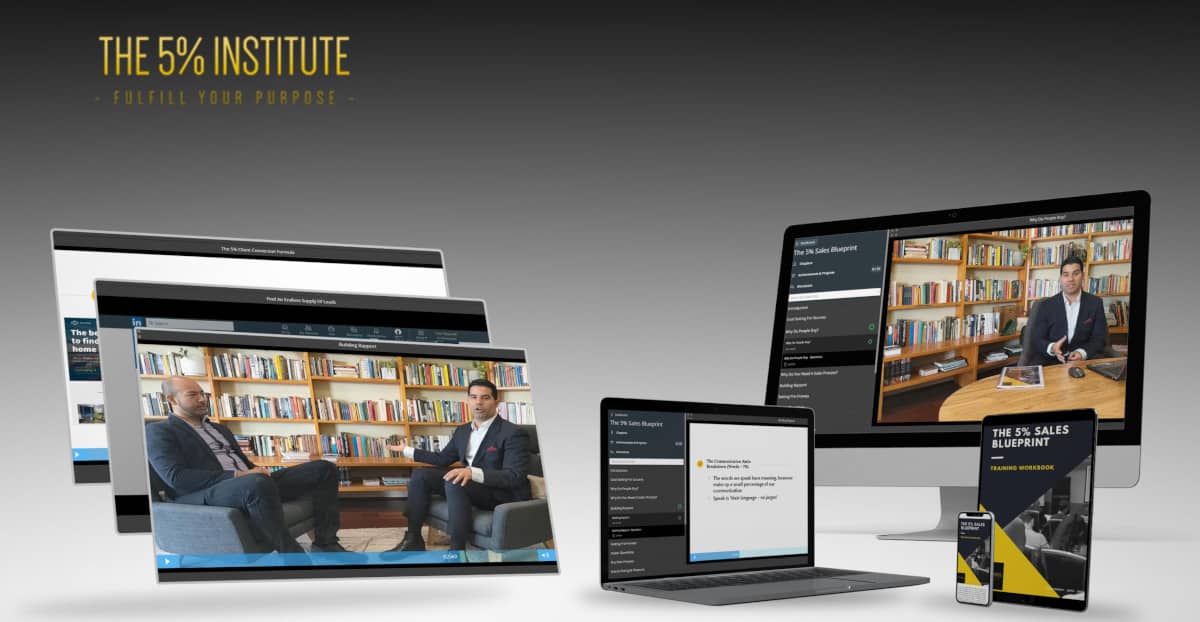 How long did it take you to create your course?
I can't recall exactly how many hours, however it took a few weeks to get it perfect for what we were looking for (it was a few years ago).
This involved recording me in the office, recording on Camtasia, and of course building the sales pages, sales funnel and email sequences, and other back end systems.
Tell us a little about the process of launching your course and getting your first sale(s).
We actually sold a bunch of our first courses via stage as a second option to the face to face sales training retreat.
People who attended the retreat also got access to the program.
Do you have a lead magnet?
Yes – we use a Webinar lead magnet which gives great value – but more importantly talks to the importance of having a step by step sales process if they want consistent sales.
It's converting very well – as most products sold through Webinar are $1000+.
Ours is just $497 with installment options, so it becomes a no brainer after what they learn in the masterclass.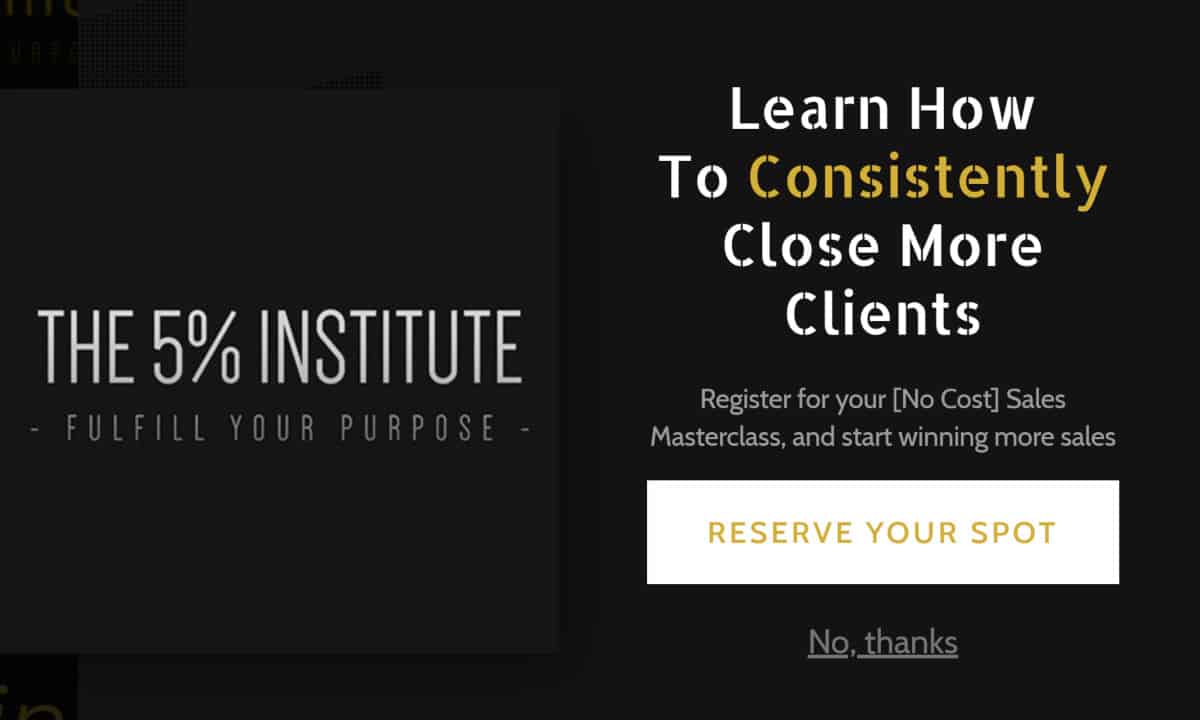 What's the traffic strategy that works best for you?
We've utilized paid traffic, as well as organic traffic.
Social media content marketing is working well for us – mostly from LinkedIn and Twitter. Facebook used to; however we've minimized our spend on the platform and purely use it for re-targeting now.
The most important lesson I can give your readers and listeners is advertise to meet people and align to the platform they're using.
For example – people are not on Facebook to buy; credit card in hand. They're there to connect with family, read news, or see videos of interest. Don't advertise your product up front on the platform, as your expenses will be high since they don't yet know you. Alternatively, on Amazon their intent is to buy.
Instead – we warm up audiences by giving away mostly blog content, and occasionally videos.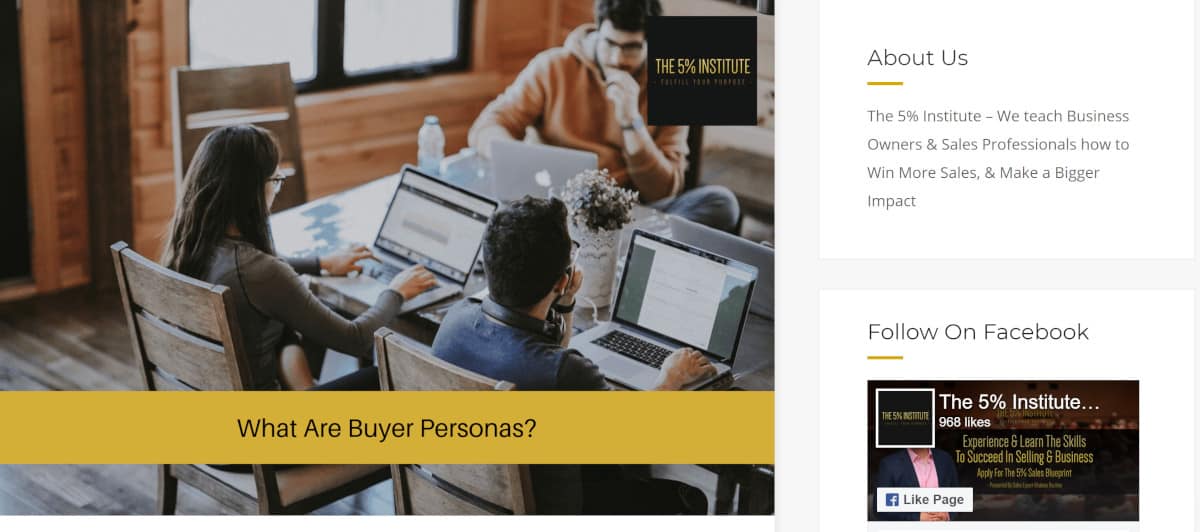 People then go to our blog article (drawing in the right and interested audiences), which give them the opportunity to opt in to the webinar registration page.
For those who don't watch – they are drip fed an automated email sequence, giving value and ultimately leading to the product.
Bonus Tip: people buy at different times; some wait months, and some are ready right away. Some may want your flagship program, and others are ready buy your smaller product. Give people a suite to choose from. - Khabeer Rockley
Click To Tweet
Here are three blog posts from our site:
They all have widgets on the right-hand side, to meet the person where they're at in their buying cycle. Some buy the low-cost items, some the flagship, and some register for the no cost masterclass. Doing this will convert more of your ideal and interested readers into clients.
Another bonus tip: Don't worry about likes. You can't cash followers or likes at the bank. Focus on drawing the right people in, and have systems to help them buy what they want to buy.
Another important note: We make most of our sales on the back end with our email list. It's important to know that even though people may not buy straight away; they can still buy months later. We make a lot of sales months after building and drip-feeding value, trust, and then offering time-based deals which gives our audience a limited time to take action.
What online course platform are you using?
We now use Thinkific as our course platform; previously we were just using Clickfunnels.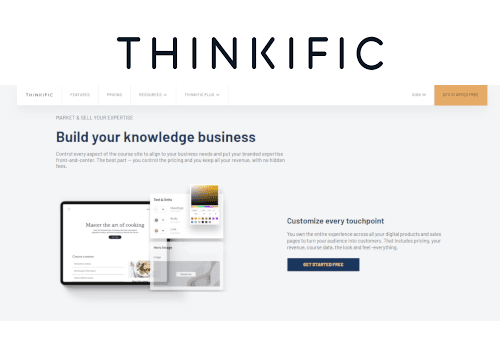 Take a Look at Thinkific!
Thinkific is the most popular online course platform used by successful course creators interviewed on coursemethod.com. It's a complete solution for creating sales pages, uploading all course content, taking payments, and more.
Price Range: Free to $499/month 
Most Popular Plan: Pro Plan at $99/month
Annual Discount: Yes, take 20% off!
Free Trial: Try out Thinkific's core features for free.
*Our content is reader supported, which means when you buy from links you click on, we may earn a commission.
Are there any features you wish it had?
I think it needs a better affiliate feature; although it serves its purpose, there is definitely room for improvement here.
What made you decide to use your chosen platform over others?
I'm about using systems; the more they talk to each other, the better. Having one encompassed system means less moving parts, which means less headache for me and more consistent results and a positive experience for my clients. I'm OK with things occasionally breaking – however, I don't want my clients to feel that.
What other tools do you use to run your online course business?
We use the following tools:
Active Campaign
Clickfunnels
Zapier
WordPress
Thrive architect
Social bee
Please share some idea of revenue.
We won't go into exact details, but we are a six figure business.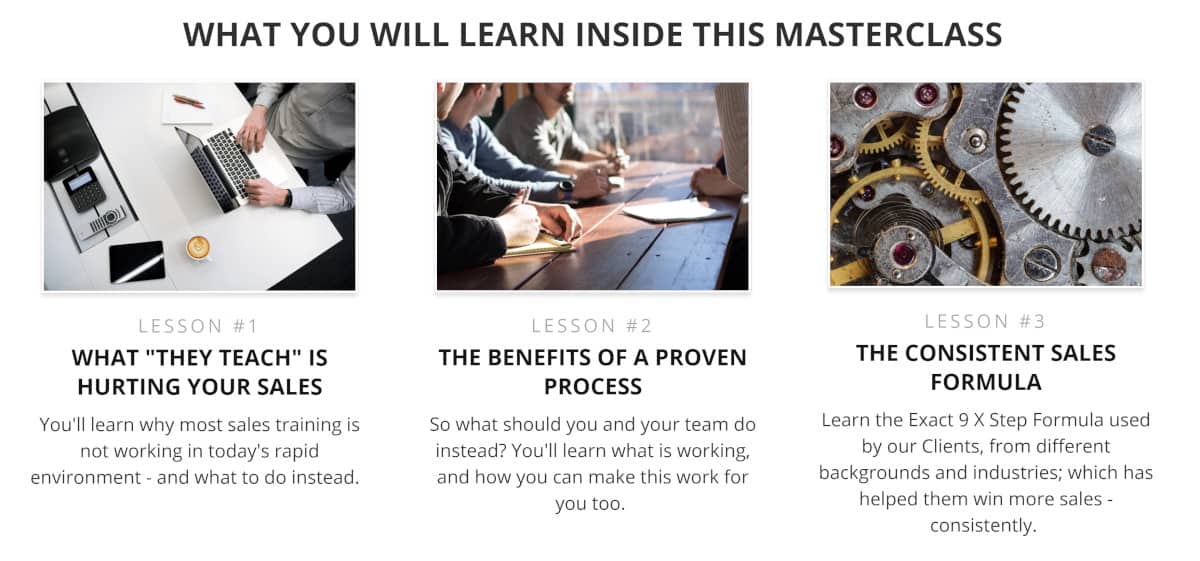 Please tell us a little about what the money you've earned from your course has done for you.
We own investment properties, and our family lives a comfortable life. Furthermore – it's allowed me to put money towards causes I care about. With an 18 month we don't travel too much, but I'm looking forward to when he's a little older and will understand what he's experiencing 😊
In addition to revenue are there any numbers you would like to share?
Just being consistent on products. Furthermore, we automate our blog posting on our platforms using social bee. Because our blog posts are designed with widgets to take action – each blog post acts as a stand alone landing page; depending where they are in the buyer's journey.
What has creating your course done for you personally?
It has dramatically leveraged our time. We definitely aren't where we want to be, but we're well on our way.
Do you have a story of a transformation from any of your clients?
We have a few stories like this on our landing page. One student even sold an expensive property the day after attending my course in Malaysia.
What advice do you have for people just starting out?
Stay consistent and use systems.
Life is governed by systems; leverage and learn the systems needed to get you to where you need to be, and you'll get there. - Khabeer Rockley
Click To Tweet
It's not about the final result, but more importantly about enjoying the daily and consistent journey.
Finally – get into a business where you'll be leaving an impact. This makes business so much more rewarding, and an absolute blessing to be a part of.
Learn more about Khabeer Rockley and his course: