How Karen Dauncey Launched Her SEO School After Falling into SEO by Accident

Our content is reader supported, which means when you buy from links you click on, we may earn a commission.
---
Who: Karen Dauncey
Website: theseoschool.com
Course Topic: Search engine optimization
Interesting Stats: 5-figures in sales from the course
Who are you and what course have you created?
My name is Karen Dauncey and I have been working in the SEO industry for nearly 20 years, I built The SEO School to teach small business owners how to do their own SEO so their business ranks higher in the search engines and they generate more traffic and conversions through the power of organic search.
What market does your online course serve?
The course serves any small business owner who wants to take ownership of their own SEO. To learn how to do SEO for themselves. This includes business owners, virtual assistants who may want to assist their clients with SEO, and marketers who need to know how to do SEO within their job role but lack the training.
What's the biggest benefit of taking your course?
If someone completes the course and implements most things that are included in the course their website should start to rank better on Google. Ranking better on Google means they will generate more relevant traffic to their website. This in turn would generate more inquiries to their business.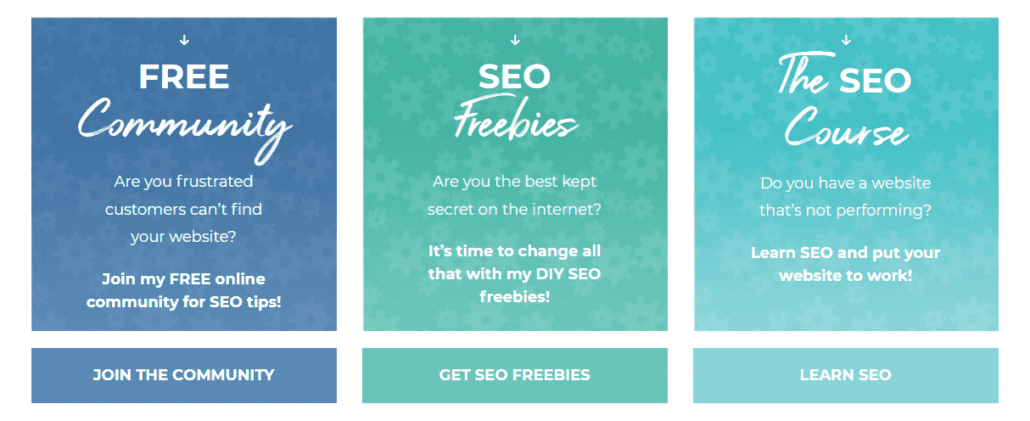 How did you get into the market?
I've been working in Search Engine Optimisation since 2003 and running my own SEO agency since 2008 called Blue Cherry Online Marketing. I fell into the SEO industry by accident after seeing a job as an account manager. They needed someone with customer service and website experience, which I had from my previous job. I actually had to Google what SEO was before my job interview (they weren't looking for someone with SEO experience)
Why did you decide to create an online course in the first place?
Whilst working at my SEO Agency I would often be approached by small businesses who couldn't afford my SEO consultancy fees BUT were really missing out on generating traffic from Google and the other search engines. I decided back in 2015 that I would create my own online SEO course to offer to businesses who want to learn how to do their own SEO.
Did you have any moments of doubt before you created/launched it?
I came up with the idea of setting up the course in 2015 and worked with Kathryn Hocking. She offered an E-Course Mastermind BUT I really underestimated how long it would take me to write an SEO course. I put a lot of the tech together (the course was known as Local SEO Results back then and was going to specialize in Local SEO) but I didn't actually write the course until 2020/21.
I run a pretty busy agency and my time and attention are normally focused on my clients. So I took some time out of my business in December and January 2020/21 to write the actual course and it took me ages. Then I pre-sold the course on Black Friday before I had written it, those participants knew that the course would be launching in February so I HAD to deliver. By the time I did my webinar launch I had almost my voice as I had spent a solid week recording video.
What's your online course like?
My course is 8 modules of content. The delivery method for each module is Workbook, multiple worksheets, video lessons, and templates. The videos are PowerPoints along with me talking and real-life examples of how to do things and real-life examples of SEO.

How long did it take you to create your course?
I wrote bits of the course over a few years but I put most of it together in an intensive 3 weeks. At that point, I already knew the structure of what I wanted to include so it was just a matter of putting together all the workbooks and worksheets and then recording the video to go with those. I do a lot of training on Zoom and in-person so this definitely helped with the delivery and how to explain some of the more complex aspects of SEO.
Tell us a little about the process of launching your course and getting your first sale(s).
I launched twice, once before the course was created for Black Friday 2020 where I offered a staggered discount ($400 on the first day, $300 on the second day, etc. I don't really recommend this approach as it was fiddly with the Ads and email sequences).
Then when I launched properly once the course was written in February, I did a webinar launch. This worked pretty well, I used Facebook Ads for the webinar sign-up and then offered a fixed discount for a few days with a great email sequence. I got pretty good engagement from the webinar with quite a few emails from people contacting me about it. I am currently evergreening this process but I will also launch again in a few months.
Do you have a lead magnet?
Yes, I have 2 PDFs, The SEO Starter Kit and The Beginner's Guide To SEO, plus a free SEO Audit Tool. I have a really nice email sequence that my copywriter wrote for me, and then people go into my email list. At the moment I don't properly utilize this list to sell my course, but I feel like I am increasing my credibility as an expert in the SEO industry. I consistently get 30% open rates on my email sequence and I am pretty pleased with that.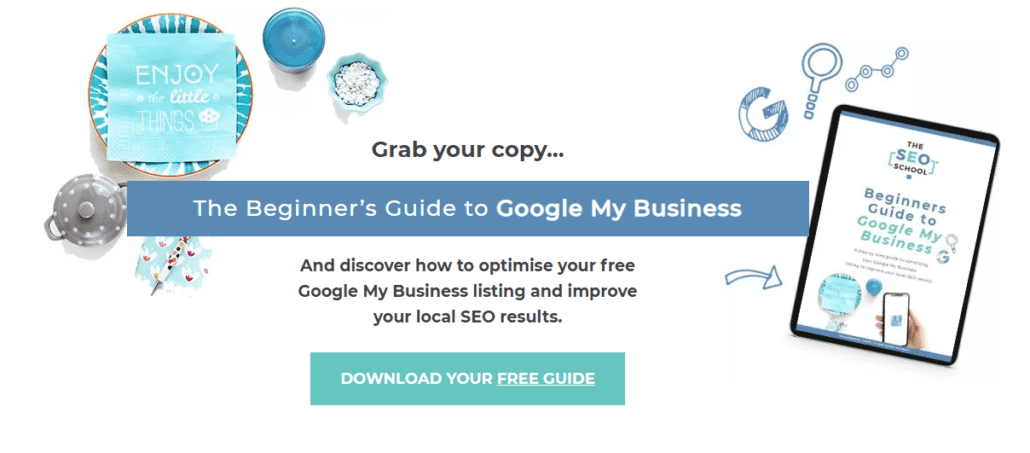 What's the traffic strategy that works best for you?
I have used Facebook Ads, SEO posting my lead magnets in Facebook groups, and my email list. What I found from the people who have bought my course, 90% of them have converted via my email list (so anything I can do to get people onto the e-mail list is worth it).
What online course platform are you using?
I use Kajabi as my online course platform and I really like it, I think it's really easy to use and I can build landing pages easily myself.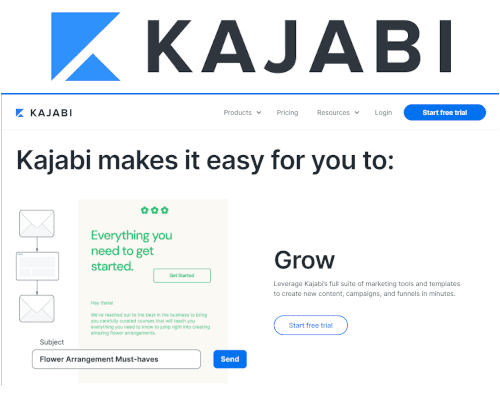 Kajabi is the All-In-One Course Platform
Kajabi is one of the top online course platforms used by successful course creators interviewed on coursemethod.com. Kajabi includes email marketing and other tools that make it easy to run your entire business from their platform.
Price Range: $149 to $399/month
Most Popular Plan: Growth Plan at $199/month
Annual Discount: Yes, take 20% off!
Free Trial: Get a 14-day free trial (credit card required)
*Our content is reader supported, which means when you buy from links you click on, we may earn a commission.
Are there any features you wish it had?
A brand kit (similar to Canva) so I don't have to keep looking up my brand colors all the time. I would also like it to offer timed personal emails (ie. I am using Deadline Funnel to give someone 24 hours to buy my course after they have watched my free webinar and I would like to send a few emails from 24 hours after they have watched the webinar but this isn't possible on Kajabi.
What made you decide to use your chosen platform over others?
I wanted a platform that could deliver everything rather than using lots of different platforms for the course and also I wanted to be able to build my own landing pages.
What other tools do you use to run your online course business?
I have been using the free version of Mailerlite for email marketing but I am in the process of moving my emails over to Kajabi. My main website runs on WordPress and will stay there as I am not sure about the SEO capabilities on Kajbai and it was important for me to rank well (I'm pretty much position 1 or 2 on Google in most of my target countries for the keyword "DIY SEO Course" and I think WordPress is a better platform for this).
I use RecurPost for all my social media scheduling which I LOVE as it means I have a presence across most social media platforms consistently. I also use BizSister templates to design all my workbooks and worksheets which saved me a lot of time.  I've also bought some Kajabi templates to build my landing pages more quickly.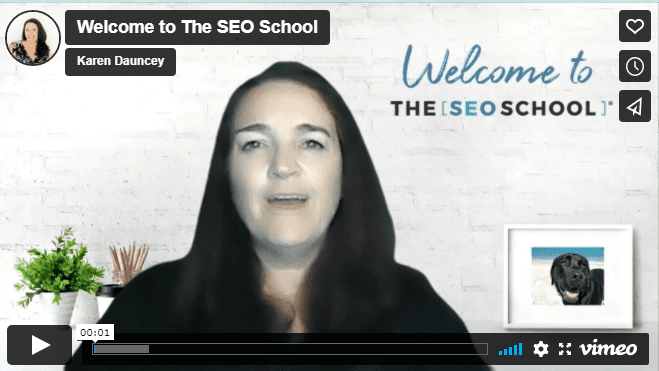 What books or training programs have you found useful on your journey to a successful business owner that others might find valuable too?
I got a lot of benefits from the E-Course Launch Formula but that is no longer in existence. It was an online course I purchased back in 2015 when I did Kathryn Hockings E-Course Mastermind. I would definitely recommend either buying a course or if you are someone who is short of time and has a decent income working with a Course Coach or similar to help you move forward.
Launching a course is a lot of work and there are so many decisions to make so having someone to work through the tricky parts is really helpful. - Karen Dauncey
Click To Tweet
Do you have any big mistakes you've made along the way that you'd be willing to share?
Don't take 5 years to write your course, and make sure you finish writing your course with plenty of time before your launch (I only finished writing my course the day before my launch webinar).
I would also recommend running a launch webinar multiple times and a different times/ time zones. My webinar was in my local timezone but quite a few people logged on 3 hours early which wasn't ideal.
I would also launch regularly and each time you will pick up fence-sitters from the previous round.
Please share some idea of revenue.
I have just hit 5 figures in sales from my online course. I've been pretty passive with launching. I'm in the process of creating a free webinar-to-course purchase funnel. Then an SLO to course purchase funnel. I am also planning on launching 3 times this year with 2 webinars and an SEO challenge. You really need to get into momentum with launching.
Please tell us a little about what the money you've earned from your course has done for you.
The intention is that my course will start to generate more money than my agency on a monthly basis so I am less reliant on new clients coming on board. I am not at this stage yet but I haven't put the energy behind launching but this is all going to change this year.

In addition to revenue are there any numbers you would like to share?
Running a free webinar was a really good way to grow my email list fast. I spent around $1000 on Facebook Ads. Then I promoted the webinar a lot across social media (including posting in lots of other Facebook groups). I also created a VIP email list and talked a lot about the webinar on my own social channels. I had 270 people sign up for the webinar which I was pretty pleased with. Having a compelling offer also helped with this and lots of people are keen to learn more about SEO.
What has creating your course done for you personally?
It has given me the confidence to invest in this part of my business further.
It's helped me to start leveraging my knowledge, rather than my time, to generate a good income. - Karen Dauncey
Click To Tweet
Do you have a story of a transformation from any of your clients?
Recently I had a client tell me that they had worked through ¾ of the course. Their website was already ranking on the front page of Google. I was pretty happy with this result. I know my training makes a difference. Even so, it was still nice to hear it from someone who had been working through the course.
What advice do you have for people just starting out?
Make sure you are really an expert in your subject matter, and really passionate about educating and helping others. You have to spend a lot of time working in the industry to really understand the ins and outs of it.
I would also make sure you have time to write a course. It is a massive undertaking. In some industries like mine, I also need to be committed to keeping the course up to date.
Learn more about Karen Dauncey of theseoschool.com: