How Josh Rosenberg a New Method for Learning the Guitar and Has Earned Nearly 7-Figures From the Course

Our content is reader supported, which means when you buy from links you click on, we may earn a commission.
---
Who: Josh Rosenberg
Website: rockguitarmastery.com
Course Topic: Rock Guitar
Interesting Stats: Nearing $1 million in sales
Who are you and what course have you created?
I have created many courses across two dozen niches over the years, but for the sake of this article, I want to focus on my Lean Guitar business. Namely our flagship program, RockGuitarMastery.com
What market does your online course serve?
This course helps anybody learn how to play rock guitar from the ground up. We cover the absolute basics, through intermediate-level playing. By the time you are done with it, you'll know how to play 15 original songs, of ever-increasing difficulty.
What's the biggest benefit of taking your course?
We cut out the music theory and boring exercises. You begin playing real music right from day 1, which is something that no other course out there can claim.
How did you get into the market?
I had been friends with my partner (and star of the program) for many years before we decided to go into the market. He has been a touring musician and teacher for roughly 25 years, and since it's an evergreen market, it seemed like a safe bet for us both.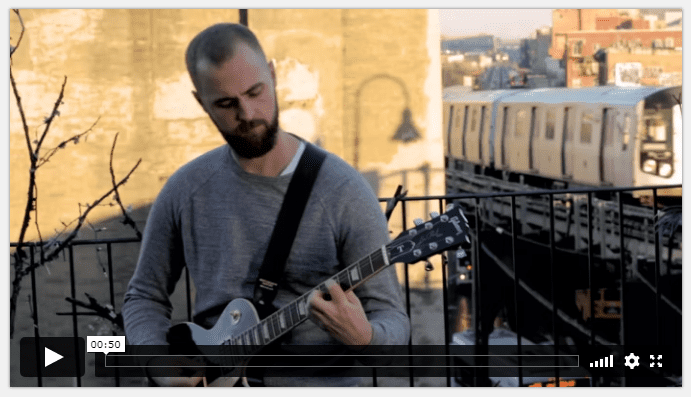 Why did you decide to create an online course in the first place?
Since the market is evergreen, and lacking truly original content, it seemed like a market that we could enter and profit from for years, while providing our students with the best training of its kind on the planet.
Did you have any moments of doubt before you created/launched it?
We hired a web design firm that was much more expensive than we had originally budgeted for. On top of that, our film production costs were astronomical. If this offer didn't convert well, we'd be out a fortune with no chance to recoup it.
If so what made you turn it around and do it anyway?
We busted our butt day and night for months on end to make sure it would convert, and that our upsells were rock solid. We simply had no other choice.
What's your online course like?
The course contains over 130 HD videos and more than 12 hours of original content. There is a printable PDF with every chord, note, song, and everything else to make it easy to follow. There are also a bunch of MP3 tracks that can be downloaded so students can jam along with them at any time.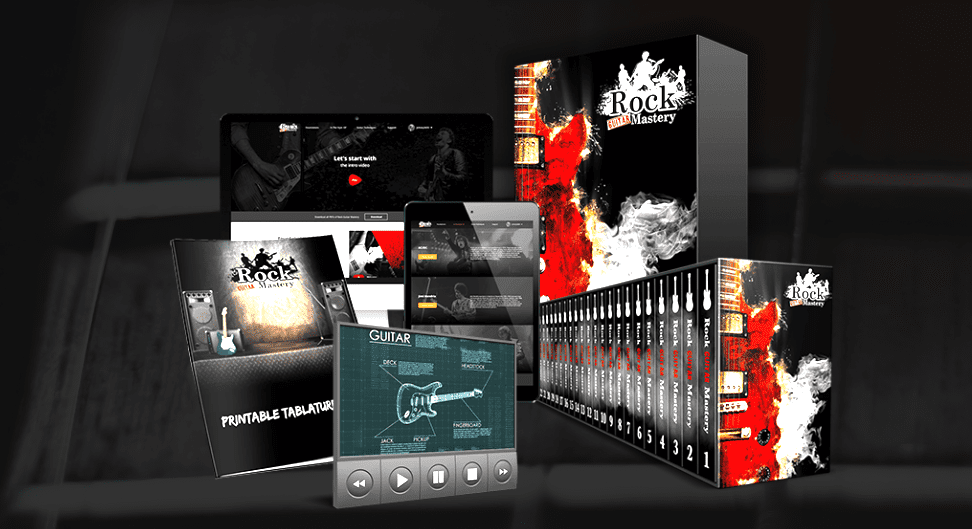 How long did it take you to create your course?
We wanted to create a new method for learning the guitar that had never been done before. We spent close to a year figuring out and testing our method with live students. The website development took about four months, and video production/editing was another 2.5 months.
Tell us a little about the process of launching your course and getting your first sale(s).
We had no affiliates or mailing list in this niche, so right from day 1 we were buying traffic from Facebook. It took a few months for us to break even on a daily basis, and a little bit longer to turn our ads profitable.
Do you have a lead magnet?
No. We go directly from the ad to the landing page.
What's the traffic strategy that works best for you?
At the moment it's Facebook, but we will soon be launching on Youtube.
What online course platform are you using?
WordPress for landing pages, but the member's area is hosted inside a custom build HTML site powered by AMember which we like.
Are there any features you wish it had?
I can have my developer build out any features I want. It's just a matter of time and cost.
What made you decide to use your chosen platform over others?
We were supposed to bring in a 3rd partner who insisted we use his developers. He ended up not joining us 2/3rds of the way through the build. Otherwise, we would have used WordPress as I do with my other member's sites.
What other tools do you use to run your online course business?
Mostly WordPress for my sites and Campaign Refinery for email marketing. I don't require a very large tech stack.
What books or training programs have you found useful on your journey to a successful business owner that others might find valuable too?
I've read hundreds of books and gone through dozens of courses. I focus most of my energy on writing copy and hire out people for most of the other work. That being said, Breakthrough Advertising is the best copywriting book ever created. Chris Haddad's P.I.G. Method is also very good.
Do you have any big mistakes you've made along the way that you'd be willing to share?
Hah, tons. My biggest mistakes usually come from not testing markets entirely before going live. This is a very big risk that I've made more times than I ever should have.
Please share some idea of revenue.
We are currently on our way to hitting 7 figures for this offer. It's not quite there yet, but it will be by the end of this year. - Josh Rosenberg
Click To Tweet

Please tell us a little about what the money you've earned from your course has done for you.
I reinvest most of the money back into the business. I've never been one for "shiny objects" like fancy cars or anything like that. I live a pretty modest life because I remember what it was like growing up incredibly poor, and I never want to return to that lifestyle.
In addition to revenue are there any numbers you would like to share?
In a market with no affiliates, growing organically is very important. My partner has a die-hard fan base all over the world who have supported his music career for decades. We were able to leverage that to build an organic following of devoted students.
What has creating your course done for you personally?
I feel like we truly have the best instructional guitar training ever created. We have a number of different programs for different skill levels, and each one is completely unique from anything else available. It's amazing hearing students tell us that they've learned more in the first month of
Do you have a story of a transformation from any of your clients?
We had one student who has been playing guitar for 25 years but was never happy with his playing. He told us that he felt like he hit his ceiling after 3-4 years of playing, and had been doing the same things over and over since then. But after going through our course, he told us that he had never seen so many rapid improvements, so consistently. He is now a regular for cover band nights at his local pub.
What advice do you have for people just starting out?
Don't jump into any markets too quickly.
Invest some money into buying ads for existing offers and try to get them to convert. If you can do that, then you should purchase the course and go through the entire funnel and study it. - Josh Rosenberg
Click To Tweet
This should be the basis for how you build out your own offer funnels.
Learn more about Josh Rosenberg of rockguitarmastery.com: