How Johannes Larsson Created a Free, Beginners Course for Affiliate Marketing to Build Up His Following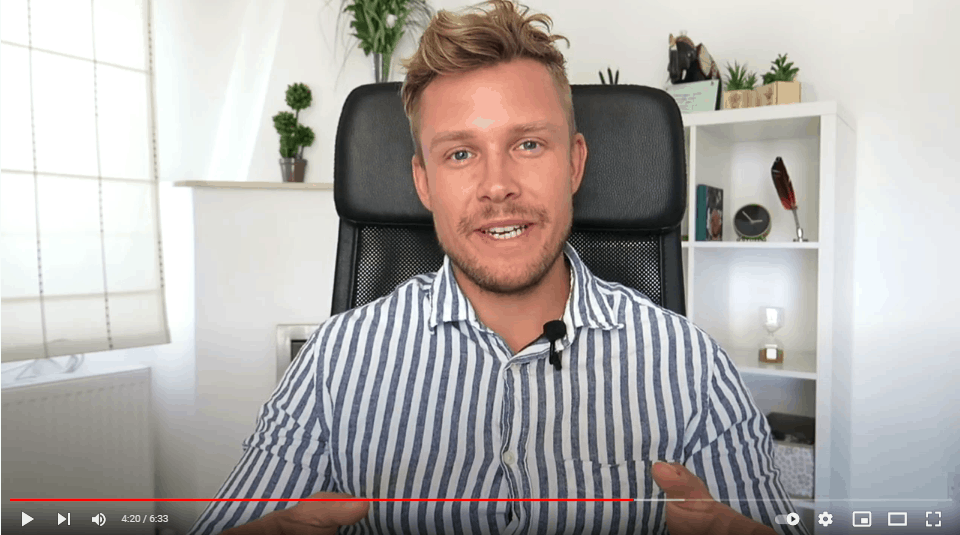 Our content is reader supported, which means when you buy from links you click on, we may earn a commission.
---
Who: Johannes Larsson
Website: johanneslarsson.com
Course Topic: Affiliate Marketing
Interesting Stats: Over 4,000 students
Who are you and what course have you created?
I'm an expert affiliate marketer with over a decade of experience and I've built The Affiliate Method, my first affiliate marketing course to help others get the same affiliate marketing success I have.
What market does your online course serve?
The Affiliate Method will take you from curious about affiliate marketing to being equipped to create a successful income stream from it. It's not for people who want to get rich overnight. But if you're willing to work hard and see the benefits of serving customers then this course can make your journey a whole lot easier.
What's the biggest benefit of taking your course?
The Affiliate Method is the course I wish was available when I started my affiliate marketing journey 12 years ago. It incorporates my 12 years of experience with actionable tips so that you can avoid wasting time and making unnecessary mistakes and get straight to building your affiliate income.
How did you get into the market?
I was already working online in the SEO and advertising space when I saw the financial potential of affiliate marketing. Not only that, but by recommending products and services which serve your readers you can make a positive impact on everyone involved – this really appealed to me as an entrepreneur who wants to make a positive impact on the world.
Why did you decide to create an online course in the first place?
There are a lot of affiliate marketing courses out there, but not many of the people creating them have had quite so much experience or the kind of success I have with affiliate marketing. There are false strategies going around that I know from experience won't bring the long-term results that people think they're signing up for.
I wanted to create a completely free, beginners course for affiliate marketing that walks you through each step of the process without overwhelming you with so much information that you don't know where to start.
Did you have any moments of doubt before you created/launched it?
Because I've been working in this field for so long and have always tried to help others as much as possible, I was pretty confident that I was giving a lot of value away.
I think if you create something that you yourself would find incredibly helpful then you know you're on the right track. - Johannes Larsson
Click To Tweet
However, I do understand how imposter syndrome could kick in and make you doubt yourself when launching an information product such as a course. If that's you I would consider giving a more simplified version away for free to gather feedback first. I've had over 4,000 students now and the feedback has been very positive, which fills me with even more confidence for future, paid courses.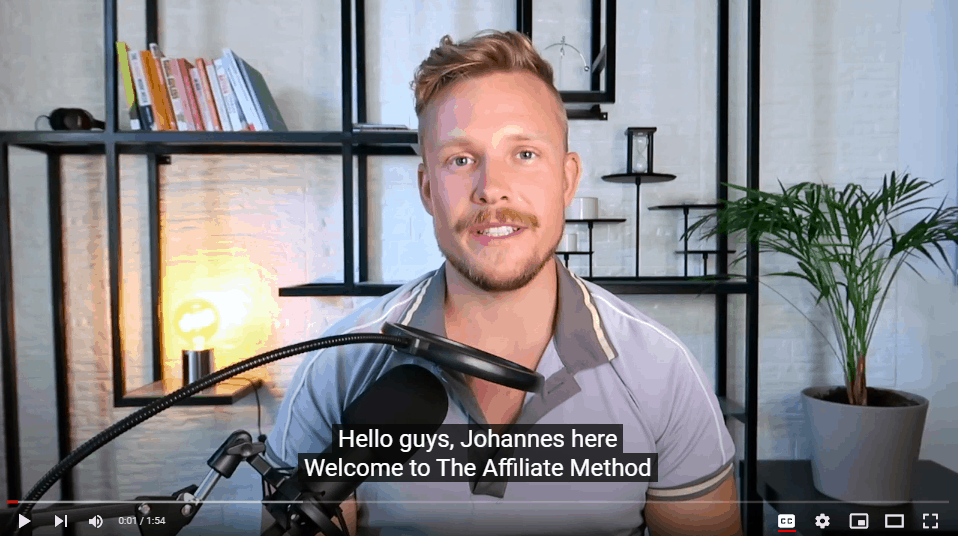 What's your online course like?
The layout of my course is very simple. It's all written text and can be taken at your own pace, making it easy and stress-free to fit into anyone's schedule. There are seven lessons that are broken down into steps and really easy to take either one at a time or over the course of a day if you wanted to tackle it in one go. Once you've enrolled you can also go back into the course to retake lessons and brush up on your knowledge at any time.
How long did it take you to create your course?
I created The Affiliate Method alongside my usual responsibilities by dedicating a few hours each day over around three months. If somebody is waiting for the perfect time to start creating their course my advice would be to take your time but get started now. Once you get started you'll be excited to dedicate evenings and weekends to it and make it work, but the perfect time doesn't exist.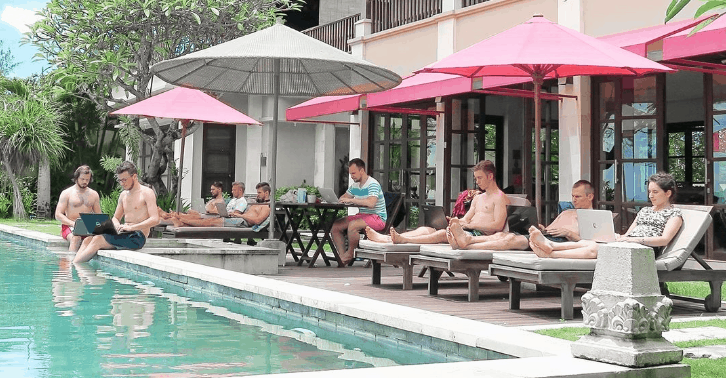 Do you have a lead magnet?
As well as my course, I have always been passionate about sharing free information about entrepreneurship on my blog. I have a whole section dedicated to affiliate marketing. I've shown my journey over the years in this section. This is often where people will hear about my course for the first time and decide to enroll.
I find this works as a great lead magnet because people get a chance to see my style of writing and way of explaining things. They hear about my experience, and see that they can trust me. If they choose to learn more and join the course that's great. But I don't do any hard selling as I think the right people will naturally be excited to take part.
What's the traffic strategy that works best for you?
Blogging and SEO have always been some of my greatest passions. Creating valuable blog content and making sure it ranks well on Google and serves my readers is the traffic strategy I've always found the most success with.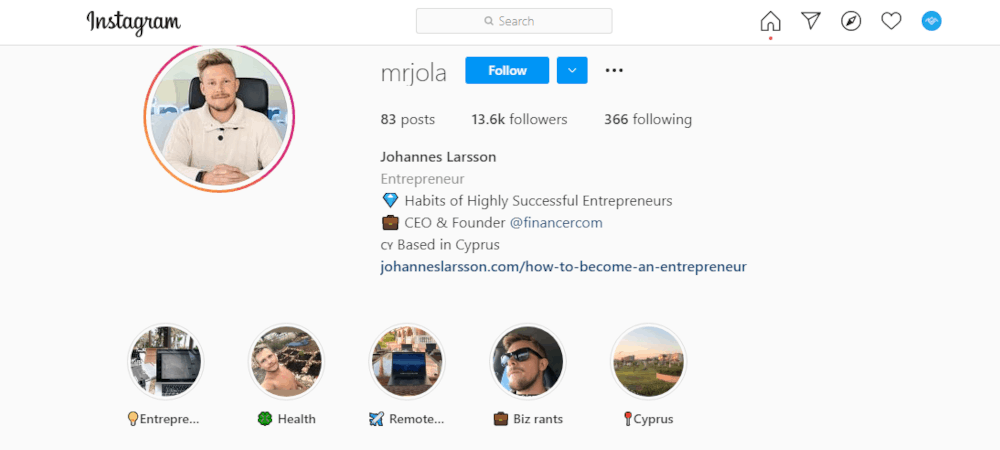 What online course platform are you using?
I use a WordPress plugin called LifterLMS.
Do you like it?
It's great for me because I can customize my course anytime and I have a lot of control to make it exactly as I want.
Are there any features you wish it had?
It has everything I need!
What made you decide to use your chosen platform over others?
I needed a platform where I had the control to make changes as I wished. I can customize it to my exact needs.
What other tools do you use to run your online course business?
My team uses Slack every day as our digital office. Everything is discussed there via messages, shared channels, and calls. I also use MailChimp which I'm also a fan of.
What books or training programs have you found useful on your journey to a successful business owner that others might find valuable too?
I closely follow other entrepreneurs such as Tai Lopez and get very inspired by their success. Reading books and blogs has played a huge part in my journey and see a lot of successful entrepreneurs as personal mentors. I created this list of my 50 top blogs which might help others on a similar journey.

Do you have any big mistakes you've made along the way that you'd be willing to share?
The biggest mistake I made was launching the course without getting some initial feedback from real students first. - Johannes Larsson
Click To Tweet
There were a lot of flaws that could have been avoided by letting a few people test it first.
I've rectified these issues now and used feedback from my students to get it to a point I'm very happy with, but I would recommend doing this before you properly launch. Until you've had some real students you're relying a lot on instinct.
In addition to revenue are there any numbers you would like to share?
I'm proud to have surpassed the 4,000 students mark and excited to watch this grow further. Some of these students have come from following me on social media first, but most find my blog posts and feel inspired to give affiliate marketing a go from there.
What has creating your course done for you personally?
Creating The Affiliate Method has made me even more passionate about sharing my experience and knowledge of affiliate marketing and helping others get life-changing results. With this being a beginners course, I am now very excited to bring out an advanced course for those who want to get deeper into the world of affiliate marketing.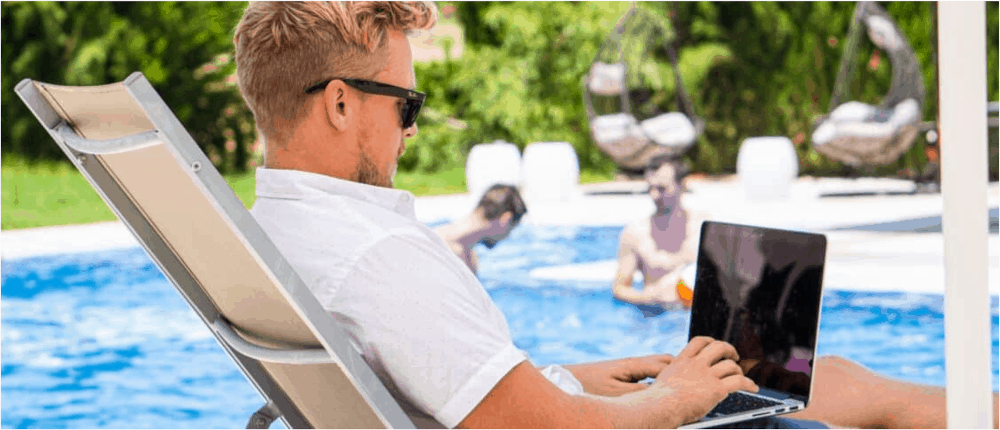 Do you have a story of a transformation from any of your clients?
Unfortunately not but I hope so soon. Once somebody has completed my course I'm very happy to answer any other questions they have and support their journey where possible. I would love to see every one of my students succeed in affiliate marketing and believe with the right attitude they can, but it does take a lot of hard work and determination.
What advice do you have for people just starting out?
Create a course that you would love to take yourself, or would have done earlier on your journey. If it would have been a huge breakthrough for you, saving you time, money, or just plenty of mistakes, then it will be an amazing course and people will definitely get something out of it.
Once you've got your idea and have a first version try and get some real students to try it out. Get some honest feedback so you can make it as valuable and user-friendly as possible before launching properly.
Learn more about Johannes Larsson of johanneslarsson.com: