How Jenny Morse Earns $70,000/year Helping People Write More Efficiently and Effectively

Our content is reader supported, which means when you buy from links you click on, we may earn a commission.
---
Who: Jenny Morse
Website: appendance.com
Course Topic: Written communications
Interesting Stats: 250 subscribers/month
Who are you and what course have you created?
In addition to offering consulting services through Appendance, I teach Business Writing at Colorado State University in Fort Collins, CO, and offer writing seminars through the Employers Council in Denver. I earned my  Bachelor's degree at Bowdoin College in Maine, my Master's in Creative Writing at the University of Colorado—Boulder, and my Ph.D. in English at the University of Illinois—Chicago.
As a freelance writer and editor, I have written website copy, award speeches, and ghostwritten for CEOs, publishing articles in Forbes, Inc., and Wired. Over 40 of my poems have been published in literary magazines around the country and internationally, along with several critical articles on ecopoetics. When I'm not writing, teaching, or reading, I spend my time running, hiking, and traveling. So far, I've been to all 50 states and 5 continents.
Through Appendance, I lead several in-person and online business writing courses. Better Business Writing Pro is six weeks of content that teaches participants strategies to become more efficient (faster!) and more effective (clear! concise! nice!) writers.
This course includes expert feedback and weekly coaching. Better Business Writing On Demand includes the same content as Better Business Writing Pro, but allows participants to go on their own pace, with the option to add-on expert coaching. We also offer an Email Excellence course, where we teach participants keys for subject lines, greetings, closings, and signature blocks as well as how to organize and write emails that are easy for your audience to read and respond to. The course also includes expert feedback on up to 3 email messages!
What market does your online course serve?
We serve anyone who wants to improve their written communications. Our Better Business Writing Pro course is beneficial to anyone who wants to improve their writing, but might be most beneficial to those who struggle to draft their messages, sometimes staring at the blank screen not sure where to start; those who want every message to be absolutely perfect so they keep tweaking every single word, sometimes sending messages later than they should; those who have been told that their messages are too long, too short, too happy, too abrupt, or people say that "you write just like you speak" or that "you sound nicer than they thought you'd be"; and those who want to make sure they are writing "correctly" or they want to find out if what they learned about writing in middle school is still true. We offer a quick Writing Skills quiz that can help you determine which of our courses will most be most beneficial based on what you know and what you're looking for in a course.
What's the biggest benefit of taking your course?
So many! By improving your writing skills, you can get a promotion, move into a new job or industry, put an end to complaints about your writing, engage customers, and meet professional development goals. Ultimately, communication skills are critical to a business's success. Your writing may be holding you back and preventing you from getting the recognition, pay, or position you deserve, and taking our course can help you achieve your writing goals!
How did you get into the market?
I got into the market by accident. I'm a poet. I used to teach creative writing. Then, after I finished my Ph.D., I applied for a business writing and communication job. When I got that, I attended the beginning of the semester barbecue and was introduced to a wonderful woman who had been doing corporate training in business writing and wanted to retire. She and I hit it off, and she introduced me to her main client as her "replacement." A year later, I was providing business writing seminars at about 10 places in Denver, CO. Now, 6 years later, I provide business writing seminars to about 40 companies around the country.
Why did you decide to create an online course in the first place?
After providing in-person seminars, many of those businesses would ask me to coach a particular person. I worked with a few people for several months doing one-on-one coaching. We'd meet for an hour each week and talk about their writing. I'd give them homework that they mostly wouldn't do.
I started thinking then about how an online course that integrated "homework" with small group coaching sessions would be the best way to actually support these individuals and improve their writing skills. The Better Business Writing Pro course evolved out of that: there are videos, quizzes, and exercises related to a particular topic for each week.
After completing those, participants try to apply the strategies in the writing they do within their actual job. They submit a writing sample from their actual work that week to me for review. I provide feedback, and then we meet in a small group to talk about the concept, its application to their work, their writing samples, and the feedback I provided on their writing. The best part is that at the end of 6 weeks both the participants and I can see a massive improvement in their writing skills and they feel much more confident about the writing they are doing for their job.
Did you have any moments of doubt before you created/launched it?
Since I'm a professor, putting the course together was the easy part. The challenge and doubt for me were whether anyone would sign up. We launched our online Better Business Writing Pro course during COVID and had a hard time getting a large and consistent stream of people. It was hard marketing our services to people who were out of work, at home, with businesses professional development budgets frozen, and overall fatigue, and it was difficult to not doubt ourselves and our products, even though we know and people tell us all the time how helpful we and our products are for improving their written communications.

If so what made you turn it around and do it anyway?
The people I train in my seminars, the people who took the Better Business Writing course, loved the program and they love how I teach. So, that support and response are huge. People want to know where they can learn more with me, and what else I have to teach them, so I keep coming up with new things for them.
What's your online course like?
Our Better Business Writing Pro online course combines all of our course content (2-3 hours of interactive lessons and individual written feedback) with live small group coaching weekly. We have 6 modules divided by concept. Each module contains 1-4 live-action videos where I lecture and draw on my whiteboard about particular concepts.
Then there are quizzes, short answers, reflections, and reading all around that same topic. Ideally, a participant would engage with this asynchronous content at the beginning of the week, then try to integrate the concept with their work for the week, and then submit a writing assignment that demonstrates how they used that concept in the writing they did at work that week.
I review that writing assignment and send feedback before our coaching session. In our coaching session, we talk about the concept, their writing, my feedback, and often work on some examples together. Then they move to the next module and start again with the asynchronous content.
The Better Business Writing On-Demand course works in the same way, but without the weekly coaching sessions.
And our Email Excellence course uses PowerPoint videos with quizzes and reading and includes feedback on one writing assignment.
How long did it take you to create your course?
We are always thinking of new courses we can offer and how we can adjust the course content to reach larger and specific kinds of audiences. To create the initial course, we experimented with the course platform itself, and then had to do the legwork of recording and editing videos, all the behind the scenes work that's time-consuming (creating pages, formatting, layout, etc.), and then curating the activities, articles, and written content. In total, the course took approximately six months to create, though it was an accumulation of knowledge from several years of in-person sessions and ideas finally coming together.

Tell us a little about the process of launching your course and getting your first sale(s).
I had been talking about the course with some of my business networks from One Million Cups, an organization that meets every Wednesday at 9 am at chapters across the country to listen to pitch ideas and offer feedback. Our chapter hosts a yearly pitch competition, and one friend encouraged me to enter. So I did.
I was surprised to make it through the first two rounds and move on to the semi-finals, then shocked to make it to the finals. While I came in 3rd, the prize I won was to work with a marketing firm, MAPR, to market my course. That pitch competition occurred in February of 2020.
By June, I had created the course and was working with MAPR to get the word out about it. They helped me place 3 articles in our local business newspaper, BizWest, run ads, and develop our social media. But it was a weird time to be doing anything. We ran the first session of Better Business Writing Pro in July 2020 with 3 participants.
Do you have a lead magnet?
We offer a free preview of our Better Business Writing courses, and we also offer the first module, on credibility, at the low price of $25, so those who are interested but still aren't sure, can get a sense of how the course works. If they want to then sign up for the rest of the course, we'll take $25 off the total. We also have a welcome series that we send to new contacts who join our email list.
We have several versions of this series, depending on where these contacts originate. For example, when people sign up for a free preview or for one of our courses, they join our Better Business Writing list and get a series that explains more about us and offers special discounts. More and more contacts are joining our lists and opening the emails of our welcome series. We are confident that in 2022 we can at least double the number of business writers who sign up for one of our courses.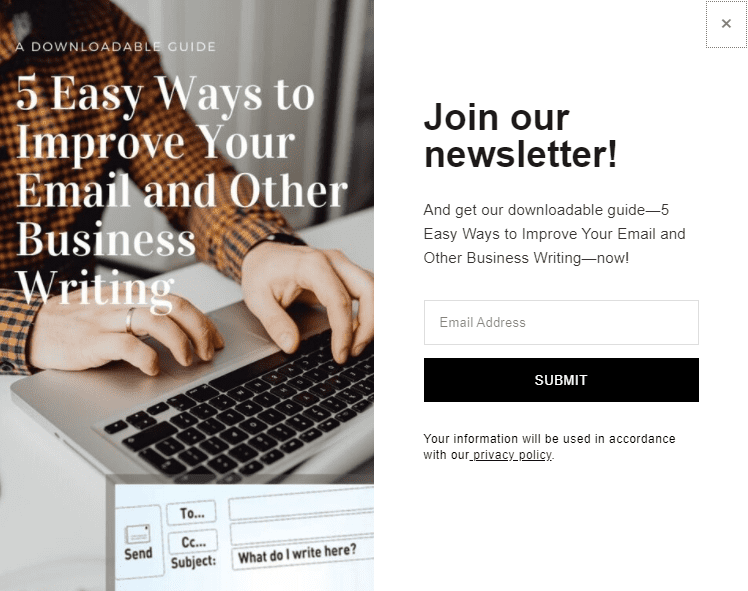 What's the traffic strategy that works best for you?
We have one blog post that gets more than 1,000 hits a month. We've added a quiz to that page, an invitation to join our newsletter, and some information about our online courses. Getting over 1000 hits seems like it should be turning into massive course enrollment, but we haven't figured out that angle to get visitors to enroll. We keep experimenting and adjusting to find ways we can maximize traffic and contacts.
What online course platform are you using?
Thinkific is the online course platform we're using.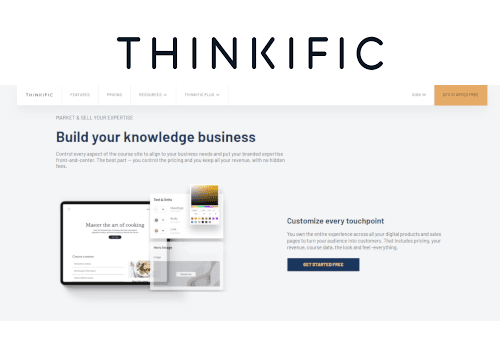 Take a Look at Thinkific!
Thinkific is the most popular online course platform used by successful course creators interviewed on coursemethod.com. It's a complete solution for creating sales pages, uploading all course content, taking payments, and more.
Price Range: Free to $499/month 
Most Popular Plan: Pro Plan at $99/month
Annual Discount: Yes, take 20% off!
Free Trial: Try out Thinkific's core features for free.
*Our content is reader supported, which means when you buy from links you click on, we may earn a commission.
Do you like it?
We love it! It's a great platform, and it's been so user-friendly for creating customized courses and content that match my visions.
Are there any features you wish it had?
I do wish the platform made it easier to run a cohort course. My course runs in sessions with a cap of 10 people per session. People need to be able to sign up for a particular session rather than just an open course. But I haven't found a platform that does that really well, so I'm making do with Thinkific's tools.
What made you decide to use your chosen platform over others?
We actually started with a totally different platform. I can't even remember the name of it now. In December of 2019, I was researching all different platforms, and that one had some important features I needed at the time, but the admin side was clunky and confusing. There was this little red dot that was supposed to represent you and where you were in the navigation of your site. It was bizarre. We started building content and I just realized that the platform was archaic. I had to let go of some features I thought I wanted and switch to another platform. Thinkific had almost everything I wanted and was really easy to use. I think the best part is the customer service. Any problem or question I've had for them has gotten solved or fixed really fast. They are wonderful at that.
What other tools do you use to run your online course business?
We use Squarespace to host our website, Zoom for our live coaching sessions, Constant Contact as our CRM, Hootsuite for social media management, and Calendly for scheduling.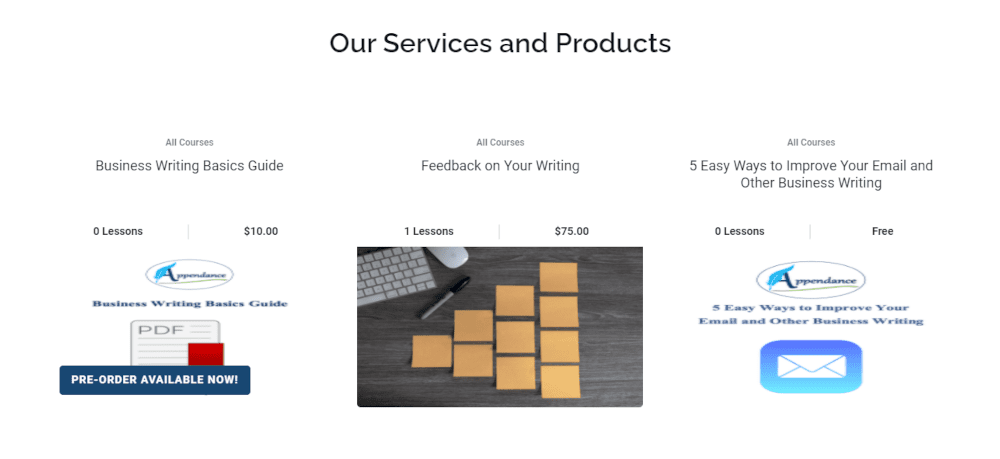 What books or training programs have you found useful on your journey to a successful business owner that others might find valuable too?
I consider One Million Cups to be my training program. I go there and hear what other people are doing with their business and get ideas about what to do with mine. The latest thing at our One Million Cups has been trademarking. We've all been in a flurry about trademarking our business names, courses, logos, to protect ourselves.
My family is full of entrepreneurs, so I seek out my dad, brother, sister, brother-in-law, and sister-in-law for advice. They are most helpful.
And I read all the time, but I mostly read about language and communication not about how to run a business. I should probably find some books on that–might be useful!
Do you have any big mistakes you've made along the way that you'd be willing to share?
Besides not reading books about business? Haha.
The biggest mistake I made was not thinking about how to run and grow a business from the beginning. Again, I accidentally found myself with a company in late 2014 after meeting a woman at a barbecue. I had no idea what I was doing. Her clients would contact me and ask me to give a seminar and I'd say sure, schedule it and do it. That was it. That was the whole business.
I didn't find out what the clients wanted ahead of time. I didn't try to find out how much they would pay for the service. And I didn't follow up with them or the participants who were in the session. I just showed up, talked, and left.
It was a good way to make a few thousand dollars, but not a good way to do business.
Now I recognize that every person I connect with at a seminar is a potential participant in the online course or someone who could refer someone they know to the online course. - Jenny Morse
Click To Tweet
I'm trying to be more deliberate about building that network, capturing emails, and staying connected with the people who have already benefited from our services.
Please share some idea of revenue.
We increase our revenue by about 10% every year, even with COVID-19. Our projected revenue for 2021 is approximately $70,000. We're working hard, and we have clear and manageable goals to double our revenue for 2022.
Please tell us a little about what the money you've earned from your course has done for you.
I bought a house in 2016 and the downpayment was entirely funded by Appendance. Now I've been funding the renovations on the house with the profits from the business. I've also been able to pay for an assistant with the business as well as a few contractors when needed. In 1-2 years, I'd like to be running the business full-time (not splitting my time with the university) and bring on 2-5 employees full-time.
In addition to revenue are there any numbers you would like to share?
Since discovering that our one blog post was getting over 1000 hits a month, we realized we had traffic we weren't aware of that we needed to capitalize on. In May 2020, we added a quiz to that blog post and have gotten more than 5000 quiz prospects over the last 6 months. These leads have more than doubled our CRM contacts. We've added over 250 subscribers to our newsletter in the last 30 days.
What has creating your course done for you personally?
While creating the course hasn't explicitly done anything for me, it has put me on a path to more financial security and freedom to leave my scheduled employment at the university. Now that the course exists, I look forward to when all seats in the course are filled, the course is generating maximum revenue, and I am not trading my time for money.
Do you have a story of a transformation from any of your clients?
Every one of my clients is a story of transformation. With every cohort that's gone through the class, I've had someone enroll because they don't think they are a good writer. Maybe they've been told that by their boss. One client said her boss always sends her writing back "bloody" aka covered in red corrections. She writes client emails, press releases, interviews as her job, and had started to lose confidence in herself. After taking the course, she learned how to differentiate between her boss's personal opinions about writing and her own instincts about what was working.
She learned that a lot of her instinct was actually correct. And she learned the language and strategies to change her boss's mind if necessary. Another client also lacked the confidence in her writing to create her website, which was preventing her from really launching and growing her own business. She worked on parts of her website as the writing assignments for the course. So, she learned how to become a better writer and got my advice on the website content at the same time! Like getting two services for the price of one! Ultimately, these clients were adequate writers to start, but by the end of the course, they were great writers and, more importantly, they were confident in their writing skills.
What advice do you have for people just starting out?
I wish I had known how to pre-sell my course. I still don't really know how to do that.
But I do think that what has helped me the most is my regular networking group.
Find some people who you can talk to about your ideas, and they will help you figure out how to move forward. - Jenny Morse
Click To Tweet
Recognize that whatever you think people need doesn't necessarily match what they want. You need to find out what people want and then make your offer into that.
Learn more about Jenny Morse of appendance.com: