How Dr. Jamie Wilkey Earned Over $230,000 in Less Than a Year Teaching Pharmacists How to Get Into Consulting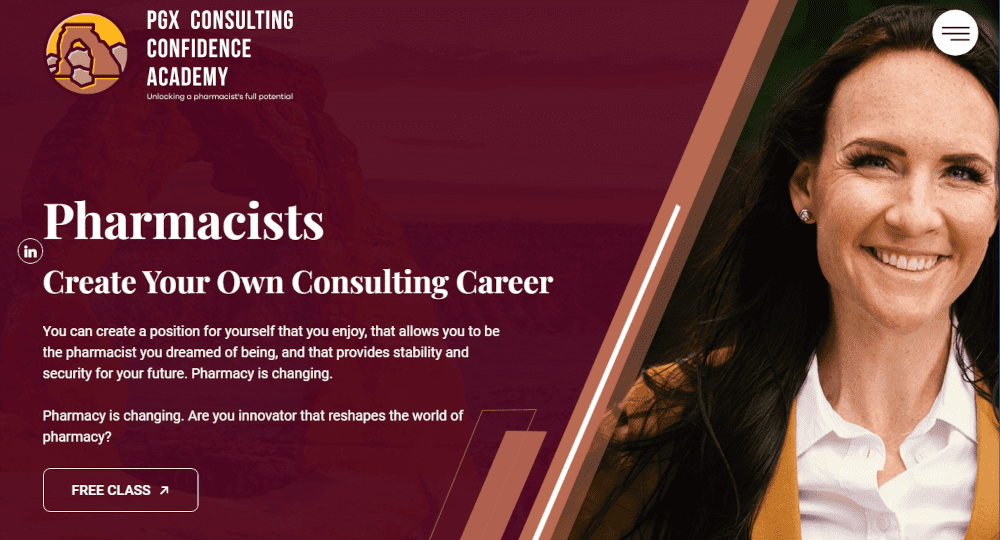 Our content is reader supported, which means when you buy from links you click on, we may earn a commission.
---
Who: Dr. Jamie Wilkey
Website: archeshealthgroup.com
Course Topic: Pharmacists building businesses
Interesting Stats: 4K on email list all organically
Who are you and what course have you created?
I am a pharmacist who is teaching other pharmacists how to break out of traditional pharmacy roles and create their own consulting careers! 
I worked in a dead-end retail pharmacy job for 10+ years and after my workplace conditions got worse & worse I made a big career change myself: I became a consultant pharmacist in my community who focuses on personalized medicine. Now I teach other pharmacists to do the same; either create their own side hustle for extra income or create a full-blown new career for themselves. 
What market does your online course serve?
There are currently 310,000+ pharmacists in the United States–many of which are burned out in their profession or worried about the future of their career due to decreasing wages and increasing job saturation (not to mention many positions being eliminated entirely by the likes of online prescription services, such as Amazon). 
I teach those pharmacists looking to do more with their career, but feeling stuck with no idea how to create a business or do something innovative within our profession. It is such a fun place to be! It is a bright spot of hope for the future. 
What's the biggest benefit of taking your course?
Pharmacists have been giving away their knowledge for free to the public for far too long. The biggest benefit of this course is that you'll learn how to monetize your services and actually help your community in a meaningful way (rather than just medicating them).  
I teach you exactly how to create your own consulting practice and earn money for your knowledge! I lay out every step you need to take in a very clear and simple manner, with a community of strong support every step of the way. It is catered specifically to the pharmacist who has zero prior business experience and very little confidence in themselves. 
How did you get into the market?
I got into the market by doing it myself first. I wouldn't teach something I didn't actually do first since I teach by action.
Since I created my own successful consulting practice in my community, I used the lessons I learned the long and hard way from experience to simplify and streamline the process into a course. - Dr. Jamie Wilkey
Click To Tweet
These pharmacists don't even know how good they have it–I give them everything they need to do and know on a silver platter!
Why did you decide to create an online course in the first place?
For the sake of time! I wanted to coach each pharmacist 1:1, but I found quickly I was saying the same things and the same steps to every person. By creating a course I can teach anyone across the world (and a few around the world!) even when I'm sleeping or on vacation. It is glorious!
I've found a lot of joy in teaching the basics to all my students in an online course. Then, when we meet together online to address any specific, lingering questions they may still have, our conversations are so much more productive. Plus, I'm a mama to 4 little boys under the age of 10, so I really needed to convey my knowledge to the world in an extremely time-efficient way for my own life. I'm so glad I did this!
Did you have any moments of doubt before you created/launched it?
Of course I did! Everyone gets imposter syndrome and I'm no exception. I felt like I wasn't enough of an expert because I didn't have a perfect answer to the thousands of endless questions related to my subject matter. 
However, I'm a determined girl and I'm ok doing things scared and I did it anyway. A friend told me, "if you are 5 steps ahead of someone then that's all that matters. Don't doubt their knowledge. There will always be more to learn. But you are 5 steps ahead of that person and you can help them along the way." I've owned that sentiment and am glad I stepped forward boldly. 
What's your online course like?
My online course is actually quite basic. It is just me talking on the video to the group. I break my entire course into 7 large modules, and then within those modules I have dozens and dozens of lessons (I think I'm up to 150+ individual lessons at this point). Each lesson is 5-20 minutes long. Very short and sweet.
I create my lessons short and sweet–and most don't even have a PowerPoint. It is just me talking into the camera like their best friend telling them what is most important for this step and exactly what to do next. Then, under each lesson, I provide many additional resources for my group to use if they are still seeking additional information. It is wonderful and has been well received. I like my short & sweet lessons because nearly all of my 140+ members are working full-time and have very little time to build a business. It cut through the clutter and move them forward quickly and efficiently (with hours of extra reading if they so desire).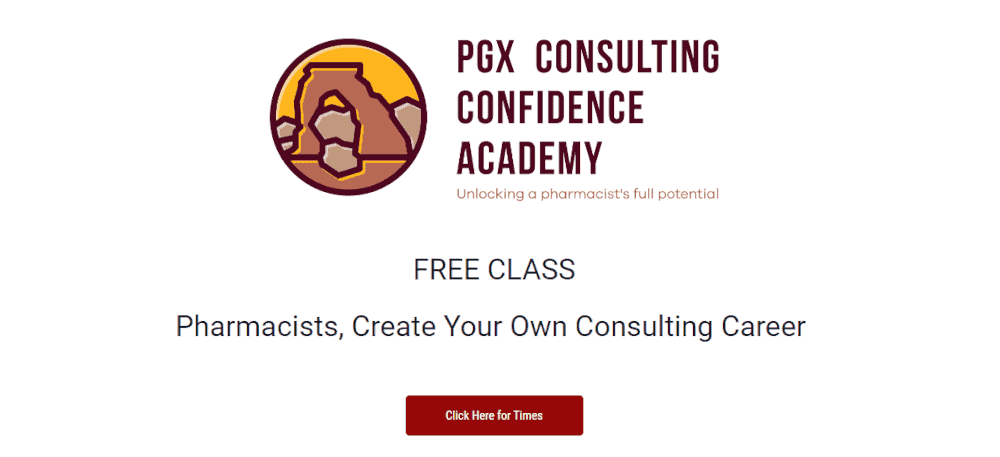 How long did it take you to create your course?
It took me about 3 weeks to create the beta version of my course. It was scrappy and basic, but I wanted to make sure I had a solid product before I launched big. I'm glad I did. My beta course was the backbone of my final, polished course. I just started by dumping everything in my brain I wanted to teach my pharmacists onto Post It notes. Then I physically arranged the post-it notes into groups of similar topics until I'd see patterns emerge. Then, it was easy–I lumped my patterns into lessons and modules and filled in my final content.  That first brain dump gave me my 30,000-foot view of the course before diving into the weeds. 
Tell us a little about the process of launching your course and getting your first sale(s).
I created probably a dozen LinkedIn posts that I released over a course of a month inviting pharmacists interested in taking control of the future of their careers. - Dr. Jamie Wilkey
Click To Tweet
Those posts invited everyone to a live webinar where I taught them about what I do and invited them to join me. It worked! The rest is history…. 
Still to this day I get all my new students organically through LinkedIn. I've never yet paid a penny for advertising!
Do you have a lead magnet?
I actually don't! I'm working on building one right now that is a white paper about the results of the students in my Academy. However, I've come this far without even having a lead magnet. Can you believe it!?
What's the traffic strategy that works best for you?
Traffic strategy is all via LinkedIn, as stated previously. There are so many pharmacists desperate for a new, brighter career and future that thus far, one year in, it is still proving to be extremely fruitful. My traffic strategy in LinkedIn is to funnel all interest in my course to an evergreen webinar whose call to action is getting on a phone call with my closer who signs them up for the Academy while on that phone call. 
Everyone who doesn't buy (or signs up for the webinar, but doesn't get on a phone call) goes to a 9+ month email sequence highlighting the success of my students and encouraging them to join. - Dr. Jamie Wilkey
Click To Tweet
It works like a charm. 
What online course platform are you using?
Kajabi! I'm very happy with Kajabi.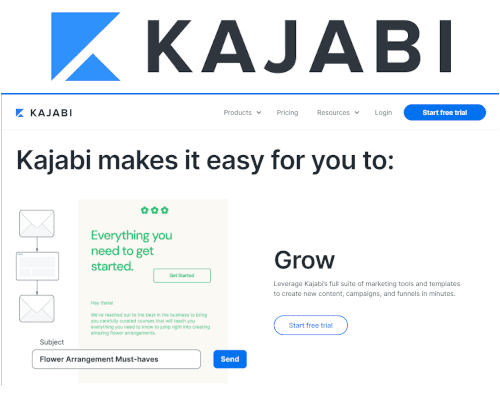 Kajabi is the All-In-One Course Platform
Kajabi is one of the top online course platforms used by successful course creators interviewed on coursemethod.com. Kajabi includes email marketing and other tools that make it easy to run your entire business from their platform.
Price Range: $149 to $399/month
Most Popular Plan: Growth Plan at $199/month
Annual Discount: Yes, take 20% off!
Free Trial: Get a 14-day free trial (credit card required)
*Our content is reader supported, which means when you buy from links you click on, we may earn a commission.
Are there any features you wish it had?
The only thing Kajabi is lacking is a course progress feature and a simple new lesson notification. 
What made you decide to use your chosen platform over others?
I got a free 45 day trial of Kajabi and my own course mentor used it and liked it herself. 
What other tools do you use to run your online course business?
I also use InfusionSoft as my CRM and EasyWebinar for my evergreen webinar. I use Calendly for my Discovery Calls and Trello for my project management software. 
What books or training programs have you found useful on your journey to a successful business owner that others might find valuable too?
Oh, I could go on and on on this subject forever….
My favorite book this year has been The Gap and The Gain, by Dan Sullivan and Dr. Benjamin Hardy. 
And of course anything by Jen Sincero or Rachel Rodgers. 
Do you have any big mistakes you've made along the way that you'd be willing to share?
Not any HUGE mistakes. Every day I'm making mistakes and learning from them, but I don't have a big glaring mistake that really set me back. Perhaps it is because I'm a pretty positive person and I try to learn from everything so nothing comes to mind that I'm still reeling from. 
Please share some idea of revenue.
Not a touchy subject at all! I'm so proud of my revenue! I've earned over $230,000 in less than a year with my new course! I'm over the moon that what I have to teach has a big market with so much interest. This is especially exciting to me because this is my first ever business launch, and as a female solopreneur in healthcare with zero prior business education or experience I feel so happy that I took the leap! 
Please tell us a little about what the money you've earned from your course has done for you.
I quit my job at Walgreens! I am paying off the only debt I have, my mortgage, lightning-fast, and I've hired people in my company to help me grow!
More than anything it has boosted my confidence in myself that I can earn a lot of money by being uniquely me and sharing my passion with the world. - Dr. Jamie Wilkey
Click To Tweet
I'm one happy girl who can now travel the world with her family untethered to a physical location. I plan to travel the world quite a bit (once this dang pandemic calms down) to make the most of my new career. I also am well on my way to early retirement. I'm only 35 years old but plan to retire by 50. A course like this is going to make it happen easily.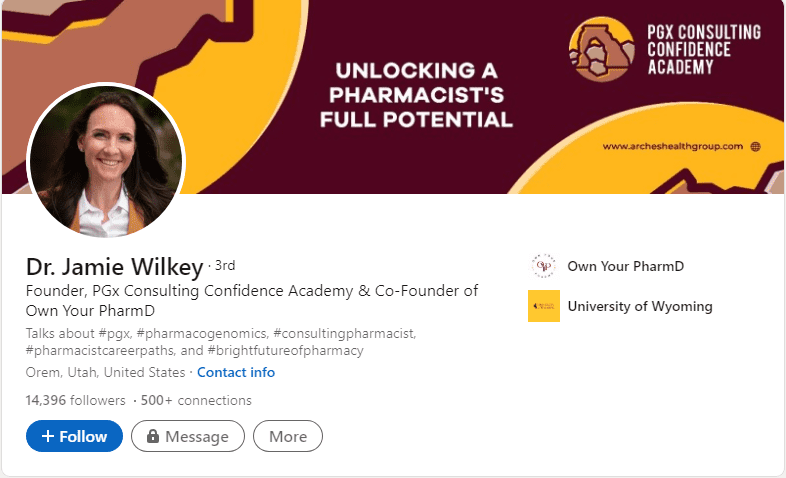 In addition to revenue are there any numbers you would like to share?
I got over 14,000 followers on LinkedIn in about 18 months, grew >4K on my email list organically, got voted in the Top 50 Most Influential Leaders in Pharmacy, and am teaching over 140 pharmacists to actually build a business and monetize their knowledge. I also had $75K in revenue in a single day recently as well!
What has creating your course done for you personally?
I feel so happy and proud of myself. I feel like an empowered voice for women especially to dream big and take massive action to create the life of their dreams. It is VERY possible. I'm living proof of that!
I'm now determined to create a female-led company earning $1 million in revenue, which is a statistic that doesn't happen often.
Especially in healthcare, I am excited to be a force for good and change my profession and the world! As everyone knows the healthcare system is broken and knowing that I can change my little corner of the world in pharmacy to make medications safer, more personalized, and unleash the power of a pharmacist in their community is the legacy I get to leave through my impact. 
Do you have a story of a transformation from any of your clients?
Here is a quote from one just posted on LinkedIn yesterday: 
"You know what I don't miss?
Working as a pharmacist at CVS in NC when winter precipitation is in the forecast.
People went crazy any time extreme weather was predicted (winter storm or hurricane). They had to have all their medicines right now. It was as if they would never be able to leave the house again. We could never get it all done. We were never fast enough. Never good enough. I was more mentally and physically exhausted in the days leading up to, the day of, and the days after the "event" … I joined Jamie's academy and never looked back.
There is hope. You are not alone. You can create your own business. Be the pharmacist you were meant to be. "  -Melissa T, PharmD
This made me so happy that I could help her be confident in her knowledge and do something amazing and satisfying with her hard-earned Doctorate of Pharmacy degree. Feels SO GOOD!
What advice do you have for people just starting out?
Just do it. Start scrappy. Start even if you don't know everything. 
You'll always be learning, but if you are 5 steps ahead of someone else and can bring value to their life then your voice needs to be heard. - Dr. Jamie Wilkey
Click To Tweet
Don't be afraid to start imperfectly too. Just start. Action cures fear and takes you to amazing places. 
Learn more about Dr. Jamie Wilkey of archeshealthgroup.com: