How Dorota Pawlak Created 3 Successful Courses on Localization for Translators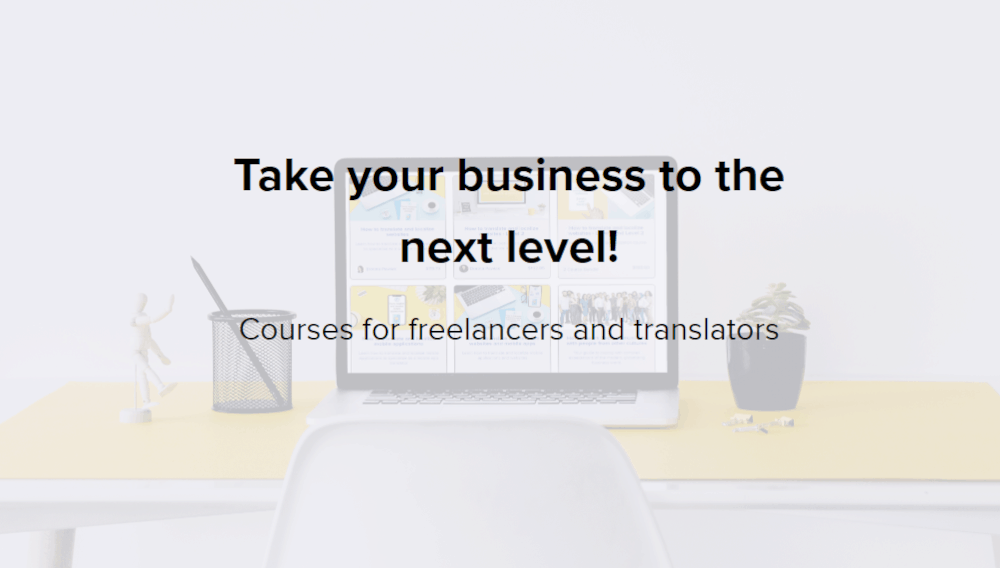 Our content is reader supported, which means when you buy from links you click on, we may earn a commission.
---
Who: Dorota Pawlak
Website: dorotapawlak.eu
Course Topic: Localization for Translators
Interesting Stats: 2,000 students w/no marketing plan
Who are you and what course have you created?
I'm a translator, localizer, author, and business mentor for freelancers.
You can find my home page here and my list of training courses here.
What market does your online course serve?
Currently, I offer 3 courses on localization for translators: "How to translate and localize mobile apps", "How to translate and localize websites – Level 1" and "How to translate and localize websites – Level 2".
I've also created a course on cross-cultural communication "How to work and communicate with people from other cultures", and working on an online course on successful mindset for freelancers. So, the current offer is targeted mainly at translators and translation students. The future content will be also useful for freelancers or people who want to start a freelance career.
"How to translate and localize websites – Level 1" was my very first course, created 6 years ago (then still without "Level 1" and for some time offered also as "Website localization for translators").
With this course, I wanted to fill in the gap on the market for translation and localization courses. Back then there were no comprehensive online courses on website localization for translators, so I decided to share my knowledge and experience with translators who want to specialize in website localization.
What's the biggest benefit of taking your course?
It's a fast guide to starting your specialization as a website or mobile app translator. It covers many topics that beginners struggle with. This includes: how to translate/localize a website when you only have a link to the website, what tools do you need, what cultural aspects have to be considered, or how to process files used in mobile app and website localization.
How did you get into the market?
I'd been working in the field of mobile app and website localization for many years. Before I created my first course, one of my colleagues published an online course on game localization. I signed up, followed every single lesson, and then it hit me! What about website localization? Back then there were no online courses for translators on this topic.
My first step was to follow an online course on creating online courses.
Next, I started drafting my script and researching the topic in more detail to make sure I could cover as many important areas as possible. I spent quite a lot of time on the preparation phase, I guess I was simply scared of criticism related to the content 😊
Then my approach was to first record only audio, then only screen, then only video, and edit and divide all the material in separate lessons once I had all the recordings. It took several months, as I was also working on translation and localization projects for my regular customers. I felt a great relief when the course was published, but after 2 years I decided to re-record it with better equipment to offer higher quality.
Why did you decide to create an online course in the first place?
I felt that I have knowledge and experience that I could share with others, plus I guess I was a little disappointed that no one else had created such a course already. - Dorota Pawlak
Click To Tweet
Back then online courses weren't as popular and widespread as now, so I also wanted to become a part of something new, a new trend, a new idea, a new way to generate passive income.
Did you have any moments of doubt before you created/launched it?
Of course! I had no technical issues, apart from the lighting for video recordings. From my previous career as a photographer, I already had a professional camera, but my lights weren't good enough to shoot a professional video. So I purchased an extra set of lights for the background, and somehow, together with my husband, we were able to create a reasonably acceptable quality. Now my set-up and equipment have totally changed, so I spent less time on editing and worrying about the audio or video quality.
Apart from that, I enjoyed editing and putting the course together. My only worry was the content itself: is it good enough? Will people like it? Is it not too basic? Will it actually help someone?
Luckily, after the launch, I received many positive comments about the content, and many students shared that the course helped them start specializing in the field of website localization.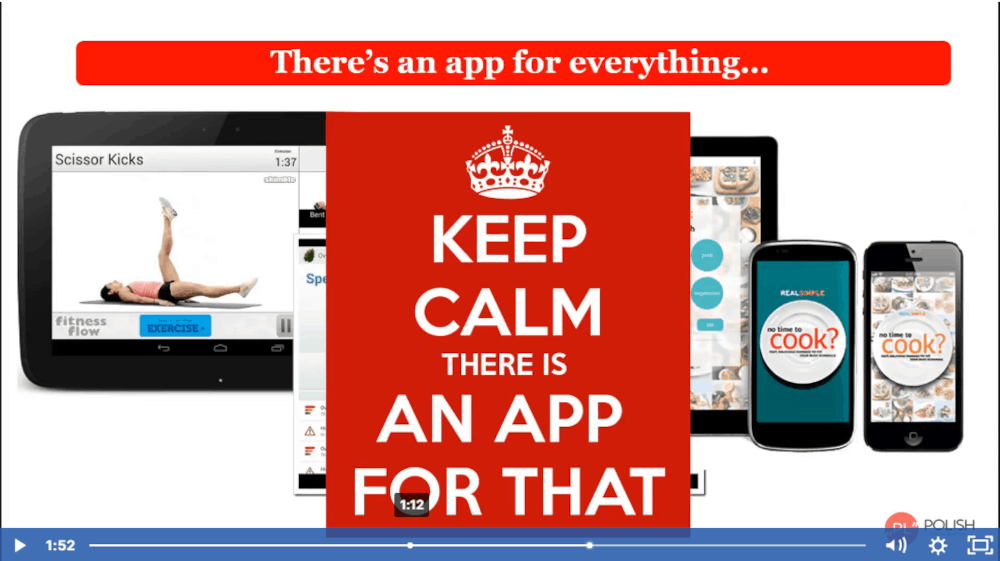 If so what made you turn it around and do it anyway?
I kept thinking about my end goal: publishing the course. I thought that if no one likes it, I will probably find out about it sooner or later and get a chance to re-record or redesign the course.
What's your online course like?
All my localization courses are a mix of video, PowerPoint presentations, and screen recordings showing various tools or processes. The course on cross-cultural communication created together with Monika Zatylny from Comsuo has more "talking head" videos and some other videos related to the content.
All courses have quizzes, some have extra text materials or references to external sources such as books or scientific articles.
How long did it take you to create your course?
To create the first website localization course I needed about 9 months. As mentioned above, I first focused on the script only. I also purchased more books on this topic to find more inspiration and include more detailed content. One thing is to know how to do something, it's another to know how to teach or talk about it.
So, although I had experience in website localization, I wasn't sure if I could teach it. That's why I ended up polishing my script, reading, and researching to create valuable and helpful lectures. Once the script was ready I spent a few months recording only the audio, then only the screen, then only the video.
Then I needed about two months for editing and putting everything together. I didn't work on the course every day, as I also had other commitments. For me, the course was only something extra. My own project that I could focus on during downtime or in the late evenings.
Definitely, the longest course to create was "How to translate and localize mobile apps". It took nearly 1.5 years to complete it. But that's because shortly after I started working on the course in December 2017, I got pregnant and my priorities shifted.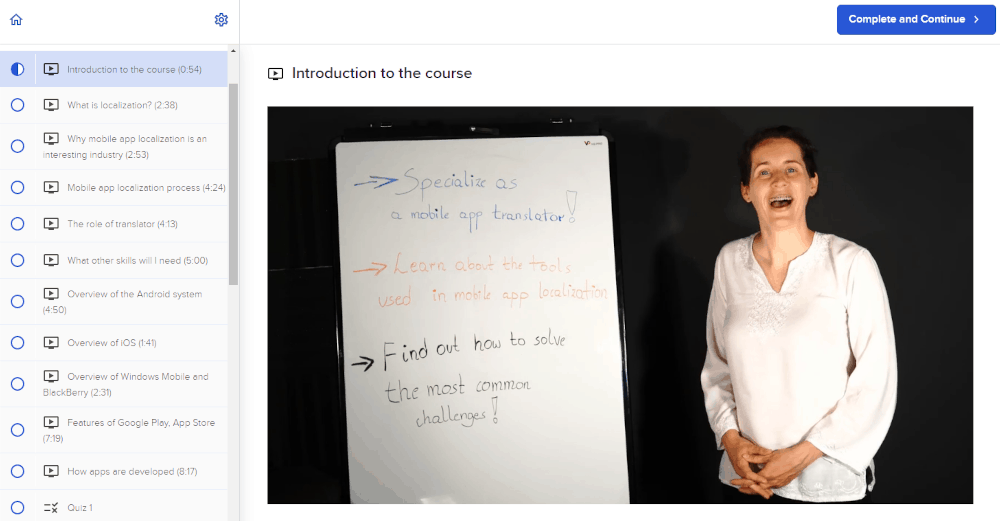 2018 was also the busiest year in my business with projects constantly coming in …
That's why I had to take many breaks from creating the course. Then, when my daughter was about 1 month old, I finally scheduled my "course creation time" and worked on the course at least for one hour every evening when she was asleep. I remember I had to interrupt recording my voice several times because my daughter would wake up quite often at night. In any case that course was like my second baby, it grew and developed with my daughter. 😊 And I was ready to publish it when she was six months old.
With my last course "How to translate and localize websites – Level 2" the story was completely different. I had more experience (both with courses and localization), more time (thanks to the lockdown), and a new approach.
It took only about two months to prepare the script, record, and edit all lectures …
This time I used agile learning design methods to get through it quicker. As a basis, I used content that I prepared earlier, for example for my newsletters, articles, interviews, or lectures at a university. Of course, I added more advanced topics and new content as well. But it was reassuring to know I didn't have to start from scratch as in the case of my previous courses.
This time, I also decided not to break my workflow into similar tasks: script, audio, screen, video, editing, publishing. Once the script was ready I simply recorded each lecture one by one, switching between different processes or combining them in one (e.g. recording screen and voice at the same time).
For me, this approach turned out to be faster and easier. It was also more motivating to see that the specific lecture was actually ready before I moved on to the next topic and next lecture.
Tell us a little about the process of launching your course and getting your first sale(s).
I didn't really put much effort into promoting my courses earlier when I published my content via Udemy only. Udemy's marketing is both a blessing and a curse. You can have access to a wide audience of potential students, but they usually purchase your content only if there's a huge discount.
Most students will pay only about USD10 for a course, which leaves the author with a USD3 payout per purchase. I've also noticed that usually students who pay so little rarely finish or even start the course.
I'm not blaming them, I do exactly the same. 😊
Once you pay more for a product you value it more as well. You're more eager to follow the lectures and then put your new knowledge into action. - Dorota Pawlak
Click To Tweet
That's why I moved my courses to my website (via Teachable), added new content, and started promoting the courses by myself. And that's a lot of work!
So, here's an example of the launching process for my recent course "How to translate and localize websites – Level 2". The course was available for pre-sale one week before the launch date. Before it was published I posted a few images on my social profiles showing the work in progress (e.g. me in front of the microphone).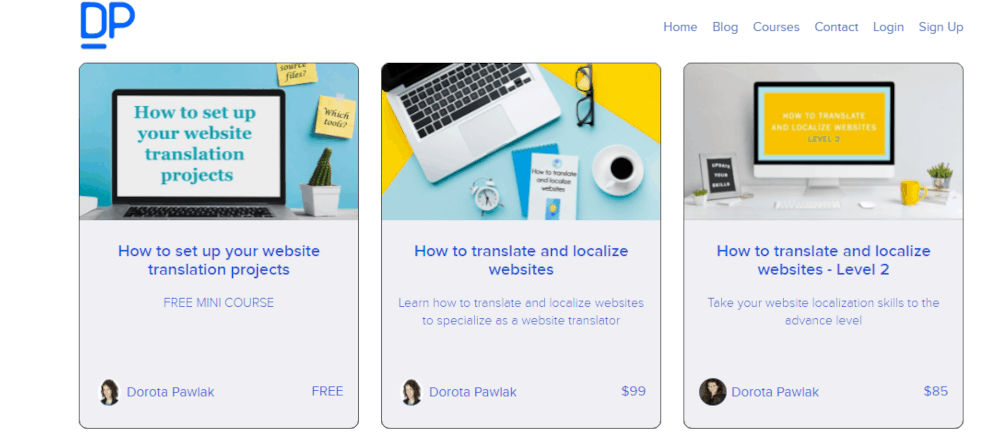 Steps to launching …
When the course was available for pre-sale at a reduced price, I posted about it in a private FB group that I created earlier for my localization courses students. Before the launch, I also wrote an e-mail to my students who purchased the previous courses via Udemy. Then I sent out a newsletter to my contacts interested in website localization (people who downloaded my free e-book on the same topic).
I also contacted five trusted colleagues and asked them to become my affiliates. Three of them agreed and started sharing the course on their social profiles and in their newsletters. Once the launch date came, I announced it via LinkedIn, Instagram, Facebook, and Twitter. In the days that followed I published other posts with course-related content. I've also created a short promo video and published it via YouTube. Then I shared it on my social media profiles.
Finally, a few days after the course launch a new episode of the podcast Marketing Tips For Translators was published. It was recorded two months earlier and I was invited by Tess Whitty as a guest to talk about website localization as a specialization. The podcast helped to generate more interest in my work and my courses.
It's been seven days now since the course launch. Financially it brought more benefits than my courses published on Udemy a few years ago although fewer people signed up in the first week. However, the promotion is not over yet. There will be more blog posts, social media posts, webinars, and public speaking during conferences for my target group. It's a never-ending process, but it's totally worth it.
Do you have a lead magnet?
Yes, I have a free e-book on website localization "Translate and Localize Websites Like a Pro". I published it in May 2020. In the first month, it was downloaded by about 200 people who also subscribed to my newsletter. I send out a website localization newsletter once per month with tips on website localization. Every message ends with a call to action related to my online courses.
What's the traffic strategy that works best for you?
The best source of traffic for my course is sharing or talking about the course on LinkedIn. Also, being featured in interviews or blog posts, and public speaking. - Dorota Pawlak
Click To Tweet
I used to have a blog on website localization, but now I share the content on this topic only in my newsletter as it generates more engagement. When I started out 6 years ago, I had absolutely no strategy and relied too heavily on Udemy marketing. Now I'd rather do everything by myself. I learn a lot from other course creators, from books, and from my mistakes.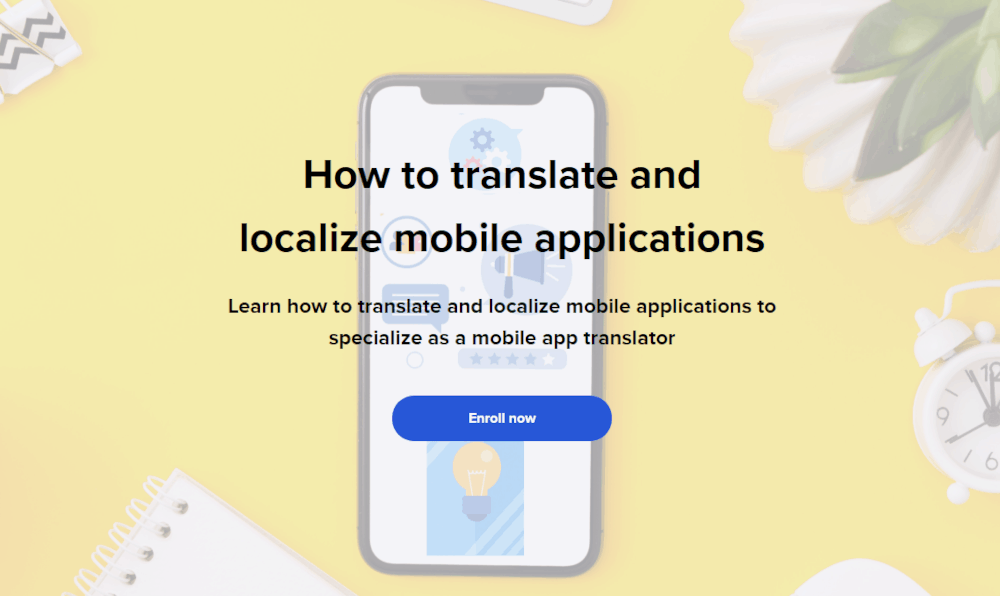 What online course platform are you using?
One year ago I started using Teachable connected to my website. As mentioned earlier, Udemy was great for generating more traffic, reviews, and more students. It just didn't give me as much freedom as Teachable does. I love the user interface. I love the fact that you can create a bundle of two or more courses, assign different user roles (e.g. affiliates) or add an upsell. The pricing is also reasonable, I chose the Professional Plan.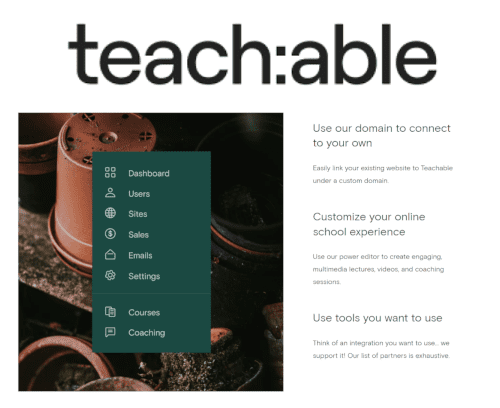 Check Out Teachable
Teachable is one of the top online course platforms used by successful course creators interviewed on coursemethod.com. It is easy to set up and build your site pages, and the course area looks great. 
Price Range: $0 (+ transaction fees) to $299/month
Most Popular Plan: Pro Plan at $119/month
Annual Discount: Yes, take 17% off!
Free Trial: Try out Teachable's core features for free
*Our content is reader supported, which means when you buy from links you click on, we may earn a commission.
Are there any features you wish it had?
I'm totally happy with all the amazing features it offers now.
What made you decide to use your chosen platform over others?
One of my colleagues recommended it earlier, but at that time I didn't give it much thought. When I started researching the course platforms, Teachable came to my head. I compared the pricing and features with other platforms and quickly decided that it would be the right choice for me. It wasn't too pricey, it offered great support and all the features I was looking for.
What other tools do you use to run your online course business?
I record and edit my courses with Camtasia and schedule social media posts via Hootsuite. Newsletters are created and sent out via Mailchimp. I also use Trello to plan my workflow, PowerPoint for slides, and Photoshop to create or edit graphics.
What books or training programs have you found useful on your journey to a successful business owner that others might find valuable too?
I enrolled in an online course "How to Create an Awesome Online Course" by Miguel Hernandez. A book "Newsletter Ninja: How to Become an Author Mailing List Expert" and the Teachable blog.
Do you have any big mistakes you've made along the way that you'd be willing to share?
Yes, when I started out with course creation, I focused on the content only. I gave it my full energy, totally ignoring the fact that the course won't sell without a marketing plan. It did sell after all, because my first courses were published via Udemy, but the profit wasn't high enough. I should have hosted my courses directly on my website from the very beginning and promoted them more intensively.
Please share some idea of revenue.
As I mentioned earlier, courses weren't the core of my business, so I didn't invest a lot of time or effort in promoting them. For many years, it was only something extra, a small passive income stream that generated about USD400 per month.
Once I started hosting my courses on my website, created new content, and focused more on marketing and the launch, this number doubled. I know it's not much and that I could do more to promote the courses and have more sales, but I believe this is just the beginning. I'm redefining my approach to my business, to my courses, and to my marketing strategy now, so soon the revenue should increase as well.
Please tell us a little about what the money you've earned from your course has done for you.
There were no spectacular changes or investments. 😊 I purchased better equipment for the next courses. Such as better lights, a professional webcam, microphone. Knowing that there's some money coming from my courses every month allowed me to stay calm when my core business activity – translation and localization services – was slower than usual.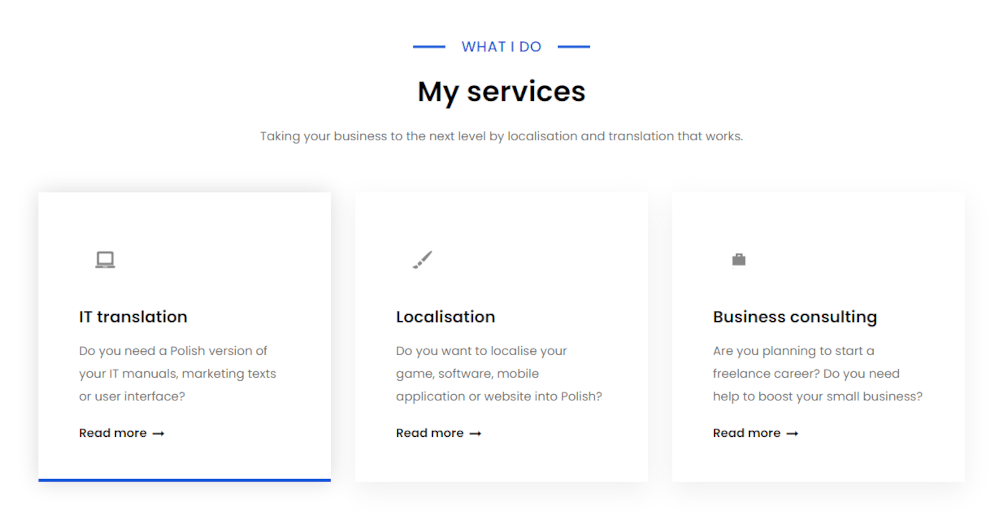 In addition to revenue are there any numbers you would like to share?
My first two courses with nearly no marketing strategy and no effort put in the launch attracted over 2,000 students. That's quite a lot for such a niche topic and nearly no promotion. I'm also happy with the 200 people who subscribed to my mailing list in one month. The only method I used to achieve it was to write and publish a free e-book. Then I posted an update about it on my social media.
What has creating your course done for you personally?
It helped me boost my confidence and gave me the feeling of accomplishment. My first online course also led to an engagement as a guest lecturer. I've been teaching website and mobile app localization at a university for three years now, which is a dream come true for me. Plus, my courses helped to establish my position on the market as a professional mobile app and website localizer.
Do you have a story of a transformation from any of your clients?
Yes, many students shared that the course content helped them with their tricky localization projects. Some also started to learn more about localization and became experts in this field. For example, one student who took my website localization course got inspired to study localization in more detail. She is now teaching game localization in her native language. She is helping students who don't understand English or prefer to learn in their mother tongue.
What advice do you have for people just starting out?
Plan your launch and your marketing strategy! And host your course on your website. I wish I had known how important the pre-launch and launch activities are before I started. For too long I thought that if someone needs a course on the website or mobile app localization, they will simply find it by googling it 😊
Learn more about Dorota Pawlak of dorotapawlak.eu: