How Dave Chesson Created a Free Amazon Book Ads Course and Got Over 37,000 Subscribers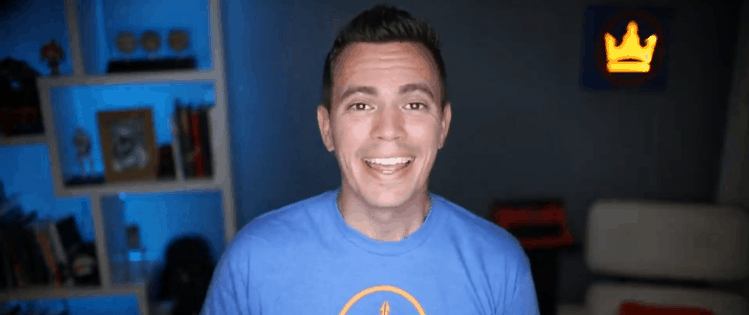 Our content is reader supported, which means when you buy from links you click on, we may earn a commission.
---
Who: Dave Chesson
Website: kindlepreneur.com
Course Topic: Book publishing
Interesting Stats: Free course contributes to over $250k a year in extra revenue
Who are you and what course have you created?
I'm Dave Chesson, the founder of Kindlepreneur.com, as well as the creator of Publisher Rocket, a book marketing software. I also created a fully free video course on how to create profitable Amazon ads.
What market does your online course serve?
My course was made for authors and even publishing companies. When Amazon first came out with the ability to advertise your book on their website, authors and publishing companies flocked to try to figure out how to best do it.
This single advertising system seemed like the best option since unlike other ads platforms, this one would show your book to people who were already on Amazon ready to buy a book.  You just needed to convince them to buy your book.
What's the biggest benefit of taking your course?
With the use of this course, authors now have the full understanding and power to be able to set up effective and efficient Amazon ads for their books.  By doing this, they can now control the ability to get their books seen by the right kind of Amazon shoppers.
How did you get into the market?
When I first started writing books, no matter how hard I worked, or how well I wrote, I'd see other books show up more on Amazon than mine.  This frustrated me and started me on a path of trying to figure out why Amazon chose to show one book over another.
After searching the internet, I realized no one was answering this very question.  After years of work, I finally figured it out, as well as some other things that I thought would be extremely important for authors.  It was from this, that I created Kindlepreneur and entered the market.
Why did you decide to create an online course in the first place?
Originally, I started Kindleprenuer.com to help authors learn about book marketing and how to better sell books in digital markets, like Amazon.  One of my goals is that each article I write helps authors to learn and be able to turn around, take action, and see results.
However, when it came time to write an article about Amazon ads, I realized that I couldn't adequately cover everything in an article.  I was already up to almost 8,000 words and still writing, when I realized covering this subject would best be done by a full course.
However, when it came time to wrap the course up and launch it, I asked myself if this course would serve better to be free.  You see, throughout the course, I use my program Publisher Rocket to show how authors can find profitable keywords.  I do show how you can do it without my program, but with it, it saves you time and gives you better data.
I hedged that if I made the course free, not only would people spread it and build our name brand, but people would naturally purchase my software as well, considering they just saw how effective and time saving it is. - Dave Chesson
Click To Tweet
Did you have any moments of doubt before you created/launched it?
Not really.  Because of Kindlepreneur, I had over 80k email subscribers at the time.  Plus with the course being free, who wouldn't love it?  It was a better course than any other paid course out there.
What's your online course like?
It's a combination of video recording and onscreen recording of slides.  By flipping between shots of me explaining things and the slides, it helps to keep engagement as well as increase branding and trust.

How long did it take you to create your course?
It took about 5-7 hours to script, and another 6 hours to design the slides.  Then after that, filming was pretty simple since I read from the script and edited the slides to show at the right time.  The biggest time saver was that I hired a video editor to edit the video to time up perfectly.
Tell us a little about the process of launching your course and getting your first sale(s).
There really wasn't a traditional launch considering that it was a free course.  All I had to do was do an email blast about the course, and post on social media.  Because it was free, course takers started taking to the internet. They posted to author Facebook groups and social media pages to let others know about it. It spread like wildfire.
Furthermore, we made a Rocket affiliate link that points to the free course.  This way, any of the Rocket affiliates could send their people/followers/fans to our course, and if anyone who clicked their link purchased Rocket within one year, that affiliate would get 50%.  Now affiliates had a real reason to help their followers, while still making money on the side.
Do you have a lead magnet?
No need since the course is free.
What's the traffic strategy that works best for you?
Kindlepreneur is a large website that gets over 150,000+ visitors.  We use the free course as a lead magnet for the website, which by signing up, we get their email.

What online course platform are you using?
I actually put this on Teachable and Thinkific so that I could figure out which one I liked better.  I chronicled the difference in the comparison of the two.  You can see the same course side by side and know how the two really differ.
In the end, though, I liked Thinkific better.  I preferred their free account system, plus it had more of the important options that I found beneficial.
However, one thing I learned later but doesn't affect me is that Thinkific does not collect VAT Moss tax.  So, if you are selling your course in Europe, then you may want to think about Teachable.
Luckily, because mine is free, I don't have to worry about this.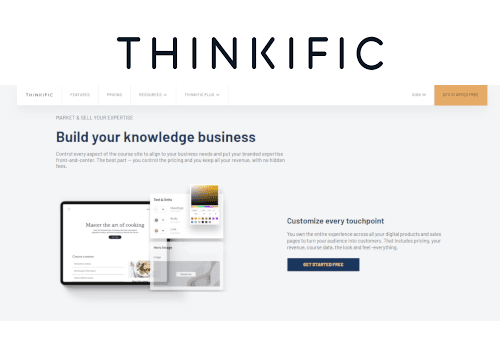 Take a Look at Thinkific!
Thinkific is the most popular online course platform used by successful course creators interviewed on coursemethod.com. It's a complete solution for creating sales pages, uploading all course content, taking payments, and more.
Price Range: Free to $499/month 
Most Popular Plan: Pro Plan at $99/month
Annual Discount: Yes, take 20% off!
Free Trial: Try out Thinkific's core features for free.
*Our content is reader supported, which means when you buy from links you click on, we may earn a commission.
What other tools do you use to run your online course business?
I use ConvertKit for collecting emails and sending out a drip autoresponder to the course takers.  My goal is to make sure they stay engaged with the course.
What books or training programs have you found useful on your journey to a successful business owner that others might find valuable too?
First, I'd say that I can't stress enough the power of having a coach. It's best to get one that is one step ahead of you. - Dave Chesson
Click To Tweet
They can truly help you mitigate some of the pitfalls they faced when they were at your level.
Second, I'd stress the importance of just doing things and getting experience.  Too many times people keep thinking that the secret to success lies in another course or a book.  While those things definitely help to teach you, the best teacher is experience.  So, be sure to get out there and gain vital experience and learn over time, and not just keep searching for new information.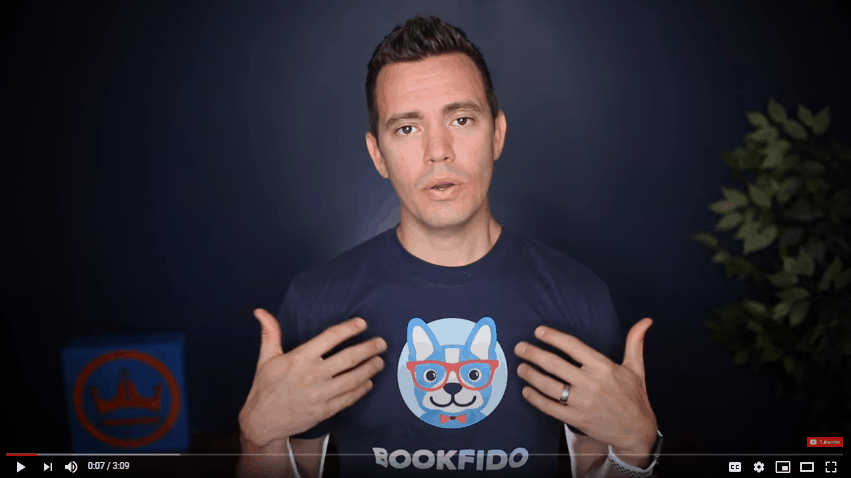 Do you have any big mistakes you've made along the way that you'd be willing to share?
There are many mistakes I faced as my online business grew – too many to count.  But one big one that I made early on was not hiring the right kind of people to help.  I kept seeing hiring as a loss of profit.  However, when I finally got the right people on the team, I saw revenue increase and my time on the projects decrease dramatically.
Please share some idea of revenue.
I can't say directly how munch money the course has had on Rocket's sales.  However, I'm very confident to say it contributes to over $250k a year in extra revenue.  But the course has also increased my brand's image and created a whole bunch more followers and real fans because of it.
In addition to revenue are there any numbers you would like to share?
The course currently has over 37,000+ subscribers.  That's 37,000+ people who've watched my course, know my brand, and know my software.  That's pretty invaluable.
What has creating your course done for you personally?
Because of the course, publishing companies started reaching out to me for help.  This opened up paid consulting gigs as well as an uptick in my speaking requests.  Because of those, I got to meet and work with some of my all-time favorite authors like Orson Scott Card, Kevin J Anderson, and others.
Do you have a story of a transformation from any of your clients?
Currently, the course has 730 5-star reviews.  That just about averages one review every day, with users saying how much it helped them, or how it kick-started their author careers.
What advice do you have for people just starting out?
This is not a sprint and should never be seen or thought of as a sprint.  It's a marathon and in order to do things right, create the best content, and truly help, you need to pace yourself like you're in a marathon.
Learn more about Dave Chesson of Kindlepreneur.com: