Convertkit vs Mailchimp: Which is Better?

Our content is reader supported, which means when you buy from links you click on, we may earn a commission.
---
Convertkit and Mailchimp are marketing automation tools to help manage email campaigns. Automated marketing is popular in the digital world due to the time it saves and the high use of email in communication. According to a Gallup survey, communicating via email is preferred and is rising with each new generation. The return on investment to businesses averages $44 for every $1 invested.
When you're just starting out creating your online course business, your main focus should be to target and attract the right audience for your platform. And that's exactly what email marketing allows you to do in the most efficient way possible.
An online course creator can benefit from using automated marketing email software to generate awareness and excitement for the courses they're selling. Since the emails can be targeted to the audience more sales can be made with little effort.
There is a wide range of email marketing tools for small businesses available today that aim to help convert prospects into leads and create a loyal customer base.
Content creators, including bloggers and eLearning course creators are using these tools to expand their reach to the audience. In fact, these tools greatly help content creators post regular content. This keeps the traffic flowing and their platform alive.
If you're confused as to which email marketing tool you should use to promote your course, we've got you covered. We're going to compare two of the most popular email marketing tools for small businesses today: ConvertKit vs Mailchimp. Let's get into the breakdown.
Ease of Use
ConvertKit:
ConvertKit's interface is quite easy to navigate.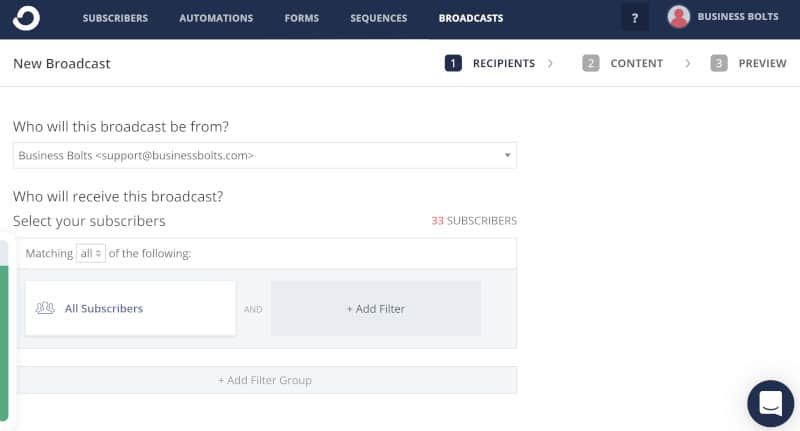 With their email builder option located right under the broadcasts section, you can simply specify your subscribers and mention the sender's details to be able to create emails. Their interface, however, isn't as exciting as that of Mailchimp, but the simplicity of it makes it very easy to use.
Mailchimp:
Creating and sending emails on Mailchimp is also very easy.

In fact, it utilizes a step-by-step approach to offer maximum flexibility. You may click on 'My Personal Preference' for designing an email of your choice or add sender and recipient details first.
Automation
ConvertKit: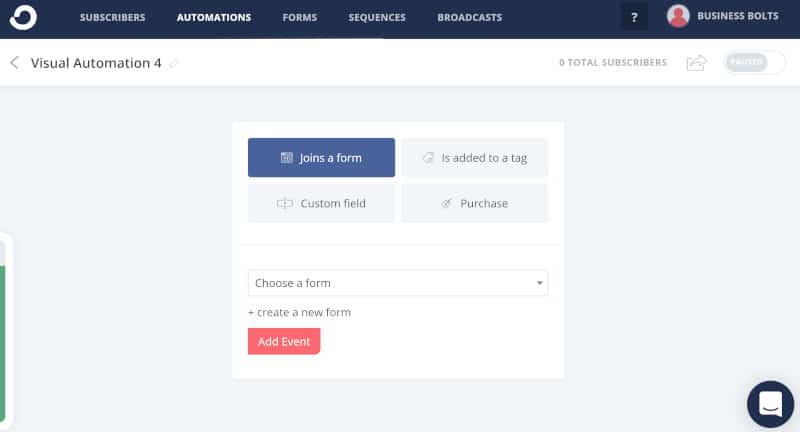 Featuring a visual automation tool, ConvertKit allows you to build subscriber drip campaigns. You can simply drag and drop a workflow through actions and conditions and then observe which subscribers have moved into the workflow.
Customize your email tags and forms and assign them as events or conditions to move subscribers through the automation. You can also set a particular date and time to make sure that special offers and time-constrained emails are sent on time.
Mailchimp:
Mailchimp has really stepped up its automation game in the past couple of years. From creating automatic response emails and drip email campaigns to sorting your subscribers in lists and removing unsubscribers from your current list, you can do everything.
Moreover, Mailchimp allows you to use your Facebook and Instagram ads to increase your mailing list. The information gathered from these ads can also be used to divide your list into segments and personalize your content.
Email Creation and Editing
ConvertKit: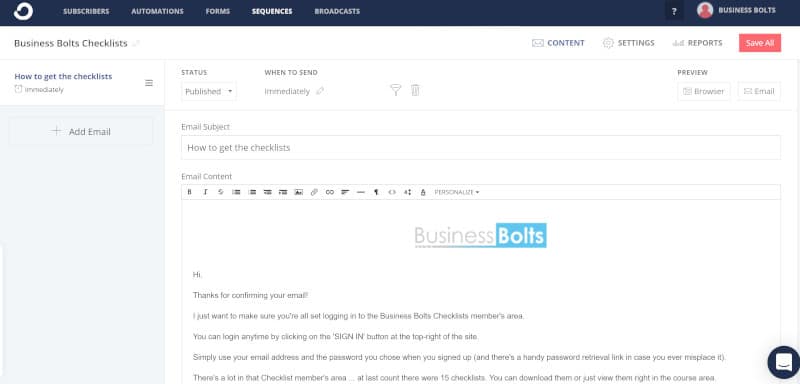 ConvertKit promotes the use of text-based emails rather than image-heavy templates. Hence, the designing of their tools revolves around this particular focus for the most part.
This means that you may not get access to fancy email templates and a drag and drop editor. However, their tool allows you to use a variety of text edit functions, including applying bold, italic, underline, changing font size and color, adding images and clickable links. Furthermore, if you're interested in knowing which links the majority of your visitors interact with, you can even set up click tracking for your emails.
Mailchimp:
On the contrary, Mailchimp features customizable drag and drop templates where you can use text, images, or design styles of your choice. You may also use HTML to build customized email templates. If you think pretty templates complement your business idea, you may want to go for the image-ready email templates offered by Mailchimp.
Mailchimp offers easy editing and changing of text, images, and styles. In addition to this, you can also undo an action when you're editing text.
Design Options
ConvertKit:
ConvertKit offers three options for email templates: text only, classic, and modern.
Please note that all options are similar in that they are text-based templates with different fonts. The classic and modern templates allow you to add images and apply text formatting. With ConvertKit, you will not get a library of pre-designed, beautiful email templates.
The reason behind this philosophy is that simple, text-based emails tend to perform far better than fancy, image-heavy emails.
Mailchimp:
Mailchimp, on the other hand, takes pride in offering nearly 100 fully-designed email templates. From newsletters and business promotions to event invites and holiday emails, you'll get everything here!
Not only this, but they also offer 14 blank templates for you to design your own personalized emails with.
List Segmentation
ConvertKit:
ConvertKit doesn't allow you to create lists so when you add contacts, they all go in the same place. You, however, have the option to sort contacts into tags, forms, or sequences. You can also make separate segments for similar contacts even if they fall into the same sequence or form.
Mailchimp:
Mailchimp offers the option of creating lists, allowing you to keep your contacts separate from each other. It's noteworthy to point out that if you include a contact in two separate lists, Mailchimp will charge you for the duplication.
Additionally, you may organize your contacts using tags or segments. Once you've created certain segments, your contacts will automatically go into the respective segment when they sign up. Multiple-option list management often becomes confusing though.
Registration Forms
ConvertKit: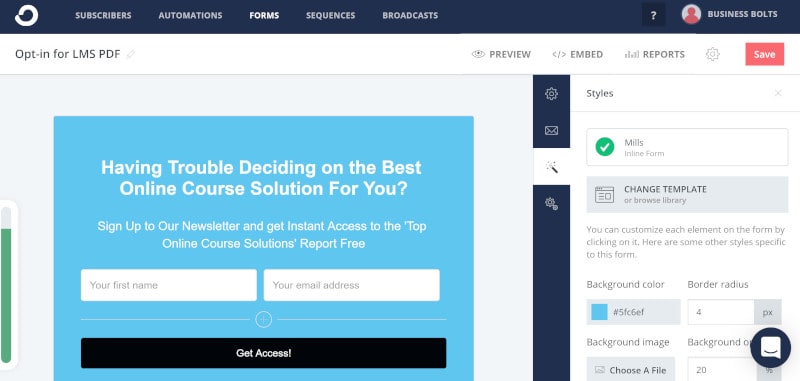 ConvertKit updated its form builder last year and now you can customize every part of your forms however you'd like. You can easily insert fields using their visual editor. Moreover, you get to choose whether you want your form in embedded, pop-up, or slide-in format. On top of that, ConvertKit doesn't show forms to repeat visitors to avoid duplicate subscriptions.
You may also benefit from automation by synchronizing your third-party lead generation tools with your forms.
Mailchimp: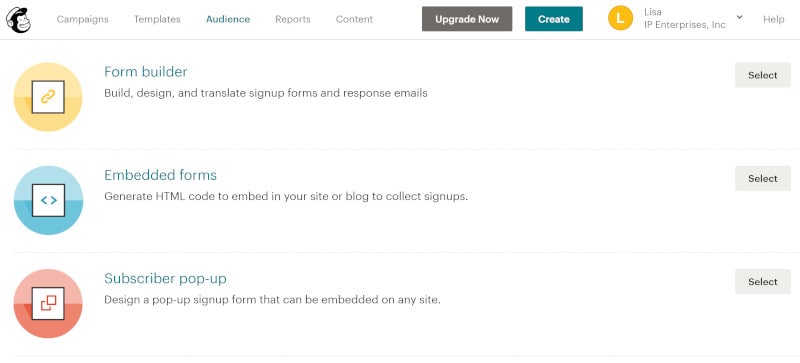 Mailchimp's form builder comes in three standard types: embedded forms, form builder, and subscriber pop-up.
The design tab allows you to customize your forms by choosing the fonts and colors of your choice. That being said, the form builder is very easy to use with its drag and drop features, enabling you to enter and edit field values very easily.
Landing Pages
ConvertKit:

With an expected headline and on-page content, the landing page options of ConvertKit are somewhat similar to its forms. Just like forms, you can set up the pages including the confirmation email, and choose to either embed the page on your website or share its link via social media or email lists.
ConvertKit features several templates for creating a landing page, all of which work really well. While the editor is similar to that of form-building, you can make some adjustments to the landing pages.
Mailchimp:

Mailchimp's landing page templates allow you to incorporate your own design to customize their look and feel with a visual editor. You may need to follow an extra step for adding more fields but it's nothing difficult.
You may embed the landing pages on your website using the embed code or use their URLs to share them directly on social media platforms. Apart from this, Mailchimp also provides you with regular reports on visits, clicks, subscriptions, and conversions.
Reporting
Email marketing analytics and reporting tools are important when running your business. You want to be able to track whether your subscribers are opening your emails and clicking on the links within them. Otherwise you need to adjust your email strategy.
ConvertKit:
When it comes to reporting in ConvertKit, there's a limitation regarding the number of overviews you see on the dashboard. The reports tell you about open rates, click rates, and subscriptions. This means you don't get any information on geographical data, bounce rates, and click heat maps. With access to different filters and date ranges, you can customize the view.
The worst thing about ConvertKit's reporting is that it doesn't allow you to rename your emails. This makes it difficult and frustrating to differentiate between multiple emails with the same subject line.
Mailchimp:
In contrast, Mailchimp offers extensive reporting focused not only on providing you with valuable business insights but also on helping you create better campaigns in the future. With several interactive graphs and automatically maintained lists, you get information on social stats, hourly performance, click maps, opens by geographical area, and performance by domain.
Not only this, but you can also find out how your campaigns are performing against average industry standards.
Email Deliverability
Email deliverability is hard to gauge. You're really left up to the provider to present their deliverability rates and no company is going to make it sound like their emails don't get through!
ConvertKit:
Based on informal comparisons, ConvertKit has a better overall email deliverability rate than Mailchimp. Emails created using this tool are also more likely to end up in the main inbox of Gmail. The spam rate associated with their emails is quite lower.
Mailchimp:
Mailchimp, on the other hand, boasts a better email sender score than ConvertKit. However, their emails have greater chances of ending up in the promotional inbox of Gmail, which isn't ideal.
Customer Support
ConvertKit:
ConvertKit has an excellent customer support system. In case you have any concerns, complaints, or suggestions to make, you may get in touch with their customer service representative any time of the day – or night. You can expect to get fast and coherent responses from them.
Besides this, ConvertKit offers a decent knowledge base for first-time users, offering helpful tutorials.
Mailchimp:
The customer support service of Mailchimp is also good. However, it is only available during business hours. Moreover, it requires you to first go to its knowledge base before getting access to its customer support email or chat options. The response rate of Mailchimp is also lower than that of ConvertKit.
On the brighter side, however, the tutorials and knowledge base of Mailchimp are more detailed.
Conclusion
So, in the ConvertKit vs Mailchimp fight, which one are you rooting for?
All in all, both ConvertKit and Mailchimp are great email marketing tools for small businesses and content creators. Based on the specific needs and requirements of your platform, you should choose the one that offers the most benefits to you.
If you're looking for something more robust than either tool, you may want to take a look at our Infusionsoft vs Mailchimp comparison article. Infusionsoft offers an email marketing tool as well as eCommerce system all rolled into one. It's a popular choice for many online course business owners.
Please let us know about your experiences with either ConvertKit vs Mailchimp or any other email tool in the comments below …