How Christopher Reilly Stepped Out of the Role of a Consumer and Created His First Online Course

Our content is reader supported, which means when you buy from links you click on, we may earn a commission.
---
Who: Christopher Reilly
Course Topic: Financial Modeling
Interesting Stats: Out of 600 subscribers, 72 orders (12% conversions)
Who are you and what course have you created?
I have a background in Consulting, Corporate Finance, and Private Equity, and my course is called Financial Modeling for Private Equity.
What market does your online course serve?
It teaches newer professionals how to build an "LBO model" from scratch to help evaluate a potential business acquisition in the middle market.
What's the biggest benefit of taking your course?
It gives students access to all of the financial modeling and private equity experience I've gained over the last decade+ without having to attend a top-tier school or land a position at a prestigious company.  It can all be done from your house.
How did you get into the market?
I randomly came up with the idea in 2018 when I was working on building a financial model for a prospective business acquisition.  As I was building it out, I found myself "talking" in my head to an imaginary Analyst that I would be teaching.
I said to myself, "hmm, maybe I could just record this and market it as a course."
Why did you decide to create an online course in the first place?
Honestly, I just thought it would be cool to try.  I'd done a little reading about the success people had had with online courses and I figured I'd just give it a go, that I didn't really have anything to lose.
Did you have any moments of doubt before you created/launched it?
Yeah, the most frustrating part early on was just learning some of the technology.  How does my microphone work? How do I upload things to the website? How do I screen record?  It eventually got easier but it was a little tough early on.
If so what made you turn it around and do it anyway?
Again, I just didn't really feel like I had much to lose.  Also, somewhere inside me, I thought it would be valuable to people.
What's your online course like?
It's an online video that instructs students on how to build a financial model in Excel.  So, they watch the videos and then build their own model along the way.  The video format is screen recordings of me building the model, and then students replicating the process.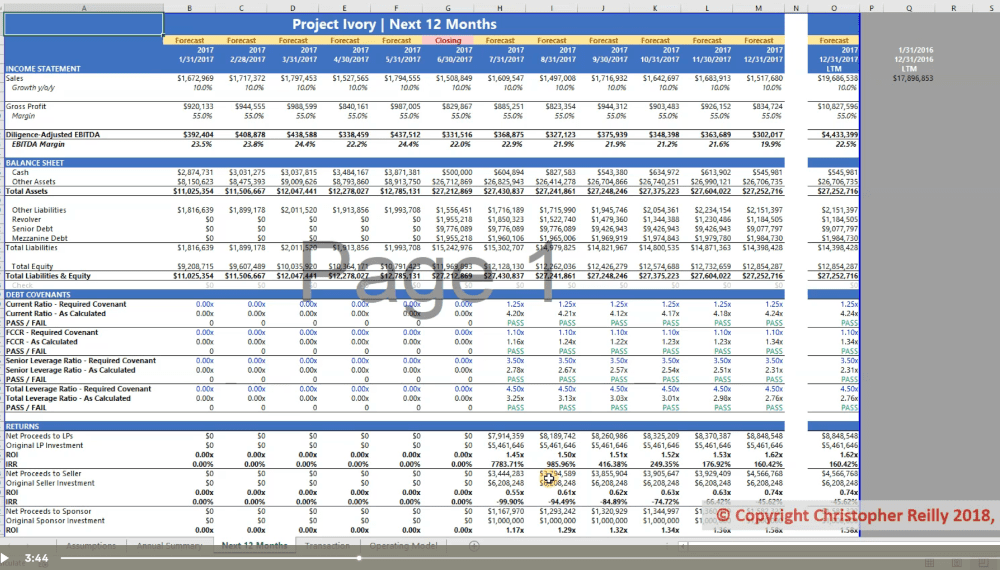 How long did it take you to create your course?
Holy cow — a long time.  I'd say 4 months or so.  Now, I couldn't work on it every day so I'd say maybe 3 months is more accurate.  I knew what the end product would look like, so I just spent a little time each day trying to get closer to completing it.
Tell us a little about the process of launching your course and getting your first sale(s).
All I did was post about it online in a few places.  I think Reddit mostly.  It got a little bit of "pre-launch" interest, and those people signed up to my email list.  Once it was live, I sent an email to that list and let them know.  Honestly, I did very little course marketing and still do almost none.  I'm trying to change that this year.
I used Thinkific to host my course, which allowed me to set up a "coming soon" page and capture email addresses that way.
Do you have a lead magnet?
Yes, I allow everyone to watch the first 4 videos for free.  It shows them the entire financial model they're going to build so they know exactly what to expect.  I'd say it's definitely helpful and at least allows me to capture emails if nothing else.  I see a lot more free trial sign-ups than purchases as you can probably imagine.
What's the traffic strategy that works best for you?
I honestly do barely any traffic strategy at all.  Again, trying to work on that this year.  What I did for the longest time was just run a PPC Google Ad that did decently, I'd say it may have broke even on cost, so I figured I was at least paying for my own marketing budget and getting the word out there.
I also was able to partner with a newsletter (The Water Coolest) that would run the ad occasionally.
I also would (rarely) post about it on LinkedIn.  I'm planning to be much more active on LinkedIn this year and market it more.
Lastly, I was able to connect with the best company in the entire financial modeling space called Wall Street Prep.  There was a financial modeling summit last year (virtual) that I attended along with the founder of Wall Street Prep.  I was fortunate enough that he reached out to me about including my course as part of their portfolio.  So now, my course is available on a standalone basis through my website as well as part of Wall Street Prep's Private Equity Masterclass. I hope this will be my "big break" for the course and help me market it on all other channels.
In my world, Wall Street Prep is the Google, Facebook, Microsoft of financial modeling education, so it should hopefully help me.
What online course platform are you using?
I use Thinkific and I believe the primary reason I chose it was because the Basic Plan was fairly cheap ($50/month) and it allowed me to keep full ownership of my email list.  My understanding was some other platforms didn't give you that option.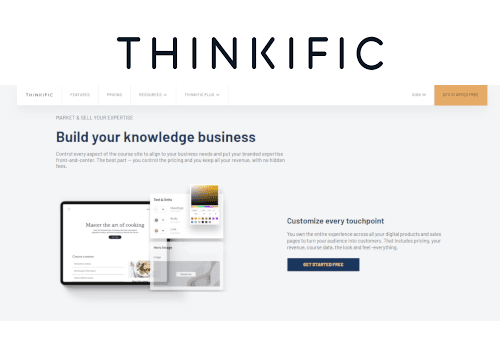 Take a Look at Thinkific!
Thinkific is the most popular online course platform used by successful course creators interviewed on coursemethod.com. It's a complete solution for creating sales pages, uploading all course content, taking payments, and more.
Price Range: Free to $499/month 
Most Popular Plan: Pro Plan at $99/month
Annual Discount: Yes, take 20% off!
Free Trial: Try out Thinkific's core features for free.
*Our content is reader supported, which means when you buy from links you click on, we may earn a commission.
Do you like it?
I'd say 90% yes.  There are a few things that would probably be easier if I had a higher-paid plan (no surprise), but by and large, it gets the job done.  It has a website builder, coupons, multiple course offerings, affiliates, etc.
It can be a little tricky to learn your way around, but not super challenging once you spend a little time with it.
Are there any features you wish it had?
I wish it would auto-pay affiliates instead of having to approve them manually, and then pay them manually elsewhere.
But I think a lot of other affiliate arrangements operate similarly, and the big picture is probably helpful in case you have to navigate any returns or disputes.

What other tools do you use to run your online course business?
I also use Zapier, which is an "if this happens, then do this…" software that automatically adds new course sign-ups to my email list in MailChimp.
So, I use MailChimp to send out emails to students.
I use the free plan for both of these which I'm sure will come back to haunt me someday but only time will tell (i.e. I think MailChimp caps out at 2,000 subscribers on the free plan).
I use Stripe to process payments (they take a ~3% cut) and the same for PayPal (similar fee I think).  It was pretty easy on Thinkific to integrate these two accounts.  These are the payment processors they allowed at the time.  It may have expanded today but I'm not sure.
So, 4 additional software/services.
What books or training programs have you found useful on your journey to a successful business owner that others might find valuable too?
All I did was random online research.  Mostly I just needed the motivation to get started.  That was the hardest part.
Do you have any big mistakes you've made along the way that you'd be willing to share?
I probably should have done more research before I got started.  There's a lot of competition in this space.  That said, had I never started, I never would have met Wall Street Prep or even gotten this thing off the ground.  So, there weren't any huge "mistakes" I'd say.  If anything, I should have thought about marketing much more.
Please share some idea of revenue.
It's done just about $11,000 in sales since launch, so in just over a year, year and a half.  Keep in mind that I barely do any marketing at all and this is all before Wall Street Prep gets to help me market it further.
I don't care for ego purposes, I just wouldn't want to discourage new course creators by my lower numbers.
If you spend the time to market it often you can grow it much larger.  This was a side project for me so I didn't spend much time on promotion.
Another interesting thing here is that the success of the course turned into lead generation for a new client. I did $50,000 with them to re-create their new hire training course last year. - Christopher Reilly
Click To Tweet
So there's definitely a point to be made that the course helps me attract new clients too (I do FP&A Consulting as my "day job").
Please tell us a little about what the money you've earned from your course has done for you.
For me, it was never a financial move.  I'd love for it to replace some monthly income and that's my hope with partnering with Wall Street Prep, but right now the money hasn't been overly meaningful.  Just something I can be proud of and point to for lead generation, etc.

In addition to revenue are there any numbers you would like to share?
I think to date it looks like I have 600 subscribers, but only 72 orders.  So that gives you some kind of idea on conversion (12% which I guess isn't too bad).  I always had the most success grabbing more subscribers when I posted about it online.
What has creating your course done for you personally?
This is so cheesy but honestly, it's just really nice to create something.  When you look around you, nearly everyone spends their life-consuming. Netflix shows, social media, movies, books, etc.
Nearly the only thing people produce is their labor at their jobs, and everything else is consumption. It was nice to step out of that mold and felt like I created something. - Christopher Reilly
Click To Tweet
Do you have a story of a transformation from any of your clients?
Yes, I've received some really nice reviews that have just been awesome.  I'd love for this thing to make more money of course, but just helping people has been great.  Here's a couple copied below:
"Best money ever spent.  LBO modeling classes don't get any better than this one right here. The model goes beyond in-depth, and Chris delivers incredible insight as to how an actual PE professional thinks and analyzes real-life deals (probably because unlike most other LBO class instructors, Chris has actual industry experience). Not to mention, if you actually need help or can't figure something out, Chris is available to step in and help. This course is an incredible find and worth every penny."
"As an analyst just over a year into the job, this resource has been an absolute game-changer."
"This course is fantastic and has the precise level of complexity to keep everything interesting while still challenging one's knowledge and Excel skills. The creator has done a wonderful job of creating bite-size nuggets of information for maximum understanding."
There are other reviews on my website.
What advice do you have for people just starting out?
The number one thing I'd recommend with any side project is to JUST START.  It's so easy to talk yourself out of things, or over-think or over-analyze.  It will never be perfect to start, you will suck at first, but you will get better.
People should close your article and the very next step they should take is to write down what they want to build or do some research on it.
Try to see it through to the first dollar.  That was something I always kept in mind.
If you can get just one dollar, you can get plenty more through marketing and scale. - Christopher Reilly
Click To Tweet
The number one thing though is to stop thinking and just GET STARTED.
Learn more about Christopher Reilly of missioncapitalco.com: