How Caroline Guntur Successfully Sells a $1297 Course on Photo Organization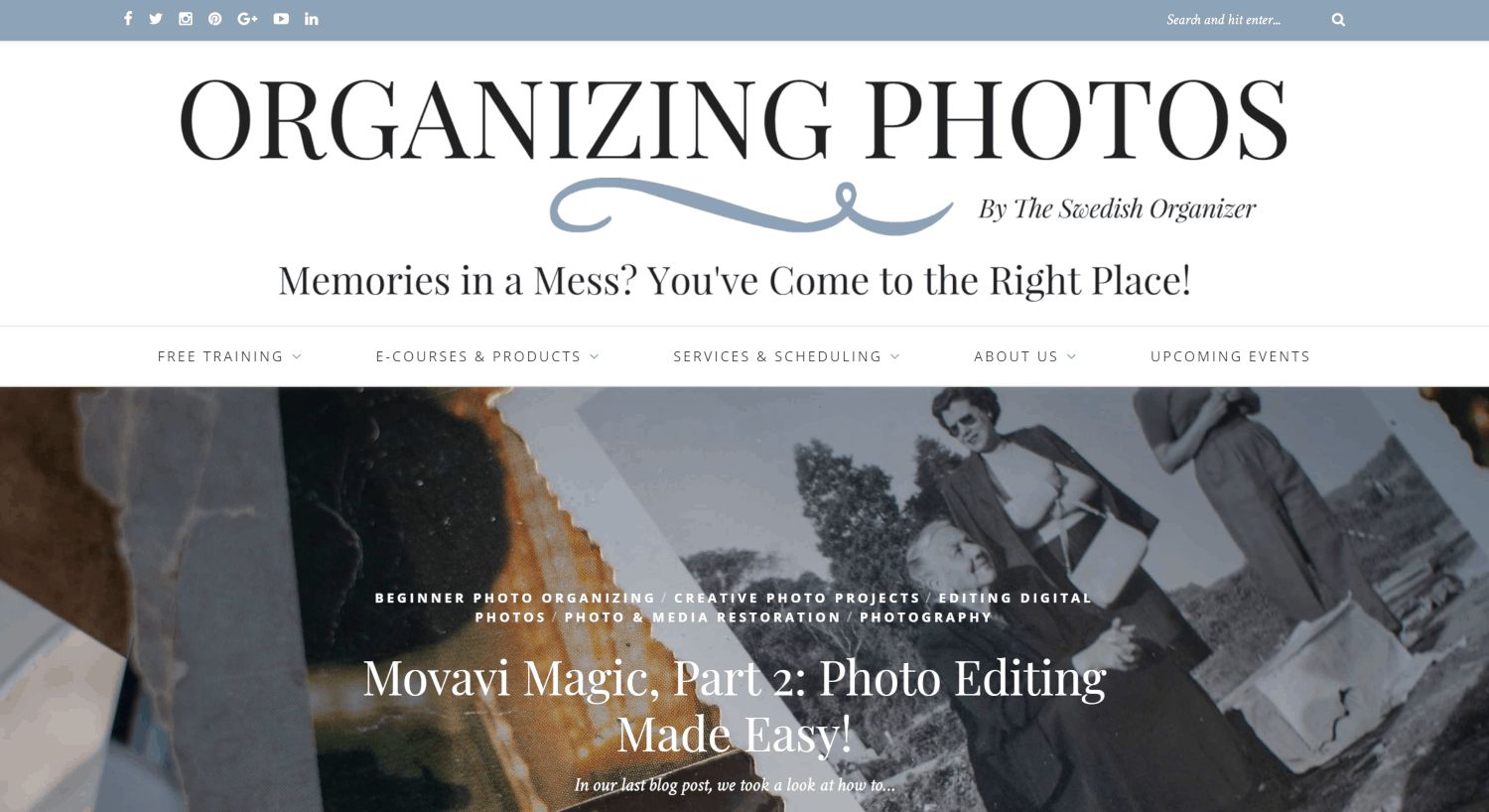 Our content is reader supported, which means when you buy from links you click on, we may earn a commission.
---
Who are you and what courses have you created?
I'm a Certified Photo Organizer, Genealogist, and Family Historian. Basically, I'm a Professional organizer, but unlike my colleagues who work with closets and basements, I specialize in digital information, photos, and family history. I work with clients one on one as a coach, but I also created online courses and a photo organizing blog to help more people faster.
I created several courses, these include:
All courses can be reached from coursesbycaroline.com.
My next course is being released within the next month or so. It's called Research Log[ic] and will be about how Genealogists can create a digital research log to stay organized.
What market do your online courses serve?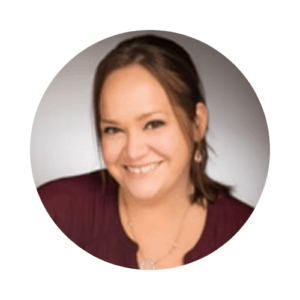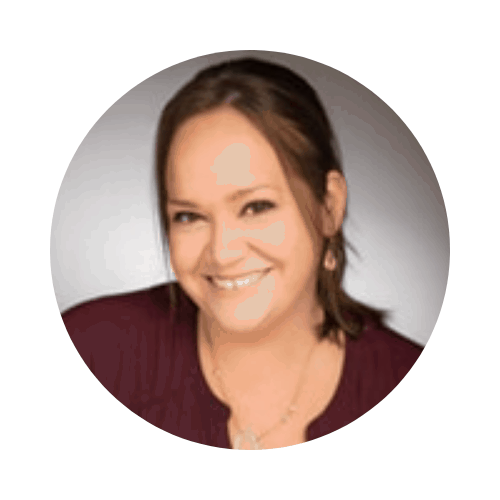 All of my courses serve the family history market, which is usually "the designated family historian" who might be overwhelmed by all of the photos and memorabilia he/she has. These people are usually also hobby genealogists. They are mainly female, age 35-65, and well educated. They enjoy photography, but struggle to keep up with all of their digital files.
What's the biggest benefit of taking one of your courses?
My signature course, DPO PRO is $1297 regular price. We offer a payment plan so as many people as possible can join. It has 6 modules and about 30 videos. The videos are both keynote w/voiceover to teach concepts and screen recordings (tutorials) to show exactly how things are done.
If you take DPO PRO, you will understand how the photo organizing process works, what steps to take, how different programs differ from each other, and how to implement a long-lasting system. This is a different approach than other courses out there who may be teaching one specific tool, for example Apple Photos/icloud ONLY or Adobe Lightroom ONLY.
My course is based on the principles of organizing so that someone can stay organized even if they get a new phone or switch from a Mac to a PC, for example. I show different tools (Photo Mechanic, Apple Photos, Adobe Lightroom) and show how they are similar and different from each other. That way people understand what system they should pick and why. This is important because we've found that a lot of people get stuck trying to find the right program, so we tackle that problem head on.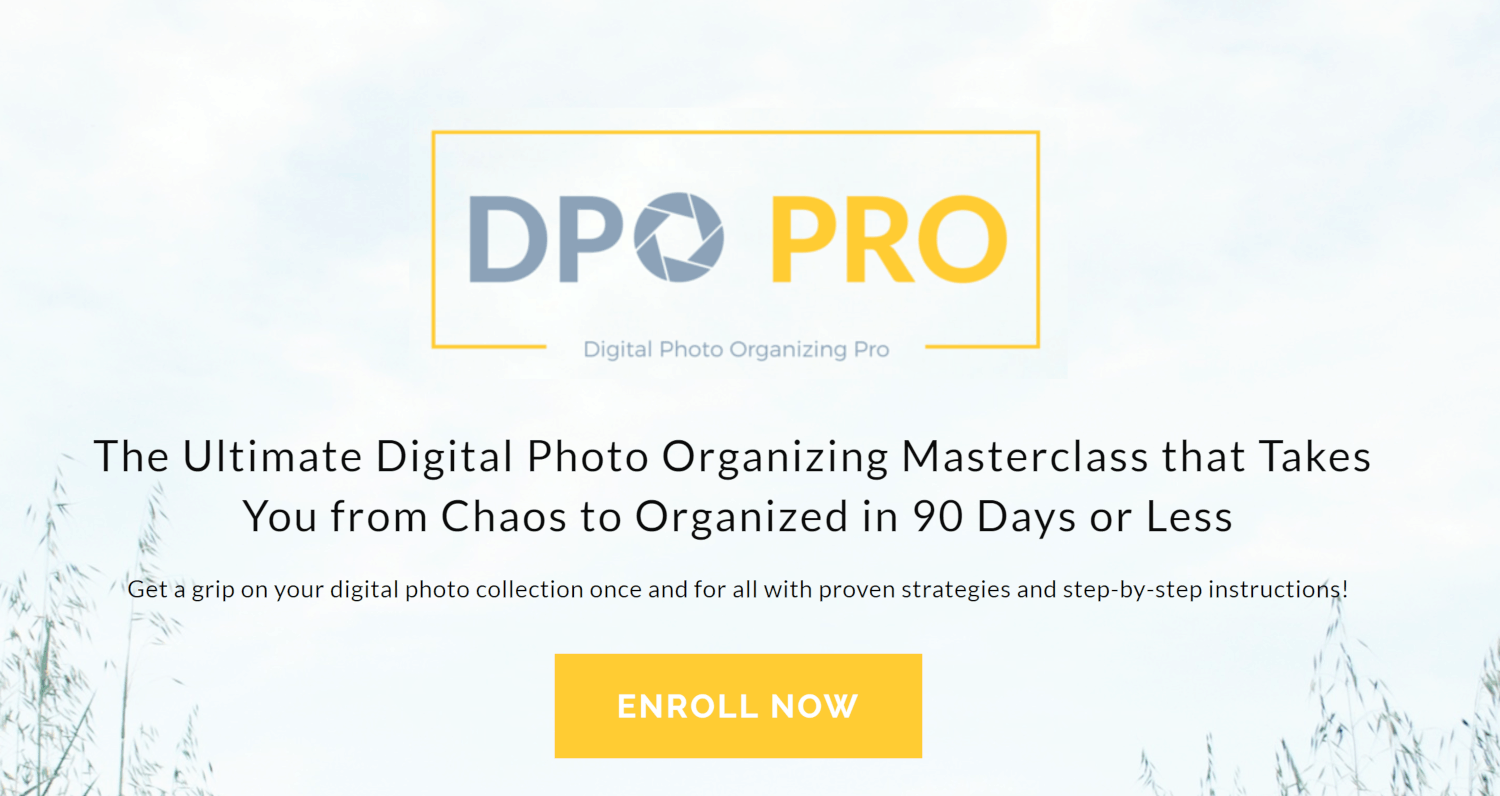 How did you get into the market?
I have a background in Photography and Family History.  When I started my organizing business, I quickly realized the digital world suited me better than closets. That's when I branched into this niche of photos and family history.
Everyone has so many devices. Most people will admit to having photos all over the place, so it was natural for me to specialize in that. I like this niche too because your memories aren't just "stuff" – they're actually important and you can't replace them. It gives me a deeper purpose than just helping people de-clutter the excess stuff they bought somewhere.
Why did you decide to create an online course in the first place?
I had a lot of success early on in this niche and found myself booked out with a giant waiting list. Due to my early success I wanted to scale and help more people faster. I also found that a lot of people had the same questions, so I felt an on-demand course was the natural progression.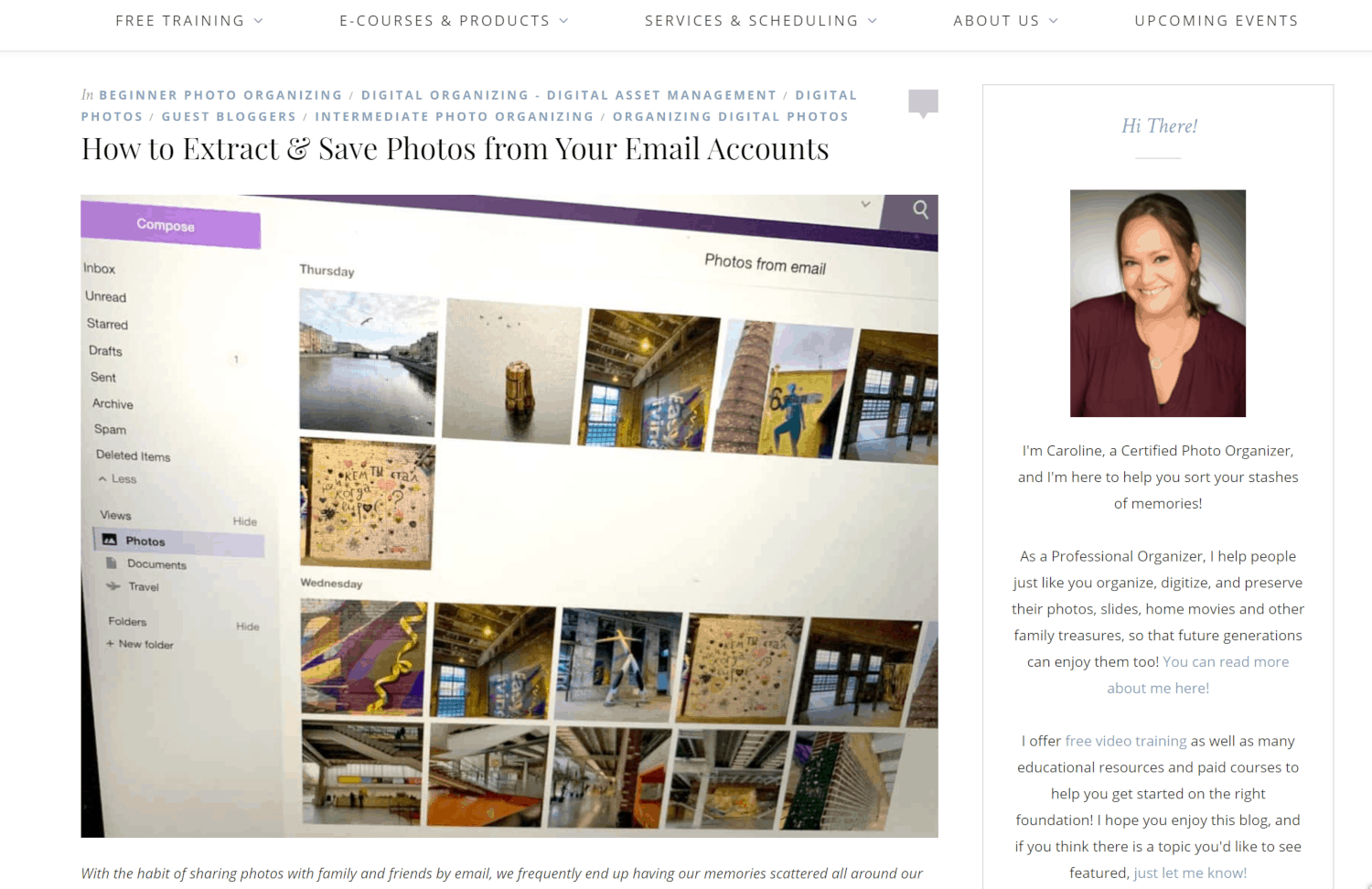 Did you have any moments of doubt before you created/launched it?
I created DPO PRO first. I never had any doubt that it would be successful. What I struggled with was understanding what tech level people were at because everyone has had a different experience. In my first version of the course, I took a lot for granted and quickly realized I had so many different tech levels in the course that I had to redo it and start from the basics. It's sometimes easy to assume that people know what you know. Version 2 of the course (the current version) is much better. It starts everyone off with the basics, which helps more people complete it.
I went to college for Video Production / Media Management / Visual Communications, so I had a lot of experience with creating content, specifically videos. What I found is that I enjoyed the process so much that I wanted to eventually transition into just creating content.
I felt like this was something I was meant to do. All of my unique past experiences and degrees married well, and have brought me to this point. Early in my career, I bounced around a lot between different fields (visual merchandising, sales, email marketing, web design, video production, photography, etc…), but I never found the exact right fit. Perhaps that was because my current profession didn't exist then. I just had to wait for technology to catch up.
What's your online course like?
My course is 6 modules with 30 videos. Some of the videos are voiceover keynote presentations to explain concepts while others are tutorials where I show exactly what to do in different programs. There are no quizzes, but we do have an interactive PDF workbook that students can download and use.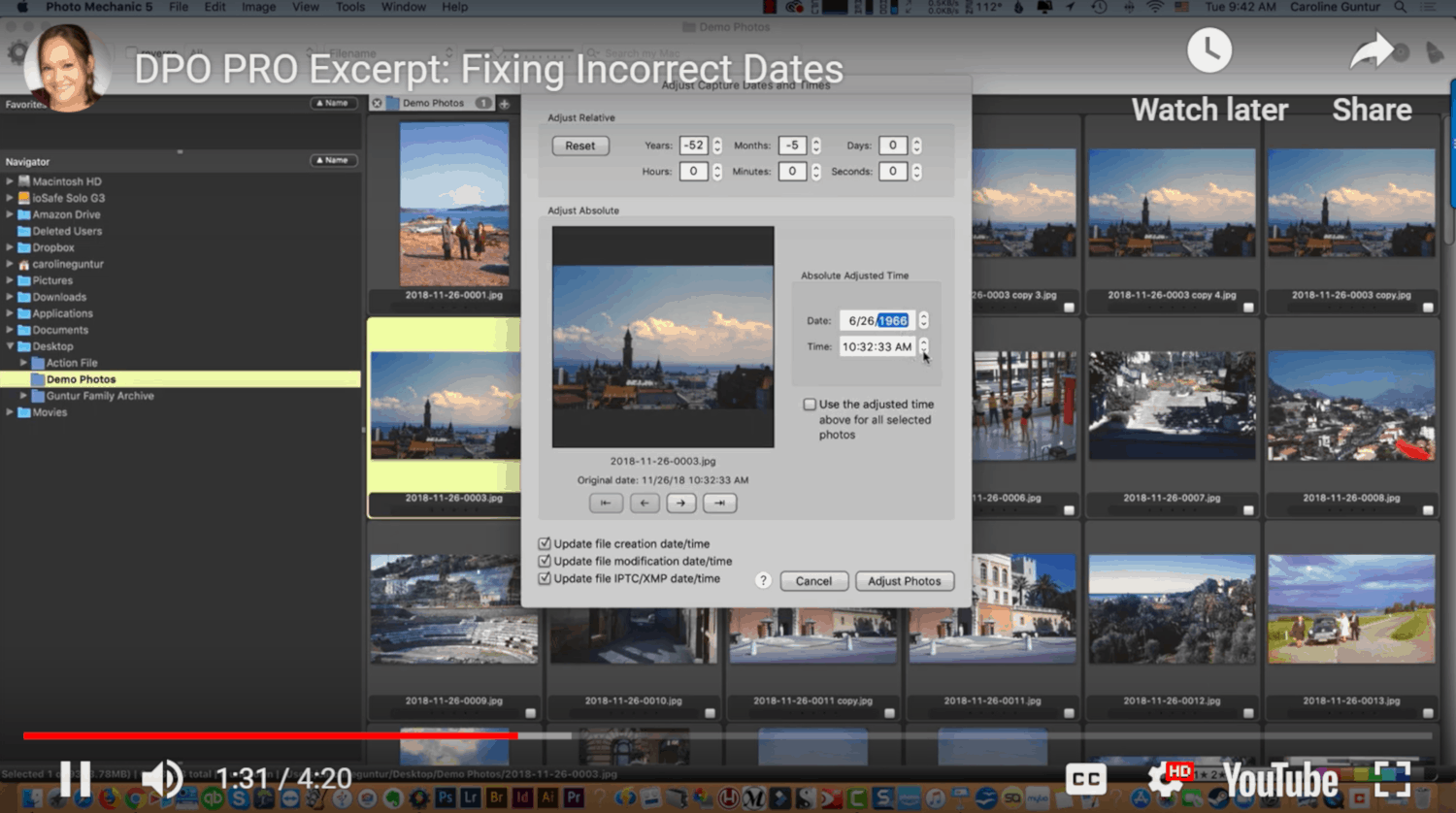 How long did it take you to create your first course?
The first time around I was learning how to best outline my course and how to set everything up, so it took me a little longer than it should have. I estimate it took around five months to get everything done from start to finish. I finished the latest version in about six weeks. My sales funnel also took some time to put together after that.
This time I started with a very specific script and concept videos whereas the first time, I just did webinar-style presentations.
Since then, I have learned what it means to create a curriculum with learning objectives versus just conveying information to people. - Caroline Guntur
Click To Tweet
Tell us a little about the process of launching your course and getting your first sale(s).
My first launch was exciting but a little bit scary because I had never done it before. There were so many moving parts and things to keep track of like; deadlines, times, upsells and downsells. It was a lot to handle for one person. Now that I know what I'm doing, I do much simpler launches to smaller and more specific segments of my audience.
My most recent launch was a total of 4 emails and 3 Facebook lives, and we still pulled in over $20K in a few days. - Caroline Guntur
Click To Tweet
I found that having a simple launch works just as well as an advanced complicated launch and that's great. It's less stress, for sure.
Do you have a lead magnet?
I offer free video training called the 3-step framework to digital photo organizing success. It's an on-demand strategy class that anybody can take and it also presents an offer for DPO Pro at the end. It's hooked up to ConvertKit and Deadline funnel, so it sells the course on evergreen.
I also have a lot of free lead magnets all over my site that go to different email sequences, but eventually they all lead to DPO PRO and my other courses.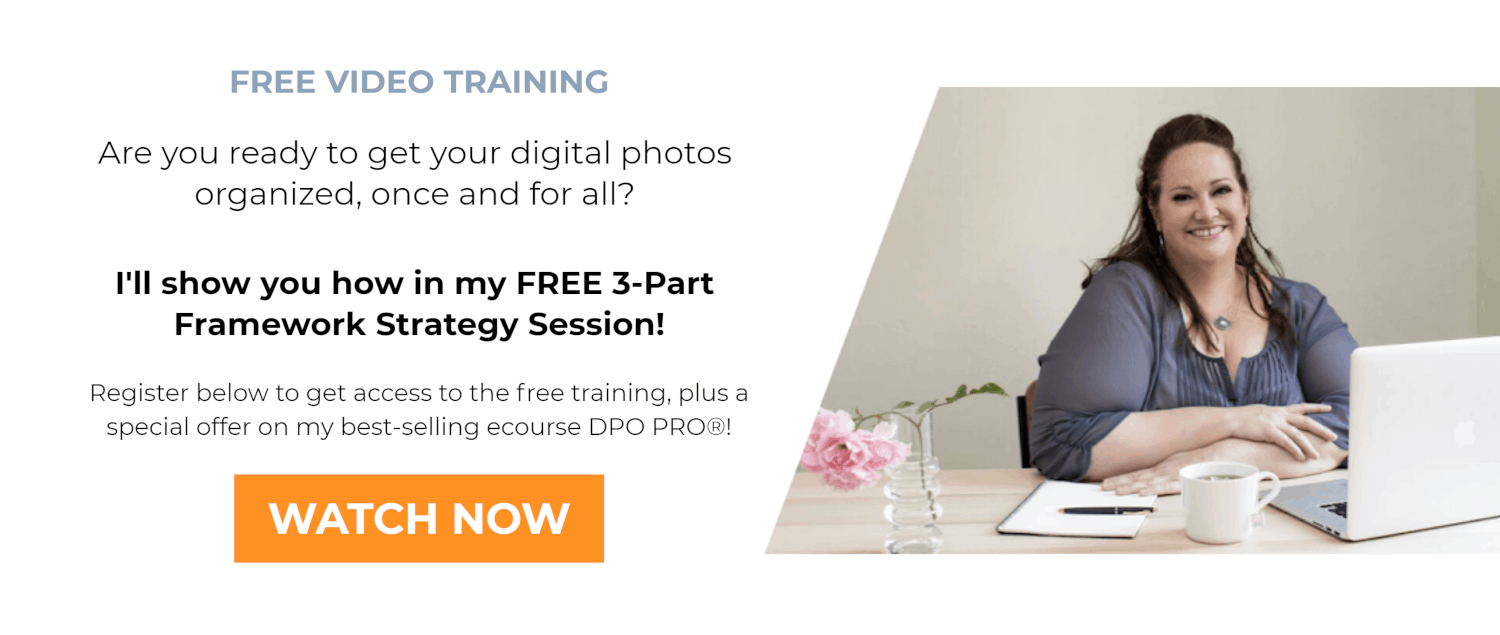 What's the traffic strategy that works best for you?
My traffic comes mainly from 2 places: Facebook and Pinterest. That's where my audience is, so that's where I focus. I have free Facebook groups to funnel people into my orbit, and then I get them to visit the site from there. That's how they end up on my list.
I use Pinterest to funnel traffic from the blog, and that works extremely well too. We get about 850K-1M views on Pinterest a month, so it drives a lot of traffic.
We also use a lot of organic SEO strategies and about 15-20K visitors per month come in from organic google searches.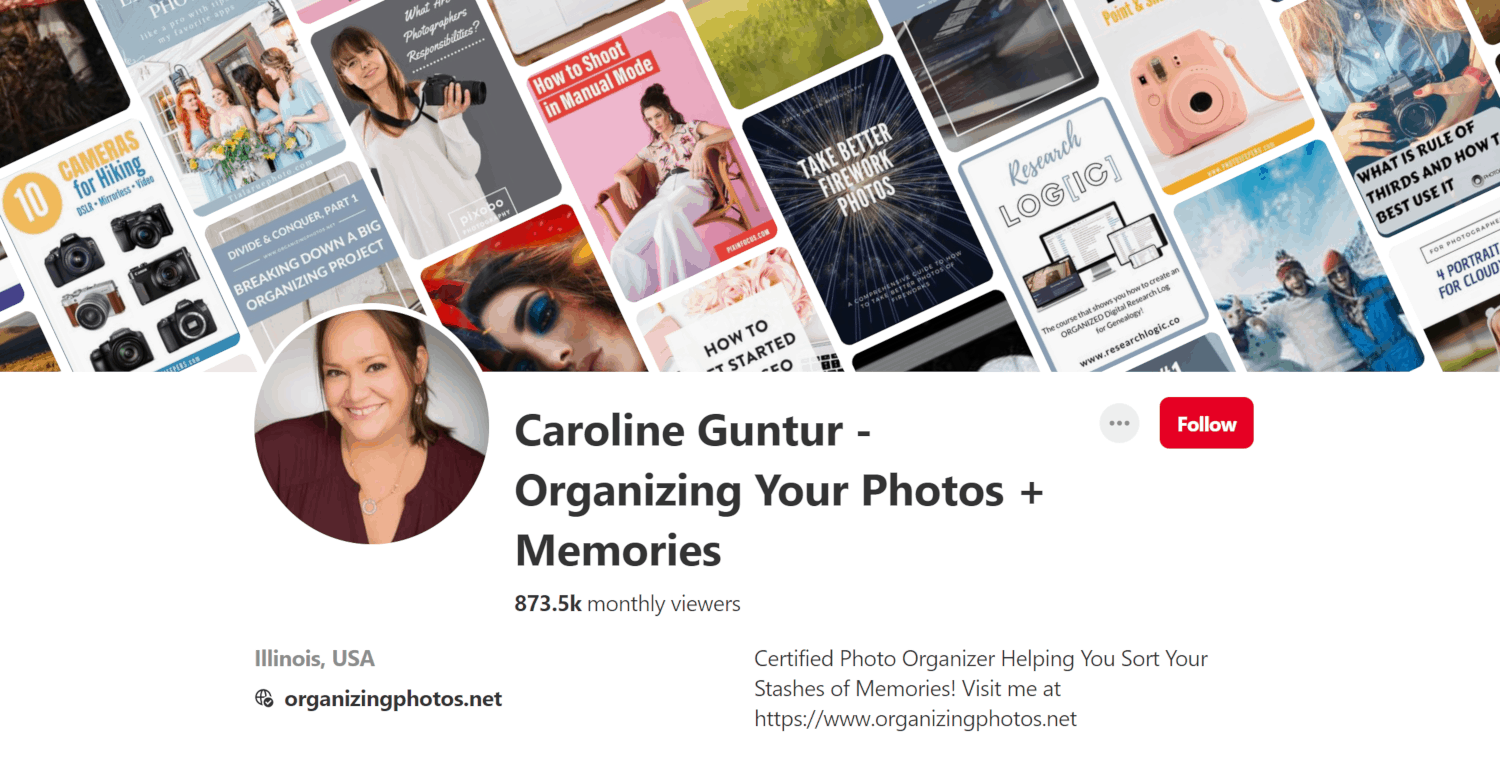 What online course platform are you using?
I use Teachable as my online course platform which I like.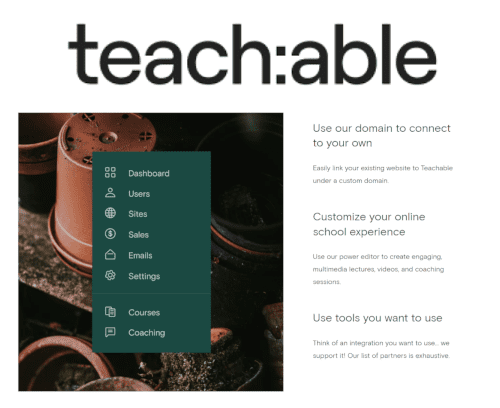 Check Out Teachable
Teachable is one of the top online course platforms used by successful course creators interviewed on coursemethod.com. It is easy to set up and build your site pages, and the course area looks great. 
Price Range: $0 (+ transaction fees) to $299/month
Most Popular Plan: Pro Plan at $119/month
Annual Discount: Yes, take 17% off!
Free Trial: Try out Teachable's core features for free
*Our content is reader supported, which means when you buy from links you click on, we may earn a commission.
Are there any features you wish it had?
Absolutely!
I wish they had better sales pages for the courses. They are pretty boring and don't allow for much imagination. I build my own sales pages that link directly to checkout, but I'd love to be able to embed code on those checkout pages, for example, deadline funnel countdown timers.
One of the biggest problems I have with Teachable is that the customer has to create an account before they can buy a course, and that's where we lose people sometimes. I'd like it to be possible for a customer to check out and then create the account. I've been toying with switching to SamCart, but I haven't made the leap yet.
I also wish they had a better way of organizing my courses. From an organizer's perspective, I'd like to be able to see the entire name of my course and not just the first few words. I have a few different things with similar names and it's hard to track which is which.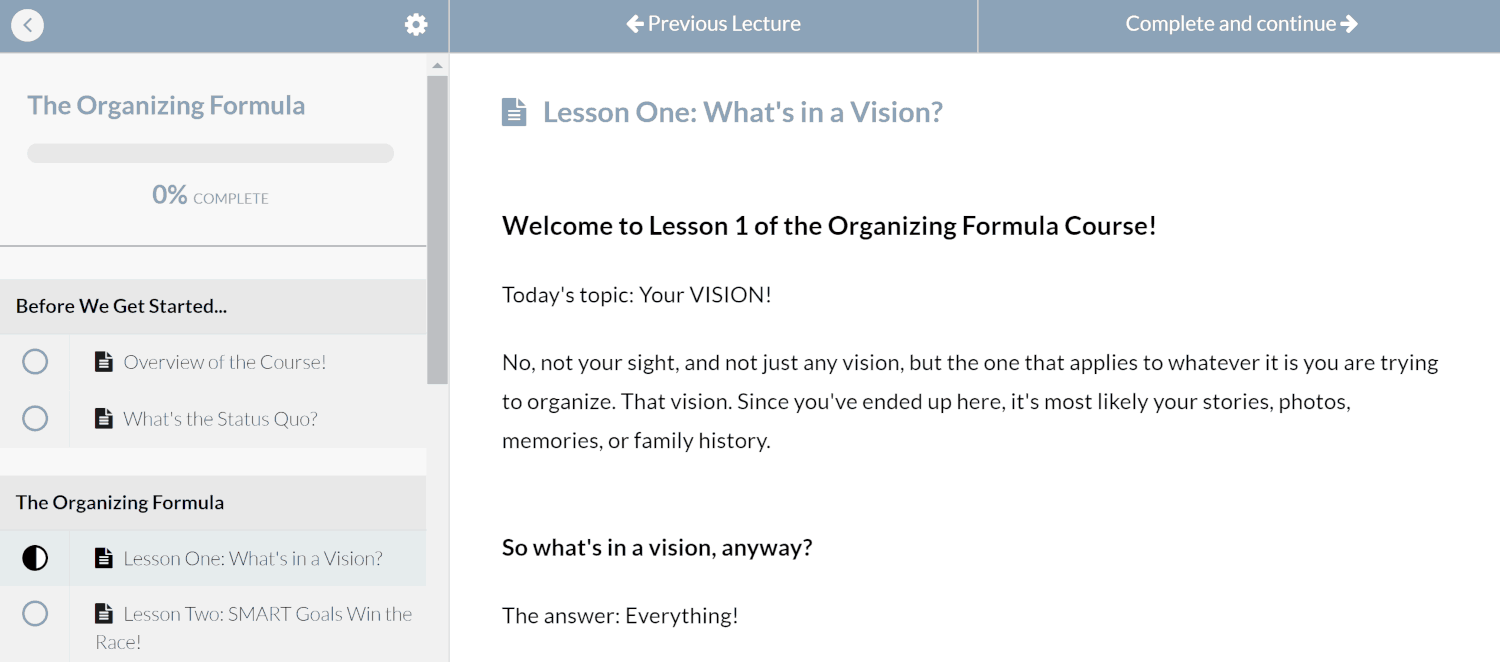 What made you decide to use your chosen platform over others?
I like the interface better than the others. I've taken a few courses on Thinkific and I don't feel like it's organized and laid out well. I signed up for Teachable before I finished my course because a friend recommended it. So far, so good.
What other tools do you use to run your online course business?
I have sales pages on Square space, DPD for a few downloads, and my website on WordPress. I use a lot of different tools for my business overall, so if I'm including those as well, I can mention Airtable, Vooplayer, Canva, Adobe's suite of tools, Dubb, Ecamm, and Camtasia.
Please share some idea of revenue.
All launches have been 5-figure launches in the $20K range. Considering that my audience is fairly niche and smaller than most people's, I think that's decent.
DPO PRO is regularly priced at $1297 and I know that seems expensive, but I look at it in terms of value (which is also the type of customer I'm trying to attract). It would cost thousands of dollars more to work with me in person to learn all the information that's in the course.
Having a payment plan also helps because it becomes more budget-friendly to get started. If you also factor in that students get lifetime access, it's an amazing value.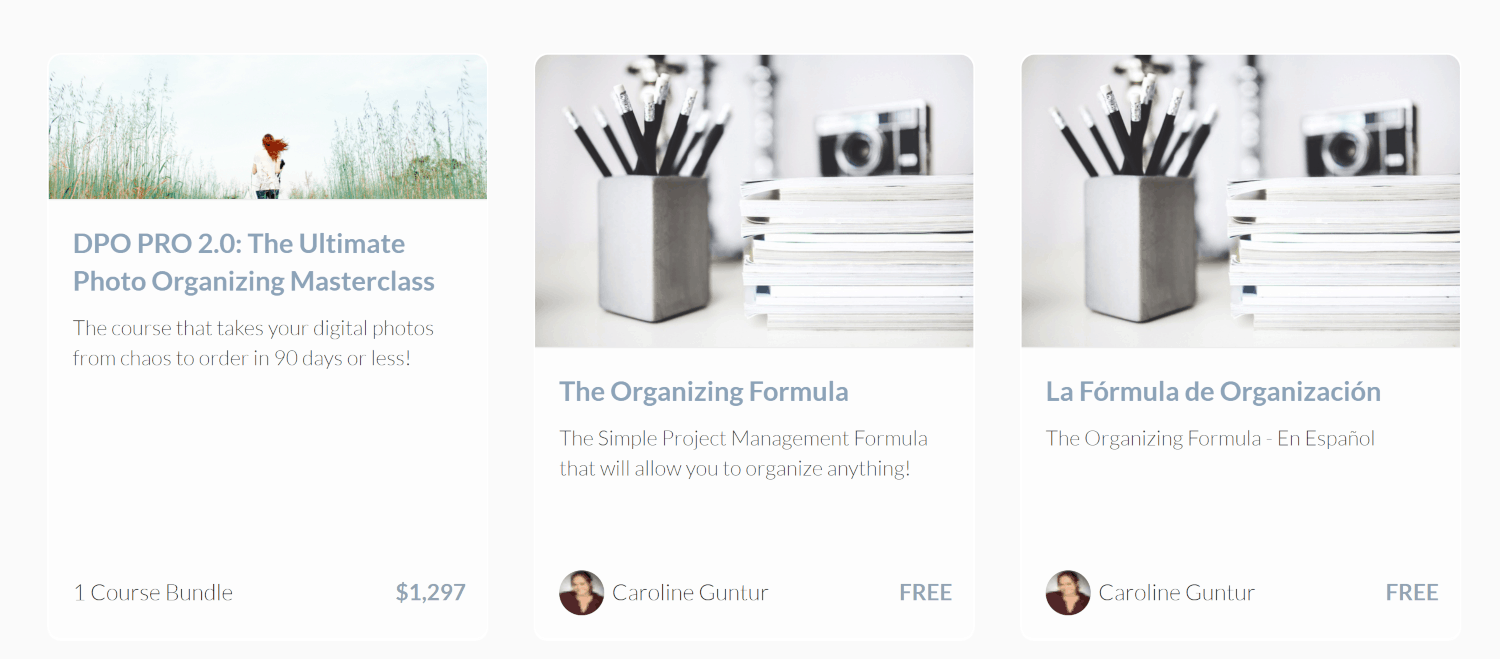 Please tell us a little about what the money you've earned from your course has done for you.
I sustain my business without having to worry about constantly finding new clients to work with.
I've scaled my business to include people who may not be able to work with me one-on-one, and I serve people from all over the world. - Caroline Guntur
Click To Tweet
I believe it has boosted my status as an expert significantly.
In addition to revenue are there any numbers you would like to share?
I don't have any "overnight success" numbers, so this is a hard one to answer. My business has had a very slow and steady growth over the past couple of years. But the first launch which was in 2016 was a $20K launch and I didn't even have 1,000 people on my list at that time (maybe like 980 or so).  So my conversion rate is pretty decent.
What has creating your course done for you personally?
I definitely have more confidence, and I think when you create a course, you actually learn more yourself. That's because in order to explain something to someone else, you have to explain it well. Students make the best teachers.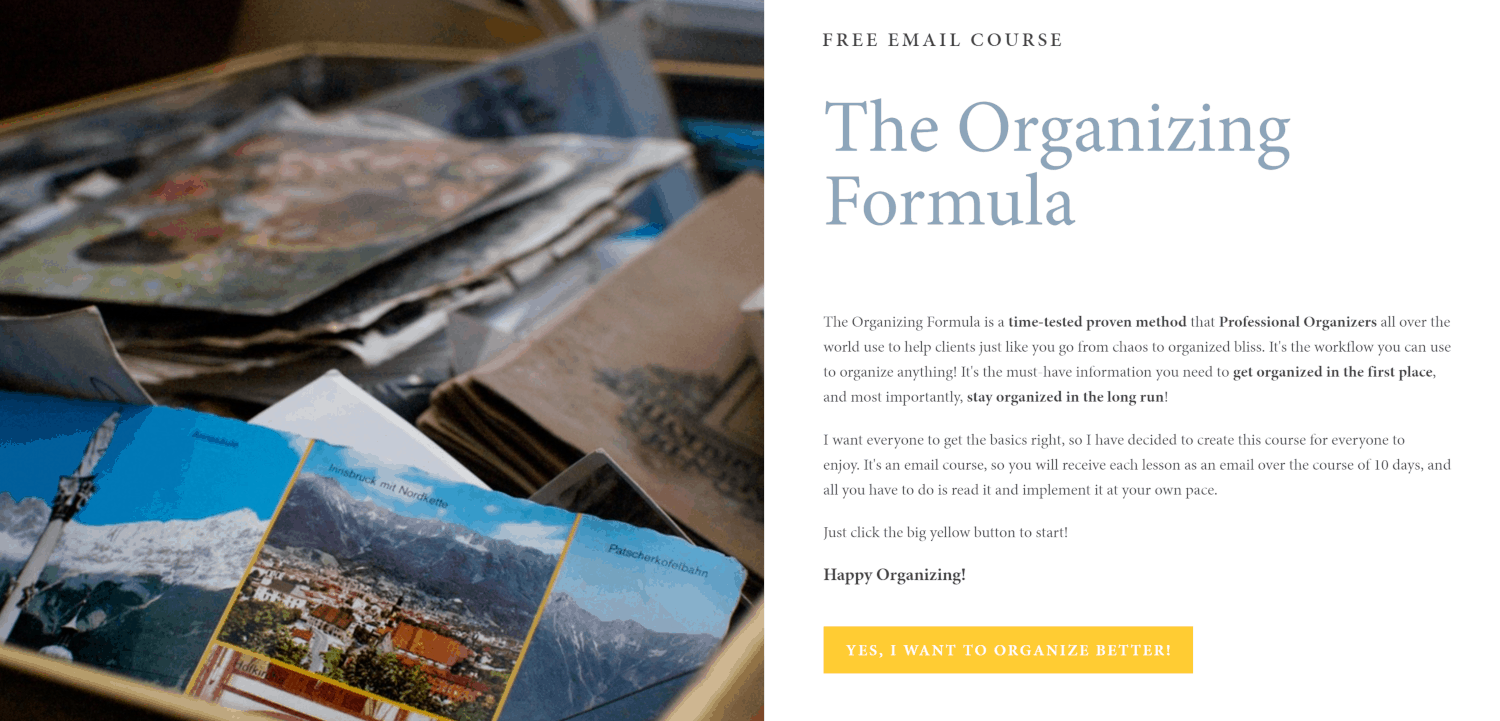 Do you have a story of a transformation from any of your clients?
Yes, I'm very proud of one of my students in particular. She's an example of the fact that you can overcome tech fear. Ann is an active senior and when she first started, she had no idea how to even move a file. Now she runs a successful blog and is active on social media.
Several of my students have also gone on to become pro organizers themselves, which is really cool.
What advice do you have for people just starting out?
I think a lot of people hesitate because they may suffer from "impostor syndrome" or just not feeling like they're the ultimate expert on a topic, but you don't have to be.
I'm not the ultimate expert and I'm still making a full-time living. I just make sure that what I teach works. - Caroline Guntur
Click To Tweet
My mentor once said "experts don't make courses; courses make experts" and I think that is so true.
Learn more about Caroline Guntur and OrganizingPhotos.net: