How Bram Kanstein Launched No-Code MVP and Earned $8,000 in 14-Days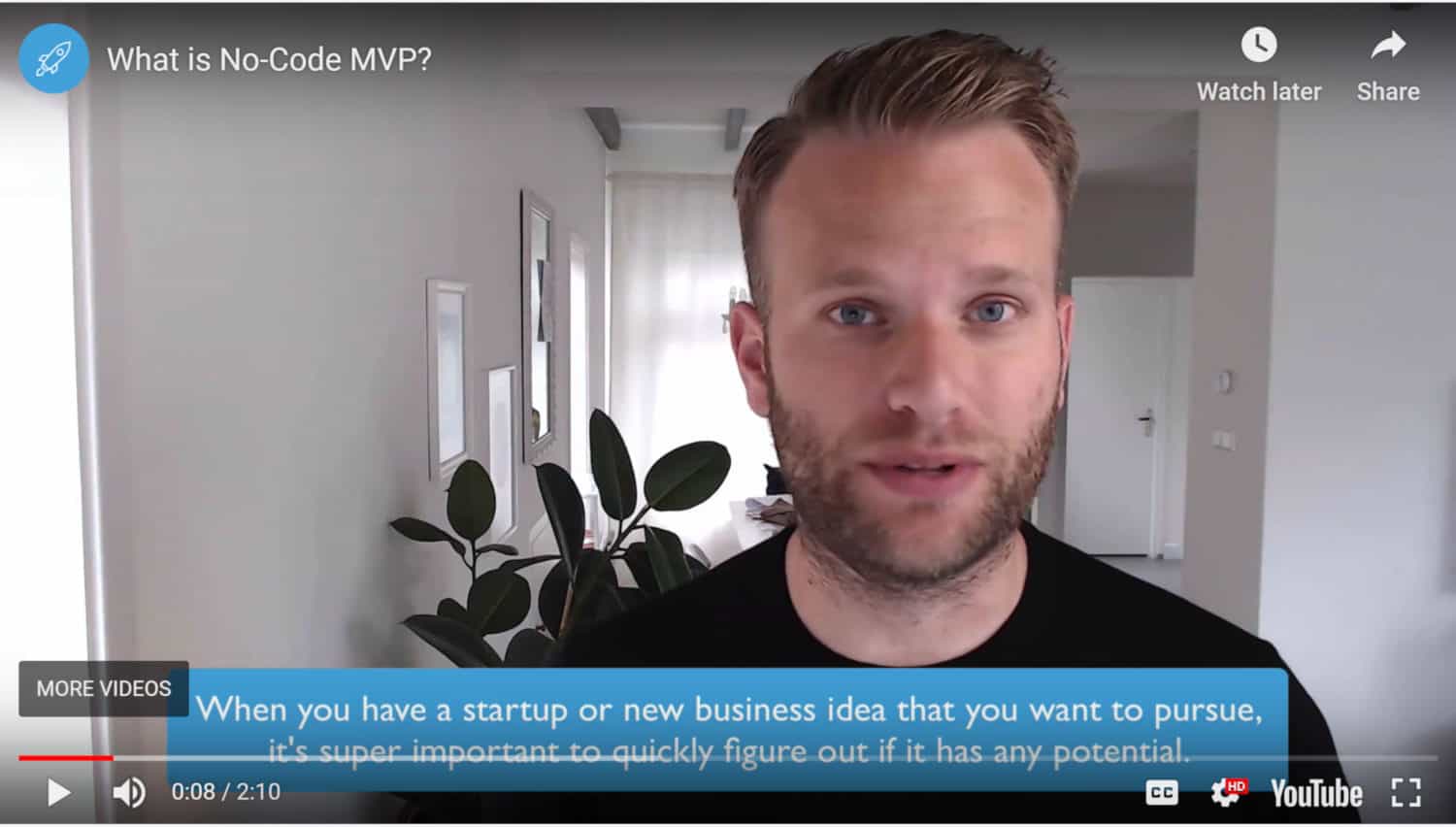 Our content is reader supported, which means when you buy from links you click on, we may earn a commission.
---
Who: Bram Kanstein
Website: nocodemvp.com
Course Topic: No-Code Programming
Interesting Stats: 2 No-Code Projects = 2500 Leads
Who are you and what course have you created?
My name Is Bram Kanstein ad I'm an early-stage startup expert and product builder (20+ failed, 2 sold) who loves to help ambitious entrepreneurs and companies explore, develop and grow ideas into sustainable products. Over the past few years, I've seen 1000s of startups launch, and have worked with dozens of companies on the "blueprint" of their business. This includes idea validation, building a Minimum Viable Product (MVP), go-to-market strategy, value proposition, and product development.
Based on those experiences and that expertise, I recently launched a course called No-Code MVP, where I teach people the mindset, process, and tools they can use to build and validate their startup ideas, without knowing or learning how to code!
What market does your online course serve?
No-Code MVP is for anyone who's looking for a hands-on and pragmatic approach to kickstart and validate new business ideas. These include:
Startup Entrepreneurs
Product Managers, Marketers, and their teams
Corporate Innovators & Intrapreneurs
Innovation Managers & Directors
Small Business Owners
Students
And yes, developers too! (20% of students are developers!)
Whether you're an aspiring entrepreneur, a student or already work at a (big) company. If you want to know how to minimize the risks of new business ideas to figure if it makes sense to pursue them, this course is for you.
What's the biggest benefit of taking your course?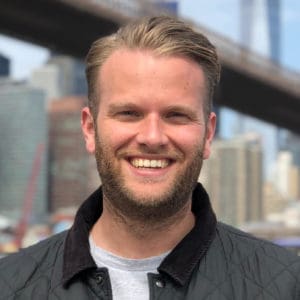 You will have a systematic approach that you can follow to turn your idea into a solid value proposition, talk to potential customers and define and build a Minimum Viable Product yourself, without code, that you can test in the real world.
This approach is applicable to an endless amount of ideas so once you adopt it you can use it for any business or startup idea you have.
How did you get into the market?
The number 1 reason startups fail = No market need. - Bram Kanstein
Click To Tweet
And answering the questions about whether there's a need in the market, or at least becoming a bit more certain about a need in the market, does not involve knowing how to code!
It's not about: "CAN I build this product?", it's about: "SHOULD I build this product?"
The goal of No-Code MVP is to show and teach you that you don't need to know how to code, spend a lot of money and time, or hire a developer to start working on your startup idea. You need to first answer the question: is this something that people want?
Why did you decide to create an online course in the first place?
No-Code MVP is basically a crash course of what I've been researching and advocating for over the past 5 years.
In that time I never came across a product or course that combines the right approach to lean startup, combined with easy to learn No-Code tools and real examples of Minimum Viable Products that were built without code.
So my goal was to take the knowledge and mental models I had in my head and put them into a "format". I first thought of creating a book but eventually decided that it was too difficult a format to make things practical. And practical is pretty essential with what I want to teach my students.
I knew of Podia, a tool you can use to build and host your course, so I decided to create a course! A course is also much more scalable than a book. I now have students from over 20 countries!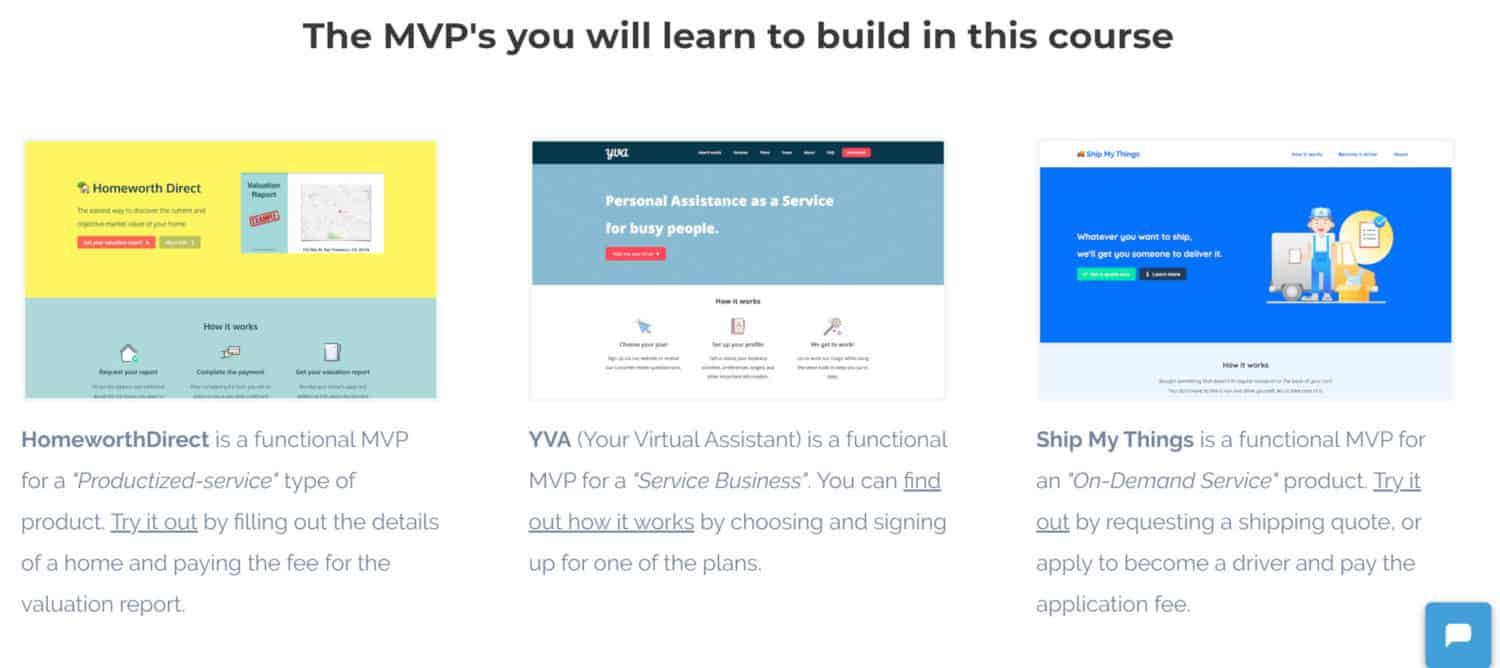 Did you have any moments of doubt before you created/launched it? If so what made you turn it around and do it anyway?
Yes, of course! Anyone who says they haven't is lying 😉 This is MY expertise, for me all the things I share and try to teach are "normal". So putting yourself into a place where you are selling what is normal to you is super challenging. But I know I've been putting in the work and research for almost 10 years to get where I am – so why shouldn't I try to teach this to others?
I did it anyway because at one point during the research of the course I got a call from someone who leads the innovation lab at one of The Netherlands' biggest banks.
He asked: "I see you're working on a course, do you have a company workshop too?". Even though I only had the research done, we agreed on a price for a 2-day workshop and at that point, I got paid to develop my course!
I created a keynote with 400 slides for the workshop and eventually chopped those up into the videos of the course.
What's your online course like?
The course is made up of 42 videos (5.5 hours in total), with about 10 worksheets and 1 quiz. I actually want to work on, and add, more quizzes because I think they are really valuable. Each video has a description below it, with more info and links to other resources students can use. In the videos, I talk (you see me) over a keynote presentation.
No-Code MVP also includes building guides to 6 types of Minimum Viable Products I teach my students to build.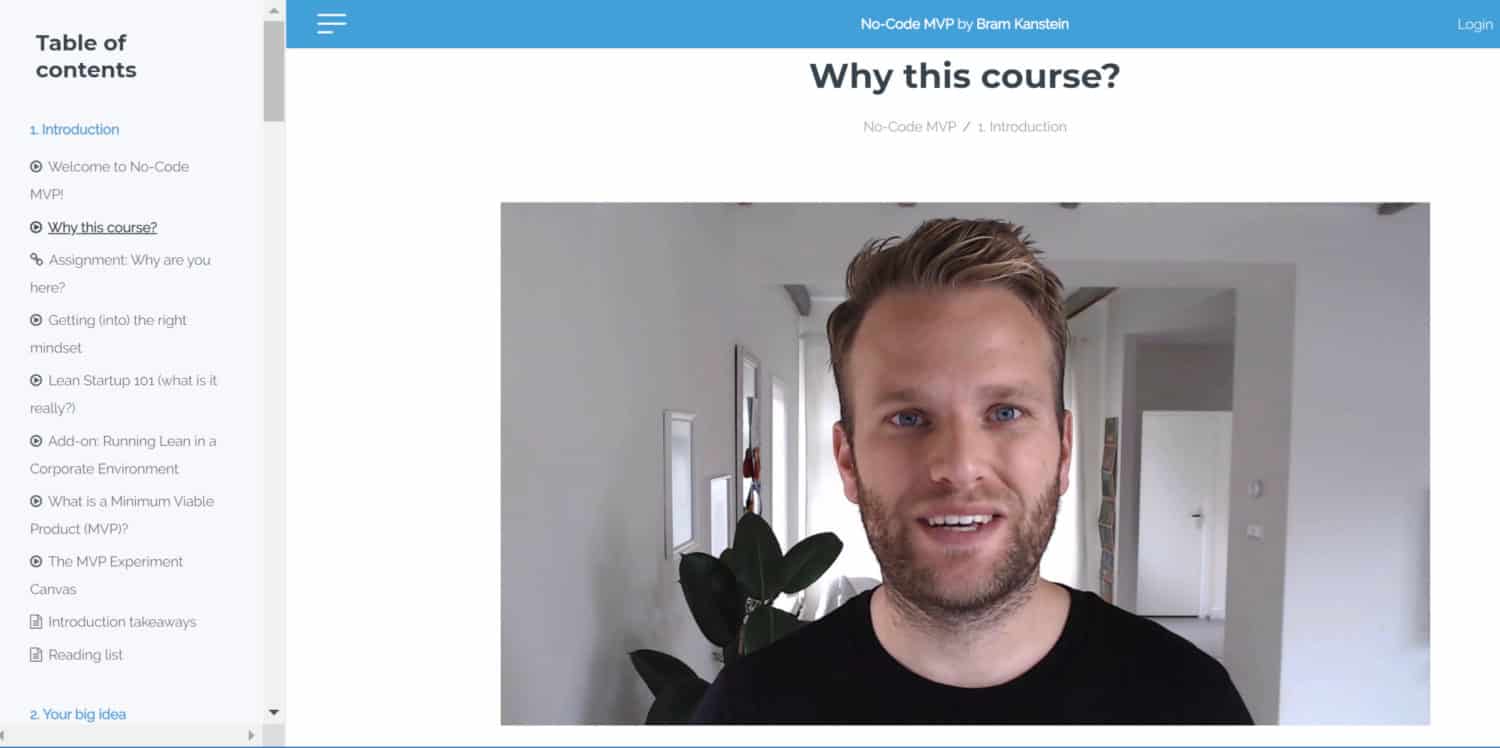 How long did it take you to create your course?
Shortly after I came up with the idea of the course I became a dad and my girlfriend got her dream job so I decided to stay at home with our son. After he went to daycare after 6 months, I continued my research and slowly started to create the course. It ended up taking me 18 months (2-3 days a week)
Tell us a little about the process of launching your course and getting your first sale(s).
Early on I created a landing page to capture email sign-ups, with the goal to get 500 signups. If I had 500 signups I would pursue creating the course.
In the meantime I showed sneak peeks of what I was doing and eventually when I launched I had almost 3,000 email subscribers that I could show my product to.
These people all got a 50% discount in the first month of the launch. I did this because my initial goal was to get a lot of reviews.
Do you have a lead magnet?
YES! I created 2 small products (made without code of course 😉 ) to generate leads (visitors can download a file):
Road To Scale –  A curated knowledge library for every stage of your startup journey. – 17,000 visitors and 1500 downloads
My Startup Name – A free and simple framework to name your next project, startup or business. – 8,000 visits and 1000 downloads
What's the traffic strategy that works best for you?
Twitter by far! I share my thoughts and knowledge, share reviews of the course and try to help as many people as I can.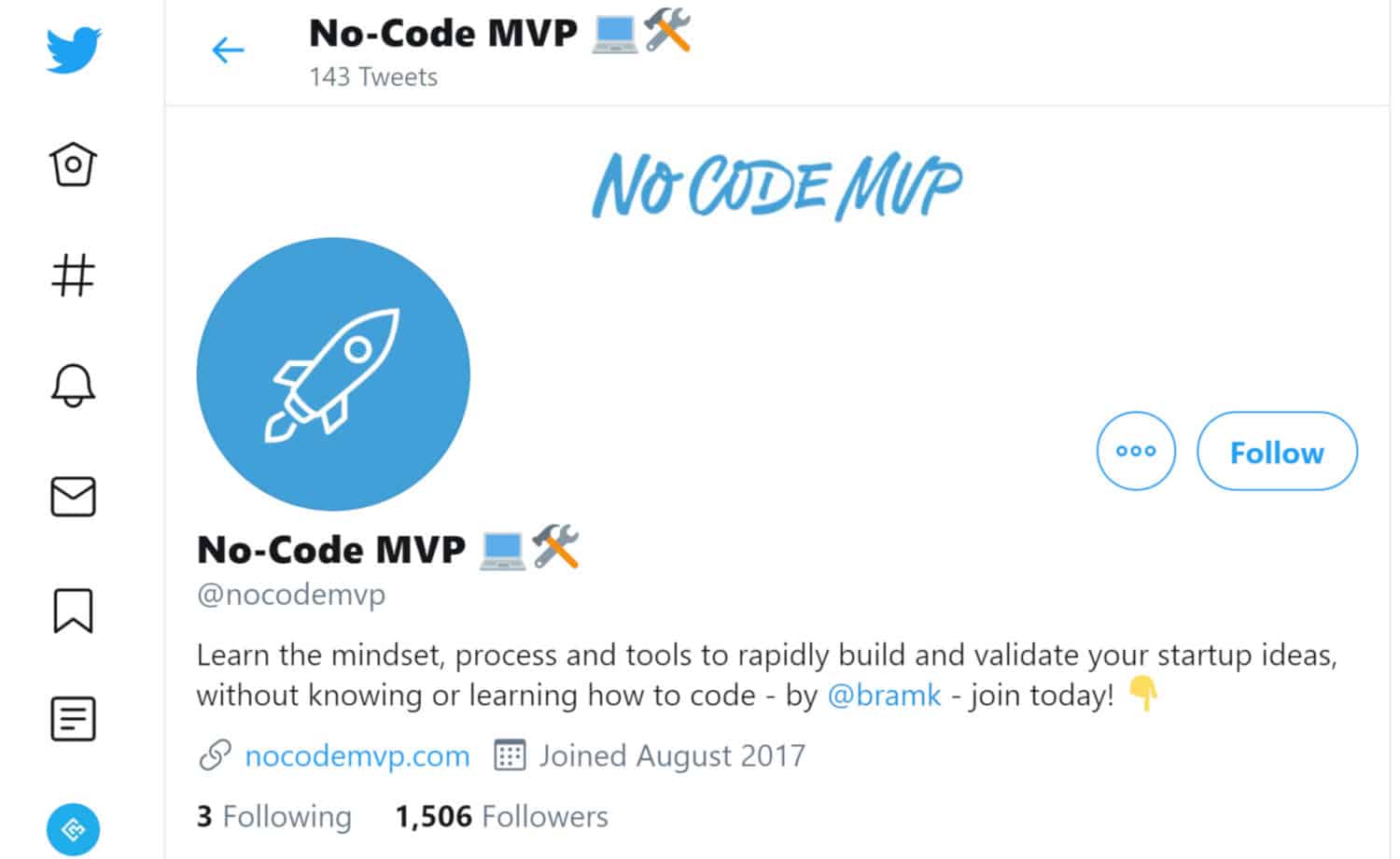 What online course platform are you using?
Podia. I would recommend this online course platform to anyone!
Are there any features you wish it had?
They have drip campaigns but what I'm missing is the following: I want to send my students an email after they finish a certain part of the course: the quiz or the 10th video for example.
What made you decide to use your chosen platform over others?
I knew about Podia before and especially liked that they offer an affiliate feature that enables you to turn your students into advocates of your course and help them make money.
What other tools do you use to run your online course business?
I use Screenflow to record videos, Sketch to create designs, Keynote for my presentations, a Logitech C920 webcam, Blue Yeti Microphone – that's it!
What books or training programs have you found useful on your journey to a successful business owner that others might find valuable too?
SmartCuts by Shane Snow and Company of One by Paul Jarvis.
Do you have any big mistakes you've made along the way that you'd be willing to share?
Not really – I'm just doing what I think is best! (Winging it basically 😉
Please share some idea of revenue.
I made $8000 in 14 days resale and am on track to do about $7000/month.

Please tell us a little about what the money you've earned from your course has done for you.
I recently launched my course in December 2019 and am giving myself the time in 2020 to build this into a sustainable source of income, also combined with consulting gigs and company training sessions.
In addition to revenue are there any numbers you would like to share?
I had almost 3000 email subscribers when I launched, this mainly came from my sharing my journey on social media (Twitter and LinkedIn) - don't keep your idea a secret! - Bram Kanstein
Click To Tweet
I always like to think that nobody else has the time to copy your idea, so go for it 😉
What has creating your course done for you personally?
My main goal was to actually FINISH the course, to get all the knowledge out of my head into a structured format. I achieved that goal and am super happy with it. It gave me more clarity in my thinking. Now that I've experienced that I can help the people that I work with even better. Now the next challenge is to get more students and grow the course!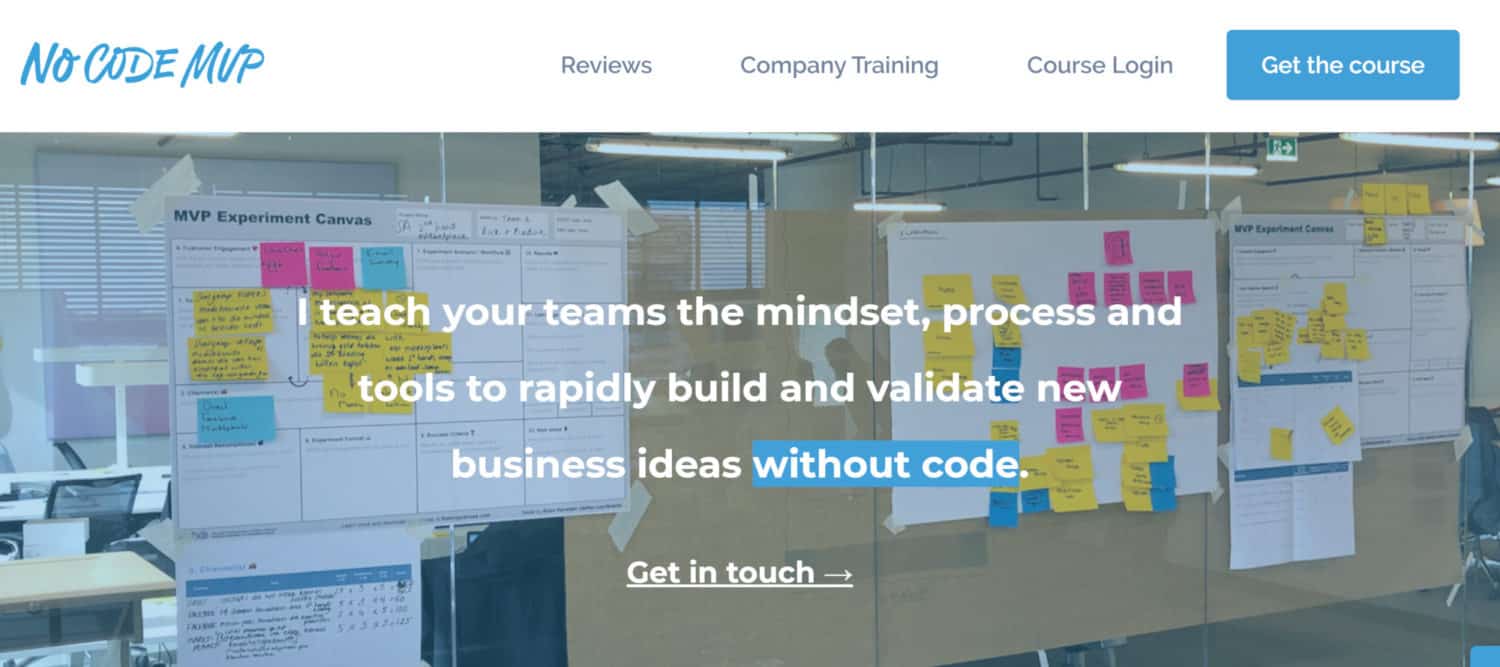 Do you have a story of a transformation from any of your clients?
Not yet! But from the reviews I think there will definitely be success stories 🙂 If even one person uses my approach to turn their idea into a big business I'm happy!
What advice do you have for people just starting out?
The biggest challenge for me was the structure of the course: what are the chapters? What are the lessons in the chapters? Start with that first!
Once you have that layout you can work on your course in any order you want.
Learn more about Bram Kanstein and No-Code MVP: